Florida Road Trip: Where to Stop & What to See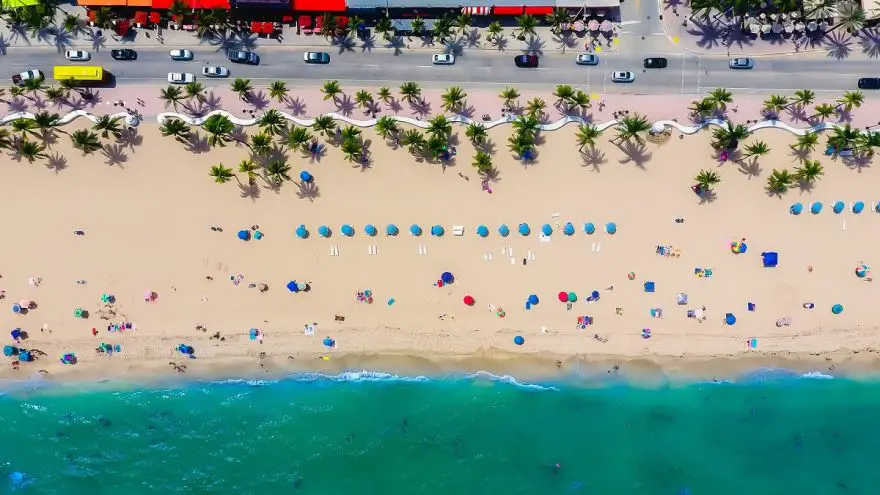 Florida Road Trip: Where to Stop & What to See
drivrzone.com
The sun is shining, birds are singing, and wheels are spinning! There is no better time in the year to spend time together than the summer. No great adventure starts in your backyard. After all, while swimming in your pool is fun, there are much better ways to beat the heat. Why not plan some time on the open road? Almost every family out there has enjoyed a good, ol' fashioned trip to the other side of the country. If your family isn't on that list, then you should get on it as soon as possible. Why not now? Why wait? There's no time like the present, after all!



While many destinations across America have become popular tourist destinations there are few less known about than Florida. It has become the namesake of retirement homes, as well as vacation homes. An odd mix, sure, but it makes total sense when you know that they are the official "Sunshine State". That name rings true! Every inch of Florida is covered in a beautiful blanket of warm sun. They live in a state of eternal summer with little else in the way of weather. This is why so many Americans decide to head on over to this fun-filled peninsula in search of good weather, and good times.

So, have we convinced you yet? Are you yearning for a year's worth of fun packed into a two-week package? Good! Even if we haven't convinced you quite yet we're sure you're going to see it our way once you're done reading this article. Today we're going to look at some of the best places to stop in the Sunshine state. We'll also give you a bucket list of the best places to visit while you're making your way down the peninsula. So, keep reading and get ready for some fun in the sun!

Oh, The Places You'll Go
We're going to split this up into three sections! This is a state known for amusement parks, which are in the southern portion of the peninsula. So, we'll start off with those wonderful worlds of fun! After this, we'll talk about the nature-related tours, as well as beautiful sights to see across the whole state. And lastly, for the foodies out there, we're going to talk about some of the best cuisines you could hope to eat!

Let's get to it, shall we?



Roller Coasters, Ferris Wheels, And Bumper Cars: Oh, My!
It's no surprise that the first part of this article is dedicated to amusement parks. These family-oriented (but adult friendly!) destinations are the number one attraction to the Sunshine state. No matter what your cup of tea may be, you'll surely find it here. There's a world for every fan group!

Universal Studios: C'mon, now! We know that you must have already booked your trip to Universal. Really, any of their parks are fantastic and totally worth a visit. We're sure you can figure out which one is right for you, but it would be a shame to not visit at all. One of their biggest attractions is the Wizarding World of Harry Potter, which catches the eye of many. This large, sprawling remake of the famous Diagon Alley contains a host of food shops and fun spots. Make sure to get yourself a cup of Butterbeer, and some Treacle Tarts while you're there!

Treetop Trek: We bet you didn't know about this one! While it may be lesser known, Treetop Trek is hugely underrated. This magical place allows you to do exactly what the name suggests: explore the upper part of the fascinating ecosystem. It's a thrilling walk through the treetops aboard wooden planks and platforms. You'll stay safe the entire time while tackling challenges throughout the course you choose. There is also, of course, zip lining. If you have even the least bit of daredevil in you then this is the place to be!

Legoland: This is a rather new attraction, and it's becoming a huge favorite among people of all ages. Legoland appeals to adults because of the simple nostalgia it offers. Children love it because, well, Legos! With all of the new Lego movies that have come into recent popularity, it's no surprise that Legoland has become one of the newest additions in the line of Florida-based amusement parks. So, whether you were a fan in your younger years, or you have a child fascinated by these building blocks, make sure to make a pit stop at Legoland.

Kennedy Space Center: Does this not sound like an amusement park? Well, think again! The Kennedy Space Center boasts several great activities, as well as many attractions. Not only is this a historic museum, but it's also basically an amusement park. There are loads of things to do while you're in this space-themed paradise. Not only is it highly educational for the whole family, it's also a total blast! That was definitely a rocket pun, by the way. We went there. We're sure you'll go there, too, when you're in town.

Disney Parks: If there is a single, biggest attraction that brings families down by the flock it is absolutely Disney. This worldwide phenomenon has captured the hearts of children, and adults, everywhere. If you are in the area at all it's a must-see. Even if you only go for a day! Of course, they also offer some great packages that you can look into. Cutting down on the cost of a flight by driving your car opens up a new world of possibility. You'll be able to afford that next package up, even!

Boardwalks By The Dozen… And More!
While amusement parks are fun, there is another attraction that may hold even more sway over vacationers! You probably already know what we're about to say. If "beaches" came to mind, you're correct! However, there is so much more to do and see. We won't focus on any business or spot specifically. Instead, we're going to name general activities that are available all over the state. We're sure you'll find the perfect place to explore once you look into it!

Beaches: Would it really be a trip to the Sunshine state without stopping at some beaches? We think not! There are obviously way too many of these to name. Most of them have excellent boardwalks which sport restaurants, arcades, gift shops, and more. No matter where you are, or what you're doing, you won't be far from a local beach. Make sure to bring plenty of sunblock, and pack your swimsuit! You'll need both for all the sand and sun you're going to be soaking in.
Nature Preserves: The first place that might come to mind when you think "nature preserves" is the Everglades. While this is absolutely a must-see destination, rest assured that there are plenty more out there! We especially enjoyed reading about the Tibet-Butler preserve, as well as the Boyd Hill Preserve. This really depends on how far into Florida you're driving, but be sure to check one out no matter where you end up. Even just typing "nature preserve" into your GPS will do the trick when you're on the hunt for one while on the go!


Hiking: There is a multitude of trails waiting to be explored all around the state. Where you're heading will decide where you hike, but we recommend trying to get a few different areas in. Because of the varying terrain, you're looking at all sorts of different views, and experiences. Whether you're exploring the Everglades or making your way to Myakka River State Park, there's a place to please everyone.

Horseback Riding: Are there any Equestrians reading? Even if there aren't, this is still a really cool activity for pretty much anybody! Most places don't have guided trail rides, and they certainly don't do them on the beach. While beach riding isn't unique to this state alone, many states now have laws that all but prevent stables from posting up on the beach. Be sure to get in at least a short ride for some gorgeous views atop the best seat in the whole world! There's nothing like a good beach ride to get your spirits up.
Water Sports: Okay, this one is pretty obvious. We're aware. But it's so obvious that it would be weird if we didn't mention it at all! Water sports are available all across the Sunshine state from coast to coast. You can enjoy a variety of water-related fun. Jet Skis are a popular option for many, but that isn't where it stops. You can also enjoy short surfing, scuba diving, shipwreck diving, kayaking, and more! Once you start looking into it you have to be careful. You'll fill up your whole itinerary with water-related fun if you aren't!

A Mouthwatering Masterlist
Still not satisfied? Good! Neither are we. The last "stop" on our little journey through all things Florida is their cuisine! Whether exotic or native, The Sunshine state is really stepping up their culinary game. You can find an almost unlimited variety of good eatin' in a multitude of cities. We'll name a few specific places, but then we'll talk about a couple of native dishes you need to try.



Palme d'Or: If you're truly versed in the foodie culture this is probably a familiar name for you. This luxurious restaurant is located in the historic Biltmore hotel. It's operated by Michelin-starred Chef Gregory Pugin. While a meal here will cost you a pretty penny, and probably a hefty wait for a reservation, you don't want to miss this stop.

Victoria & Albert's: We have already mentioned Disney on this list, but focused mainly on the attractions for families. While some may bring their children along, this restaurant is truly created with adults in mind. There is no greater splendor, nor better spot to dine, than this Orlando restaurant which is located in Disney's Grand Floridian Resort.

Alligator Meat: Oh, yes. You read that right! Of course, the first food we'll mention is Alligator meat. How could we not? This savory treat can be found almost anywhere in the state. Although it may seem a little odd, most report that it has a fairly mild flavor. In fact, it's reported to taste like chicken. No, that wasn't a joke. We're actually being quite serious right now. The tender tail-meat used to make Alligator nuggets really does taste like poultry. So, why not give it a try?

Cuban Sandwiches: One of the many foods that people crave when they move away from Miami is the Cuban sandwich. This delicious mashup of flavor contains port, ham, mustard, pickles, and swiss cheese piled onto toasted Cuban bread. Our mouths are already watering just thinking about it! You can order a Cuban anywhere, but it's best eaten in the southern portion where you can find a truly authentic version of it.



Key-Lime Pie: Did you know that this delectable dessert has its origins in the Florida Keys? We didn't either until now! As it turns out the tangy goodness known as Key-Lime pie is best served on a local beach. Make sure to get a slice if you're down in the area. The locals, after all, always know how to make it best!

Orange Anything: The biggest export in this state is, obviously, oranges. Because of this, you can expect a lot of orange-themed products, and the freshest orange juice around! We recommend trying some 100% pure orange juice while you're there. If you're of age then Mimosas are a must-have!



Keep in mind that there are so many things to do, and we've only scraped the surface of them. The Sunshine state is full of exciting sights to see, and plenty of fun activities. We're sure that your trip is going to be an absolute blast, no matter where in the state you stop. With so many things to do, what are you waiting for?

Your trip down the peninsula is ripe for the picking! We've laid out several great destinations for you, as well as some fun ideas for your schedule. At this point, you should have a good idea of what to expect, and where you need to go. We hope that we've given you some great ideas for your itinerary, and you'll think of us while you're there! So, go explore the open road and make your way down south for some fun in the sun. We'll be anxiously waiting for your return, and the stories you'll have to tell!



Sources