Best Work Overalls Reviewed & Rated for Quality
last updated:
Jan 04, 2021
A lot of jobs can be handled with nothing more than a t-shirt and pants, but that isn't always the case, as you can imagine. There are a lot of times when you need something a bit heavier duty or at least something you don't mind getting really dirty, to get the job done. And this is where work overalls come into play, the perfect marriage between cargo pants and a bodysuit.
Featured Recommendations for Work Overalls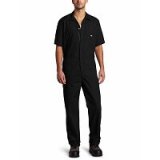 Dickie's Short Sleeve

Our rating
Roomy Fit in Shoulders
Price:

See Here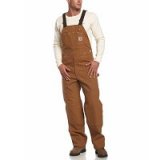 Carhartt Duck Bib Unlined

Our rating
Different Color Options
Price:

See Here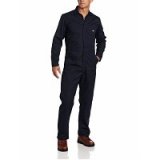 Dickie's Basic Blended

Our rating
Built For Hard Work
Price:

See Here

When you have a big, messy job, it's highly recommended that you put on a pair of work overalls to help get the job done. Often, they're the only type of clothing that can withstand what you're about to put them through, and still be able to be washed clean afterward. But you don't just want any work overalls, of course, which is why we're here today. This list is going to go over the ten best of this type of clothing, currently available on the market. So, slip on some sturdy coveralls and get ready to work, because we're counting down the:
10 Best Work Overalls
1. Dickie's Short Sleeve
Kicking off our list, we have Dickie's Short Sleeve Coverall. You've probably seen this brand of coverall a lot in your life if you've ever paid attention to the janitor in your building, or work in a factory. These clothes are perfectly made for those purposes, and Dickie's makes sure to go the extra mile.

Expand to see more
Superior comfort

Considering the kind of work you're going to be doing in these coveralls, as well as just how long you're expected to wear it, it's no shock that you want these coveralls to be as comfortable a fit as possible. Which is why these coveralls are made to provide you with a generous, roomy fit in the chest and shoulder areas, as well as a bi-swing back to give you that full range of motion that other coveralls would deprive you of.

Built to last

Any article of clothing meant for work, by design, needs to be built to last, but even by those standards, these coveralls are a cut above the rest. Made with a heavy duty nylon 2-way front zipper, which is then secured with concealed snaps for snag prevention, these coveralls are built with every inch guaranteed to provide efficiency and utility. And if you want your coveralls to remain nice and vibrant as the day you bought them, don't worry about that either. These coveralls have breathable poly-cotton poplin sewn into them, which among other things, resists fading for significantly longer than other coveralls.

Cost and Value

Being an article of clothing, overalls, of course, come in a spectrum of prices, depending on the size you buy them in. And considering how many body types most overalls are meant to cover, it can get pretty pricey in larger sizes. But considering that, we still feel confident calling the price range of these coveralls to be rather fair.


Superior comfort
Built to last
Durable yet breathable
Hips and legs are a bit snug
2. Carhartt Duck Bib Unlined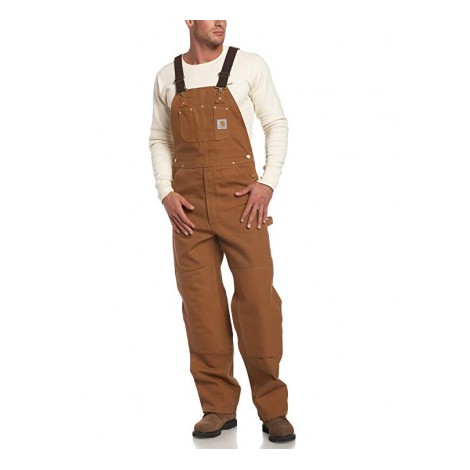 Coming in second place, we have the Carhartt Duck Bib Unlined Overalls. These are more of what you would traditionally expect when you hear the term overalls. Brown, only coming up to the upper chest, with two straps going over the shoulders, and a set of pockets on the chest area. So, let's see what famous clothing manufacturer Carhartt does to set this entry apart from the rest.

Expand to see more
Reinforced knees

If you're wearing this pair of overalls for anything other than to look like a redneck, then you're probably a guy who works with their hands a lot. And people who work with their hands tend to work on their knees. And anyone who has done that will tell you that it is not a fun time. Knee pads work all right here, but they're always a bit too cumbersome and bulky to be comfortable. Which is why this pair of overalls has its knee area reinforced with protective paneling beneath the surface. Making working on your knees less of a hassle than it needs to be.

Multiple tool pockets

This should be expected, outright demanded in fact, of all work overalls. Work overalls have always provided pockets to hold your tools in, and this pair is no exception. Besides the usual suspects like pockets for screws and nails and so forth, we also have a special loop for your hammer, so that you don't have to constantly be bending over to put it down and pick it up again and again.

Cost and Value

Being meant for much heavier duty work than the previous entry, this pair of overalls has a much steeper price range. However, if you can look past that, you'll find that it's more than worth the money.


Reinforced knees
Multiple tool pockets
Machine washable
3. Dickie's Basic Blended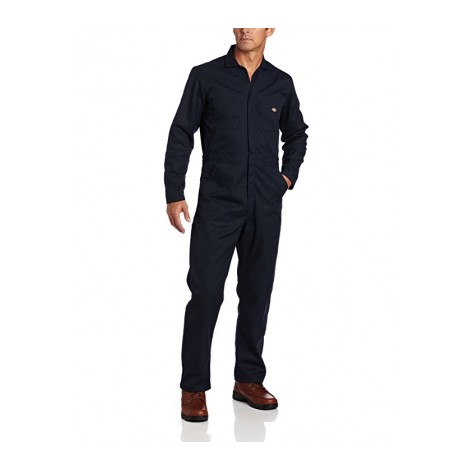 Finishing up our top three segment, we have the Dickie's Basic Blended Coverall. At first glance, this pair of coveralls may seem like a replica of the first entry. But upon closer inspection, you'll find a ton of notable differences. With that said, let's inspect closer.

Expand to see more
Stain resistant

Since these coveralls are meant for janitorial work primarily, it makes sense to make them much more resistant than other types of overalls, to stains and grime. Fortunately, these coveralls are more than up for the challenge. Made from Durable yet breathable poly-cotton, these coveralls are a lot less likely to stain than most clothes. And even when they do, it's a simple matter of running them through the washing machine to get them as good as new.

Exceptional comfort

Even when you manage to find something that's in your size, your body's shape probably differs a lot from the models and mannequins the manufacturer used to determine that size. Fortunately, these coveralls are made with an elastic waist insert for maximum comfort and fit, no matter your body shape.

Cost and Value

Surprisingly, we found this brand of coveralls to be one unified price across the size range. And on top of that, it's one of the fairest prices on the list, which only adds to the quality of the deal that these coveralls are offering you.


Stain resistant
Exceptional comfort
Affordable
4. Carhartt Quilt Lined Duck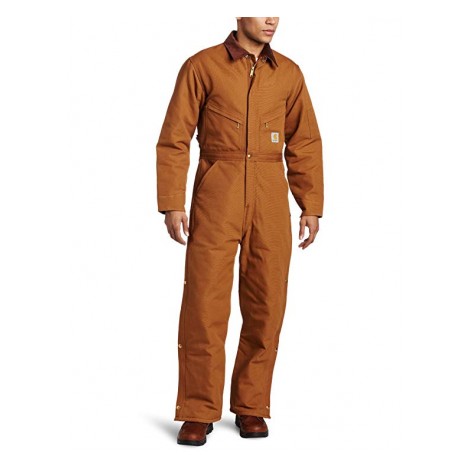 Coming in at #4, we have the Carhartt Quilt Lined Duck Coveralls. These are essentially the Dickie's coveralls, except a lot heavier duty, as is usually the case with Carhartt. The reason for this is that these coveralls are meant for
working outside
, with the biting cold wind in your face. So, let's see how these coveralls adjust to that.
Expand to see more
Protective wind flaps

When you have to do maintenance work on a rooftop, nothing is going to cut right through your endurance quite like the bitingly cold winds that come with being in a high place. Which is why this pair of coveralls is equipped with protective wind flaps that keep the worst of it off of your body, so the chill doesn't break your concentration.

Two way leg zippers

Need to do some leg work that the coveralls just won't allow? It can get pretty frustrating how coveralls tend to restrict your movements. Well with these coveralls, you no longer have that problem. The legs of these coveralls are made with two way zippers that you can use to free up your legs for more freedom of movement.

Cost and Value

These are easily the most expensive coveralls we've covered so far. But if you want heavy duty performance from your coveralls, these will definitely get the job done for you.



Protective wind flaps
Two way leg zippers
Midweight polyester insulation
5. Norty Long Sleeve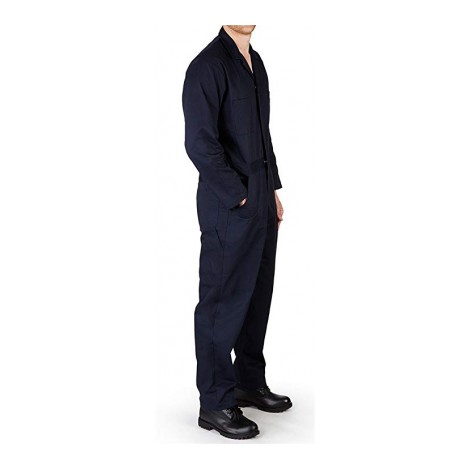 For our #5 spot, we chose the Norty Long Sleeve Basic Blended Work Coverall. A lot of workplaces will probably give you a coverall as a uniform, but as you can see, there are times when it falls to you to have your own pair of coveralls. And not everyone has the money that the entries so far have asked for. Fortunately, there exists this pair of coveralls.

Expand to see more
Comfortable movement
Don't think that just because this is considered a budget coverall that you have to put up with lackluster performance. In fact, thanks to an elastic waist insert and a bi-swing back, you can
move comfortably
in these coveralls, almost as well as your normal clothes. While some parts are still a bit snug for some people, you shouldn't have any real issue when it comes to moving around.
Washes easily
Work clothes have this stigma surrounding them, not completely unearned that they're incredibly hard to actually clean. However, you'll be happy to know that this is not the case with these coveralls. Made from a mix of polyester and cotton, this pair of coveralls is incredibly easy to clean and worry free when it comes to wrinkles.
Cost and Value
Like we said earlier, these are the coveralls you go for when you don't have the money for the previous entries, being the cheapest one so far. So, if you need quality performance for a good price, you can always trust Norty.
Comfortable movement
Washes easily
Very affordable
The zipper could be better
6. Dickie's Denim Bib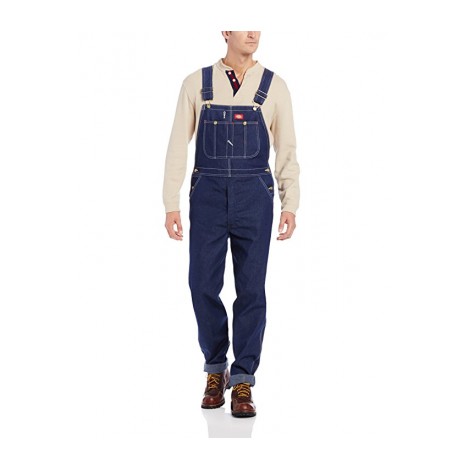 Coming in at #6, we have another Dickie's entry, with the Denim Bib Overall. This is the last Dickie's entry for this list, and we couldn't think of a better pair of overalls to go out on. Taking the most traditional form of overalls, that being
denim
, this pair of overalls is anything but ordinary.
Expand to see more
Tough and roomy

It seems to be the case that you have to constantly choose between comfortable and roomy, or tough and utility. The two concepts appear to be at constant odds with each other, at least until this pair of overalls came into the picture. Made from a durable, finely woven cotton denim blend, these overalls will withstand any amount of work you put them through, while still being roomy and comfortable to wear.

Exceptional functionality

Not only are these overalls built to last, but they're also built to work, and every inch of them is designed to be as convenient and functional as they can possibly be. These overalls are made with cross-over high back shoulder straps, dual bottom holes in the bib, and ultra roomy legs that easily fit over your boots. If the limitations of other overalls tend to annoy you, know that such limitations are not the case with these.

Cost and Value

We return to a price range based on size with this entry, but compared to the others on this list, this price range is actually rather fair. With the smallest size being incredibly affordable, and the largest size not being all that expensive, all things considered.


Tough and roomy
Exceptional functionality
Fair price range
Can be tight in the crotch
7. Red Kap Twil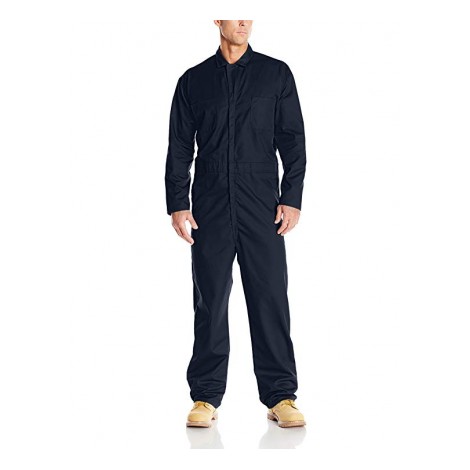 For the 7th place spot, we chose the Red Kap Twil Action Back Coverall. If you're looking for the ultimate in comfortable workwear, you've come to the right product. These coveralls will help you get your work done while keeping you comfortable in the process. So how does it do this? Let's find out.

Expand to see more
Designed for everyday work
This is the best work coverall for working long hours day after day because it's not only comfortable but designed to make wearing it as easy on you as possible. These coveralls are made of much stronger blends of polyester and combed cotton and held together by powerful triple seams. And every pocket is specifically placed right where it's most practical to be, making it one of the most convenient to use work overalls on the market.
Never fades
Nothing is more annoying than liking the color of your clothes, only to watch them fade away every time you wash them. Well, fortunately, that's a problem you won't have to worry about with these overalls, as they're made with Touchtex Pro fabric, which offers
color retention
that outclasses almost every other pair of overalls on this list.
Cost and Value
While like others on this list, these overalls come with no price range and only one singular price, that price is not exactly cheap. It isn't expensive, however, so we still consider it affordable enough.
Designed for everyday work
Never fades
Affordable
Shoulders are pretty tight
8. Natural Workwear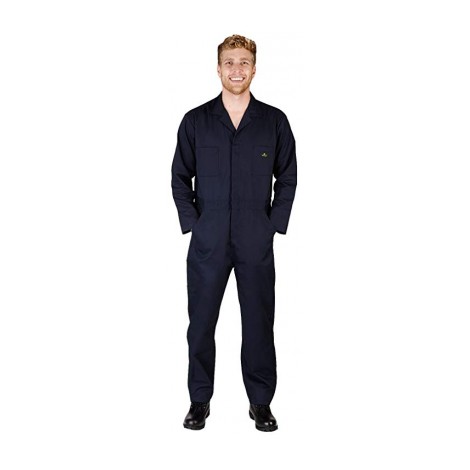 Kicking off our final three entries, we have the Natural Workwear Long Sleeve Basic Blended Work Coveralls. Despite the overall plain look of these coveralls, you'll find them more than up to the challenge of providing excellent comfort and performance on the job.


Expand to see more
Fits great
There are not a lot of sizes for these coveralls compared to other entries on this list, because these coveralls are meant to fit multiple sizes of people per size. Thanks to a mix of elastic fabrics, elastic waist inserts, bi-swing back, and careful construction, each size of these coveralls can fit two or three different body types, making this the most versatile on the list.
Plenty of pockets
For these types of coveralls, there really is no such thing as too many pockets, as there's always a need for more. And thankfully, these coveralls have you more than covered in that respect, having more than enough pockets for
any tools you might have
on you that need to go somewhere.
Cost and Value
This has, by far, the tightest price range on this list, with the lowest and highest price is just a few dollars away from each other. Which, of course, makes it one of the most affordable entries on the list.
Fits great
Plenty of pockets
Great price range
Shoulders and crotch area can be pretty tight
9. Walls Zero-Zone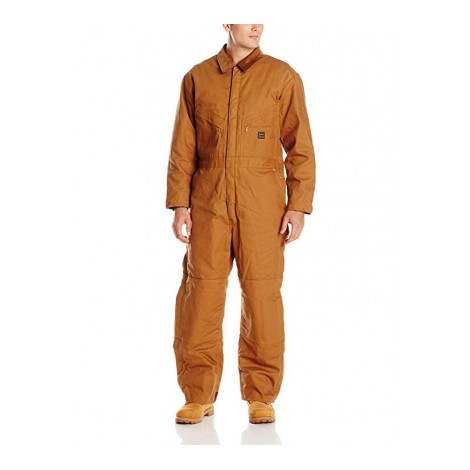 For our second to final entry, we have the Walls Zero-Zone Duck Insulated Coverall. Sometimes you have a job that needs heavy duty performance, and frankly, no other coverall is up to the task. That's when you get in the zone, the Zero-Zone.

Expand to see more
Muscle back technology

We've seen plenty of other entries on this list utilize elastics to make putting them on and moving around in them less of a hassle. But these coveralls take it a step much further than that, via what's known as muscle back technology. Essentially, Walls puts in not only an elastic waist but also an elastic band across the back. This frees up way more movement than any other entry on this list, allowing you to move around as freely as you would while wearing just a shirt and jeans.

Water repellent finish

The fabric of these coveralls is made with what's known as dry IQ water repellent finish. This repels water from every inch of the coveralls, which is a definite blessing when you're working out in the rain or immediately post-rainstorm, where there are puddles everywhere you look. When wearing these coveralls, you'll barely even notice you're kneeling in a puddle.

Cost and Value

The price range of these coveralls is no more expensive than the first entry, which is astounding, considering what it does for you in terms of performance. So, if you want the best heavy duty coveralls for a good price, then look no further.


Muscle back technology
Water repellent finish
Affordable price range
Sizing could definitely be better
10. Red Kap Insulated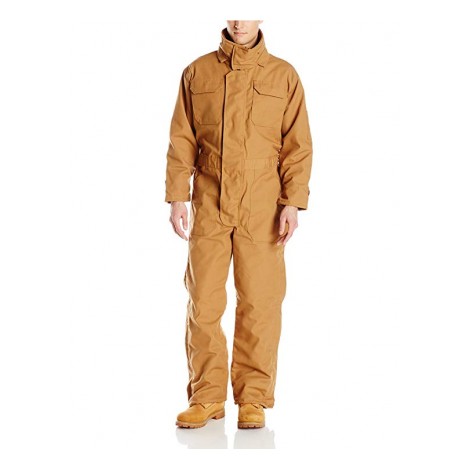 For the final entry for this list, we have the Red Kap Insulated Blended Duck Coverall. This is the kind of coverall you wear when working outside in the winter, as it is specially designed to keep you warm and toasty, while also giving you the range of movement needed for coveralls. How does it manage such a difficult balance? Let's finish up this list and find out.

Expand to see more
Complete elemental protection

As we said, this is a coverall that you wear when the weather is trying everything in its power to stop you from working. Built with ankle to waist, 2 way leg zippers, protective wind and storm flaps, and a heavy duty construction will keep you high and dry even in the toughest conditions.

Heavy duty build

When working out in the cold or rain, you are guaranteed to get worn down very quickly if you don't prepare yourself properly. This is why you get this Red Kap coverall, which is made from quilted polyester with a nylon lining. This coverall will keep you nice and warm, even when mother nature is doing everything in her power to perpetuate the contrary.

Cost and Value

Of course, the main drawback to this coverall is the price. In fact, it's probably the most expensive price range on the list. However, if you need the best in warmth and protection during your work hours, then the price is definitely worth it.


Complete elemental protection
Heavy duty build
Easy clean and press
There's a reason that so many construction and maintenance jobs require you to have or buy a pair of overalls before working for them. They're easily the best outfit for heavy duty construction and maintenance work, due to their versatility and functionality. A good pair of overalls will provide you with all the functions you need for physical labor: giving you plenty of pockets for tools, protection from the elements, etc. while also making sure you keep a full range of movement for your body. Work overalls have been around for centuries, mostly keeping with the same design, and it isn't hard to see why, as this list has definitely shown that if it isn't broken, don't fix it.
And we can definitely say that every single entry on this list is precisely what you've been looking for if you've been in the market for work overalls. Every single one of them embodies the best traits of this type of clothing and how it can make your work easier on you. So, if you've been looking for a really good pair of work overalls, one of these entries is probably exactly what you've been looking for.
Criteria Used in Choosing Work Overalls
Coming up with a good list of criteria for work overalls was interesting since we had to really dig into the product to get an idea for what we wanted to look for in a list of the ten best. And the result of that was this list here. So, with that said, here are the most vital criteria we chose to evaluate who got on this list and where.
Materials Used in Work Overalls
When judging any list of clothing items, no matter what kind of clothing it is, the critique that gets top billing is always the material used to make it. The material for a work overall needs to be tough, yes, but it also needs to be comfortable to wear, and flexible enough to move around comfortably in. You're likely going to be doing a lot of physical labor if you're wearing a pair of work overalls, so they'd best be as comfortable as possible so that you can work in them for longer, and allow you maximum room to move around and work in. For this reason, the most commonly used materials are either denim, nylon, polyester, cotton, or some combination of the four.
These materials remain comfortable, even when made in a way that makes them more durable. We judged each entry by how well they could blend together these materials in a way that was both long lasting, tough, but also comfy to wear for long periods of time.
Work Overalls Pockets
As we said, there really is no such thing as too many pockets on a pair of overalls. More pockets mean more places to put tools while you're working, not to mention other items like a phone and so forth because these are still your pants. This is one reason people prefer bib overalls to coveralls because they tend to have more pockets than coveralls. And it isn't enough to have a bunch of pockets all the same size. You also need variety when in the workspace. There is a need for a few pockets for nails, a belt loop for a hammer or two, a pocket for your screwdrivers, etc.
You need a variety of different pockets so that you have a different pocket for every type of task. When we looked at every entry for this list, we looked at the kind of pockets they had, how many they had, and what kind of work the overalls were meant for, so we knew what kind of stuff you would need pockets for when using them. Because like we said earlier, it isn't enough to have an overabundance of pockets. You also need to have varied pockets that accomplish a wide variety of tasks.
Freedom of movement
One complaint a lot of people have with a lot of overalls is that they're very hard to move around in. They're either too baggy or way too tight on the legs and arms. So, we made sure to look for only the overalls and coveralls that gave you as much freedom of movement as possible. There are a lot of ways you can achieve this. The most common means is by adding in elastic bands into the fabric to make it stretchier.
We see this a lot throughout the list, with the #9 spot being the logical conclusion to this idea, having elastic bands in both the waist and the back for maximum movement. Manufacturers also need to make sure that their overalls aren't too baggy, as recommended as it is for overalls to be loose fitting. The problem is that, if they're too loose, they can actually loop back around and restrict your movements in another way, by constantly getting in the way.
Work Overalls Insulation
If you're wearing work overalls or coveralls, then you're probably working outside a lot. Work stops for nothing, not even mother nature (short of a hurricane or wildfire demanding otherwise, of course) so you will find yourself working in the biting cold. So, when that happens, you want a work overall that will provide you with the insulation you need. This can get you through the day with all your fingers and toes where they need to be. Not every pair of work overalls, not even on this list, has insulation, and they'll more than likely tell you as such on the box. But if your work is going to be taking you outside in winter, then you need to find some kind of insulation.
Price of Work Overalls
The last criteria we looked at for this list was the price of each product. And how well it reflected the quality of the product. Like all forms of clothing, a lot of work overalls come at different prices. Of course,  depending on the size you get them in. More material has to be expended in order to meet the size requirements. That means more money has to be spent and thus made back. To get a good angle on this criterion, we decided to look at how well the quality of the product reflected on its price. After all, you're far more likely to pay a lot of money if you feel you're getting something in return that matches or even exceeds that value. Meanwhile, if you feel like you're paying too much for something worth half the price, if even that, you're going to feel ripped off.
FAQ
For the last segment of this article, we'll be looking at some frequently asked questions surrounding work overalls. You're buying these things to help you with work, so it's no wonder that you would want some questions addressed before you made any purchases, considering you're going to be wearing it 8 hours a day, 7 days a week. So, with that said, here are the FAQs about work overalls, and the answers thereof.
Q: Is there any difference between something being water resistant and being waterproof?
A: It's no surprise that people get these two confused, since to most people, something is either waterproof, or it isn't. The difference is both price and effectiveness. Water-Resistant material is typically cheaper and better for work clothes. Mostly because you can't really go swimming in work overalls. And thus just need to repel a small amount of water. If you get splashed by a bucket, you should be fine, but hours out in the rain, and something will seep through.
Waterproof, on the other hand, is complete impermeability to water, meaning no water can get either in or out of the object. You could stand under a waterfall, and nothing would change. As you can imagine, this tends to be the more expensive of the two materials and thus doesn't make it into a lot of work overalls. Because again, no one is expecting you to go swimming while wearing these things.
Q: Can I put insulated work overalls in the washing machine?
A: Unless it explicitly tells you otherwise, the answer is a hard no. Insulation and the materials needed to house it in clothing are very much dry clean only. If put in a washing machine, they will shrink, and they will shrink hard. As in, you'll barely even be able to put the things on afterward.
Q: Okay, so how do I clean insulated work overalls?
A: With practice and patience, and a lot of it. High quality work overalls have a lot of unique materials in their construction, which includes waterproof/resistant properties, sensitive interior lining, and a lot of other things that tons of water and soap can mess up if you aren't careful. There are lots of different ways to clean insulated work overall. All of which tend to differ from product to product. Fortunately, when this is the case, the distributor will usually include instructions detailing how to clean the overall without ruining the material. You should also confide in customer reviews, as they have firsthand experience.
Q: I have trouble taking off and putting on other overalls and coveralls?
A: There's one key solution to this; get a coverall or overall that includes 2-way leg zippers. It may seem odd, but the legs are the parts of the coveralls that are going to give you the most trouble when it comes to taking them off and putting them on again. But zipping open the legs allows you more room to move around in. We also recommend overalls with elastic waistbands and backs, for added mobility.
Sources
TheGearHunt, Best Insulated Bib Overalls
Amazon, Overalls 
Wikipedia, Overall
Subscribe to our Newsletter