Best ATV Snow Plows Reviewed & Rated for Quality
last updated:
Apr 06, 2021
We all love snow! Of course, it is way better looking at it from the warmth of our home. We get to relax with sipping or two of our favorite hot drink and go through all those childhood memories. But those days are long gone, and we don't enjoy playing outside anymore. Moreover, we like to stay inside, at a safe distance from the freezing outside temperature. Still, someone has to take care of that snow piled up on the driveway, right? If you want to get to work the next morning, you'll have to clean it up. Otherwise, you'll be stuck in your house for an eternity!
Yes, we know, it sounds rather tempting, but you're all grown up now. People are counting on you! Now, if you're about to pick up the shovel and confront the snow, wait for just a few moments. Without a doubt, you're very brave, but we have an easier solution for this situation. Why shouldn't you pair up your favorite ATV with a quality snow plow? This may seem silly for those who never attached anything to their ATV. People who use them to plant some seeds, mow the lawn or collect the leaves are well familiar with this tool. It's actually one of those tools that you don't appreciate much until you try them out. To put it simply, ATV plows will make the winter bearable. They allow you to plow the snow and get back to the cozy couch in no time!
Featured Recommendations
Moto Alliance

Our rating
Simple Installation
Price:

See Here

Extreme Max

Our rating
Super Efficient
Price:

See Here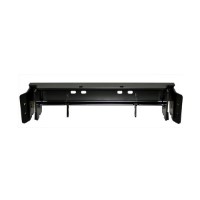 WARN 79403

Our rating
Cost Efficient
Price:

See Here

How am I supposed to find the perfect one for the job, you may ask? With all those different products out there, you may get all confused and unable to recognize the best product for your needs. Fear not, we got your back! To save you some time and effort, we have done thorough market research. We looked for the best snow plows for ATV that one can possibly find and came out with 10 of them. This should help you out with finding the perfect ATV snow plow for your needs. You get to chose only from the best, after all. Still, we provided some extra tips on the bottom of the list. They should guide you through the purchase and help you review your decision. Now, if you're ready, we can start with:
10 Best ATV Snow Plows
Moto Alliance
Here we have an amazing product form Moto Alliance. What makes it so good, you may ask! Well, I wide blade, of course! This tool comes with a wide blade to help you swipe the snow in a few simple turns. It's also very easy to use and maneuver it. Not to mention quality materials that are meant to last! You'll really enjoy having this tool in your equipment for quite some!
Expand to see more
Easy to Install
You'll get everything you need for the installation included in the box. Except for the tools but you probably have them all in your garage. The box includes the hardware, screws, bolts and other accessories. There's also a comprehensive manual. All of this should help you out with the installation process.
Although this one is not universal, it fits a variety of ATVs. You should only check its compatibility before the purchase, and that's about it! Also, keep in mind that this is a quite wide tool, designed for larger ATVs. You don't want to make that mistake and get the plow that is too large for
your type of vehicle
!
Quality Steel
This plow is wide 66 inches. We find it big enough to collect snow piled on the sidewalks in a few simple passes. It's also very well made. The company used heavy-duty steel for construction. They also put 4 thick (7 gauge) stabilizers in vertical and 3 of them in a horizontal position. They are built in to provide more support for the blade and make it super stable. This means that it won't rust, break or tear over time. You can use it as often as you like, it will last for many years!
Cost and Value
Although you'll get a huge tool you should know that it comes at a sky-high price. It offers great value but most people won't be able to afford it. Those who do decide to try it out will get a 3-year warranty for some extra peace of mind!
Easy to install and use
Fits a variety of ATVs
Comes with all the necessary accessories
Wide and stable
Quality materials
Durable
Extreme Max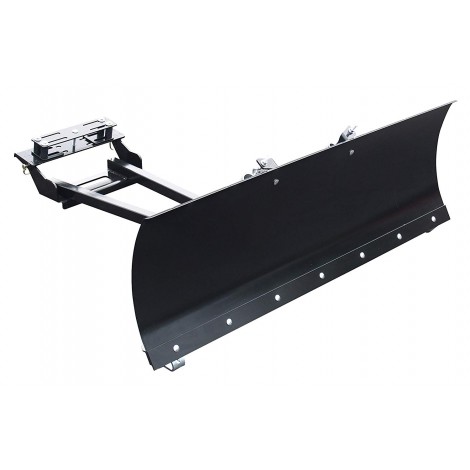 Extreme Max is one of the most popular products of its kind! People love it for various reasons. The most important one is its size. With the adjustable blade that is 50 inches long, you'll clean the snow of any depth in a breeze!
Expand to see more
Efficient
This is a rather versatile tool that measures 50 x 16 inches. It mounts on the frame of the ATV to achieve the best results. This way, the vehicle presses the blade down to the ground. The more the tool goes down the better cleaning results you get. Additionally, it fits different types of ATVs, although we still recommend double-checking this. Luckily for you, the manufacturer provided a compatibility chart so this shouldn't take more than a few seconds!

Adjustable Blade
When it comes to the installation, things are pretty simple with Extreme Max. Due to welded push tube, you'll be able to mount it on your vehicle in no time. We only had issues with the included instructions as they turn out to be a little bit confusing. We would like to see it with a step-by-step manual. With so many bolts and screws, it's nice to have detailed pictures!

It's also important to mention how durable this tool is. Extreme Max is made of high-quality steel that can withstand quite a lot. Let's not forget that this sturdy blade comes with an adjustable head! Yes, that's right, you can adjust it according to your needs for easy plowing!

Cost and Value
We weren't so surprised to find out that Extreme Max is a little pricey. It does, after all, provide exceptional value. If you're not sure about this one, the included 1-year warranty should give you more security. It's not too much, but it's still nice to have it!

50 inches long blade
Efficient
Easy to mount
Made of high-quality steel
Durable
Adjustable blade
Confusing instructions
Expensive
WARN 79403
We have a perfect product for those who are on a limited budget! Warn Industries is a well-known company that produces all kinds of ATV accessories. They also have to offer a variety of tool as well as automotive and industrial equipment. All in all, it's a reliable company praised among countless users. Without a doubt, you're going to love this product from their shelves!
Expand to see more
Quick Release
This one mounts on the front of the ATV. It allows for a rather simple installation. Although the included instructions don't help with the process. The quick-release feature allows you to attach and detach the tool in a few simple steps. Therefore, you don't have to leave it on your ATV all the time. Leave it in your garage until you need it again, and then you'll be able to attach it again in a breeze!
We should only address that some users had problems with the included pins. It seems that they can be tricky to install.
Universal Fit
The good thing is that this model fits most ATVs out there. It's compact yet efficient, which makes it a perfect option for every homeowner out there! Still, if you want to make sure that it will fit your vehicle, you can check out the company's website. You'll find a convenient chart with the models compatible with this particular tool.
We love the sturdy construction of this one! It features heavy-duty steel for improved stability and durability. The package includes all the bolts, nuts, and pins that are necessary for the installation. They are also very sturdy and durable.
Cost and Value
As we already mentioned, this is a perfect budget-friendly option! We highly recommend it to all those who are on a limited budget yet want
to get a quality and reliable tool.
Warn just doesn't disappoint!
Quick-release feature for simple installation
Fits most ATV types
Compact yet efficient
Sturdy construction
Durable steel
Budget-friendly
Some had problems with the included pins
Instructions are not clear
WARN 79958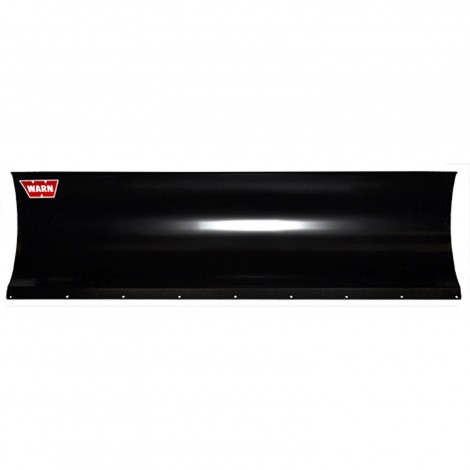 We have to introduce another exceptional tool that comes from Warn! This model is one of the toughest we have seen. It offers a super wide blade and fits most large ATVs. People all over the market are thrilled with its quality and durability. If you own a big vehicle and you want more efficiency when tackling the winter duties, this one is a must!
Expand to see more
72 inches
This Warn model is quite large! It has a 72 inches wide blade which means that it's suitable for bigger ATVs. It also means that you don't need to make too many passes to clear the snow outside your house!

We only wish for it to come with better instructions. The included manual is not quite clear, so it could slow down the installation process. That being said, most users didn't have any major issues with mounting the plow on the ATV.

Tough Construction
This is a tough one! It's made of thick steel that proves to be very durable. It's also rust resistant so you can easily leave the tool outside. It won't get damaged by harsh weather conditions. The sturdy construction adds to the stability of the blade as well. It doesn't wobble during the use so you'll be able to enjoy its efficiency. Also, the plow is adjustable so you can set it up according to the task's requirements. You get all that you need with Warn!

Cost and Value
We definitely recommend this model to all homeowners out there, in spite of its price. You'll have to add quite some cash to get this one. Still, take into account that this is a rather large model that can really do the job in a breeze!

72 inches wide
Efficient
Easy to install
Made of thick steel
Durable
Stable
Poorly written instructions
Expensive
Black Boar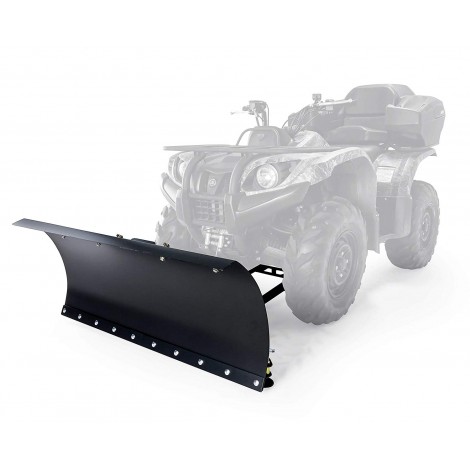 If you're searching for a tough tool for your small ATV, look no more! Black Boar offers a perfect tool to suit the needs of every homeowner. It's efficient, easy to use, and rather durable. Who could possibly ask for more? Make sure to check out their complete offer. You'll see that Black Boar has a variety of tools to offer, and they are all equally well made!
Expand to see more
Perfect Fit
This one offers a universal fit. With the blade that's 48 inches wide, you can use it on almost every type of ATV. The installation is as simple as it can be. The tool features two pins for quick mounting. You just need to put them on or take them off the mounting bracket, and that's about it!
We only have doubts about the stability of this design type. Although it allows for easy installation, it could make the tool wobble a little bit!
Sturdy Steel
The best thing about this particular plow is an incredible construction. Black Boar is made of heavy-duty steel which makes it very durable. For that reason, it proves to be very heavy. We don't mind because it adds to the already high efficiency of the tool. Additionally, the blade is adjustable and you can choose to set it up in the desired angle. This will allow for better cleaning results!
Cost and Value
Let us first say that almost all buyers are satisfied with the value that comes with Black Boar. Now allow us to mention how pricey this product is! If you want to make it
a part of your garage equipment
, you'll have to add quite some cash.
Universal fit
Easy to install
Made of sturdy steel
Durable
Adjustable blade
Efficient
It could be unstable
Pricey
Swisher 2645R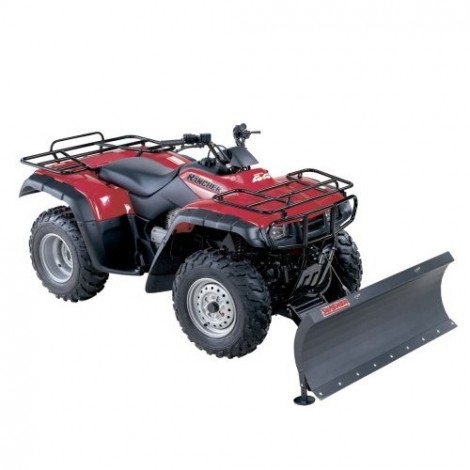 We have a perfect product for all those who need a compact snow plow! This is one of the most popular products of its kind. Its praised for efficiency, quality, and durability. Without a doubt, once you try it out, you'll find it irreplaceable!
Expand to see more
Versatile
This one is 50 inches wide which makes it quite versatile. It's actually the size that makes it fit most ATVs, from the smallest to the biggest ones. The installation is as easy as ABS. You can use the included pin to attach and detach the tool from the mounting bracket, and that's about it. This way, you can keep the tool on or take it off at your personal convenience!

The only drawback comes from the fact that this product requires a unique mounting kit. You can't improvise with the screws and bolts you already have. Also, you probably won't find the kit at the local store. So if you end up missing parts at some point, you'll have to get them straight from the company.

Adjustable Blade
You can use this one to efficiently remove snow, dirt or gravel. Being around 50 inches wide, the blade is perfectly sized to tackle the job quite efficiently. It also allows for multiple adjustments so you can set the blade into the desired angle.

When it comes to durability, we have only nice words to say about this tool. It's made of high-quality steel that proves to be quite durable. It also adds to the overall stability of the tool.

Cost and Value
The lack of drawbacks is very indicative when it comes to the price of this product. Without a doubt, Swisher will cost you an arm and a leg! Most buyers don't complain about the value they got for the money. However, they do agree upon the notion that this is one of the most expensive products of its kind.

Versatile
50 inches wide blade
Easy to install
Efficient
Allows for different adjustments
Quality and durable steel
Requires a special mounting kit
Very expensive
WARN 80954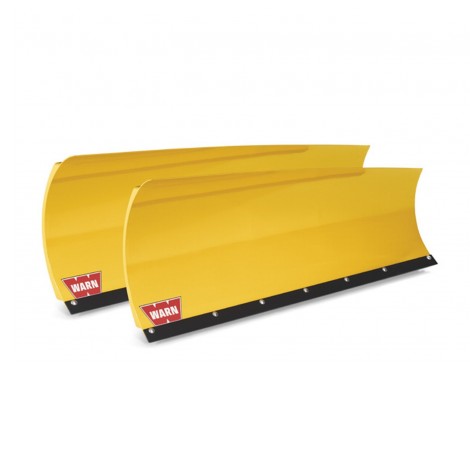 If you're interested in trying something new, this is an excellent choice for you! We know what you're about to say – you're all about Warn products. Well, what can we do when they are so good? Anyway, you'll forgive us as soon as you try out this unique snow plow!
Expand to see more
Unique Curve
This is a unique tool that features a curved profile for better cleaning results! This design type allows for more efficiency so you'll be done with your winter duties in no time. Also, this type is available in two sizes (54 and 60 inches). You can choose the one that suits your vehicle the most!
We should only mention that some users had issues with the installation. It seems that the mounting bracket will require some adjustments for a proper fit!
Stable and Durable
We were also very pleased with the quality of this tool. It features 11-gauge steel as well as some extra support along the entire length. This gives it more stability and ensures
great efficiency during every use
. Not to mention the powder coated finish for extra protection. All in all, you'll be quite satisfied with its quality and get to use it for a long time!
Cost and Value
Compared to the previously reviewed models, this one comes at a reasonable price. You might have to make some adjustments to fit it to your vehicle, but it's well worth it for the price!
The unique curve for more efficient
Available in two sizes
Made of 11-gauge steel
Extra support for more stability
Durable
Reasonable price
Some buyers had issues with the installation
Kolpin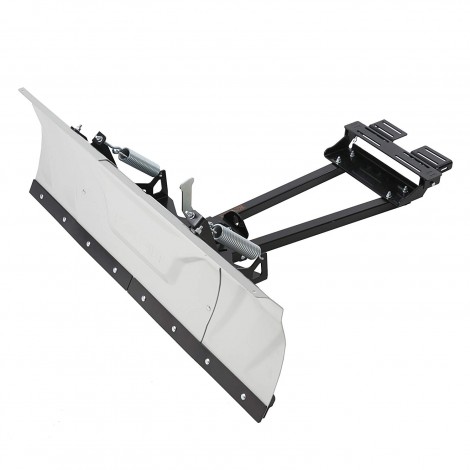 Kolpin is one of our favorites! We don't only like it because of the quality parts and overall durability. Although we have to confess that this plays a great role. We also like its adjustable blade! It goes in desirable width and allows for 5 different angle positions. Incredible, right? Make sure to check it out, because it's definitely worth your attention!
Expand to see more
Adjustable Blade
What we liked the most about this tool is the adjustable blade. Not only that you can adjust the blade at a proper angle but you can expand it too! The blade can be either 48 or 60 inches wide. This is super useful! It also features a universal mounting bracket to
fit most ATV types
.
Still, we have to admit that this snow plow requires some effort for the proper installation. It does offer multiple mounting options though. This should ease the process a little bit.
Sturdy Material
The adjustable blade doesn't only allow for easier use but helps with the transportation too. It also takes less storage space. Not to mention that is made of durable steel. This prolongs the tool's lifespan and allows you to use it for a long time. Also, the study design makes it rather stable on your vehicle, so you'll be able to enjoy its efficiency!
Cost and Value
Although this one comes at a slightly higher price, it's worth every penny! Once you get through the tiresome installation process, you'll enjoy the tool's efficiency. The winter seems more scary with Kolpin!
Adjustable blade
5 different angles
Universal fit
Easy to use and transport
Durable steel construction
The installation requires some effort
Some might find it pricey
KFI Products 105048
If you're searching for an affordable ATV snow plow, we have a perfect product for your needs! KFI features a compact yet efficient tool to suit a variety of needs. It also offers a universal fit so it mounts on almost every ATV type. Seems like a real steal, right?
Expand to see more
Easy to Install
This snow plow has a 48 inches wide blade and
fits most ATV types
. This size makes it quite universal. Although we still recommend checking out the compatibility with your vehicle. Also, the installation is so easy with this one that you'll be plowing in no time!
You'll be pleased to know that you can adjust the blade to go at the desired angle. It all depends on your task requirements and your personal preferences! Another great thing is that the compact blade gives the tool versatility. You can use it on small yards and tight areas in general, it will reach all remote areas in a breeze!
Stable
We liked that the plow features 11-gauge steel. This makes it stable and durable. However, we have to notice the lack of coating. This could make it prone to scratches and damages in general. There were users that praised its durability as well as the ones that complained about it. Keep this in mind before you make a decision. If you want something to use for harsh conditions and on a regular basis, this is not the tool for you!
Cost and Value
Finally, we get to have an affordable tool that is also well made. Sure, it's not perfect, but we can't really argue considering its price. Most buyers are happy to have it!
Compact yet efficient
Universal fit
Perfect for small yards
Easy to install
Stable
Affordable
Moto Alliance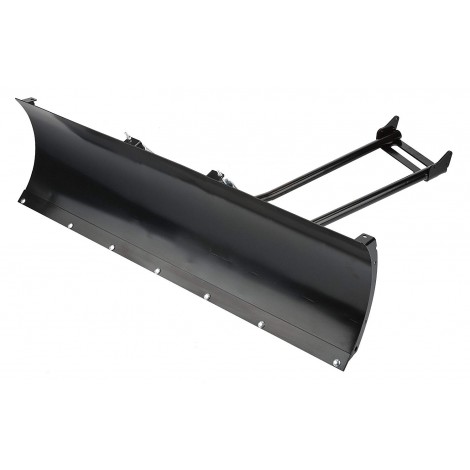 For the very end, we have another great product coming from Moto Alliance. Those who need a large and super efficient tool will be thrilled with it! You get to remove the snow, dirt, and other kinds of stuff with such great ease that you'll finally enjoy the winter!
Expand to see more
Simple Installation
This one comes with everything you need for easy use and simple installation. The blade is 60 inches wide which makes this tool perfect for bigger ATVs. It also fits a variety of models, just make sure not to buy it for a small ATV.

It was rather surprising that a big snow plow like this offers an easy installation. Yet, most people managed to mount it on their ATVs with great ease. We would only like to see it with better instructions, though. The included manual is somewhat confusing and misleading in several steps. Keep this in mind during the installation!

High-Quality
Not only that this is a high-quality tool but an extremely durable one! It also features 7 gauge ribs and 3 horizontal stabilizers for more support. This makes it super stable and allows for easier maneuvering. We really can't complain about anything regarding these tools' performance. It's just a perfect big plow that will last for many years!

Cost and Value
The major gripe we have with this tool is its high price. Yes, we know, it's super sturdy, durable, and efficient. Yet we can't neglect the fact that most people won't be able to afford it! Those who can get the tool will also get a 3-year warranty, though.

60 inches wide blade
Simple installation
High-quality steel
7 gauge ribs and 3 horizontal stabilizers
Easy to use
Misleading instructions
Very expensive
Criteria Used in Evaluation of the Best ATV Snow Plows
If you're wondering how we ranked our 10 best picks, we have answers for you! There are many things that we had to examine and compare to be able to rank these tools. Although we couldn't list all of them, we made a short preview for you. It includes some of the most important factors used in the evaluation:
Mounting Options
First thing first, the best snow plows should give a lot of mounting options. They also have to be easy to install. The ones that offer simple installation are easier to attach and detach. This allows you to use the ATV without the tool and then simply add it when you need it. When you have to bother with difficult installation, the chances are that you'll just leave the tool there. You'll hate it because you'll have to use the ATV with it, but you'll hate more doing the installation thing all over again! That's why this was such an important thing for us.
Blade
Although we couldn't guess which blade size you need, we could look for other things. For example, we assigned some extra points to all snow plows that have adjustable blades. They allow you to set the tool in a proper angle and get the best out of it!
Ease of Use
It might seem that all snow plows are the same and easy to use, but that's not quite true. Some of them allow for easier handling while others don't. Some are heavy, bulky, and not adjustable at all. Others offer adjustable features to make your tasks easier. To cut long story short, the ones that performed the best made it to the top out our list.
Cost and Value
These things are not cheap at all! You probably have figure out this by now. Therefore, we had to provide some useful tips to help you decide. You'll find reviews of cost and value along with every ATV snow plow on our list. The ones that had to offer more for the price are ranked higher, of course. We just had to make sure that you'll get what you have paid for!
Other Factors to Consider
Now, we know that you can't wait to try out your new tool. Still, we recommend taking a few extra steps before you buy it. There are some things you might want to consider before the purchase. You do want to make sure that you're making the right choice, right? It should take only a few seconds, we promise! We listed a few questions you should ask yourself before you click the "get this tool" button. Here we go:
Could I put it together?
In the first step, you should consider whether you need an easy-to-install tool or not. If you're mechanically inclined and you have a big garage with all the necessary equipment, you can do it in a breeze! Yet, if you don't have the proper tools or you don't want to bother with the installation, which is completely understandable, you should aim for a simpler snow plow. Also, the ease of installation will determine whether you'll be able to attach and detach the snow plow at your will. If it's too difficult to mount it on the ATV, you'll probably leave it there after the first installation. On the other hand, if you get the one that is easy to mount, you can attach it and detach it wherever you want. It's up to you!
How wide blade do I need?
The size of your ATV will determine which size of the snow plow you should get. Still, you can always aim for a smaller or bigger snow plow. They'll still fit the vehicle and yet you'll get the one that meets your needs. Now, consider the size of the lawn or another area where you'll be using the snow plow. If you need to reach tight spaces you should go with the smaller tool. Yet, if you have a large yard and want more efficiency, aim for a wider one!
How often I'll be using it?
This is also important because it influences the steps reviewed above. If you plan to use it occasionally, according to the weather, you don't need a heavy-duty ATV snow plow. The mid-range one will work just fine and it will last. On the other hand, if you plan to use it for landscaping as well, you might want to aim for more durability and stability. You might have to look for some extra features as well!
What budget do I have?
As you already know, ATV snow plows are not cheap tools. Although you get to use it for many years, you might have to make some compromise to get the one that meets your budget limitations. Consider the budget before you start looking for a particular tool. Then review the factors listed below. Once you do all of this, you'll be sure what you want exactly. Then you can make compromises by excluding the things that are not so important for you!
FAQ
Frequently Asked Questions
Q: Do snow plows work?
A: Of course they work! This is a common concern among ATV owners. They get all skeptical about using their ATV for removing snow. Still, thousands of satisfied buyers say that snow plows work like a charm! You can finally rest from using a shovel every time a sidewalk needs to be cleared. Snow plows will work on almost any depth of dry snow. It could struggle a bit with heavy snow, but it should be able to handle it as well.
Q: How much snow they can plow?
A: They should be able to plow around 8 inches of dry snow. This could differ depending on the type of snow. The wet one is harder to remove!
Q: What else are they used for?
A: People use them for landscaping as well! You can use them to level sand, dirt or gravel. They prove to be quite efficient. Not to mention how easy is to get the job done with these ATV snow plows!
Q: How should I know which one to get?
A: It's rather simple! You only need to make sure that a particular snow plow matches your ATV. Just compare its measures with the size of your vehicle. The manufacturer often offers a comparison chart so you can follow this as well. Then you get to choose the size of the blade and other features. We recommend taking into account the size of your yard or any other place where you'll be using the tool. This will tell you whether you need a smaller snow plow for reaching the tight areas or you need a bigger one for more efficiency. Also, you can follow our ATV snow plows reviews. Our list can help you make up your mind and choose the perfect ATV snow plow for your needs!
Q: Where to find ATV snow plows for sale?
A: Well, to be honest with you, the easiest way to find the perfect snow plows is to follow our list. We are not being modest, we know, but we did make quite some effort to ease this process for you. With a simple scroll or two, a few-minutes read, and a click, you'll get the perfect ATV snow plow. You don't even need to go to the store!
Subscribe to our Newsletter