Best Headlamps Reviewed & Rated for Qualilty
last updated:
Jul 29, 2019
Are you going hiking? On a nature walk? Spelunking? Or are you just working on your car? Well, in those scenarios, you probably have your hands full or are in a situation wherein you need to keep both hands free just in case you need one or the other. And you aren't in a position where you can just pick up or put down a flashlight. So, you need an alternative solution to this. Well, don't worry, as one is readily available to you: Headlamps!
Featured Recommendations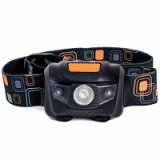 Shining Buddy

Our rating
4 Settings
Price:

See Here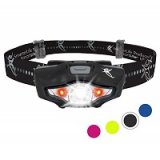 Smarter Life Products

Our rating
Weighs Only 1.25 Ounces
Price:

See Here

Foxelli USB

Our rating
USB Rechargable
Price:

See Here

Headlamps are a brilliant alternative to having to hold your flashlight in your mouth and hope it doesn't fall out. They stay nice and strapped to your forehead, giving you plenty of light and keeping your hands completely free while doing so. They're just as powerful as any flashlight on the commercial market, with the main difference being that you don't have to sacrifice a hand to hold onto it. And today, we're counting down the top 10 best of them. Which ones does it best, most conveniently, and of course, the brightest? So, get ready, because we're counting down the:
10 Best Headlamps
1. Shining Buddy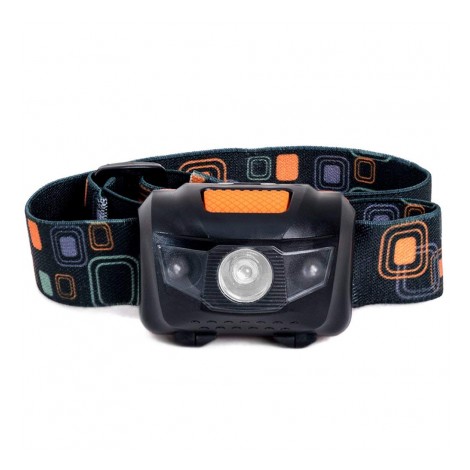 Kicking off our list, we have the Shining Buddy LED Headlamp Flashlight. Shining buddy has been around for a while, but this is the first headlamp they've put out that's really stuck with us. But that isn't for no reason, as this is a truly excellent headlamp, worthy of being a part of your collection.

Expand to see more
Ultra lightweight
When this technology was starting out, we'll give you three guesses as to what the main hurdle was when wearing them: time's up, the answer was that the darn things were too heavy. They kept bobbing up and down, making it hard to see what you were doing or where you were going. Fortunately, this is no longer a problem, particularly with the Shining Buddy, which is ultra lightweight and will not bob, no matter how much you move around while wearing it.
Multiple settings
But
what is a flashlight
without multiple settings? Well, a flashlight, but whatever, our point is that this headlamp comes with a set of up to 5 different settings. These include high and low beam, white strobe, red beam, and red flashing. All ideal for different situations. And don't worry, this headlamp is actually very conservative with its power consumption, so you don't need to worry about this thing shorting out on you when you legitimately need it.
Cost and Value
The best thing about headlamps, in general, is how affordable they are, and it's no different here, with this headlamp being remarkably affordable, especially given the high quality it's offering.
Ultra lightweight
Multiple settings
Cheap
A bit cumbersome to turn off
2. SmarterLife Products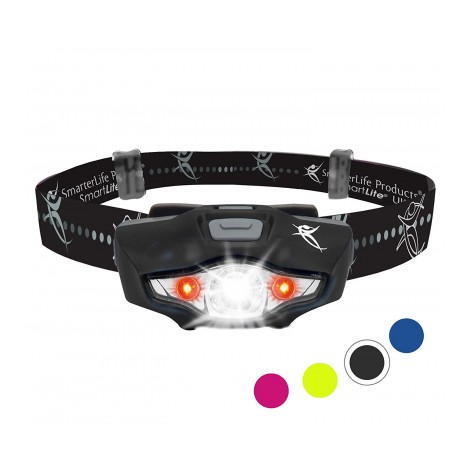 Coming in second place, we have the SmarterLife Products Headlamp. SmarterLife Products are not as well-known as other brands on this list, but that doesn't change the fact that they make one mean headlamp when they set their minds to it. Allow us to elaborate.

Expand to see more
Snug design
This headlamp is specifically designed to
fit as snugly as possible
onto your head once put on. Weighing in at only 1.25 pounds, and sporting a curved bracket and adjustable headband, this headlamp will fit nice and snug onto your forehead, ensuring zero interference while you're trying to get more important business done while wearing it.
Nonstop functionality, even when wet
With most headlamps, once the weather gets rough and wet, that's the end of that. But this headlamp will keep going even when wet, not showing any signs at all of the flickering or short circuiting. This headlamp is designed to be almost completely waterproof, which definitely makes it a must have for those rainy camping trips.
Cost and Value
While not quite as cheap as the previous entry, this is still a very affordable headlamp, so if what you're looking for is an excellent headlamp for an even more excellent price, look no further.
Snug design
Nonstop functionality
Cheap
3. Foxelli USB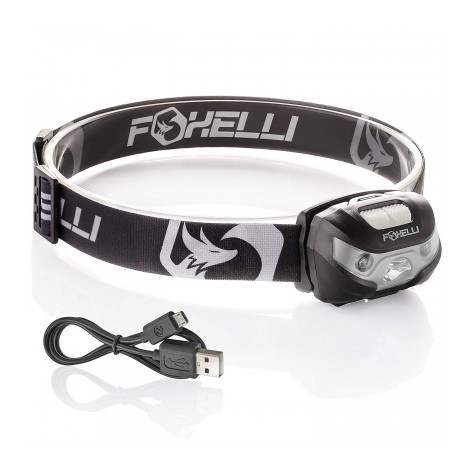 Finishing up our top three segment, we have the Foxelli USB Rechargeable Headlamp Flashlight. This is where we start getting into the really juicy entries, as Foxelli is essentially to headlamps what Alienware is to home computers. Highly advanced and always on the cutting edge. So, what is it that this 3rd entry on our list has to offer? Let's find out.


Expand to see more
Reliable and durable

If you're in a situation where you would really rather not have your headlamp break on you because of a falling piece of debris, then you need to get your hands on this headlamp, which is one of the most reliable and durable entries on this entire list. This headlamp will stay strong through wind, rain, snow, and extreme weather.

Extra brightness

This headlamp is equipped with 180 lumen LED with white and red lights, that easily pierce through the darkest shrouds. So even if you're working in pitch blackness, you'll stay just fine. And you don't need to worry about the battery running out when working long nights since as long as you charge up before you start working, this thing can keep running for up to 40 hours.

Cost and Value

The cost of this entry is a bit lower than the previous one, but not too far to be all that noticeable, especially when tax kicks in. But despite that, it's still incredibly affordable, so it all evens out.


Reliable and durable
Extra brightness
Lightweight and comfortable to wear
No notification for the battery running low
4. Vitchelo V800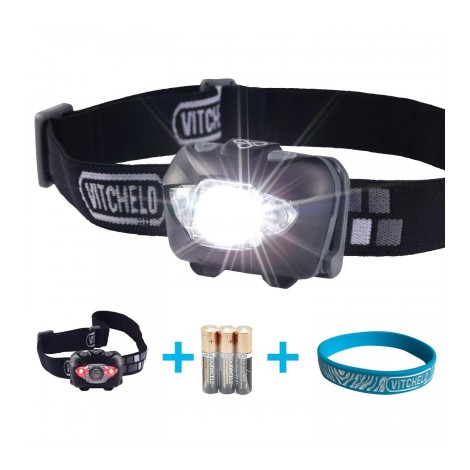 Coming in at #4, we have the Vitchelo V800 Headlamp. This is easily one of the most versatile headlamps on this entire list. Whether you're hiking in Colorado, to spelunking in the Rocky Mountains, this headlamp will see you through all of it with efficiency and comfort, no matter what. How does it do this? Let's find out.

Expand to see more
Great for multitasking
Some headlamps are great for different tasks. One headlamp, for example, may be too bright for
working underneath a car
, where the glare will get right in your face, but will be perfect for walking your dog at night on a big spacious street. However, this headlamp is adjustable in its brightness, so it can be used for both of those scenarios and so much more.
Great for emergencies
If you're buying a headlamp like this, then you're likely all too familiar with situations in which you're placed in a desperate situation where even having a little bit of light is considered a luxury. Fortunately, this headlamp's 120 hour battery life, 168 lumen output, waterproof build, and cold resistant materials make it perfect for such emergency situations.
Cost and Value
The best part about this headlamp is the price. While it still isn't quite as cheap as the first entry on this list, it's still very cheap compared to other headlamps that offer the kinds of emergency services it does.
Great for multitasking
Great for emergencies
Cheap
Headband and device are a bit smaller than you may be expecting
5. Foxelli CREE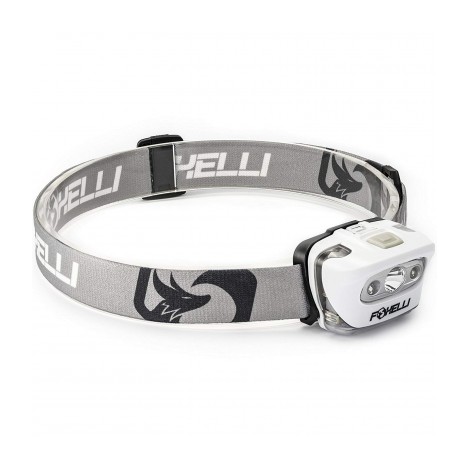 For our #5 pick, we chose another entry from Foxelli, with the CREE LED Headlamp Flashlight. Once again, we have an excellent entry from this brand, who offers top-notch service for humble prices. Not only is this one of the most affordable entries on the list, but it's also one of the best deals, by far. So, what did this Foxelli entry do to win out over its brethren and take the #5 spot on this list? Let's read on to find out.
Expand to see more
Bright and versatile
Not only does this headlamp come equipped with a super bright CREE-3W LED light, which reaches distances of up to 200 ft. but it's also tiltable. True, it can only do so about 45", but it's more than most of the other entries on this list can muster, and certainly more than those that came before. This makes this headlamp one of the most versatile on the list, at least in terms of where and what it can illuminate for you at a time.
Super long battery life
The great thing about
LED lights
is that they put out twice the brightness of your average, everyday light bulbs at half the energy consumption, meaning they last a lot longer. And this headlamp will last you upwards of 45 hours at least. So, if you end up getting lost in the middle of the night, at least you won't be walking blind.
Cost and Value
The best thing about this entry is the price. This is about on par with the first entry in terms of affordability, so if you need a very high quality headlamp on a very tight budget, then this is precisely what you've been looking for.
Bright and versatile
Super long battery life
Cheap
Beam has a slight amount of spillover
6. Black Diamond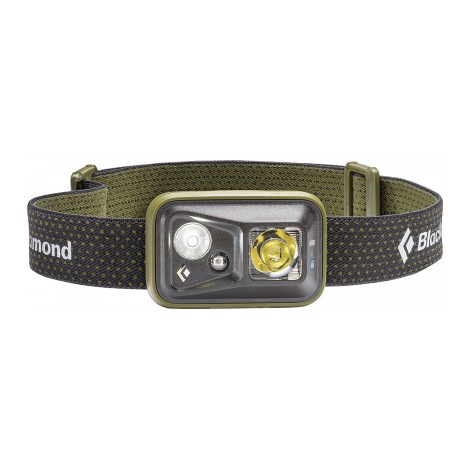 Coming in at #6, we have the Black Diamond Spot Headlamp. Black Diamond are known by headlamp experts as the company that asks a pretty penny from its customers compared to others but always does good by them by making high quality products. And nowhere is this better exemplified than with the Spot Headlamp.

Expand to see more
Power tap technology
When you
need to go from dim to bright
, you likely need to do so now, not over the course of a few seconds you could be spending doing whatever it is you need to be doing. Fortunately, this headlamp comes with power tap technology, which allows for fast, simple transitions between dimmed and full power brightness. So, if you need to get really bright really fast, then just give your headlamp a tap, and there you go.
Night vision mode
This headlamp is equipped with a red night-vision mode that lets you see in really dark situations. This mode comes outfitted with proximity and strobe settings, and can automatically activate, without having to cycle through the white mode first. So, if you need to see in the dark immediately, but don't want to draw too much attention to yourself, then get your hands on one of these headlamps.
Cost and Value
Like we said in the intro to this section, the problem with Black Diamond products is that they feel the need to be twice as expensive as their peers in whatever niche they're in. Which is why this headlamp is a great deal more expensive than those we've covered before. Not the priciest thing in the world, but compared to what's come before, it may as well be.
Power tap technology
Night vision mode
Sleek, low profile design
7. Cobiz Brightest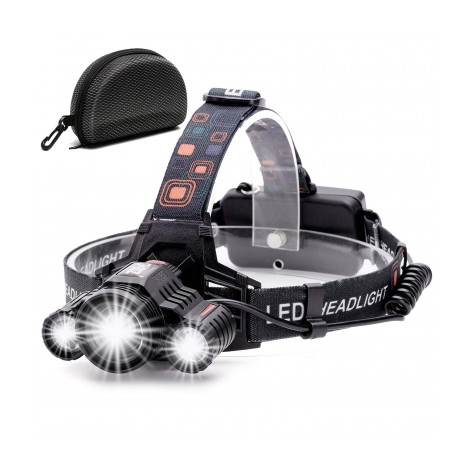 In the #7 spot, we chose the Cobiz Brightest 6000 Lumen Work Headlight. Like the name says, this is a work headlight, through and through. It isn't meant for the hobbyist or the explorer (though you can totally use it if that's your cup of tea) it's built specifically for people who work in environments where a good sturdy headlight is needed. And in that regard, this is pretty much the best one you can find.

Expand to see more
Infinite uses
While we said these were specifically
meant for professional use
, that doesn't mean you'll explode or something if you use it for, say, reading. The best thing about this headlight is the fact that it's likely the most versatile on this entire list. Able to be used in a wide variety of different scenarios. Whether it be reading in a dark room, seeing during a power outage, or if you're a miner, it's about as effective a light source as you're going to get down there. The possibilities are limitless.
Four modes
And all of that has to do with the four modes offered by this headlight. The thing is that these aren't just any modes, the different modes for this headlight have been meticulously crafted by Cobiz to make sure that each one can lend itself to a web of different uses. There's one for narrower, focused lighting, wider splash lighting, in both medium and high, or emergency strobe lighting, this headlight will give you everything you need.
Cost and Value
The price of this headlight, given its more advanced nature, is a bit pricey, but nowhere near as pricey as the previous entry. So, if you're looking for a professional quality headlight, and you don't mind spending a bit more than usual, look no further than this one.
Infinite uses
Four modes
Waterproofed
The battery pack is difficult to work with
8. Everbrite
Kicking off our final three entries, we have the Everbrite Headlamp Flashlight at #8. We go from more professional level headlights to more casual level ones, as these headlights are more meant to be used for camping, jogging, and so forth. So, what does it do to help achieve this niche the best way it can? Let's take a look and find out.

Expand to see more
Light and comfy
The previous entry was heavy duty, meant to tackle big projects and jobs. Meanwhile, this one is meant for more
casual hobbyist activities
. So, it wouldn't make sense if they were designed anything like each other. Instead, this headlight is comfy and lightweight, easy to put on and take off, and you barely notice it besides the light while you're wearing it.
Simple button design
The road in front of you may be illuminated, but you still need to find the on/off switch in the dark. Fortunately, this is not a problem with this headlight, as the switch for this headlight is conveniently placed on top of the headlight. So, if you need to turn it off or on, then you simply need to put your hand on top of your head. Easy as pie.
Cost and Value
These are easily the cheapest entries on the entire list. Even more affordable than the previous entry or the first entry, these are the ideal headlamps for the hobbyist on a budget.
Light and comfy
Simple button design
Cheap
Not as durable as other entries
9. GRDE Zoomable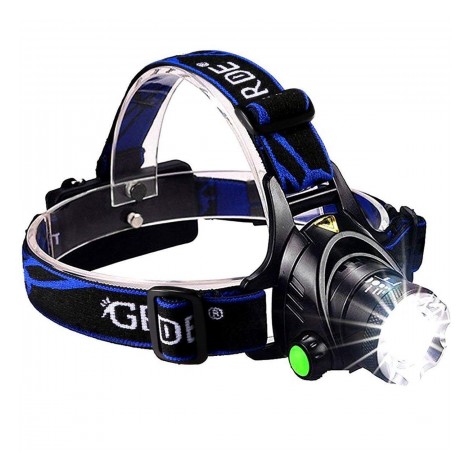 For the second to final entry of our list, we have the GRDE Zoomable 3 Mode LED Headlamp. Other headlamps on this list may be more versatile, but few are as multifunctional as this one is. So, what is it that makes this headlamp so great? Let's find out.

Expand to see more
Adjustable zoom
Other entries on this list have a beam that is adjustable only in presets. However, this headlamp has the ability to be turned like you would a camera lens, in order to adjust the zoom of the light in real time. Now you don't have to rely on the presets of the headlamp, hoping it's enough to give you the visibility you need. Now you can just alter the light's focus to an amount that you need.
Rechargeable batteries
The main problem with a lot of headlamps, including the ones on this list, are the fact that they often need external,
store bought batteries
. Occasionally you'll come across one that includes its own batteries, but for the most part, you're on your own. However, this headlamp comes with rechargeable batteries, that can give you a combined lifespan of 100,000 hours before they stop holding a charge.
Cost and Value
Like the #7 spot, this entry isn't terribly expensive, but it is notably pricier than other entries on this list, and the previous entry just runs circles around it.
Adjustable zoom
Rechargeable batteries
Multi-function capability
10. Lightning Ever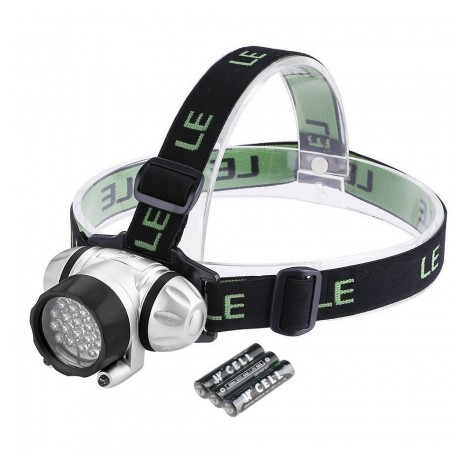 For our final entry for this list, we have our #10 spot, the Lightning Ever LED Headlamp. This is a headlamp that you would go after if you just wanted something baseline but quality. Not exactly average, but not about to blow any minds either. But with that said, there are a few things that this headlamp that cemented its spot on this list.

Expand to see more
Easy to wear
This is one of the most comfortable headlamps to wear on this entire list. Sporting a completely adjustable elastic headband, very lightweight, and
minimalist design
, you'll barely even notice you're even wearing it, even after several hours of doing so.
Wide applications
You'd be surprised how many activities done during the night are made easier or even just open themselves up in availability when you have a means of illumination that leaves both of your hands completely free. So now you're free to walk the dog, jog, or even work at night without having to worry about a constant light course. Since you have one strapped to your head at all times.
Cost and Value
The best part about this item is its price. While it isn't quite as cheap as the previous entry, it comes the closest to it, being easily the second cheapest entry on the entire list.
Easy to wear
Wide applications
Second cheapest on the list
Headlamps are one of the most convenient additions to your work or hobby that you could get your hands on. They give you all of the brightness and surface area coverage that a normal flashlight provides, but without having to take up one of your hands to do so. Making a headlamp perfect for professions such as mechanics or mining. It frees up your hands without leaving you in the dark. And it isn't just for your job, as these can be used to make your various hobbies even more fun. Need to pitch a tent in the dark, and you need a way to see what you're doing? Just put on one of these babies and watch the job fly by faster and easier. And we can say with all certainty that, if you're looking for the absolute best of the best when it comes to headlamps, you've come upon the right list. Every single one of these headlamps will give you precisely what you're looking for. So, if you need more illumination in your workplace or hobby, but also need both of your hands, then a headlamp might be exactly what you need for your troubles.
Criteria Used in Choosing the Best Headlamps
Assembling a list of criteria for this list was a bit tricky, but once we got the hang of it, it was fairly simple to use it to narrow down who got on the list and where. It was all a matter of asking ourselves what we wanted out of a headlamp and then digging into the specifics from there. So, with that said, here are the most vital criteria we used to evaluate the entries for this list.
Brightness
While technically in no particular order, we couldn't put this one first. It is, after all, a source of light, so the amount of light a headlamp puts off at one time is a big criterion for getting on this list. However, things got a lot trickier when we realized that too much light would get in one's way, especially if they're underneath a car and in such a cramped space trying to work. Too much brightness can blind you from the glare, especially if the beam starts spilling over into your line of sight. A headlamp can be just as powerful as any other LED light out there, but they need to have some kind of restraint because of the proximity they have to your eyes.
Comfort
You are going to be wearing this thing around your head. So, it stands to reason that you should enjoy, or at the very least easily tolerate, that happening to you. This is why we went to such lengths to find headlamps that were adjustable or elastic, generally easy to make fit on your head without much trouble. Another big part of this, of course, was the weight of the light itself. After all, it's a big metal thing on the front of your head, just kind of hanging there, so of course, it's going to be the main source of discomfort if not made correctly. It's a hard combination to achieve, but not impossible, as the ten entries on this list can attest to.
Lighting modes
Everyone wants multiple modes out of his or her flashlights these days, and for a good reason. It goes beyond wanting a bigger or smaller light; different lights carry different connotations with them. For instance, a strobe light, pointed skyward, is an effective way to signal for help when stranded. Red light makes for a good, discreet night vision light. Multiple different colors can help your base beam see better through the darkness, no matter how thick it may be.
Purpose
What is this headlamp meant for? Sure, a headlamp can technically be used for whatever you need it to be (within reason, of course) but some headlamps are better for certain activities than others. For instance, the heavier duty headlamps on this list are meant more for professional environments. They fit tighter on the head, so they won't go anywhere and are much brighter and longer-lasting. Meanwhile one meant more for casual camping, night jogging, and other casual activities will be smaller, easier for the average person to manage, have shorter battery life, but will be easier to deal with overall.
Battery life
Let's say, for the sake of argument, that you get stranded in the middle of nowhere in the middle of the night, and you need a light source until help arrives. Now, with most headlamps, you don't need to worry about them giving out on you in the middle of the night, since the average lifespan for a headlamp battery is around 45 hours. So, unless you're stuck out there for three days straight, you should be fine. That was the minimum lifespan we looked for with our headlamp batteries. We also tried to put more entries with rechargeable batteries, rather than ones with replaceable batteries that you have to buy from the store. The rechargeable ones tend to last longer, and it saves you hundreds in the long run.
Weight
One aspect that plays a key part in the comfort of wearing a headlamp is how much the thing weighs on your head. After all, if it fits snugly, but weighs a ton, then it's going to wear down your endurance very quickly. We looked for very light headlamps, or at the very least, headlamps that were very good at compensating for the weight and redistributing it so that there isn't so much on the front of your head. This is a big part of keeping your endurance up when wearing a headlamp, as well as keep you from getting too distracted by the big metal thing on your head.
Price
The final criteria we judged this list by was the price of each entry. And this is something we thought we would see bigger numbers for, but lo and behold, headlamps are cheap pieces of hardware. The most expensive ones we found were still well below $50, and the cheapest ones we found were well below $10. Because of this, we judged each entry by two criteria surrounding price: how much it cost compared to the others, and what each entry did to justify the price. Most headlamps cost the same as a happy meal, so if one costs twice that much, it's going to raise some eyebrows. However, if it could justify that price somehow, then it didn't seem as bad. The price of a headlamp tends to rise depending on the features included within it, and how much money was thrown into making it. If it tries to reinvent the proverbial wheel, then it's probably going to need a lot more in return to break even.
FAQ
Frequently Asked Questions
For the final segment of this article, we'll be taking a look at some FAQs surrounding headlamps. Headlamps are complicated machines that have a lot of work put into them to make them work just right for you, so it makes sense that there would be some unanswered questions surrounding them. So, let's get into those, shall we? These are the most commonly asked questions about headlamps and the answers thereof.
Q: How many lumens do I need for my headlamp?
A: The answer to this question is a complicated one since manufacturers are constantly pushing the envelope of how many lumens a headlamp can put out at once. But the thing is that too many lumens are a big problem. These headlamps are right above your eyes, so too bright a light, and you can end up blinding yourself from the glare, not to mention other people, since looking straight at someone requires you shine your headlamp in their faces.
It's important to remember that lumens are not a measure of brightness and light quality, merely the measurement of how much of the light is visible to the naked eye. Not to say that lumens aren't a helpful way to measure brightness, or at least give us an idea, but it's not going to tell you how useful it will be at a campsite or on the trail.
Q: Why are so many of these headlamp lights LED lights?
A: LED lights are perfect for headlamps. If you have a headlamp that has replaceable batteries, then you already have to take the thing off and open it up enough, so you probably aren't keen on having to go out and buy super specific bulbs for your headlamp every time it burns out. LED bulbs do not have this problem; they are perfectly self-sustainable light bulbs, without filaments to break and have to replace. They last a lot longer than normal light bulbs, and at half the energy consumption to boot. And yet despite that, they're often brighter and clearer than most other types of light bulbs you can find. Quite frankly, why wouldn't they use those as the basis for their headlamp bulbs?
Q: How do you recommend I get the possible enjoyment out of my headlamp per recharge?
A: Indeed, the battery life of a headlamp can seem like it's nowhere near long enough, but there are steps you can take to make it last longer. For one, you can get your hands on a headlamp with a fully adjustable beam. You don't need over 200 lumens of power burning through your backpack just because you're looking for your favorite jacket. Just dim the light and make it easier on yourself. Using just the right amount of light that you need per situation will buy you so many more hours of battery life.
Sources
Wikipedia, Headlamp (outdoor)
Energy.Gov, Lumens and Lighting Facts
Subscribe to our Newsletter