10 Best Car Seat Toys Reviewed for Toddlers & Babies
last updated:
Jul 09, 2019
Every new parent knows that rides in the vehicle with a newborn or an infant tend to go either one of two ways. Either your child is snoozing soundly in the backseat, lulled to sleep by the vibrations of the vehicle or else they're crying hysterically, hating every second of the car ride. For those parents whose children tend to fall into the latter category, don't worry, there is hope. You don't have to be resigned to year after year of meltdowns in the car. The secret? Purchasing the perfect, engaging toy for your little one that they can take along with them in the vehicle.
Featured Recommendations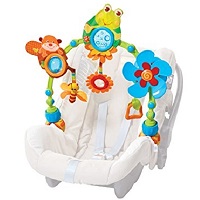 Tiny Love Take-Along Arch

Our rating
Universal clip attachment
Price:

See Here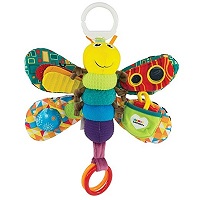 Lamaze Freddie the Firefly

Our rating
helps sooth baby's gums
Price:

See Here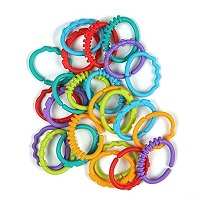 Bright Start Lots of Links

Our rating
BPA-free plastic
Price:

See Here

There are many parents out there who don't feel comfortable distracting their little ones with technology like smartphones or tablets and, with all of the amazing toys on the market these days, you shouldn't have to feel resigned to using electronics to entertain your child. The toys we have compiled in our top ten list are likely to be more engaging, fun, and educational for your little one than technology and, bonus, they cost a lot less too! With functional features like teething rings to help soothe sore gums to fun additions like hidden mirrors for tiny hands to find on their journey to self-discovery and recognition to noise-making, rattling and crinkling toys, the items on our top ten list are sure to not only entertain your child but keep you calm (and sane!) too.
10 Best Car Seat Toys
1. Tiny Love Take-Along Arch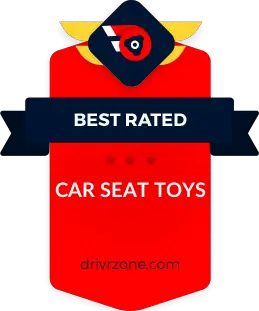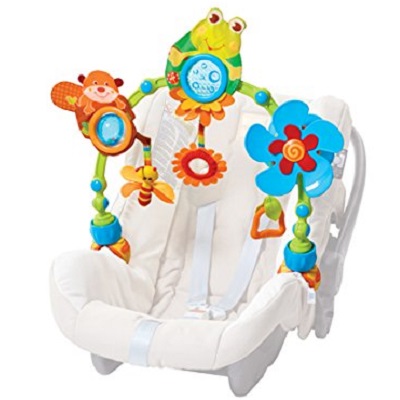 The Tiny Love Take-Along Arch is a great option for parents looking for a toy that will not only entertain their child as they go through different developmental stages, but will also provide a learning experience as well.
Expand to see more
Educational
The Tiny Love Arch offers a few features that will assist with your child's cognitive development. The engaging toys included with this toy will help your child practice their hand-eye coordination as they move from swatting at the toys to learning how to grasp and use their fine-motor skills. As your baby grows, they will learn cause and effect through pulling the toys and seeing what happens.

Flexible Arch
This car seat toy features a flexible arch that makes it easy to adjust the angle of the toy for different figurations and set ups. The flexibility allows parents to bring the arch closer to or further away from their child, depending on their preference.


Price/Value
Priced a bit higher than other options on our list, the Tiny Love Take Along Arch is still a great option to add to your baby toy arsenal, especially if you're looking for something both educational and fun.



Easy to adjust to different heights
Will grow with your baby as they learn new skills
No batteries required
Baby operated
Can be finicky to install
2. Lamaze Freddie the Firefly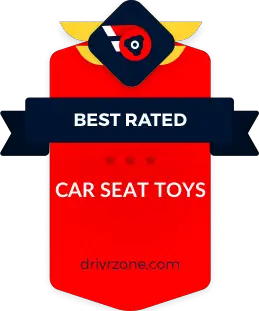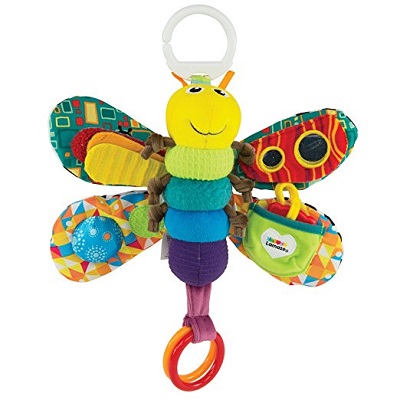 We have yet another Lamaze brand toy to add to our top ten list! Freddie the Firefly is as easy to use (just clip and go) as it is adorable. This toy is also a fantastic addition to your child's toy collection because it is equal parts fun and educational for your little one.
Expand to see more
Educational Components
Freddie the Firefly features a hidden mirror that your baby will find through discovery play. It also has clacking rings meant to awaken your little one's auditory senses, a cushy velour body for snuggling and different texture on its wings to entertain your child's tactile senses.

Great for Teethers
Similar to other Lamaze brand options on our list, Freddie the Firefly offers your child a number of different components that can be helpful during the teething stage. It has a teething ring to help soothe gums and the antennae is knotted which can be perfect for chewing on. Its legs, rings and ladybug feature are all made to be gummed and chewed upon as well.


Cost/Value
One of the cheaper options on our top ten list, the Lamaze Freddie the Firefly toy is a perfectly affordable option to add to your little one's toy collection. Between its fun textures, bright colors, teething features and self-discovery mirror, this toy is sure to be a hit with your child.


Squeaks, clinks and crinkle sounds help baby's auditory senses
Safe for little one to chew on and explore
Large, strong clip makes it easy to take anywhere
Will grow with your baby as they start to engage in the world
3. Bright Start Lots of Links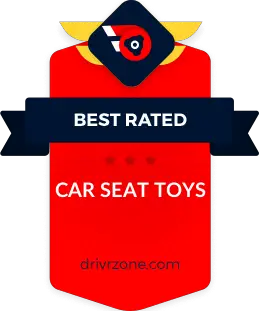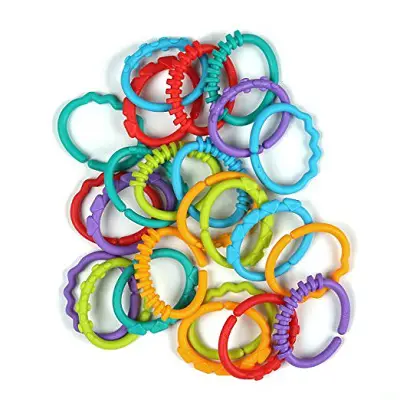 One of the simpler options on our top ten list, the Bright Start Lots of Links toy is a great addition to your child's toy collection. It's safe for babies aged 0 to 36 months old and is as compact and versatile as it is bright and colorful.
Expand to see more
Simple to Clean
In a world full of toys with batteries and components or materials that aren't washer-friendly, the Bright Starts Lots of Links may come as a relief for many parents. They are simple to clean, just with a damp cloth and mild soap, and then they're ready to be played with again.

BPA-Free
Bisphenol A (BPA) is a potentially dangerous plastic that children's toys of the past have been made of. These Lots of Links are proudly BPA-free, meaning that they're made of a safe plastic that you can feel good about giving your child to play with.


Cost/Value
The cheapest option on our top ten list, the Bright Starts Lots of Links package is an affordable addition to your child's toy chest. The bright colors and fun textures make this toy a hit with most children.



Low in price
Keep their shape
Simple to link together
A great hand-eye coordination exercise for older children
Nice for teething babies
Some links have wider gaps, making it hard to use as links
4. Bright Starts Take Along Carrier Toy Bar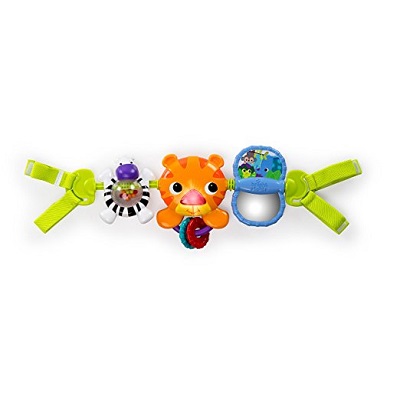 Just as the name suggests, the Bright Starts Take Along Carrier is as bright and colorful as it is versatile. With easy-to-use elastic straps, this car seat toy can easily be converted for use in elsewhere.



Expand to see more
Fun Toys
The Bright Starts toy features a number of fun different toys to keep your little one entertained during those long car rides. It plays four different melodies sure to please the little one in your life (and maybe get stuck in your head, too). In addition to the fun music, this product boasts a spinning roller ball easy for small hands to manipulate and a small spinning mirror perfect for self-discovery.

Engaging Lights
This car seat toy also features baby-activated lights that are both engaging and fun. The tigers nose lights up and will play different melodies when your child activates it.

Price/Value
Priced quite low, the Bright Starts car seat toy provides great value and entertainment for your little one for quite a small investment.



Strong Velcro that won't pull off
Beautiful, vivid colors
Batteries may die quickly
5. Infantino Hug & Tug Musical Bug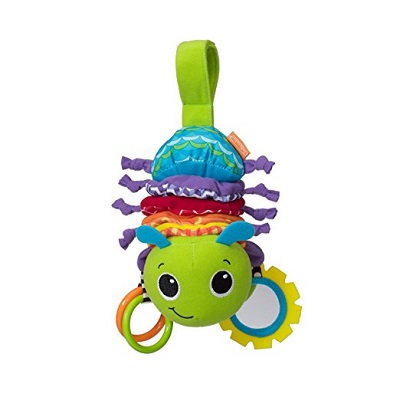 Take this Infantino car seat toy from the vehicle to the crib for the ultimate fun and versatile toy for your little one.


Expand to see more
Music and Fun
The Hug & Tug Musical Bug is a pull down toy, meaning its features are activated by a pull down motion. When your little one pulls the bug down, it activates the music and motion. The toy will play a tune for 90 seconds as the bug slowly shrinks back to its original form.

Clacker Rings
This Infantino brand toy also features two clacker rings. Babies love the click-clack sound that the easy-to-grasp rings make when you hit them together.

Price/Value

Priced quite low for a toy that doesn't require an additional cost to operate (no batteries required), the Hug & Tug Musical Bug is a great option even for parents on a strict budget.



Doesn't require batteries
Tugging motion will assist with building fine motor skills
Calming music
6. Bright Starts Start Your Senses Sensory Giraffe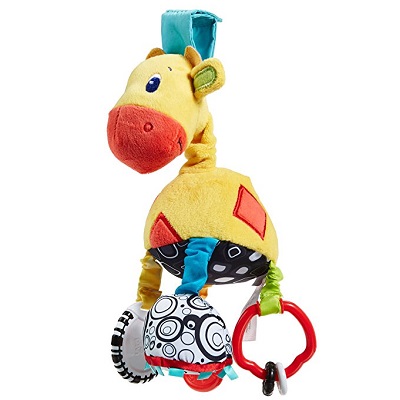 This cute giraffe from Bright Starts is a soft, plushy toy equipped with a clip making it easy to take with you on the go. It features bright colors, different types of textures and sounds to help stimulate your child's senses.
Expand to see more
Four Different Sensory-Stimulating Activities
This little giraffe is a perfect addition to your toy chest, especially if your little one is starting to work on developing their senses. Each of the giraffes legs features a different kind of sensory activity for your child to explore. From a bead chaser to the always lifesaving teething ring and mirror for self-discovery, Bright Starts really hit a home run with this one!

Easy-To-Use Velcro Loop
This Bright Starts toy features an easy-to-use velcro loop that makes it easy to attach (and detach) on the go.


Cost/Value
Priced on the lower end of the spectrum, this Bright Starts Start Your Senses Sensory Giraffe toy is an affordable and fun option for your little one. Its numerous textures, bright colors and fun features are sure to keep your child busy and entertained for hours and with a such a low price tag, you're really getting the most bang for your buck.


Easy to clean with a damp cloth
Can be used without attaching to car seat
Durable, won't break or tear easily
Strong Velcro won't come undone at the hands of your little one
May be too long to hang from car seat depending on what brand seat you own
7. Infantino Tag Along Travel Pals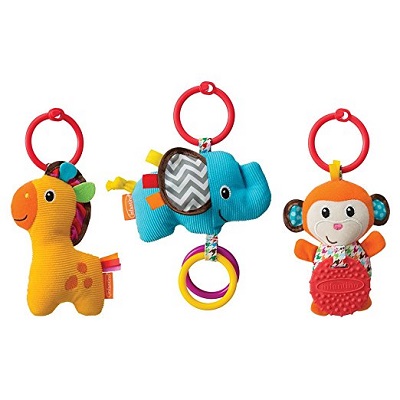 These three animal clips are an adorable addition to your child's toy chest. They're easy to clip on and off for quick transitions from car seat to play mat.
Expand to see more
Many Sensory Stimulation Options
These Infantino Travel Pals offer many options for sensory play. The elephant features two clacking rings and big, fun textured ears. The monkey has a teething attachment, perfect to help soothe aching gums. The giraffe is a crinkle toy that encourages your little one's hand-eye coordination.

Bright, Playful Colors
This Infantino toy is made of many bright and playful colors. These types of colors are a perfect choice for growing children as bright colors tend to catch their eye better and aid in helping them to distinguish one item from another. This toy, in turn, may help in developing your child's eyesight.


Price/Value
The Infantino Tag Along Travel Pals are one of the more affordably priced options on our top ten list. The three adorable animal designs are likely to be a hit with your little one and the numerous sensory experiences that these toys offer are apt to keep your child busy for hours.



Easy to clean with soap and water
Easy to attach and detach on the go
Fun for little one to grab
Will grow with your little one as they develop their skills and senses
8. Taf Toys All-in-One In-Car Play Center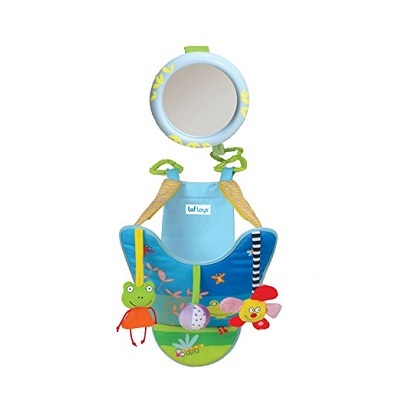 This toy is a little different than many of the other options on our top ten list. Instead of being a toy that hangs from your car seat or crib, the All-in-One In-Car Play Center from Taf Toys attaches onto the back of your car seat.
Expand to see more
Easy to Install
This play center attaches with clips to the back of your car seat's head rest and uses a velcro strap system to adjust the height of the toy to ensure a custom fit tailored to your vehicle, car seat and baby's size. It's perfect for rear-facing babies and great for mom and dad as it features a mirror which you can use to keep an eye on your little one.

Day/Night Mode
This Taf Toys brand car seat toy features a Day/Night mode via a switch on the back of the toy. The difference between the two modes is in the songs that will play. Night mode plays a relaxing tune, perfect for lulling little ones to sleep. Day mode plays a more upbeat and cheerful song.


Cost/Value
Priced a bit higher than other options on our top ten list, the Taf Toys All-in-One In-Car Play Center might be a bit of an investment for some families, but the pros of this product outweigh the slightly higher price tag. The mirror for mom and dad, easy and customizable fit in your vehicle and the simple fact that it attaches onto the back of your car seat make this product from Taf Toys a unique addition to your toy repertoire.


Simple to install
Nice to be able to control the music with the remote from the front seat
Bright colors are visually stimulating for little ones
Can be used outside of the car as well
Not made for cars without adjustable head rests
9. Lamaze Jacque The Peacock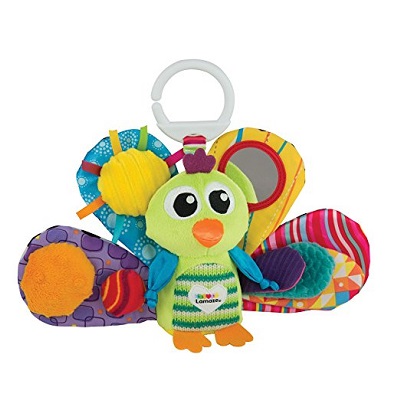 It's time for another Lamaze brand toy for our top ten list. This brand sure knows how to appeal to young audiences. This time we're reviewing a bright and colorful peacock.

Expand to see more
Attention Holder
Jacque the Peacock is as popular toy for parents as it is for little ones as it does a fantastic job at keeping your child entertained and exploring. From its bright, crinkly feathers meant to activate your child's visual and auditory senses to its rattle and squeaking sounds aimed at capturing his or her attention, Jacque is a perfect companion for many young ones.

Great Teething Toy
Jacque features knotty wings which can be perfect for a teething baby. This type of texture can help to soothe and relieve aching gums that can often be present during the teething stage.


Cost/Value
One of the cheapest options on our top ten list, Jacque the Peacock is a must-have for any new parent. Between its bright, engaging colors and multiple textures for your little one to explore, this toy from Lamaze really would be a fantastic addition to any child's toy chest.



Wings are great for a teething baby
BPA-free
Durable, meant to withstand baby drool and gums
Easy to clip on and off for on the going parents
10. Lamaze Captain Calamari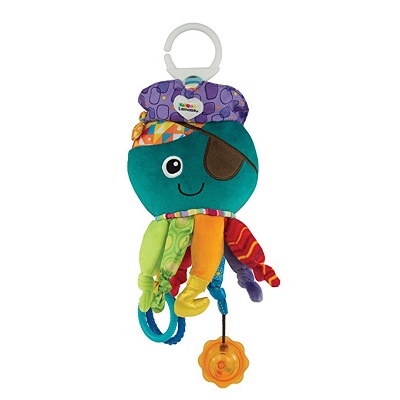 Our top ten list wouldn't be complete without this adorable octopus design from Lamaze. With a number of different types of fabrics and endless visual stimulation, Lamaze has really hit the nail on the head with this one.
Expand to see more
Many Ways to Explore
Captain Calamari features many different ways for your little one to play and explore. There is a hidden mirror, perfect for self-discovery and self-recognition. Your child will have endless hours of fun exploring and learning through play with the toys vivid colors, crinkle fabric, rattle and clacking rings.

Multiple Textures
Captain Calamari features a number of different textures to help stimulate your little one's tactile senses. The hat crinkles when you squeeze it and the tentacles are made from a number of different fabrics as well.


Cost/Value
Priced on the low end of the spectrum in comparison to other items on our top ten list, the Captain Calamari toy from Lamaze is a perfectly affordable companion for your little one. With its matching soft book (sold separately), endless hours of tactile and sensory fun, Captain Calamari is sure to be well loved!



Tentacles are perfect for teething little ones
Rings are perfect for small hands to clutch onto
Captain Calamari is also featured in a matching book
Crunchy fabric makes this not the quietest toy
Criteria Used in Evaluation
Of The Best Car Seat Toys in 2018
Choosing toys for your toddler may seem like a simple and straightforward task, but many parents end up having more trouble than you might think. It sounds easy, but when you find yourself in the middle of the toy store with endless aisles and rows of more types of toys than you could ever imagine, you may end up feeling confused and overwhelmed. Fortunately, by going over some important factors to consider when choosing toys for your little one, you'll be able to easily narrow down the choices and figure out what the best car toys are for your particular child.
Safety
Probably the most important thing that you should take into consideration when choosing toys for your toddler is the safety of the toys. It's vital that the car seat toys you choose for your toddler meet safety standards so that you can ensure the protection of your little one. You wouldn't want anything bad to happen because your child ends up playing with an unsafe toy.
Make sure that a toy doesn't have any sharp edges or points, and that the toy is not a choking hazard for your child. A good way to test this is to see if the toy will fit into a toilet paper tube. If the toy fits, there is a chance that it could potentially become lodged in your child's throat. If a toy contains batteries, the battery cover or case should be securely closed by screws. Batteries can be very dangerous for small children, so your child should never be able to access batteries.
The Age of Your Child
Another major factor in deciding what toys are best for your child is the age of your child. A toy that is well-suited for a 3-year-old may not work at all for a 1-year-old. Consider your child's maturity level and what you think they are capable of handling when you choose toys. The best way to determine if a toy is age-appropriate for your child is to look at the age range recommended by the manufacturer of the toy.
The Materials
You'll want to consider what types of materials that your toddler's toys are made of. Certain things are not safe for children and could potentially harm your child. Make sure that toys are made of non-toxic materials. You should also look for fabric toys to be flame resistant or flame retardant. All of your child's toys should also be lead-free. For these reasons, it's best to avoid older hand-me-down toys. Older toys likely won't meet today's safety standards and could contain dangerous substances such as lead.
What Your Child Gets Out of the Toy
Each type of toy provides something different for your child. You can aid your child's growth and development in different ways according to what toys you provide for them to play with. Ideally, you'll want to get a variety of different types of toys to help your child in multiple areas.
Toys That Aid in Hand-Eye Coordination
There are lots of toys that will help your child to develop good hand-eye coordination, which they will need for many different aspects of their life. Hand-eye coordination is important if your child wants to play sports, it can be very beneficial for anything artistic your child does, and it's vital for things your child will do when they're older such as driving.
Think of what your child will use their hand-eye coordination throughout life when determining what toys will be good to help develop it. For example, your child will need good hand-eye coordination for things like art and driving so consider toys like large, easy-to-grip crayons and ride-on toys for this.
Educational Toys
It's also important to include educational toys when choosing toys for your toddler. Your child learns so much of what they learn through play and choosing toys that foster that learning will help your child's mental development. There is a saying that play is a child's work, and that couldn't be truer.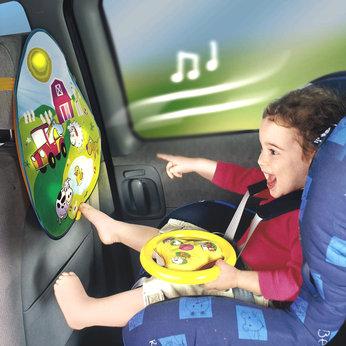 Look for toys that help your child learn something. Things that include the alphabet or numbers may be good choices. Books are also amazing learning toys for children. Reading to your child will teach them all sorts of amazing things, including helping them learn to read when the time comes. It's never too early to start reading to your child.
Toys That Encourage Imagination
One more very important type of toy that you want to make sure your child has some of the toys that foster your child's imagination. Your child can use their imagination with almost any toy, but some toys are especially good for getting your child's creative juices flowing.
Toy's That Have Multiple Uses
It's a great idea to choose toys for your toddler that do multiple things that can help with your child's growth and development in more than just one way. There are lots of toys that have not just one, but two or three or even more different uses for your child. For example, many building blocks have pictures, letters, and numbers on the sides of them. These are wonderful because they encourage imagination since your child can build anything they can think up using them, but they also can help teach your different child things like their letters which they'll need to know as they begin reading.
Balls are another good example. Toys that have multiple uses are also often the types of toys that will last a long time because your child will enjoy them at different stages of their development. Additionally, having toys that can do different things for your child will also help to save you money and space since you won't necessarily need as many toys overall.
Consider Your Child Specifically
In addition to making sure that toys are safe, age-appropriate, made of good materials, and that your child gets something out of the toys, you'll also want to think about what your child likes. Every child is different, and some children may prefer certain toys over others. Think about the things that your child enjoys the most and look for toys that will work well with their interests. For example, if your child loves animals, get them animal-related toys. Whatever toys you end up picking for your child, they are sure to appreciate and enjoy them, especially if you take the time to play with them!
Frequently Asked Questions
About Car Seat Toys
Q: Will car seat toys work with all car seats?
A: Most car seat toys are compatible with most infant bucket-shaped car seats. However, some may not work with every infant seat out there. If you've got a typical infant bucket seat for your baby, the chances are that whatever car seat toy you pick will work just fine with it, but it's always best to check first.
Q: Can I still use car seat toys for my baby if they are in a convertible car seat?
A: Some parents choose to skip the typical bucket-style infant car seat and go straight to using a rear-facing convertible car seat. Most car seat toys are designed specifically for the bucket-style infant car seats, often attaching on the handle that is unique to this specific type of car seat for infants. However, there are some car seat toys that are instead designed to attach to the vehicle seat itself that will work well for convertible car seats in the rear-facing position or the bucket-style infant car seats. Check to see how a specific car seat toy installs before purchasing, especially if you are using a convertible seat rather than an infant bucket-style seat.
Q: Can I use more than one car seat toy at once?
A: Depending on the type of car seat toys, you may be able to use more than one at a time. For example, you could use one car seat toy that is designed to attach to the car seat on its handle, while you could also use one car seat toy that attaches to the headrest of the vehicle seat itself rather than the handle of the infant car seat.
Q: At what age should I consider getting my baby a car seat toy?
A: They are most often designed to be used specifically for infants, so getting one as soon as possible is a great idea. It's a good idea even to get one before your baby is born while you are still pregnant. Your newborn may not be able to actively play with the car seat toy, but it will provide something colorful and interesting for your baby to look at that will stimulate them. Plus, even a newborn will grow into playing with the toy. Having it early on means that it will be ready for your little one as soon as they can play with it.
Q: Are they safe for my baby?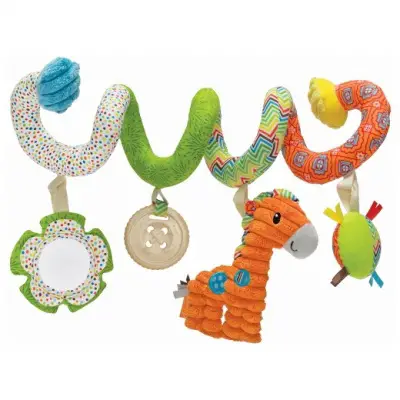 A: While there is some debate on the safety of car seat toys, they are generally considered safe, and any potential risk is minimal. The reason some people say they aren't safe is that in the event of an accident, they can become projectiles. However, that is true of anything loose in the vehicle. Therefore, car seat toys pose no more risk than a loose diaper bag, bottle, or sippy cup in the vehicle.
Q: Can they be used outside of the car?
A: Absolutely! If the car seat toy attaches directly to the handle of the car seat, they can go with you and your baby anywhere that you bring the car seat such as the doctor's office, a restaurant, or the grocery store. Many car seat toys also can attach elsewhere, so you can take them out of the car when you take a baby on a walk or anywhere else you'll be. You could even buy one car seat toy just for the car and one for wherever else you need it. Additionally, most car seat toys can simply be used as regular toys inside the house or anywhere else that your baby plays.
Q: Do I need anything special to use car seat toys?
A: You shouldn't need anything special to install your car seat toy onto your baby's car seat or the vehicle seat in your car. Most are extremely simple to install and require no special tools. However, some car seat toys may be electronic and could require batteries, so that is something you should keep in mind and check when shopping for a car seat toy for your baby.
Q: Will buying a car seat toy help my baby to enjoy car rides better?
A: Every baby is different. Some babies love car rides without any extra effort, while many babies hate their car seat altogether. Often, getting a car seat toy can make a major difference in how car rides go for you and your little one. Having a car seat toy for your baby in the car can help to distract, entertain, and keep your baby busy for the duration of the car ride.
Q: If one doesn't work for my baby, should I try a different one?
A: Again, every baby is different. Different babies may like different things. Some babies may not like a specific car seat toy, but they may love a different one. If you get a car seat toy that doesn't seem to entertain your child, you should consider trying a different car seat toy for your little one. There is a good chance that if one doesn't seem like a good fit for your baby that a different car seat toy may be perfect for them.
Q: What if my baby gets bored with it?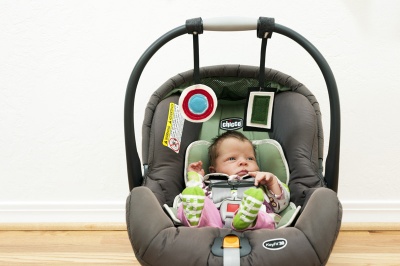 A: Your baby will be using the car seat toy they have every single time they get in the car. Since they play with that one specific toy so often, there is a good chance that they may get bored with the toy. If this is the case, you could try removing the car seat toy from the car for a few weeks and then put it back. Your baby will likely be excited to have the toy back and won't be bored with it anymore since they haven't seen it in so long. Alternatively, you could purchase two different car seat toys for your baby to combat this problem. Try alternating which car seat toy is in the car for your baby every few weeks or so to keep it interesting and fun for your little one.
Q: Does the vehicle that I have mattered when choosing a car seat toy for my baby?
A: In general, the vehicle that you have won't matter when you are trying to find a good car seat toy to entertain your baby. However, depending on how the car seat toy installs, your vehicle may play a role in whether or not you can use the car seat toy. Some car seat toys install onto adjustable headrests on the backs of the vehicle seat. So, if your car does not have adjustable headrests in the back, you may not be able to use certain car seat toys that use the adjustable headrests for installation.
Decision Time
Now that you are well-educated on the ins and outs of car seat toys, it's time to make a decision about which one(s) you're going to invest in for your child. While making this decision, keep in mind what options are absolute must-haves for your child. Does he/she require a toy with teething rings? Go for the Tiny Tot Take-Along Arch with its easy-to-grab teether! Do they love moving and grooving to music? The Taf Toys All-in-One Play Centre might be a great option for you with its fun Day/Night mode with different musical options controlled by a remote. Is a self-discovery mirror non-negotiable? The Bright Starts Take Along Carrier Bar toy or Captain Calamari from Lamaze might be great options for your little one. You may need to experiment with different types of toys – handheld versus hanging, for example, to see what your child is drawn to most. No matter what toy you choose, we are sure your little one will have a blast exploring and engaging with the options on our top ten list. Happy playing!
Sources
Subscribe to our Newsletter