Tool Bags & Portable Storage Reviewed in 2023
last updated:
May 30, 2019
Every handyman or woman knows the importance of investing in tool bags to help them tote around their expensive equipment from job site to job site. Having a solidly-constructed unit to store and organize tools is important for the busy handy person. When your storage unit is arranged in a way that makes your tools accessible, you'll spend less time searching for the right equipment and more time getting down to business.
Featured Recommendations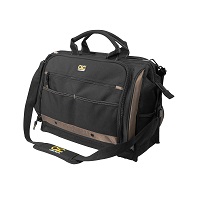 Custom LeatherCraft 1539

Our rating
Price:

See Here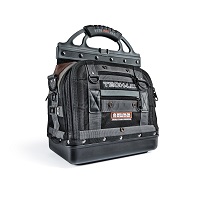 Veto Pro Pac

Our rating
Price:

See Here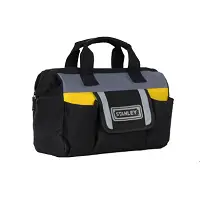 Stanley STST70574

Our rating
Price:

See Here

We have taken an extensive look at some of the best options on the market today from some of the most reputable brands available. As you'll see as you make your way through our top ten list, there are a number of different styles available. Whether you need a zippered option to protect your expensive power tools or a one with an open mouth for easy access, we're positive you'll find something that suits your needs on our list.
10 Best Tool Bags
1. Custom Leathercraft 1539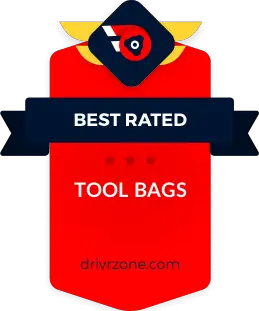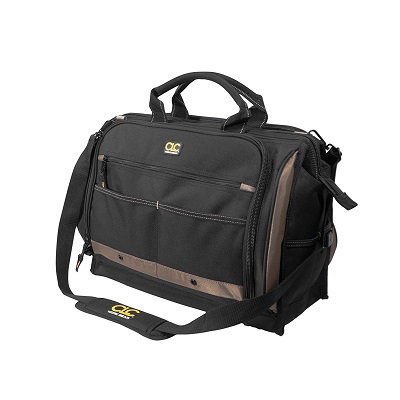 This product took the number one spot on our top list for a very good reason. It's not only a tool carrier with a huge amount of storage space, but it's made to last as long as the tools you're going to carry in it.
Expand to see more
Convenient Compartments
This option has 50 different pockets to help organize and store all of your small tools. It features a large open center component that will perfectly fit some of your larger power tools. It also has zip open side pockets filled with smaller compartments to help you organize your tools while also ensuring they're kept safe (and still) in the zippered pocket. There are 7 pockets found on the outside for easy access to your most utilized tools.

Quality Construction
This product is built to last. It has a durable poly fabric body and features a padded shoulder strap and handles for easy and comfortable toting.

Cost & Value
This product is not the most expensive one on our top ten list but it's not the cheapest either. With its high-quality construction and many tool compartments, however, you do get a big bang for your buck.
Pockets maintain their full holding capacity
Loops on the back for hammers, levels, etc
Heavy duty clips
Adjustable shoulder strap
Tons of space
2. Veto Pro Pac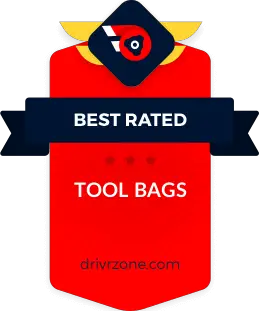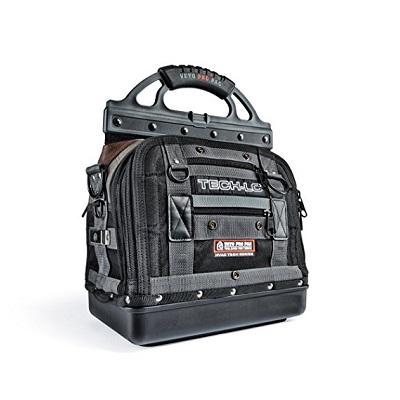 If you're in the market for a seriously heavy-duty option, look no further than this option. The body is made with 1800 PVC denier nylon, making it a perfect and strong option capable of toting all of your tools.
Expand to see more
Waterproof
This product features a waterproof base and body. This makes it a perfect option for the handyman who needs to tote his tools around, rain or shine or work outdoors in inclement weather.

Maximized Tool Storage Capacity
This product has it all. There are more than 50 compartments to store your tools vertically, six zippered pockets, a loop to store your electrical tape and that's just the start of the space this option has to offer.

Cost & Value
This is one of the pricier products on our top ten list, but you can expect to pay a little more for a product that offers so much value. This manufacturer is well renown in the industry and offers high-quality products that won't break down.
Lighter than other options on the market
Strap is nice and wide
Well thought out design
Easy to maneuver through small spaces
5 year warranty
Could use a couple more exterior pockets
3. Stanley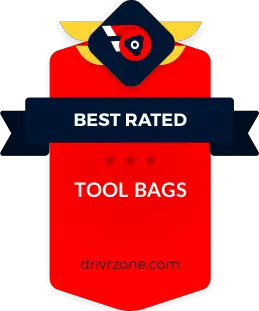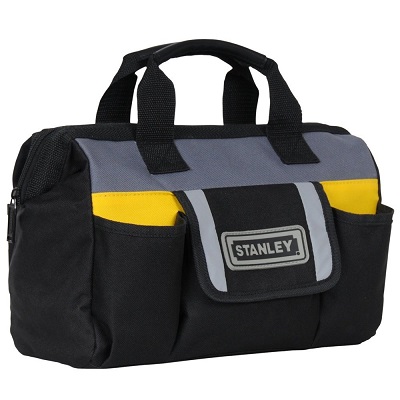 This product provides the best value out of all of the options on our top ten list. Priced much lower than other options, this storage unit is a handyman's dream – affordable and no frills.
Expand to see more
Comfortable To Handle
This unit has a number of features that make it comfortable to tote around. The strap is adjustable, making it easy to get at your tools. It also has cotton-padded handles for comfortable carrying.

Foam Bottom
Many options on the market are flawed in that the bottom is made from cloth and not reinforced. This product, however, features a rubber foam bottom that will protect your tools if you were to drop the bag.

Cost & Value
As previously mentioned, this option is the lowest in the price of all of the options in our top ten list of the tool bags. But just because you're paying a low price for this item doesn't mean that you're going to get something low quality. It has received rave reviews from most consumers who have purchased it online and is a worthwhile addition to any budget-conscious handyman's arsenal.

6 outside & 5 inside pockets
Solid construction
Comfortable handles
Mouth opens wide
Fits in small spaces
4. ToughBuilt 20"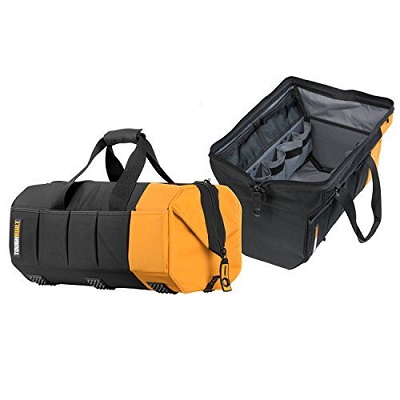 This octagonal unit is made with high-quality durable materials that will provide any handyman with years of protection and storage. It features 51 pockets and loops, including a zippered area that can be locked up for additional security and mesh pockets for easy viewing and quick access.
Expand to see more
Wide Mouth
This product differs from other options on our list in that it features a 14-inch-wide patent-pending opening. This opening ensures that one is able to see everything without needing to dig around to find what they need.

HardBody Lining
This unique unit is made with ToughBuilt's inflexible plastic HardBody lining. This material is heavy duty and durable, perfect for protecting all of your valuable tools and items inside.

Cost & Value
Though this option costs more than other products on the list, it is made to last and is perfect for the handyman who may have a reputation for being tough on his belongings. It's large enough to fit all of your necessary tools and provides great value for a small investment.
Bright yellow color makes it easy to find
Large and heavy duty zippers
3 removable straps
Velcro compartment
Handy notebook pocket
Exterior pockets could be bigger
5. Dewalt DGL573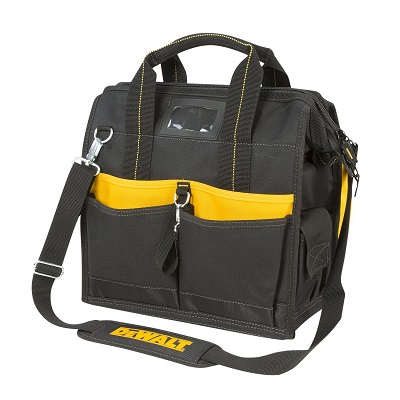 This product has many desirable features that one looks for in a durable storage unit – ability to hold a number of different types of tools and their accessories, durable and able to withstand the test of time and comfortable to carry.
Expand to see more
LED Light
This unique tool storage system features a LED light system built right in, alleviating the need to carry a flashlight at all times. The LED light can be adjusted to three different output levels depending on what kind of lighting you require.

Stands Tall
This product won't slouch like others on the market might. It features heavy duty feet on the bottom that will help to ensure that it not only stands tall at all times but remains easily accessible in all situations. The feet also help to protect the material at the bottom so it won't wear out.

Cost & Value
Priced middle-of-the-line in comparison to other options on our top ten list, this product provides a lot of value for quite a small investment. The LED lighting system is an interesting addition that every handyman will find value in.
28 interior & 13 exterior pockets
Easy to access vertical pockets
Comfortable carrying strap
Lightweight
Built to take some abuse
No pocket for loose screws or small parts
6. Husky 12"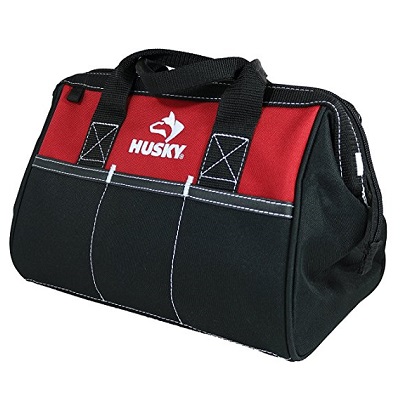 This is a great option for the handyman looking for a simple, no frills tool storage solution. Though it doesn't have the compartments on the inside that other options on our list offer, other desirable features make this still a viable option.
Expand to see more
Built Tough
This is manufactured to be able to withstand the weight of your heaviest handheld tools. It is reinforced with high quality stitching so the fabric won't tear. The handles are sewn with X stitches so as to ensure no handles will be left behind even after toting around the heaviest load.

Weatherproof Fabric
This is made with 600 denier polyester material making it water- and weather- resistant. Feel free to take this unit out in the rain or snow for short periods of time knowing that your equipment will be kept safe.

Cost & Value
Though it doesn't feature the interior pockets that others on our top ten list do, it is still a great option at a low price. It is perfect for the handyman who cares less about organization and is more so in the market for a storage solution that is strong enough to carry his or her tools.

Easy to carry
Takes up less space than hard-sided tool options
Wide opening makes tools easily accessible
Sag-resistant bottom
Pouches too narrow to hold some tools
7. Carhartt Legacy 14"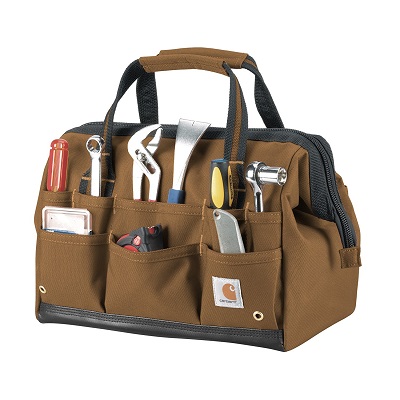 This product earns a spot on our top ten list due in part to its heavy duty construction featuring rugged handles, strong zippers, and a sturdy sag-proof base.
Expand to see more
Water-Repellant
Do you live where the rain and snow get you down for part of the year? This product is made with water-repelling fabric that will help to ensure your expensive equipment stays dry in the most inclement of weather.

Exterior Pockets
Though this unit features 10 interior pockets, its exterior pockets are what helps set it apart from other options on the market. There are 17 compartments of various sizes on the outside. This is helpful to the handyman who likes to be able to see and access his tools easily.

Cost & Value
Though this is on the pricier end of the spectrum, it's a great addition to any handyman's repertoire especially because it is made to last. It's a fantastic choice for anyone living in an area that sees a lot of precipitation.
Lots of pockets to keep tools tidy
Aesthetically pleasing
Main compartment has duel layers of fabric
Reinforced bottom
Outside pockets not deep enough for some tools
8. WorkPro 16"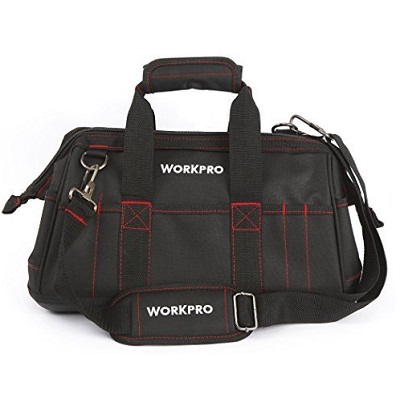 This option features a handle with extra padding for the ultimate in tool-toting comfort. The shoulder straps are also adjustable which helps to alleviate some of the pain caused by the inflexible straps found on other options on the market.
Expand to see more
Sturdy Construction
This product has extra padding between the interior and exterior canvas layers that helps to stiffen the two long sides. This helps to make sure this unit will stand up and stay open when you need it to.

Easy To Access Pockets
This product features 13 exterior pockets and eight belts to help organize and access a number of different types of tools on the fly. There are eight interior pockets, three of which are found along the two long sides and two on the ends of the bag

Cost & Value
One of the more affordable options on our list, this is perfect for the handyman or woman who needs storage on the smaller side with many different organizational options.

Thick material won't tear
Interior pockets vary in size
Exterior hook is helpful
Floor is made of hard plastic
9. Klein Tools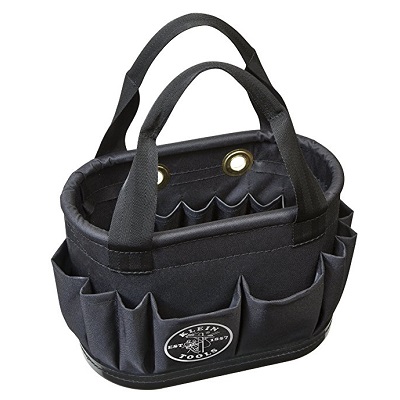 Here is another storage unit option from a reputable brand name. This product features an open-mouth concept so that accessing your tools is easier than ever.
Expand to see more
Rigid
This product features a hard plastic bottom that won't soak up any nasty fluids in your workspace. It has sag-proof stout siding that ensures the bag will stand on its own, whether or not it is filled with tools. No more collapsing with this option!

Clutter-Proof
This option features 29 pockets in total, 15 on the inside and 14 exterior pockets. When you purchase this product, you can rest assured knowing that there's a handy pocket for everything.

Cost & Value
This is one of the most expensive options on our list but it comes with the territory when purchasing equipment from highly regarded brand name manufacturers.

Easy to carry handles
Deep
Doesn't sit directly on the ground thanks to ¼" legs
Versatile pocket sizes
Available in different color combinations
No cover so tools can get wet if you work outside
10. Rothco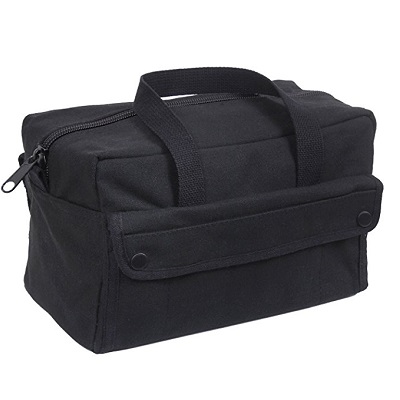 This product is made from tough-as-nails canvas material, making it a great heavy duty option. It doesn't feature a lot of pockets or compartments so it would be a great fit for someone looking for a no-frills storage unit.
Expand to see more
Design Options
Unlike most of the other options on our list, this one features a number of different design styles and colors to choose from. Plain colors include black, navy and brown. There are also a number of different colors of camouflage print to choose from as well.

Exterior Buttoned Pockets
As previously mentioned, this product doesn't offer a lot in terms of compartments. The two pockets on the outside of this bag, however, are closed via two snap buttons. This type of closure helps to ensure that your items inside the pockets will stay secure and safe.

Cost & Value
This product is cheap in price but that doesn't mean one has to sacrifice quality.This product offers great value for a low price point.

A lot of storage for a bag this size
Loops on bag to add a shoulder strap if necessary
Small and compact
Strong stitching
Multiple uses
Interior pockets not useful for medium or large sized items
Not only are these products essential for providing space for storage, but they play an important part in protecting the tools as well. Having a safe spot for storing your equipment will help keep them in good working order and free from damage that carrying them free handed  can sometimes cause. In addition to these benefits, a tool storage system will help keep the working man (or woman) efficient because they're able to access their equipment quickly and without the hassle of tearing apart the garage looking for the right tool!
As you can see from our thoroughly researched list, there is a lot to consider when it comes to making a decision about which product is right for you. With so many options available on the market, it can be a bit overwhelming at first to choose one that suits your needs. Tool storage units are an important part of any handyman or handywoman's arsenal. They keep your tools safe, organized and in one convenient place. It is important to do your due diligence in researching because the right one will ultimately make your life easier and so much more convenient.
Criteria Used in Evaluation
Of The Best Tool Bags in 2019
Material
They need to be made of sturdy and rugged material in order to withstand the environments that they're ultimately going to be put into.
In order to choose what type of material is necessary, you need to think about what kind of work environments you will be exposing it to. Do you plan on working outdoors a lot? You might want to consider getting one that has waterproof, or at the very least water-resistant, fabric. This is especially important if you live in a part of the world that frequently has rainy or snowy weather. You don't want your expensive equipment, especially your power tools, getting wet. The waterproof fabric would be a great choice if you plan to be doing a lot of your work in a place like an oil spill laden garage as well.
Most of the options on our top ten list are made out of either polyester or nylon fabrics. Both of these kinds of materials offer benefits and drawbacks. Nylon is a stronger material than polyester and, as such, is more likely to resist the sharp points of your hand tools. It is a stain-resistant material but is harder on the environment and is more likely to fade in the sun. On the other hand, polyester is quick-drying and resistant to many different types of chemicals. It holds its color well and is resistant to stretching, which can be a pro or a con depending on how you look at it.
Soft VS Hard Sides
Another important aspect to consider is whether or not you want it to be soft- or hard-sided. This depends entirely on your own personal preference. Many people prefer to have a soft-sided option because it's typically a bit more pliable than other options. The soft sides are more forgiving and will give more than a hard-sided product. A downside to choosing a soft side is that they are less likely to stand up on their own. The material is typically less sturdy and rugged with these options and it might be more difficult to find and access your tools.
Tool storage with hard sides is ideal for the handyman who needs quick access to his equipment. The hard-sided options will stand up and stay open on their own. This is perfect for someone who wants to be able to find their tools without having to dig through or struggle with keeping it open.
Storage Capacity & Organization
There are many different style options on our top ten list in terms of tool storage capacity. Whether you're on the market for a product that's completely structured with pockets and compartments galore or in search of one with no structure, we have you covered.
The best option for you depends on how many tools you want to be able to tote around with you and how you prefer to organize them. If you need to carry a lot of big tools, you'll want to choose a larger sized product, perhaps one with less structure. These typically have a wide-open interior compartment, perfect for fitting power tools that wouldn't fit into small specially-made pockets. If you need to take a number of hand tools like screwdrivers or wrenches with you, you might want to look into a one with compartments made for these kinds of smaller tools.
Shoulder Straps VS Handles
The options on our top ten list either have shoulder straps or handles to make it easy to carry. Both of these transportation options offer their own set of pros and cons.
The benefit of having a shoulder strap is that it makes the unit easier to handle as it distributes the weight more evenly across your body. This is especially important if you're toting around a heavy load of tools. Many of the shoulder straps featured on the products on our list are also padded for extra comfort. Some people may find that the shoulder strap gets in the way. But this usually can be alleviated by removing the strap if it will allow. Some options without this style of the strap have loops where they can be attached.
The products on our list with handles are typically smaller in size and can't hold as much weight as the shoulder strapped options. These are still a fantastic option for the handyperson who doesn't have as many heavy tools. They are typically smaller, perfect for people who have to tote their tools into compact places.
Frequently Asked Questions
About Tool Bags
Q: How do I clean it?
Your best bet would be to use mild soap and warm water with a clean cloth to wipe it down. If you find that this method is not getting out the stubborn stains, take a medium bristle brush and very gently scrub. The key is to be gentle so as to not destroy the fabric. Try not to saturate the area and then remove excess moisture with a dry cloth. If you notice something has been spilled on it, wipe up the mess as soon as possible to ensure the liquid doesn't seep into the fabric.
If you have a serious spillage or stain, you might want to contact the manufacturer to see if they have suggestions on how to get these stubborn messes out.
Q: What option is right for me?
As previously mentioned, the best product for you depends entirely on you, where you live, what kind of work you're going to be doing, what type of tools you'll be taking with you and the kind of storage that you desire.
The first step in deciding which one is right for you is deciding what size you need. You don't want to choose one that'll be far too big for your needs as it'll be heavy and frustrating to carry around. But, you also want to avoid choosing one that is far too small for your tools. In order to decide what size you'll need, set out the tools you're going to want to carry with you. Once you see the kind and size of all the equipment you want to store inside, you'll be able to make an informed decision about the size you'll need.
Once you've chosen an approximate size, you need to decide what style will benefit you best. You can choose from soft- or hard-sided options, ones with wide open interior compartments or ones with carefully structured pockets. These design options all offer their own list of pros and cons that can be found above in our Criteria section.
After you've chosen the size and style you'll require, you can choose the material type that will best suit your needs. Some are more waterproof than others. Some have little feet on the bottom so that the fabric isn't touching the floor. Think about where you'll be toting it and what kinds of environments you will be exposing it to.
Q: How much weight will it be able to hold?
This depends on which product you choose, the size of it and the material that it is made out of.
Many of the options on our top ten list can easily carry 40 to 60 pounds of weight, according to the reviews from happy customers. This may not apply to all of the options, so it's best to check with each specific product before making your purchase.
Sources
Thewirelesshookup – Tool Bags Explained: The Importance of Having One
Doityourself – Carpenter Tool Bag Materials – Leather Better Than Nylon?
Leaf tv – Nylon Vs. Polyester Fabric 
Diffen – Nylon Vs. Polyester 
Beanbagsrus – What Is the Difference Between Nylon and Polyester?

Wikihow – 3 Ways to Clean Nylon
Subscribe to our Newsletter