Wire Strippers Reviewed & Rated for Quality
last updated:
May 30, 2019
Having an electrical problem is an ordinary thing for every homeowner. Except for googling the common issues and trying to figure it out, you also need several tools to do the repair. No matter if you're a professional electrician or not, your tool kit should be ready for unexpected situations! Wire cutters and strippers are among these tools, of course. Wherever you turn around the house, you'll see different stuff that needs wiring! From changing outlets, switches, and lights to repairing a car, you'll get to work with wires. Those tasks are never as simple as they seem, and you'll have to cut and strip down some insulation in 99% situations. Therefore, wire strippers are a must for every handyperson!  You need this little tool for a variety of tasks, from installing a ceiling light to tinkering with circuit boards. And not being an electrician doesn't mean you have to settle with just any kind of tools, does it?
Featured Recommendations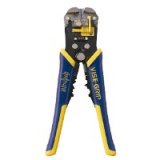 Irwin Self-Adjusting

Our rating
Multi-Purpose
Price:

See Here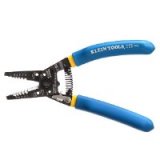 Klein Tools 11055

Our rating
Outstanding Accuracy
Price:

See Here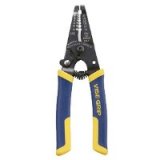 Irwin 6-Inch

Our rating
Comfortable Grip
Price:

See Here

Choosing the right wire stripper for the job is just as important as doing the wiring thing in a proper way. Actually, you won't even get to finish the job if you don't have an adequate tool! Stripping wire can be a rather tricky task, and you need a quality tool to ease the process. If you wondered where and which one to get, we have a perfect list for you! It contains 10 best wire strippers you could find on the market at the moment. We put a real effort to include only the best products out there. Now you can choose with confidence, knowing that you can't go wrong no matter which one you get! From a variety of products, we are certain that some of them will meet your needs. Even if you still find yourself unable to decide on one product, we got your back! We prepared some tips and recommendations to help you make up your mind. You'll find them on the bottom of the list, along with other interesting facts and tips. For now, here are our best picks:
10 Best Wire Strippers
Irwin Self-Adjusting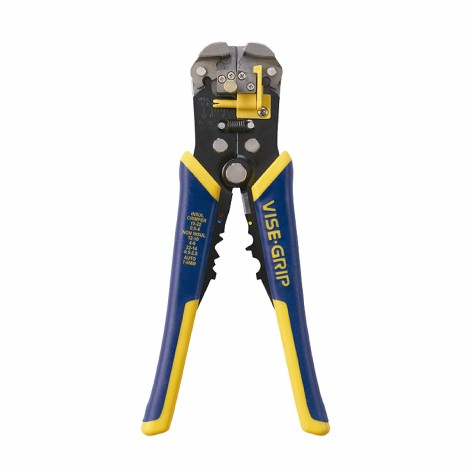 You probably heard all about high-quality tools that come from Irwin! Here we have their most popular wire stripper that offers outstanding performance. It's actually a multi-purpose tool that cuts, crimps, and strips wires and cables. This makes it suitable for a variety of tasks, from professional ones to every day repairs. Whether you're an electrician or a DIY enthusiast, you just can't go wrong with Irwin tools!
Expand to see more
Multi-Purpose
This is a multi-purpose tool that cuts, strips, and crimps wires and cables. It comes with the adjustable stopper that controls the length of the strip. This feature is super useful and allows for better accuracy in particular jobs. You'll especially like the jaw that automatically adjusts to the size of the wire! You just need to grip the insulation, make a cut down to the wire and strip the insulation off. It's simple as that! The jaw does it all, you don't have to know the wire size to adjust the tool according to it.
We only have to warn you that this one doesn't work well on the small gauge. The thinner the wire gets, the less effective the stripper is. Keep this in mind if you plan to strip thin wires!
Stainless Steel
When it comes to the overall quality of the tool, we don't have to say much. This is a well-constructed wire stripper that is meant to last. It is made of stainless steel to withstand harsh situations and dangerous impacts. It's rust-resistant and therefore suitable for outdoor use. Additionally, the extra coated handles will make you comfortable when using the tool. The rubberized part reduces the hand fatigue at extended use. It also allows for a firm grip so that you can strip wires with excellent accuracy!
Cost and Value
One of the reasons for the rising popularity of this Irwin tool is definitely its great price. It's not the cheapest option out there, we give you that, but it does offer impressive performance. For a
reliable and a durable tool
like this, we couldn't argue with a much higher price. You'll also get a lifetime guarantee just like for all other Irwin tools. Therefore, you shouldn't even hesitate to try it out!
Cuts, crimps, and strips wires and cables
Adjustable stopper feature
Self-adjusting jaws
Easy to use
Made of stainless steel
Well-priced
Not suitable for thinner wires
Klein Tools 11055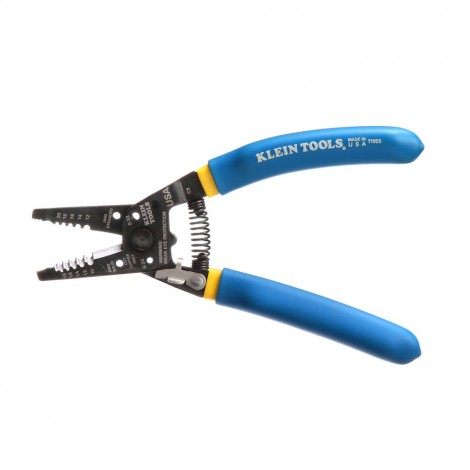 Who doesn't know everything about Klein tools? It's only one of the best companies in the tool industry! Here we have their multi-purpose tool that cuts, strips, and bends a wide range of wire gauge. You get to use it at your convenience and according to your current tasks. This Klein tool won't let you down at any moment!
Expand to see more
Outstanding Accuracy
Just like we said, this is a great multi-purpose tool. No matter if you need to cut, strip or bend the wire, Klein tool will do the job with excellent accuracy! It offers holes for different wire gauge, so you can cut and strip the wire more precision. This prevents possible mistakes and damages that could occur during the tricky process. The tool deals with stranded and solid wire from 10 to 20 gauge. Not to mention that it can shear 6- and 8-32 screws!
Compact
The tool is quite compact and fits most tool boxes and cases. This makes it very portable and keeps your garage well-organized! It is made of high-quality metal and proves to be very durable. You can use it both indoor and outdoor due to sturdy and rust-resistant construction. The handles are double-dipped to ensure comfort at extended use as well as a firm grip. This allows for easier handling and more accuracy when stripping the wire.
The only gripe we have with this tool is the lack of power when dealing with thicker wires. The outstanding precision had to be provided at the expense of powerful jaws. So if you need a tool to strip thicker wires you'll have to search for another product!
Cost and Value
Working with thin wires is a
tricky business
and it demands a lot of precision. Bulky wire strippers can't allow for that kind of accuracy, which is why this Klein tool is a perfect option! Not only that it provides outstanding results, but it also comes at a reasonable price. It's just hard to find a flaw in this one!
Multi-purpose tool
Outstanding accuracy
Features holes for different wire gauge
Compact design
Sturdy and durable
Reasonable price
Can't deal with thicker wires
Irwin 6-Inch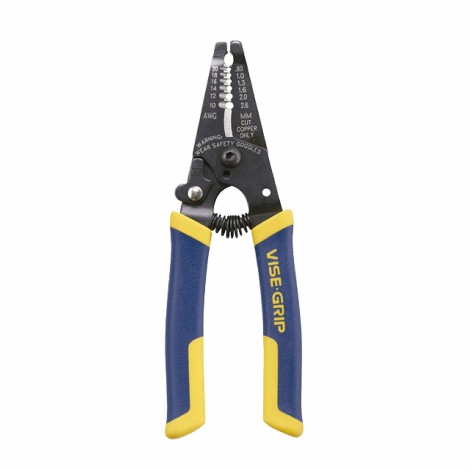 We have to introduce another amazing product from Irwin! For many years now, this tool collects praises and compliments from countless users. Let us say that it well deserves all the attention it gets! It's another all-in-one tool that cuts and strips, and it does the job with great accuracy. It offers the same features as it's big brother, but it also differs a lot. If you're up to find more details, keep reading our in-depth review!
Expand to see more
Efficient
This wire stripper comes with the same specs as its big brother. However, we have to notice that this one is more suitable for thinner wires. They actually complement each other! If you get both tools you'll be able to
tackle any task around your home!
We really love the spring that self-adjusts the jaw after every cut or strip. You also get to lock them in place so they stay closed when not in use. This improves safety in the working area, especially when wiring around kids! Let's not forget that it allows for bolt cutting, which is quite impressive.
ProTouch Grip
One of the reasons for its great popularity is definitely a ProTouch grip. It provides more comfort during the use, reducing hand fatigue. It also allows for the most accurate results when working with wires. Also, the tool is super durable thanks to the heavy-duty construction. It won't rust and it should last for many years!
Cost and Value
This tool is one of the cheapest of its kind! This gives you the opportunity to buy the entire set from Irwin tools. For those who have some extra cash to spend, we recommend going for both reviewed strippers. They are an excellent pair, and you can use them for a variety of tasks. There won't be a wire that you won't be able to cut, crimp, or strip when using these two!
All-in-one tool
Efficient and accurate
Self-adjusting jaws
Locking mechanism
Comfortable and firm grip
Inexpensive
Klein Tools Katapult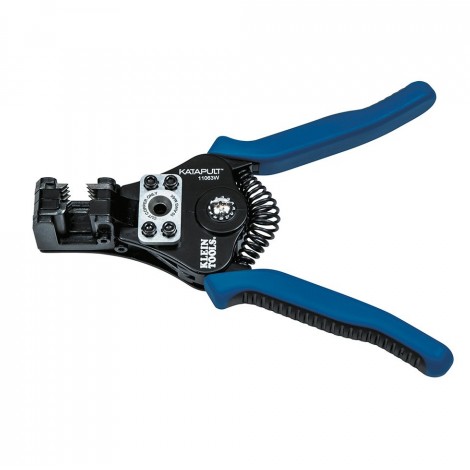 We couldn't skip this exceptional wire stripper from Klein Tools! The world just needs more of these heavy-duty tools. They can perform so many actions that they make every handyperson's life a lot easier. This one in particular! It offers a unique design and a variety of useful features to please even the most demanding professionals!
Expand to see more
Unique Design
This tool cuts and strips solid and stranded wires with great ease! You can strip the insulation from the wire with only one simple movement thanks to its unique design. How is this possible, you may ask? The head of the tool and a provided hole are specially designed to allow for simple cuts and strips. You'll be able to strip the wire with a single move and yet be precise enough not to damage it! Impressive, right? The only drawback is the fact that you have to manually release and adjust the jaws after every cut.
High-Quality
Once again Klein Tools proves to be one of the best in producing high-quality tools! This wire stripper is made of durable cast alloy and features a protective coating. This makes it resistant to corrosion and prolongs its lifespan. Also, the handles are extra padded for a firm grip and more comfort during every use!
We also really liked its unique design that allows for dealing with different wire gauge. You can cut and strip even the thickest wires and cables without too much effort!
Cost and Value
Let us say how impressed are we by the user-friendly design of this product. Yes, it's on the expensive side, but it's well worth it! If you need
a heavy-duty tool
to save you a lot of free time, there's no better option than this wire stripper. You should definitely get it if you have some extra cash to spend!
Unique design
Easy to use
Strips even the thickest wires
High-quality material
Durable
Comfortable grip
Doesn't have an auto-adjust feature
Pricey
Knoweasy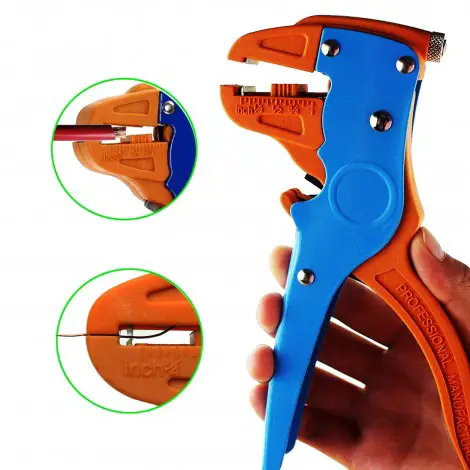 How didn't I get it earlier? This is the first thing you'll ask yourself with this tool. It's so great that you won't even remember how you got so far without using it! You'll find it irreplaceable no matter of the job type. From simple electrical issues to demanding car repairs, this tool offers outstanding results!
Expand to see more
Automotive Repairs
This tool works with stranded or solid wires. It's specially designed and labeled for automotive repairs. What does it mean? It means that the tool is designed for work on sound systems
in all kinds of vehicles.
You'll find it especially useful for stripping speaker wires! Just keep in mind that this purpose could make it less versatile. The wires used for speakers range from 10 to 24 gauge and dealing with that thickness it's not so impressive.
The tool is called automatic because it self-adjusts to the wire gauge. You only need to open the jaws and squeeze, the tool will do the rest! It also offers a sharp blade for stripping and cutting, so you get to use it for different tasks and repairs. It's actually rather accurate and efficient! It allows for length adjustments so you'll get the most of every wire and cable.
Lightweight
The company used steel strips and glass fiber nylon for the construction of this tool. These materials make it very lightweight and compact yet quite durable. It's not as durable as steel-made wire strippers but it still offers a long lifespan. Additionally, it features coated handles for more comfort during the use. Although we have to notice that many users complained about them being too slippery!
Cost and Value
You'll be pleased to know that this tool is very cheap! Truth to be told, we didn't expect it to be so well-priced. All those who are on a limited budget are going to love it!
Designed for automotive repairs
Easy to use
Efficient and accurate
Cuts and strips the wires
Adjustable stripping length
Inexpensive
Gauge range limitations
Slippery handles
Neiko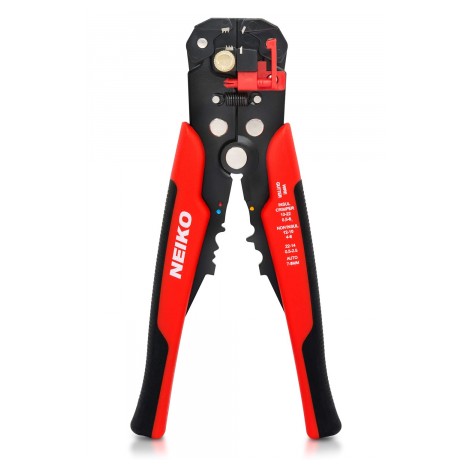 Here we have another powerful wire stripper. It's actually a wire cutter as well and it allows for excellent accuracy when wiring! The multi-purpose design gives you an option to do many jobs without having to switch tools. It has a unique design that eases every wiring task and relieves you from time-consuming old strippers!
Expand to see more
One-Hand Operation
This tool is ideal for stripping copper and aluminum cables (10-20 gauge). It offers a self-adjusting mechanism that eases the process and allows for better accuracy. The innovative thing about this tool is the one-hand design. You should be able to remove the jacket with a simple motion thanks to the sharp teeth on the jaw. Also, you have an option to adjust the tool to strip the proper length of the wire. This way, you'll get the most accurate results!
Durable
The tool is made of quality materials that guarantee durability. It can withstand quite a lot, so you don't have to worry about the outside threats. The handles are super comfortable, although some users didn't like them at all. It seems that they had problems with getting a firm grip that would allow for simple one-handed strip. Also, keep in mind that this is primarily a precision tool! It allows for exceptional accuracy but it might struggle a bit with thicker wires.
Cost and Value
Neiko is well-priced and offers great value for the money. It's an excellent choice for all those who need
more accuracy in their everyday jobs. Both professionals and handypersons are going to love it!

Self-adjusting mechanism
Made for one-hand operation
Excellent accuracy
Adjustable stripping length
Durable
Well priced
Some people find the one-handed operation a little difficult
More efficient with thinner wires
Zoto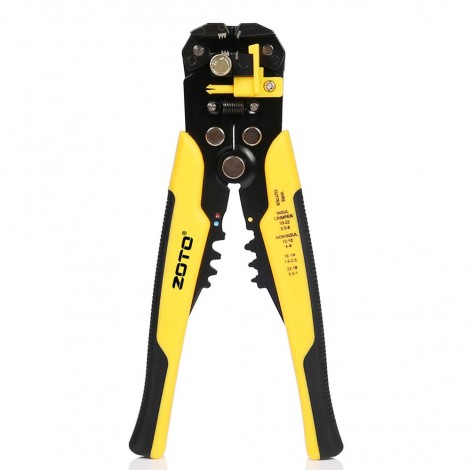 Here we have a versatile tool suitable for professionals as well as DIY enthusiasts. It proves to be super efficient in cutting and stripping wires of a different gauge. That makes it versatile, easy to use, and incredibly valuable! All in all, this one is a perfect option for those who need an accurate tool for their wiring tasks.
Expand to see more
Versatile
The tool works great with copper and aluminum cables (10-20 gauge). It comes with a self-adjusting feature that allows better accuracy and easier stripping. It's also super safe for use and it won't damage the wire during the process. We should also mention that this tool comes with cut and crimp options. It makes it versatile and suitable for almost every task!
Although most users were quite satisfied with this tool, some of them had issues with it. The most common issue is the one with consistency in its performance. It seems that it doesn't preserve the same quality when used on a daily basis. If you need something for your everyday job, you should search for something else!
High-Quality Steel
As we mentioned earlier on, this tool is very easy to use. It's made of the quality and durable material that guarantee durability. It also allows for simple handling and reduces hand fatigue. The high-quality carbon steel is what makes this tool so durable! Additionally, the blades and the jaws are reinforced for better results. You're especially going to like extra rubberized handles for a firm and comfortable grip. However, some users noted that the handles could get slippery when used at an extended period. Keep this in mind and be careful when stripping wires!
Cost and Value
Every time you use this tool you'll achieve exceptional results
like a real professional
! Not to mention how easier your life will get when you finally get rid of those time-consuming old strippers. You'll only have to add a few more bucks to get this tool, but its not an expensive one by no means!
Self-adjusting feature
Excellent accuracy
Versatile
Easy to use
Comfortable grip
Well-priced
Not for everyday use
Handles could get slippery
Capri Tools 20011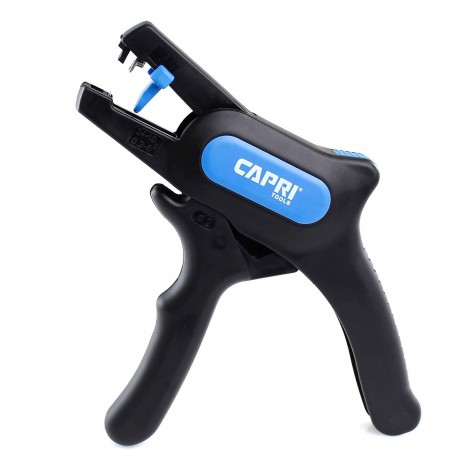 If you haven't heard about Capri Tools before, now is a good time to check out their products! The company produces all kinds of tools and accessories, and they are very popular. The biggest reason for their high popularity is the exceptional quality they provide! The other reasons are a no-nonsense design, useful features, comfort, and more. You can see for yourself that going for one of their wire strippers is always an excellent choice!
Expand to see more
Narrow Profile
This product is an automatic option that proves to be very useful for tricky wiring processes. Along with the self-adjusting feature, the tool has a narrow profile to access all hard-to-reach areas!
Not only that this makes wiring a lot easier, but it also allows for simple stripping. You can strip any wire of 10-24 gauge in a matter of seconds! You can cut them as well because this tool has a built-in cutter. All in all, you'll get an incredible value with this multi-purpose tool!
Sturdy and Durable
Although this one is made of plastic, it's quite sturdy and durable. It offers an impressive lifespan, but there's one catch! The tool is not so durable for you to use it on a daily basis. If you need a professional wire stripper for frequent use, you should definitely keep searching! Also, the handles are rather comfortable but they are very slippery! This could influence your final results when cutting or stripping the wire.
Cost and Value
Capri Tools offer this great tool at a competitive price! You can easily make it a part of
your tool equipment
and get rid of the time-consuming old wire strippers. It's well worth it!
Self-adjusting feature
Gives access to tight areas
Allows for quick and efficient stripping
Great accuracy
Durable
Competitive price
Not suitable for everyday use
Slippery handles
WGGE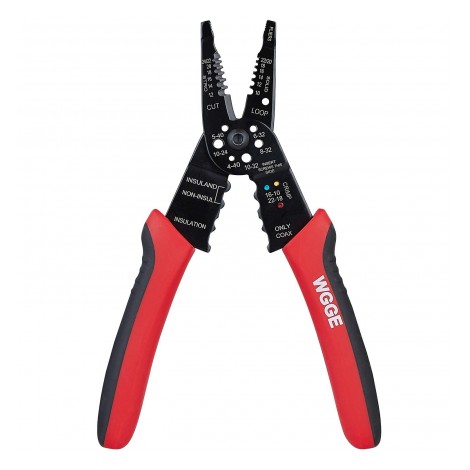 Need more precision when stripping a wire? How about getting a WGGE, one of the most accurate wire strippers on the market? Yes, you read it right, this little tool is very efficient and precise. It offers outstanding performance for many years, so make sure to check it out. You might find it's perfect for your particular needs!
Expand to see more
Multi-Purpose
WGGE offers a multi-purpose tool that can efficiently cut, strip, and loop wires. It works great with solid copper wire or aluminum cables thanks to the serrated nose. This design allows for easier operations and impressive accuracy regardless of the job type!

However, you should know that this is not the perfect tool, not even close! It offers great value, but the competitive price comes at the expense of high-end power. You might end up struggling with the thick wires and the lack of precise results.

Carbon Alloy Steel
The tool is made of high-quality materials and it comes with ergonomic handles. This reduces hand fatigue at extended use and allows for a better grip. The carbon alloy steel is the thing that makes this wire stripper very durable. The stiff material is resistant to weather and impacts that are not uncommon in garages and construction sites.

Cost and Value
Here comes the best part – WGGE wire stripper comes at an attractive price! There's literally no reason why you should avoid trying out this tool. All its features say you'll be stunned by its performance and quality!

Multi-purpose tool
Easy to use
Impressive accuracy
High-quality steel
Durable
Inexpensive
Doesn't offer a high-end power
Not great with thick wires
Capri Tools CP20010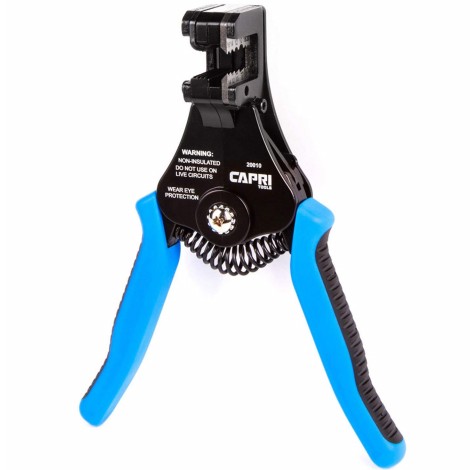 Another tool worth your attention comes from Capri Tools! It's one of the specialized tools meant to strip wires with great accuracy. It works well on a variety of wire sizes and allows for great results! If you're up to have something more precise then your old strippers, this would be a wise pick!
Expand to see more
Self-Adjusting Feature
This works great with 22-8 wire gauge. It strips the wire with great ease and allows for the most accurate results. There are different holes you can use for a variety of wire gauge. This way, you'll be able to strip the wire with great accuracy and without any damages. Also, the tool has a self-adjusting feature for simple and fast stripping. It will automatically return in the original position after every strip.
Easy to Use
This is made of cast alloy chassis and proves to be very sturdy and durable. The material is very stiff yet light enough to allow simple handling. Also, the handles are super comfortable and provide a firm grip thanks to the anti-slip design.
Our only issue with it is the lack of instructions for using the strip-length gauge. The gadget is included in the package but there are no clear instructions on how to connect it. You might struggle a little bit with figuring this one out.
Cost and Value
Although we say it's worth every penny, you might find
this tool
a little pricey. If you don't want to spend extra money on your new stripping tool, this is definitely not a good option for you!
Easy to use
Accurate
Self-adjusting feature
Made of durable material
Comfortable grip
Lack of instructions
Pricey
Criteria Used in Evaluation of the Best Wire Strippers
Looking for the best wire stripper was a tough task, but ranking the 10 best picks was even harder! We had to look up to all their features, compare, and evaluate them according to their final results. Here are some of the things that were very important for the evaluation:
Accuracy
First and foremost, we had to make sure that all tools are accurate enough not to damage the wire when stripping the insulation. This wasn't a difficult task because we included only the best wire strippers on our list. They all offer exceptional performance! Even so, they do differ in design that allows for more or less accuracy. Naturally, the ones that are made for stripping thick wires aren't as accurate as those designed for smaller gauge. We couldn't take this as drawbacks because we are talking about different models after all. However, we had to take into account all the features that make every wire stripper more accurate. We assigned some extra points for it!
Design
What we mean when we say design are all features that allow for easy use of every wire stripper. For example, it's very important that they have anti-slip handles to allow for a firm and comfortable grip. This doesn't only reduce the hand fatigue, but also gives more accuracy. Additionally, we get that some heavy-duty tools have to be bulky, but we couldn't ignore this either! Those wire strippers who allow for simple handling and storage are ranked higher on the list. We could name a few more things, but you get the point. All products that come with the user-friendly design are at the top of our list. The less impressive ones, even in the slightest details, are ranked below.
Durability
Another important thing is to have a sturdy and durable wire stripper. What is the point of having a fragile tool that can get rusty if you leave it outside? They don't only have to be rust-resistant but to repel dirt, dust, and more. Also, they have to be sturdy enough to withstand accidental falls and impacts that often happen in garages and construction sites. Therefore, all wire strippers that are sturdy and durable are at the top of our list. They all have to offer great protection and a long lifespan, and they will certainly last for years!
Cost and Value
Last but not least, the balance of cost and value was very important for the evaluation. We included both cheap and expensive products on our list to meet a variety of customers' needs. It was important to determine whether they are worthy of the money or not. Especially considering the fact that we are paying for small-sized tools!
The best performing and most valuable tools are at the top of our list but don't disregard the ones at the bottom. They are still among the best wire strippers available on the market at this moment. You might find that those are just the perfect ones for your specific needs!
Other Factors to Consider
You are probably impatient to make the purchase and finally get your new wire stripper. However, we advise you to take a few more steps before you make the final decision. Here's what we have in mind:
Purpose
What do you need from a wire stripper? This is the first and most important question you should ask yourself. If you want a specialized tool that you can use only for stripping wires, that won't be so difficult to find. However, if you need a stripper, a cutter, and a crimping tool altogether, things will get a little tricky! There are many things to consider when buying a multi-purpose tool. Especially if you want it to be perfect in every possible way! Nevertheless, you should first determine which tool you need and then skip to the other parts.
Type of Wire
So we came to the part when you get to determine what you'll be stripping with this tool. Pay close attention to this step, you don't want to make a mistake and get the wrong tool! If you know that you're going to deal with thick wires, go for the most powerful stripper. You don't want to make any compromise here! The stripper should be strong enough to deal with thick wires effortlessly. It should also provide flawless results without damaging the wire. The same applies to thin wires because not all tools can tackle small gauge. Think carefully about the wiring tasks you have and then you'll be able to determine which tool you need!
Other Considerations
Is it important to you for a wire stripper to have self-adjustable jaws? How about other adjustable features? Also, do you prefer a precision tool with a narrow head or bulky one for big wires? Do you need it to be lightweight? You should ask yourself these and many other questions if you want to get the perfect tool for your needs. Don't forget, even the tiniest details count!
FAQ
Frequently Asked Questions
Q: Do I really need a new-age wire stripper?
A: You don't have to have a modern tool to strip some wires, that's true. However, using an old school wire strippers could end in a bad way! Firstly, it takes an eternity to strip a wire using this old tool. Secondly, if you don't get the right wire gauge, you can damage the wire. This is the most common issue with using inadequate tools when wiring. You end up cutting more and more of the wire because you don't get the perfect results. Sometimes the damage is irreparable! Therefore, even if you don't necessarily need a modern wire stripper, you'll definitely want to use it! It's a super efficient tool designed to strip the wire with outstanding accuracy. It will make your life a lot easier, you'll see!
Q: Can I get a stripper and a cutter in one tool?
A: Of course you can! Most of the newly designed tools offer both of these features as well as a wire crimper. However, depending on your budget limitations you might have to make some compromise. For example, if you want a first-class cutter you might lose some quality in stripping wire action. It doesn't have to be this way, but to get the perfect results in every area, you'll have to add some extra cash! The multi-purpose tools that guarantee exceptional results in both areas are rather expensive!
Q: Can I use this tool to cut guitar strings?
A: Yes, you can. However, you should first check whether your particular type of tool allows for this. Most of them are not designed to cut anything harder than copper. If you didn't buy the tool yet, aim for the heavy-duty one that can deal with all kinds of wire gauge. You need the tool that is sturdy and durable enough not to get damaged during the process!
Q: Do they all auto-adjust to the wire gauge?
A: No, not all of them. Some of them don't come with this feature and you have to manually adjust the jaws according to the wire gauge. It's quite annoying, but most people are satisfied with these tools because of their low price. Tools that have automatic feature are more expensive!
Q: What is a crimping tool?
A: It's a tool designed to conjoin two pieces of metal. We are talking about the connector that accommodates two wires and connects them. Yes, you read it right, this great tool exists! It also allows for impressive results. You only need to squeeze the handles and the two metal pieces will conjoin in one!
Subscribe to our Newsletter