Ridgid Power Tools Reviewed & Rated for Quality
last updated:
Jun 24, 2019
Ridgid is a well-known company that's been around for many years. They started producing high-quality tools back in 1923. and they are still going strong! People love them because of the wide offer they have. The company tends to meet the needs of both professionals and handypersons. From cleaning to hand tools, you'll find everything you need on the shelves of this company! They produce vacs, thermal cameras, wrenches, drills, saws, and other kinds of tools and accessories. Surfing through their offer of Ridgid power tools is a real joy and picking one of their products is always a smart choice!
Featured Recommendations for Ridgid Power Tools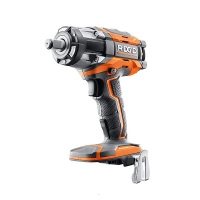 Cordless Wrench

Our rating
Powerful
Price:

See Here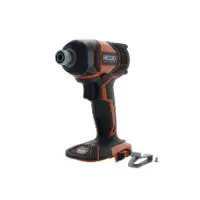 Impact Driver

Our rating
Compact
Price:

See Here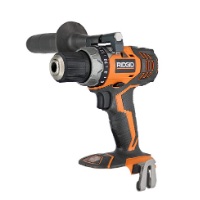 Cordless Drill

Our rating
Budget-Friendly
Price:

See Here

Now, if you can't decide which product to choose, we have a solution for you! We have done a thorough research of all Ridgid products and picked 10 best Ridgid power tools. This should help you make up your mind and go for the perfect one for your needs. If you still find yourself unable to decide for just one of them, which is likely to happen, we provided some extra tips on the bottom of the list. Hopefully, we covered all the necessary aspects to help you with the purchase. For now, let us present to you:
10 Best Rigid Power Tools
Cordless Wrench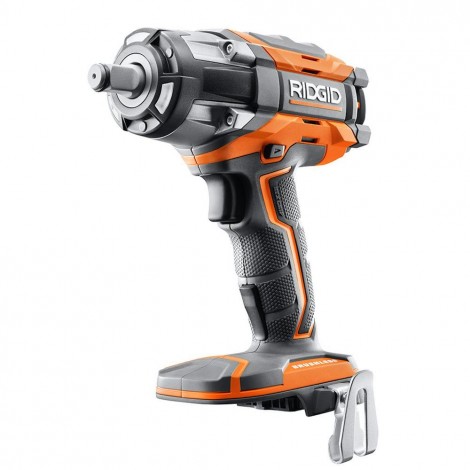 Everybody needs a high-quality impact wrench in their tool equipment. These tools are no longer reserved for professionals and workshops! They feature a cordless design and come at a reasonable price. Handypersons and DIYers can finally enjoy the benefits of having an impact wrench. Now, we recommend sticking with Ridgid and this amazing product they offer. With it, you'll deal with nuts and screws efficiently and without any effort!
Expand to see more
Powerful
This is a 4-speed impact wrench that allows for working with different fasteners. There's a convenient LED indicator that turns on when pulling the trigger. The 3 available colors will light up the working area for better visibility and results. What we liked the most is an auto mode. The device shuts off automatically once it fully tights the lug nuts or other screws. This way, you don't have to worry about inaccurate results and possible damages.
User-Friendly
This impact wrench features a brushless motor for great efficiency and improved durability. Not to mention metal parts that ensure a long lifespan. Also, you'll find this one super simple and easy to use. It features a comfortable handle that won't cause hand fatigue after prolonged use. The rubberized part is anti-slippery so you'll handle it with confidence.
Although the manufacturer clearly states that this product comes without batteries, we still find it as a drawback. If you don't order the battery at the same time as this tool, you'll have to wait to use it. Not to mention the lack of a battery charger. We would like to see it ready for the work straight from the box!
Cost and Value
Compared to other brands and products, this one is a real steal! You won't only get a powerful impact wrench but a portable one as well. The compact design makes it a rare find, so we strongly recommend making it
a part of your power tool kit
!
Powerful brushless motor
LED indicator with 3 lights
Automatic shut off feature
Durable
Easy to use and comfortable
Well priced
Doesn't include batteries
Impact Driver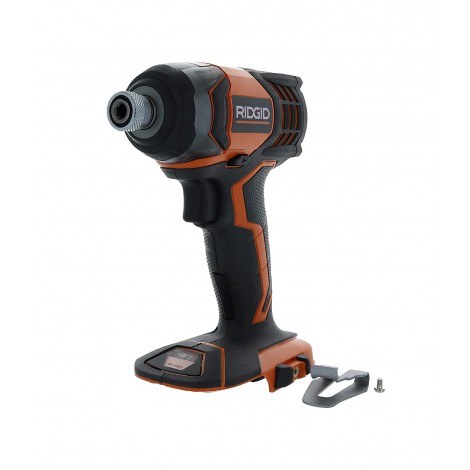 If you don't have an impact driver in your tool kit, now is a perfect time to get one! Ridgid offers this incredibly powerful tool that drives screws with great efficiency. You can finally say goodbye to corroded and over-torqued screws! Ridgid doesn't disappoint whether you choose to use it in your garage, workshop or construction site. It's just that powerful and efficient to meet every job requirement!
Expand to see more
Compact yet Powerful
This one features a powerful brushed motor. Although it's not as durable as newly designed brushless types, we couldn't find any issue with it! Ridgid guarantees efficiency and flawless results at any light or tough commercial task. Actually, we were amazed how compact it turns to be. For such impressive power, we expected a bulky tool that is hard to handle and store. Yet we got a compact impact driver suitable for every home, garage, or workshop.

Easy to Use
This impact driver is very easy to use and allows for quick bit changes. What is even more important, it has a rubberized handle for a comfortable and secure grip. This way, you'll be able to hold it securely yet don't feel hand fatigue at extended use. It also has a unique lighting feature. The unit has a separate trigger for LED light so you can turn it on and off at your convenience. The driver doesn't even have to be working for you to turn on the light!

Cost and Value
This Ridgid impact driver comes at a competitive price which makes it ideal for everybody! Both handypersons and professionals can afford to enjoy the benefits of this powerful driver. However, we would gladly spend some extra cash to see it with batteries!
Powerful brushed motor
Compact
Easy to use
Rubberized handle
Unique lighting feature
Competitive price
Cordless Drill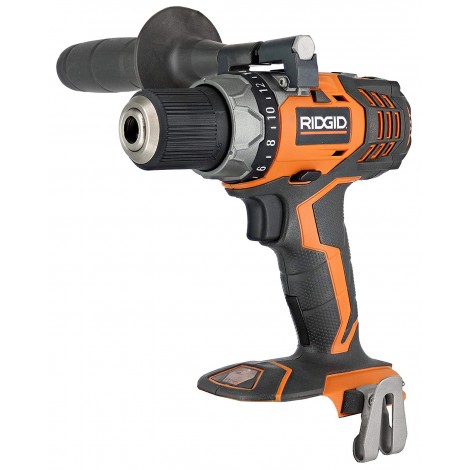 Do you need a powerful yet affordable drill? Search no more! Ridgid has to offer the perfect one to meet the needs of every handyperson. We enjoyed its efficiency and user-friendly features. Not to mention how stunned we were by its low price. You'll definitely fall in love with it!
Expand to see more
Efficient
This drill is ideal for working with all kinds of woods but it can be efficient when working with metal as well. It features a LED light to give you more visibility when working. You can adjust the light according to your needs. The drill doesn't need to run in order to give you light thanks to the separate trigger. Additionally, the bits are incredibly easy to change. You'll be drilling in no time, that's for sure!

A Firm Grip
Just like other Ridgid tools, this drill has a rubberized handle. It allows for a firm and comfortable grip and gives you more control over the drilling process. Additionally, you get to use this one as long as you need because it reduces hand fatigue. There's also a detachable handle that you can add when dealing with tough materials. It should give you more stability and help you drill with great ease!

Cost and Value
This is one of the cheapest drills on the market! Although we would like to see it with batteries, we can't really complain about the price. However, keep in mind that this drill might turn out underpowered for big commercial jobs. If you need something tougher to drill metals and other hard materials, this won't meet your needs!
Great for wood and some metals
An LED light with separate trigger
Easy to change bits
A firm and comfortable grip
Detachable handle for more control
Cheap
Doesn't include batteries
Not suitable for big commercial jobs
Circular Saw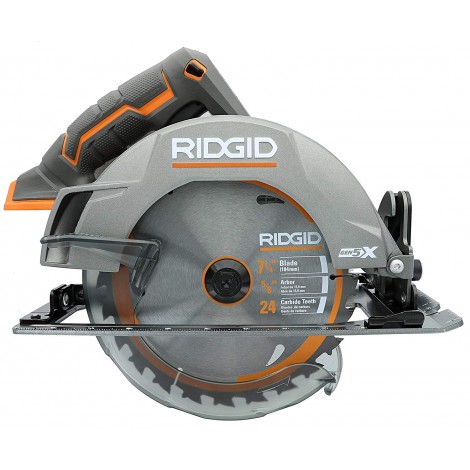 For all those who are excited with new releases, we have to introduce a perfect circular saw! It hasn't past not even a year since Ridgid launched this one, yet it collected many praises among users. Once again, we have the opportunity to enjoy the exceptional value that comes with all their power tools. Make sure to check it out, you won't be disappointed!
Expand to see more
Professional Finish
With the 18V battery and 5800 RPM speed, this one can tackle both light and heavy-duty jobs. It efficiently cuts through hard materials and ensures professional finishes. You can also adjust the depth of cuts and leveling of the saw. This should give you more accuracy when switching between different materials.
Built-In Blower
This saw is very compact and easy to use. Although it allows for a secure and comfortable grip you can improve it with a detachable handle. This one goes at the front and gives more stability if needed.
What we liked the most is a built-in dust blower! It blows out the dust when working on the material so you don't have to stop to clear the way. Cool, right? Also, there's a convenient LED light that turns on when you power up the saw. However, don't rely too much on its power. You'll need
better light to illuminate your working area
!
Cost and Value
Compared to other similar tools on the market, this one is a real steal! Not only that you'll get a powerful and durable circular saw, but it will also be easy on your pocketbook. You just can't go wrong with Ridgid!
Powerful and efficient
Adjustable features
Compact and easy to use
Secure and comfortable grip
Built-in dust blower
Easy on the pocketbook
The light could be better
Hammer Drill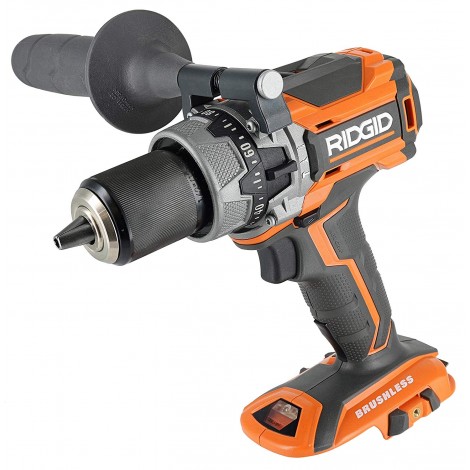 If you need a powerful hammer drill to help you with your everyday tasks, you can't go wrong with Ridgid! This is a cheap yet reliable drill praised among handypersons and professionals. You can use it for a variety of materials, it will always allow for flawless results! If you want to find out more about it, you can follow the in-depth review provided below.
Expand to see more
Everyday Jobs
Although it's not one of the most powerful hammer drills, we think it's quite decent and super efficient. It deals with all tasks that regular handypersons meet every day. You'll be amazed at how fast and accurate it can get! You can use it to
drill all kinds of woods or some soft metals
. It will give you the necessary control and some adjustable features to achieve perfect results.
The major drawback with this drill is the noise! Yes, we know, this is a powerful hammer drill, but it's still quite annoying. Also, you should keep in mind that this drill doesn't run at low speeds. If you need this feature to tackle your commercial jobs, this is not the tool for you!
Rubberized Coating
The best thing about this drill is definitely a rubberized coating. The entire tool is extra coated for more durability, not only the handle. This way, you'll have a secure and comfortable grip but you don't need to worry about dropping the tool. The rubberized parts should protect it from any impacts and prolong its life. Don't get us on the wrong way, we don't recommend being harsh with the tool! You'll just have an additional piece of mind knowing that it can't be damaged so easily!
Also, it's worth mentioning that the improved protection didn't come at the expense of compact design. This drill is quite lightweight and easy to use. It comes with a convenient LED light to illuminate the working area and a detachable handle. You can use it when drilling harder materials to achieve more control over the process.
Cost and Value
We can't say that this is a perfect hammer drill. There's that annoying issue with the noise and the lack of lower speeds. However, it's still super useful and reliable. Even the most demanding professionals find it incredibly valuable. It is, after all, way better-priced than most of the competition!
Decent power and great efficiency
Suitable for different woods and soft metal
Accurate
Rubberized coating
Durable
Well priced
Noisy
Doesn't run at low speeds
Jobsite Blower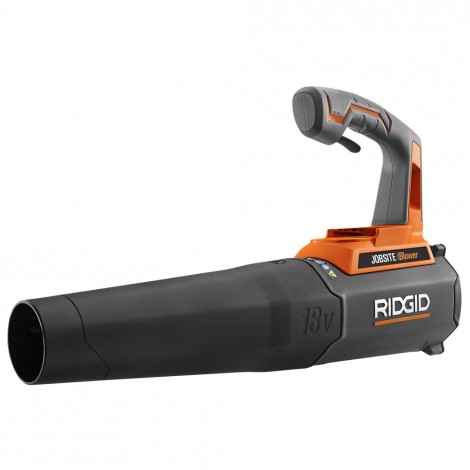 Once you finish all the drilling, sawing and other work in your garage, you'll need something to clear the mess left behind. Instead of struggling with brooms and vacuums, we recommend using a blower! It's the fastest and most efficient way to clear sawdust and other dust and dirt, and we have a perfect model in mind. Ridgid offers this super powerful and compact blower to meet all your needs. It most certainly makes cleaning the garage a lot easier!
Expand to see more
No Noise
This blower offers 280 CFM air volume and 100 mph air speed. It works on a durable battery and allows for simple cleanups. You'll have to buy the battery separately, but considering how well it performs, it's not such a big deal. We were surprised to find out that it's not noisy at all! You don't need noise canceling headphones or other protection while using them. Most users even reported speaking with other people at low voice while running the tool! Lastly, you can adjust the speed of the blower at your personal need and tackle your jobs more accurately!

Compact Design
Most people love this blower because of the compact design. It's fairly lightweight which gives you an option to move it around at your convenience. The handle is super comfortable and easy to grip. Additionally, the entire blower is made of quality materials meant to last. You don't even have to worry about dropping it down because it can withstand quite a lot!

Cost and Value
This Ridgid blower comes at such an attractive price that you won't even hesitate to try it out. The only thing you should keep in mind is that this one is not designed for heavy use. If you need something to clean and blow tough messes such as wet leaves from your yard, this is not the tool for you! However, those who need more control over the process when cleaning workshops and garages will find this little tool perfect for the job.
Powerful and durable
No noise
Adjustable speeds
Compact design
Lightweight and easy to use
An attractive price
Not a powerful all-in-one blower
Cordless Router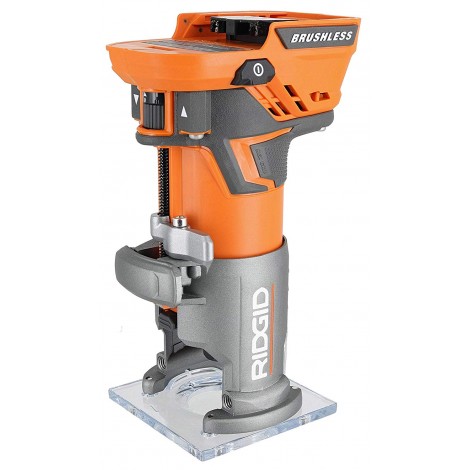 Every handyperson should have one router! It's such a useful tool to keep in your garage or workshop. There's always a material to rout out in every household, and Ridgid gives you an option to do it in a professional way. Now, if you're planning to do some cabinetry, you'll definitely use this Ridgid cordless router. It's a super convenient tool that allows for many adjustments for great performance. Not to mention all those user-friendly features for easy use. You're going to love it!
Expand to see more
Brushless Motor
This Ridgid power tool
features a brushless motor
for improved efficiency. It works faster and lasts longer! You can also change the speed of the router according to your job requirements. We really liked how it gradually develops speed to prevent damaging the material you're working on. It also comes with a built-in LED light that illuminates the working area. All in all, you'll get everything you need for flawless performance and the most accurate results!
Simple Adjustments
You can make all the necessary adjustments on this router without using any tools at all. It comes with a quick release system that allows for simple bit changes. Also, it's extremely easy to use it thanks to the stable base and quality parts. You won't even have problems with transportation and storage. It turns out to be so compact you can move it around and store it almost anywhere!
Cost and Value
The only drawback with this router is the price. Compared to other products of its kind, it's a little expensive. Don't get us on the wrong way, we still think it's one of the best routers out there. You'll just have to add a few more bucks to get it.
Powerful brushless motor
Efficient and durable
Adjustable speeds
LED light
Quick release system
Easy to use
Drill/Driver
We have a perfect drill for all those who are searching for a reliable and versatile tool. You can use this one from your garage to the construction site, it will make your jobs a lot easier! It's one of the Ridgid power tools that prove to be very efficient and long-lasting. Not to mention a great price that makes it very popular among users!
Expand to see more
Efficient
As we mentioned above, this drill is quite efficient. It can deal with both light and heavy-duty drilling jobs. It works on 18v batteries (not included) and comes with a 2-speed motor. You can adjust it to meet your particular needs without too much effort. With speed control and simple bit changes, you'll be able to switch between materials with great ease!
Improved Protection
This drill
allows for easy working on all kinds of materials.
The handle is rubberized to prevent slips and allow for a firm and comfortable grip. You'll be able to tackle every job with confidence! Also, the tool is double coated and protected against accidental drops and impacts. Therefore, it should last for many years of continuous use!
Cost and Value
This is probably one of the cheapest drills on the entire market! We only had issues with a poorly designed chuck. It doesn't grab the bit as tight as we would like it to. Still, we can't really take it as a big drawback considering the price of the tool.
Efficient
Versatile
2-speed motor
Easy to use
A secure and comfortable grip
Cheap
Wet/Dry Vacuum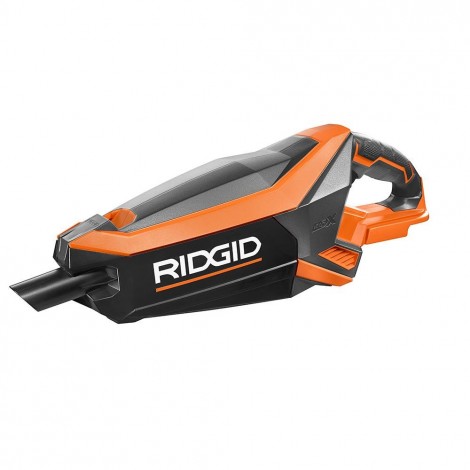 If you need a shop vac that can deal with wet and dry pickups, search no more! Ridgid offers this incredible vac that's suitable for every home, garage or workshop. Make sure to check it out. We guarantee you'll fall for its compact design and great performance!
Expand to see more
Super Useful
This vacuum allows for
picking up all kinds of dirt
, from sawdust to wet messes. The compact design allows for cleaning all hard-to-reach areas. The vac features a comfortable handle to provide a secure grip and prevent hand fatigue. You'll also get a 2-foot long hose. With this combination, you'll keep your garage and workshop in perfect condition all the time!
Small Vac
This is a tiny shop vac! Users all over the market praise its compact design. The vac is very portable and gives many storage options. What we appreciate the most is a pre-filter that prevents clogging. With Ridgid, you can clean without any interruptions. Once you finish the work, you can easily remove the dust cup and dispose of the collected dirt. It's simple as that!
Cost and Value
This one is pricey, we give you that, but it still won't cost you a fortune! Just keep in mind that it doesn't provide a big tank. As we mentioned earlier on, this is a compact tool that's highly portable and easy to store. If you need something for large pickups, this is not the best option for you!
Wet and dry pickups
Comfortable handle
2-foot long hose
Compact design
Portable and easy to store
No clogging
Pricey
Doesn't have a big tank
Jig Saw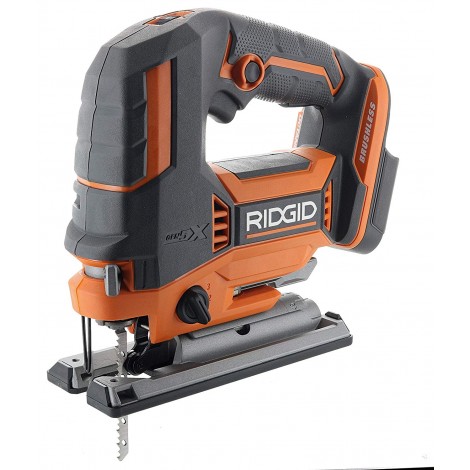 Last but not least, we have a compact cordless saw to complement your tool kit! This one is perfect for light everyday tasks as well as big commercial projects. It's super powerful and efficient, and you get to adjust its many features according to your needs. All in all, it's one of the best Ridgid saws!
Expand to see more
Adjustable Features
This saw features a brushless motor that ensures efficiency and durability. The tool works on low and high speeds but it also gradually speeds up to maintain straight lines. That's why you'll get perfect finishing results no matter which material you're working on! Also, you can easily adjust it from 0 to 45 degrees according to the job requirements.

Easy Usage
As we mentioned above, this one is very easy to use. You get to adjust all those features to get the perfect results on both soft and hard materials. Thanks to the rubberized handle this saw allows for a secure and comfortable grip. There's also a convenient lock-on feature. You can use it to lock the trigger and prevent hand fatigue when working on big projects. We also liked the built-in dust blower that clears the sawdust from your way. This amazing little feature allows for better visibility while working.

Cost and Value
We can't deny the extraordinary value that comes with this saw. Still, we wish for it to come with a lower price tag. This way it's not suitable for those on a limited budget!

Brushless motor
Efficient and durable
Adjustable features for better finishes
Easy to use
Locks trigger
Built-in dust blower
Criteria Used in Evaluation of the Best Ridgid Power Tools
Ranking the best Ridgid power tools was a challenging task. They don't only differ from each other by type and purpose, but they also come with different sets of features. Only when we compared them all we were able to make an accurate list that goes from number 1 to 10. Here's a slight insight into the criteria used in the evaluation:
Power of Ridgid Power Tools
The most important factor was definitely the power of every product on our list. We compared them according to their performance and the power played a crucial role. Those tools that allow for easy cutting, drilling, blowing or other actions are at the top of our list. The power they provide is not only important because of the efficiency but also for flawless results. Powerful tools give better finishes so you get to see the perfect product of your work every time you use them!
Design of Ridgid Power Tools
We assigned some extra points to all tools that are compact and easy to use. Compact tools are portable, easy to maneuver and store. Nobody wants a bulky tool that takes all the working area! Also, they have to have a straightforward design for simple handling. We don't want all that hassle with the installation, mounting, and powering up the unit. Simple tools save you a lot of time when working, and that's why they are at the top of our list!
Additional Features of Ridgid Power Tools
It might not seem that way, but some features can drastically influence your satisfaction with the tool. We took into account all the features that allow for safer and easier use. For example, drills that came with extra handles for more stability are better ranked on our list. The same applies to saws with built-in dust blowers or blowers with longer cords. We can go on and on with these features, but you get the point. Those power tool that comes with a wide range of adjustable features is ranked as top products!
Cost and Value
Lastly, we had to make sure that every Ridgid power tool guarantees enough value for the money. That's why we provided a short review along with every product. They should give you the hint of the balance between cost and value for every tool on the list!
Other Factors to Consider
Now we came to the tough part. Choosing a perfect power tool is not an easy choice, even if you have a list of the best product from only one brand. There are still a lot of things to examine and consider before the very purchase. If you want to make sure you're making the right decision, you can follow the next steps:
What do I need?
You should first determine which type of power tool you want to have! It's not an easy task, we get it, but you have to make this decision. For those who came here looking for a particular tool things are easier, but they can still change. With such a wide range of products, you might end up purchasing two or three tools that you don't even need! We say go for it, purchasing a Ridgid tool is always a smart choice.
How powerful should Ridgid power tools be?
This one is very important! Although Ridgid offers mid-range tools they still have to offer an impressive power. You should consider where and how often you'll be using your tool. Also, keep in mind the toughness of the material you'll be working on. For example, if you plan to drill softwood, you don't need a powerful tool and you can save a few bucks. Determine the purpose of the tool in your household and you'll be able to decide upon a certain amount of power.
Should I get a compact tool?
Let's be honest here, everybody wants to get a compact tool! However, this is not always possible. Those who need more power will have to settle for bulkier devices. It's just how it is, those heavy-duty components have to be stored somewhere. On the other hand, if you don't need too much power you can easily go for a compact design. Think about what you need more, a powerful tool or a compact device. Either way, you should be able to find the perfect product from all those different Ridgid tools. You'll only have to make a little compromise!
Which features to look for in Ridgid power tools?
This one completely depends on your personal preferences. Some people opt for locking mechanisms and LED lights. They give them some peace of mind when transporting the tool. Others prefer detachable handles for more stability when drilling, sawing, and more. The list is endless! Think about the features that could improve your confidence when working with a particular tool. Pick the ones that suit your personal needs the most!
What about the price of Ridgid power tools?
Well, you'll have to make compromises somewhere, right? You can't have it all, unfortunately! Your budget will drastically influence your decision. It's maybe smart to put it in the first place when considering what you need from a product. This way, you can pick the power, features, and design according to your budget limitations. Either way, you shouldn't worry too much about it. Ridgid is well-known for affordable products. You'll definitely find the perfect tool regardless of the budget limitations!
FAQ
Frequently Asked Questions
Q: Who makes Ridgid power tools?
A: The company name is Ridge Tool Company. They distribute products under the name Ridgid, which is better-known among the buyers. The company was founded in North Ridgeville, which explains the name, back in 1923. The most common concern among buyers is whether this company produces tools in the USA or not. The answer is yes, they work in the USA, they only moved from Nort Ridgeville to Elyria.
Q: How good are their products?
A: Ridgid products are primarily designed for homeowners and hobbyist. They are a perfect mid solution for those who don't need professional tools yet want a little more reliability than an entry level kit. If you don't need tools for all-day-every-day work you'll be quite satisfied with Ridgid. They are well-built, durable and quite efficient. The only drawback is that they are a little underpowered for big projects and commercial use. But this is not a general rule, by no means! You can still find some heavy-duty tools in their offer.
Q: What kinds of tools they produce?
A: They have a lot of different tools to offer! As we mentioned earlier on, they are primarily focused on producing mid-level tools. That's why they have a wide range of products to meet the needs of every homeowner. They offer diagnostics, inspection, and locating tools such as locators, infrared thermometers, reels, cameras, and more. When it comes to hand tools, they have pillars, wire cutters, saws, and other products for everyday use. Of course, they have all kinds of power tools as well. From drills to saws, and accessories such as hooks, bolts, bases, and tables, Ridgid got you covered! Actually, it's pretty hard to find the type of tool they don't have in their offer!
Q: How well priced are Ridgid power tools compared to other brands?
A: Truth to be told, they are known by the low prices of their products! That's one of the major reasons why they are so popular and praised among users. Sure, they have some pricey power tools but even then they won't be too hard on your pocketbook. This makes them ideal for handypersons and DIYers. If you need mid-level tools rather than expensive professional ones, Ridgid is for you!
Q: Do they offer a lifetime warranty for every product?
A: No, they don't. Ridgid usually gives a full lifetime warranty only with tool kits, not with individual products. This is the main complaint of every buyer! However, it's not a general rule and you should check the offer of every product you're interested in. You'll get some kind of warranty, that's for sure, just not the lifetime one!
Subscribe to our Newsletter