10 Best Motorcycle Goggles Reviewed For Safety & Protection in 2023
last updated:
Jun 20, 2019
If there's one body part that absolutely needs protection when riding a motorcycle, it's the eyes. Often overlooked when it comes to motorcycle road safety, goggles are a vital part of any motorcyclist's safety kit. The disruption caused by wind, dust, insects, the suns glare and poor range of vision is all going to depend on your choice of eyewear. While also being an aesthetic symbol for the motorcycle enthusiast, a good pair of goggles can prevent many of the conditions necessary for a crash to occur.
Any motorcyclist knows how dangerous it can be to take your hands off the handlebars, so you don't want to be pawing at your face when you're driving because you've got something in your eyes. Get to know the available eyewear and find a pair that'll keep you calm and cool on the road.
Featured Recommendations for Motorcycle Goggles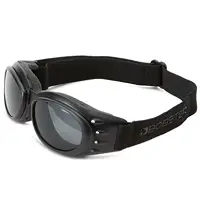 Bobster Cruiser 2

Our rating
Comes with 3 Lenses
Price:

See Here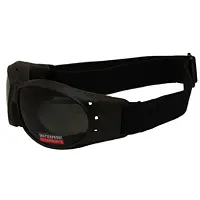 Red Baron Aviator

Our rating
+UV400 Filter
Price:

See Here

Oakley Goggles MX

Our rating
Lexan Lens
Price:

See Here

The constant striving for better road safety has driven technological advances in the motorcycle goggle industry at a rapid rate. Now there is a wide selection of versatile and specialized goggles for every type of motorcyclist. Motorcycle goggles come in a range of styles, from wrap-around goggles to wide-framed models, to slick, sports glasses which can be worn casually. This review will break down everything you need to know about motorcycle goggles and arm you with the knowledge to make the right choice. To save you the time and energy on research, we've selected a list of the ten best pairs of goggles currently on the market and analyzed their pros and cons.
10 Best Motorcycle Goggles
1. Bobster Cruiser 2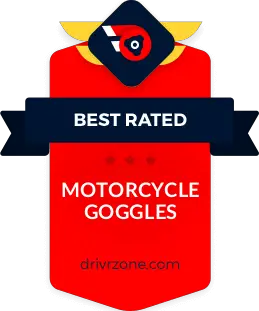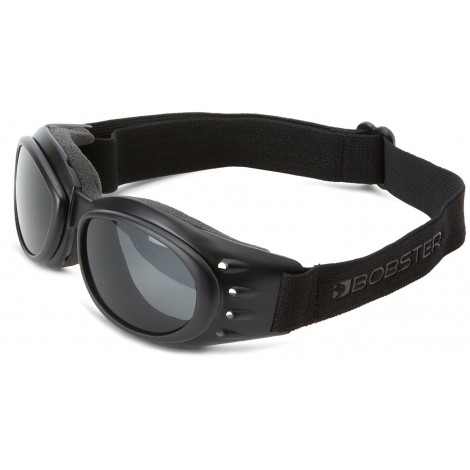 These goggles offer what some call a
stylish solution
to road safety eyewear. Their light, malleable materials are durable and built to last, that's why they come with a lifetime warranty. With polycarbonate frames and polarized lenses which also block harmful UVA and UVB rays, these glasses tick the safety box while achieving casual style at the same time.
Expand to see more
9-Layer Shatterproof Lenses
The lenses are made up of nine separate layers which combine to create a super-strong, UV-protected piece of tech. Lifetime warranty on the lenses and frames show a vote of confidence from the manufacturer.

Bendable 'Indestructible' Frames
Impact resistant, scratch resistant, and durable, these super-light polycarbonate frames are designed to last. They can be bent and shaped without shattering, making them a handy pair that will survive on the roads and in your pockets.

Cost and Value
These glasses come in at a competitive price within their market and represent great value for what they deliver. A stylish pair of riding glasses that also come with a lifetime warranty, this is a popular product which rates highly.
Snug fit stays on your face
Casual style
Protection against ultraviolet rays
Dark shaded lenses
30-day refund, lifetime warranty
Non-rubbing strap material
No foam-padded edges
2. Red Baron Aviator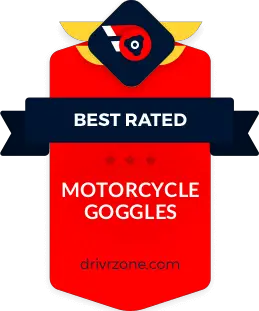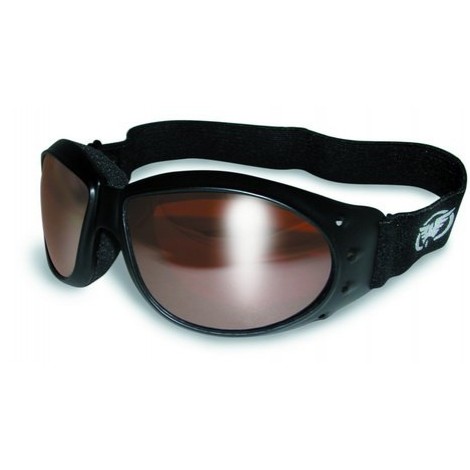 This excellent pair of multi-purpose goggles comes equipped with five sets of interchangeable lenses, making them road-ready for any number of conditions. This trendy option also comes with an elastic sports belt allowing you to wrap them around your head, or hang them around your neck when you lower them. These glasses present multi-use capabilities with a bold style and a range of customization options.
Expand to see more
Ships With 5 Different Lenses
The RIVBOS comes with five lenses, each of which are designed for different conditions. Several colored lenses for varying light levels, as well as one clear lens, means these glasses are suited to a variety of conditions.

Water-Proof
One of the worst things a pair of driving glasses can do is fog up in rain. Not only are these glasses well ventilated, but they are also resistant to water and remain clear in the worst of conditions.

Cost and Value
With a competitive price and 5 different lenses, these sports glasses make their mark as a good utility option. They also ship with a protection box, an elastic sports belt, a head movement harness, and a lens pouch and cleaning cloth
Range of lenses for different environments
Flexible, durable metal frame
Sporty style
Soft rubber rim-padding
Suitable for heavy motion/movement
Open, ventilated design means more exposure to the elements
3. Oakley O-Frame MX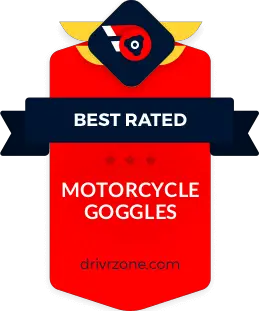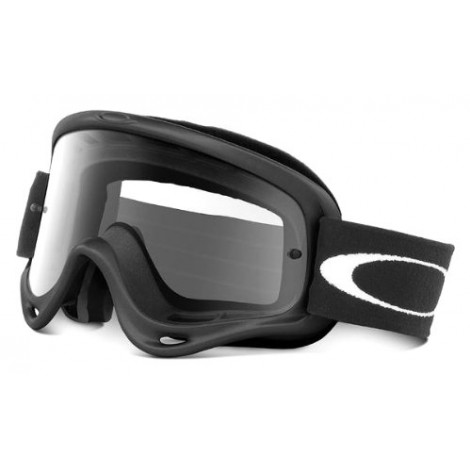 These goggles from Oakley provide
maximum protection
on the road, with their wide design and foam fleece padding. A wide peripheral field of vision means you can see all around you. A sturdy head-strap keeps the goggles secure, while a choice of lens-tints gives you good scope for customization. Oakley is a trusted name in the motorcycle safety-wear, and the O-Frame MX is a solid product in their line-up.
Expand to see more
Extensive Foam Inner-Padding
The triple layer of fleece-foam works to absorb and wick away sweat from your face, stopping condensation and fogging while keeping you clean and cool. The foam also provides stability by fitting snugly and securely to your face.

Super Clear Vision
The frame on these Oakley's is super-wide and won't block your vision at the edges. The lenses are treated with anti-fog treatments, as well as an iridium coating for extra glare-protection.

Cost and Value
These Oakley's come at a price which matches the reputation of the manufacturer, so expect to pay a little bit more for a brand name. But the sheer breadth of protection and security they offer on the road makes them good value for money either way.
Extra-thick padding

Fog resistant

Secure head strap

A wide range of vision

Protection from the elements
Slightly more expensive
Not designed for casual wear
4. Global Vision Eliminator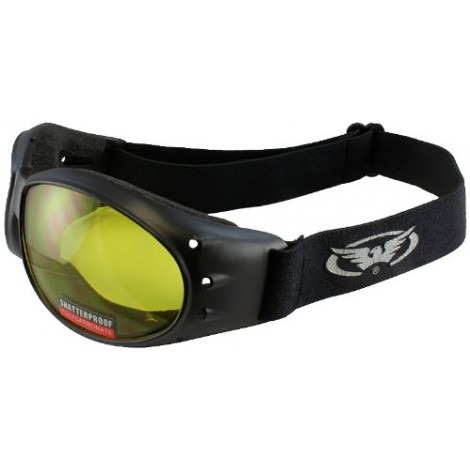 These
stylish
glasses target the casual range of the market while still offering superior lens shading and glare protection. For the motorcyclist who doesn't want big, bulky goggles on their face, these sports goggles offer a more slick alternative. Also shipping with a free gift bag, safety box, and screw-driver set, Duco Sport also offers a wide range of frame and lens colors.
Expand to see more
Anti-Scratch Durable Frame
Duco makes their frames from an aluminium-magnesium alloy which can be gently shaped to your face while remaining structurally solid. The manufacturer shows a video of the glasses being hit with a hammer without any breakage.

Extra Dark HD Lenses
These lenses have been tested for polarization and anti-glare, and the manufacturer published examples on the product page. This item also ships with a free home-polarization testing card which displays the capability of the lenses.

Cost and Value
The Duco Sport glasses are fairly priced and fall within the median pricing range. With their blend of style and eye-protection, they give a good showing of themselves as far as value is concerned.
Casual style for on the road or off it

Extra eye-protection with HD lenses

Mouldable, durable frame

Comes with safety bag and screwdriver for adjustments
Less security than strapped models

Open design not the best for extreme weather conditions
5. Red Baron Eliminator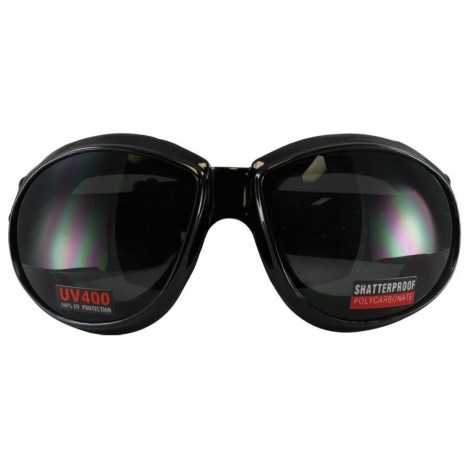 These unique goggles offer a good blend of
style and protection
. With a head-strap and wide dual-lenses, these wraparounds really look the part, while giving the wearer complete, sealed eye-protection. The Eliminators provide a steampunk/aviator look and tick several boxes at once - Foam padding means a snug fit, while ventilation grooves in the frames work to combat steaming and fogging.
Expand to see more
Comes With Two Versions - Day and Night
The Red Baron Eliminators come with two different lenses - one smoked lens and one clear lens. Having a spare pair of stylish safety goggles can only be a good thing on the roads.

Secure Wrap-Around Fit
The Eliminators are fitted with foam padding all through the rims and come equipped with an adjustable strap that can be fitted around your head. These features make for complete protection against wind and rain.

Cost and Value
Since Red Baron ship two versions of their Eliminator goggles with every order, it's hard to argue with them for value. These goggles come in at the same price as their nearest competitors and represent excellent value for money.
Secure, adjustable fit

Complete eye-protection from the weather

Two pairs for the price of one

Unique retro aviator style

UV resistant lenses
May leave pressure marks on the face

Might need adjustment and placement around bandanas, hats etc.
6. Strata MX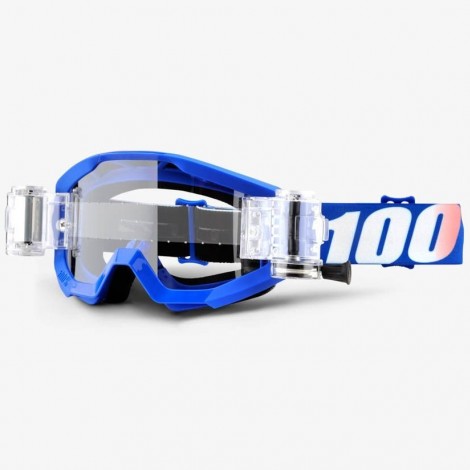 These sporty goggles from Strata benefit from a curved front for optimum comfort and peripheral vision. A dual layer of foam blocks wind, and sucks up moisture taking it away from the face and lenses. These ventilated, anti-fog motorcycle goggles can be used effectively on roads, as well as off-road environments, and come in a wide selection of
colors and styles
.
Expand to see more
Full Range of Vision
Many protective wrap-around goggles come with a nose-bridge which obscures vision. The Strata MX model does not, but instead has a wide open single front lens which opens up the entire road in front of you.

Comfy Dual-Layered Foam Padding
A dual layer of foam creates a thick, lush layer of protective comfort around the rims which have the dual-function of blocking out the wind, and soaking up excess moisture.

Cost and Value
Slightly more expensive than other models on this list, these goggles earn their money by offering a sporty, protective option which promotes anti-fogging and a wide range of vision.
Lush dual-foam layer

Complete eye-protection from the weather

Sporty styles and colors

Suitable for off-road riding

UV resistant lenses
May leave pressure marks on the face

The large frame may interfere with hats, helmets etc.
7. Global Vision Kickback Hybrid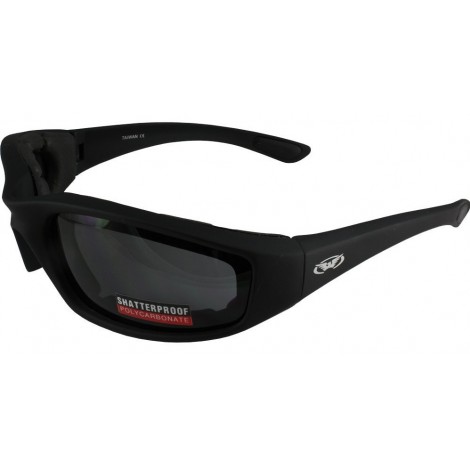 This multi-pack pick from Global Vision is a budget choice that provides exceptional value and surprisingly good
protection from the elements
. These safety glasses come fitted with vented EVA foam around the edges, with rubber pads on the legs to provide grip behind the ear. On top of that, the lenses provide maximum protection from UV rays, with a UV Filter rating of 400.
Expand to see more
3 Different Shades
Yes, that's three pairs of three different shades. One clear, one dark and one yellow, for night time driving. All lenses are UV protected.

Secure At High Speeds

The Kickback glasses provide a tight fit and stay secured to your face. The foam layers make for a snug fit, and the glasses stay on your face at high speeds on the road, thanks to the soft foam padding which contours to your face.

Cost and Value
Don't be put off by this budget pair, they perform admirably in a range of conditions. With three different lens styles to choose from, these make for solid motorcycle glasses which present great value for money.

Three pairs for the price of one
Yellow tinted lens for night driving
Comfortable foam-padded rims
Choice of black or gunmetal frames
Non-adjustable frames

No grooves for ventilation
8. CRG Sports Vintage T08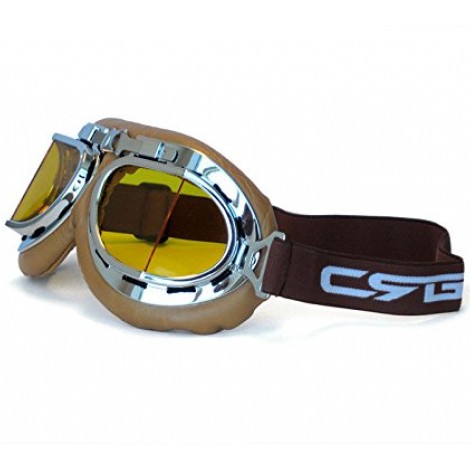 These vintage style aviator goggles are a great choice for the discerning motorcyclist who wants to achieve the retro look. With a one-size-fits-all adjustable head-strap and thick sponge padding, these retro goggles provide excellent eye-protection and fitting. The
aesthetics really stand out
, with old steel-effect frames which harken back to the steam-powered world of old. They come with a unique brown leather effect material.
Expand to see more
Steampunk/Aviator Style
Few goggles achieve the retro-style and steampunk effect of the CRG Sports Vintage goggles. Steel-effect fittings and brown leather-effect paddings contribute to the old-style aesthetic. These goggles excel when it comes to bespoke style.

One Size Fits All
There's no need to worry about having fitting problems - these goggles come with a long, fully adjustable strap reminiscent of the aviator style. The adjustable strap and padded rims also contribute to the protection afforded by the goggles.

Cost and Value
These goggles come in at a lower price than many on this list, which is a surprise given their unique appearance. They come with 35 different choices of color, from the rustic and brown to the extravagant and pink.
Unique aesthetic

One-size-fits-all strap

The option of smoked lenses

Huge choice of color customization
Lack of ventilation makes fogging more likely

A range of vision not as wide as other models
9. Cycle Clear ZX1 Wind Proof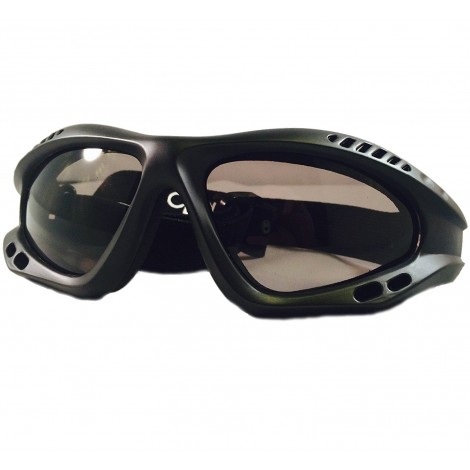 The name should give you an idea of what they're about. The Vert model's ability to keep the wind out is solid and worthy of the name. wind Blockers come with a range of customization options, including the ability to convert from glasses to wraparound goggles just by pressing a button. The foam inner-padding can also be removed on hotter days.
Expand to see more
Convert From Glasses to Goggles
A quick release button on the frame allows the legs to be detached, and an adjustable strap to be added. This major feature isn't often seen in other products and makes these Blockers stand out.

TAC Polarization
The lenses are treated with a Triacetate Cellulose technology which creates a highly durable, impact and scratch resistant surface while protecting your eyes from the glare of the sun.

Cost and Value
Ever so slightly above the average price on this list, the Wind Blockers really do work for their money. An ability to convert from glasses to goggles and back again is a major plus.
Conversion between goggles and glasses

Excellent adjustability options

Good foam-padding, wind resistant design

UV, scratch and shatter resistant
Relatively low peripheral vision range

Detachable fittings may catch on hair
10. MF Vulcan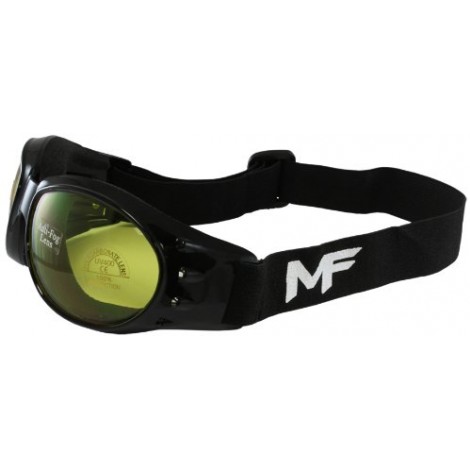 These sleek, low-profile motorcycle glasses have more than meets the eye. Their casual style makes them
suitable for when you're off your bike
, while still providing solid protective abilities when you're on it. With foam padded frames, UV resistant lenses and rubber ear pads, these matte black glasses also come with highly shaded 60% dark lenses.
Expand to see more
Super-Dark Lenses
The lenses on the MF Payback are designed to be very dark and will block out a great majority of light. Some may find the darkness too much, but they are sure to provide superb glare-protection if that's what you're after.

Anti-Fog Coating
With a layer of anti-fog coating on both the inside and outside of the lenses, these glasses make a bid to eliminate fogging on the road. The foam padding also breathable so should allow for air to circulate when you overheat.

Cost and Value
One of the less expensive items on this list, the MF Payback glasses perform well on the road and merit their current popularity. Doing the simple things well, these glasses give a lot of bang for their buck and offer good value for money.

Affordable price

Combination of style and functionality

Anti-fog coating - two layers

Sit low on the nose to allow for helmets

Rubber ear pads for a secure fit
No ventilation holes

Non-adjustable frame
When it comes to choosing the right motorcycle goggles, there are many different styles, with a range of different functions to prioritize. By prioritizing safety, you often lose out on style. And if you aim for style, you might have to open yourself up to the elements more when you're on the road. This review has provided the rundown on the most stylish and safe, and everything in between. Ultimately, road safety is of paramount importance, with your eyes being one of the most vital, yet vulnerable parts of your body. By choosing the right pair of motorcycle goggles, you drastically reduce your chances of a crash due to obscured vision.
Use this guide to get to know all the alternatives on the market, and give yourself a chance to buy the right product that will keep you safe, secure and stylish on the road.
Let's say you're riding, free as a bird on the long highway, burning up the road over 80 miles per hour. The wind is in your hair, adrenaline in your veins, and the road under you. Everyone who has ever ridden a motorcycle knows how good this feels, how there isn't anything like it. However, all this joy needs to be followed by one thing- safety.
You need to remember that the awesome feeling of controlling half a ton of metal carries with it a certain amount of risk. That's why you have to do everything you can to be safe and to be protected. That's why you simply need to get the best motorcycle goggles.
Now, you may be thinking- there are so many types, kinds, brands, how in the world am I supposed to choose? Well, just read on and we'll tell you everything you need to know.
Do you even need motorcycle goggles?
As we've already mentioned, one of the main reasons why every rider should wear motorcycle goggles is protection. These glasses prevent weather conditions from affecting how you view the road and can save you from any undesirable consequences to which heedless riding may lead. In other words, they can save you from crashing, by saving your eyes and vision during a ride.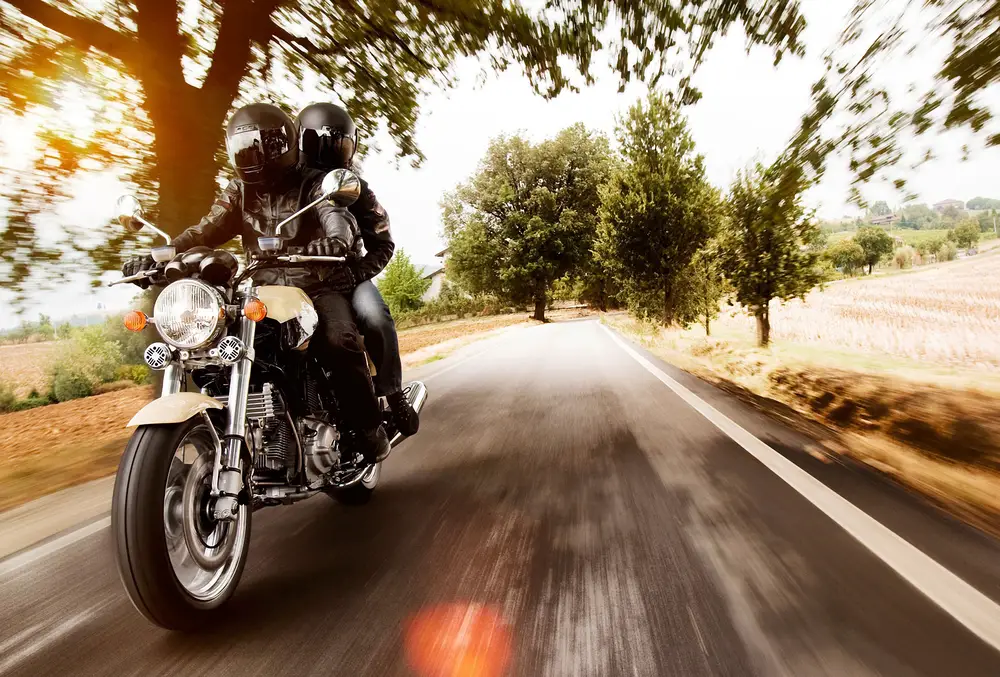 Now, obviously, if you're looking for motorcycle goggles, it means that the helmet you prefer (you are wearing a helmet, right?) doesn't have a visor. You're probably a fan of skull caps or ¾ helmets (or maybe just motocross helmets that don't have goggles already). We mention this because if you're not wearing a helmet, you definitely should. Riding without a helmet does not make you look cool, just irresponsible.
Regardless of the season of the year, the sun is always an issue for everyone who takes part in traffic. This may seem like a simple, even banal issue, but believe us, accidents happen when you least expect them. Getting hit by the sun from the wrong angles, at the wrong time, during busy traffic, is a recipe for disaster.
Even a second of looking away while riding could be the cause of an accident. Around 3,000 accidents that happen on the road in a year are estimated to be caused by sun glare, i.e. by blindness that the sun rays create in traffic participants. Wearing motorcycle goggles helps you keep constant attention while riding and saves your reaction speed to everything that's happening. The correct goggles can entirely eliminate sunlight as a potential risk in your riding and will help you keep complete control over your motorcycle.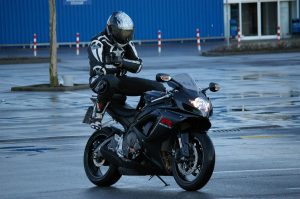 Apart from a temporary discomfort that the Sun can bring to your eyes and thus make your riding less safe, there is a potential danger that does not have anything to do with road accidents, but which makes the sun equally harmful for a rider – ultraviolet (UV) radiation. UV rays do not have immediate consequences as it is the case with sun glare.
However, if you constantly expose your eyes to them, your risk to develop some very serious diseases is significantly increased. Cataracts, pingueculae, and cancer are some of the most devastating among them. By wearing motorcycle goggles you do not only exclude the sun as one of the negative factors in traffic, but you also prevent it from impairing your eyesight and health of your eyes.
Although the Sun can have a negative influence on your riding, lack of sunlight can cause you much trouble as well. It is no secret that a large number of accidents happen during the night since there is less light on the road. This is where motorcycle goggles can come in handy. Many models are designed in such a way to enable you high visibility for your eyes even at night and maximal protection for you as a rider. Enhancing your view will certainly help you ride your motorcycle cautiously, but, at the same time, you won't worry about possible problems that may arise during the night ride.
Another situation in which this type of glasses may prove extremely useful is riding a motorcycle in the strong wind. How many times did it happen to you that you need to rub your eyes because something got stuck in them? Whereas this does not have to be a huge problem if you are walking along the street, the situation with riding a motorcycle is a bit different.
It is highly important to be hundred percent focused while riding because of the lack of attention, no matter how long it lasts, can bring jeopardizing the safety of all traffic participants. On the other hand, motorcycle goggles make you much more prepared for riding under windy conditions and improve overall road safety. Motorcycle goggles seal out wind and things that it the wind can bring to your eyes, such as particles of dust, various insects, and so on. Honestly now, is there anything more annoying (not to mention dangerous) than bugs in your eyes while riding? A good pair of motorcycle goggles can turn an annoying ride during the bug-filled evenings into a pleasant and relaxing ride with a good view.
Criteria Used in Evaluation of Motorcycle Goggles in 2019
Now that you know why you should get goggles, let's talk about different goggle types. A rider has a wide selection when it comes to the type of motorcycle goggles that he or she needs. The type of riding is a crucial factor which makes the difference between numerous types of goggles. In order to optimize the effect of your goggles and, therefore, make your riding safe and effective, it is necessary to determine the setting in which you will be using them for most of the time.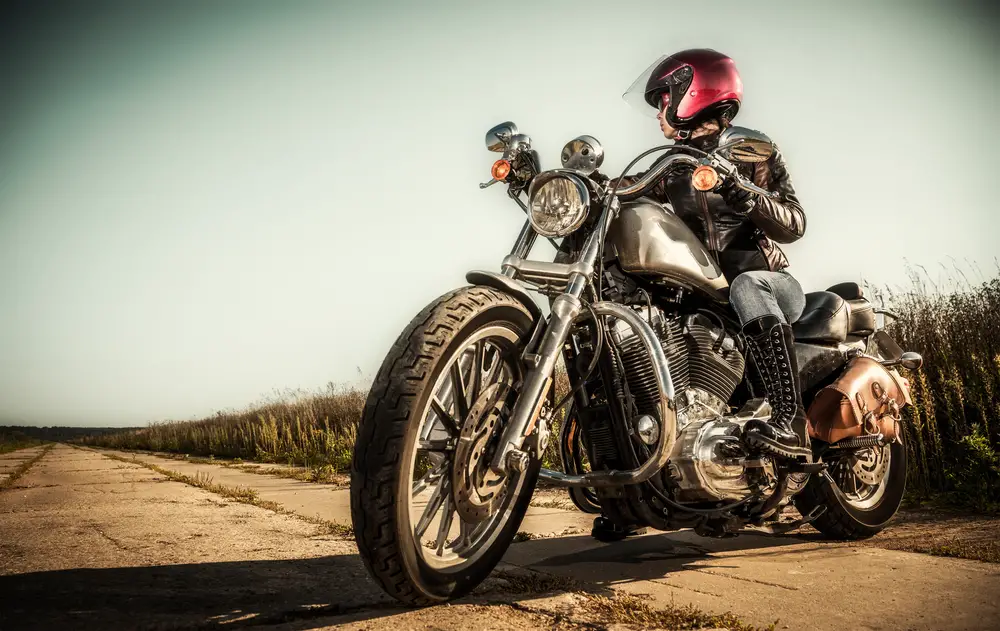 Off-road goggles
There are several features that every type of off-road motorcycle goggles should have.
Lenses are very important as far as off-road goggles are concerned. Clear and strong lenses have the purpose of enhancing your view while riding. For this reason, it is desirable that your lenses are able to sustain as many different weather conditions as possible. Good lenses should prevent the sun from interfering with your ride.
They should not allow the sun rays to hit you directly in your eyes and cause you discomfort while riding. Apart from this, lenses which are designed with high protection against harmful UV radiation make the motorcycle goggles that contain them a better option for the customer than the ones which do not share this quality. A large number of lenses have anti-fogging technology, but it is always a good idea to check.
Strong and, at the same time, flexible frames are an essential part of useful motorcycle goggles. They should form a whole with your helmet and enable you to control your ride in the best possible way. Flexibility is also very important, as it helps them to adjust to your head and thus do not (obviously) fall off. However, flexibility is also important, as the right amount can adapt to higher riding speeds and various difficult weather conditions while you ride. A good venting system is an advantage that every motorcycle rider should look out for while making a choice about buying off-road goggles.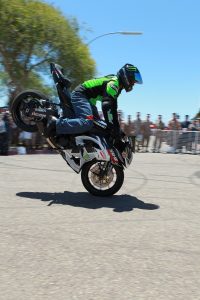 Since riding exposes your body to both good and bad weather and since it requires spending energy, you can expect sweat pouring off your face. The role of vents is to neutralize its effect on your ride. Good face foam is also beneficial in this respect. It prevents sweat and moisture from blurring your vision.
The straps on motorcycle goggles can have a significant impact on your riding. If they do not remain steady, it could become a problem for you. Trying to set them to the right place is going to distract your attention from what is ahead. Silicone beading will make your goggles strongly fixed in the place where they should be, which is why you should make sure that the model you are interested in includes this characteristic.
Street goggles
The difference between the previous type and this one is probably the speed that you can attain by riding in these two settings. In other words, you tend to ride at much higher speeds when "on the road" compared to "off road". With higher speed comes a slight change in the weather which implies more challenging windy conditions for you as a rider.
This is the reason why you should protect your eyes from the unwanted particles that may end up in your eyes and disturb you from riding in a safe way and enjoying your ride. For riding in the street, it is recommended to fasten your goggles firmly to your head so as not to allow the wind to affect your ride in the way that you do not want. And, in order to do this, you can use silicone straps which are mentioned in the paragraph above. If the goggles that you want to buy have such straps, you will not only save yourself from correcting them all the time, but you will also get rid of too much air in your eyes that may cause you some trouble.
Motorcycle Goggles color
Color is not the characteristic that has much to do with protection and traffic safety – at first sight. However, you should bear in mind that color and light can have a considerable influence on your vision and, accordingly, you're riding a motorcycle. With respect to a period of the day in which you are going to be the most engaged in riding, you should make a decision about which color of lenses is the most appropriate for your goggles.
Grey is the color which is recommended because it neutralizes sunlight. Riding a motorcycle while being directly exposed to the sun's rays or while being insufficiently protected from them can be quite tricky. Grey lenses can be quite helpful since they make your ride in the sunlight less difficult and dependent on such weather conditions.
There are different types of grey lenses considering different hues of grey color. It is generally believed that darker hues of the lenses are the right choice for the riders who spend most of their time riding during the warmest time of day, whereas lighter grey lenses should be used by the ones who are not exposed to the sun to that extent.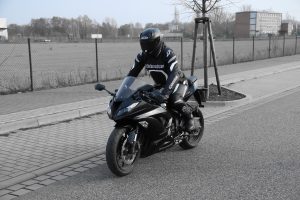 Yellow lenses provide good contrast when it is dark outside or, simply, when the day is not that bright. This is why motorcycle riders who spend less time in the sun should consider buying lenses of this color.
Lenses without color or clear lenses serve their purpose best at night or when the weather is cloudy. However, goggles with clear lenses are not advisable to wear in daylight since they do not provide the desired protection against UV radiation.
On the other hand, the color red is an optimal choice for riding a motorcycle during the day because it enables the highest protection from ultraviolet rays.
Brown lenses are equally efficient as far as ultraviolet radiation is concerned. They also enable a sharp contrast between the things that you see. Improving your perception is one of the most important things during riding your motorcycle.
Rose color gives you high contrast and is perfect for the daytime. It also tends to be very soothing.
Apart from the function related to protection and traffic safety, the color of motorcycle goggles is also characterized by the aesthetic function which is truly important for many people. The best thing that one can do while planning to buy goggles is to find the balance between their practical use and their appearance.
Another factor which should be taken into account when thinking about what lenses are a perfect choice for you is the material. That's why we can divide the types of goggles even based on the material.
Polycarbonate (PC) is one of the most frequently used materials in the production of lenses. One of its biggest advantages is that it effectively neutralizes approximately one hundred percent of ultraviolet rays. Moreover, this material is quite affordable. Its drawback is that it can be easily damaged. For this reason, polycarbonate is usually covered with a coat that optimizes its use. Polycarbonate lenses can be shatterproof, which increases protection they guarantee.
Another factor you should keep in mind is polarized goggles. These goggles underwent a process where a series of crystals have been put inside the lens themselves so that it blocks glare. This is not a coating over the lens, but an actual structural modification of the goggles.
Plastic is the material which is not regarded as the most useful one because it does not provide sufficient protection from dangerous sun rays. However, not all plastic lenses are of the same quality, there are many variations among them, and you should check with your local dealer for more detail.
Prescription motorcycle goggles
Now, you may be thinking about something very important, namely, your glasses. If you wear prescription glasses, and definitely if you really need them, then you can't wear the typical motorcycle goggles. You have a couple of options. The first one is to obviously either get eye surgery or contacts. The other, less invasive option, is to get prescription motorcycle goggles.
You can get special goggles that let you fit your glasses under them, but you need to keep in mind that the goggles must fit snuggly, but also that they don't interfere or damage your prescription glasses. The other option is to get some prescription goggles, which tend to be very expensive.
Frequently Asked Questions About Motorcycle Goggles
Q: I got myself one of the best motorcycle goggles available. What should I know about maintenance?
A: Now, this is one of the more frequently asked questions, and rightly so. Honestly, what's the point of having these goggles when they'll fall apart after a week of use? First, you need to wash them every day. The best way to do this is by taking some mild soap, a soft washcloth, and warm water. Don't use any detergents or strong chemical cleaners, as this will destroy the foam, and may damage and blur the lenses after repeated washings. You can use a microfiber rag to wipe them down.  Another option is to let them soak in soapy water in some kind of tub or sink, gently wipe them down and then let them air dry.
Next, storage. Remember that you should never leave the goggles to stay out in the sun. This may seem obvious, but some people simply let their brand new goggles melt in the hot sun. Even if they don't seem damaged or altered on the outside, the goggles may well fall off during the ride in the worst situation possible. Also, a lot of people like to keep their goggles either hanging from somewhere or put into a box during a ride. This can seriously damage the lens after some time (though you can buy a specialized case that will help you avoid this).
Q: I want to wear the goggles (or glasses) and wear a helmet – How do I do that?
A: Now, this mainly depends on the helmet type. There are five types: the skull cap, the ¾ helmet, motocross helmet, full face and modular. The skull cap only covers the tops of your head, the ¾ the top and back of your head (also called open face helmet). Full face obviously covers your head entirely, including your jawline area (apart the open face one neglects). Modular can change from full face to open face, and motocross has a special, ridged and angular design.
For example, if you ride with the 3/4th one on your head (or a half helmet, i.e. a skull cap), you may want goggles that are extra secure and tight around your head, as you will be exposed to the wind a lot more than usual.
For a full face helmet, you don't really need goggles. It's better that you invest in a visor of higher quality, with the characteristics, color, and protection you want, than to force goggles under the helmet.
Q: What are "tear-offs"?
A: Tear off are perfect for off-roaders. They are basically a small, translucent strip that you put on your goggles and can then tear off whenever you want. This is very useful, as off-roaders (though anyone can use them) tend to get their goggles dirty quite quickly. If you get into a situation where you can't see because of the dirt and wiping the goggles isn't enough, having the strips already on is a godsend.
Conclusion
So there you have it, folks. If you wanted to know how to maintain your goggles, how to choose them, what to look for, you came to the right place. All the information is here, all you have to do is read the article and check out our list of best motorcycle goggles. Now, remember people, keep your gear clean, your eyes on the road and your head safe, and most important of all- enjoy the ride.
Sources on Motorcycle Goggles
Your Adrenaline Fix – Importance of Motocross Goggles
Dry Eyes Store – Motorcycle Goggles
Dolman Law – The Importance of Wearing Motorcycle Safety Gear
Subscribe to our Newsletter