Best Welding Helmets Reviewed & Rated for Quality
last updated:
Jul 18, 2019
Whether you are a professional, hobbyist or weekend welder, the most important item to have in your possession is a quality welding helmet. Although there are many types of helmets to choose from, the safety, quality, comfort, and durability of the headgear should be the leading factors in your decision of purchase. Finding the right helmet will lead to overall productivity in your welding needs and give you the satisfaction of knowing you made a great investment by purchasing a product that not only does you need, but you love! It is essential that you choose a helmet that is suitable for you and your personal needs. When considering which welding helmet to purchase, you should consider what is the most important feature of a welding helmet to you.
Featured Recommendations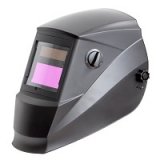 Antra Ah6-260

Our rating
Adjustable Tint Feature
Price:

See Here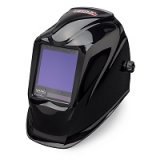 Lincoln Electric 3350

Our rating
Features 4C(TM) Lens Technology
Price:

See Here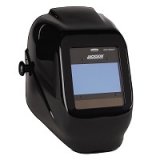 Jackson Safety 46131

Our rating
Auto Darkening Filter
Price:

See Here

There are so many different types of welding helmets available that finding the perfect one for you may be easier than you think. Finding comfortable headgear for your welding needs consist of knowing what you need and what's important for the type of welding you intend on doing. Taking the time to explore the different types of helmets and their benefits will help you to choose what is right for you. If you are not sure of exactly what you are looking for, you have come to the right place!
10 Best Welding Helmets
1. Antra Ah6-260
The Antra Ah6-260 welding helmet appears to be the people's top pick! This light weight welding helmet comes with solar power auto darkening, four premium sensors and a grinding feature. The helmet itself is easy to assemble, flexible and it effortlessly fine-tunes to fit its buyer. This helmet is perfect for wearing long periods at a time, worth the cost and would make a great back-up helmet.

Expand to see more
Adjustability Features Count
The helmet allows adjustments for the strap, headband and lower limit. The helmet falls back into the same setting without the hassle of the user having to reset the helmet prior to every use.

Easy Setting Features
This helmet is great for both indoor and outdoor use with its adjustable tint feature. Delay and sensitivity settings can be configured without difficulty. Sunlight can trigger auto darkening but the setting can be disabled if necessary.

Cost and Value
The Antra Ah6-260 gives you more bang for your buck! It is very durable and affordable.


Great Visual Perception both Indoor and Outdoor
Works well with TIG, MIG, MMA and Plasma.
Comes with Grinding feature
Not recommended for overhead welding
2. Lincoln Electric 3350
The Lincoln Electric 3350 series welding helmet is made of Nylon, Polycarbonate material and comes furnished with auto-darkening, a 4C(TM) Lens and grind mode that is inside the helmet. The Lincoln 3350 series offers 10 different styles of the helmet powered by a replaceable lithium battery. The helmet itself is easy to assemble with crisp, clear and cleaner visuals. In the words of a professional welder, "If you can see better, you can weld better!".


Expand to see more
The Absolute Best Visuals
The wide field of view would be considered an asset to the helmet! Being that the helmet is equipped with the latest 4C lens technology, the helmet's ocular clarity is the absolute best in the industry!
Auto Darkening Feature
The Lincoln 3350's screens of a wide range of adjustable sensitivities for its user. Ranging from DIN 6-13, making sure you can work
in any lighting condition
without complications.
Cost and Value
This welding helmet is a little higher on the price spectrum but is well worth the buy. The visuals on the beauty make the purchase well worth it. The Welding helmet comes with extra lenses, a bandana, decorative stickers, and a bag. This helmet also includes a 3-year warranty.
Has an excellent wide screen view (Viewing Area 3.74 In. x 3.34 In)
Features 4C(TM) Lens Technology
Extremely durable!
Helmet can be heavy after a long day of welding
3. Jackson Safety 46131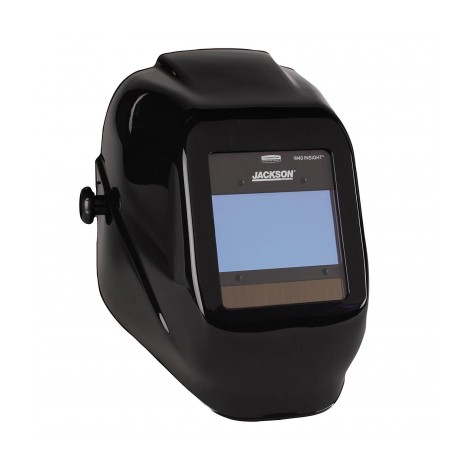 The Jackson Safety 46131 Insight Digital Variable ADF Helmet is ideal for professional welders and serious hobbyist. This helmet is equipped with an adjustable shade range and a wide viewing area for that flawless view. Its light weight and flexible build are perfect for those of you who will be wearing the headgear 10+ hour a day. If you are the type of person to constantly flip your hood up, this is for you!


Expand to see more
Four Different Auto Dimming Sensors
The ADF on this helmet will enable you to work in a variety of different settings. This helmet contains a shade lens with 4 different auto dimming sensors and adjustments for
extremely bright
work environments.
Digital Controls Are An Upgrade
These easy to use digital controls are an upgrade from what you may be used to. Digital display and multifunctioning controls for any welding project you may have in mind.
Cost and Value
The Jackson Safety Insight Digital ADF welding helmet is averagely priced for the quality of the helmet. This helmet can be compared to the HLX100 and HSL 100 shells. Recommended for Industrial businesses and serious hobbyist for its quality and durability.
Offers ADF with Digital and Multifunctional Controls
Grind and Weld modes for MIG, TIG, and ARC Welding
Sensitivity and Delay Adjustments
Hood is on the short side and exposes the neck area
4. ESAB Sentinel A50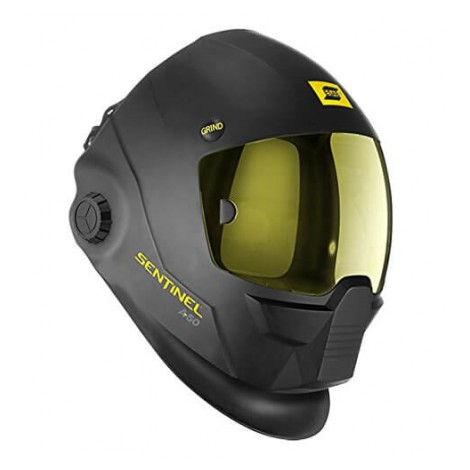 The ESAB Sentinel A50 auto-darkening welding helmet has a revolutionary, streamlined shell design made of a high impact resistant nylon. Its unique design is made with the idea of reducing pressure loads and
increasing the comfort
of welders who use the helmets for long-term wear. The Sentinel is at the top of the market with all its modern age technology for millennial welders.
Expand to see more
Ergonomically Designed
This streamlined shell helmet serves you with an ergonomically based halo design. It also gives you that adjustability you are looking for with its five-point contact headgear. Perfect for providing extreme comfort and balance.

Hyper-sensible LCD Control Panel
This luxury helmet has an external activated Grind Button and offers Shades 5-9. Its color touch screen control panel is armed with 8 separate memory settings just for your convenience.

Cost and Value
This helmet sits on the high end of the market. Because of its modern design and hard shell, it offers longevity to its users. It comes with a bandana, padded bag and 6 extra lenses. This helmet is worth the buy to avoid the bulkiness of a larger helmet.


Spherical Front Lens
Includes 1 clear & 1 amber lens
Lenses are quickly and easily replaceable
Touchscreen doesn't work well with gloves
5. Instapark GX990T
The Instapark ADF Helmet is made for the hobbyist or weekend welder. It has a solar-powered, fully automatic apparatus and has a viewing area of 3.94" x 3.86" which makes it the largest window in its class! Its groundbreaking design gives you all the quirks! It has convenient external controls, adjustments for dark state, sensitivity, and delay. Get this- You don't even have to take off your helmet to do it!

Expand to see more
Lightening Fast Switching Time
This helmet has a whirlwind of a speed for switching time! It switches from light to dark in 1/30000 of a second! It has been equipped with dual ARC sensors and an automatic sensitivity control.
Solar Powered Capabilities
The Instapark ADF Series GX990T has a built-in solar panel for
independent recharging
! Although it does require a lithium battery pack (which comes included) you get more use out of it if you let it rest in the sunlight!
Cost and Value
The Instapark Series welding helmet is priced well within range for its capabilities. The helmet is made of light but durable complex material for your comfortability. It does come with a carrying bag and extra lenses. Its internal enhanced protection and reliable performance makes it well worth the bargain!
Works best for long MIG and TIG welding
Comes with a ratcheting headband and a quality padded interior
Adjustments easy to get to with gloves on
The helmet doesn't lock into the up position for very long
6. Hobart 770756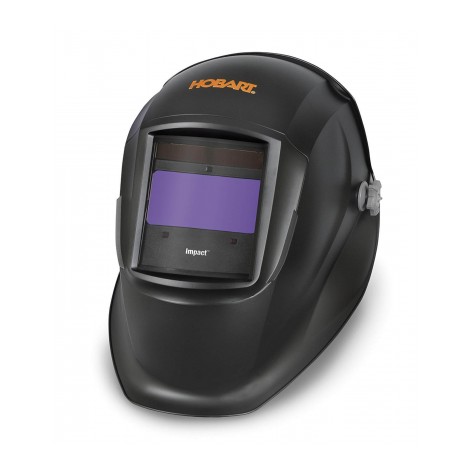 The Hobart 770756 Impact Variable Auto-Darkening Helmet was built precisely for the production floor! It is fully automatic and made of a lightweight but quality polyamide material which makes it durable for long-term wear. This helmet is perfect for industrial welders who are experienced in the industry or for training new welders into expanding their skills. If you plan on
working long hours
around heavy materials that can fall, this one is definitely worth taking a look at!
Expand to see more
Optics You Can Count On
This helmet comes with a 2.00x lens that will allow you to be able to concentrate on your welding project and perfect your technique. This battery-operated helmet comes with three independent Arc sensors, 1/25,000 Switching Speed and Sensitivity/Delay Controls

Cover Lenses
This helmet is perfect for professional welders who prefer to use magnifying cheater lenses. Although they may not be necessary, it is an option. This helmet also includes 5 outside lenses and 2 inside cover lenses.

Cost and Value
The Hobart 770756 Impact Variable Auto Darkening Helmet has a grind mode that works flawlessly and is as a light enough weight to help reduce neck and shoulder complications. A professional welder could never go wrong for the extremely reasonable price!



Comes with 3 ARC sensors
Two Year Warranty
Ratcheting headgear is adjustable for superior comfort
Controls are inside of the helmet
7. Rhino Carbon Fiber RH01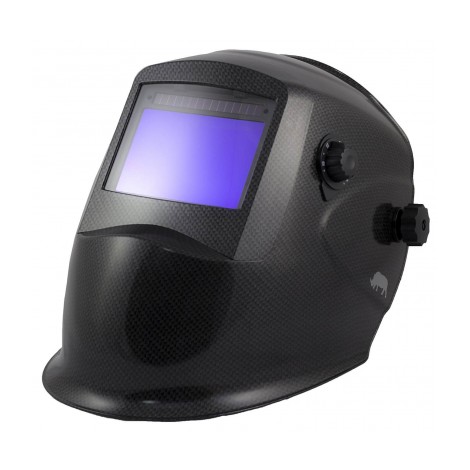 The Rhino Carbon Fiber RH01 helmet is made of nylon and features a 4" x 2.6" viewing window. This option is made of a lighter material versus a heavier material which can have an awesome design but may lead to fatigue or other strenuous complications. This product is perfect for preventing that neck and shoulder strain! What more could you ask for?

Expand to see more
Largest Viewing Window Available
Compared to all other helmets, this device has one of the
largest view windows
in the welding industry. Other helmets have standard view lenses half its size.
Headgear You Can Count On
The Rhino Carbon Fiber RH01 holds its own by providing consistent protection from both ultraviolet and infrared rays
Cost and Value
This helmet is amazingly on the lower end of the price spectrum. This helmet includes ratchet style headgear with a headband, and both a solar panel and replacement batteries. This helmet comes with a 2-year Warranty that covers defects/flaws in manufacturing!
Auto-Darkening large view lens with grind mode
Solar Panels perfect for convenient recharging
Helmet has a reaction Time of 1/25,000 second
It is not recommended that you use this helmet for overhead welding
8. Antra AH7-860-0000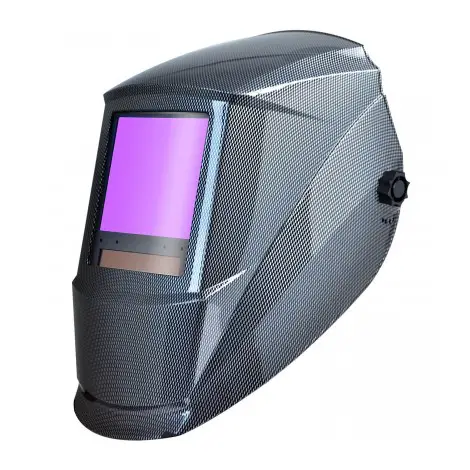 The Antra AH7-860-0000 solar powered helmet is a hobbyist or beginner welder's dream! This helmet is a solar powered, fully automatic welding machine great for TIG, MIG, MMA, and Plasma Applications. It comes with a grinding feature, large viewing window and 4 premium sensors. This product has a normal tint so light that you can work without raising your hood! This is a step up from fixed shade glass welding helmets or old auto lens helmets!

Expand to see more
Auto Darkening Perfection
The Auto Darkening Filter on this is superb! This helmet is equipped with four premium sensors that will darken the viewing lens at all welding angles.

Picture-Perfect Upgrade from Goggles
The large window gives you a richer view than ordinary and is the perfect upgrade from goggles! Welders will love the viewing window that measures at 3.78" x 3.50".

Cost and Value
The spacious Antra AH7-860-0000 is a great helmet at an affordable cost and can be used on grinding, cutting and welding applications. If you're in need of a helmet that allows you to weld with your glasses on, this is it!


Large Viewing Window for better optics
Controls are extremely easy to use
Great for low current TIG
Battery operated and may die during long welding sessions
9. 3M Speedglas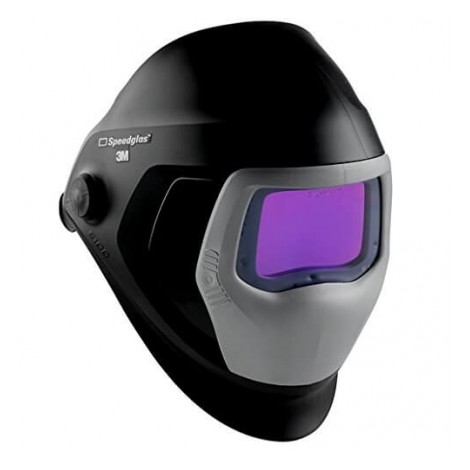 The 3M Speedglas Welding Helmet is strictly for the Professionals. It has been recommended for those who work in the Construction, Mining, Oil/Gas, Transportation and Manufacturing industries. This helmet is equipped with the traditional but reliable welders' headgear and Auto Darkening Filter. This helmet is perfect for Stick, MIG and most TIG welding processes. It features dark shades 8 through 12, light shade of 3, a viewing area of 6.05 square inches and dual sensors.

Expand to see more
Spacious Shell For Accessories
The 3M Speedglas helmet allows room for extra amenities necessary for professional welders. When working in extremely hot or confined areas this is very important. This helmet allows extra room for both eyeglasses and respirators.
Safety at Its Best
The make of the 3M Spedglas helmet has been perfected. Its length and width prevent flash burns, being sparked and
deflect heat
! This helmet is sure to save you a trip to the ER or Doctor's office.
Cost and Value
The 3M Speedglas helmet is on the high end of the price wave. It has been built for durability and longevity for the professional welder. It also comes with a 3M Speedglas toolbox label and welding beanie. Industrial businesses will be grateful to have employees equipped with these fine helmets.
The head strap is easy to adjust with gloves on
Auto Darkening Filter is outstanding
Helmet is solar powered
Dark shade can be increased up to 13 or 14
The 3M Spedglas does not come with extra lenses
The helmet is a little heavier than normal; weighing in at 2.71 lbs.
10. AUDEW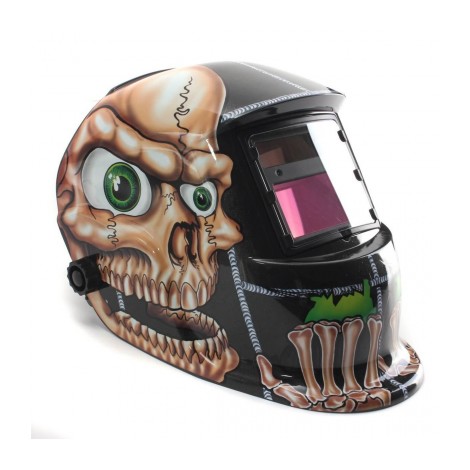 The AUDEW solar powered auto darkening helmet was designed to protect the face from welding hazards in harsh conditions. This helmet is essential to welders who are looking to avoid buying extra protective gear. This helmet is suitable for professional welders who are used to high welding operation temperatures.

Expand to see more
The Professionals Choice
The build of the AUDEW was unquestionably made with professional welders in mind. This Auto-Darkening welding helmet
protects the eyes
and face from harmful radiation under normal welding conditions.
Instantaneous Auto Darkening
The AUDEW has an auto darkening lens that will instantaneously darken when it detects light from from the welder. Great visibility!
Cost and Value
The AUDEW is actual a cool looking helmet if skulls or skeleton graphics is your thing! Its pretty low on the price side but well worth the buy. The helmet doesn't come with a battery pack but for the price, purchasing a battery pack will not be an issue.
This helmet is perfect for welding or grinding selections
Built with lightweight materials for comfort
Plenty of mask space
Battery pack must be purchased
Criteria Used in Choosing the Best Welding Helmets
Finding the right welding helmet is just the icing on the cake when it comes to welding. Making the choice to purchase a welding helmet is a very delicate decision-making process. You must be aware of what type of welding projects you will be doing prior to the purchase. Maybe you will be doing hobby or weekend welding at home, or maybe you have a job working in an extremely hot facility. As a hobbyist you may decide to do your welding outside or in an open-door garage.
Safety: The American National Standards Institute has set certain safety standards for protective gear. Keeping in compliance with safety standards is also vital to choosing your welding gear. Working in the industrial side of welding requires you to have multi-functioning helmets that can withstand high heat, protect you from flash burns, sparks, and burns to the face, neck, and chest area. There are other things you must take into consideration before a purchase like knowing your welding lingo, the parts of the helmet, how to avoid accidents, and how to prevent injuries.
Capabilities: The size of your viewing window, the tints of shade, and the power source of your welding helmet are all important. Whether you are a professional or a hobbyist, the style of helmet you choose should be capable of functioning on a level that you can comfortably perform on.  Some of the helmets are digital, and that can be nice although it is harder to set your adjustments via touch screen if you keep your gloves on. If you are working with the helmet for a long period, solar-powered may be the best option. But if you decide that you will only be working with it here and there, maybe battery-operated is just right for you.
Headgear: The headgear beneath the shell of your helmet is the most important factor. It should fit snuggly around your head and be able to hold the weight of the hood. There are different types of headgear that can be purchased based on your preference of material. Product manufacturers can always provide detailed information on the headgear you choose, give product reviews, and show you what accessories are available for the helmet you choose to make it your own.
Auto-Darkening: The auto-darkening feature is an upgrade from older helmets. This allows your lens to adjust shades based on the brightness of your environment. Whether you are inside or outside, or the UV/IR rays are severely bright, the lens will adapt. With the auto-darkening feature, the helmet must be present before use by sitting it out in the sun for approximately four hours. This allows the helmet to adjust itself to normal lighting and will be able to tint in the range based on the normal setting.
Viewing Window:  The welding helmet that you choose should always have a viewing window large enough for you to be able to see your project thoroughly. If you are welding larger projects, you want to make sure your viewing lens is large enough to see the whole project as clear as possible. Accessories like magnifying lenses (cheater lenses) and colored lenses are available if you need them. You are not able to see your project could lead to accidents and injuries unforeseen. Always make sure that your range is at its best before starting to weld.
Price: The price range of welding helmets can become expensive, depending on the material it is made from and the technology implemented. Some of the helmets are made light with delicate materials and are made to last longer hours. These helmets may have to be replaced annually if they are used for longer periods. Most helmets are priced for light welding. If you are partaking in industrial welding, you want to make sure you spend the extra money for durability, longevity, longer-lasting charge life, and that larger viewing window.
FAQ
Frequently Asked Questions
Q. What should I look for when purchasing a welding helmet?
A. The helmet of choice should be lightweight and meet the ANSI Z87.1 industry standard. Having a lighter helmet will lessen the strain on both the neck and shoulders for the industrial or day to day welder. Professional welders will tell you that the variance between a 1 lb. Helmet and a 2 lb. The helmet makes a big difference over a long period. As a welder, you will be exposed to both highly concentrated Ultraviolet rays and Infrared rays. It is vital to have headgear that can protect your eyes, face, and neck from probable hazards such as heat, sparks, and possible flash burns.
Q. What is a flash burn?
A. A flash burn is a serious injury that takes place when a person is exposed to ultraviolet light without proper eye protection. When using a welding torch, the UV rays are so bright that if the cornea of the eye is exposed, it can cause painful inflammation. The cornea of the eye is extremely sensitive and will require special prescription eye drops or an antibiotic ointment for treatment.
Q. Why is wearing a welding helmet necessary?
A. Any time a person decides they are going to be doing any type of welding project, a helmet is required. When welding, it is necessary to prevent arc eye, flash burns or any other serious injury that can be caused by either the ultraviolet rays, infrared rays or sparks that may fly off the materials being welded together. Unprotected exposure could lead to serious eye, face, or neck injuries.
Q. What is the Arc Eye?
A. Arc eye is best described as a sunburn to the cornea of the eye. Symptoms include redness, swelling of the eyelids, headaches, a feeling of pain, or irritation to the eye. Some people have compared it to the feeling of having sand in the eye. Vision is temporarily distorted and will usually return after 18 hours. The cornea of the eye will heal anywhere between 24 to 48 hours after the injury takes place after being treated professionally with antibiotics.
Q. What is the general standard for a welder's helmet?
A. With welder's helmets, the general standard is set by the American National Standards Institute. The current standard is ANSI Z87.1, which states that all protective eyewear requires auto-darkening features to provide full protection against both Ultraviolet rays and Infrared rays even when the helmet is in the darkened state. Although the standard is deemed voluntary, every buyer should make sure their helmet meets compliance standards for their use; especially if they will be using the helmet in an industrial environment.
Q. How do I properly set an Auto-Darkening helmet?
A. Setting the auto-darkening feature on your helmet is a delicate procedure. After you have properly secured the helmet, swing it over the headband on an even surface. Once the helmet has been set, adjust the shield's delay time. Setting the delay time is simply setting the amount of time it takes for your helmet's shield to switch from its darkened state to its lightened state. Depending on your helmet choice, the switch may be inside or outside of the helmet. Using the adjustment knob, usually on the left side of the helmet, set the intensity of darkness to your preference based on the type of welding you will be doing. You should always check for the darkest shade recommended for the type of welding you will be demonstrating.
Q. What is the difference between a battery powered welding hood and a solar-powered welding hood?
A. All welding helmets must have some form of power to function; rather, it is a battery-operated system or powered by sunlight with a solar panel. With battery operated helmets, t can get expensive replacing the helmet especially if you will be using it for long periods daily. There are helmets that are battery-powered that are equipped with solar panels that will recharge the batteries for you. Those come in handy. Then there are those helmets that solely rely on the sunlight for a power source. In those cases, you may have to sit the helmet out in the sun for the recommended amount of time for it to fully charge.
Q. What kind of problems may arise from wearing a heavier welding helmet?
A. Professional welders recommend that anyone looking for a helmet should consider three things: comfort, consistency, and compliance. Just because a helmet looks amazing doesn't mean that it is ergonomically good for your body. The helmets can be heavy, hot, or even wear you down physically. Whether the helmet is in the up or down position, or even if you're leaning forward, it adds additional stress to the neck and back regions. To avoid neck and back pain, choose a helmet with headgear that fits comfortably, performs exceptionally, and is lightweight.
Q. How important is the size of the viewing lens on the welding helmet?
A. Depending on the size of what you're welding, you want to make sure you have a full range of view. For larger projects, you want to make sure to be able to see more than just straight forward because of accidents they may occur out of the range of your eyesight (blind spots). The average size for a viewing lens is 6 square inches for light duty. For industrial lenses, they are usually about 9 square inches. out-of-position welding must be considered when purchasing a helmet with appropriate lens window sizing.
Q. What is Ratchet headgear, and why is it necessary?
A. Ratchet Headgear is usually made of a high-strength plastic that fits like a crown on the head attached to the face shield. It secures the hood so that it doesn't move while welding. In combination with the hood, it is used to protect the face and neck from serious injuries that can take place from sparks or UV.IR rays. If your welding helmet comes with a five-position crown strap, it can be customized for comfortability. Head protection with the ratchet headgear is recommended for workers in metalworking, woodworking, utilities, just to name a few.
Q. What are the different types of welding, and how will I know which helmet is best suitable?
A. There are numerous types of welding that can be done. There are TIG (Tungsten Inert Gas), MIG (Metal Inert Gas), Arc welding and gas welding. It depends on the type you will be performing as to which helmet is required. You also must take into consideration the angle at which you will be welding for ultimate protection. Most welders prefer to weld down hand, vertical up or vertical down. If you are welding overhead, you want to make sure your headgear has enough protection for your shoulders and back of your head in addition to the helmet.
Q. Do all battery-powered helmets come with the battery pack?
A. It depends on the helmet that you purchase as to what you may need to buy additionally. Some helmets that are battery operated may come with the battery already installed. If not, you will have to purchase the battery separately. You will need to check the battery life before purchase so that you will know how long it will be before you must purchase another. Having a battery-operated helmet comes with the risk of your helmet shutting down mid-weld.
Q. What are some of the accessories I may need in addition to a welding helmet?
A. It depends on the type of welding you will be performing. You may be interested in purchasing a bandana, do-rag or beanie to wear under the ratcheting headgear. You may also consider purchasing helmet bibs, or throat and side protectors for helmets with shorter hoods.
Sources
Subscribe to our Newsletter