Best Cheap Motorcycle Helmets Reviewed & Rated for Quality
last updated:
Sep 15, 2019
There is a lot of gear to invest in before you can take your two wheels to the open road. It can be an incredibly expensive process. When you are buying gear for your new motorcycle it is important to make sure that you are finding the best of the best. That usually means that you are going to be spending a pretty penny on your new helmet, but what if there was another way. These cheap motorcycle helmets are here for you when you want something that can keep you protected without breaking the bank. Many of the options below even come with all the handy features that have been designed into modern styles. This list attempts to capture all the styles and features that you could hope to find in your dream helmet.
Featured Recommendations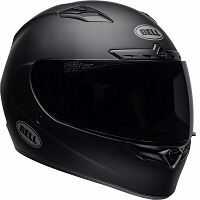 Bell Qualifier DLX

Our rating
Well-Rounded
Price:

See Here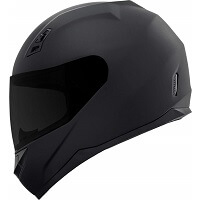 GDM Dk-140

Our rating
Lightweight
Price:

See Here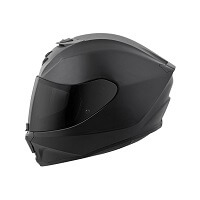 Scorpion EXO-R420

Our rating
Aerodynamic
Price:

See Here

Looking below, you will find a collection that perfectly balances that line between being the best and following a budget. There are a few different styles for you to look at, as well as differing features and fits that you should consider before you make your final choice. Here's a collection of cool cheap motorcycle helmets.
10 Best Cheap Motorcycle Helmets
Bell Qualifier DLX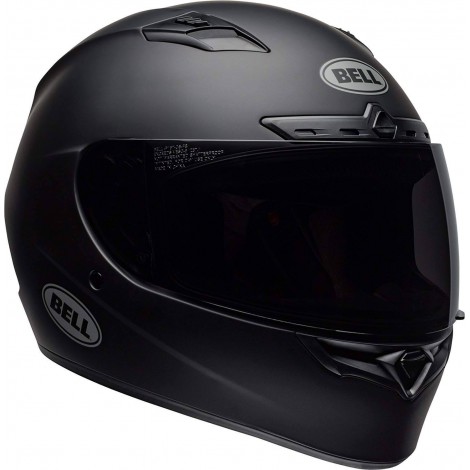 The DLX has it all. It is built to keep you safe, but without adding any extra weight to your ride. It guarantees a smooth, unencumbered ride. It also comes with tons of different ways that you can switch around how it's put together, which is great for those who like to customize and build onto their helmet.
Expand to see more
Lightweight and Strong
The DLX has been created so that you can feel nice and light as you fly down those city streets. It has a breezy and comfortable fit to the ride that works wonders at making you feel comfortable on your bike. It is made up of a triple-later polycarbonate shell that does a lot for making this a lightweight and strong choice.

Modular Build
The other thing that makes the DLX such an interesting option is that it comes with lots of ways for you to build it the way you want. It comes with lots of pieces that can be removed or replaced. This includes the front visor, which can be replaced with a transparent option if you want more true to life visibility. It also has room for a Bluetooth set up to be placed inside the helmet for hands-free control.

Cost and Value
If you have found yourself on this page, then this is probably what you are looking for. This is a reasonably priced option that isn't the cheapest on this list, but it still comes in at a very respectable price point. It excels in all the most important ways that you could hope for and it does it all at a more than reasonable price.
Comes with multiple front visors
Built to be lightweight
Strong polycarbonate build
Room for additions
Feels great on the head
Scorpion EXO-R420
The Scorpion is a small and sleek option that makes the most of the smaller space that it fills up. It has tightly put together pieces that still do a great job at reducing the amount of noise while maximizing the amount of airflow that you feel when you are careening through the roads.
Expand to see more
Small and Sleek
The Scorpion is built around the idea that the thing that will make you most aerodynamic is reducing the size of your profile. This is done through the well-built frame. It is designed to only take up as much space it needs to. This makes it a very quick helmet when you are using it.

Cool and Quiet
When using a product like this it would be easy to imagine that it can get cramped and hot on the inside, given the smaller size. This is not the case due to the great amount of ventilation that is built into the sides of the Scorpion. It makes it much easier for you to have something that will do a good job of keeping you cool on the road.

Cost and Value
The Scorpion is another very reasonably priced option that will work wonders when you are riding for speed and maneuverability. It does a great job at keeping you smaller so you will be able to slice through the air. The whole design is built around this. The reasonable price is crazy when considering the intricate way it has been put together.
Smaller design makes it speedier
Tight and comfortable fit
Vents are great for air flow
Doesn't get too noisy
GDM DK-140
The DK-140 is part of the Duke series from GDM. It is built out of lightweight materials that make it incredibly comfortable and effective when you decided to take it on the road. What makes this option so great is the added ability to remove pieces with ease. This makes it easy to clean and customize.
Expand to see more
Custom and Clean
A lot of the pieces of the DK-140 make it a really easy option for those looking for something that they can easily take apart. There are a lot of reasons to do this. You can easily remove the lining and cheek pads to clean them after a boiling day. It also comes with a clear visor that you can replace the shaded one with if you want a different sort of visibility.

Light and Strong
The DK-140 is also great for the many advancements it has made in ensuring your safety and comfort. It is made out of a poly-alloy that makes it incredibly light, and also incredibly strong. It feels truly great when you are wearing it, and you can feel both the light as a feather lightness, as well as the brick wall hardness. You feel safe wearing this one.

Cost and Value
The DK-140 rounds out the top three of this list by comfortably placing itself as one of the cheaper options you are going to find among the options here. It does a great job of giving you something reliable and effective without expecting a fat wallet. The removable liner also means that you will also feel clean when you are riding your motorcycle around.

Easy to remove liner and cheek pads
Lightweight design is easy to wear
Very strong poly-alloy
Great price on this list
Visor that comes with is not very good
Bell Bullitt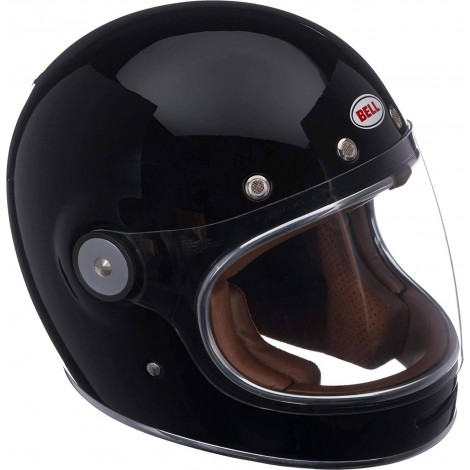 If you are looking for something with a little more of a vintage style, then the Bullitt is a good option for you. It reveals much more of the face and has a style more reminiscent of something from the '70s. On top of that, it gets bonus points for being comfortable and cheap.
Expand to see more
Retro Style
The Bullitt is actually based off of one of Bell's first helmets. This makes it a real classic throwback, but it is also built with some modern additions in mind. This includes things like the addition of sections for you to add in some speakers if you want to
listen to some classic rock
as you ride. It is a great balance between the old and the new. The shape is something a little more relaxing than the dangerous and sleek style often associated with modern options.
Comfortable and Ventilated
The Bullitt is built with modern sensibilities that make it a good choice if you are looking for all those extra pieces of comfort that come with more modern products. This includes things like the venting systems put into the chin. That makes it much more comfortable on the interior, and you won't be feeling overly hot in there. The interior is also removable so it's very easy to clean, too.
Cost and Value
The Bell Bullitt rocks a different sort of style. It is perfect for those looking for something a little different when they drive. It does come in at the more expensive side of what might be considered cheap, but the feel of the ride more than makes up for that little hitch there. It is made of premium pieces of material like leather straps, which is what makes the price so much higher than other options here.
Sports a retro style
Very comfortable on the head
Well placed vents in the helmet
Comfortable placement of leather straps
Most expensive option on the list
TORC T1 Retro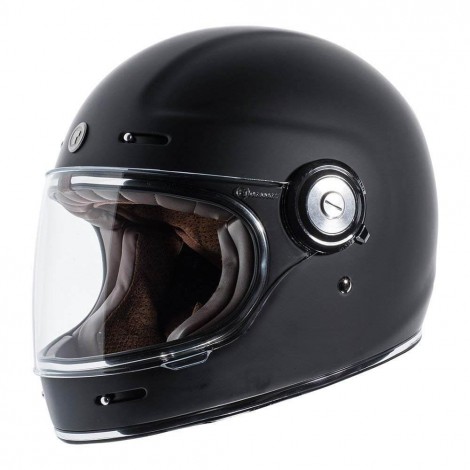 Here is another option if you are looking for something retro. One of the big advantages here is that this one comes in at a price that inarguably makes it affordable for you. This sports that same comfortable and cozy look that will remind you of riding your bike in a
bygone era
. It has some other great features to look forward, too.
Expand to see more
Retro Design
The TORC T1 Retro is very similar to the Bullitt, but this option comes in at a cheaper price. However, it does rock a similar style that you can easily see yourself wearing. It foregoes the sleek and replaces it with the simple. The large visor area will also give you a wide-open view of the road, which is one of the big advantages of this style.

Comfortable Features
There are lots of clever features put into the TORC that make it a worthy competitor to other options in this style. It uses an exhaust vent in both the front and back of the helmet that creates a comfortable crosswind when you are riding your bike. It also uses a faux suede interior that is comfortable and easy to clean. Finally, it also comes with a high-quality visor that does a good job of keeping fog and moisture clear from your field of view.

Cost and Value
The TORC T1 is a great choice if you are looking for a retro-style, but still want to have some money in the bank leftover. It is still a little pricey when compared to some of the other options on this list, but it is a great deal for what you are getting here. The great sense of style goes hand in hand with the comfortable ride that you get when wearing this simple option.
Effective ventilation system
Vintage style looks great
Good price for this kind of style
Faux suede is easy to clean and comfortable
Helmet fits quite large on the head
1Storm Modular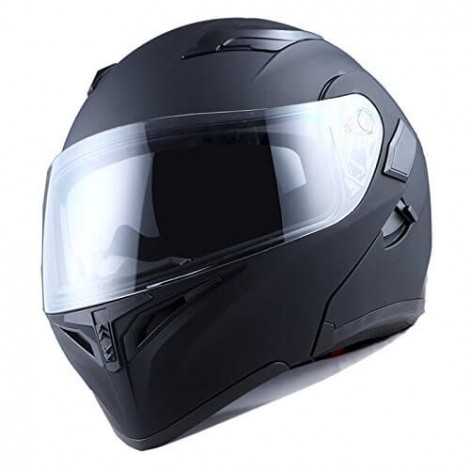 The 1Storm is a really inexpensive option that is great for those who are looking for a good base for their helmet. All of its pieces are very easy to remove. The 1Storm does start in a good place if you don't care too much about personalization.
Expand to see more
Modular Build
The 1Storm is a great choice for those who want something that they can modify. All the pieces that it starts with are more than good enough to ride with, but the urge to change things out for pieces that you want more is hard to resist. If that sounds like you, then the 1Storm is the perfect canvas to start yourself off with. It fits many styles of pieces, and things like the lining and visors are very easy to replace with something that you like more.

Sleek Build
The design of the 1Storm is also great if you are looking for a comfortable and ventilated ride. The ventilation system is made up of six vents that do a great job of keeping good airflow going throughout the helmet. It is also a very protected helmet. The shell is made up of multiple layers of polycarbonate and foam, which makes it a very strong place to put your head.

Cost and Value
The 1Storm is the cheapest option on this list. Despite that, it comes with lots of useful features that will ensure that you have a comfortable and relaxing ride. A lot of the features are implemented to make it easy for you to take it off and to make it easy to operate with the helmet on. It is a great choice as anyone's first helmet.
Uses six ventilation ports
Easy to remove and replace pieces
Multiple layers of durable shell
Cheapest option on list
Better as a starter helmet
LS2 Full Face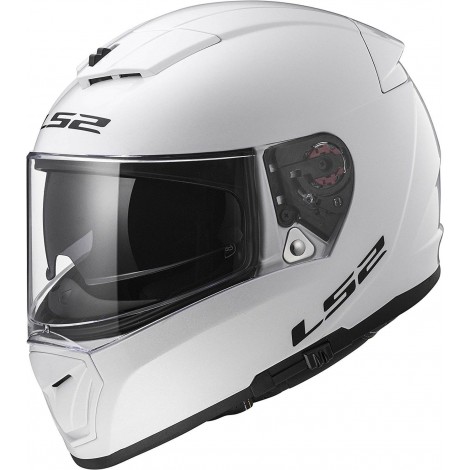 Sleek and easy to use, the LS2 is an aerodynamic option that will make it a breeze to get going for a ride. It has been designed with a sleek and simple design at its core. It is easy to take off and to remove the visor whenever you need to quickly check in with a fellow rider.
Expand to see more
Aerodynamic Design
The LS2 is built from the ground up with your speed in mind. It does this by creating a narrow profile that does a good job at slicing through the air while you wind through traffic. It is also built as light as possible, and uses three lightweight shells to balance weight and safety perfectly.

Easy to Use
The LS2 takes its sleek design philosophy to how easy it is to use, too. It's very simple to put on and remove with its single-button clasp that you can press to remove the chin strap. It also has a single button to lift the visor when you want a clearer view of your surroundings.

Cost and Value
The LS2 is a convenient option to take with you on the road. That is what makes it such a good choice for those looking for something simpler in their life. It even gives you a better view of the road with its wide field of view. The price is nothing to scoff at, either.
Easy to remove the helmet and visor
Small and lightweight frame
Multiple layers of protection
Makes things easy and simple
Can fit quite tight and small
Fly Racing Sentinel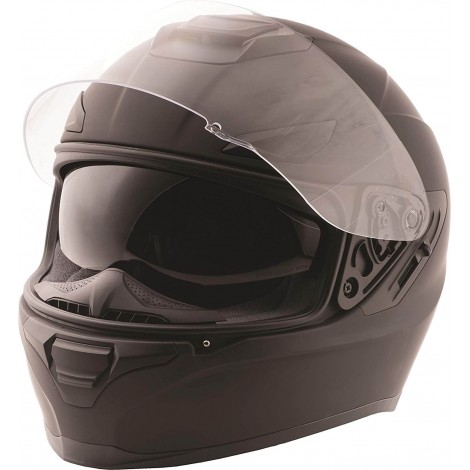 This option from Fly Racing is packed with high-quality features and equipment. It is a wonder that it comes in at such a low price given all the little touches that make it such a high-quality. It does a great job with both its protective construction and its adjustability.
Expand to see more
Protective Design
The Fly helmet puts a lot of effort into making sure that you are going to have the safest fit possible with their helmet. It uses two layers of dual-layer material to really cushion any kind of impact that you might go through. It uses an inner layer of polystyrene to do a good job of keeping your head cushioned and comfortable. This makes sure that any impact is properly distributed throughout.

Adjustable Features
There are lots of little touches in the Fly Racing Sentinel that makes it easy for you to give a personal touch. This includes things like the adjustable vents. It has eleven different vents that you can adjust to get the airflow that you want. It is also decked out with an anti-fog visor that makes it easy for you to always have the clear picture that you need when riding.

Cost and Value
This is awesome for how much it can do with its smaller budget. It isn't the cheapest option on this list, but it is a great deal for what you get. It comes with a soft fabric bag to carry the helmet around in without worrying about there being any scratches. It will definitely impress you with its build quality, too.
Anti-fog visor is effective
Multiple layers of protection
Adjustable vents for air flow
Comes with a soft bag
Only comes with a clear visor
Vega Warrior Half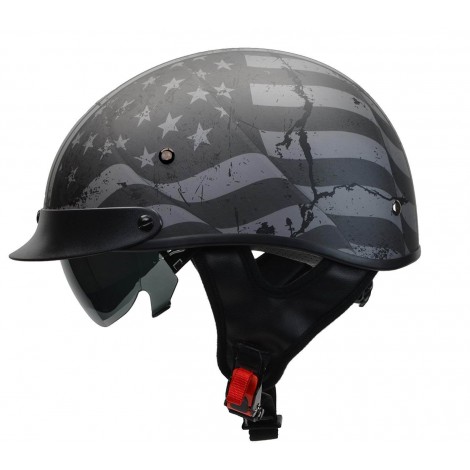 Here are a few half helmets to round out the rest of the list. This style is also popular with many cyclists, and there are some cheap options for this style, too. The Vega is a stylish choice that does a good job of keeping your visibility of the road really high without the need for any
additional vision enhancement
.
Expand to see more
Half Helmet
The Vega does something completely different than the modular and full-face styles that you have seen previously on the list. This option gives you tons of room for your face to feel the breeze whipping past. It means you don't need to worry about claustrophobia or air vents built into iy. The layers of protection do a great job of keeping your skull safe from any impacts that might occur. It exceeds the safety regulations required of helmets.

Custom Fit
One of the big advantages of buying the Vega is that you can fit it to your head in any way that you want. It is a good choice if you are looking for something that you can give to your passenger. This is because of how easy it is to change the size as you go. It has a simple dial system that you use to tighten it to the amount that you need. No complicated head sizing is required here.

Cost and Value
This is a great choice if you are worried about your budget, too. Part of the reason this is cheaper is that there is just less material needed to make the helmet in the first place. This is the second cheapest option on the list, but it has high-quality features implemented with it that you would see in a helmet worth twice as much as this one.
Can switch the size on the fly
Great price for what you get
Comes with an accurate visor attachment
Durable layers of protection
Can be uncomfortable when going very fast
ILM Half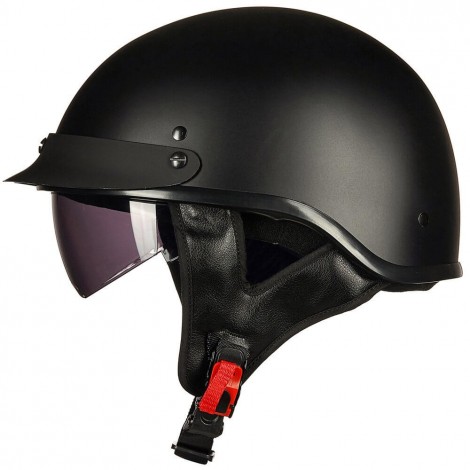 The ILM is another half style that makes it easy to wear your helmet at any time that you need to. This is another high-quality option that can be had for a very reasonable price. The difference with this option is that this is all about simplicity.
Expand to see more
Simplicity is Key
The ILM is very simple. It is made so that you will have an easy time putting it on and taking it off. It has a simple chin strap that is easy to clip in and take off. It also has a simple vent in the top of it that adds an extra bit of cooling to the top of your head when you are riding.

Protective Features
One of the big issues that people often have with half helmets is that they don't protect your eyes. This is not the case with the ILM due to the fact that it comes with a useful visor that will clearly protect your eyes. It is designed to help you when you are riding in the sun and to protect your eyes from debris. This is also the case for the helmet itself, which is up to the regulatory standard.

Cost and Value
The ILM is similar to the Vega in that it can be had for a very reasonable price. It lacks many of the features that you see with the other helmets on this list, but it makes up for it with the effectiveness of what it does present. This is a great option for anyone looking for something reliable in the long term.

Easy to use the chin strap
Durable helmet protection
Well-designed visor
Very good price for the quality
Criteria Used in Evaluation of the Best Cheap Motorcycle Helmets
To come up with a final ranking for the items on this list, there was a criterion put in place. It covers important features like protection, comfort, and ease of use. Rounding out the list is the value because it is important to feel like you are earning yourself a deal on some good cheap motorcycle helmets.
Value
If you have found yourself reading this guide, then it can be assumed that you care about getting your money's worth. This guide agrees, and so this was the most important factor that was considered. What constitutes a cheap helmet is somewhat up to debate, but when you look at how much an expensive option is you will be more than happy with the prices here.
There are a lot off things that determine the final price. This can include things like the materials used to create the thing, but it also has to do with the added features and usability going into the final product.
Protection
Getting a good deal is really important, but there might be one thing just a little more important. The whole reason your mom told you to always wear safety gear or a seat belt is that it is a good idea to protect yourself when flying around on a vehicle. This is doubly true with a motorcycle. They aren't the safest vehicle, and your helmet is the chief thing keeping you safe when you are on the road.
This one is all about the construction. There are often multiple layers of material between the road and your noggin. Each has differing levels of thickness and different kinds of material so that the pressure of a collision will get properly dissipated away from your sensitive spots.
Comfort
Protection is important, but it should also be a given. Your helmet is going to keep you safe, and there are regulatory bodies out there to make sure that any you buy off the internet meets a minimum requirement of safety. Sadly, this is not the case when it comes to comfort. The only thing that you can rely on are these voices of the internet.
Comfort is important because it is what you are going to have to deal with the most when you are riding off somewhere. The padding of the interior, as well as the shape of the interior itself, are going to be very important to ensure that you feel cozy. Motorcycle helmets are incredibly tight. It is what makes them safe. Due to this, you should understand how important this factor is when making your final decision.
Ease of Use
Those tight helmets also make it important that you find yourself one that will make it easy on you. There are lots of ways that it can get in the way of you having fun while you are riding. They can have tight fields of vision that make it difficult for you to have good peripheral vision when you are riding down the road.
They can also be difficult to take off. That is why this is an important piece of criteria to think about when finding the right option for you. There are useful features to think about like quick-release clasps for both the visor and the chin strap. This makes putting it on and taking it off a breeze.
Other Factors to Consider
The criteria were important for ranking these correctly, but there are also some other important factors that you should consider before you pick one of these options. Each of these factors is small but important points that you should think about before looking into cheap motorcycle helmets for sale.
Size
Something to think about before you buy is if it going to fit you. This is important to think of due to the very tight fit when they are on the head. A tight-fitting option is important for them to be completely effective. There is an easy way to measure your head.
Another thing to consider is that it often occurs that it fits smaller or larger than they appear. This is why it is a good idea to look around at the reviews online. This guide will also let you know if it often fits larger or smaller than it would suggest. Some brands commonly skew one way or the other, which is also useful to know.
Style
Style and motorcycling go hand in hand. It is different from a car in that the gear that you wear is going to show on the outside as much as your bike is going to. People will often notice your helmet as much as they do your bike. This is why it is important to go for something resembling a cohesive style. It will get you more excited when you are trying to find something that works for you. There are lots of different options in this category for many of the options here. There are simple styles that only use one color, but there are also many styles that use multiple colors to create some pretty crazy designs. It is all up to how flashy you feel like being.
Airflow
This goes hand in hand with comfort. It is important to try to find something that does a good job of letting the air in. As has been noted more than a few times so far in this guide. It can be very tight inside. Without the proper amount of airflow, you are going to get quite hot, sweaty and stinky in there. It leads to messiness so it's important to find something that prioritizes keeping you cool.
There can be vents placed in all sorts of places. There can also be a good deal of vents for air to get through. The most important thing is that there is some kind of cross flow of air. It will do the best job of reducing the hot air in your headspace. It is also worth considering the amount of noise this is going to create when you are riding.
FAQ
Frequently Asked Questions
Q: How does a motorcycle helmet work?
A: They are designed to absorb impacts that would damage your head and neck. It is the most effective way to avoid a head injury when riding a motorcycle. It works through the use of a hard shell that envelops a softer layer of foam. The shell keeps the foam where it needs to be and helps your head slide along the ground. The foam crushes when it hits the ground so that the impact dissipates much quicker.
Q: What are the different styles?
A: There are a few types represented here. The first is the full helmet. This is the style that covers all your face. The major advantage of is that it is the safest. The disadvantage is that it can feel hot and claustrophobic inside. Even cheap full face motorcycle helmets will go a long way to giving you that extra bit of protection.
There is also half style. The main advantage here is the freedom and the cool feeling of having your face exposed when you ride. The disadvantage is that it offers the least amount of protection. Many collisions involving motorcycles involve the chin hitting the ground first.
The final style here is the modular design. This design allows for the easy flip-up of the front. It adds in the convenience of the open designs, but it does add the weight of the mechanisms needed to lift the front of the face.
Q: How can you clean the lining?
A: It is important that you find one that you can easily clean the inside of. It can get sweaty and smelly in there. Luckily, most linings can be removed. The linings will often have their own instructions, but there are general rules to cleaning them, too. You can either throw them in with your laundry or wash them in the sink with dish soap. Both should work. It is also useful to let them dry in the open, which will also help get rid of any unwanted smells.
Subscribe to our Newsletter