10 Best Motorcycle Gloves Reviewed in 2023
last updated:
Jan 06, 2021
When out on a motorcycle our intention is to be out in the open air, enjoying the ride. Our first thought isn't always safety. Of course, we wear a helmet because that is logical (in addition to it being the law) however we do not always think about the other aspects of body protection. You see many motorists wearing leather pants and for those who are either new or have never rode  a motorcycle before, this could be thought of as a fashion statement rather than a form of protection. There is not really another material that you would want to be sliding down the road on (during a crash or a fall) leather due to its resilience and durability. The same sort of concept should be considered when protecting the rest of your body too. We have articles written (and that sound be checked out) about cyclist, goggles, helmets and boots, this article, however, goes over the best motorcycle gloves on the market today. We wanted to find products that have been tried and tested, especially in dangerous situations, to find the products that are going to provide the best protection, while allowing your hands to breathe and stay comfortable all at the same time. They are also used to keep your hands warm on cooler rides as well as protect them against the heat that may be generated by the bike when minor tweets are required. We also wanted to find products with cooling properties like air flow for really hot days in the sun.
Featured Recommendations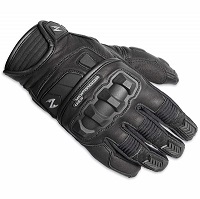 Scorpion Klaw II

Our rating
Fitted Knuckle Protection
Price:

See Here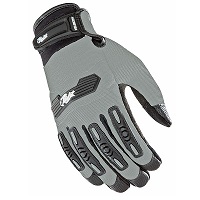 Joe Rocket Velocity 2.0

Our rating
Custom Curved Design
Price:

See Here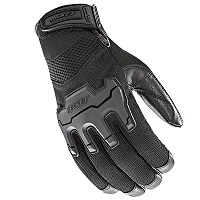 Joe Rocket Eclipse

Our rating
Padded Leather Palm
Price:

See Here

We want to make sure that when buying hand protection that you are getting and we are recommending quality products. We want to make sure that the product is made of quality materials and can withstand wear and tear. They are not meant for a single ride, they should last for many years without concerns of whether they will still protect you in a sticky situation after a year or two. We also wanted to find products that were fashionable. Just because they are meant for protection does not mean they have to be unattractive, they can be both. We looked through ratings and reviews on all of the products we recommended and found both the good and the bad of each product. If something specifically does not work for you then we made sure to include the top consumer complaints too so you know to look at one of the other product recommendations in the list if that particular complaint is a major concern for you. So, here are the best motorcycle gloves rated and reviewed for 2018. Don't forget to review our criteria for evaluation that we included at the end of the recommendations to see how we chose each product.
10 Best Motorcycle Gloves
1. Scorpion Klaw II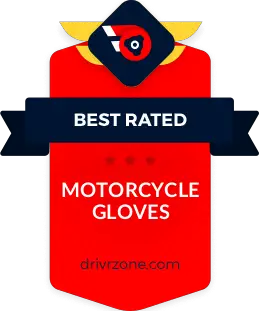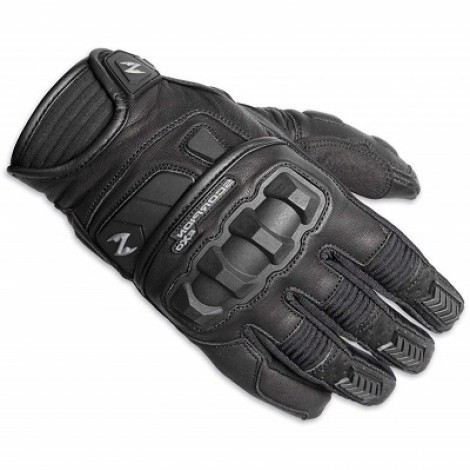 This product is one from ScorpionExo. It comes in three different styles and 4 different sizes. It has a molded knuckle feature, to protect the knuckle and an already curved palm to avoid having to break it in. It is ideal for those who are ready to get riding right away.
Expand to see more
Molded Finger Protectors & Expansion Panels
This product was created with comfort in mind. It has rubberized finger protectors for extra protection and flexible expansion material around the fingers to offer more room to move around.

Hook & Loop Technology
The wrist on this product is hook and loop to provide a snug fit. It is made of neoprene and provides additional support to help with any pain. It's made of a strong and structured material for added protection.

Cost and Value
This product is lower to midrange in price. If you are someone that does find a bit of pain in the wrist when riding then this option is worth the price.

They fit really well 
They are comfortable (due to the flexible fit) 
They have a longer wrist piece (good for tucking under jacket when it is cold out) 
They are extra thick
They fit a little snugger than comparable products 
They need to be taken off to use a phone
2. Joe Rocket Velocity 2.0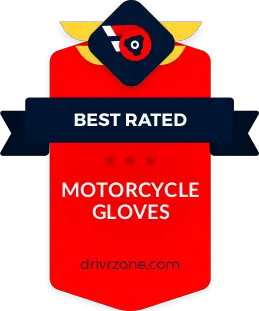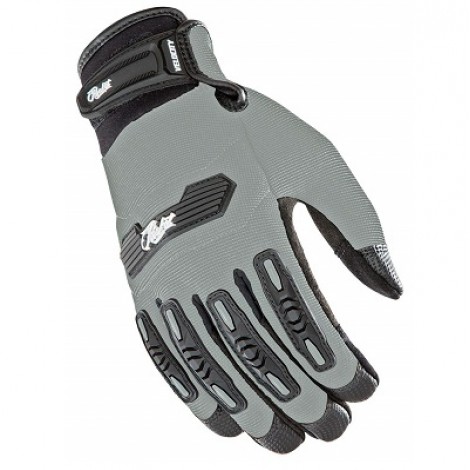 This product is from Jo Rocket. It comes in four different colors and five different sizes. It has a previously curved palm to eliminate the need to break them in and have a synthetic palm for added protection in case of sliding.
Expand to see more
Touch Screen Friendly
These do not need to be taken off when using a touchscreen which is super handy. They have a conductive material on the fingertip that allows for easy use of a touchscreen when out riding.

Rreinforced Fingers & Reinforced Knuckle
This option offers protection for both your fingers and knuckle without losing the comfort or ability to clench your fist if needed. This feature provides extra protection when on your ride.

Cost and Value
This option is fairly inexpensive. They are definitely on the lower end of the price spectrum. With the additional benefit of being able to use your phone without having to take the product off, it is definitely worth the cost.

It is well-made
It fits true to size 
It has great flexibility 
They are attractive in design
The hook and loop is a little outdated and snags easily
They are better for easy rides in the city rather than more intense or aggressive rides (like racing)
3. Joe Rocket Eclipse Gloves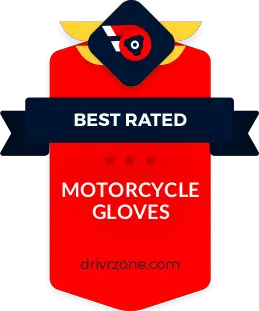 Our next option is another product from Joe Rocket. It is the best value product on our top ten list. It also has a conductive material on the fingertips for easy use of a touchscreen phone. It comes in one color and two sizes.
Expand to see more
Padded Leather Palm
This product has a padded palm for additional comfort and is made of leather for added protection.

Comfortable & Safe
The palm on this product are padded as mentioned above but the knuckles are also pre-curved making them comfortable right from the get-go. They also have a reinforced knuckle for added protection on your ride.

Cost and Value
These are our best value item. They are inexpensive in price and come with the convenience of being able to use your phone without taking them off as well as has the added comfort of the padded palm. These are great for individuals on a budget.

They are a great bang for your buck
The leather on the palm is lightly gelled 
They are comfortable
They are true to size
The dye of this product initially are easily transferrable
They should not be machine washed due to the touchscreen materials (this could wreck the sensitivity of the material) 
4. Adiew Touch Screen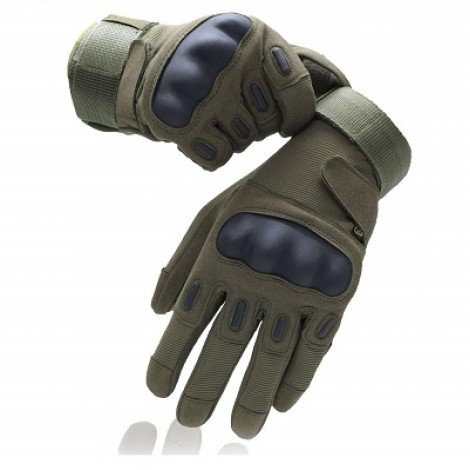 This product is from HRider. They are a multi-purpose product meant for all sorts of outdoor activities with a good level of protection for all levels of motorized activities.
Expand to see more
Useful for All Outdoor Activties
They are versatile and can be used on more than just our motorized activities. They are flexible and easy to move around in making them ideal for all sorts of moments.

100% Money-Back Guarantee
If this product does not work for you, you can get your money back no questions asked. This guarantee makes them a risk-free purchase if you are unsure.

Cost and Value
They are inexpensive in price (about low to mid range). They are versatile and come with a money-back guarantee making them worth the cost of the product.

They are made of a comfortable material
They are attractive in design 
They can be used on touchscreen phones
The fit well and are true to size
They are quite thin and may not be ideal for colder climates
They are not super padded
5. Joe Rocket Rocket Nation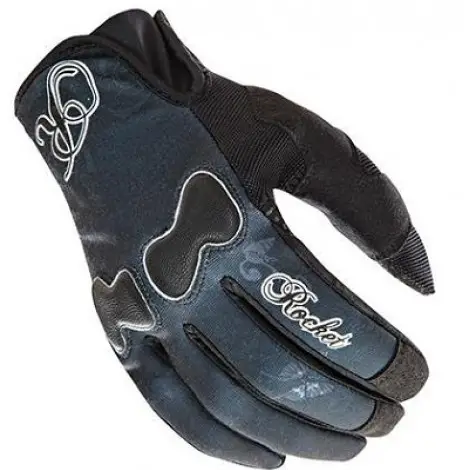 This is another Joe Rocket product. It comes in four different colors and five different sizes. It has a pre-molded body for a comfortable fit and better control right from the get-go.
Expand to see more
Double Layered & Made of Breathable Material
This product is made of poly elastase which not only forms better to the hand but is also a very breathable material. It is also double layered for added comfort.

Stylish Designn
This product has less of a designed-for-protection feel and rather a more sleek and stylish one. They are thinner and do not make your hand look too big or bulky.

Cost and Value
They are inexpensive in price considering their design. They are ideal for city driving and those on a budget who are looking for a stylish alternative to bulky safety equipment.

They are very stylish 
There is a wide range of vivid colors to choose from 
They fit well 
They are made with quality materials
They are not very warm (so not ideal for colder climates)
They do not have very good grip 
6. Fox Racing Dirtpaw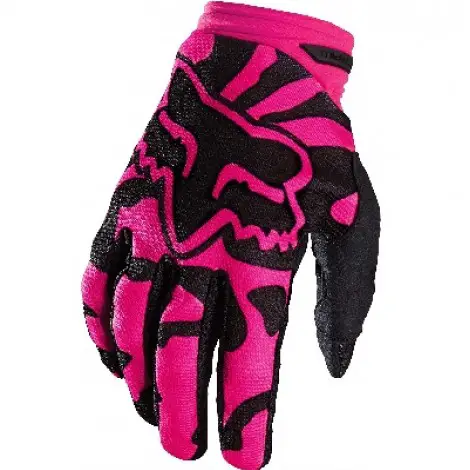 This product is from the very popular motocross company Fox Racing. They come in several colors and five sizes. It has a padded knuckle and palm for added protection and comfort.
Expand to see more
Comes in Fun Colors
This product comes in numerous bright and fun colors. They are ideal for people who like to dress with a little more pizzazz.

Silicone Lever Grip
This option on our top ten list features silicone lever grip. This feature gives the wearer better control over the levers and controls of the bike.

Cost and Value
This product is on the lower end in price. It is quite inexpensive and they are really interesting colors. They are ideal for dress and for those on a budget.

They have velcro straps at the wrist to customizable tightening 
They don't fade with washings 
They breathe well and thus work well in warmer weather
They are very light-weight
They fit a little tight (the wearer may need to size up)
They dont' completely cover the wrist (so a longer sleeve on your jacket is required)
7. ScorpionExo Skrub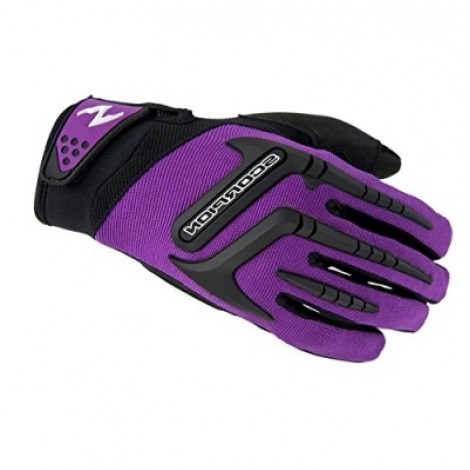 This product is from Scorpion Plan. They come in four different colors and come in five different sizes. They are made of neoprene making them both comfortable and very flexible.
Expand to see more
Thicker Wrist Closure
This product has better support around the wrist for those with wrist problems. It closes with a thicker velcro strap for easier and more secure application.

Nash Palm Material
This material is usually used on hockey gloves as it provides better control. The entire palm of these are covered in this material making control on the entire inside of this product really good.

Cost and Value
These gloves are also quite inexpensive. They are ideal for individuals who require or prefer more control and grip. They are also great for individuals on a budget.

They are very comfortable 
They fit true to size
They come in bright and fun colors 
They are made of quality material
They are very thin and thus not ideal for colder rides
The finger material is longer and they may be too long for shorter fingers
8. Fox Racing Dirtpaw Off-Road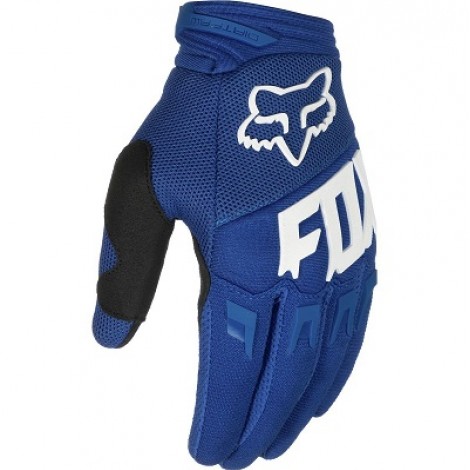 These are also from the Fox Racing company. They come in 8 different colors and 7 different sizes. They also come with a 1-year manufacturers warranty.
Expand to see more
Many Color Options & Sizes
Most of this type product come in max 4 different colours, these come in 8. They also come in both XXX-large and XXXX-large which is something you don't see as often.

Made Partially With Clarino Material
Clarino is a washable material that retains its softness when wet. It is a substitute for leather material. It is commonly used in shoes, handbags and this type of product. It is considered an upgrade to leather.

Cost and Value
Like the majority of products in this article, these are relatively inexpensive. They are made of good quality and soft materials. They are ideal for those who like fun colours, have larger hands and those not looking to spend too much.

They are very comfortable
They are very grippy 
They have sufficient padding 
They are really well-made
They fit a little snug and may require sizing up
The opening on the hand is quite tight as well (even if you have the proper fit) 
9. Alpinestars SMX-1 Air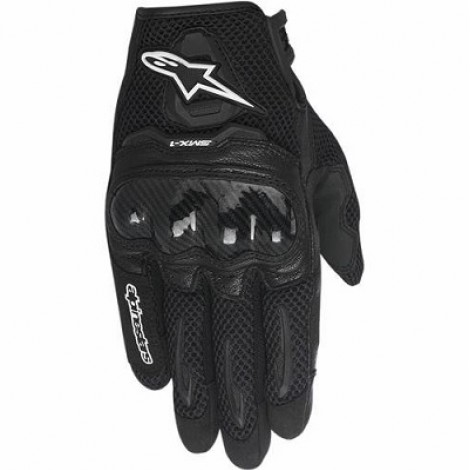 This product is from the Alpinestars company. They are made from a nylon compound and are light in weight. Due to the nylon they are also very stretchy which may be ideal for bigger hands.
Expand to see more
Made of Stretchy Material
This might seem like an interesting feature to mention but this particular product as a stretchy material sown in between the thumb and the palm. This purpose of this is to allow freer movement of the thumb. It is ideal for individuals with better ranging dexterity.

Provides A Lot of Control & Grip
Touching on the point above, this product has a really great grip feature both in the palm and in the fingers due to the reinforcement pads.

Cost and Value
These are a little pricey. They are a little more expensive than the majority of the gloves in this article. The justification for the price is that they are really great for movement and grip when doing things that require more intricacies (like working on the bike for instance).

They have touchscreen abilities 
They keep your hands cool because they have good ventilation 
They are very comfortable 
They are made of quality materials
They run a little large so a size down may be required
The velcro on the wrist is reviewed as being a little weak
10. Fox Racing Bomber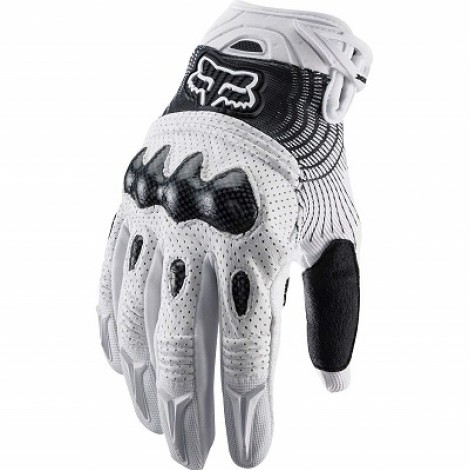 This is another product from Fox Racing. They have molded knuckles and an adjustable closing strap. They are also quite nice in design and made of quality materials.
Expand to see more
Well Mae & Resilient
This product will last a long time and won't need to be replaced for a while. They are really well constructed and the material is incredibly durable.

Silicone Lever Grip
This product has a silicone grip making the control over the bike superior to its competitors.

Cost and Value
This product is a little higher in cost, however, this is justified due to the quality of the craftsmanship that goes into this product. They will last longer than comparable products which will save the buyer money in the long run.

They are quite comfortable 
They have good airflow to keep hands cool in warmer weather
They have a nice design
Provides really good protection 
The padding isn't as thick as some comparable products on the market leaving some reviewers with calluses 
They do not have touch screen abilities 
In conclusion, you want to make sure that you are looking for products with the specific features important to you. Consider the breathability of the glove, the shape, and the size of your hand. You want a product that will fit snug enough that you can still perform some basic functions with it but not so snug that they are uncomfortable. You also want to make sure that the product will not cause discomfort in regards to temperature. You want a glove that can breathe while maintaining warmth if required. The palm should be made of strong material as when we fall our first instinctual response is to put our hands down to protect our body. We want to make sure the material on the palm is something resilient that will not tear away when we do this. Wearing a poorly fitted one will also be a problem in these situations because something too small or too big will come off the hand easier when pressure is applied to it. So making sure that the product we are buying fit appropriately is very important. Finally, the appearance of the product is something that should be considered. You want to wear something that looks and feels good. We hope that this article was informative and aided in your decision of which type of hand protection is the best for your next purchase. Below we have the criteria we used to help us put together this list and some common frequently asked questions. Happy travels!
Criteria Used in Evaluation in
The Best Motorcycle Gloves
Quality of Material Used
The materials used for this type of product is important in a couple of ways. Firstly, the materials will indicate the level of protection offered. The primary purpose of this type of product is to protect the rider. If the product is made of cheap or the wrong materials then the it will not do its job. The best material for riding can be debated however the top two picks are synthetic material and leather. Leather won't be an option for individuals who are opposed to animal-byproduct clothing materials (in this case synthetic should be used). Regardless of your preference, you want to use materials that are strong and resilient. If the material is strong then it should withstand any fast and hard dragging on concrete or asphalt. The second item of importance that should be considered when looking at these products is the comfort of the material being used. The material of the product should be stretchy and it should be able to snuggly wrap around your fingers, knuckle, and wrist. It should also be able to move with you as you relax and flex your fist. The final consideration is whether the material can breathe or if it stays warm. We discuss this a little further below.
Features of the Product
What does the product offer? What features does it have? We need to consider our needs when thinking about the product. If you have larger hands, the product should be either extra stretchy or offered in larger sizes. If you need something that requires you to do more intricate work, then the product will need to be made of both stretchy and more forgiving material (thinner and more giving). The activities being done in this type of product need also to be considered as this will dictate its required additional features. If these product is being used for everyday riding to and from work, then a ton of additional padding around the knuckles and fingers may not be needed, but touchscreen abilities may be. For those riding in more aggressive situations like racing or stunting, then something a little more padded and protective may be needed. Other features usually available on these types of products are breathable material, flexibility, reinforced knuckle and fingers, design, and whether it has a padded palm.
Warmth/Coolness
This is more so dependent around where the motorist lives. If living in cooler or high moisture climates having a product that will keep you warm is probably more important than one that breathes. When in warmer climates a product that breathes is probably a more attractive option. It also depends on the bike you are riding. Some motorbikes have heated handles, so having a glove that retains heat may not even be necessary. Comfort is an important item to consider when purchasing this type of product because riding around with cold or sweaty hands will impact the enjoyment of the ride. It will also really impact longer rides. Having hand protection that will keep your palms at a good temperature while breathing is ideal.
Molding of Product
Most riding gears have pre-molded features meaning that they have the feeling of this type of product that was previously broken in. This feature is nice for those who do not want to have to go through that process. It is also a safety feature in that you don't have to worry about the glove being too stiff and thus stopping optimal movement in a pinch. Having pre-molded safety gear will also help with the level of comfort right from the get-go rather than being a little uncomfortable in the beginning. The molding of the product will help with both the initial comfort as well as the ease of use of the product.
Touchscreen Abilities
Though we should not be riding and texting, having the ability to pull your phone out in a pinch may be desirable to some people. This is especially convenient when this type of protection is tucked into the sleeves of your jacket. When out riding, with a cool breeze we make sure that very little skin is exposed to keep us both warm and to protect us (from the elements and the road). If you have gone through the process of tucking your best motorcycle gloves into your jacket, having to untuck and pull them off again to answer a call may be a pain. Having the ability to pull over and immediately use your phone is going to provide a nice level of convenience. This will also help if GPS is being used during the ride and the GPS is on the phone.
Fit and Sizing
Fit and sizing are not only about comfort, but it is also about protection. Having a product that is too loose will ensure that the product slides off a little too easily (which is fine when removing them but is not fine if in an accident and comes off from dragging on the concrete). If it is too tight, it can be restrictive to the rider and will stop ease-of-function when attempting to move around. Too large of one will do the same thing. If there is too much room, it will be hard to do slightly more detailed things that may be essential when riding a bike. The size and fit of the product are, therefore, important. Look for pros like 'true to size' to know whether you can buy them in your regular size or if you should size up or size down. Note also, if the product does not fit correctly, you may not be getting the proper protection that it offers, which is both dangerous and is a waste of money.
Additional Support
Support is usually in the palm and the wrist. For those that find that their wrist feels strained after going out for a ride, having something with better support around the wrist may be required. Not all of these products have this support. The palm will also sometimes have additional padding for both comfort and decreased impact when riding over bumpy roads. When looking for the kind of product consider looking at where the padding and support is. It is also important that with the additional support that the hook and loop that will secure the supportive brace secures well and doesn't snag or easily loosen when in motion.
Frequently Asked Questions
Q: How should they fit?
Ideally, it should be snug without being too restrictive. You should be able to clench your wrist and relax it again with ease. It should not restrict so much that it causes a lack of circulation. You need to be able to operate the controls on the bike (like the turn signal) with ease. Remember that most of them will stretch out with time. You don't want to buy a pair that fit slightly loose as they will probably end up stretching up to 5%. There are usually sizing charts as well on the manufacturer's website that tells you how to measure your hand and what size that would correspond with in their brand. If you go with their sizing chart, they should fit perfectly.
Q: What is the warmest material for this type of product?
Leather will be the least breathable and will more than likely be the warmest material. The synthetic material will be more breathable but less warm than leather. You also want to consider the thickness of it. Thin leather may not be nearly as warm as thick synthetic. A good rule of thumb is to look for thicker models when warmth is a concern.
Q: Can you machine wash some of these best motorcycle gloves?
It is not a good idea to machine wash them. You want to avoid the material breaking down as well as inadvertently manipulating the structural integrity of them. If they required a good machine washing consider throwing them in on a delicate cycle in cold water. Some may require special soaps as well. Try not to use anything with too many 'softening' chemicals (like fabric softeners).  If looking out for the best care of the product then hand wash in a gentle soap and lay out to dry. This will also help with touchscreen feature. If yours are made of leather, be sure to take special precautions to preserve the life of the material. Leather is a hardy material but it will dry out over time. The secret to keeping your best motorcycle gloves in tip top shape is to use a conditioner on them after they're washed. We're not talking hair salon conditioner here, but a special product made specifically for extending the life of leather clothing. You will rub the conditioner all over your items, paying special attention to the stitching, and then let them hang to  dry again.
Q: How do you dry them?
As mentioned above, they should be laid flat on a towel and air-dried. This will help hold the structural integrity of them for longer. A dryer can shrink and/or change the shape of them. It can also wreck the touchscreen capabilities.
Q: Are they waterproof?
Most of this type of product on the market is meant to withstand the elements, this includes water. The wearer may find that leather, with time, will start to absorb water more as the waterproofing chemical usually applied to the leather starts to wear away. Consider a protective spray (available online and in most retailers) to touch up the leather from time to time to avoid this.
Q: Will they stretch?
Yes, the majority of them will at least stretch about 5% more than from the first time you wear them. Therefore if it is a little snug you do not need to worry too much as with wear they will loosen up. They still should not cut off circulation though. Also note that if it is a little big, it will get bigger. Just make sure that they aren't so big that it impairs proper function.
Q: Is there such thing as heated gloves?
There are heated ones on the market. They are usually heated with a battery and are also usually pretty thick and bulky (they usually resemble winter gloves). These types are meant for winter riding and people with poor circulation in their hands.
Sources
The Motorcycle Cruiser- Leather versus textile motorcycle gear
Olympia Gloves- The Ultimate Guide to the Best Motorcycle Gloves Sizing
Ride Apart – How to Clean Your Motorcycle Leathers
Subscribe to our Newsletter