Fog Lights Reviewed & Rated for Quality
last updated:
Jun 04, 2019
There are a lot of difficulties that drivers face on the road every day. From potholes to puddles to a whole lot of other problems. However, one of the chiefest problems a driver can encounter on the road is thick, heavy fog. If you encounter fog on the road, usually at early hours of the day, without the means to see through it, then you're potentially putting yourself or others on the road in serious danger. You need a way the thickness of the fog. Fortunately, pretty much every car out there has a solution for this: fog lights.
Featured Recommendations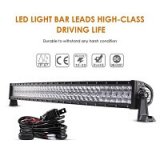 Auxbeam CREE LED

Our rating
Resilient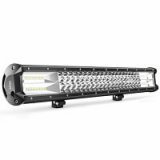 Nilight LED Light Bar

Our rating
Adjustable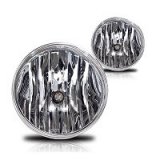 Winjet OEM

Our rating
Light and Sturdy
Car fog lights are one of the most vital parts of your car when it comes to visibility. These lights are specifically meant to help you see through thick, heavy fog, so you don't accidentally run over innocent people on your way to work in the morning. Which is why today, we're counting down the top ten best fog lights out there. Whether they're the brightest or pierce through the fog the best, we determined these to be the very best. So, get ready for a foggy morning drive, because we're counting down the:
10 Best Fog Lights
1. Auxbeam CREE LED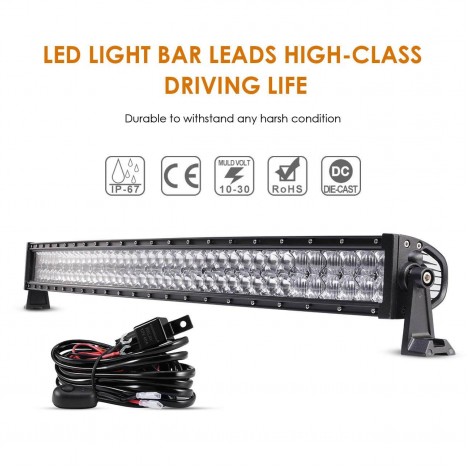 Kicking off our list, we have the Auxbeam CREE LED Work Light Bar. If you are looking for the absolute best of the best fog lights, from design to versatility to whatever else you need from your Fog Lights, then these are the fog lights you need to consult. So, what makes these fog lights so special? Let's take a look and find out.


Expand to see more
Resilient

It's important for any fog light to be resistant against the elements, and the Auxbeam lights more than achieving that goal. Being not only waterproof, as is standard, but dustproof, shockproof, and pretty much resistant to anything else the outside world has to throw at it.

Heat dissipation

It may not seem like it, but fog lights have been known to overheat in the past. Which is why most fog lights made nowadays try to have some kind of heat dissipation system, so the lights don't overheat while using them. And in that area, no one does it better than these lights.

Cost and Value

You would think that a pair of fog lights would cost more than they generally tend to, but they're actually surprisingly cheap. These lights in particular, despite being so advanced, are actually incredibly affordable.


Resilient
Better heat dissipation
Affordable
Mounting hardware isn't as advanced
2. Nilight LED Light Bar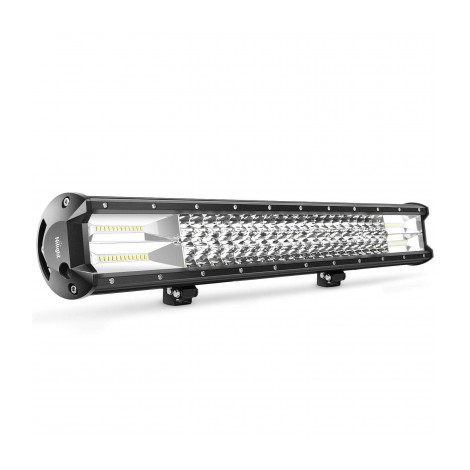 Coming in 2nd place, we have the Nilight LED Light Bar Fog Lights. When we buy any products, not just fog lights, without knowing anything about said product beforehand, we want reassurance that we made the right choice pretty much immediately after opening the package. If that's what you want from your fog lights, then that's what you'll get with the Nilight lights.

Expand to see more
Further distance

Depending on how fast you're going, you may need to see much farther through the fog than other fog lights would allow you to. For this reason, we recommend the Nilight LED lights, which come with built-in concentration spot beams that pierce through fog at longer ranges.

Adjustable

Fog lights are often like normal car headlights. You mount them on the front of the vehicle, but that's where they stay, and the one direction they point in is directly in front. However, with these fog lights, you actually mount them on top of the vehicle, meaning you can adjust what direction the light is pointing in at will.

Cost and Value

Depending on the size of the lights you want, these fog lights can either be incredibly affordable, or very pricey. The larger sizes, though, are meant more for the tailgate, so if you need fog lights for the front of the vehicle, get the smaller size.



Light stays effective at a longer range
Adjustable
Affordable in smaller sizes
3. Winjet OEM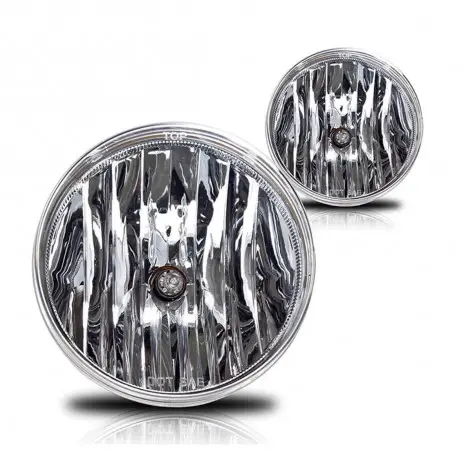 Rounding out our top 3 segment, we have the Winjet OEM Fog Lights. The main issue with this fog light is simple, it's only built for two vehicles: the Chevy Silverado 3500 and the 00-06 Tahoe. However, if you own one of those vehicles, then these are pretty much the best fog lights you can possibly get for those vehicles.

Expand to see more
Perfect for dark, foggy nights

Fog is one thing, as is pitch blackness. But put those two together and then you have a much bigger problem. Now your vision is impaired on more than one front, and you're going to need much stronger lights and fog lights, which is where these lights come in. This pair of lights will easily cut through any amount of darkness and fog it can come across.

Light and sturdy

The last thing you want is to buy a pair of fog lights that are so heavy, they make driving actually a lot harder than it otherwise would be. Fortunately, this pair of fog lights is not only incredibly lightweight, but also sturdy enough to take any damage despite its lightweightness.

Cost and Value

While not as cheap as the previous entries, it's still incredibly affordable for what it's offering. So, if you own a Chevy Silverado or a 00-06 Tahoe, and you need some new fog lights, you can't do much better than this pair of lights.


Perfect for dark, foggy nights
Light and sturdy
Affordable
Can only be used by two specific vehicles
4. Kingopt Lightway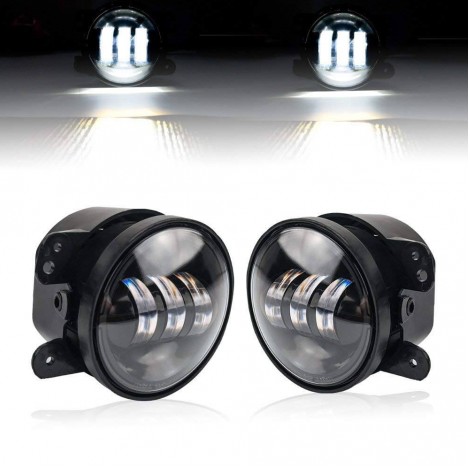 In the #4 spot goes Kingopt Lightway Fog Lights. The best thing that sets this fog light apart from the previous one is that, thankfully, it can fit into pretty much any kind of car, as long as it uses fog lights at all, which is most cars, so it all works out. Of course, though, that isn't all it has going for it.

Expand to see more
Efficient heat dissipation

Like we said earlier, pretty much every fog light on this list has some means of dissipating heat buildup from the lightbulbs inside the casing. This fog light's method is to use casted aluminum, which not only increases their heat dissipation but also extends the lifespan of the fog light to as much as over 50,000 hours.

Power conservation

If you care a lot about the electricity you use, you're likely conflicted about wanting more power for your fog light, but not wanting to use too much power to do so. Well, worry not, as this fog light manages the excellent balance of projecting light superior to even 30W headlights, while only really using about 18W. A lower power consumption, but a superior output.

Cost and Value

The lightway fog lights come with a very average price tag for a higher than average fog light. Which likely makes this come off as a much better deal than you'll find for the other entries on this list, considering the low power consumption, efficient heat dissipation and high output.


Efficient heat dissipation
Power conservation
Affordable
Mount has been reported to come loose
5. JDM ASTAR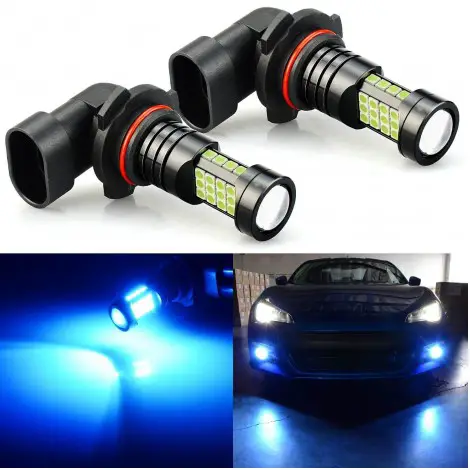 In our #5 spot, we have the JDM ASTAR Extremely Bright Max Fog Lights. If energy conservation but the high-
power
output is what you're looking for in a fog light, then this is the fog light for you. But what else does this fog light have to offer? Let's take a look and find out.
Expand to see more
Low consumption, high output

Energy conservation for a car is important because that's less of a strain on your car battery, and if you think other car parts can get expensive, they don't compare to a halfway decent car battery. These fog lights have some of the lowest power consumption on this list, at only around 10W. However, the visibility the lights' output generates is at least twice that amount, making these lights a boon for energy conservationists.

Long lifespan

Even though these are very high-quality fog lights, meant for larger vehicles like sports cars and SUV's, you'll find that these fog lights will last you up to 10,000 hours before even starting to show signs of age. So, at most, you'll only have to worry about changing these lights out once a year, and that's assuming you have thick heavy fog that needs a fog light every single day.

Cost and Value

For fog lights, again, a very middle of the road price. Nice and affordable, but not remarkably low or jaw-droppingly high, so not really worth mentioning further.


Low consumption high output
Long lifespan of 10,000 hours
Affordable
No cutoff lines, so you run the risk of blinding oncoming traffic
6. SiriusLED H8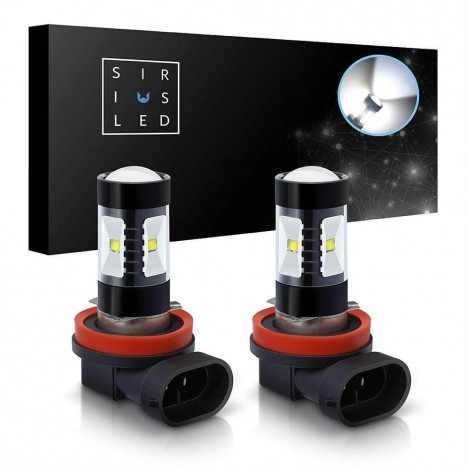 In the #6 spot, we have the Sirius LED H8 Size DRL Fog Lights. A lot of fog lights, both on this list and off, have a different purpose than simply seeing through the fog. Many fog lights, including these, can even help you see straight through thick snowfalls. How do these lights manage to do this? Let's take a look and find out.

Expand to see more
Resolution and high beams

These lights are so efficient at cutting through even thick snowfall because of the high beams and resolution that these lights are equipped with. They cut through whatever may otherwise obscure a normal set of headlights or even lesser fog lights, giving you a clear look through even the most infamously thick snowstorms.

Intense output

Each of the beams put out by these lightbulbs incorporates up to six LED chips coupled up to specialized projection tech. This means that the intensity, distance reached, and beam density of the light is multiplied, leading to a brighter, clearer look through whatever is getting in the way of your vision.

Cost and Value

With all of this high-grade tech being touted by these lights, you would think they'd be far pricier than they actually are. But nope, these lights, while a hair more expensive than the other entries so far, still remain at a very average price for a pair of fog lights.


Resolution and high beams
Intense output
No hassle installation
Puts off a lot of glare, so be aware of that before using
7. Opt7 CREE X-Mount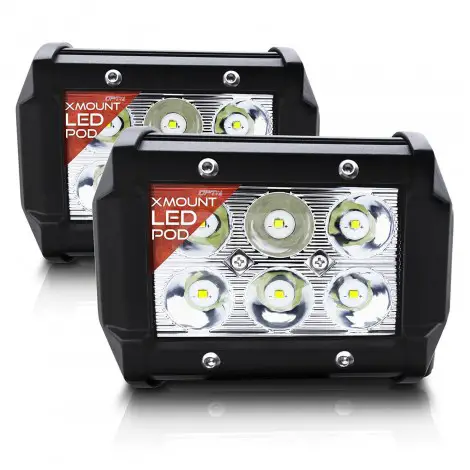 In our 7th place slot goes the Opt7 CREE X-mount LED Fog Lights. This is, without question, one of the most versatile, and brightest fog lights on the market right now. Quite the pedigree for something all the way down at #7, but rest assured, this fog light more than earns its hype.


Expand to see more
Longest life span

We've seen some pretty long lifespans for the various fog lights that have appeared on this list, but now we have easily one of the longest. At up to and even over 50,000 hours of power, this fog light will last you so long, you'll forget it's even temporary at all, because of how long you'll have had it by the time it starts giving out on you.

X-mount

This fog light comes with X-Mount adjustability. That means that it comes with 3-way bracket customization, which makes it far more versatile when it comes to adjustability than a lot of other fog lights on this list. So, no matter where in the fog you need to see, this fog light will help you see right through it.

Cost and Value

Now we show up to the higher priced entries. Indeed, when you're dealing with such a high-quality fog light, it stands to reason that the fog light in question would come with a hefty price tag. While not the most expensive thing on the planet, it's still pretty pricey compared to other entries.


Longest lifespan
X-mount
Low power consumption
8. Astra Depot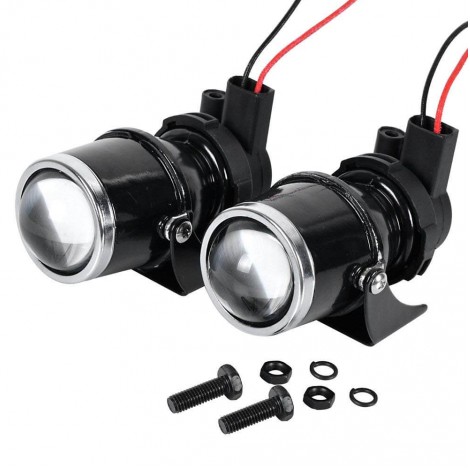 Kicking off our final 3 entries, we have the Astra Depot 55 Watt Projector Fog Lights. If you need compactness, but don't want to sacrifice any power in your fog lights, then you need to look at the Astra fog lights. They may be mouthfuls to say, but the benefits of using these lights speak for themselves.

Expand to see more
Durable
It isn't something you think about with fog lights, but
durability
is important, especially if you go off-roading while using these lights. Fog lights are generally closer to the ground than headlights, so they're in more danger of being damaged by debris kicked up by being driven over. The durability of these lights is mostly thanks to the lenses being made of proper glass, instead of the more brittle plastic that other lenses are made from.
Compact size
If your car doesn't allow for fog lights as default, then you'll have to find a different way to mount them on the car, which these lights account for. However, it may end up being rather hard to find a place to mount other fog lights. Thankfully the compact size and simplistic installation of these fog lights makes finding a place to mount them relatively easy.
Cost and Value
Thankfully, we're back to more reasonable prices with these fog lights, which only makes sense given the smaller size of these lights. If you're looking for small size but really good performance and output, then these lights are exactly what you're looking for.
Durable
Compact size
Affordable
Wire insulation isn't great
9. Kensun 55W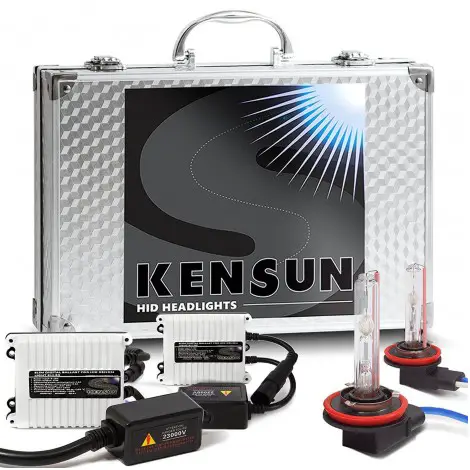 In our second to final entry, we have the Kensun 55W HID Xenon Conversion Fog Lights. Rolls right off the tongue, doesn't it? Well despite the word salad name, these fog lights are still of very high quality. If you have an SUV,
truck
, or ATV and you need some fog lights specifically meant for those types of vehicles, then these are the ones for you.
Expand to see more
Quick and easy installation

Most of the time, installation takes a little over a half hour to complete. However, through some very simple tweaks in the design, this fog light takes a little less than 20 minutes. Some of these tweaks include easy to handle mounting brackets which remove a majority of the time consumption that comes with installing these lights.

Xenon bulbs

You're probably wondering what the word Xenon refers to, since to you, it may read like marketing slang gobbledygook. Well, rest assured, it does refer to something real. In this case, it refers to the Xenon bulbs inside the light, which provide bright performance and enhances visibility.

Cost and Value

The biggest drawback to these bulbs is the price, which is likely the most expensive entry on this list. Don't be surprised if you find these bulbs worth more than twice the amount of the other entries.


Quick and easy installation
Xenon bulbs
Waterproof construction
10. Opt7 Show Glow Plasma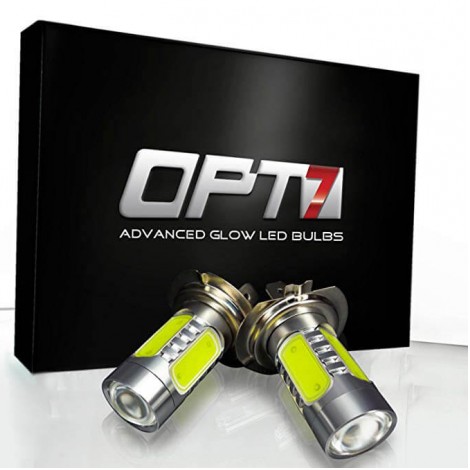 In our final entry, we have the Opt7 Show Glow Plasma Fog Lights. Also known as the Nova Plasma lights, these fog lights, despite coming in the last place on this list, comes in at #10 out of god only knows how many fog lights that are out there on the market. And as we will see, it more than earns its place here.

Expand to see more
Customizable
The main issue we've run into across this list is that fog lights can often be blinding from the glare they give off, given the fact that they need to be able to pierce through thick fog and even snow on light alone. So, it's a definite point in this light's favor that the brightness of the light is fully customizable because you often won't actually need this thing firing on all
cylinders
.
Superior light
Not only does this light last longer than most, coming in at a whopping 50,000 hours of life, it also does this while giving off more light than almost any other light on the market. These lights have been estimated to give off 25% more light than a normal halogen fog light and 200% more than an LED light.
Cost and Value
The best part about this light is the price, which stands at a very average price range for a fog light of such high quality.
Customizable
Superior light output
Affordable
LED's around the main light source are often very faulty
Fog lights are generally agreed upon to be one of those things that are better to have and not need than to need and not have. They help you cut through the thick heavy fog, snow, or even high amounts of dust. Really any cloud of stuff that's getting in your way will be pierced by the blinding light of your fog lights. You may never need your fog lights, but at least you'll have them, and at least they don't cost all that much compared to other car accessories, so it doesn't feel like you're breaking the bank for something you're not sure you'll ever need.
There's a lot that goes into making a fog light that really works, which we'll get into once we get to the criteria segment coming up next. But in summary, a fog light has to do a lot of things right, that normal headlights simply do not do. They need to balance a lot of plates at once, and these ten did that splendidly. We can say with all certainty that there isn't a single bad entry on this list. If one fog light interests you more than another, then, by all means, give it a look and see if it's what you need to cut through that thick morning fog.
Criteria Used in Choosing Fog Lights
Like we said previously, there's a lot that goes into making a fog light work properly. A lot of different plates need to keep spinning at the same time, just to achieve a base level of quality. Which is why we're going to be looking at the most important of those criteria. The following are, in no particular order, the most vital criteria that these entries had to meet in order to get on the list.
Brightness
What's light without brightness? A glass cap thing that you put on the front of your car for no reason, that's what. Any good light, not just fog lights, need to have some level of brightness to them, because otherwise, why did you even buy them at all? But fog lights, in particular, need to have a high brightness to them, to help illuminate the area past the cloud of fog you're trying to see through. However, it's about a lot more than simply being bright.
Beam density
How well a beam of light pierces the fog in front of your car is determined by a few things, but one of the most important is the density of the beam. Believe it or not, light does indeed carry some form of mass, and thus a tight enough beam of light can help pierce through the thickness of a cloud of fog. Now if it's snow or dust, a few more factors need to come into play for beam density to have any effect, but with fog, which is just an overabundance of water particles in the air, essentially a cloud that's landed on the ground, any fog light can handle that.
Heat dissipation
Of course, generating all that light is not going to result in things getting cooler. Do you want more light? Then you have to find a way to keep things from getting too toasty because otherwise, that's exactly what you're going to get. Fortunately, this is a problem with many different solutions, all of which have been explored to some extent or another by various fog light brands. Whether it's lining the interior of the light with some kind of metal or other material that displaces heat better or putting in small vents on the interior of the light, so the heat circulates out faster, there are a myriad different way to filter out hot air without sacrificing the integrity of the light itself.
Lifespan
Lights are delicate machines when you get down to it. The problem is that the technology used to make the bulb light up is not sustainable indefinitely. Eventually, overuse is going to break it. However, how long it lasts is another matter. Fog lights especially can last a lot longer than most other kinds of lights on the market. Now measuring the lifespan of a fog light can be a bit tricky for some, because fog light lives are measuring in hours, not days, months, years, etc. So, when you deal with a lifespan measured in hours, you may need to break out the calendar to figure it out. Wherein you'll learn that the average lifespan of fog light is a year, maybe a little bit more.
However, this is assuming that you turn on your fog lights and use them for one hour every day, which not a lot of people do. So, your fog lights may last you either a lot less of a whole lot longer than that, depending on how much fog your area sees and how thick it is.
Installation ease/compactness
This was one of the first criteria we came up with, and it isn't hard to guess why. When you're dealing with lights that go into your car, it makes sense to want to find one that's easy to install into your car. Because unless you're a big car nut who relishes making small mistakes, as that means you can spend more time working on your car, you're not going to want to deal with the intricacies of your car for very long, especially just to install a simple light. Fortunately, this is not much of a problem these days. Most cars have places to put in fog lights already, and if they don't, such as if you're working with a jeep or ATV, then don't worry. For these situations, plenty of fog lights out there are built to be mounted on top of the vehicle, or really, anywhere on the vehicle, you feel like would be a good spot for a pair of fog lights to be mounted.
Which leads to our next subject: the compactness of the fog light. Working with a fog light that's meant to be mounted on the exterior of the car, you want that fog light to be as unobtrusive and compact as it possibly can be. When on the outside of the vehicle, it is very much at the whims of the elements and can be knocked off by any number of things if it's jutting out too far in the wrong direction. When you look for exterior mounted fog light, compactness is the keyword that you should concern yourself with the most.
Price
Because you will have to replace a fog light way before you replace a lot of other things on your car, it makes sense that they wouldn't cost nearly as much as those other components. Sure, they're not exactly cheap, but they could be a whole lot more expensive. The price of the fog lights will usually derive from how many features it has, how bright it is, how long it lasts, among others that all add up to make the final price of the item in question. You'll rarely have to worry about the price of your fog lights, unless you're getting more than one, in which case, you may want to go for the cheaper models because they can add up very quickly.
FAQ
Frequently Asked Questions
Fog lights can be complicated bits of hardware, especially when it comes to installation and maintenance and whatnot. As such, it's perfectly normal to have some reservation, concerns, or yes, questions about the specifics of fog lights. So, with that in mind, the following are the most commonly asked questions about lights for fog.
Q: What are the different types of fog lights, and which is the better type?
A: There's not necessarily a better type of fog light. Otherwise, everyone would just use that type. Instead, each of the three types of fog lights has their own strengths and weaknesses that put them ahead and help them stand out. The three types are as follows:
LED Lights: This is the most common type on this list, and one of the most common types out there. LED stands for the light emitting diode. This technology has technically been around since the 1920s but wasn't popularized and commercialized until calculators became commonplace decades later. These fog lights can produce an excellent amount of illumination, all the while consuming very little actual power in the process. Making this a boon for the electrically conservative.
Halogen Lights: These refer to the halogen bulbs being housed inside the casing, which are then packed in ABS plastic and Lexan housings. You may not be seeing these around as often as you would ten or twenty years ago, and there's a reason for that. This is mostly due to the high amounts of power consumption that these bulbs have, dealing out comparatively basic amounts of power while gobbling up a lot of energy from your battery. So, don't be surprised if you don't see these around anymore in the next 5 years or so.
HID Lights: HID stands for high-intensity discharge. These are also known as xenon bulbs. Both of which refers to the chemical reaction that causes the light in these bulbs. Basically, the bulbs are filled with xenon gas, and once ignited, that gas puts off enough light that, when focused, will light up a much farther area than its competitors, and at much smaller power consumption. These bulbs require no central filament, instead of having two smaller filaments off to the side that provides the electricity to ignite the xenon gas, which is then energized and thus sustained for repeated usage. These are likely to be the bulbs that last you the longest, because they remove any chance of vibration damage, one of the main causes of other bulbs' demise.
Q: Why is the lack of a central filament such a big deal, and how does it hold the secret to HID bulbs longevity?
A: The main cause of death for any other lightbulb out there right now is vibration. The filament in the center has to vibrate incredibly fast in order to make the light, and eventually, that filament is going to break. It's a thin strip of metal pulled tight between two points, of course, it's fragile. But HID, or Xenon, bulbs don't have that problem. They last longer because one of the main causes of death is removed from the equation entirely, making these bulbs inherently superior to other types of bulbs. Add onto that their increased range and brightness, and it's a wonder these haven't already eclipsed the other two types.
Sources
Subscribe to our Newsletter