Best Car Coolers and Refrigerator Reviewed & Tested
last updated:
Mar 04, 2020
Got that big car trip coming up? If you do, then you're going to need some refreshments for you and your family so that you aren't constantly stopping off at every single rest stop to grab another snack. The problem here is, of course, some snacks are better cool than others, and then there are drinks, which are even more so. So, what do you do? You can't rely on the winter weather to keep your refreshments cool, after all. Fortunately, there is a solution.
Featured Recommendations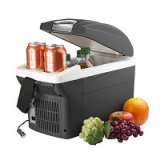 Wagan 12V Thermoelectric

Our rating
Compact Capacity
Price:

See Here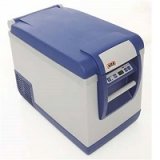 ARB Fridge Freezer

Our rating
Full Sized Cooler
Price:

See Here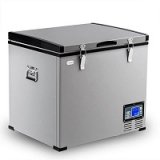 Costway Portable

Our rating
Shockproof Designer
Price:

See Here

Car coolers are, as the name suggests, tiny refrigerators that you put in your car whenever you need to transport something that needs to stay cool, like ice cream or certain kinds of drinks. While nowhere near as powerful or as advanced as their larger brethren, they're still more than capable of getting the job done. Which is why we're counting down the ten best of them, here today. Not the best of all time, simply the best currently on the market. So, get yourself a pack of cold ones, because we're counting down the:
10 Best Car Coolers
1. Wagan 12V Thermoelectric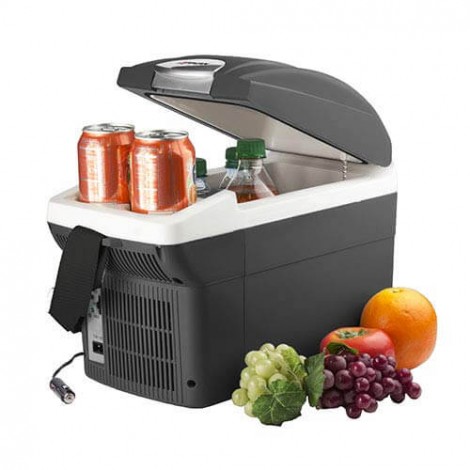 Kicking off our list, we have the Wagan 12V Thermoelectric Cooler. When it comes to highly advanced car coolers, it doesn't get much more advanced than this one. There are certain features it lacks, yes, but in terms of all around functionality, we could think of none better to put at the top.

Expand to see more
Compact capacity

Car coolers have an interesting tightrope that they need to walk. They need to have lots of storage space, yes, but they also need to be compact enough to fit into an already packed car for a long period of time without getting in anyone's way. A tightrope that this cooler not only walks but does so making it look easy. Sporting a 6 quart interior, this cooler is more than enough for most of what you want to keep with you on those long car trips, while still being small enough to have in the corner.

Dual function

The most interesting thing about this cooler, however, is the fact that it has dual functions instead of just the one. This cooler is equipped with dual functionality, giving it the ability to both keep your refreshments cool, and keep your cooked meals piping hot. And all at the flip of a switch.

Cost and Value

You should not expect to pay a low price for a really good car cooler. While not the priciest things in the world, they are certainly not the cheapest, especially not for this list. However, as you'll soon see, this is one of the cheaper options this list has to offer


Compact capacity
Dual function
Earth friendly
The hot function could be hotter
2. ARB Fridge Freezer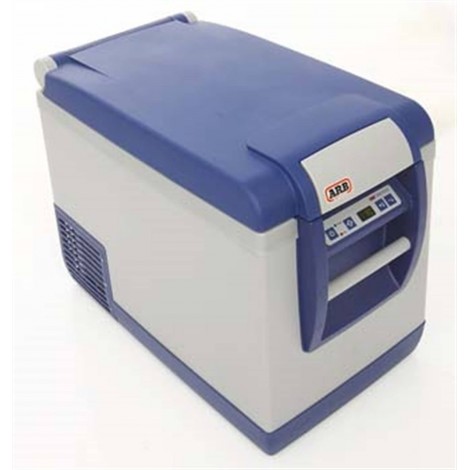 Coming in second place, we have the ARB Fridge Freezer. Like we told you, the previous entry was the cheap option. That changes now, but while this freezer will break your wallet over its knee and make it humble, you'll find yourself thanking it for the honor once you actually start using it.
Expand to see more
Full sized cooler

This is not a cooler you can have with you in the front or even in the passenger section of the car. Make no mistake; this is a full sized cooler that you put in the trunk of the car with everything else. At a minimum of 37 qts. And a maximum of 82, this a full sized cooler meant to sit in your car. Which may not be great for space or convenience, but considering it's the holidays, and you may need to bring the bulk of the dinner, it's great for delivering food nice and fresh.

Continuous cooling

The main problem with a lot of these car coolers is that, especially on the longest car trips, you have to turn off the car sometime, and that can end up ruining the food you went to such great lengths to keep cool. Fortunately, this is a problem this cooler circumvents by keeping the cool air flowing, even when the rest of the car is turned off.

Cost and Value

Only our second entry, and we already have the top candidate so far for the most expensive entry on the list. If you want top tier quality from your car cooler, look no further, but be prepared to walk away with a much lighter wallet.


Full sized cooler
Continuous cooling
Automatically prevents car battery rundown
3. Costway Portable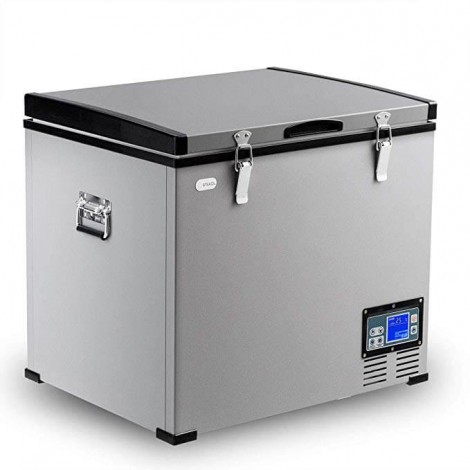 Finishing up our top three segment, we have the Costway Portable Refrigerator. Like before, this is a cooler that's meant to go in the back of the car, preferably the trunk with the rest of your luggage. It shares many similarities with the previous cooler, though has some benefits that we found made it the better deal of the two.

Expand to see more
Shockproof design

Believe us when we say that the last thing you want is for any kind of cooler to break on you. Because if it does, then that's a lot of (very toxic to humans) coolant that's going to go everywhere. Which is why this cooler is made with a shock proof design that will withstand even the harshest of environments and physical conditions.

Digitized temperature adjustment

Some things need to stay cooler than others, and some things need to stay warmer. That's just how things work. Which is why this cooler comes with a digitized temperature adjustment system. Now you can keep your food as cool or as warm as you need them to be, and all at the push of a button or two.

Cost and Value

While not the cheapest thing in the world, especially by this list's standards, you won't have to pay nearly as much for this cooler than you would for the previous contender, which makes it, in our eyes at least, the better deal.



Shockproof design
Digitized temperature adjustment
Battery protection
4. Cooluli Mini Fridge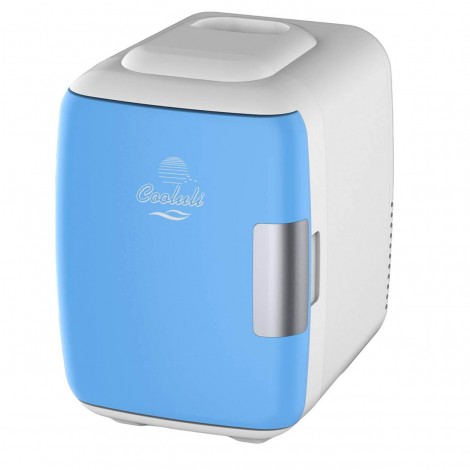 Coming in 4th place on this list, we have the Cooluli Mini Fridge. With this entry, we thankfully return for a bit to the smaller car coolers that don't break your wallet in two. And while you are sacrificing a good bit of space in the bargain, we found that the benefits more than outweigh the drawbacks.

Expand to see more
Easy functionality switching

Like with our first entry on this list, this cooler can go from a drink cooler to a food warmer with just the flip of a switch. Which is a definite plus when you have to carry multiple types of food on a long trip, or you're saving a freshly cooked meal for someone. Just press a button, and the machine will do a complete 180 into the exact opposite extreme temperature.

Sleek and durable

Never worry again about where to put these things, as this cooler will go pretty much anywhere you need it to be. Whether it's on one of the chairs, or down in the floorboard in a corner, the sleek design of this cooler will work regardless. And on top of that, you won't have to worry about it breaking wherever you put it, as the lightweight but sturdy polypropylene construction is more than enough for any kind of punishment.

Cost and Value

The best part about this cooler is the price, which is incredibly fair and affordable compared to the previous two entries and their wallet draining price tags.


Easy functionality switching
Sleek and durable design
Cheap
A cooler, not a refrigerator
5. Pepsi Gourmia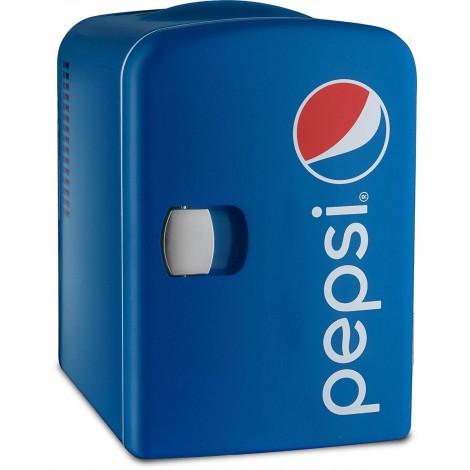 For our #5 spot, we chose the Pepsi Gourmia Thermoelectric Mini Fridge. Pepsi needs no introduction, we're sure. The soda company has been around for a long time now and has come up with many innovative ways of keeping their delicious beverages as cool and delicious as possible. Here is one of them.

Expand to see more
Eco-friendly

Probably the best thing about this cooler is the fact that it's one of the most eco friendly options on the entire list. It manages this via advanced semiconductors that are completely free of CFC's and harmful refrigerants. All this jargon basically means that this cooler is incredibly good for the environment.

Incredibly compact

This is probably one of the smallest entries on this entire list. You have enough room while using this cooler for maybe 3 or 4 bottles/cans of Pepsi, and that is just about it. Luckily, this means you can take this cooler with you pretty much everywhere. From a long car ride to longer hours at the office, this cooler will serve you well no matter what.

Cost and Value

The main problem with this cooler is its price. Not that it's particularly high, it is still got nothing on the second and third entries, but it is a bit high for what's being offered. Still, if you want a nice portable mini fridge for your Pepsi bottles, you are looking at the right entry.


Eco-friendly
Incredibly compact
AC and DC cables included
6. Koolatron Compact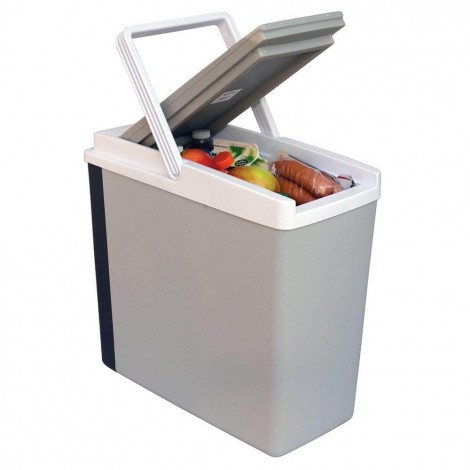 Coming in at #6 on our list, we have the Koolatron Compact Cooler. With the slim width of a smaller cooler, but the size and storage space of a larger one, this car cooler is the perfect cooler for sticking in between the passenger seats for a long car trip. What else does it have to offer a consumer? Let's find out.

Expand to see more
Quiet motor and fan circulation

The main drawback to a lot of these car coolers is the noise that they make when you plug them in and turn them on. A problem that this cooler, fortunately, circumvents by way of making the fan inside of it as quiet as a fan like this can be. It is not the quietest thing in the world, but compared to its peers, it could definitely be a lot worse.

Great design

The height of this cooler may pose a problem for some, but if you are clever and take proper advantage of the geography of your car's interior, this won't be a problem. This is a great cooler for a minivan, considering its slim figure makes it perfect for slipping in between the back seats of the car. Now your kids have some snacks while you drive.

Cost and Value

While pretty pricey, it is not the most expensive thing on the list and is just a few dollars shy of the previous entry's fee — the difference, of course, is that it earns the price a lot more.



Quiet motor and fan circulation
Great design
State of the art thermoelectric cooling system
7. Knox Electric
For the #7 spot on this list, we have the Knox Electric Cooler and Warmer. Intentionally made to resemble a classic cooler, this cooler is anything but simplistic, as it has a lot more going on just under the lid. What do we mean by this? Let's find out.

Expand to see more
Plugs in anywhere

You may have noticed a little problematic similarity with the entries so far: they all have AC/DC plugs. The kind that you put into wall outlets. And not every car has that kind of plug conveniently situated, or even at all. Which is why this cooler has the capability to have a normal outlet plug or a car charger plug. So, you can use this cooler in any car on the market right now.

Great storage space

The thinner design is meant to invoke the design of a classic picnic cooler. But don't take that to mean that it can't hold its weight, because it absolutely can. In fact, this cooler can hold up to 34 quarts of space, which is definitely not bad for a cooler that you can keep on your lap while driving.

Cost and Value

While pretty pricey, we definitely don't begrudge it the way we begrudge the previous entries, even though it's the same general price as the last two we've covered.


Plugs in anywhere
Great storage space
Chills without the need of ice
8. Igloo Iceless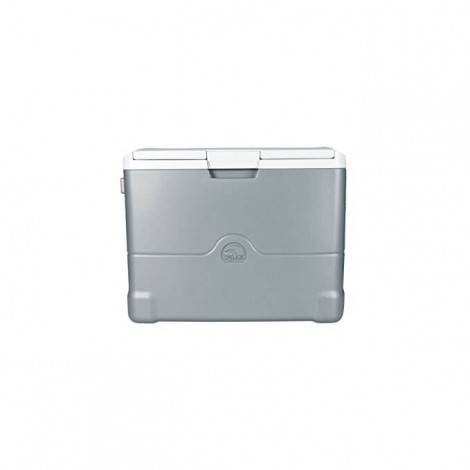 Kicking off our final three entries, we have the Igloo Iceless Thermoelectric Cooler. Of course, we would not even put these things on the list at all if one of them needed ice, as that tends to defeat the whole purpose of them. This is a lesson that this cooler takes to heart, to the point where they put it in the name.

Expand to see more
Iceless chill

You do not need ice to cause a chill. It definitely helps, do not misunderstand, but it is not all that you need. By properly circulating chilled air, you can keep your drinks cool just as well as a traditional ice box. So, you can keep those drinks chilled for the entire car ride, without having to worry once about cleaning out dirty, cold water after it melts.

Quiet motor

Car rides are monotonous enough, but they become unbearably annoying when you add in a cooler motor that are like two screws being driven into your ears until they meet in the middle and then being left there. Which is why this cooler has a quiet motor, that runs efficiently without being annoying.

Cost and Value

This cooler comes in varying sizes, each deciding the final price you pay for the product. This cooler has a price range that's actually pretty fair, considering what you're getting out of it.


Iceless chill
Quiet motor
Good price range
9. Wagan 12V Electric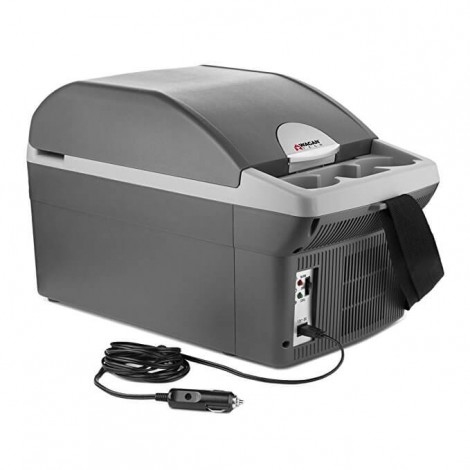 For our second to final entry, we return to our friends over at Wagan for the Wagan 12V Electric Cooler and Warmer for Cars. While not as impressive as the last time we covered a Wagan cooler on this list, of course, this cooler still manages to be one of the more interesting entries we'll be covering for this list.

Expand to see more
Easy to use

No one wants to have to use a manual for these things, even if the manufacturer is literally required by law to include one. Fortunately, this is one of the easiest to use car coolers on the market right now. You just need to plug it in, slide the temperature control switch, and just like that, you are done. And don't worry about not having a place for the cooler, as the DC cable included with this cooler stretches up to 9 ft in length. More than enough for any car interior. Finally, each function that is at this cooler's disposal has a convenient little indicator light, so you can easily check to see which function the cooler is currently employing.

Extremely cold

The problem with a lot of car coolers, especially the ones we left off of this list, is that they have trouble knowing how far down is good enough. The inside of a cooler should be ice cold, otherwise, why would you even buy it? This cooler, while not going down into subzero temperatures, still manages to get down to a chilly 32 degrees.

Cost and Value

The price of this cooler is somewhere between being cheap and being pricey. Luckily, it is close enough to the former for us to consider it fairly affordable.


Easy to use
Extremely cold
Affordable
Can't make something cold/warm, only keep things at the temperature they are already at
10. Black+Decker Portable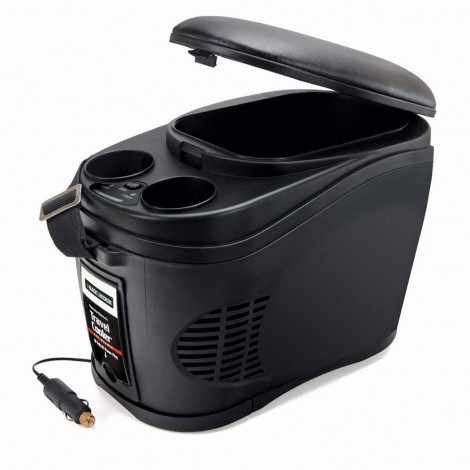 For the final entry of this list, we have the Black+Decker Portable 12V Travel Cooler/Warmer. This is definitely one of the more unconventional designs for a car cooler we've covered on this list, owing much to Black+Decker's constant need to coat everything in black paint, whether it needs it or not. But when you look past that, you find a cooler that more than earns its place on this list.

Expand to see more
Voltage monitoring

It's no secret that everything you plug into your car takes the electricity from the car battery. Now, normally this isn't a problem. But the more you plug in there, the more that's being drained, and that can add up fast. Which is why this cooler automatically monitors how much voltage it is taking out of your car, and immediately shuts off when it senses that the voltage level is getting too low.

Plenty of storage

But probably the part that most differentiates this entry from its peers is its focus on storage. Lots of other coolers store plenty of objects, including the other entries on this list, but this one goes above and beyond. Past the interior space, there's a pair of cup holders, a zippered side storage, and an accessory pouch.

Cost and Value

Like with the previous entry, this cooler is in the in between space between being expensive and being affordable but leaning towards the latter.


Voltage monitoring
Plenty of storage
Affordable
Turns off when you turn the vehicle off
A car cooler isn't absolutely necessary for a good road trip to go smoothly. But on the other hand, it isn't completely unnecessary either. We know that doesn't make any sense, but hear us out. As long as it adds to the experience, is not it worth considering? A car cooler will very rarely take away from the road trip experience, as long as you remember to get your hands on a high quality model like the ones we've assembled for this list. There are a lot of boxes that a car cooler needs to tick before it can even be considered for this list, which we will get into more detail later on in the list. But if you want a crash course on what it takes, look no further than the list itself. Every entry on this list is everything you should look for in an excellent car cooler. They'll keep your drinks chilled and your food as warm as when you pulled it out of the oven. Which is definitely a boon when you're the one in charge of delivering the Christmas dinner. So, if you need something to even out the temperature of what you're driving with, then pick out none of these ten excellent car coolers and enjoy.
Criteria Used in Choosing the Best Car Coolers
Coming up with a good criteria list for this article was interesting. We had to look down deep into the minutiae of each entry to figure out the differences between each one, what they did better than the others, and what we would want a good car cooler to do for us in the first place. With all that to work off of, it was inevitable that we would have a good set to work with. So, with that being said, here are the most vital criteria we used to determine who got onto the list, and where.
Storage space
You'll note that one of our entries has a lot more storage space than any of the others and that it's higher up than a lot of its peers, despite several of them likely deserving that spot all around more. That is the level of importance that we placed on the storage space offered by a car cooler. The job of a car cooler is to keep food and drink at a certain temperature, or ideally, to bring those foods and drink to a certain temperature. And a good cooler needs a certain amount of space in order to do that properly. So, we judged each entry based on the amount of storage space they provided based on the size they were going for. Because, as you may have guessed, storage space is only one side of this coin.
Size
The amount of storage space a cooler has is dependent on how big the cooler itself is allowed to be by the manufacturer. Size is everything when it comes to a car cooler. For one thing, it determines where you can actually put the thing down. There isn't exactly a lot of room in a car when you actually look into the fact. The inside of your car may appear spacious, but when it comes time to find a place to put a large object down somewhere other than in the trunk, you'll find that there isn't nearly as much as you thought there was. The size of a car cooler also determines the kind of food or drink meant to actually be used with it. Obviously, the entry made by Pepsi would be made with Pepsi products in mind, so you can't exactly stuff a large turkey in there and hope it works. So, you should also judge the kind of car cooler you get by the kind of food and drink you expect you'll be using it for. If you're transporting holiday dinner to family's house, for example, then you're going to have to find a car cooler that's large enough for at least some of the food you'll be taking with you.
Performance
In this day and age, aesthetics don't get you nearly as far as they used to. These days, it really all boils down to how well it compares to its peers in sheer performance value. These things can get really pricey, after all, so it only makes sense that you would only spend your money on the best performing car cooler you could find. There are a few different critical points to consider when going over this blanket term, however. The first of these being the main overall design of the cooler and what it's primarily meant to do, and how well the design helps it do that. The second is the type of cooler, either a compressor or thermoelectric model. But the biggest one to consider is how well the cooler actually handles, well, cooling its contents. But then, not every cooler is meant to cool, but rather maintain a temperature. So, you would have to judge how well a car cooler accomplishes that task. It all sounds very complicated because it is, but once you actually know what you're looking for, it's remarkably easy to know when something is doing it poorly.
Power supply
How does the cooler in question get its power? You cannot expect a car cooler to run purely on its own battery life, as it will likely run out long before you reach your destination due to how much power a cooler needs to run just for one minute. The solution to this is to plug the cooler directly into the battery of the car through some kind of outlet. Now you can do this one of two ways. The first is to find a normal power outlet in your car, like the kind you find in your home, and plug it in that way. Or if your car doesn't have that, find a car cooler that can plug into the cigarette lighter or car charging port that you would otherwise use to power your phone. Now be warned, this is just another thing you are plugging into your car and draining off the battery, so make sure you have a cooler with the function of automatically turning off the minute it feels like the battery has dropped below a set level.
Price
The last criteria we judged for this list was the price of each entry and how it reflected back on the quality of each entry. The price of a car cooler can depend on a lot of different factors, from the quality of the materials used to make it, to the size, to how many functions it has. And of course, if you pay, say, up to $800 for a car cooler, you want to feel like you're getting your money's worth out of the bargain. Otherwise, you'll be left wondering why you didn't spend that money on one of the cheaper models on this list that were worth the money they were asking for.
FAQ
Frequently Asked Questions
For the final segment of this article, we'll be taking a look at some frequently asked questions surrounding car coolers. Now, these are relatively simpler machines, but the questions we did find were important enough to list here. So, with that said, here are the most frequently asked questions surrounding car coolers, and the answers thereof.
Q: How does a car cooler keep its contents cold, even when it isn't running?
A: With car coolers, you'll find some that stay running even after you turn off the car (at least until they detect the battery has dropped below a certain point and automatically turn off) or you'll find those that turn off when you turn the car off. The latter of those two types will, more often than not, have some means of keeping the temperature inside at the point you had it set for a long period of time. It accomplishes this through the use of insulation. This is how your house stays at a certain temperature, while everything else is at a different temperature. But the thing to remember about insulation is that it will slow down the heat transfer, but it cannot stop it. The outside will eventually get in. So, make sure you aren't away from the car long.
Q: How do I make sure that my car battery still has power?
A: Very good question, and one that everyone is contemplating getting one of these coolers should consider. The simple fact is that car batteries do not last forever on default, and car coolers are gluttons for electricity. The biggest downside to a car cooler, by far, is how much power they consume, so if that's a big issue for you, make sure that you get your hands on a car cooler that does two things. The first is limiting how much power they suck up so that the power it does take is better consolidated. The second is to make sure your car cooler has the ability to automatically turn off when the battery level drops below a certain point.
Q: How does a car cooler typically perform on a hotter day?
A: This tends to vary from cooler to cooler, depending on their size and insulation. Of course, a cooler is going to perform differently based on the temperature of the air around them. The more hot air there is by default, the more hot air is going to get into your cooler, and thus the harder that cooler is going to have to work to keep its contents cool. Thankfully, there are actions you can take to help your cooler. For one, you can turn up the A/C in your car to make the air inside your car cooler. This will make it harder for hot air to get into the cooler, and thus bring down how much energy the cooler has to exert in order to keep the contents nice and cool.
Sources
Subscribe to our Newsletter