Engine Hoists Reviewed & Rated for Quality
last updated:
Jun 03, 2019
Car repairs might seem easy to the inexperienced eye, but the truth is quite the opposite. Only when you start doing more and more of them you notice how tricky things can get. Not to mention the fact that we can't reach all car parts with equal ease! Working on the engine is twice as hard as repairing other vehicle parts. Most people just give up and take the car to the mechanic. However, if you're determined to do it all on your own and get to be proud of your work, we have a simple solution for you! It's called an engine hoist. You probably heard by now how useful this device is, and how it eases all the repairs you have to do on your car's engine. Well, maybe it's time for you to get one of these and finally get the work done as a real professional!
Featured Recommendations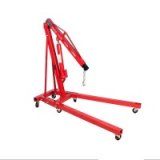 Dragway Tools

Our rating
Heavy-Duty
Price:

See Here

Goplus

Our rating
Durable
Price:

See Here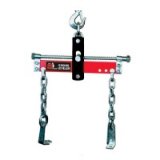 Torin

Our rating
Compact
Price:

See Here

While using one of these devices will definitely make your life easier, the entire process of choosing the perfect product is not simple at all! There are so many things to consider before the very purchase. You get to choose a type, size, load capacity, and much more. It makes us wonder how other people do it, right? Well, we don't know about others, but you have us to help you! We prepared a list of 10 best engine hoists we could find on the market. After hours and hours of research, we were able to provide tips and recommendations for every product on the list. All of this should make the choosing process a real breeze and ensure that you get what you need! Now, let us begin with:
10 Best Engine Hoists
Dragway Tools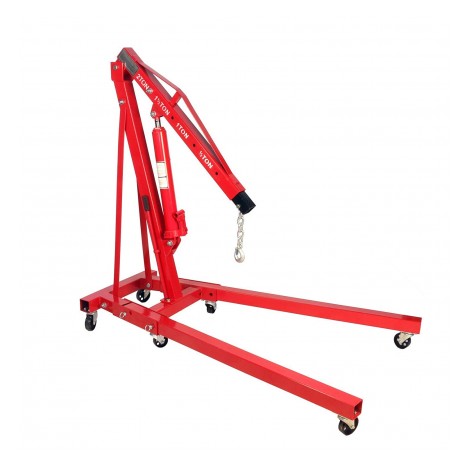 Dragway Tool is a reliable company that produces all kinds of automotive parts and accessories. Their engine hoist is our best pick, and it well deserves that position! It's one of the most efficient engine hoists on the market, allowing for you to lift heavy objects with great ease. The construction is rock-solid, the tool is portable and easy to store. What could we ask more?
Expand to see more
High-Quality Steel
When it comes to the load capacity, this device can accommodate from 1000 to 4000 lbs. The frame of the tool is made of high-quality steel that can withstand a lot! Actually, most of its parts are made from the best steel out there. This ensures excellent performance and durability. There are also two support plates on the sides to provide more stability. The hoist has a chain and a hook at the front to accommodate a lifting chain or a load leveler. They are super sturdy and durable, and therefore safe for lifting heavy objects.

Although the assembling part is quite easy, we would like to see better instructions. The ones included in the box are not clear at all! Also, we have to warn you that some buyers had problems with bolts included in the package. They sometimes come in the wrong sizes. It's not such a big issue, but it can be quite annoying having to replace them.

Very Portable
Dragway measures around 65 x 41 x 37 inches. It has rotating steel caster wheels for more portability and easier handling. They are sturdy enough to endure high pressure of the heavy loads and allow for smooth movements. The entire tool folds down to 58 x 37 x 22 inches for you to store it easily in your garage. The boom lowers down and you can even pull the legs of the tool to put it in a vertical position. This way, Dragway will take less space in your garage and you can store it wherever you find it convenient.

Cost and Value
This tool is pricey, we give you that, but it offers incredible value! It's super durable and safe for use, so you'll find it useful for many years. It also comes with a 1-year warranty that guarantees an additional peace of mind. If you have some extra cash to spend, we highly recommend going for this one!
Great load capacity
Made of high-quality steel
Stable and durable
Rotating wheels for improved portability
Foldable
Poor instructions
Bolts sometimes come in wrong sizes
Goplus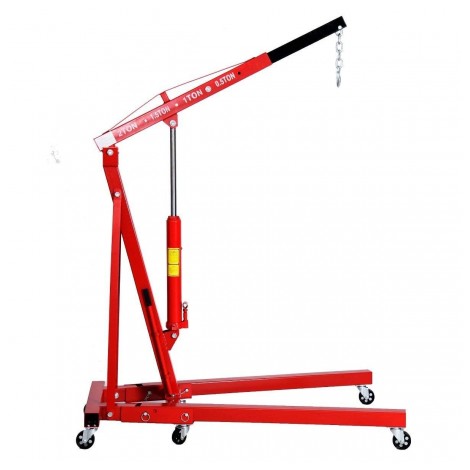 Here we have another popular engine hoist praised among users! Why is it so popular, you may ask? People mostly love it for its high load capacity and impressive construction. This one is made from durable materials and ensures safe use for many years! It proves to be irreplaceable when it comes to lifting engines, tools, and other heavy stuff. All in all, it's well worth the attention and you should definitely check it out!
Expand to see more
Steel Construction
The company put a real effort to make this engine hoist safe for use and durable. Its steel construction can support up to 4000 lbs, which is quite impressive! You can adjust it in one of 4 different positions (from 0.5 to 2 ton) according to your work requirements. The wheels are sturdy enough to withstand the high level of pressure and they swing for 360 degrees. This allows for better mobility and easier handling of the heavy load.

Protective Paint
This hoist folds down to ensure simple storage. It measures 65 x ½ x 60 inches and it conveniently folds down to take less space in your garage. Additionally, it has a protective covering that is corrosion- and rust-resistant. The glossy paint also repels dirt and dust which makes it suitable for outdoor use as well.

We only didn't like the assembling part! Some of the buyers even had to hire professionals to mount this product. The company should definitely provide better instructions parts in the future. Also, we wouldn't mind some extra parts to come included in the package!

Cost and Value
Another important thing that influences the popularity of this product is its price! Goplus is well priced, so both handypersons and professionals can make it a part of their garage equipment! The product also comes with a 1-year warranty and the support of great customer service!
Safe and durable
The capacity of 4000 lbs
Sturdy rotating wheels
Foldable design
Extra protective coating
Well priced
Issues with the installation
Torin Big Red Hoist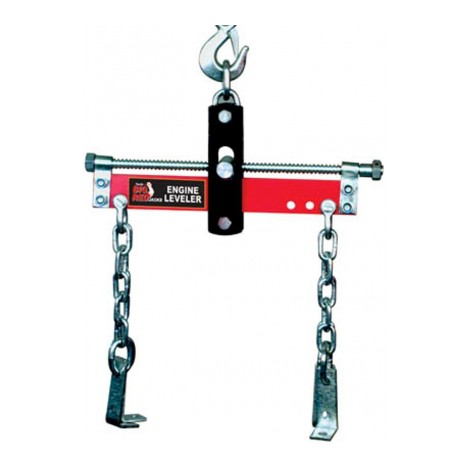 If you're searching for a cheap hoist to attach it to your shop crane or use it independently, this is a perfect product for your needs. It's actually the most popular manual engine lift! Torin is a well-known manufacturer that produces all kinds of tools and accessories. The company's main goal is to help you deal with car and other repairs around the household with great ease. You just can't go wrong with choosing one of their exceptional products!
Expand to see more
Compact Design
This is a compactly designed manual engine lift. It comes very useful for lifting engines and other heavy stuff around your household. There's nothing complicated about this tool, you pretty much get to use it straight from the box.
You should only keep in mind that this is not a heavy-duty device. It can hold up to 1500 lbs which is a decent capacity for a small hoist that won't be dealing with heavy loads. However, this capacity might not be enough for professional mechanics and their workshops. Think about how heavy loads you'll be lifting before you decide on this one!
Rock-Solid
The device is quite durable, the used materials are rock-solid and safe for use. It guarantees excellent performance thanks to the steel materials. Torin is a no-nonsense device that is meant to last! It lifts the loads with great ease and it keeps them that way for as long as you need. The only thing that bothers some users is the design of the handle. It seems that it's not of the same quality as other parts of the device and it could deteriorate quickly.
Cost and Value
Whether you have a workshop or you're a handyperson that loves
working in the garage,
you need a useful hoist like this! You'll especially love the fact that you don't have to spend a fortune to get it. The inexpensive tool like this has its flaws, of course, but it's super useful and it will make your life easier. Car repairs seem like a child's play with Torin products!
Compact design
Easy to install and use
Holds up to 1500 lbs
Sturdy and durable
Safe for use
Inexpensive
Some people are not satisfied with the load capacity
The handle is not as sturdy as other parts
Five Oceans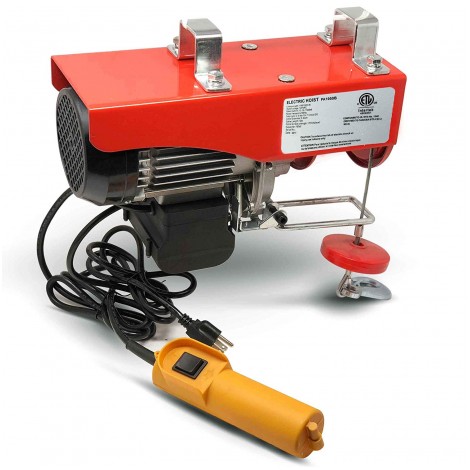 An exceptional electric engine lift comes from Five Oceans! If you're tired of chains, hooks, and other accessories that make the hassle out of the engine lifting, then an electric device is a real thing for you! And if you want the best of this type, you should definitely go for Five Oceans. The device comes with a powerful motor, durable construction, and countless useful features. All its parts are designed to make engine lifting a real breeze!
Expand to see more
Excellent Load Capacity
This electric hoist offers a 1500-watt motor that can lift 2200 lbs with great ease! You can also go for smaller options. The company offers several hoists with different load capacity (from 220 to 2200 lbs) and you can choose the one that suits you the most. You'll also get a remote control that you can use from the distance of 20 ft. Pretty cool, right? It eases the process a lot!

Easy to Use
The package includes all you need for a hassle-free installation. You'll get the hoist mounting hardware, clear instructions, and other necessary accessories. Some users complained about it being to slow when lifting an engine, but we find it quite efficient. It's not the fastest lifting in the world, but the main goal is to be efficient and safe for use at the same time. The faster action could damage the engine, and we all want to prevent this from happening!

The only downside is a somewhat short cord that comes with the device. You'll probably have to get a longer one and replace it.

Cost and Value
Although this is not the cheapest option out there, it won't be too hard on your pocketbook either. Five Oceans offers this device at a reasonable price and includes a 1-year warranty. You should be pretty much satisfied with the purchase and value you get for the money!

1500-watt motor
You can choose the capacity from 220 to 2200 lbs
Comes with a remote control
Easy to install and use
Reasonable price
Some people find it too slow
Short cord
Torin Chain Block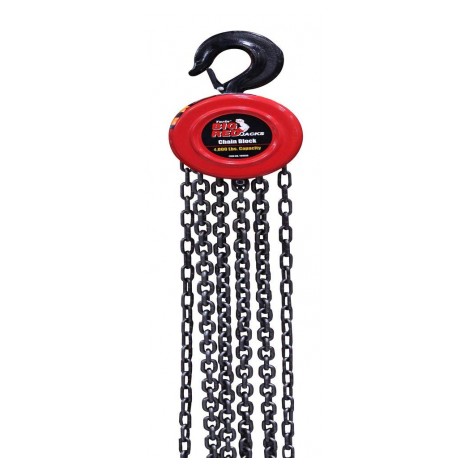 Did we mention that going to one of the Torin products is always a smart choice? If we didn't, now is the right time to do it! Here we have one of their engine hoists, this time a manual one that provides exceptional value for money. It's a traditional model that has a lot to offer in terms of quality and durability, so make sure to check it out!
Expand to see more
4000 lbs
We were pleasantly surprised when we find out that this device has a load capacity of 4000 lbs. It's pretty tough for a manual hoist! It uses 2 hooks (included in the package) to lift engines and it does the job pretty well. However, because of its great capacity, this device is rather bulky and heavy. You might struggle a bit with the mounting process and storing options. The bulky design also makes it less portable than the competition. Keep this in mind if you need something that you can move around frequently!

Stable and Safe
The device has a smart mechanism with two gears that work together to share the load's weight. This mechanism ensures safe performance no matter how heavy is the load. The weight splits into two gears and the hoist lifts it easily. Also, the hooks are made of high-quality steel and the device has latches to ensure the stability of the load. The entire device is super stable and durable, and you'll find it useful for many upcoming years!

Cost and Value
This is one of the most popular manual hoists for several reasons. One of them is definitely an attractive price! If you're not up to spending a lot of cash on a new engine hoist, you can go for this budget-friendly product. You won't be disappointed!
The load capacity of 4000 lbs
Smart locking mechanism
Safe and stable
High-quality steel
Durable
An attractive price
Black Bull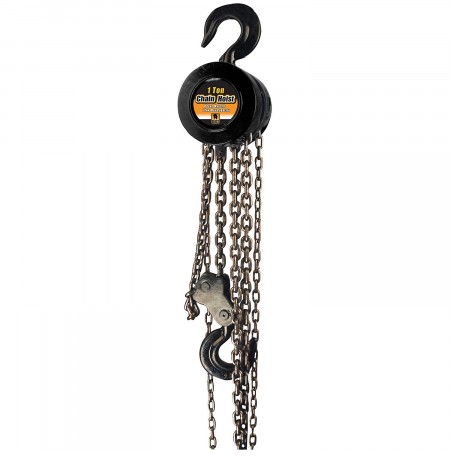 If you never heard about the Black Bull company now is a great opportunity to check out their products. They offer a variety of lifting tools and other accessories. This particular engine hoist is one of their best products. It's well-known for impressive durability and versatility. All those who are searching for a compact and affordable engine lift will be thrilled with it!
Expand to see more
Versatile
This is a versatile device that allows for multipurpose use. You can mount it in your garage to use it as an engine hoist or install it in your shop for holding all kinds of loads. It supports up to 2000 pounds which is quite impressive for its compact design.

This hoist is very easy to use. You only need to mount it properly and attach the load on it by using the provided hook and chains. It's simple as that! The device is fairly weighted and won't cause you any issues for that part.

Heavy-Duty
The compact design of this device wasn't done at the expense of durable construction. It's rather sturdy and stable, allowing for secure engine lifting. The steel chain has a mechanical lead break to make the hoist safe for use. Also, the device weighs around 18 pounds and measures 9.5 x 8 x 6.5 inches. This makes it more portable than most of the other bulky products on the market.

The main issue with this product is the chain that sometimes slips from its place on the gears. The problem is quite easy to solve, but it is annoying, we admit it. Also, you might have some issues with the chains due to piled dirt and dust so you'll have to clean it regularly.

Cost and Value
This Black Bull hoist is a real steal! It's one of the cheapest options on the market yet it offers exceptional value. Sure, such a cheap product has its flaws, but it still proves to be very useful. Every handyperson will use one of these in its garage!
Versatile
The load capacity of 2000 pounds
Easy to use
Compact design
Sturdy and durable
Inexpensive
Torin Rotating Stand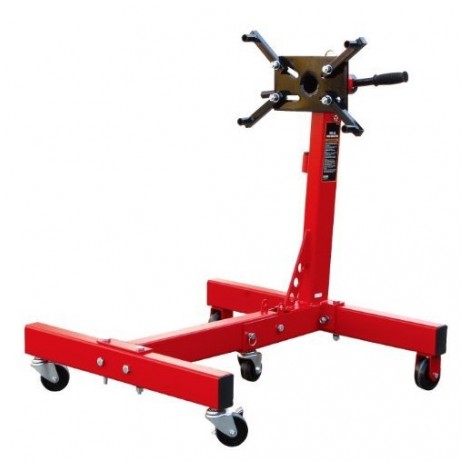 Once again we have a high-quality product from Torin, only this time we are talking about an engine stand. This device is very useful when working on the engine and it proves to be super durable. All those handypersons who like to do all repairs on their own will be thrilled with this product!
Expand to see more
Stable Construction
First thing first, this one has a really tough construction! The heavy-duty parts are necessary to prevent the stand from tipping back when holding a heavy load. Also, the solid parts guarantee stability and durability for many years. You can safely lift any object that weighs up to 1500 lbs. There are also swivel wheels on the front that allow for better mobility when holding the load. We would like to see them on each side, but this works nicely too.

Easy to Use
The installation of this device is a breeze, although it comes fully disassembled. You'll get it at first glance, so you shouldn't worry too much about it! The process is as easy as it could be. Additionally, Torin folds down with a simple action to give you more free space in your garage. All in all, Torin is super easy to use, but it also guarantees the safety and a long lifespan. The parts are well-made and durable, so you don't have to worry about the load's safety!

Cost and Value
Although it seems that this product is fairly priced, we are not fully satisfied with it. For the load capacity it has, we expected to be cheaper. It holds up to 1500 lbs, which is great but for the less money. Don't get us on the wrong way, it's still an exceptional product well worth the extra cash. Some people just might find it too pricey for their budget.
Heavy-duty construction
Quality metal parts
Sturdy and durable
Wheels at front for improved mobility
Foldable design
Easy to use
Swivel wheels only at the front
Pricey for the 1500 lbs capacity
Orion Motor Tech
We know what you're thinking – a manual engine hoist with 4000 lbs capacity is a rare find! It most certainly is, and it's a high-quality one. It's versatile enough to allow for lifting all kinds of loads, not only car engines, so you'll find it useful for many tasks. Your everyday repairs and jobs will become a lot easier with using this engine hoist!
Expand to see more
Impressive Capacity
This one is made of high-quality steel that makes it safe for use and quite durable. It uses 2 hooks to split the weight and safely hold up to 4000 lbs. It's actually quite impressive how well-made is this affordable engine hoist!
You don't need any instructions for this one, nor you need to spend
hours on mounting it.
Everything runs smoothly, and you can use it straight from the box!
Compact
As we mentioned earlier on, this is an excellent choice for all those who need a compact engine hoist. It measures 21 x 8 x 2 inches with handle, and it comes with long chains. The entire device is made from rock-solid materials to ensure a long lifespan.
We only have to warn you that almost all buyers replaced the included chains. They didn't report any issues with them, but they replaced them anyway because of the poor looks.
Cost and Value
This Torin product is not only super safe and durable but also cheap! It comes with a 1-year warranty as well. Knowing all of this, the necessity to buy the better chains separately doesn't seem like a big issue anymore!
High-quality steel
Holds up to 4000 lbs
Easy to mount and use
Compact design
Durable
Cheap
Best Choice Products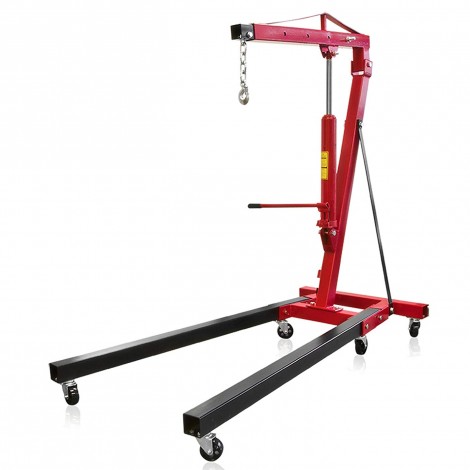 So if you're up to buy a hydraulic engine hoist you can always go for Best Choice Products. They wouldn't be playing with the name if they don't have to offer top-notch products, don't you think? Indeed, the company offers first-class products, and this engine lift is definitely one of them. It's well worth your attention, so don't miss to check it out!
Expand to see more
User-Friendly
This can hold up to 4000 lbs and it features 8-ton ram hydraulic cylinder for more stability. Great capacity isn't the only advantage of this device. It also features a compact design and uses rotating wheels for more portability. You'll find it has all the necessary features to be user-friendly and make your repair tasks a lot easier!
The only thing that will definitely bother you about it is the assembling part. The instructions are poorly written and users had problems with figuring it out on their own. So, if you decide on this product be prepared to spend quite some time on the installation!
Easy to Store
We really like the fact that this device folds down to take up less space. You'll have a free working area when you don't need it, and the unfolding process is a real breeze. This way, you can switch between positions at your preferences in a matter of seconds. It measures 31 x 29 x 50 inches when it's in a folded position, which is quite convenient. Additionally, it has a comfortable push handle that allows for simple maneuvering.
Cost and Value
We are not going to lie to you, this product is a little expensive. You'll have to add a few more bucks to get it. But don't doubt for a second that it will complement your garage
tool equipment!
Holds up to 4000 lbs
Stable and durable
User-friendly
Folds down to take less space
Simple maneuvering
Poorly written instructions
Expensive
Strongway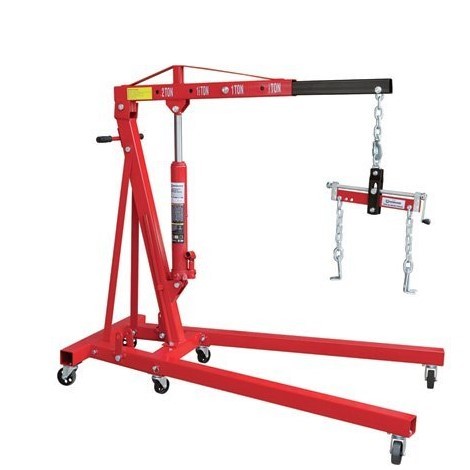 Last but not least, we have a product from Strongway that is worth your attention. It's one of the heavy-duty engine lifts that offers incredible capacity and safety at every job! Both professionals and handypersons will enjoy having this versatile tool in their equipment!
Expand to see more
Impressive Capacity
This product can hold up to 4000 lbs. We think this is quite impressive! The entire device is super stable and features 6 rotating wheels. The load leveler is also included, which is a great addition and makes it stand out from the competition.

You could only struggle with the assembling part. Many buyers complained about the provided instructions not being clear at all. We don't know what this is about, but many companies fail to provide quality manuals. They should seriously work to improve this in the future!

High-Grade Steel
This is made of high-grade steel and therefore it can withstand a lot. You can even use it for outside purposes without having to worry about its performance. The paint finish applied on the steel prevents rust and guarantees a long lifespan. This makes it super durable and suitable for working in harsh conditions. This is not all, of course. The device folds down to take less place in your garage, and thanks to the provided wheels you can move it around at your convenience!

Cost and Value
Well, you probably expected this product to be a little expensive. It's not such a big surprise considering the high-quality parts, load capacity, mobility, and other features. If you want to make it a part of your garage or workshop equipment, you'll have to add a few more bucks to get it!

4000 lbs of load capacity
Stable and safe
Portable and easy to store
Made of high-grade steel
Durable
Difficult to assemble
Expensive
Criteria Used in Evaluation of the Best Engine Hoists
How did we manage to rank differently all these high-quality products, you may ask? Truth to be told, it was a rather difficult task and we had to apply strict criteria. It wasn't a matter of quality and performance because we picked only the best on the market. It was the question of details and we made a real effort to examine all of them. Here are some of the most important things that influenced the evaluation:
Load Capacity
We can't guess what's the optimal capacity for every buyer's need, that's true. We also couldn't avoid ranking the products according to the ability to hold heavy loads. However, our main goal was to determine the balance of the load capacity with other features. The price is a good example as well as stability and durability. This made the ranking a lot easier and helped us to get accurate results.
Installation
What's there to install, you may ask? Well, if you go for a hydraulic or electric engine hoist, quite some. Surprisingly, many companies fail in providing comprehensive manuals to allow for easy installation. They also tend to send wrong assembling parts, which can make a real hassle out of the installation. People often have to wait for replacement parts or buy them separately in other stores. Nobody wants to go through that, especially not for the seemingly simple device. Not to mention that we would all like to avoid calling a professional for this one! Therefore, the ease of the installation was very important in the evaluation process!
Storage
We know that engine lifts have to be heavy to keep the balance when holding a huge thing such as a car's engine! However, they can still come with some features to make the storage easier. For example, these days many engine hoists fold down to take less space in the garage or workshop. This way, you can easily put them in a corner and have an entire working space free for use. You get to mount them back without a hassle when you need them again for car repairs. It's simple as that! We assigned some extra points to all those products that are compact and take less space.
Other Features
What we mean by this are all those things that influence the overall quality and performance of the chosen products. For example, we really like practical wheels that improve mobility or rust-resistant coatings. Not to mention remote controls with an electric engine hoist. Or quality chains with manual ones. All these things matter, and we took them into account when we evaluated 10 best engine lifts.
Cost and Value
These devices are not cheap at all, we admit it. We included only the best ones, regardless of the price. There are some expensive products but also cheap ones for meeting budget limitations. Our main goal was to determine whether a product provides enough value for the money or not. The most valuable ones are at the top of our list!
Other Factors to Consider When Buying an Engine Hoist
Before you make up your mind and buy one of these great devices, let us present you another small list. It includes some tips and recommendations to consider before the very purchase. You may find them very helpful for deciding on a particular product.
Capacity
First thing first, consider how heavy loads you'll be lifting. You don't need a heavy-duty engine hoist if you're going to use it for small tools in your garage. On the other hand, you don't want to make that mistake and get the product that can't lift your car's engine. Think carefully about the load capacity you need. You may as well look for other's buyer's tips and recommendations just to be completely sure.
Design
It's very important that you pick the proper engine hoist type. The most important things here are the size of your garage or shop. You don't want a bulky product that can't fold down if you have a small garage. That will take all of your working space! Also, think about how portable and versatile your engine hoist has to be. Do you need a lightweight version or do you need a heavy-duty one but you still want it with tools? How about rotating head? All these things are important for getting the proper tool for your needs!
Budget
Price is also a factor that influences your decision. If you're on a limited budget you'll have to make compromises. The best choice then is a manual engine hoist. It's a reliable device and it will provide excellent performance, but it's not a heavy-duty one. If you need the one that can hold a lot you'll have to wait and add a few more bucks to get it!
FAQ
Frequently Asked Questions
Q: Can I build an engine hoist on my own?
A: Well, technically yes, you can. But keep in mind that it will not be safe for use unless you construct it in a proper way. If you're not up to all that mechanic stuff, you better leave this to professionals. You don't want to cause accidents or hurt yourself!
Q: Is it safe to use it generally?
A: Yes, the ones made by professionals are completely safe for use. Of course, you'll have to make some safety steps yourself, but that's just a normal thing to do. For example, you shouldn't try to lift the load heavier than the capacity of the device. You should always wear gloves and make sure to move the device slowly when carrying the load, and so on. Make sure to carefully read the instructions provided with the product and you'll be just fine!
Q: Can I rent it?
A: Yes, auto parts stores rent engine lifts. However, you might want to consider that renting isn't always a good option. Most people rent the engine hoist and then end up not working on the engine for weeks. It turns out more expensive than purchasing one that you can use at your convenience!
Q: Which capacity do I need?
A: It depends on the thing you'll be lifting. Consider the engine size and weight as well as the weight of things you plan to lift. Also, don't get a cheap product at any cost! We know that the attractive price is tempting, but cheap ones offer less load capacity. You can end up with the device that is not powerful enough for your needs. Determine the weight of your engine, tools, and other stuff. Only then you'll be able to pick the product and maybe consider making the compromise for the price.
Q: Are they too bulky for my garage?
A: Well, you should compare the item's dimensions with the size of your garage and then determine how much space it will take. If you're worried about it taking too much of your working space, you can always go for the ones that fold down. They are large enough to provide great stability yet they fold down for simple storage. With one of these, you'll have the free working space until you need it again for engine lifting!
Sources
Subscribe to our Newsletter