10 Best Biker Jeans Reviewed for Durability & Comfort
last updated:
Jan 06, 2021
Finding the proper pair of biker jeans can be pretty complicated.  In fact, just finding out about biker jeans is needlessly tricky. The reason for that is unfortunate.  Originally, when biker jeans first appeared on the market, they had one single purpose: to provide an alternative for riding pants that were more comfortable and affordable than traditional leather pairs.  They weren't intended for mainstream popularity, nor were they designed to be fashionable. In fact, they looked kind of odd, with pleated knees and odd reinforced patches.
They seemed to be a remnant of the '80s, only useful for riders who wanted to be a bit more casual. Recently, however, denim of all types and styles have surged in popularity, and style fashion icons everywhere began to sing the praises of these skinny-legged gems. That is where the problem lies. There are now essentially two different types of biker jeans, both with similar aesthetics, yet vastly different price points.  That being said, I'm here to help you, the consumer, sift through the glut of choices and gain the knowledge required to make the right choice. As always, I've included a variety of sides of the spectrum, and maybe a few that combined elements from both worlds. For a quick example, the following are just a few choices.
Featured Recommendations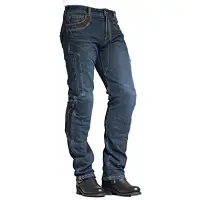 Maxler Kevlar

Our rating
attachable knee protectors
Price:

See Here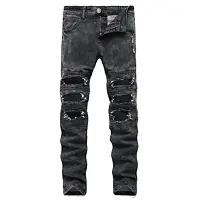 Fredd Marshall Moto

Our rating
Skinny fit
Price:

See Here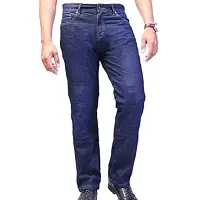 HB Bikers Dupoint

Our rating
Double stitched kevlar
Price:

See Here

So, whether you want a nice pair of biker jeans for protection, or for a new look to set yourself apart from the crowd, this buying guide should go a long way to putting you on the path to finding that perfect pair of jeans that will do everything you need.  In fact, most of the pairs featured here will accomplish both requirements with ease, so why don't we just get right into it? So come on, take a few minutes, and join me in looking at the best of what the world of biker jeans has to offer.
10 Picks for the Best Biker Jeans
1. Maxler Kevlar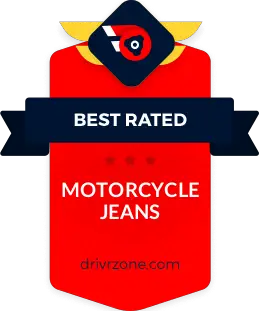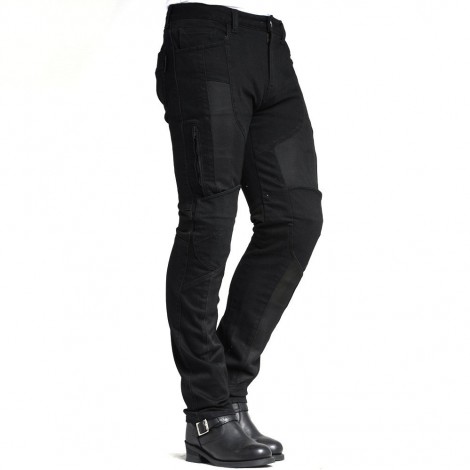 To begin this list, we're looking at a pair of biker jeans designed and made for bikers. While stylish in their own right, they have more important things to concern themselves with. These jeans are Kevlar reinforced at the hips and knees so in the unfortunate event of an accident, you have an increased chance of walking away with nothing more than a ripped pair of jeans. Overall, given the level of protection and reasonable cost, these jeans are a remarkable option when it comes to riding pants.

Expand to see more
All about protection
The armored plating is installed by means of zippered compartments in the hip and calf, and they help stabilize the padding so it doesn't get all bunched up, and is adjustable depending on your height. As an added bonus, they have mesh vents incorporated into them to help airflow to keep you cool and dry.

Stretched for your comfort
Weaving a bit of spandex in with the denim in these jeans is an effective means of providing increased comfort while still maintaining the integrity of the fabric. This allows greater range of motion, letting you get on and off your bike with ease, and won't start to feel constricting on those longer rides.

Cost and Value
If you're comparing these jeans to other, more fashionable biker jeans, then by all means these are as affordable as they come. As far as protective jeans gp, however, they fall ride in line with the majority of the pack, providing solid value and a great pair of pants.


Denim with integrated spandex gives great stretch and comfort
Zippered compartments for knee and hip protectors add stability
Compartments contain mesh vents for increased airflow
Protective plating can be removed so jeans can become  everyday wear
Maxler blends over twenty years of knowledge and experience into a solid product
Not as much Kevlar padding as there should be
The jeans have a weird aesthetic and can look odd at times
2. Fredd Marshall Moto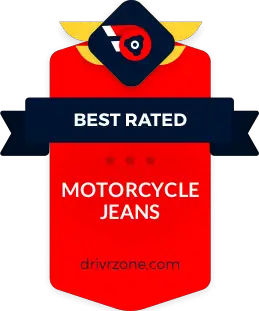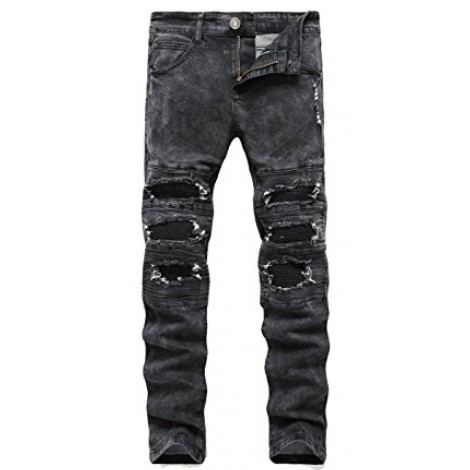 As a counterpoint to the previous pair, this is a very stylish pair of jeans that are sure to garner you plenty of compliments, but when it comes to rider safety, you had better bring a different pair of pants. These are for fashion only, and offer no protection from the hazards of the road. Also, as they are very affordable, they are meant as an everyday garment to be used while out and about, and not so much for showing off.

Expand to see more
The options are endless
With several different washes and a unique look all their own, these jeans are functional and stylish enough to stand alone as the centerpiece of your outfit, or as an accent to an overall look. Whatever you choose, these jeans let you make it happen.

Fits like a glove
Finding a pair of jeans that fits perfectly in every way, from the waist to the way they hug your legs, is usually an exercise in futility. Not in this case, however. They fit about as true to size as any jeans could, and the extra spandex helps these skinny jeans conform to your shape perfectly, leaving you feeling nothing but comfort.

Cost and Value
Honestly, these pants are so well-priced that it would be foolish for anybody to not have a pair in their wardrobe. Stretchy, comfortable, and versatile enough to pair with almost anything, the value that these jeans give off is unmatched.



Close-fitting jeans that are exceptionally comfortable
Very versatile and can be paired with an endless number of tops and shoes
Comes in a nice variety of washes to keep you looking sharp
The jeans fit surprisingly well, and match their sizing chart fairly precisely
Excellent price point gives consumers a lot of value for their money
For skinny jeans, they are noticeably heavier than comparable products
Spandex fabric clings to the body a bit too tightly
3. Bilt Iron Workers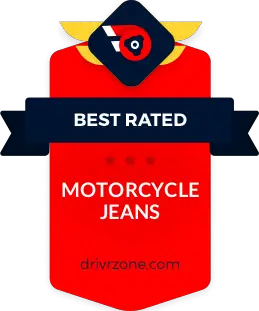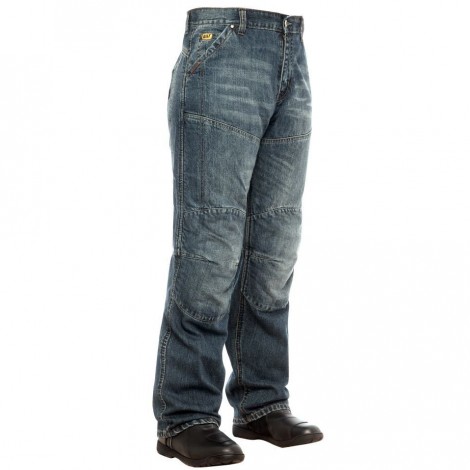 I like these jeans. So much so, that I had a hard time figuring out where to place them in the featured recommendations section. I settled for making them the Editor's Choice, because they more than deserve the accolade, but they would have been just as at home in the Best Overall and Best Value categories, because these jeans have got it all. A great look, solid, construction with Kevlar reinforcement everywhere that it matters, and the functionality to put it all together into a piece of clothing that can easily be your go-to any day of the week.

Expand to see more
Does whatever it takes
There is not a lot that these jeans won't do, apparently. They have you looking and feeling good with their design, they protect you from the road if, heaven forbid, you get into an accident, but they are also going to keep you nice and warm on a cool fall or early winter ride. They aren't a specialized pair of jeans, but rather a very well-rounded, all-purpose pair made to satisfy all of your needs.

Best of both worlds
These jeans ride the line between being a fashionable everyday pair of pants as well as protective riding gear. As such, they may not offer quite as much protection as one would like, but work admirably for daily commutes around town. Plus, they look great, so you now have all-purpose pants to use anywhere, anytime.

Cost and Value
For a pair of jeans that is meant to be used while riding, these are very reasonably priced. They will still cost more than some paris, but in turn, they provide an ideal mix of comfort, style and protection. They help protect you from impacts on the road, as well as on your wallet.



Relaxed fit isn't as form-fitting as some other pairs
Kevlar/polyester reinforced fabric at the knees, hips, and seat
Loose legs allow the jeans to fit easily over boots
Hand washed denim gives a sophisticated appearance
Thick enough to provide added warm in cooler rides
Armored knee pads tend to rest low when the rider is standing
Denim is surprisingly lightweight given its purpose
4. Qazel Vorrlon
Another fashion-forward pair of jeans is up next, and these ones stand out. They have all of the design details that make biker jeans iconic, and pair them with a wide range of colors and washes so you can put together the exact statement you are trying to make. Again, these do nothing for riders, and aren't meant for them, to be fair. Unless, of course, these riders want the perfect pair of jeans to wear out on the town, after they get done with their bikes, of course.

Expand to see more
So much color
Nine different colors give you unlimited options when it comes to putting together a look that is unique to you. They are all vibrant without being too garish. From earth tones to neutrals, you'll be set for any occasions.

It's all about the Spandex
The Spandex incorporated in to these jeans does a lot to give you a great finished product. Even if it is only 10 percent, that small amount adjusts the fit and comfort of the pants, and just adds to the attractive appeal of these jeans. WIthout it, they'd still be a good pair of jeans, but as it is, these are about as good as you can get.

Cost and Value
I am genuinely shocked at how insanely affordable these biker jeans can be. If you're in the market for looks only, you can't go wrong with any of the pairs on this list, but this one stands out thanks to the high attention to detail. Great price, great look, great value.


Nine different colors to choose form give endless style options
Ten percent spandex offers full range of motion and won't constrict
High quality stitching makes the jeans sturdy and durable
Spandex allows for a very good fit
Highly stylish design will get you compliments everywhere you go
The pockets are on the small side and won't fit much
Pants are quite a bit shorter than advertised
5. David.Ann Ripped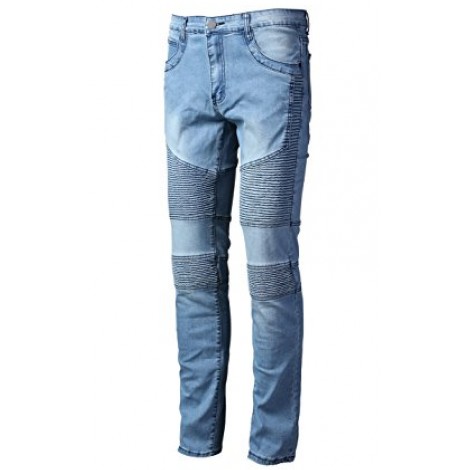 Keeping with the fashionable side of things for awhile, here we have a pair from David.Ann. This ripped at the knees rebellious look combined with the classic skinny leg biker aesthetic provides the wearer with unparalleled style and appeal. These jeans are perfect for a night at the club, and for the next day when you're moving at a slower pace, and just taking things a bit more casual.

Expand to see more
Use them all day
These are soft, comfortable jeans. The blend of materials that the manufacturers opted to go with means that your comfort is paramount, allowing you to wear them from sunrise to sunset, in any situation, if you so choose.

Versatility is key
Denim blended with polyester and Spandex help maintain great strength, while adding increased breathability and stretch. That way, you have a pair of pants that will last forever, keep you dry, and comfortable, and leave you with full movement. Having such a huge amount of versatility is a rare find nowadays.

Cost and Value
These jeans are in the running for being the most affordable priced option on this list. They are ultra stylish and modern, and at the same time more than cheap enough to warrant at least one purchase. In terms of value, it's a no-brainer when it costs this little.


Denim/polyester/spandex blend help maintain with strength, breathability and stretch.  
Very soft and comfortable for prolonged use
Lots of room in the seat to accommodate larger body styles
Conforms nicely to the body without ever being restrictive
Fits exactly as the company's sizing chart indicates
Waistband can begin to fray sooner than expected
Have a strong chemical smell that is hard to get rid of
6. Newfacelook Protective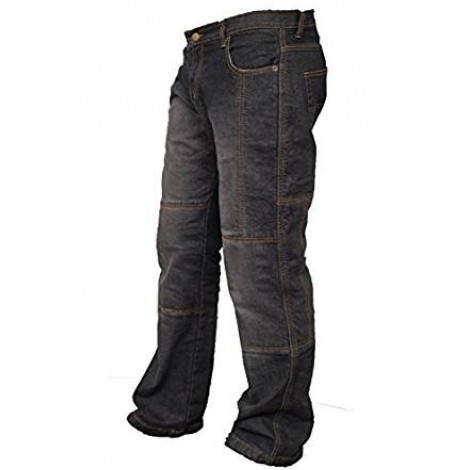 Another rugged pair of motorcycle jeans for the most serious riders. These aren't skinny jeans, instead opting for a wider leg in order to allow them to easily fit over your boots, these reinforced, armored biker jeans are made from a heavyweight denim to ensure that your protection is all that matters on the road. They worry about it so you don't have to, and you can then keep your eyes, and your mind, on the journey.

Expand to see more
Easy to clean everything
The knee and hip pads that are used for adding extra protection can be easily taken out of the handy pockets on the jeans, allowing you to wash and clean every part of the garment, and then put it all back together quickly.

Super polymers
The aramid fibers used in the lining of these pants pack a lot of protection in them from so many of the hazards that you may face. They help make the jeans rip and wear resistant, all while giving flame resistance that other pants wouldn't normally even consider. The part of that is the fact that the lining covers pretty much the whole in side of the pants, giving you that protection in more places than those same competitors.

Cost and Value
It's funny that it seems to be the serious biker jeans, those meant for riding, that have the highest price points, but at the same time, also represent the best values for the money that you'd spend. It's not a bad thing, and if they happen to have a good look about them as well, then you've got pretty much the perfect pants.


The protective lining in the jeans covers almost the entire area
Protective lining is flame resistant up to 400 degrees celsius
Abrasion and wear resistant
The knee and hip pads are very easy to remove for washing
Relaxed fit is true to size
The knee pads are not adjustable to accommodate for taller riders
Very poor quality zipper falls apart easily
7. Scorpion Exo Covert Pro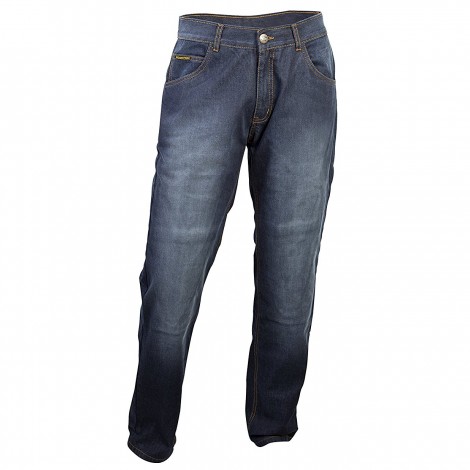 This is a bit of an odd pair of jeans, and encompasses the in between part of the price gap of the biker pants for riders and the fashion first variety. These look completely unassuming as a typical pair of everyday pants that you might find in any passerby on the street, yet they are a hiding a secret. They are fully reinforced riding pants with a Kevlar lining that are going to be as safe as they are stylish. These are classic pants with top-of-the-line safety features.

Expand to see more
Wear proof jeans
These jeans look just like a classic, typical pair of denim pants. However, since they like to be as deceptive as possible, the material used for the outer layer is a blend of denim with cordura, which is a durable synthetic fiber that increase the wear resistance so much. They aren't going to be as soft as natural cotton, but that seems to be a fair tradeoff when it comes to extra protection.

Deceptively cool
By far the best aspect of these biker jeans is that they don't look like biker jeans. Instead they just look like really nice pants, and they are without a doubt. Even when they're being use while on the road, they still are deceptively stylish and contemporary.

Cost and Value
These are right near the top of the price spectrum for this buying guide, but still aren't unreasonably priced. Plus, if you consider that they pretty much two different types of pants in a single pair, switching between style and substance effortlessly, the value then goes through the roof.


Kevlar lining gives the rider excellent rip and tear protection
Synthetic outer fibers are four times more resistant to abrasion than traditional denim
Jeans will hold up very well in an accident
Heavy duty construction will hold up well for thousands of miles on your bike
Despite how thick they are, the jeans don't tend to be too hot
Sas-Tec armor plates are required but not included
Buttons don't hold up all too well
8. Klim K Fifty 1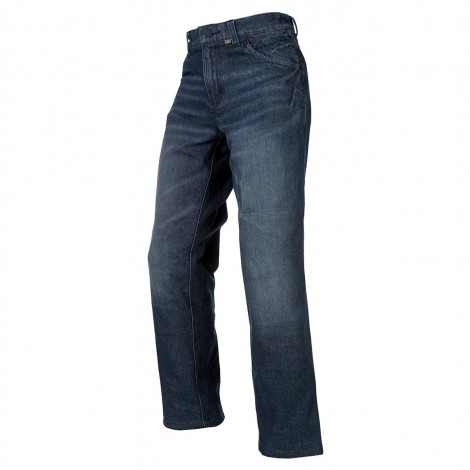 It seems to be that the more normal looking a pair of jeans is, the more that they are going to cost. Hopefully, that isn't actually true, and it's really a matter of how well-made and protective they are. These ones seem to check off all of the boxes, With a really well made, fully reinforced design that does not look at all like it could save your skin, quite literally, in an accident. Make no mistake that they will protect you, very well. They just happen to look quite good, too.

Expand to see more
Built tough
Yes, it is true that these jeans are pretty expensive, but what you get for the money more than makes up for it. Every part of them has been built to be as tough and durable as can be, meaning that you'll be protected and looking good for a very long time to come.

It's the little things
There are at least a couple of riding jeans on this list that don't look the part at all, much like this one. The difference in this case is the all the little details that went in to their look and aesthetic that sets them apart from being just like any other pair of jeans.

Cost and Value
You are going to pay for these pants, there's no doubt about it. It's just a matter of how much you'll have to pay. These are very expensive, but they are also a high-end pair that has been painstakingly crafted to increase your chances of walking away from an accident as much as possible.


Incredibly durable Cordura/denim blend resists wear with the best of them
Stone wash finish with whiskering shows high attention to detail
Integrated knee and hip armor for reliable protection
Knee pads are adjustable for different heights
Reinforced Kevlar lining protects legs
Armor plates are not removable for easier cleaning
Regardless of the features, the perception is that they are expensive
9. Juicy Trendz Denim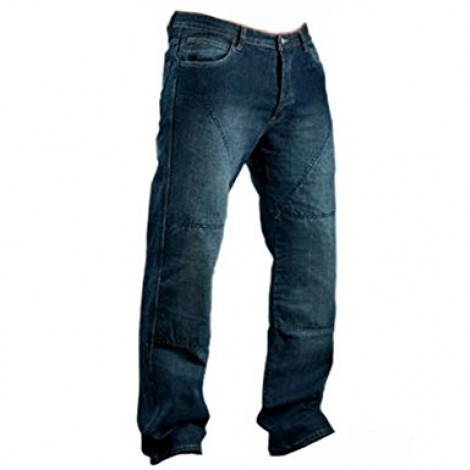 Here is something at least a little bit different, yet still along the lines of other protectively fashionable biker jeans. Just like the others, they are for riders to wear on their bikes, while looking very much like a normal pair of jeans. These however, tren a bit more toward the stylish side, and less to the protection side. They are still nice pants, and will go a decent way towards keeping you safe, but they are clearly not meant for high speed, open highway riding where the accidents can be a bit more extreme. Still, keeping that in mind, they are still a solid purchase, as long as they line up with your needs.

Expand to see more
You are well protected
These pants come with thigh protection! That seems like a minor perk, but really, this is the only paior I`ve seen that includes it. Not only that, but all of the armor plates are easy to take out and wash.

Jeans are supposed to be denim
Unlike a lot of the jeans on this list, these ones are pure, classic denim. Other manufacturers opt for strong synthetics that aren't as soft or comfortable, but Juicy trendz manages to make it work by adding a reinforced lining underneath. In an accident, that means they will rip and tear, but until then, you get all the benefits of denim.

Cost and Value
This is an attractive pair of jeans, ranking right up there at the top of the list, along with the much more expensive brands. To that end, you may think that these ones are equally pricey, but you would be mistaken. They offer a high quality, good looking pair of pants at a low price.



One hundred percent heavyweight denim is soft, strong, and durable
These jeans have thigh protection, which is hard to find
Aramid lining is resistant to a lot of potential hazards
Very easy to mistake as everyday jeans and can be worn as such
Even with the pads inserted, the jeans are still quite comfortable
The jeans tend to fit at least one size smaller than advertised
Armor plates don't fit properly into pockets
10. HB Biker Jeans
The final pair of biker jeans on this list is intended to be for everyone. By that, I mean that they are stylish, they do protect you, and they are very affordable. Each of these qualities is going to appeal to a different type of consumer, thus making them a great entry level offering. In terms of quality, the price is certainly no indicator, because these jeans, while cheaper, can easily stand with the best of them.

Expand to see more
Get noticed when it matters
These pants include what may appear to be a pretty innocuous feature. Running up the part part of the inside if the legs is a reflective stripe that will grant you extra visibility during those late night drives. As a biker, you're already vulnerable enough, so why add more risk?

Kevlar everywhere
Almost all riding jeans are going to have Kevlar for extra protection, that much is a given. What sets these ones apart from the crowd, is the amount of Kevlar. Other brands seem to make a token effort with their reinforced lining, but HB want to be different. They went above and beyond to make sure that the sensitive parts that need the protection, get more than enough, just to be extra sure.

Cost and Value
I wanted to end this list with another selection that is priced low enough to be accessible to as many people as possible. Being a motorcycle enthusiast is expensive, and looking like one is equally prohibitive. That's why these ones are here. Their value is their biggest draw, one that anyone can appreciate.


Cotton lining prevents slippage while riding
Reflective strip on back of leg adds increased visibility at night
Great value and quality for a very reasonable cost
Contains a lot of Kevlar protection in the most sensitive areas
For all intents and purposes, just a regular old pair of jeans
Fits a bit smaller than the sizing chart indicates
Not quite as visually appealing as some more expensive options
So that's it.  I hope that the selections were clear and concise enough to easily show which ones were for fashion, and which ones were meant to be used as part of your riding gear.  I'm pretty sure, however, that you were the consumer is able to take the information I've provided and continued the research in order to source out that one perfect pair of jeans that will take care of every need that you could think of.  The great thing about moto jeans, or biker gear, in general, is their ability to transcend the intended purpose and become a mainstay in everyday fashion. You don't need to own or ride a bike in order to enjoy the clothing. If you like the way it looks, go ahead and wear it.  If you are a rider, however, and want as much protection as you can get while still looking good, then this buying guide was designed with you in mind. Every pair is different though, so, using this list as a reference, go ahead and try a few pairs out and see what you find.  Just remember, though, that you will see a wide variance in prices depending on your choice, but for the most part, they should prove to be worth the time and the money.
Criteria Used in Evaluation
Of The Best Motorcycle Riding Jeans in 2020
Fit
When it comes to biker jeans, fit is a very important factor that has become quite divisive in the motorcycle community.  The reason for this is because manufacturers all seem to have a differing opinion on what each size actually is. This is especially evident when buying a pair of motorcycle riding jeans that were made in a different country.  In certain areas of the world, people are smaller on average than in other countries. In Asia, for example, people generally tend toward a smaller, slimmer build, and their size charts will reflect that, even though pants made there are usually shipped internationally.
Another concern in terms of sizing is evolution.  As time passes and humans continue to evolve and acclimate to their environments. We as a society are becoming larger. Even as recently as fifty years ago, a person of the medium build was significantly smaller than someone of a medium build today.  Unfortunately, some companies, especially those who have been in business for a long period of time, are still using sizing charts from a bygone area, and this can result in clothing being incorrectly sized.
Regardless of what the cause of the improper fit is, it is still nonetheless an annoyance at the very least, and a potential hazard in worst case scenarios.  In order for the pants to offer the maximum level of protection, it needs to fit securely at the waist, snug yet roomy in the seat, and loose enough to not be constricting to the legs.  Otherwise, in an accident, the rider runs the risk of having a part of the garment catch on the bike or another obstacle, raising the chance of even greater injury. On the flip side, clothing that is too tight could contribute to broken bones and pull or torn muscles in a crash.
When buying any protective motorcycle gear, it is imperative to make sure you do your homework as far as fit goes, especially when ordering online.  If you are unable to try the pants before buying, make sure at the very least to check for any manufacturer's recommendations concerning the fit, and then read the reviews to see what others found when wearing the pants you are interested in.
Price
I've stated time and time again in this buying guide that the price will differ wildly between the different pairs of biker jeans, depending on whether you want protection or just good looks.  To put it into perspective a little bit, by differing wildly, I meant the difference between a cup of coffee and a glass of good scotch. Unfortunately, I'm not exaggerating, and finding the perfect pair of pants may be hindered by an inability to afford them.
We'll start with the stylish, non-protecting version of the pants.  These ones look the part of the classic biker jeans, often having a very 80's aesthetic to them.  These are typically slim fitting, with numerous cosmetic touches such as pleating, whiskering, and rips at the knees and various other places.  These are the lower priced versions of biker jeans. They are almost always made from some kind of denim/Spandex blend, giving a lot of comfort, breathability, and durability while allowing the wearer to move around unrestrained.  They will not, however, offer any protection for riders whatsoever, and if worn while riding, will react to an accident exactly the same easy any regular pair of jeans will. In short, these for fashion only, and never to be considered as a piece of motorcycle gear.
The version of the biker jean that is meant to be worn while riding, is full of various means of protection and can often come with a very steep price tag.  The jeans themselves are made from much thicker denim and are often interwoven with another fiber, usually synthetic, in order to provide increased strength and added wear resistance as the first line of defense against the road.  Underneath all of that, you'll find an inner liner that is made with at least a moderate amount of Kevlar or some other similar polymer that will give direct increased protection from impact and abrasion. Usually, the protection the lining offers will be concentrated on the more injury sensitive areas of the body, such as the knees, hips, and thighs.  To top it all off, they feature armor plating at the knees and hips, which is either removable from the jeans for ease of cleaning, or integrated right into the pants between the outer shell and the inner lining. The downside to these jeans, aside from the price, is that they often are bulkier and heavier than standard jeans, and can become hot and uncomfortable after an extended period of time.  Many designers now create protective riding pants to mimic much more fashionable offerings, incorporating many details that greatly add to both the visual appeal and the price.
One thing to really consider is the level of protection that you're looking for in your next pair of biker jeans.  If you don't require any, then great. There are going to be countless pairs that will up your style game while only costing a few dollars.  Once you start adding armor though, the price will start to go up. If you want just the reinforced lining, and don't need any armor, the cost goes up all that much form an average pair of jeans, though the pairs that have more Kevlar can be quite expensive.  Now. if you're a hardcore rider who spend more time on the highway than at home, chances are that you are unwilling to compromise your safety and well-being with inadequate protection. That being said, you'll be looking for the strongest outer shell with the most abrasion resistant liner, finished with the strongest, most comprehensive armor.  You should have no difficulty finding that, it's just a matter of spending the money, and these ones can often creep into the territory of a couple of car payments.
Protection
Even though it's third in the line of criteria, protection cannot be underestimated.  It is what sets biker jeans apart from everyday pants, after all. For motorcycle jeans, there are three main levels of protection:  none at all, reinforced liner, and armor plating.
None at all, obviously, is for those people who don't intend to spend much, if any, time at all on a bike.  These are biker jeans in name only. Instead of a denim/polymer blend, the outer shell is made from denim with some added Spandex to allow for stretching.  These jeans will offer exactly zero protection, and will effectively disintegrate if it ever comes in contact with the road. One bonus to them is their low price, though they should never, under any circumstance, be used as riding pants.
Having a reinforced liner without armor is an option, and these pants will, in fact, provide a decent measure of protection for the rider.  However, these pants aren't meant to be used on the open roads or highways, as the higher speeds and increased hazards could lead to a much more servers accident and render the pants pretty much useless.  The reinforced lining is fairly abrasion resistant, but without the armor to back it up, this resistance is not likely to hold up for very long. Price wise, this fall somewhere in the middle, and if you rely on your bike for commuting in and around town, the level of protection they offer can be more than satisfactory.
Now, if we're talking about top-level protection, the kind that will give you the best chance at walking away from an accident, then you need to get yourself a pair of pants that can accommodate at least a bit of armor.  The best ones are going to have armor at the knees, hips, and thighs, and can be integrated into the pants, though having them be removable will allow the wearer to clean both them and the jeans easily without taking the risk of damaging the armor in the washing machine.  These armored pants will also have the reinforced lining, all coming together to offer maximum protection for the rider.
Overall, there are a lot of things to look for when choosing a pair of biker jeans, even more so since they've become such a desirable garment in mainstream society.  Once you've determined the level of protection, however, any other feature becomes simply a matter of opinion and preference and should take little to no difference to the performance of the jeans.  With so much to choose from. The best way to approach the task of picking a pair is to just have fun with it, and maybe try out something new.
Terminology
Body armor: The plating that is added to the motorcycle gear, either as an integrated part of the garment itself or as an optional addition, that provides the bulk of the protection for the rider from impact and wears.  Armor can be made from a variety of materials, from hardened foam to polymers, and in some high-end cases, titanium or other alloys. One aspect that all armor shares is that the material is fairly lightweight.  The armor protects the rider by absorbing the impact and then transferring the energy created away from the body.
Cordura: Cordura is a brand name for a family of synthetic fabrics that are used in a wide range of products,  mostly concerned with outdoor use. Cordura is a material prized for its high levels of durability and abrasion resistance.  It was originally created by the DuPont Company in 1929 but is currently controlled by a company named Invista. The main fiber in the making of Cordura is usually nylon, though it has been known to be blended with natural fibers, such as cotton.
Denim: A type of cotton with a twill weave that produces a diagonal ribbing, distinguishing it from typical cotton garments.  The most common type is known as indigo denim, where the warp thread, or the front of the fabric, is dyed, while the weft, or backside, is left bare. This is typically why jeans are white on the inside.  Being a natural fiber, denim is renowned for its inherent durability and breathability and was first used widely in the nineteenth century as work pants for laborers.
Kevlar: Also known as a para-aramid synthetic fiber, Kevlar is a registered trademark that was discovered in 1965 by Stephanie Kwolek while working for DuPont.  It is a very high-strength material that is often spun into fabric sheets to be used as a reinforcing material. It has a high tensile strength-to-weight ratio, making it five times stronger than steel.
Frequently Asked Questions
About Biker Jeans
Q: Why can't I just wear regular jeans?
If you're not willing to pay for a pair of specialized biker jeans, even though in many cases regular jeans cost the same, if not more, then, by all means, go ahead and use your everyday pair the next time you go for a ride.  Before you do, though, take a look online at some of the pictures that show the aftermath of that exact decision. It's estimated that denim will last approximately three seconds after it comes into contact with the pavement at high speeds.  Just imagine then, what that will do to your flesh.
Q: Why are some biker jeans so expensive?
The answer to that question is very simple.  Protection. The motorcycle jeans that are made for looks alone are going to be relatively pricey, but not any more than a normal pair of jeans.  Look for a pair that is designed to protect you as the rider, and you can expect to pay significantly more. This applies especially to the higher end versions that offer even greater protection.
Q: What makes biker jeans so special?
I can give pretty much the same answer to this question that I gave for the previous one:  protection. Biker jeans typically include a lining that is made at least partially form Kevlar or some other similar polymer that is abrasion resistant in order to save the rider from the hazards of the road.  On top of that, these jeans also have armor in the most sensitive parts of the legs, namely the knees, hips, and thighs.
Q: Will they really protect me from accidents?
Depending on their intended purpose, biker jeans intended for riders are going to offer varying levels of protection.  The better, more expensive pairs are going to protect you just a bit better. When it comes to safety, however, a little protection is always going to be better than no protection, so even the least expensive pair that offers the most basic protection is going to increase the likelihood of you walking away from a crash.
Q: Should I wear leather pants instead?
Leather has long been regarded as a superior fabric when it comes to motorcycle gear, thanks mostly to its naturally high levels of durability and wears resistance.  However, leather does have a few downsides. First, the best quality leathers that are the preferred materials for biker gear can be prohibitively expensive. Second, it's not very breathable and can cause the rider to overheat and perspire.  That's why sometimes it's a good idea to have an alternative option in the form of a nice pair of biker jeans. Denim is more breathable, cheaper, and can be interwoven with other fibers that can greatly increase strength and durability.
Sources
Subscribe to our Newsletter