10 Best Tire Inflators Reviewed & Rated for Quality in 2023
last updated:
Jul 25, 2019
Having a properly prepared emergency stockpile is one of the most important parts of owning a car. You know to keep jumper cables, a first-aid kit, a flashlight, and more in your trunk in case of disaster. One of the products many forget about that is essential is a tire inflator! If you've ever had to deal with a flat tire, you know what an inconvenience they can be. Getting caught off guard can mean expensive repairs, or waiting around for somebody to show up. Nobody wants to rely on somebody else in what can be a dangerous situation. Being stranded with a flat is bad enough, but being stuck on the highway in the dark is even worse.
Featured Recommendations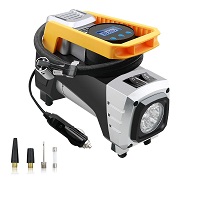 Maison-Market Portable

Our rating
Hands-Free Operation
Price:

See Here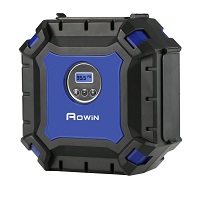 Aowin Portable Pump

Our rating
Aesthetically Pleasing Design
Price:

See Here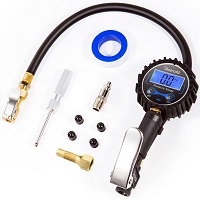 AstroAI Digital

Our rating
Battery Saving
Price:

See Here

No matter what situation you find yourself in there is a way to avoid the hassle. Having a car tire inflator, also known as an air compressor, can save you some serious trouble in the long run. They're relatively inexpensive, especially in comparison to tow or a service call. They can also have you back on the road in very little time! We're talking as quickly as ten minutes, not including set up time. There are several different styles, and models, on the market for your buying convenience. We've found the top ten products on the market to save you some time in your search for the perfect option for your tire inflation needs!
10 Best Tire Inflators
1. EPAuto Compressor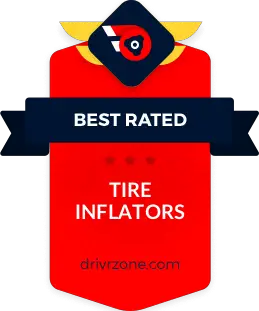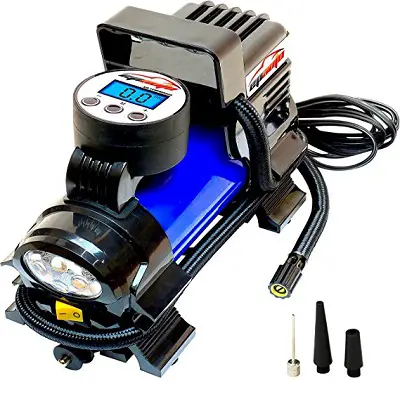 This is a fantastic option for anybody who needs a solid, well-built air compressor that will go the extra mile. You'll love the obvious care that this manufacturer put into making this machine, and you'll love the power it brings to the table even more! With multiple adapter tips you will never be caught off guard again! It also features a back-lit screen, an easy-to-read display, and much more. No matter what the job, or where, this air compressor has your back.
Expand to see more
Prevents Over Inflation
Safety is no joke when you're working with anything automotive. Whenever you can decrease your risk factor you should. This brand shines in this respect with their portable air compressor pump. It automatically prevents over-inflation which keeps the tire at optimal pressure levels.

Easy To Read
This model provides an easy to read display. It comes with four display units, which include: PSI, KPA, BAR, and KG/CM. No matter which unit you're comfortable with, or need to use, you'll most likely find it in that line-up!

Cost and Value
This brand provides a convenient, easy-to-use model that provides both functionality and safety. They pack in quite a few features while keeping their product sleek, and simple. The real value is in the over inflation protection, the ability to plug into your cigarette lighter, and the easy-read display. Unfortunately, this is a slightly bulkier model that doesn't store as nicely as others. It also has been reported that some customers received faulty models. Most of these customers were happy after receiving a replacement, however, free of charge.

AC/DC compatible model
Offers multiple uses
Includes multiple adapters
Has overheat protection
Built in LED flashlight
LED flashlight is awkwardly placed
Location of on/off switch is not ideal
2. AstroAI Digital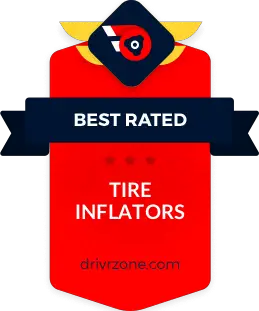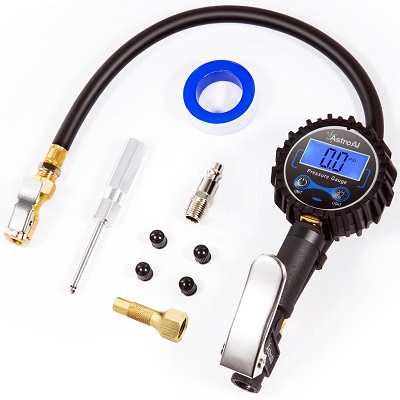 This is easily one of the most compact models offered. It's small size makes it a superior choice for keeping in your trunk with the rest of your emergency gear. Larger models might keep you from effectively using your trunk, so the compact nature of this product is desirable! AstroAI is a tried and trusted brand which has been featured multiple times. There's a reason for that! They use exceptional craftsmanship that puts them a class above the rest.
Expand to see more
Exceptionally Well Made
You'll find that this brand made sure not to cut corners when creating this design. This product is made with high-quality stainless steel. This makes it strong, and incredibly dependable. The other components are made of brass, which provides lasting performance you can count on.

3 Year Warranty
Unhappy with your purchase? Worried about finding a flaw down the road? You can rest assured that no matter what the future brings this company is here to help. They offer a 3 year warranty on this tire inflator which is incredibly generous!

Cost and Value
This brand offers a heck of a deal with their digital tire inflator. The stainless steel body and brass components create a durable, reliable piece of equipment you can count on. Even beyond this they offer a 3 year warranty just in case anything happens. Anytime you have an extended warranty you can pretty much guarantee the product is going to be good. After all, they couldn't offer such a long range of protection if they weren't totally confident in their design!

Battery saving feature
Professionally calibrated for accuracy
Compact size for easy storage
Has an LED backlit screen
Comes with all necessary attachments
Reportedly fills slower than other models
Does not have a mechanical on/off button
3. Kensun Quick Inflation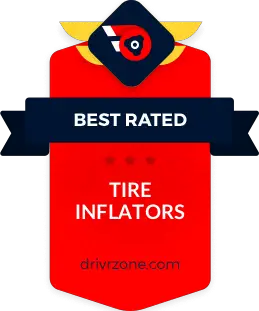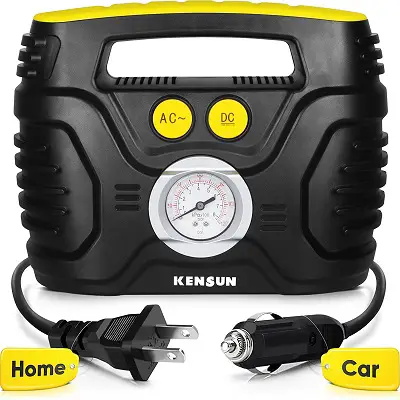 If you're looking for quick inflation on the go, look no further than the Kensun Swift Performance model. Kensun has engineered a product that can be used across the board for various purposes. It inflates mattresses, beach balls, boat tires, and more! Whether you're at the kiddo's soccer game, or need to get ready for guests, you can rely on this brand to save the day. This company is a tried and true favorite, with excellent customer service and well-made products to boot. You never go wrong when you pick Kensun..
Expand to see more
AC/DC Compatibility
Regardless of whether you're home or in the car there's an option for charging. This tire inflator is particularly useful because it has an AD/DC adapter. This means that it can plug into your cigarette lighter! This is particularly useful for those times when you aren't near an outlet.

3 Attachment Nozzles
Included with this product are multiple attachment nozzles. No more buying extra items in order to get full use of your inflator!

Cost and Value
The real value behind Kensun's design is that you can get so much out of it. Even though you're looking for a tire inflator, it's nice to know that you can kill multiple birds with one stone. Of course, it's also proven itself to be a powerful machine in a little package. You'll be getting a lot of bang for your buck, and total assurance that you will have what you need in case of low tires. On the flipside this product doesn't work on very large tires, such as ones on trucks. If you have a sedan, however, it's a great option!

Wide variety of uses
AC/DC adaptability
Extremely accurate measurements
Easily stored wherever you need it
Will not work on large trucks
Inflator tube is rather short
4. Oasser Portable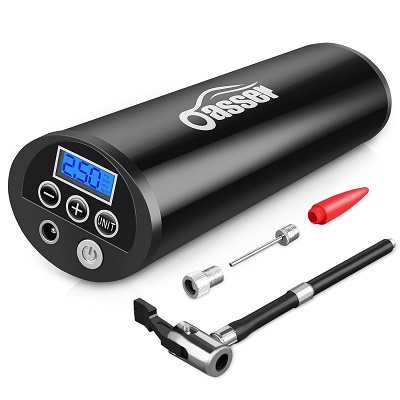 Oasser provides a sleek, modern take on air compressors with this portable model. It's an unusual shape for a tire inflator, but that's part of the charm. Really, this product looks more like a bluetooth speaker. This is nice for anybody who doesn't want a bulky, ugly model hanging around. They also managed to pack in some great features alongside their unique design!
Expand to see more
Easy Interface
The brand decided to give this tire inflator large, easy to read buttons that are simple and right to the point. This design allows even the most inexperienced users to have a better experience. The display features a backlit screen with clear numbers for easy reading. The power button is stationed conveniently, as well.

Fast Charging
No more sitting around waiting for a slow charge. This air compressor will be ready in a snap! Easily plug it in to your cigarette lighter while you drive around, and then store it away once it's fully loaded. This durable tire inflator will charge in a relatively speedy 1.5 hours. That's a great window of time to get your errands done while you get it ready for action!

Cost and Value
You aren't just paying for an air compressor when you choose this brand. You're paying for quality craftsmanship, and a durable product that lasts. Oasser also gives customers a unique experience with their incredible customer service. Their top priority as a company is to make sure the people who buy their products are happy. To make sure this happens they include a one-year warranty and a quick turnaround for questions.

Made with stainless steel
One-year warranty included in price
Built-in LED flashlight
Easily understandable interface
Fills to target pressure and automatically stops
Hose gets hot after working
Recommended to run for no more than eight minutes
5. Jaco SmartPro Digital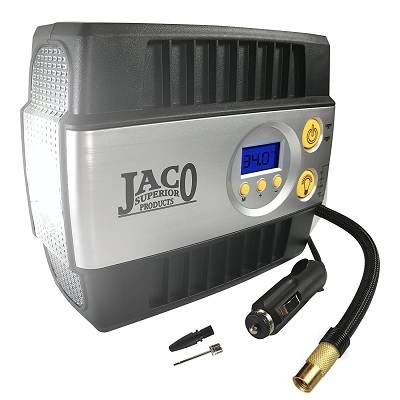 Introducing a hardy little tire inflator with a lot to offer: the Jaco SmartPro. Smart pressure technology is combined with an array of safety features making it both a smart and safe choice for consumers. The twist-connect nozzle fits perfectly into your tire valves, creating a tight seal for an easy, hands-free experience. This company has a great satisfaction rating among customers, and goes the extra mile in ensuring your purchase is up to standard. All around, it's a great buying experience, and an even better experience while being used!
Expand to see more
Twist-Connect Nozzle
This company offers a unique take on the connection nozzle. They included a twist-connect feature in order to ensure a secure seal to tire valves. This means that during inflation you'll have a safe, hands-free experience without having to worry about the nozzle coming loose. Leaks are a worry of the past!

Multiple Light Settings
Many models of tire inflators come with built-in flashlights, some better than others. This model not only includes a flashlight, but it also packs in two other useful settings. Flashing red is particularly useful, especially if you're pulled over when it's dark. This creates a useful beacon to other drivers for added safety. It also includes an "SOS" setting, which is handy in case of an accident.

Cost and Value
Rest easy knowing that you're in good hands with the Jaco SmartPro digital tire inflator. The multiple light settings give you peace of mind in any emergency. Whether you need to alert drivers in the dark, or flag somebody down for assistance, you'll never have to worry. Jaco also provides a secure connection to the tire valve, a precise digital air gauge, and impressively visible buttons. The backlit LCD screen leaves nothing out so you can see exactly what you're doing in almost any lighting. This makes this inflator not only a great option, but a cost savvy one, as well.

The assurance of emergency lights
Excellent customers service
Goes up to 100 psi
Automatically shuts off at correct pressure
Quiet while being used
Measurements are not always accurate
Fuses may be prone to blowing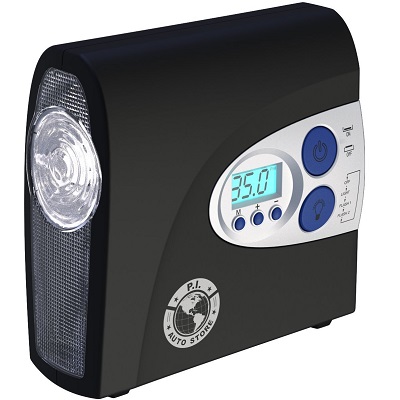 This is another compact model that is specifically designed to be kept in your car. P.I. created this model with their customers in mind! They decided to include a carrying case with easy storage options. This carrying case makes it possible to store the Auto-Store Premium almost anywhere in your car. Although, it is recommended that you keep it in the trunk. No more disorganized mess! That's something we can all get behind. This makes this inflator especially handy in an emergency. Just pop your trunk and- presto! It's organized, and ready to go when you need it.
Expand to see more
Carrying Case
This brand generously includes a carrying case to keep your tire inflator in top condition. The carrying case also makes it easy to travel with. No matter where you need the this inflator, it can be there. Store it in your trunk without it being an eyesore, or sliding all over the place. It'll stay organized, secure, and out of the way until you need it.

Exclusive Guide Included
A guide to tire care is included in this package. This is a digital copy that you can store on your phone and take anywhere. Knowing how to take care of your tires is just as important as keeping them inflated, after all, and arming yourself with more knowledge makes all the difference! Learn how to keep your tires in tip-top shape for free!

Cost and Value
This is a robust machine that works through anything you throw at it. Sometimes a smaller design means sacrificing some capabilities. This is not so with P.I.'s model. This is also a design that is compatible with either AC or DC power supply. It includes a converter which plugs into your cigarette lighter for easy usage. P.I. also includes four extra dust caps, a Schrader to Presta valve adapter, and much more.

Includes carrying case
Multiple units of pressure included
Offers plenty of power
Screw-On air hose
Comes with a 12 volt power cord
Not for use on large vehicles
Long term durability is questionable
7. VIAIR 300P Portable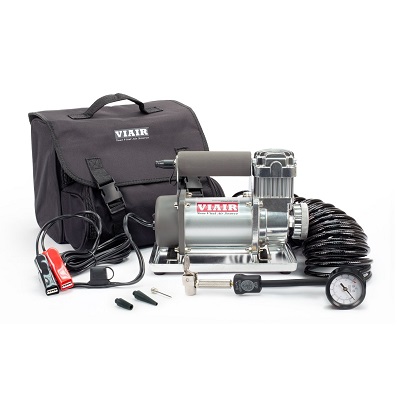 Here is a trusted brand that many turn to for their automotive needs. Most of their products earn a high satisfaction rating, which in turn makes many people repeat customers. Their tire inflators are no different in this regard! This is the first of two included on the list, and is the heavy-duty version. This portable air compressor clips directly to the battery of your car which gives it a seriously huge boost of power. Even so, it is surprisingly quiet. These products work like a charm, and will never let you down.
Expand to see more
The Heavy-Duty Option
Big jobs require big sources of power. The manufacturer offers a powerful system with this model which operates off of your car battery. This allows the air compressor to pull significant volumes of power which in turn lets it tackle almost any job. In fact, you can use this on pretty much any car! This includes full-sized vans, which most tire inflators can't handle.

Surprisingly Quiet
Nobody wants to hear a loud, obnoxious machine grinding away during usage. We all prefer the soothing sound of silence, or as close to silent as we can get! Even though this portable compressor puts out a lot of power it doesn't put out a lot of sound. It might as well be music to your ears!

Cost and Value
It is absolutely true that this brands' products can run a higher price tag than other brands. You absolutely get what you pay for with their products, however. Between all the extras, which includes a premium travel bag, you'll find that this model basically pays for itself. Even with the higher price tag, you can feel secure in knowing that you've still made a smart, rational decision. Sometimes you have to bite the bullet and go with the expensive option to make sure you can get the job done!

Works on almost any car
Surprisingly quiet while in use
Premium travel bag included
Inflates tires quickly
8. Aowin Portable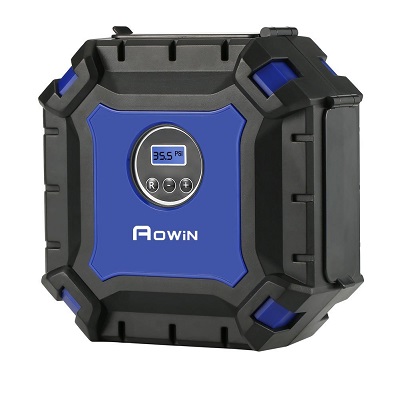 Treat yourself to a perfect mix of usability and efficiency in a small, attractive package. You'll feel like you're spoiling yourself whenever you have to use this portable tire inflation option. Yes, it's a drag having to get out of your car to fix a tire, but at least you'll look good doing it. Everybody likes to own modern, minimalistic products, and that's exactly what you're getting with Aowin. Between this fantastic design, and the added features, there's no better option.
Expand to see more
Modern Design
Most tire inflators can feel outdated in their design. They look like they belong in a mechanic's shop. This isn't entirely bad. After all, they do belong in a mechanic's shop. The average consumer doesn't need such an aggressive, unattractive design. Aowin decided to go a different route. They crafted their portable air compressor to look just as good as it works!

Hidden Storage Option
Not only is their design attractive, but it's also functional. Both the power cable and the inflation tube store away easily into a little cubby built into the product. This keeps the cords organized, out of the way, and ready when you need them. Not many air compressors come with this handy option, so it's a good choice for those who want to keep things tidy.

Cost and Value
Even with the attractive design, and high quality craftsmanship, Aowin manages to offer this tire inflator at a great bargain. The easy cord storage lets you stay mess-free, and ready to go when you need to. The manufacturer also included an auto shut-off in their design which means you don't have to worry about bursting tires. That's a pretty great thing to not have to worry about! You can easily reach any job since it includes a lengthy power cord and inflation nozzle. A great, little inflator for a helluva deal!

Attractive design
Auto Shut-Off
Easy to use
Emergency lights included
Fully inflates a tire in 2 to 3 minutes
9. Maison-Market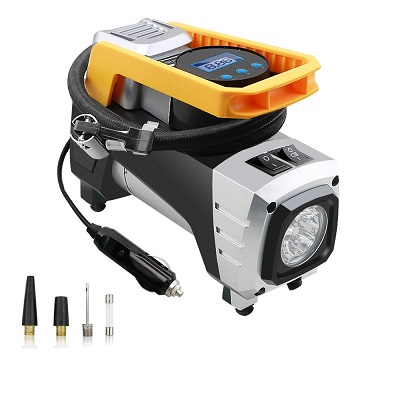 This is another midline option for consumers who want a list of features without the hefty price tag. This option offers four extra pump nozzles for free in this package. Those nozzles allow you to use this pump in multiple situations, for multiple uses. It's always nice to have the ability to use a product in different areas! They also included a bright emergency light to ensure safety even in the darkest stretches of road. Easy, fast charging rounds this list off on a very positive note.
Expand to see more
Ultra-Powerful Flashlight
While most of these products come with a flashlight few come with such a powerful light. You'll have no problem getting your tires filled up and ready to go. This tire inflator gives you total visibility at your fingertips. Make sure that other drivers can see you, and you can see what you're doing, for both safety and efficiency!

Fast Inflation
This manufacturer kept the time-constraints of their consumers in mind with this portable design. Why wait around when you can ensure quick inflation? This is the option to go with if you need to get a problem fixed, and fast. Time is money, after all, so don't waste yours with a machine that can't keep up.

Cost and Value
Worrying about a hefty price tag? You don't have to anymore. If you like what you see then know that you can get this air compressor at a great price! Between all the features, and extra nozzles, you'll find both value and versatility. The safety features you wanted are in this relatively small package. Feel secure with the auto shut-off capability and a bright emergency light to increase your visibility while pulled over.

Low noise levels
Simple to use
Creative design
Hands-off operation
Cost-effective option
Inflation tip is short
Should not be used with trucks
10. Viair 88P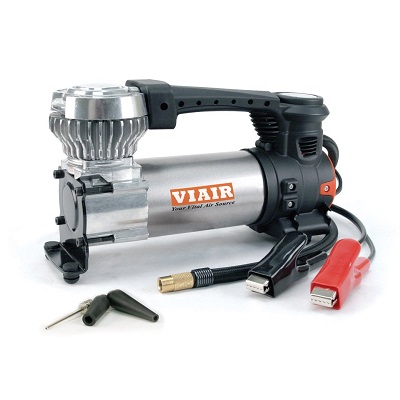 Obviously this is a brand that is both trusted and popular. We're including a second Viair product on our list to give you two very different takes on the same product. This brand has an impressive list of features, and offers several types of tire inflators. This is one of their best models, and absolutely one that should be considered on your list. Looking for a quick fix that fills even large tires? Then you're looking for the this particular portable air compressor.
Expand to see more
Alternative Power Source
This portable air compressor provides quick inflation on the go. Instead of plugging into an outlet, or your car's cigarette lighter, this product is powered by your car's battery. This means that you aren't out of luck without an outlet, and it packs in more power than a cigarette lighter can provide.

Extended Reach
Struggling with short cords is the last thing you want to deal with in an emergency. Having a flat tire is bad enough without that added stress. Viair includes impressively long cords, including a 10ft power cord. Now that's some serious length!

Cost and Value
While this compressor is on the expensive end it does come with some pretty neat features. On one hand connecting directly to the car battery provides extra power that gets the job done quickly. On the other, it definitely takes some setting up that other models don't. The trade off, in the end, is up to you! If you're looking for a powerful tire inflator with a powerful punch this might be the model you want.

Offers a better power source
Reaches up to 20 feet
Can full up to a 33" tire
Only 5.5 minutes of cool down time
Doesn't come with a kit bag
Engine must be running to use it
If you didn't know about these little miracle machines, now is the time to learn more. There's no time like the present, especially for saving time in your future! Air compressors can be used for a variety of different projects. The most important use, of course, is saving you in your time of need. They're safe, effective, and inexpensive options for the savvy car owner. There are some purchases you know you'll never regret. The car tire inflator is one of those. Whether you help somebody else in an emergency or solve a problem of your own, you'll find these devices come in handy often. More often than you'd think! Don't end up like one of the many people who are out of luck when they end up with a flat on the road. Stay prepared in the face of what could otherwise be a disaster. Invest in your safety. You'll be glad you did.
Criteria Used In Evaluation
Of The Best Tire Inflators in 2018
Safety Features
The number one piece of criteria to keep in mind when looking into air compressors is safety. Tire inflation devices can be an absolute lifesaver… in some cases literally. There are multiple ways in which a flat tire can turn a quiet drive into a risky situation. Depending on where you are, and what the visibility is like, it can be a nerve-wracking experience. Nobody wants to be stranded on the highway at night, for example, where cars are flying by and can hardly see you in the darkness. There are quite a few ways in which companies incorporate safety features into their air compressors, however! These companies recognize the risk that a flat tire can pose, and have tried to come up with ways to lower it.
One of how they do this is adding a flashlight to most models. This is not the case for all tire inflator models, however. It's important to look for that feature specifically. The more settings you can find under the information for the flashlight, the better. Some of them come with a flashing mode, which can alert other drivers to your presence. In the "regular" mode, the light can be used to see what you're doing as you re-inflate your flat tire. Regardless of what you're using it for, it can be agreed that adding a bright light isn't a bad idea in the least.

Another safety feature we look for is an automatic shut-off. This means that once the tire inflator is done filling the tire to the preset pressure, it automatically shuts itself off. This keeps the tire from overfilling and possibly blowing out. We also like to see overheating protection, which keeps the air compressor from getting too hot while it's being used, or charged. These are all fantastic options that lend extra safety to anybody who uses them. We highly suggest looking for an air compressor that has most of these features, if not all of them if you can find one with safety features not mentioned here then even better! The more, the better.
Portability
You're going to be traveling with your car tire inflator. The reason is right in the name of the product itself. You bought it to fill your tires when they're low, or when you get a flat. So, naturally, it's going to be with you at all times while you're driving. Or, at least, it should be. We tried to find units that were relatively compact and had a lightweight design. Our search was mostly fruitful, and we found quite a few that were perfectly portable. The models that were not as portable happened to be larger units for filling larger tires. In that case, mobility becomes less of a concern, and more of a feature you have to trade-off.

Small air compressors can be stored away in your trunk without a whole lot of thought. We suggest tucking them into the same bin where you keep your emergency supplies. If you don't have a bin with emergency supplies in it, get one. After you get one go ahead and put your tire inflator in it. It's important always to be prepared! Some air compressors even come with a carrying case, which makes them vastly easier to keep organized. While a carrying case is nice, it isn't truly necessary, so we wouldn't use that as our rule of thumb when picking out a tire inflator. You can always put it in a storage bag yourself
Dual Charging Capabilities
Many models can charge in multiple different ways. This can be especially useful when you're on the go all the time and haven't charged your tire inflator in a while. Having an AC/DC charging capability, for example, means that you can easily use your cigarette lighter to charge the air compressor. This is only the case for some inflators, however, since some of them are simply too powerful for a cigarette lighter to handle. The last thing you want is a blown a fuse! These models are also able to plug into the wall. This is the suggested charging method and the one we generally recommend.
There are a few models that are only able to be used by being attached to the battery of the car. We included these because sometimes they're the only style of air compressor that can handle larger jobs. This means trucks, SUVs, minivans, and other large vehicles. Smaller types of tire inflator simply don't have the power to back themselves up. It's a top priority to make sure that your tire inflator will work when you need it to. There's no use in taking a chance, honestly. It's better to sacrifice the inability to have a unit that's already charged and ready to go if it means you can use it. After all, a charged air compressor doesn't do you any good if it won't fill your vehicle's tires. In the case of large vehicles, dual-charging capabilities become pretty obsolete. If you have a sedan or another compact car, then go ahead and go crazy with extra charging options.
Usability
Simplicity can be a beautiful thing. This is especially true when it comes to working with automotive machines. You want to look at your air compressor and know, right away, which button does what. Having a simple, basic design can go a long way in helping you get back on the road that much quicker. That's isn't all there is to usability, however! We also take into account whether or not the product has a backlit screen, for example. This allows you to see what you're doing even when it's dark out. It also makes the numbers stand out and easier to read in general.
We also looked into how well the air compressor worked with the tires themselves. Some tire inflator products seemed to have nozzles that didn't create quite the air-tight seal we want to see. Others had a short tip that made it difficult for some customers to attach it on their tire's air valve. These are all seemingly small details, but once they're put together, they paint a larger picture. Being stranded is stressful enough. You don't need a poorly built machine that barely works, making it worse for you.
Extra Attachments
We're huge fans of getting as much bang for our buck as we can. We're pretty sure you are, too. There's no harm in being frugal, and making sure you get the best deal. As the old saying goes, "'A dollar saved is a dollar earned." So, how does this relate to a tire inflator and the criteria used to determine our list? Easy! It turns out that air compressors can be used for a variety of different tasks. This means that they're useful for far more than just fixing flats. Why buy such a useful tool and only use it for one of its capabilities? C'mon, be more imaginative than that!

Many of these air compressors come fully loaded with extra attachments. We're a big fan of these because they open up so many doors for the customer (you!). Whether you're at soccer practice with the kiddos or playing some Volleyball at the beach, you can easily save the day. Bike tire losing air? No problem. Whip out your air compressor, and fix it in a flash. Are you filling floaties? Stop using your lungs and losing your breath! Just use your air compressor, and enjoy the many uses you'll find for it.
Frequently Asked Questions
About The Tire Inflator
Q: What's the difference between AC and DC charging?
This is a great question and one that comes up often. You'll notice that most tire inflator brands will say they have "AC/DC" charging. That's great and all, but what does it mean, and how does it apply to you? The answer can get super technical, but we're going to keep it on the simple side. After all, for this purpose, we don't need to get into mathematics!
AC stands for alternating currents. It means that visually electricity travels like a wave. AC changes over time in an oscillating repetition. Up is a positive flow, and down represents the negative. DC, on the other hand, stands for direct current. It looks like a flat line and sends electricity right to where it needs to go.

AC provides more efficient energy than DC does, and at a higher level. This is why the cigarette lighter in your car runs off of direct current, but your home is operated off of alternating currents. Tire inflator brands that can do either are handy since you can charge them through your cigarette lighter if you need to. However, you can get a quicker charge from your home's outlets if you're able to charge ahead of time.
Q: What's the difference between a "tire inflator" and an "air compressor"?
Is this a trick question? I kid, I kid! For those of you who aren't automotive inclined, it can be confusing to see two seemingly different terms used in tandem. There is no difference between them. A car tire inflator is just another name for an air compressor! An air compressor is a slightly more broad term, however. As in: not all air compressors are tire inflators, but all tire inflators are air compressors.

But how can this be? Easy! There are air compressors out there that are used solely for smaller tasks than filling up a car's tire. Think filling soccer balls, swimming floaties, balloons, and more. That's pretty handy, though, because it means that you can use your car tire inflator for so much more! It's always nice to have a tool on hand that can be put to work in multiple ways
Q: How do I properly use an air compressor?
Although there is a general "how-to," we recommend always referencing the directions. Each tire inflator will come with its own set of rules, as well as a list of things to watch out for. They operate under different conditions, and in different ways, in accordance with their manufacturer. The directions they come with will tell you exactly what you need to know, and how to operate your air compressor. If you have any questions, you can always contact the seller! All of the products we've picked for this list have extremely high customer satisfaction ratings. These companies know how to take care of their customers, which is always a huge plus!
Q: If I get a flat while driving, what should I do?
This is one of those tactics that should be better explained to anybody who gets their license. Getting a flat while you're driving can be a terrifying experience, especially if you aren't prepared. The first step is to decelerate slowly. Do NOT slam on the brakes! This can cause your car to spin or slide out of control. You should also put on your hazard lights to alert the other drivers around you that something is wrong.

Once you've slowly decelerated, your next step is to pull off into the next safe area. If you're on the highway, pull over to the right if you can, giving yourself plenty of room on the shoulder. When you're not on the highway just pull over into the next parking lot you can, or even somebody's driveway if there isn't a safe parking lot nearby. The shoulder of the road works in a pinch but can be hazardous in some conditions. From there you can take out your tire inflator and get to work! You'll be back on the road in no time.
Q: Will a tire inflator completely fix my flat?
This is entirely dependent on the reason for the flat. As we drive our tires lose pressure, which is why we have to inflate them now and again. However, most flats happen not because of this general pressure loss but because of a larger problem. If you leak your tire, you're going to have to get it fixed. Sometimes a quick fix kit from your local hardware store will do the trick, but other times you may have to replace the whole tire.

We always recommend talking to your mechanic if you get a flat and seeing what they suggest. The tire inflator is a handy tool to get you going when you need it, but it isn't a miracle cure. There may be a larger problem afoot, and if that's the case you'll want to get it fixed before it becomes a bigger problem!
Q: How powerful of an air compressor do I need?
The amount of power necessary to fill your tires depends on the type of car we're talking about. Compact cars, smaller sedans, and other similar makes will be fine with a less powerful air compressor model. However, if you have a large vehicle, you're going to need more power. The AC/DC convertible models are great for the first style of car. The larger vehicles will most likely require a model that attaches straight to your car's battery. This is because they need the extra power that the car battery can provide since they're filling much larger wheels. A more demanding job always means there's more of a demand for power! You can check the details on the product's description to figure out whether or not it can measure up. We also recommend always reading the reviews on a product to ensure that it really can do the job you need it for. Reviews are great for figuring out how a product is during actual use, and whether the manufacturer might have been stretching the truth a little.
Q: What does PSI stand for?
PSI stands for "Pressure per Square Inch." This is a unit of measurement popular for measuring air, gases, or liquids. In this case, it is, of course, measuring the air pressure in your tire. It might not seem like a big deal, but it's important to understand the basics behind these technical terms. Because of this, we get a lot of questions on units! There's no shame in admitting that you have no idea what those little numbers mean. It's better to learn so you can better understand the product you're buying.

It means that you measure the pressure in the tire (which acts as a vacuum), relative to the pressure of the outside world. You want your tires to measure to a specific number, since being above that number can cause them to blow, and being below it will give you what is known as a flat. This is why that measurement is different between most cars. It's also important to remember that air contracts and expands due to exposure to hot or cold conditions, respectively. This means that in the winter you may have to pump your tires up to a little more if it gets cold where you live.

There are two camps on this topic. A little research on your part might be required to figure out where you stand on the topic. Some people like to pump their tires up to a little more in the winter, and others swear against it. It's just another tidbit to keep in mind when you're buying a new tire inflator!
Decision Time
If you have read through the provided portable tire inflator reviews, you should have a better understanding of what you need to make a more informed purchase. It's important to consider all of your needs ahead of time to truly pick the best tire inflator.
Do you prefer a higher PSI rating? Does it matter if the power comes from the battery versus the cigarette lighter? You may need a model that offers better nighttime visibility with an LED light or one with adapters. You may want one that is small and light and can be stored in small places in your vehicle.
With the best portable tire inflator, you should be able to avoid the trouble of having to change tires in the right circumstances. Even if you need a replacement, an inflator will help you get home safely and quickly.
Sources
Subscribe to our Newsletter