10 Best Kids Motorcycle Helmets for All Youth in 2023
last updated:
Nov 07, 2019
Why are you here? It's likely because precious cargo must have precious safety gear. Whether your child is a budding BMX adrenaline junkie or hitching a ride on the back, it's a no brainer that you'll want to research the best-of-the-best when it comes to helmet safety and your options for the best protection.
It is an absolute must that a child wears a safety helmet during motorbike rides of any sort. If your state does not enforce laws against riding without a kids motorcycle helmet, it should be without a doubt that you enforce the importance of wearing one regardless. Never let your child ride without protective gear on their noggin. Kids motorcycle helmets are designed to take the brunt of a collision, and a child's brain will indefinitely not survive the trauma as the result of a motorcycle crash.
Featured Recommendations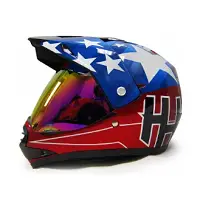 Hard Head

Our rating
Heavily cushioned
Price:

See Here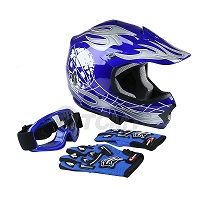 TCMT

Our rating
UV protective finish
Price:

See Here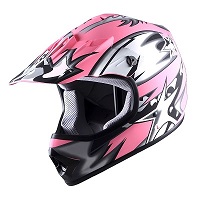 WOW

Our rating
Thermoplastic alloy shell
Price:

See Here

When you begin your search for superior protection, top of your list should be safety and comfort. Kids can be fickle with wearing any type of protective gear so comfort will be a priority that includes finding a kids motorcycle helmets that not only fit comfortable but one that also absorbs sweat keeps heat out and has substantial ventilation. Below you will find which kids motorcycle helmet fit your budget but allowing you all the qualities you need. All kids motorcycle helmets are DOT certified.
10 Best Kids Motorcycle Helmets
1. Hard Head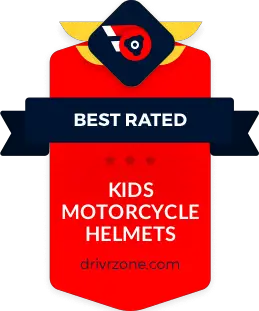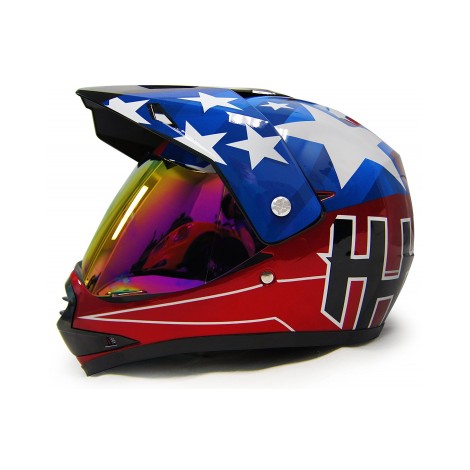 Remember the '80s? Well, this helmet looks like it just got back from it in the most refreshing way. Major retro rider look, yet super cool and hip. But don't let looks fool you, this stunner is heavily cushioned, yet is less than three pounds - extremely convenient and safe for little riders.
Expand to see more
Interior Design
This helmet boasts a brand new interior design providing for a very current, up to date, comfortable fit. Motocross design with high quality materials. Padding is thick and durable but soft to wear.

Great Competitor
You will find other helmets like this one that compare greatly in design and safety but the price on this one can't be beat. Take the time yourself to do a side by side comparison with other helmets and you will see this retro helmet is a great competitor.

Cost and Value
Because this is a full face helmet providing you with all around coverage, the price you pay makes this a steal. Lots of protection. Also has a sun visor. Key elements in safety for the kids to ride confidently and parents don't have to break the bank.


Precise sizing
Affordable price point
Fun colors
Washable liner
Carrying bag included
2. TCMT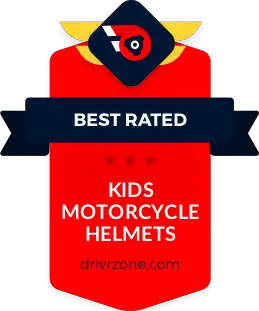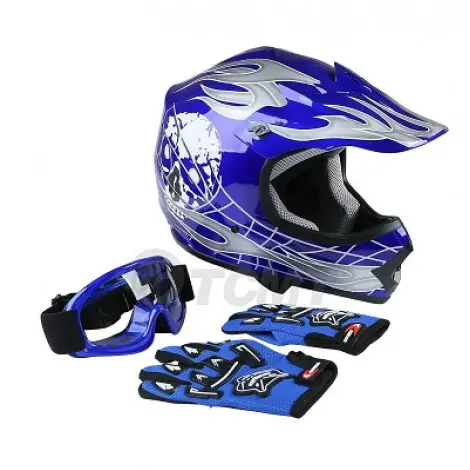 With its cool exterior graphics and and winged tip detailing, this is a kid favorite. This helmet comes in a variety of designs, which makes wearing a helmet a cool thing. Parents rejoice. Helmet has a flip-up modular design for a modern affect. Lightweight and non-bulky for easy transporting when not in use and superior comfort when in use.
Expand to see more
Material
This helmet has exceptionally thick padding. This is key for protecting the head. You can feel and squeeze the thickness between your fingers and instantly feel the durability. The visor is oval shaped, it has an anti-fog/anti-scratch coat which provides for a complete view of surrounding.

Exterior/Design
UV protection, sleek/modern design, graphics and lightweight. These are all the features you get from this helmet at first glance. The design on this piece is definitely one of a show-stopper.

Cost and Value
For the cost, you get a lot with this purchase. "You get what you pay for" does not apply here because this is a much affordable helmet with major features. The best of both world with safety first in mind but also cool designs that kids love to put on. Comes with gloves and goggles.


Not bulky or heavy
UV protective finish
Vented for summer and winter
Easy to transport when not in use
Great price point
Helmet runs small
The included gloves are not comfortable
3. WOW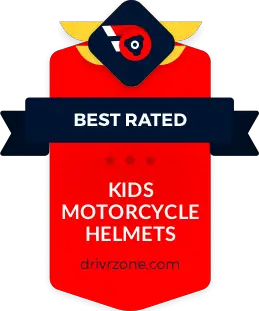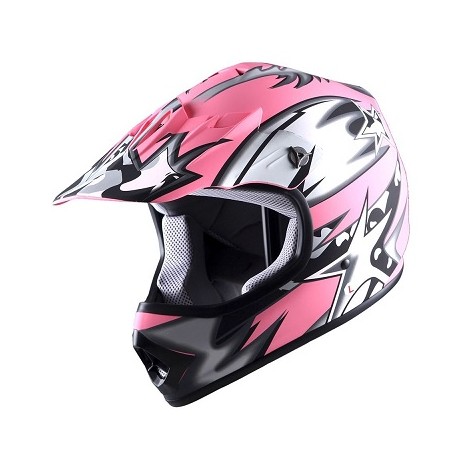 Another heavily cushioned helmet with removable interior that can be machine washed. Alloy shell is UV protected and comes in a variety of different color options and patterns. Loop style strap. This piece is on the heavier side for those who like that weighted feel.
Expand to see more
Shape
This is a heavier helmet in weight but very modest in shape, not bulky. Very round and petite look. Great for those ATV rides the kids love on all those acres at home. Kids can put on and pull off themselves with no help.

Color/Design
Our last competitor gets an acknowledgment for color and design, only the second one on our list. This helmet comes in nineteen different color and design options! Its quite refreshing when you can tailor your order's aesthetics making for that custom experience.

Cost and Value
One of our best on the list with price point and offers. Price will make parents happy, designs will make kids happy and all is safe and well. Ventilation, UV protection, alloy shell, convenient loop buckle, strong/solid feel, this helmet is a great value.


Large color selection
UV protected shell
Washable interior pads
Great price
Fits true to size
4. Triangle
If you're looking for a helmet with an edge, look no more. Another full face helmet makes this list, this one with a more round shape. Your child will definitely love the aesthetics on this one even though it only comes in one design (think, sharp fidget spinners. Option of green or pink). ABS shell with high pressure thermoplastic technology

Expand to see more
Safety and Design Treated Equal
This helmet has an ABS shell and high pressure thermo. technology. With full face, solid chin coverage, leaving only the eyes visible, safety is of no question, yet all these safety features add to the aesthetics providing a ninja affect. The dark, tinted visor is scratch resistant avoiding obstruction of view.

Interior Padding
The padding is cut with a smooth laser providing soft texture, not hard. Even the chin strap is padded. Material is hygienically treated eliminating odor and providing a dry wear with antibacterial liner. Fully removable/washable.


Cost and Value
Great price on this one, definitely affordable for the great features. This would be a mid-price point helmet and the features are plush and extra. For the safety and design you definitely get all your pennies worth.


Soft interior padding
Great aesthetics
Lots of "high-tech" safety features
Decent price point
Full face
5. CKX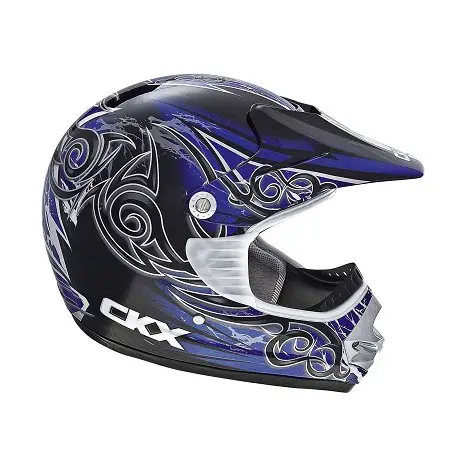 Another cool, kid approved helmet with an impact-resistant injection molding PVC shell. Padding is plush and comfortable, no complaints from the kiddos on it being too rough. Interior is featured with a removable, washable lining.
Expand to see more
Safety
Ample, soft padding with this one. Lots of cushion to protect the dome, no wiggle room. Sun visor provides added UV protection of the face, front on.

Exterior
Exterior at first glance is great. Edgy yet fun looks that kids love. Once you get down to details you'll find the shell is durable, impact resistant and holds up to high standards.

Cost and Value
We take it up a notch here on the price, leaning more towards a higher price point. However, the features you get compared to that price are comparable as you get all you need in safety in addition to a cool look.


Hip designs
Sun visor
Soft padding
Fits children as young as one-year old
Light in weight
Minimal design options
Paint easily chips
6. Typhoon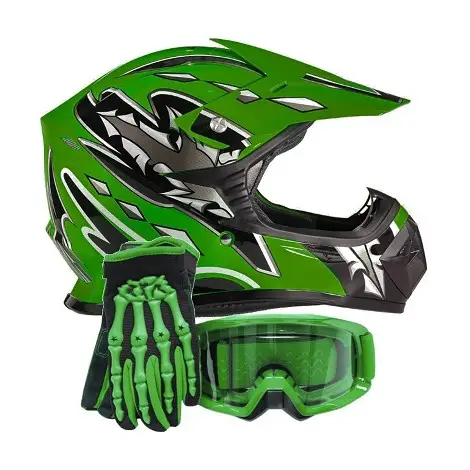 This is a fan favorite. Another helmet that parents and kids love equally. Stunning in appearance coming in a bright green, edgy/tribal print - a major conversation starter. Don't worry parents, it's not all about looks with this one. This green machine comes with a three-point sun visor, d-ring chin strap and ample vent circulation. Gloves and goggles included.

Expand to see more
Vents
Ventilation never flowed so good. This helmet comes packed with Intake vents, channel vents and exhaust vents. Maximum air flow here providing a comfortable, safe ride when outdoors in the heat or cold temperatures.

Accessories
The accessories that come with this purchase are not just thrown in. Goggles have a removable nose guard, come with an anti-slip silicone strap and manufacturer provides replacement lenses should any be necessary. Gloves are pre-curves so there is no "break-in" phase. They also have airprene knuckles, reinforced palms and thumb panel and have a flexible wrist closure.

Cost and Value
Best of all worlds here. Value comes with ease with all the added features and don't forget the quality accessories that are included. Priced at a fair rate, you'll get lots for your buck. Safety first!


True to size
Super lightweight
Kid approved pattern
Comes with accessories
Long straps
Not for kids under five
Comes in only one color
7. 1Storm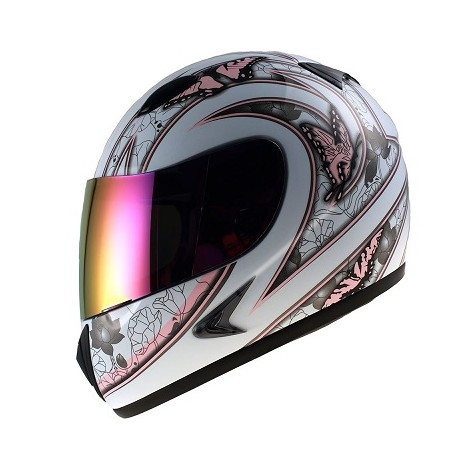 Beautiful, glossy helmet! With all the color and design options you really feel as though you are getting a tailored helmet, another plus allowing the kids to be involved up front. Exterior is made of a aerodynamic thermoplastic alloy shell, which is lightweight not heavy. Lots of ventilation, superior strap design.
Expand to see more
Safety Strap
The d-ring strap on this stunner comes with additional security in the form of two snaps to lay the straps down to avoid flapping in the wind. It's all in the details. This is a very unique feature allowing less annoyances while riding. Definitely a plus with little ones.

Color/Design
We have to give it to this helmet on color and design. It doesn't get any better with the options provided. While most color options are glossy and bright, you even get a matte option. Customization at its finest.

Cost and Value
Great price point, lots of features. With no detail being spared here, you definitely get lots of bang for your buck. The color options alone make for a very custom purchase experience. Safety is definitely a priority with this helmet satisfying all categories.


Fair price point
Sleek design
Strap snaps
Great ventilation
Lots of design options
8. XFMT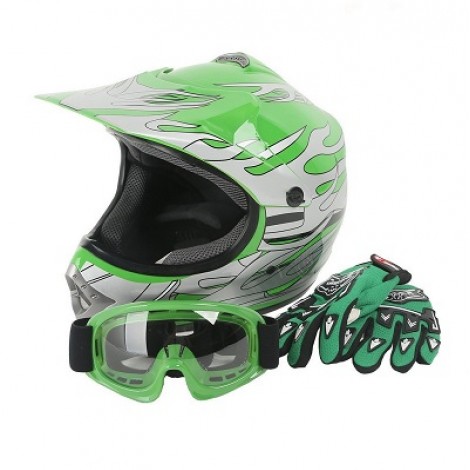 Unlike the above competitor, this helmet is heavy. To some, this is a plus, depending on your preference and perspective on safety features. In any event, the helmet bag still allows for easy transportation when not in use. Another win with this helmet relating to design is the variety of options on pattern design. Butterflies, flames, spiders and skulls will definitely get the kids on board. Padding extra firm on the inside for security.
Expand to see more
Material
The weight and padding are a match on this one. The helmet comes in a solid design that provides a hefty weight, definitely a helmet that can take a beating in a crash or being transported through off-road environments. Interior padding is plentiful and provides a substantial cushion for the head.

Design/Patterns
Another winner with the kids. This helmet comes in a variety of different pattern designs; white butterflies, blue flames, abstract green, black skulls and spiderman inspired red. Anytime the kids can be involved in choosing protective gear that makes them excited, parents win across the board when the safety factor is already in place.

Cost and Value
Another winner for the pocket. No need to break the bank, this helmet is very competitively priced. Comes with gloves and goggles as well. Quality comes conveniently targeted at affordability with this piece.


Multiple vents
Cool patterns kids will love
Chin strap stays in place during rides
Precise sizing
Kids love the options in designs
Short chin strap
Goggles fog easily
9. GLX
Super cool, kid approved, splatter paint helmet with goggles included. Feature category is loaded! Lightweight, (less than 2.65 pounds!) fourteen vent ports, sun shield, quick release strap, sweat absorbing liner (removable and washable), shatterproof goggles and removable, washable EPS impact foam.
Expand to see more
Safety
Let's start with the fourteen vent ports. Staying cool and having well circulated air while your little one rides is an underrated safety feature. The amount of flow you get from the provide vent ports is superior. Comes with an adjustable/removable sun shield to keep the sun from blaring. Sweat absorbing interior material keeps sweat at bay and your eyes avoid burning.

Shape
This helmet is round with an extra long chin guard. Fully secured from all angles you will have lots of confidence watching your little one ride away or placed on the back of your motor bike.

Cost and Value
Price point is marginal but features are maxed out here. You can be confident that the price you pay for this one will have a long, justifiable list of features to live up to.


Featherweight
Sweat absorbing interior
Quick release strap
UV protective goggles
Adjustable sun shield
Two size options
One color option
10. LS2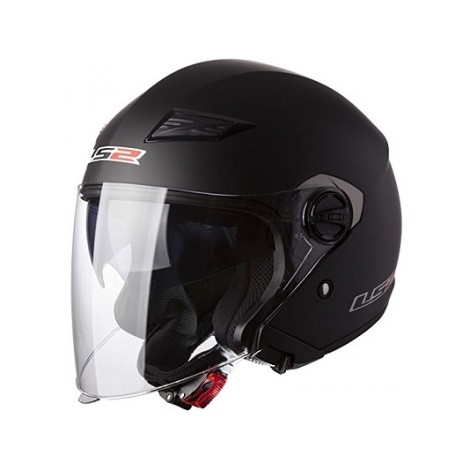 This one is a show stopper. This is a tinted, full face, oval shaped helmet with superior 360 head and face coverage. The sleek-edge factor is major on this one. Helmet comes equipped with a Radial Tool-less Quick Release strap that allows for perfect fit.
Expand to see more
Face Shield
The face shield has a full eclipse/drop-down style design that is accessible with the touch of a button and is also removable. The peripheral vision you get with this helmet is exceptional. No obstructions. Face cover is removable with a click of a button. Easy come, easy go!

Material/Fit
The strap feature on this helmet is like no other featuring chin strap with a rapid release that secures at the back of the helmet. In addition to the regular chinstrap with quick release, there are two additional straps that secure at the back of the helmet to cradle your head and help prevent roll-off in the event of an impact. The interior lining is fully removable, washable, and treated against odor and bacteria. Exterior is made out of HPTT composite.

Cost and Value
We move into a higher price point with this helmet. The add-on features are all worth it. This is the first helmet on our list to provide a full face, 360 coverage. For some, that's a main target hit right on the nose.


Full face shield
Sizing is spot on
Strap has quick connect/disconnect feature
Superior ventilation
Reflective stickers for added safety
Higher price point
Padding tends to feel rough
Criteria Used In Evaluation
Of The Best Kids Motorcycle Helmets in 2018
Material/Padding
Kids motorcycle helmets are usually made of heavy-duty plastic. When you start looking into more expensive kids motorcycle helmets, they are sometimes also made of fiberglass. You also see Kevlar and carbon fiber sometimes. Behind the plastic (in the helmet) the center is made of a foam fabric. Between the foam fabric and the head are usually big pads. The point of the helmet is to essentially destroy itself so that the individual who is wearing the helmet is okay. They are designed to essentially distort for protection.
Face Protection
Youth motorcycle helmets come in a variety of styles including full-face, off-road, modular, open-face and half-helmet. For children, the full-face version is the recommended one. This is because children are clumsy and will more than likely fall off or crash their bikes more than adults will. Additionally, children's jaws and chin are softer than adults and can't take as much impact as an adult's can. When considering kids motorcycle helmets, we looked at the helmet that covers the child's face the most. A warning for parents, children will complain that the helmet is too heavy or doesn't look as 'cool' as they'd hoped, however, the full face variety is very important in keeping jaws and chins safe and ultimately unbroken.
Safety Ratings
Safety ratings are regulated by the province that the helmet is used in. Provincial laws state that kids motorcycle helmets need to at least meet one of the three ratings. The three ratings are DOT, Snell, and ECE. There is some debate that one or two of the ratings are better than the other due to requirements to meet these standards. This is only in debate, but from what has been argued it seems that Snell and ECE are considered superior over DOT, however, DOT is an approved safety rating in all provinces nationwide. The helmet will have a sticker of the company that approved it for safety; some kids motorcycle helmets often have more than one sticker on them. If the helmet being looked at doesn't have any safety stickers, it's wise to look at another helmet. All the kids motorcycle helmets in this article were approved by one of the three regulars approved by provincial guidelines.
Size
Size is measured by either having the child try on the helmet and feeling to see if there is any room between the padding and the child's head. For less hassle, you can take a measuring tape that can wrap around the child's head and measure the largest diameter of your child's head (usually above the ears and nape). Most kids motorcycle helmets have a measurement guide based on the head circumference that you can compare your measurement to. It is wise to try the helmet on still in the store with the child to ensure that it is the proper fit. The first thing to look at is how level it is on the child's head. If that passes the test, then check the space between the front of the helmet and your child's forehead/eyebrows, you should be able to get at least two fingers in-between. If that works, then the last thing that should be looked at is the straps. When the straps are adjusted, they should be able to fit at least a finger or two between them (the child shouldn't feel uncomfortable), but they should also be snug. If the helmet doesn't move around too much, you're on the money, if it wiggles a bit a smaller helmet is probably needed.
Shape
As previously discussed, there are numerous types of youth motorcycle helmets (full-face, half-face, etc.); however, helmets come in different shapes as well. Though they are all round and are supposed to mimic a skull for protection, some kids motorcycle helmets come in different shapes for the purpose of adding goggles, ventilation of air and fashion. The helmets without visors typically are shaped a little different for the purpose of adding goggles. Goggles are at least required because of bugs and debris that could get in the riders eyes and nose. Something like this could cause the rider to lose control of their bike. The other alternative adjustment to a helmet is the ventilation slots. Due to the energy exertion when motorcycling vents are often required to keep the rider breathing fresh air and staying cool. These vents are essential but do usually add to the overall appearance of the helmet to add some flair. These are usually the biggest difference you see between kids motorcycle helmets.
Price
You get what you pay for, and in this situation, you are paying for your child's safety. Most parents would pay a high price tag to ensure their child is safe; however, paying a lot doesn't necessarily mean that the child is safer. Don't let the price tag be the only thing guiding your decision. It also works the other way as well, where buying a helmet just because it's cheap won't be good either. It's important that you are buying a good, rated product that fits well and paying a reasonable price for it. There is a balance, and price should not be the determining factor. This article goes through the top kids motorcycle helmets on the market right now that are good quality but also not overpriced.
Company
Finally, the reputation of the company is something to be considered. The reputation of the company is huge. If they have complaints that their kids motorcycle helmets were defective then obviously you would not want your kids using them. Checking up on the companies experience (when the company started), consumer reviews, reputation, and mission statement is always important.
Frequently Asked Questions
About Youth Helmets
Q: How do you size a children's helmet?
It's important you fit your child with a children's helmet which is made for children. The age range is usually posted on the box the helmet comes in, staying within those limits is important unless dealing with a bigger child. When the age range is figured out, then measuring is the next step. Measuring was explained above in the criteria section but as a recap, snug on the sides and chin strap and not too much wiggle room.
Q: Should my children's helmet be a certain color?
It's not much of a safety concern; however, the brighter the color, the easier it is to maintain sight of your child when they are off on their motorbike. The bike itself is fairly loud, so losing your child won't be that hard unless there are numerous bikes running at the same time. The one thing to consider is heat. If riding in hotter climates wearing a lighter colored helmet may help keep the child cooler than a darker colored helmet. If you decide to paint your child's helmet, ensure that safe paint is used to avoid any harm to the child.
Q: Can motorcycle helmets break?
Yes, they are intended to. The helmet is designed to sort of distort to take the pressure and energy off of the skull in which it's protecting. A broken ,helmet isn't something we want when we've spent so much money on it; however it is doing what it's intended to do, which protects us. That said, stronger kids motorcycle helmets- those made with carbon fiber and Kevlar- will likely stay together better when in a crash than the plastic varieties. This is where the material is important. If in a competitive environment, then a strong material helmet is probably your best bet.
Q: Where should I store my children's motorcycle helmet?
Some people store their helmet on their bike, and if the bike is kept inside that is okay; however if the bike is kept outside, then that's a problem. The elements (water, sun, wind, snow, etc.) will break down the material of the helmet and could end up causing serious structure breakdown that is required in an accident. It should be kept in a cool and dry place when not in use.
Q: How do you clean a kids motorcycle helmet?
Helmets are likely to get quite gummed up with mud and leaves when riding and washing the helmet will more than likely be necessary. Cleaning the helmet would start with a light soap (like baby shampoo or baby wash), microfiber rags and a toothbrush. The microfiber rags will be easy on the paint and won't scratch the protective shield. The baby shampoo is light enough that it won't strip the paint or muddy the shield and the toothbrush will be able to get into those tight spaces where the rag can't quite get to. If there is mud deep down, then using compressed air might even help get out what can't be reached.
Q: Do I ever have to replace my child's helmet?
Yes, typically after five years the helmet should be replaced. This would be shortened if the helmet was broken in some sort of accident. If the helmet is broken, it should not be used again. The structural integrity would be compromised, and the helmet will no longer be able to do what it needs to do to protect the skull.
Q: Should my child's helmet have ventilation?
Yes, it should. The physical act of riding a motorbike takes a lot of work, and the child will be more than likely sweating and breathing heavier. The ventilation system helps flow new and clean air into the helmet to help with breathing. Additionally, the new air will help to keep the child cool when riding a bike. An overheated child can lead to an accident.
Q: Are there standards for motorcycles in my country?
As mentioned previously, in Canada, the standards are regulated provincially (and territorially) nationwide. To find out the standards in your country, a quick google search will be able to tell you this. No matter what the standard a helmet should always be used. It is very dangerous for a child to ride their bike without a helmet on.
Q: Is it okay to purchase a used helmet?
It is to an extent; it's good to know how old the helmet is because it should be changed every five years. It also depends on the shape of the helmet and knows if it has been in any accidents. Because you can't fully trust someone off of a private buying site, it's in the parents best interest to just buy new and not have to worry about whether or not the child is safe.
Decision Time
If it is not on this list, it's not going to be a youth helmet that you want to buy!
With all bases covered, we are confident and excited that you and your little ones will find the best youth motorcycle helmets for you and the budget. This can be an overwhelming purchase. Lots of areas to cover and safety being the main point, it can be a task.
Safety was a top priority in picking every one of these kids motorcycle helmets. Every suggestion we listed is DOT certified and ready for motor bike riding. Take your pick! Whether the style is your biggest desire after safety or safety alone is a goal and who cares about the colors – we have all those options above. Side note: getting the kids involved up front will help incorporate fun into the realm of a topic not always so desirable to kids but when safety looks as good as our top ten picks, kids and parents both win!
Sources
Subscribe to our Newsletter