10 Best Motorcycle Backpacks Reviewed for Quality in 2023
last updated:
Jul 22, 2019
Motorcycle bike riders are enticed by the freedom to travel, whether for short or long trips. But when you want to go for a few hours' journey, you want to be prepared. You need to have a motorcycle backpack that feels comfortable on your back during the ride and can carry your belongings with you. Riders like yourself have invested in your bikes and your riding gear, so your motorcycle backpack should complement your outfit.
There are many types of backpacks to choose from, but the final choice really depends on the preference of the rider. Some prefer small bags to contain the essential items they need while others need larger bags, particularly if they are going on a day trip and want to bring some extra gear with them. Generally, a medium-sized motorcycle backpack is perfect if you want to buy just one bag that will suit most occasions.
Featured Recommendations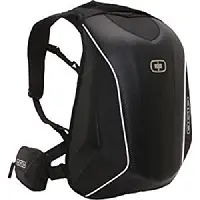 Ogio Mach 5

Our rating
Ergonomic design
Price:

See Here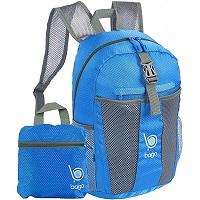 Bago Lightweight Foldable

Our rating
All Weather-resistant
Price:

See Here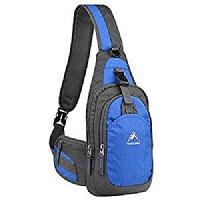 Maleden Water Resistant

Our rating
Three layered
Price:

See Here

We reviewed and rated some of the best motorcycle backpacks to save you some time and help you pick one that will fit your needs. This piece of motorcycle luggage is very convenient because you can use it even when you are not riding your bike. Like any other backpack, the motorcycle backpack needs to have appropriate compartments for storing important items with one small difference. The motorcycle backpack can be recognized by the strap for the helmet.
When buying a motorcycle backpack, make sure it's waterproof, because you are going to ride on rainy days sometimes and you wouldn't want your sensitive electronics and gear to get wet. The motorcycle backpack should at least have rainproof cover if the backpack itself is not waterproof. Also, consider the volume of the backpack. If you get the bigger one, you will be able to put more stuff in it. But that will make it very heavy and it will drag you down. So, don't get too big motorcycle backpack.
Make sure that the motorcycle backpack has all the compartments you need for the stuff you are carrying. If you need your laptop when you are traveling, it's best that the backpack has a special compartment for your laptop to be safe. And finally, remember that the backpacks can only be used if you are riding alone. If you are riding with a passenger the backpack is not an option.
10 Best Motorcycle Backpacks
1. Ogio Mach 5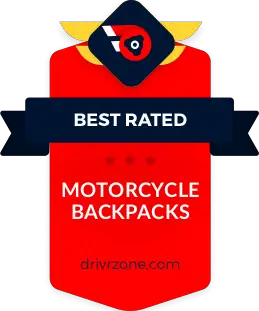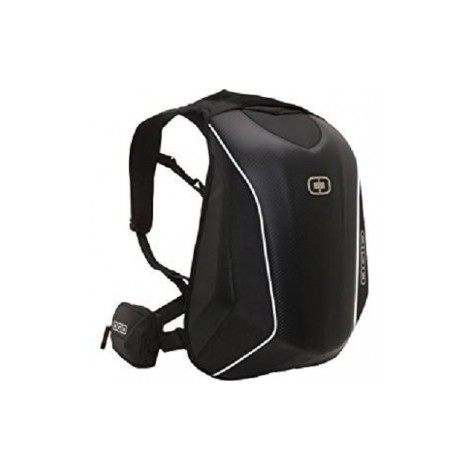 Serious motorcyclists who enjoy fast speeds when riding will appreciate the aerodynamic design of this backpack. Even the carry handle is designed with no drag in mind. You will also appreciate the detail that went into the features of this backpack, which highly considers many of the situations for which motorcyclists will need a backpack like this, such as protecting their bike from strap scratches, storing valuables without damaging them, and carrying their helmet with them after the ride.
Expand to see more
Quality
The ergonomic design of this backpack is durable against wind sheer and conforms to your body. The padded shoulder straps will not scratch your helmet exterior, while the hip belt will not scratch your gas tank. The backpack even supplies items to protect your belongings, such as a removable helmet carry strap, fleece-lined valuables pocket, and an interior padded laptop sleeve.

Compartment Design
The Mach 5 offers plenty of storage, with a large main compartment, adjustable divider, and multiple interior storage compartments. There is also a zippered security pocket and expansion gusset. If you want to store your wallet and keys without having to reach behind you, there is a fleece-lined hip accessory pouch.

Cost and Value
The no drag design of this backpack put this item in the higher end of the bags on this list, but a solid investment if you're looking for something that offers excellent value for storage capacity, durability, and aerodynamics. This bag is ideal for riders who want to spend money on quality, as well as a bag designed for the motorcycle rider.

Plenty of storage with emphasis on protecting your belongings
Zippered security pocket, hip accessory pouch
Streamlined and ergonomic
Molded exterior is water resistant
Offers a warranty
Higher end for pricing compared to most other backpacks
Rain cover is a separate purchase
2. Bago Lightweight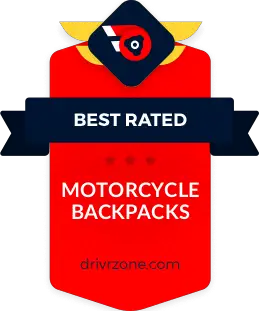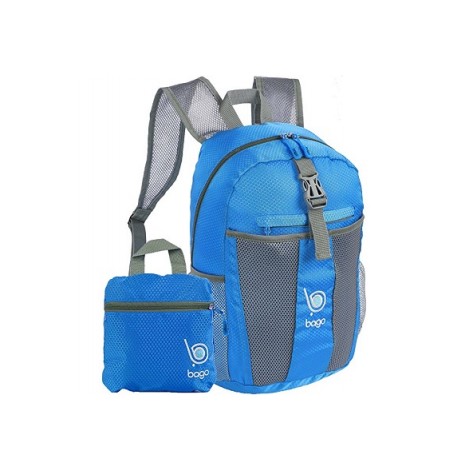 A bag that's ideal for the traveller, this lightweight backpack is collapsible and ideal for daily use. It's convenient for organizing your gear because of the number of compartments. And if you get caught in the rain, it's waterproof even against water bottle spills or splashes.
Expand to see more
Convenience
This foldable bag is for the motorcycle rider who doesn't always want to plan ahead. You can unfold this backpack from its pouch for some impromptu shopping or a quick ride and lunch at the park. It is almost weightless at 0.7 pounds and won't be a strain on your shoulders.

Expert Organizer
Multiple pockets will sort your large to small size belongings, from water bottles to travel documents, extra sweater to light snacks. It includes a main compartment, side pockets and two-way zippers for easy closure.

Cost and Value
This bag is decently priced compared to other items on this list, and is available in a variety of colours. It provides good value if you're looking for an item that is decently priced and is able to organize your belongings, compact to carry for travel convenience and durable. It can also be used for hunting and camping or even a trip to the airport.


Durability. Waterproof and tear-resistant fabric.
Easy storage. Can fold into a small pouch.
Lightweight. Nylon with mesh straps.
Waterproof fabric. Protect from spills and rain.
All around-use: sports bag, recreation, shopping, school.
Shoulder straps are not padded
Straps are wide apart. May not sit comfortably square on shoulders.
3. Maleden Water Resistant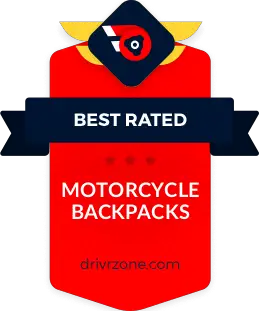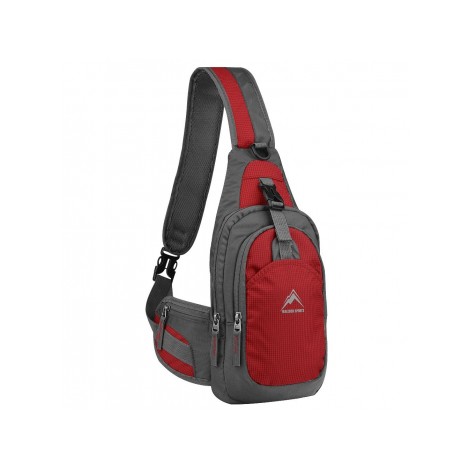 This casual, crossbody bag carries your essential items, whether it's for daily use, a short ride or a day hike. It is available in a variety of colors. This bag is unique because you can strap it over your back or carry it with the bag across your chest. It is designed to a modern style.

Expand to see more
Durability
Made of water-resistant and anti-scratch nylon material, this bag will protect your belongings from rain on the outside and spills and leaks from the inside. The nylon also protects your bag from scratches from branches or thorns during outdoor activities.

Multi-Purpose
The casual design makes this bag suitable for a variety of activities beyond the bike ride, from travel to hiking, or shopping to a day at the amusement park. The strap is adjustable to allow the bag to sit snug or more loose from your body, and can be used as a shoulder pack or chest bag.

Cost and Value
This backpack is a great bargain for a casual, all-purpose shoulder pack. It is spacious enough to hold essentials such as an iPad, wallet, phone or books. One of the most affordable bags on this list, it offers a variety of features for its price, including a multitude of compartments distributed throughout the bag, even at the side for easy access while you are wearing it.


Water resistant and anti-scratch nylon
Breathable mesh so you don't sweat
Zippered compartments
Adjustable height - hangs as high or low on body as you want
Breathable, padded shoulder straps
Padded strap does not include the strap extension
Only colored part of bag is water-resistant
4. NeatPack Foldable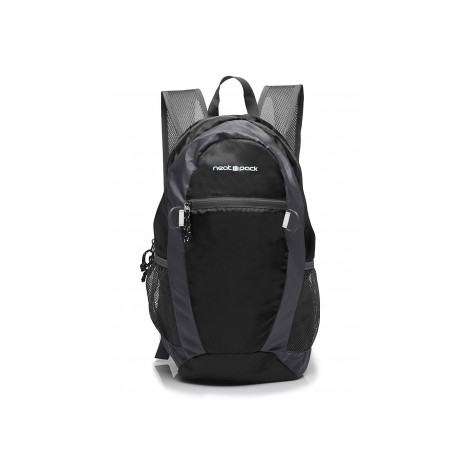 The NeatPack is heavy duty, yet stylish, and comes with security features that make it stand out from some of the other backpacks on this list. The materials and design make it easy for a motorcycle rider to go easily from travel to hiking to running quick errands and more. This bag also easily transports and organizes a variety of your belongings.

Expand to see more
Security
This backpack features a concealed bottom zipped pocket to hide valuables, clothes or shoes. The main compartment has double zippers and a front pocket zipper that can be secured with a cable lock to the D-ring. Both features will deter thieves and give you a sense of added security.

Durable
Rugged ripstop nylon make this backpack resistant to water and abrasions. The bag will keep your valuables dry, even in heavy rain. There are bar-tacks at stress points to ensure the bag lasts longer, even under stress.

Cost and Value
This bag is one of the best for value and price, if you don't want to spend a lot but you would like to carry a lot of stuff. As a bonus, this model has security features, which are handy for daily use or travel. The bag is roomy enough to fit your valuables, including a laptop, water bottles, or sandals. When you no longer need the bag, it folds up small for storage.

Lifetime guarantee
Concealed bottom pocket and securable zippers
Multiple, roomy compartments, including a velcro pocket
Great for everyday use from commuting to travel
Roomy for storage but can fold up small when not in use
Best for short trips but not long-term travel
Zippers can start to fray with frequent use
5. Seibertron 37L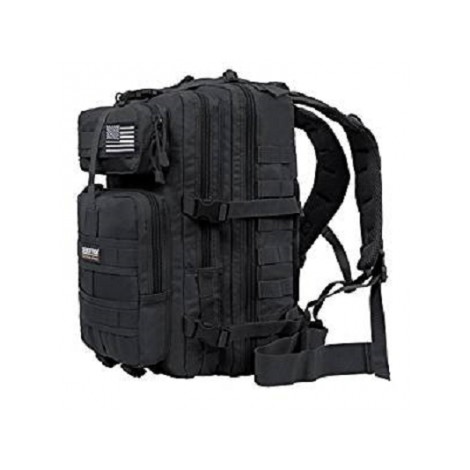 The Seibertron is for the motorcycle rider who needs the storage space of a suitcase, but the flexibility of a bag. The backpack itself weighs nearly three pounds, has a waist strap and can be accessorized with detachable side bags and 2L water bladder. Even if you choose not to accessorize, the basic bag can be used for weekend trips, or carrying your laptop to the office.
Expand to see more
Storage
This backpack is a great choice if you need to pack a large volume of items before getting to where you are going. A 17-inch laptop, shoes, extra shirt and lunch all fit into this bag with ease. The straps will help to secure the load. In addition to the main compartment, there are two large pockets in the front, two interior zippered pockets and a mesh pocket in the back. In total, you can carry over 30L worth of volume.

Multiple Use
The motorcycle rider can look forward to storing clothes and food for a day trip. This tactical bag is built for rugged use, such as camping trips, commuting, school or carrying extra clothes for a visit to the gym. It can even be used for shopping if you don't have saddlebags on your bike.

Cost and Value
If you're looking for a backpack with plenty of room, prepare to spend a little more on this bag than for others on this list. In addition to the amount of storage you would get, you can also add more features, such as side bags and water bladder. For those wanting a bag for variety of rugged uses, and expansion of storage space if needed, this bag will be the go-to bag for those trips.

Plenty of storage compartments inside and outside the bag
Made of durable, thick material with thick straps
Main materials are waterproof
Many straps to tighten the contents of your bag
When bought with bladder bag, you get a discount for both
There are many straps and they tend to flap at high wind speeds
Zipper areas are not waterproof
6. BackSak Waterproof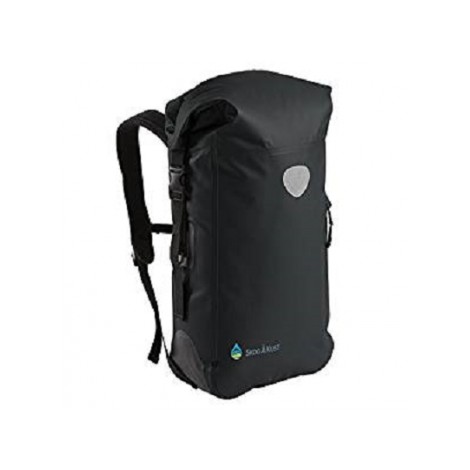 This backpack loves water and is designed to keep water outside, as well as separate wet from dry items within its interior. If you like to ride in rainy weather, this bag will carry an extra change of clothes for when you arrive at your destination. You can also use this bag if you like to hike on rainy days, or go rafting on the rapids. It has a 35 liter capacity and will keep your belongings dry.

Expand to see more
Waterproof
Rain, snow, sand, nor mud will get into the contents of your BackSak backpack. It's made of 500D PVC and has welded seams. Its opening and closing design guarantees that it will keep your valuables dry, especially if you like to ride in the rain. There is also an interior pocket that will keep your electronics separate from wet towels and swimsuits. If your bag goes overboard and falls into water, it will float. However, the back pocket is not completely waterproof.

Storage
Two zippered pockets, including a spacious interior that can be filled from top to bottom. The 35L capacity and shape of the bag allow you to carry your books, camping gear, books or daily items. Small items can be carried in the large compartment.

Cost and Value
The best feature of this backpack is its ability to repel water. It is a great choice if you need a bag to carry belongings for water-related activities, or if you need to carry many belongings in rainy weather. Price-wise, this backpack is neither the least nor most expensive of the choices on this list.

One of the few bags that is 100% waterproof
Bright colour for visibility. Reflective patch for night time safety
Sternum strap and padded back support to relieve muscles
PVC material makes is durable and resistant to tearing
Good size for carrying plenty of items
Chest buckle may be positioned a bit high for some people
Can be uncomfortable on lower back if it is filled to near capacity
7. Ogio 123007.36 No Drag Mach 3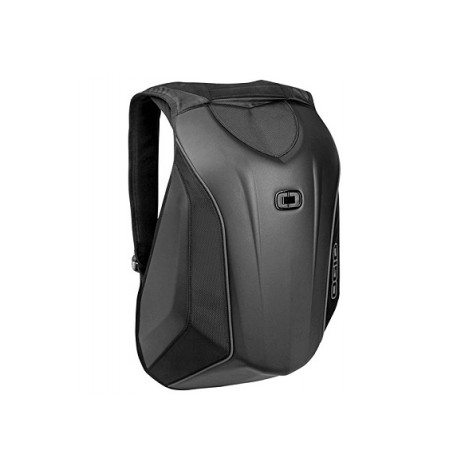 The Mach 3 is a backpack for motorcycle riders and not so much for multi-use activities such as travel and camping. Because of this specialization, it offers features to add to the comfort and convenience of the motorcycle rider, as well as protection of your bike. If you are planning on going on some fast rides, this backpack is made for the experience, without straps flying or the wind battering against your belongings.

Expand to see more
Aerodynamic Design
You will not feel this lightweight backpack which has a streamlined, single shot molded exterior to prevent deformation from wind shear. The shoulder straps will not dig in when you pick up speed, and the shoulder gasket will shape to your body. Even the concealed carry handle is made for aerodynamics.

Compartment Design
The Mach 3 offers an organizer panel with a zippered security pocket and shoe storage compartments for the motorcyclist who commutes to work. The main compartment is roomy with multiple interior storage compartments. The zippered personal electronics pocket is fleece-lined to protect your valuables, and your laptop will be protected with the padded tablet sleeve.

Cost and Value
This backpack is on the higher end of this list, but the bag of choice for the motorcyclist looking for a bag designed for the motorcycle rider. The bag has ample storage, but 350 cubic inches less than the Mach 5 which has similar features.

Aerodynamic because of single shot molded exterior
Soft neck shoulder straps for comfort
Organizer panel for the commuting professional
Zippered security panel
Water resistant exterior
Price is considered high by man
No expansion pocket. Mach 5 has this pocket
8. ArcEnCiel Tactical Sling Pack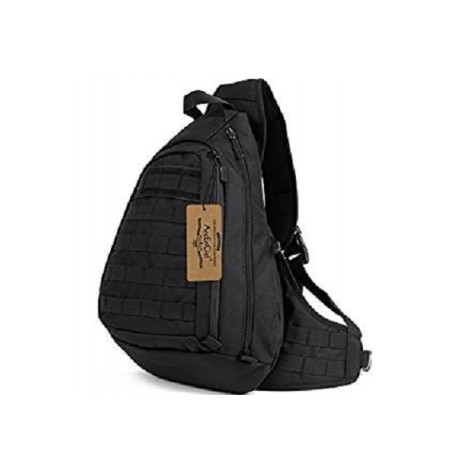 This multi-function cross body backpack adjusts to you, whether you would like to carry it on your back or in front. A chest sliding adjustment system increases your comfort for whatever your activity may be at the time: travel, fitness, work, camping, hunting or hiking. Its durable 1000D nylon and canvas construction make it highly resistant to abrasion and the inner silky cotton interior is waterproof.

Expand to see more
Storage
Two zippered front pockets, two side pockets, a back zipper pocket, mobile phone pack on the shoulder strap and one open interior pocket provide plenty of space for storing your belongings. The padded pouch is perfect for a tablet.

Practical Design
The adjustable, long shoulder strap made from military materials is meant to enhance your comfort. The strap also distributes the weight evenly across your body, decreasing possible back problems. The bag is designed to be carried three ways (shoulder, chest, hand carry), and is suitable for indoor and outdoor activities.

Cost and Value
For the value and price, the ArcEnCiel backpack offers versatility and convenience. The design is practical for use at a variety of functions, from school to work, to hiking to travel. There are several pockets for you to organize your gear, as well as the less common feature of a pack to place your mobile phone. You can even add a MOLLE external expansion system to add other equipment such as water bags and accessory kits.


Can be worn on your back or front
Compact size for travel, not bulky in shape
Comfortable to wear because of chest adjustment syste
Made of highly durable nylon and canvas
Mobile phone pack on shoulder strap
Zippers may wear out quickly from high usage
Seams may tear, depending on the aggressiveness of use
9. Viking Moto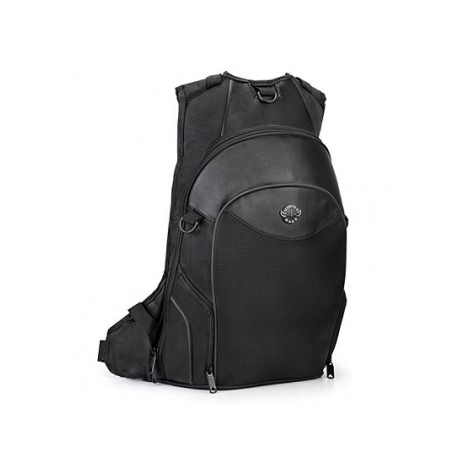 The Viking Moto is well designed for motorcycling, without being too pricey with its features. It's made of heavy duty Cardura construction, making it on the heavy side for backpack weight at 4 pounds. However, the molded shape of the bag will improve the aerodynamics of your ride, and the Duraflex buckles add to its durability. Other features make this bag very practical for short or long motorcycle rides.
Expand to see more
Gadgets
This backpack considers the motorcyclist's issues and answers them. For commuters, they have a padded compartment that will fit 15 inch laptops. A built-in helmet hood allows you to walk around without having to carry your helmet in your hand. An eye wear pocket protects your glasses from being scratched. The leather back is already quite water resistant, but the rain cover keeps your gear dry. Two small, somewhat hidden compartments can be used to store small items.

Comfort
The sleek shape of this backpack in addition to the two straps that clip across the front of your body maximizes the aerodynamic design of this bag. It is also nicely contoured and padded to hug the rider's back while in the normal rider position, helping to reduce drag and rider fatigue. The waist belt also helps with drag while taking the weight off your shoulders at the same time. Venting on the back improves circulation and the heat on your back.

Cost and Value
This aerodynamic bag with durable construction is reasonably priced. It is comfortable for short and long trips and fits snug to your body to minimize wind resistance. For longer journeys, this benefit will reduce fatigue. There is ample storage for your belongings and even has extra bonus features such as a rain cover and the ability to attach your helmet to it.


Molded body for improved aerodynamics
Sternum straps adjust to most sizes and shapes
Heavy duty Cordura construction
One of the few backpacks that comes with a rain cove
Helmet hood to carry your helmet with you
Strap clip may break, depending on usage
Bag may have an odour that doesn't disappear
10. AXO 29101-05-000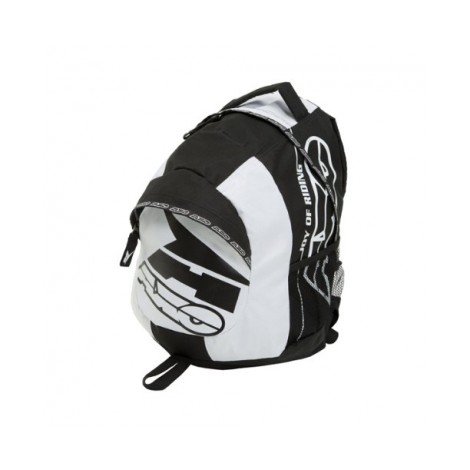 This decently priced commuter backpack offers a fair amount of storage space if you are looking for a bag that fits within your budget. It is available in a variety of colours, making the appearance easier for you to accessorize with your bike. It holds up well to everyday use and offers storage in its main compartment, smaller compartment and dual webbed pockets.

Expand to see more
Fits a Helmet
The only bag on this list that can hold a helmet when you are done with riding. The spacious main compartment can also be used to transport other items, such as groceries, school books or gym clothes. The material is lightweight, which adds to the backpack's comfort.

Value
For motorcyclists who don't want to spend a lot of money on a bag they will use to commute to work, or carry a few items when shopping, this backpack offers good value for storage for everyday use. You can carry your laptop with you. Also, the side pouches can carry your water bottle so you won't worry about spilling liquids onto the inside contents of your bag. It is also well constructed and durable for its price.

Cost and Value
One of the more affordable bags on this list, this commuter backpack is perfect for storing several items when you're on the go to work, hiking, shopping, school or swimming. The construction is decent for this price, with shoulder straps to offer comfort while riding. It also offers some degree of water resistance.


Padded shoulder straps and bag backing
Heavy duty nylon construction
Enclosed saddle bag pockets
Comes in a variety of colours and patterns
Main compartment can hold a helmet
Zippers may not slide smoothly or may even break
Inside coating may flake over time
Motorcycle backpacks come in a variety of brands and styles, and ultimately the best choice of bag for you will depend on you, how often and where you ride, what you carry inside the bag, and the design. Your physical size will determine whether a motorcycle backpack will sit comfortably on your shoulders, or whether the straps will be on the correct position on your body. If you go on a lot of long road trips, then it would make sense to invest more in an aerodynamic, comfortable bag.
Where you ride will affect your choice of bag as well. Do you commute to work a lot in a city where it rains frequently? Do you need a multi-purpose bag for your weekend trips and hikes? Do you ride every day in the scorching sun? These factors will determine the durability of your motorcycle backpack. You will also want to think about what you will be carrying. Multiple pockets will be a great choice if you have keys, wallet, documents, a pair of shoes, and a laptop to carry with you. If you are going swimming or rafting, you may need waterproof compartments.
Doing a bit of research and comparison on backpacks, and being clear about your rider needs will go a long way toward deciding how much to spend, and which bag will be accompanying you on your next ride.
Criteria Used In Evaluation
Of The Best Motorcycle Backpacks
How much storage space is available?
The first step we took was to make sure we found a list of bags with a varying amount of storage space. It isn't just about how much these bags can store! You also want to take into consideration how much you actually want, or need, to bring with you. Nothing is worse than investing in a large, bulky motorcycle backpack only to realize that you don't actually need that much space. This is especially true when you're talking about motorcycles! After all, balance is basically everything when you're out riding. A larger backpack requires more balance.
Storage space can be split into two categories. The lightweight backpacks we chose needed to be able to store everyday items for daily commutes, and short rides. Think about what you bring with you to work, for example. Probably a small lunch, or at least some snacks, as well as your daily items (think phone, wallet, and keys). A compact motorcycle backpack should be able to handle those daily needs. Secondly, we looked for backpacks that can be used for longer rides, or road trips. These backpacks need more storage space to handle your daily items, as well as anything else you want to bring with you. Whether that's a change of clothes, a small umbrella, or some hiking gear, you're going to be able to travel with ease!
Regardless of your daily needs, we have you covered! You'll find exactly what you need, and more, on our top ten list.
Is the motorcycle backpack water resistant?
It's no secret that being on the road in an open-air vehicle means you're going to have to deal with the weather- right out in the open! Rain poses a huge problem for motorcyclists everywhere. It's painful, cold, and can put a real dent in your day. However, if you have a backpack for your motorcycle, you can easily pull over, put on a poncho, and continue on your way. This is just another use for these products! Which brings us to our next point: your backpack needs to be able to withstand the amount of abuse a storm can send your way. That's why water resistance is such an important criteria for our list.
It already sucks getting caught out on the bike when a storm hits. Sometimes it's only a sprinkle, but other times it'll come hard and fast. Whether you're dealing with an annoying drizzle, or a summer storm, we want you to be confident in your motorcycle backpack. Most of the bags we've chosen can stand up to pretty much anything Mother Nature sends your way. Travel with confidence, knowing that no matter what, your motorcycle backpack has you covered!
Are there any safety features included?
Although not every motorcycle backpack comes with reflective features we tried to select some that did. It's true that you can always buy reflective tags to put on the backpack yourself. However, it's nice when a seller realizes how necessary visibility is and includes it as a built-in feature! Having reflective materials isn't the only criteria for safety, though. There are several factors that go into deciding whether or not a motorcycle backpack can truly be classified as "Safe." Riding motorcycles is a dangerous activity in of itself. This doesn't stop any of us from riding them, of course, but it means that we need to constantly assess the safety of all products we use in conjunction with our riding.
Reflection is, as we mentioned, a huge part of safety. You also have to take into consideration how the bag is put together, however. A bag needs to be sturdy enough to withstand the elements, have a waterproof seal, stay securely fastened to you, and keep you from getting off balance while you're riding. All the dedicated motorcycle backpacks on this top ten list pass the test for safety, even though they're all unique in their own way.
How much padding in included?
Being comfortable is a huge part of deciding what gear you want to ride with! We know you're always looking for convenient storage options which offer ample space for your belongings. We also know that you want that option to be comfortable to ride with. After all, nothing is worse than a sore back on top of your already stiff legs from a long days ride! The answer to this conundrum is padding. You probably have padding on your seat, in your gloves, and on your clothing when you ride. Why wouldn't you also have padding on your motorcycle backpack?
Padding isn't just important for comfort. In the worst case scenario of an accident, you're going to want as much padding as possible. This ensures that your bag will probably be safe, or at least less damaged than it would be otherwise. The padding puts more of a buffer between your belongings and the pavement. Another added benefit is the buffer your motorcycle backpack puts between YOU and the pavement. More padding means not only will your belongings survive the fall, but you'll be less hurt, too. This is a factor that most don't even consider when they think about purchasing a dedicated motorcycle backpack. It's an important component, however! Any time you can increase your safety, you should. Investing in a motorcycle backpack will definitely help!
How durable is the motorcycle backpack?
If you ride, you know what a toll it can take in general on your bike, as well as your belongings. You're out in the hot sun all day, exposed to the elements, and traveling around. It puts constant strain on the motorcycle backpack that you end up choosing. You need a motorcycle backpack that can withstand whatever you, and life, decide to throw at it. Good quality stitching that lasts is the top criteria to consider in this case! You certainly don't want your backpack to fall apart while you're driving. That not only causes a hazard for you, but it can also seriously impact the drivers around you. This isn't just a matter of your safety- it's a matter of everybody's safety on the road.
Durability also refers to the backpack's ability to withstand the elements, hold up in a crash, and general hardiness. Waterproofing is important enough to have its own spot in our criteria section. That should tell you how important it is! Rain, snow, hail; no matter what the precipitation is your backpack should be able to handle it without getting ruined. Or, at the very least, it should be able to keep your belongings safe no matter how worse for wear it becomes. Being resistant to heat is important, too! Especially when you're riding on a beautiful, sunny day. The more sunshine the better, after all! We all love enjoying a cruise down to the beach when there are clear, blue skies leading the way.
If you're looking for a durable motorcycle backpack that can withstand whatever comes your way, then look no further. We've already selected the best choices- now it's your turn to choose the backpack right for you!
Frequently Asked Questions
About Motorcycle Backpacks
Q: Do I want one strap or two straps?
This is entirely up to you. There are pros and cons to both styles. It all comes down to personal preference, as well as what you're using your backpack for. We suggest two straps for longer journeys, or for heavier backpacks. One strap can be more comfortable for shorter distances, or for backpacks that aren't as full. Some people prefer one over the other no matter what, however. We suggest trying both styles and seeing what works best for you!
Q: Why do I need a backpack for my motorcycle?
There are so many reasons why backpacks are essential for people who ride motorcycles! First off, it keeps your belongings safe, and close to you. If you ride a sports bike, for example, you aren't going to have a lot of storage options. Even with a cruiser you still might need more! After all, most people use their storage tank for extra sweaters, their helmet, repair kits… it fills up pretty quickly! If you have a seperate backpack for your belongings you don't have to worry about what to leave behind, and what to bring.
Q: What should I keep in my backpack?
Thinking about what you need ahead of time is always a good idea. After all, you don't want to forget anything when you're heading out! We suggest keeping a water bottle for hydration, some small snacks, your charger, your cell phone, and your wallet. If you're going on a road trip perhaps you should keep a map on you. You never know when a map will come in handy! There are plenty of other items you can store away in your backpack, however. Those are just the "normal" items that people would normally want to keep within easy reach.
Q: I already have saddlebags. Do I really need more storage?
We sure think so! Your saddlebags have a distinctly different purpose than your backpack will. Sure, they both store items away, but it's the type of items they store that makes them unique from one another. Your saddlebags generally have a collection of useful tools you may not need all the time. Personally, I like to keep a first-aid kit, some general tools, a couple sweatshirts, and an extra helmet in my saddlebags.
It gets full pretty quickly! It doesn't make any sense, either, to keep items like your wallet or phone in your saddlebags. With a backpack you can just jump off and go without unlocking your saddlebags, digging through for the items you want, and then locking it back up.
Q: Do I need different backpacks for different occasions?
As silly as it might seem, probably. As we discussed above there are a few different styles for different purposes. I like to keep a backpack for long distance journeys, as well as a smaller one for my daily rides, such as my commute or a trip to the beach. Having a couple different choices definitely gives you more wiggle room when it comes to planning! If you only have a smaller pack you may end up leaving some things behind you might otherwise want. If you only invest in a larger backpack you might find that it's bulky and unnecessary most of the time! Having two different backpacks can save you some serious aggravation.
Q: Are motorcycle backpacks safe?
Absolutely! It may take you a little while to get used to the extra weight, but it shouldn't throw you off balance too much. The adjustment period depends on which backpack you decide is right for you. A bulkier backpack with more packed away in it is obviously going to be a little harder to get used to than a lightweight backpack with only a few items. If you're worried about it then try it out in a parking lot first. You can drive around a little bit, see what the difference in balance is, and get a little more secure before you head out onto the main roads.
Q: Can I use a motorcycle backpack with a passenger?
The answer to this is both yes and no. Unfortunately, if you have a passenger there really isn't enough room to have the backpack on your back. However, this doesn't mean that the passenger can't hold onto it for you. This really depends on how willing the passenger is, but I'm sure if you let them put a few items they need in there, too, then they'll be pretty happy to help you out. There's no real reason why you wouldn't be able to have them hold onto it for you!
Sources
Lifehacker – What's In Your Awesome Backpack
Huffington Post – Seven Motorcycle Safety Myths
Subscribe to our Newsletter