Best Children Lap Trays for Traveling Reviewed and Rated
last updated:
Jul 09, 2019
Are you planning a long trip, but you don't know how to keep your kid entertained? Parents always have an ace up their sleeve, and this one's called car seat tray! We know that kids often hate to travel because they quickly get bored, impatient to arrive wherever the road is taking them. Now you can give them the full traveling experience with travel trays that can store books, crayons, tablets, and even food!
Featured Recommendations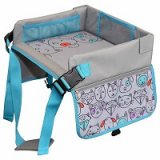 LillyCrafted

Our rating
High Quality Construction
Price:

See Here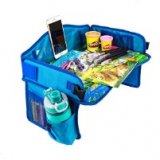 BO Innovation

Our rating
Comfy
Price:

See Here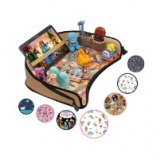 DMoose

Our rating
A Little Playground
Price:

See Here

Keep your little ones occupied with a multifunctional tray which can be used in a car, on a flight, or even for high chairs and desks. The car seat tray provides many activities, such as playing with toys, drawing, or watching cartoons. Investing in a travel tray means letting your child have fun and avoiding stressful situations all in one! Now all passengers can fully enjoy traveling to their favorite holiday destination!
If you're interested in this great product, keep up with our in-depth reviews of the best available travel trays. We have done thorough research to find:
10 Best car seat trays
LillyCrafted
Children are demanding little rascals that want all the attention they can get, especially when they're bored in the back seat. In these situations, it can just so happen that all of a sudden you can't think of anything to entertain them with. That's why LillyCrafted gives you an option to serve the fun on a practical lap tray. Let your kids enjoy reading, watching cartoons, playing with toys and drawing on the dry erase board!
Expand to see more
Mess-Free
The tray attaches onto a car seat or buggy chair, so it's stable and easy to use. Once they have the tray on their laps, children can use it for various traveling activities, and the best one is definitely coloring! It also has pockets for storing smaller items that might otherwise clutter up your vehicle.
Guarantee
Because LillyCrafted believes so wholeheartedly in their product, they offer a 100% money back guarantee. This means that you simply have absolutely nothing to lose in taking a chance on this item. With its fantastic reviews and durable construction, we think you (and your little one) will love it.
Cost and Value
LillyCrafted is an excellent lap tray that keeps your kid's big mind and small hands entertained so you can focus on driving! The tray is well-priced for all the useful features it provides.
You and your child will just love it!
Sturdy construction
Cute design
Pockets with zipper
Money back guarantee
Some found it hard to put together
BO Innovation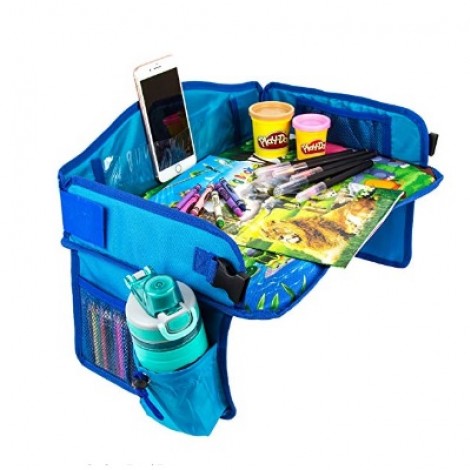 If you want an entire small playground for your kid, you could provide one by getting the BO Innovation's travel lap tray. That way, your little one will not only get to play and eat on the table, but you will get an easy-to-clean tray. Additionally, both of you will almost certainly enjoy the cute animal kingdom design that expands a child's imagination.
Expand to see more
Never Enough Pockets
We all know what every parent needs, and it starts with P – pockets! This lap tray comes with two pockets on both inner sides and two snap-on pockets on the outside. In them, your kid can store crayons, books, toys, snacks, and even a bottle!
Safety and Comfort
This tray was made from high-quality 900D Gucci Nyon material. It's sturdy yet soft and flexible enough to be pleasant for your kid. It has extra long straps compatible with
any type of car seat
which adds to the stability of the whole thing. Your kid will feel free to do almost any travel activity on this tray, from playing with toys to eating snacks and dinner.
We should mention that some parents aren't satisfied with this tray's sturdiness because children can't take it off by themselves. You would probably need to pull the car down to adjust it for your kid.
Cost and Value
In the end, BO Innovation's tray is an inexpensive product that you can return for a full refund if, for any reason, you find it unsuitable for you and your child – which is not so likely to happen. Along with great features, you'll get an extra present for your little one in form of coloring book set that includes book and 8 crayons.
Features many pockets
High-quality material
Features long straps for more protection
Suitable for any travel activity
Animal kingdom design
Kids might have some problems taking it off by themselves
DMoose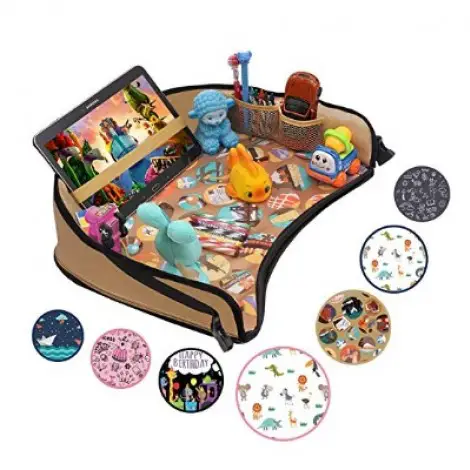 DMoose Lap Tray comes with a charming design and many enjoyable and useful features. It's one of the best selling lap trays on the market, and you'll soon see why! People from DMoose made a real effort to provide both you and your child with a pleasant experience on every ride.
Expand to see more
Quality Materials
The tray has pearl wool cushioning to protect your kid during the ride and TPU coating for an easy clean-up. TPU means resistance to oil, grease, and abrasion, so you'll be able to wipe off every spill and still maintain the tray clean from persistent stains. DMoose Tray also has side walls and long straps to ensure that nothing leaves its place. Besides that, there is a strap which can hold an iPad when your child wants to watch their favorite cartoon. Another longer strap goes around the car seat for more stability.
Additional Features
The tray has mesh pockets that are a great storage place for toys, books, bottles, crayons, and of course – snacks! Your kids can use this lap tray as their lunch table, and you can relax knowing that every crumb and spill stays inside the walls. However, some parents noted that the tray doesn't extend enough toward the child's stomach, so things can easily slip down under the tray.
Cheerful reminder: Don't forget that you can choose from 6 differently designed trays!
Cost and Value
Every child would be happy to have a DMoose travel tray, and every parent might be thrilled with its features and price. Not only that the tray offers
endless entertainment for your little one
, but it also comes with a lifetime guarantee so you can ask for a full refund or replacement if it doesn't fulfill its purpose as it should!
Easy cleanup
Pearl wool cushioning for child's protection
Stain resistant
Features strap for more stability
It has mesh pockets
Things can slip under the tray
Kids Bright Toys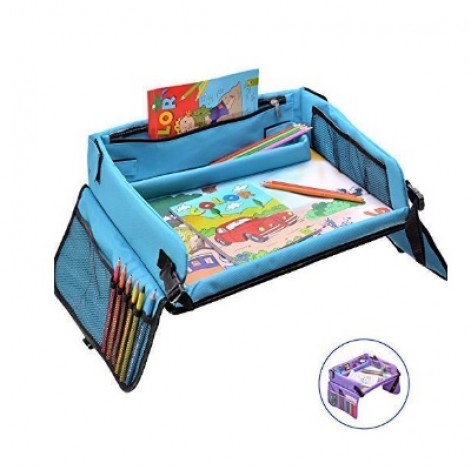 Another all-in-one lap tray comes from Kids Bright Toys, fulfilling both your and your kid's every need. Little ones get to draw, color, eat, play with toys or watch cartoons on the new multifunctional travel tray. On the other hand, you get to see what people mean when they speak about the ride as the best part of every vacation.
Expand to see more
Travel Organizer Tray
This tray does a great job in keeping all toys, pencils, and snacks away from your seats because it features mesh and pencil pockets. The padded front barrier also keeps everything on the layer, preventing it from falling down - nobody wants chips and treats spread all around the car. Hence, you'll have a clean car and a busy child so you'll be able to drive without any stress.
Sturdy
Kids Bright Toys tray is sturdy with a solid plastic surface. It has Velcro straps that keep the walls upright when the tray is in use. It can also be easily closed on the front side, so your child can carry it on the shoulder like a backpack. This design allows great portability all while keeping crayons in their place without falling off. Lastly, the tray comes with a cute bag where you can store it when it's not in use.
The only downside can be the length of the straps. They go around the child, not around the seat, which many parents find to be an issue.
Cost and Value
If you want an organizer tray for your car,
but also amusement for your child
, Kids Bright Toys tray is a must! You'll enjoy this colorful tray that comes at a great price.
Multifunctional tray
Works as organizer
Has a padded front barrier
Easy to carry around
Comes with a bag for storage
Star Kids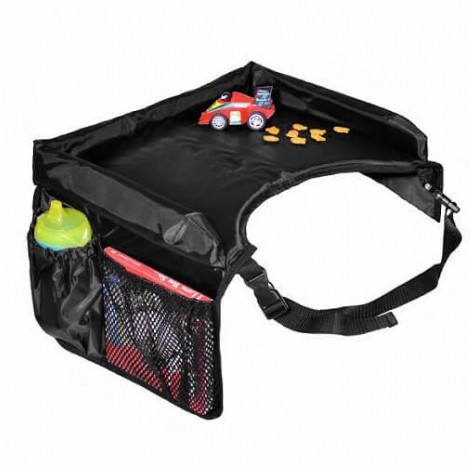 You're planning a long trip, but you worry about your kids getting bored? Star Kids Tray is an excellent product for keeping your little one occupied and fully satisfied. It can serve as a lunch and snack table, a drawing and coloring table as well as your child's own little amusement park.
Expand to see more
Durable Materials
The tray is made from 100% nylon which makes it sturdy and durable, but also easy to clean. Not to mention that the tray is waterproof so it can endure any and all big spills that may happen during the ride. Hence, Star Kids tray is designed to last and cope with every attack of your little warrior. The straps are long enough to include both the car seat and your kid.
Star Kids Tray is entirely filled with polyurethane foam, and therefore it's lightweight and pliable. This material is soft enough to prevent any damage. However, the tray should be more leveled on the lap. Sometimes it just won't sit flat and that disables the proper use.
Storage Area
Everything you want far away from your seats will remain inside the tray thanks to the 2 inches high side walls on the tray. However, one side of the tray doesn't have a wall which is a downside because things slip through the open space between a child's stomach and the tray.
The tray also has big mesh pockets on both sides where your kid can store toys, books, crayons, and other fun stuff. It has a mesh cup holder too, which is especially good for you – no more spilled liquid on your seats!
Cost and Value
Overall, this is an excellent lap tray, and it will
make your child happy during every trip
. It's safe, so you don't have to worry about your child's protection, and it allows many fun activities. Additionally, the tray has an attractive price, so you won't even think about it twice.
Made from 100% nylon material
Waterproof
Long straps
Filled with polyurethane foam for better protection
Side walls and pockets
Sometimes it just won't sit flat
Things slip between the child and the tray
Beloved Belongings
Regardless of whether you're going on a vacation by car or plane, your child needs its essentials, and one of them is a travel lap tray. One of the best choices on the market is the Kids Travel Tray by Beloved Belongings. You'll absolutely love this user-friendly and amusing tray.
Expand to see more
Easy to Clean
Beloved Belongings made a great lap tray that can endure every spill your child could possibly make. The waterproof and BPA free surface can be easily cleaned with just one swipe. There won't be any mess on your car seats, or your child's clothes – the tray picks it all up. For an even more organized car, the tray features three high walls and a small lip on the forth side. The lip could be improved a bit, but it's way better to have any kind of border to prevent things from sliding down between your child and the tray.
Travel Anywhere
Beloved Belongings tray is made for various travel activities, suitable for both car and airplane seats as well as high chairs and buggy seats. It provides a strong surface for coloring or playing with toys, but it's still soft enough to be safe. The only downside could be the strap buckles which are a bit soft – they're safe but your little one could tear them apart if it decides that the tray isn't fun enough anymore.
The tray has mesh pockets which can hold books, toys, crayons, food, drink, cups, and even tablets and iPads. That way,
you are fully packed for every trip
and safe from the well known are-we-there-yet question!
Cost and Value
With all the features it provides, you'll feel that Beloved Belongings tray costs next to nothing! The combination of your happy child and peaceful ride makes for an incredible value!
Easy to clean
Waterproof
BPA free surface
Three walls and a lip
Suitable for many different situations
Strap buckles are a bit fragile
EcoZen Lifestyle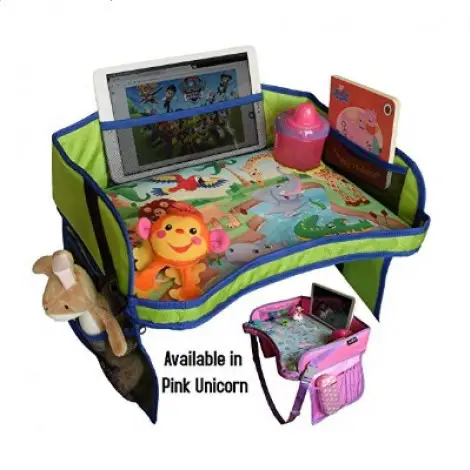 You're going on a long trip but you don't know how to entertain your kids? Look no further, because EcoZen Lifestyle Travel Tray is a perfect choice for many travel activities!
Expand to see more
Versatility
EcoZen Tray occupies any toddler with play, coloring, and eating options. It has several inside and outside pockets where your kid can store crayons, toys, books, snacks, and even a tablet. Additionally, the tray has an integral cup holder so your kid can always have its drinks close at hand. It seems like every essential travel thing can be stored in this tray.
The thing that distinguishes this lap tray is its versatility. EcoZen has a universal fit which means that
it should fit most car seats
, pushchairs, and strollers. You can easily store it by folding down walls and pockets. This way, you can even take it wherever you go!
Safe to Play
EcoZen features anti-bacteria coating surface to ensure that your kid plays with a safe and protected lap tray. This material is also easy to clean, you can do it with a regular wipe, and yet there won't be any leftovers. The tray also has one feature that every parent finds crucial – it's waterproof. The only thing that could be better is the sturdiness of the tray. It seems that the surface is too soft for kids that want to draw and color.
Cost and Value
EcoZen offers safe and multifunctional travel lap tray for your kid, and you'll love it! No parent or kid could resist the cute animal design, but what makes you stay with this tray is its quality. You'll find it's worth every penny!
Several big pockets
Can be used for many travel activities
Has an integral cup holder
Universal fit
Easy to clean
The surface could be a bit sturdier
Coolmum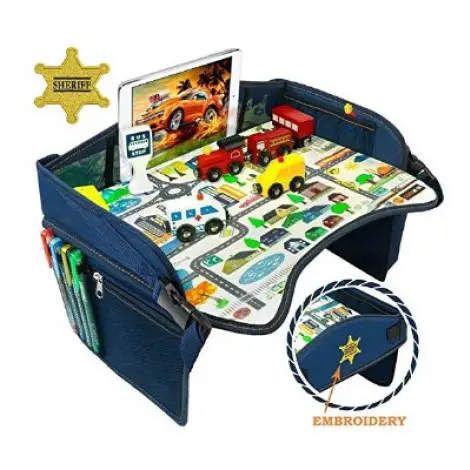 If you want to give your kids a surface where they could play, draw or eat, you might want to consider purchasing a Smart Travel Tray by Coolmum. The tray has an interesting design featuring the city map on its surface and a sheriff's badge on its wall. Your girl or boy gets to imagine being as important as a police officer that protects the city every day!
Expand to see more
Tray Organizer
The tray has multiple pockets for travel accessories such as crayons, books, snacks, iPad, and others. Your kid will have all these things within its reach, as well as a bottle that has its own holder. Along with pockets that ensure a well-organized car, comes the waterproof plastic surface that makes every cleanup very easy. Your kid can use it as a table, desk or travel lap tray because it's a universal fit for many different car and kid seats.
More Protection
Smart Travel Tray has a strap that goes around the seat for a better fit, and more protection during car rides. It's as sturdy as it can be without endangering your child's safety. The strong buckles on the strap make impossible for children to take it off during the ride, which some parents like but others not so much. Some of them noted that the edges fold down after some time of use and that the tablet holder isn't as sturdy as it should be.
Cost and Value
Smart tray by Coolmum is a great option if you want to have all of your kid's travel stuff neat and tidy in your car, and still keep your kid happy and entertained. It provides an excellent value for money, so
you'll be loading for your trip fully contented
!
Great design
Multiple pockets
Cup holder
Easy to clean
A strong strap for more protection
The surface could be sturdier
The tablet holder isn't firm enough
ProX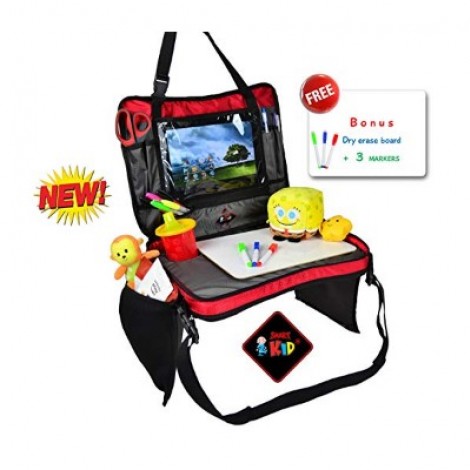 A lifesaver – that's the word that every buyer of ProX's travel tray uses to describe it. The tray provides long hours of entertainment for your kid, offering many valuable features. You'll finally get to drive without any stress and headaches!
Expand to see more
Dry-Erase Surface
The tray features a dry-erase surface that allows your kid to draw and color and allows you to easily clean it after use. Wipe off their doddles and they can be little artists all over again. The great thing about this lap tray is that you don't have to use it only for traveling! Your kid would probably enjoy drawing and coloring on the plane, train or inside the house.
Safe and Sturdy
The tray has a strap that goes around the car seat, and a sturdy surface with a cup holder. There are two big mesh pockets on every side of the tray, as well as a transparent pocket for an iPad, so your kid can watch its favorite cartoons. The pocket keeps the device protected from accidental spills but it also holds it in place during the ride. The only thing that could be a problem is a bit low lip around the tray because things can easily slip from the surface.
Cost and Value
If you need a peace of mind while you're driving
, you can purchase this travel lap tray and provide an enjoyable ride for your kid too. The tray has an attractive price and a lifetime warranty, so most likely you won't feel any remorse buying it – especially when you see the great value that this tray provides for your kid and you.
Dry-erase surface
Can be used in various situations
Two big mesh pockets
Transparent pocket for iPad
OT Valley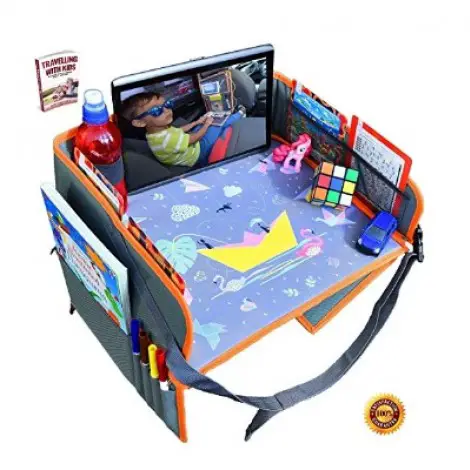 OT Valley offers a multipurpose kids travel tray that will provide a stress-free ride for you, and fun for your child. The tray can be used anywhere and it can fit almost any baby stroller, car seat, or high chair.
Expand to see more
Special Features
OT Valley features a modern travel lap tray that has a transparent iPad pocket. There's a handle placed on the top of the tray so you can hang the whole thing on the front seat. That way, your kid can watch its favorite show or cartoon and fully enjoy the ride. The tray also has other pockets where your kid can store all its travel stuff.

Good Quality
Made from first-class materials, OT Valley is a high-quality product that's very durable. It has walls on three sides so the stuff doesn't fall from the tray's surface on the ground. To prevent any mess on your car seats OT Valley features waterproof base on their tray, so you can easily wipe off every spill and keep your kid's tray fresh and tidy. However, it seems that the surface sometimes absorbs liquid so the stains remain on the plastic layer. Another drawback can be the lack of a lip on the forth side of the tray. Without it, the space between the child and the tray swallows things like a little monster.

Cost and Value
People from OT Valley really pay attention to the quality of their products, so they give a lifetime guarantee for this travel tray. You can get this great tray for an excellent price, but you also have the ability to return it if you're not satisfied.


A special transparent pocket for tablet
Has pockets on both sides
It can be hanged on the front seat
Quality materials
Easy to clean
Some stains remain on the surface
Doesn't have a lip on the forth side
Criteria Used in Evaluation of the Best car seat trays
What we had in mind when we were evaluating the best ten-car seat trays that we have found on the market, were various features that every product has to fulfill for the high position on our list. Some of the features were essential, while others were additional but useful. Either way, here are the criteria we used in the evaluation of the ten best car seat trays one can find:
Fun and Games
Whether you are going on a vacation, holiday, or a short trip, the first thing you want to have by your side is something that would occupy your kid's mind and hands. If you can provide full entertainment for your kid and have some peaceful time for yourself, the vacation can be already considered as a successful one. If you're planning to purchase a car seat tray, you might save yourself from the hassle of packing bags full of toys. High-quality car seat trays offer various travel activities to keep your child happy and fully satisfied. Kids can draw, color, play with toys, and watch their favorite shows and cartoons on a car seat tray. Our thought process was: the more activities that a tray can support – the higher place it gets on our list! You don't want a tray that your kid can toss away in revolt or boredom. High-grade car seat trays should offer more fun and games to your kid, and the ones that do are on the top of our list.
Materials
The second thing that every parent wants to know is the quality of materials kids get to play with. Even if car seat trays aren't small toys that kids can swallow, they touch it a lot, and sometimes trays can get damaged after extended use so that kids can get in contact with inner materials. That's why it's important to know that the trays are made from quality materials, which aren't dangerous for your kid's health, and that they're durable. Another thing that good materials provide is easy cleaning. Waterproof materials can pick up spills instead of your car seats, and they don't even get damaged. You can just wipe off spills using tissues, and everything gets back in order. The best trays don't even keep the stains on the surface. We took into account every one of these things while we were evaluating the best kid's car seat trays.
Essential Features
The essential feature for every kid's backpack, luggage, toy storage, and a car seat tray are pockets! There is nothing better than pockets that pop up everywhere, providing storage for all the little things you need when traveling. That's especially important for kids car seat trays because they need a place for all their crayons, books, snacks and other essential stuff. It's even better when the tray has a cup and a tablet holder. However, what every car seat tray should provide is versatility. Your kid should have the ability to use them both for play and for eating snacks or lunches. Trays with these features and accessories are better than ordinary ones which contain only flat surface, so they made their way to the top of our list.
Safety
Children's safety is the most important thing for every parent. From toys to car seat trays, parents are always thinking about giving their children only safe things during a car ride. The usual problem with soft and safe car seat trays is that they're not sturdy enough. However, there are ways to produce a car seat tray that is both firm enough to be a good surface for playing with toys or drawing, and secure and reliable. The trays that are designed this way have the highest position on our list.
Cost and Value
Even if car seat trays aren't expensive in general, it's important that users get what they have paid for. When it comes to the safety of a child, nobody wants a cheaply made tray that can cause any trouble or discomfort. That's why the value of every lap try was one of the most important things for our evaluation of the ten best car seat trays.
Other Factors to Consider
You can always rely on our criteria when you're searching for the best car seat tray for your kid, but there are some additional factors that you should consider before you make the final decision and the purchase itself.
Kid's Age
A car seat tray is an excellent little playground for your kid, especially when you're making a long trip. However, you should keep in mind that a child's age can be an important factor to consider when you're choosing the best car seat tray. Younger kids (up to 3 years) probably won't be thrilled with their car seat tray, and you'll most likely end up pulling the car over to get it off because you want to stop the screaming and crying. In that case, you should consider something else that could keep your kid entertained, or purchasing a smaller car seat tray that can be easily removed. For kids older than three, you should find a tray with a sturdier surface so they can play or draw without any difficulty.
Play and Learn
The starting point for your search of the best car seat tray should be your kid's favorite activities. If you have a young artist in your family, you should search car seat trays that have a dry-erase surface. These trays also have a somewhat sturdier surface, so the pen doesn't slip or bump during the ride. You can also think about other features, e.g., if you have a young tv producer, you'll want to have a tray with an integral place for a tablet.
Eat on the Way
Almost every car seat tray can be used for eating, but there are some things you should pay special attention to anyway. The waterproof material is a must, but this applies for every tray if you don't want to have a huge mess in your car. This is also beneficial for you because they are easy to clean. You can also search for materials that won't absorb liquids, so you don't end up with many stains on the tray's surface. Other essential things are big pockets where you can store all the snacks and drinks your child might want!
FAQ
Frequently Asked Questions
Q: Are car seat trays safe?
A: Yes, they are. Most high-quality car seat trays have a certificate to prove that they are safe for car usage. They make car seat trays from soft and flexible materials to ensure that the tray can fold down safely if anything happens during the ride. Additionally, trays often feature one or more straps that go around the child's seat for more protection.
Q: Where can my child use a car seat tray?
A: A car seat tray can be used almost anywhere! While it's most beneficial during long car, train or plane trips, you can use them in many other places such as your house couch, backyard, or on many other occasions where you want to have your kid occupied. It's often that kids are so thrilled with this product that they ask to use it daily.
Q: How do I install a car seat tray?
A: It's as simple as ABC! Let the tray rest on your child's lap, put the strap around it or the car seat, and tighten it enough to be firm and yet comfortable. Because it's so easy to use them your child can bring it almost anywhere!
Q: How to make your car seat tray?
A: You can make a car seat tray on your own in just a few steps. All you need is a cookie sheet (lightweight if possible), some paint, scrap fabric, glue, and bean bag stuffing. First, you want to paint a cookie sheet in a desirable color. Then you want to be sure that the cookie sheet stays secure on the kid's lap, so you'll need to sew scrap fabric to get a pillowcase in the same size of the tray, fill it with bean bag stuffing and glue it to the bottom of the tray. That's about it! You could additionally paint the tray in various colors or make some flowers or other decorations and glue them to the tray. However, keep in mind that this car seat tray might not be as safe as a professionally made one. Without straps, the tray can slip from the lap, or it can cause some injuries. Also, this tray lacks many cool features that kids just adore to use!
Sources
Subscribe to our Newsletter