Best Shop Vacs Reviewed & Rated for Quality
last updated:
Jun 24, 2019
Cleaning your garage or workshop is a challenging task. Think about all those dusty tools, heaps of junk, unsorted accessories and all kinds of unnecessary stuff.  On top of all that come the leftovers after woodworking, welding, or other everyday jobs. You are not sure whether you need a broom, a shovel or a bulldozer! Luckily for you, we have a solution and it doesn't include engaging such drastic measures. You can use a shop vac! Yes, we know, you're a bit skeptical about vacuums after you broke two or three of them trying to clean your garage. They just didn't work after you tried to collect metal shards and plastic pieces, is that right? Well, the shop vac is a different type of tool. It's way more sturdy, specially designed to clean everything in your working area, from wet to dry messes. They'll make your life way easier and won't even cost you a fortune!
Featured Recommendations for the Best Shop Vac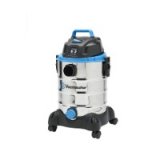 Vacmaster

Our rating
Compact
Price:

See Here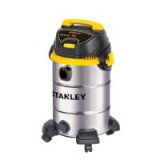 Stanley

Our rating
Powerful
Price:

See Here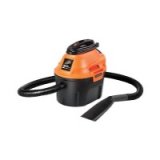 Armor All

Our rating
Versatile
Price:

See Here

The toughest part is choosing the best shop vac for your needs. There are many factors to consider and a wide range of products to check out. Again, we got your back! In order to help you find the perfect product and make this searching process easier for you, we prepared a list of 10 best shop vacs. These are the best you can find on the market right now! You'll definitely find one or two that suit you the most. Still, if you find yourself unable to decide or with any doubt at all, you can follow the list we provided at the bottom. There are some extra tips that should help you make up your mind. Now, let us present to you:
10 Best Shop Vacs
Vacmaster Shop Vac
Here we have one of the most popular shop vacs on the entire market! It's a compact and powerful unit designed for small to medium-sized garages and shops. It proves to be super efficient in collecting and blowing off dirt and debris and it allows for easy use. The sleek and steel-like design will also complement every working area. Who could possibly ask for more?
Expand to see more
2-in-1
This one comes with a 3 Peak HP motor which is more than enough for all homeowners. The best thing about it is the ability to deal with both wet and dry materials! It has a 6-gallons big tank to collect all dirt and dust in your working area. The multi-surface nozzle is another super useful feature. It allows for cleaning up carpets, woods, linoleum, and other surfaces.
The vac transforms into the blower according to your needs. It's not very powerful in this mode, but it's still quite efficient. You can use it instead of the leaf blower to clean pathways in front of your house or maintain your garden. Another tiny yet useful feature is a power switch. We liked the fact that it's sealed to prevent dirt from getting to the internal parts and damaging them.
Compact
Vacmaster is very easy to use. It weighs around 16 pounds and it's very compact so you can move it around with great ease. The set of wheels also add to the entire portability of the unit. You'll get a 12-feet long cord and 7-feet long hose as well. This should be enough for all workshops, but some users still opt to get longer cords. Also, keep in mind that this unit tends to tip over a lot. This is the fault of the wheels that are positioned too close to each other.
The compact design doesn't come at the expense of durability. This unit is made from stainless steel and proves to be very durable. It's weather-resistant so you can use it outside as well. Just don't leave it under the pouring rain or snow!
Cost and Value
Whether you need a vac for your home, garage or shop, we strongly recommend going for this one. It's not too powerful but it deals with all tasks super efficiently. Not to mention that it comes at a reasonable price and with a 2-year warranty! This makes it a perfect option for both
handypersons and professionals
.
Transforms into the blower
3 peak HP motor and 6-gallons big tank
Multi-surface nozzle
Compact and portable
Weather-resistant and durable
Reasonable price
Some people find the cord too short
Tends to tip over a lot
Stanley Shop Vac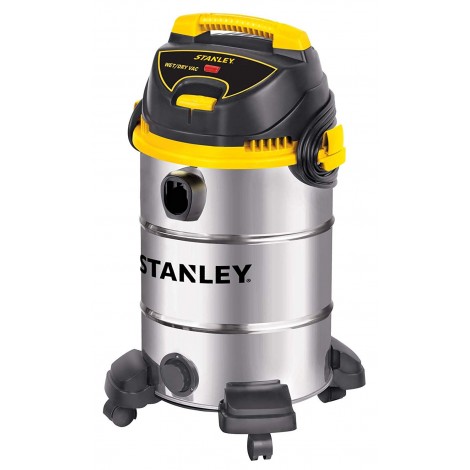 You probably know all about Stanley and
their amazing products
! Here we have one of their super powerful vacuum cleaners that offers efficiency and durability. It's a perfect option for every task around the house, garage, or workshop, so make sure to check it out. Stanley guarantees exceptional performance!
Expand to see more
High-Power Motor
Stanley offers this model in 10 different sizes, from 3 gallons to 8 gallons. You can choose the one that meets your personal needs, they are all equally well-made. The vac is perfect for wet and dry pick-ups thanks to the high-power motor. It guarantees efficiency and flawless cleaning results. The only drawback comes from a somewhat small filter that gets easily clogged. This could make cleaning the vac a little difficult.

It's worth mentioning that this unit features a waterproof design. You can use it all harsh working situations and weather conditions. Additionally, by removing the top this unit transforms into a powerful blower. You can even use it to clean the pathways around your house!

Great Mobility
This one is rather compact and lightweight. You won't have any issues with moving it around. There's a convenient handle at the top of the unit that allows for easy carrying. Not to mention 4 swivel casters for improved portability. The product comes with a 10 ft long power cord that wraps around the unit in a few simple movements. All in all, this one is very easy to use and you'll find it perfect for your garage or workshop!

Cost and Value
We are not going to lie to you, Stanley does come with a higher price tag. It won't cost you a fortune, but you'll have to add some cash to get it. We still highly recommend it due to the great value it provides!

High-power motor
Efficient
Waterproof and durable
Transforms into a blower
Compact and portable
Easy to use
Could be a little difficult to clean it
Pricey
Armor All Shop Vac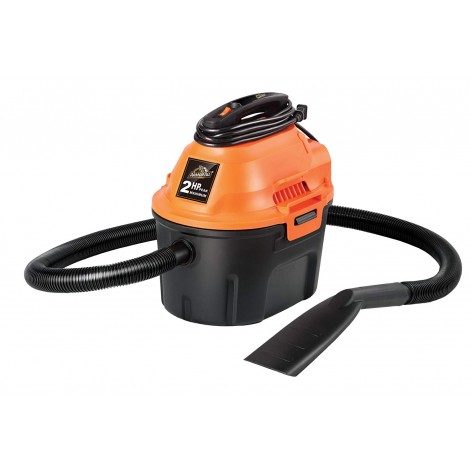 Are you tired of all those bulky vacs taking up all your working space? Fear no more, we have a solution for you! Armor All features an ideal little device that meets the needs of every small to medium-sized garage or workshop. Don't miss to check it out, we promise, it's a real steal!
Expand to see more
Excellent Performance
Don't be fooled by its compact design - this little device is quite powerful! It efficiently collects wet and dry debris and offers a capacity of 2.5 gallons. Along with suction mode, it transforms into a blower for even better performance. That being said, keep in mind that it can't give you the same power as 8- to 12-gallons big vacs. If you need something more powerful for commercial jobs, this is not the product for you.
Versatile
This is a rather compact tool that's very simple to use. It doesn't feature wheels, but you won't even need them! The unit is so lightweight that you can carry it around with great ease. There's a convenient handle at the top that helps too. The best thing about this kind of design is versatility. You can use it inside or outside for cleaning your car interior, house, garage, workshop, and more. Lastly, it won't take a lot of free space when not in use. You can store it anywhere and take it out when you need it again in a matter of seconds!
Cost and Value
On top of great performance and compact design comes a great price. This vacuum cleaner is rather inexpensive. You shouldn't even hesitate to make it a
part of your cleaning equipment!
Powerful and efficient
Transforms into a blower
Compact and lightweight
Easy to use
Versatile
Inexpensive
Power Smith Shop Vac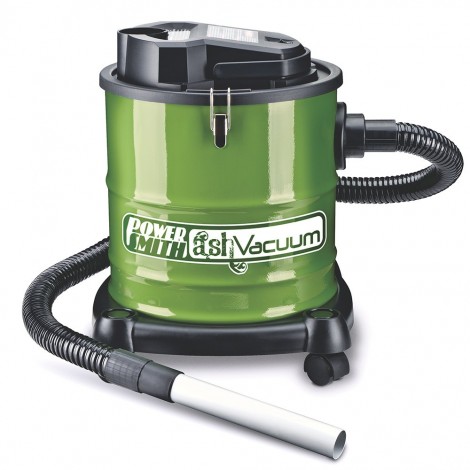 Power Smith offers an ash vacuum that's ideal for cleaning fireplaces, wood, and pellet stoves. We find it super useful for garages and workshops as well. Everybody needs a cleaner that can collect the leftovers after doing jobs such as welding or drilling. This one is just that perfect safe tool that can take warm pieces of junk without starting a fire! It most certainly delivers outstanding performance for those working in harsh conditions.
Expand to see more
Heavy-Duty
You can use this vac almost anywhere thanks to the fire-resistant filter system. It's also completely washable! The hose and the canister are heat-resistant as well. You don't have to worry about vacuuming ashes or other dangerous particles that can damage your tool.

What users praise the most is the fact that the unit doesn't clog at all. It's designed to provide flawless performance no matter where and for what purpose you use it!

Durable Metal
It's safe, powerful, and very quiet when working. It even comes with an automatic shut-off feature to prevent overheating. The entire vac is made of high-quality metal, except for the handle that is plastic. It's very sturdy and durable so it should last for years of heavy-duty usage. You'll also get a 16-foot long cord which is more than enough for every workshop.

The only drawback is that the device turns hot quickly. Once it reaches the overheating limit it turns off automatically. This is a great safety feature, and we love it. However, it takes around 30 minutes for it to completely cool down! This could get pretty annoying, especially when you have a lot of cleaning ahead of you.

Cost and Value
We know what you're going to say – it's just too good to be true! We had a hard time believing it too, but this product does come at a reasonable price. You'll find it useful for many upcoming years, so we highly recommend trying it out!

Fire-resistant filter system
Washable
Doesn't clog at all
Safe and powerful
Made of high-quality metal
Reasonable price
Shop-Vac 5895200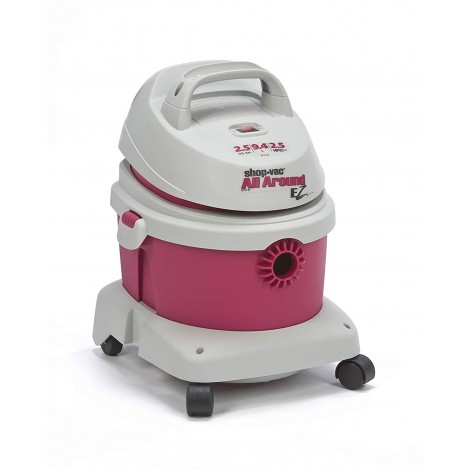 If you're searching for a versatile vac that you can use both indoors and outdoors, this is a perfect option for you! This little device proves to be super useful for every task. From cleaning rooms in your house to maintain your garage or workshop, you won't find a better deal. It's easy to use, very fast and accurate, so it will save you quite some free time. You'll have your working area completely clean and neat every day without too much effort!
Expand to see more
Efficient
This one has a 2.5 gallons big tank and 2.5 peak HP motor. It's a perfect solution for every household as well as big workshops. It deals with both light and heavy-duty cleaning tasks including wet and dry messes. You can even change the mode to blowing if you need to blow off some dirt, dust, leaves, and more. Once you're done with vacuuming, you can mount the tool on the wall to save some free space. Although it won't take you too much space wherever you choose to store it.
Lightweight
The device is lightweight and quite portable. You won't have any problems with carrying it around. Still, if you prefer rolling it across the workshop, there are 4 wheels located at the bottom that will help you with that. They make the maneuvering very simple. Along with one handle located on the top of the unit, there are also two tank handles on the sides. Of course, it also comes with a 7-foot long cord and a set of replacement parts.
The only drawback comes from a somewhat cheap hose. Some users complained about the low-quality hose that makes cleaning more difficult. Think about this before you rush into the purchase!
Cost and Value
You'll be pleased to know that this vac comes at an attractive price. You should definitely make it a
part of your cleaning equipment
and enjoy the benefits of fast and efficient cleaner!
Efficient and versatile
Blowing mode
Compact
Lightweight and portable
Easy to use
An attractive price
Shop-Vac 5989300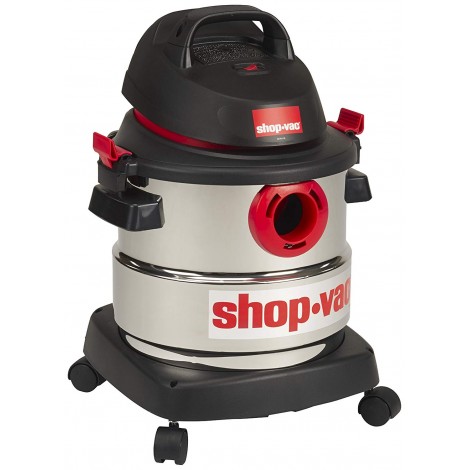 We know what you're thinking – another Shop-Vac product! Well, we had to include it on the list, and you'll soon be grateful that we did! We are talking about a heavy-duty vac, after all. Who doesn't want to have a multi-purpose tool to tackle both light and demanding cleaning tasks? We would definitely use a powerful vac like this!
Expand to see more
Powerful
Shop-Vac offers
another heavy-duty tool
for both commercial and everyday use. With the motor of 4.5 peak HP, the vac provides exceptional performance. It efficiently collects wet and dry debris and offers a 5-gallon tank. This means that Shop-Vac is the mid-sized vac. It's small enough to be easily stored yet big enough to meet the needs of big workshops. This also allows for simple maintaining and easy cleaning of the unit.
Durable
The tank is made of stainless steel while the top and the bottom feature a heavy-duty plastic. The parts are super sturdy and durable, you don't have to worry about exposing them to harsh working conditions. The vac can withstand quite a lot and it should last for many years.
We only have two little issues to address with this one. The first is with the air hose – it tends to pop out occasionally, especially on the blowing mode. The second is with the cord – we would like to see a longer one with this unit!
Cost and Value
We were quite surprised by the fact that such an amazing product doesn't come at a sky-high price. This way, both handypersons, and professionals can afford to have it in their equipment. All in all, the tool offers such a great value that you can't go wrong with purchasing it!
Versatile
Powerful and efficient
Easy to store
Made of steel and sturdy plastic
Durable
Competitive price
The hose tends to pop out
Short cord
Craftsman XSP Shop Vac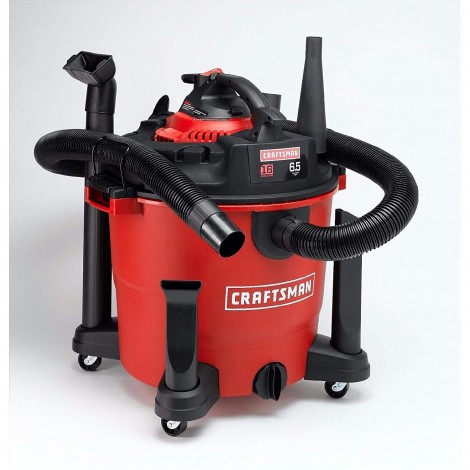 If you're searching for a heavy-duty tool for demanding cleaning tasks, you have found the perfect one! This powerful tool deals with wood chunks, metal shards, and all kind of dirt and debris. You're probably not surprised that it comes from such a reliable company like Craftsman. Their tools never fail to deliver an outstanding performance which is, after all, the main reason for their huge popularity! If you want to find more about this particular vac, keep reading our in-depth review.
Expand to see more
Impressive Power
This vac is super powerful and efficiently deals with wet and dry pick-ups. It's an ideal option for every garage and workshop because it can
collect dirt and debris
as well as plastic, wood, metal chunks and other pieces. You can even use it as a blower to remove leaves and clean pathways.
Easy to Use
Craftsman is very convenient and easy to use. Although it's not as compact as some previously reviewed products, it won't take all of your working space. There are also 4 wheels for more mobility and easier maneuver. We especially liked the storage space at the top of the unit. You can use it to store screws, nails, drill bits, and other accessories.
All in all, this one is definitely a tough shop vac that can withstand all working conditions. It's not only made to give you a lot of cleaning power but to last for years as well!
Cost and Value
We have to say that this vac is a little pricey, although we can't really argue with the price. Such a powerful shop vac had to be made from expensive parts to work perfectly. We highly recommend it to all those who have a few extra bucks to spend on a new workshop tool!
Powerful motor
Transforms into the blower
Versatile
Easy to use
Durable
A little bulky
On the expensive side
Shop-Vac 1.25 inch Shop Vac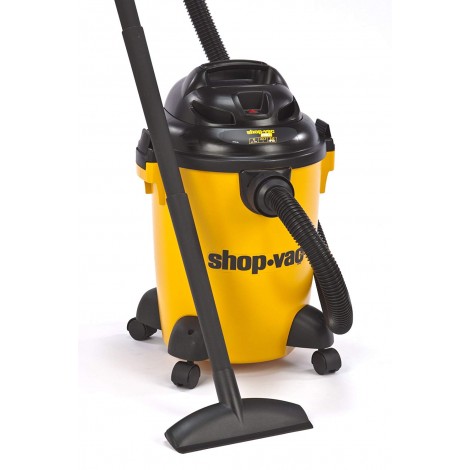 If you're looking for a compact vac for your small workshop, this is an excellent option for you! It's powerful enough to deal with all kinds of situations around the house or shop yet easy to use and store. Once again, Shop-Vac doesn't disappoint, and you're going to love their little device!
Expand to see more
Efficient
This Shop-Vac tool offers a 3 peak HP motor and a 6-gallon tank. It efficiently collects and blows off all kinds of dirt and debris. It's very easy to use it thanks to the handle on the top and wheels at the bottom. You get to carry and move it around at your personal convenience. Overall, it's an average vac but super useful for small to medium-sized areas.
The only drawback comes from the smaller diameter base. To cut long story short, the vac tips over a lot! This could restrain your movements because you'll have to watch out every time you need to move the unit around.
Pre-Assembled
The vac comes pre-assembled, so it shouldn't take more than a few moments to set it up for use. It comes with all the necessary accessories to make cleaning a lot easier. Although it's made of plastic we didn't notice any major difference compared to steel vacs. It's quite sturdy and durable, and it should last for many years of tough use. We should only warn you about the short cord. If you don't have an extension cord, you'll probably have to buy it for this tool!
Cost and Value
Not only that this vac will be easy on your pocketbook but it also comes with a 3-year warranty. We say it's a real steal and
a perfect option for every home and workshop!
Powerful and efficient
Easy to use and move around
Comes pre-assembled
Durable plastic
Easy on the pocketbook
Tends to tip over
Short cord
Workshop WS1600VA Shop Vac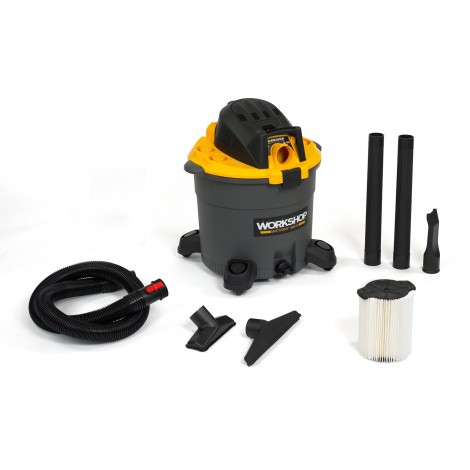 Here we have another heavy-duty shop vac, and this time it comes from Emerson Tool Company. If you haven't heard anything about them, now is the right time to check their offer. They produce all kinds of power tools to meet the needs of professionals and DIYers. This particular vac is no exception, and it comes with a wide set of amazing features!
Expand to see more
Impressive Performance
This is a very powerful vac that comes with a 6.5 peak HP motor. The tank has a capacity of 16 gallons which is also very impressive. All in all, this one is made for commercial use although every homeowner will benefit from having it too!

We especially liked its ability to suck up a gallon of water per minute! Yes, you read it right, this vac really is that powerful!

All In the Package
The tool has everything you need for undisturbed cleaning. When we say all, we mean it! The cord is super long, the hose is flexible and doesn't pop out, and the quick release top keeps the dirt inside at any cost! Additionally, the filter is easy to clean and maintain. They thought about everything, haven't they?

The only issue we had with its design are small wheels. They should be bigger for the bulky tool like this because they can't really handle the outdoor surfaces. However, if you use it inside, they'll move around smoothly.

Cost and Value
Although this one is on the expensive side, we have to say it's normal for the power it offers! Actually, most vacs with the same power output are way more expensive than Workshop. So if you need a powerful yet well-priced vac for commercial use, this is a perfect option for you!

A 6.5 peak HP motor
Heavy-duty and efficient
Dry and wet clean-ups
Comes with a long cord and a stable hose
The quick-release top
Bulky
Wheels are not suitable for outdoor surfaces
Ridgid WD1450 Shop Vac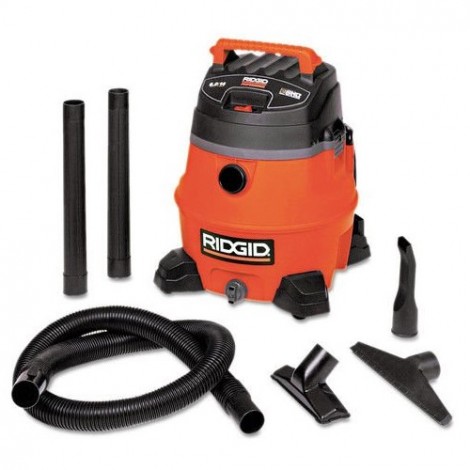 Rigid is a well-known company that produces all kinds of tools and accessories. They have to offer a lot of differently designed shop vacs, so make sure to check out their website. Our favorite model is WD1450, and you're about to find out why it's so praised among users!
Expand to see more
Powerful Motor
This one features a 6 peak HP motor and 14-gallons big tank. Because it features a 20-foot long cord you'll be able to move it around according to your personal needs. It's ideal not only for commercial tasks and big workshops but for home use as well. It efficiently collects dirt, debris, metal, plastic, and other pieces. On top of that, it doesn't produce a big noise. We know, it's a rare one!

Tough and Durable
This is a two-part vac made of high-quality plastic. This type of design has both pros and cons. The tool is super durable because of the merged parts but it doesn't allow for removing the head of the unit. It still transforms into a blower, but it's not as portable as other detachable vacs. That being said, this unit will last for many years, never failing to provide exceptional performance! Don't let this little drawback ruin the picture of this amazing vac.

Cost and Value
We are well aware that a powerful and bulky tool like this can't come with a lower price tag. Still, we have to warn you about it. Some users just can't afford it!
6 peak HP motor
14-gallons big tank and 20 ft long cord
Versatile
No noise
High-quality plastic
Durable
The head of the unit is not detachable
Expensive
Criteria Used in Evaluation of the Best Shop Vacs
Now, how did you even rank all those amazing products, you may ask? Well, it was a tiresome task that demanded a lot of research and hard work. We assumed that you would like to take a peek at this process. Therefore, we prepared a short list with some important factors that influenced the evaluation. Here's what this is about:
Power of Shop Vacs
First and foremost, the power! A shop vac has to be powerful enough to deal with all that heavy dirt that piles up in the working area. That's why the first thing we did was to determine how powerful motor each product on our list has. The best-performing ones are at the top!
Portability of Shop Vacs
Some people opt for the most powerful devices that lack portability, while others choose portable devices over power. Either way, we think it's very important that both more and less powerful shop vacs allow for great mobility. This makes them hard or easy to use, so it was crucial for the evaluation!
Storage
Even bulky devices have to be easy to store. We don't want a vac taking up all of our working space so we can't do anything around it. The smaller units are our favorites, and they collected some extra points. However, we didn't forget about the balance of power and portability. We took all these things into consideration during the evaluation. We left no stone unturned!
Simplicity
It's just nice to have a vac that is easy to use. Vacuuming is a tiresome task already. We don't need the additional hassle that comes with a hard-to-use vac. The simpler the tool the better!
Other Factors
What we mean when we say other factors are some extra features coming with the tool. They could influence the overall performance of the vac. For example, it's important to have quality and stable hose that won't pop up frequently. Not to mention long cords, power switches, convenient handles and wheels, and much more. We took all these things into account and ranked the products accordingly!
Cost and Value
Lastly, we wanted to make sure you'll get what you paid for. That's why we compared the products according to the value they provide for the money. The best are at the top of our list, of course!
Other Factors to Consider when Looking for the Best Shop Vac
Are you ready for the purchase? We bet you are! Still, we recommend staying a few more moments to make sure you have picked the perfect product for your needs. We promise it'll take only a little of your free time yet it could influence your final decision. Here's what we have in mind:
The capacity of Shop Vacs
How should I pick the tank size, you may ask? Consider the size of an area you'll be using a vac. This should determine whether you need a big or a small tank. Of course, if you deal with tasks that demand frequent and big cleanups you might want to stick with the bulky device. However, don't make that mistake and go for the bigger tank for ''just in case". If you have a smaller garage or workshop, you don't need too big and powerful vac that will take all your free space!
Design of Shop Vacs
You should ask yourself what do you expect from a certain vac. For example, you should determine whether you need a portable tool or the stationary one with impressive power. Also, it's important to take into account versatility, portability, and user-friendly features. You want to make sure that you won't have any issues with your vac. Short cords, hoses, and other features could annoy us to an enormous degree. That's why it's so important to make the right choice!
Budget
If you need a heavy-duty tool for your big workshop, we highly recommend adding a few more bucks. If you have that money, of course. It's just that these devices are rather durable and you won't be changing them for years. That's why you shouldn't hesitate too much when buying a pricey vac. On the other hand, those on a limited budget shouldn't despair at all! There are some amazing products out there that are well priced. If you don't need a beast of the shop vac, you can go for the cheaper option and you'll be just fine!
FAQ
Frequently Asked Questions
Q: What is the difference between a regular vac and a shop one?
A: The shop vacs are way more powerful and durable. They are designed for commercial use and they can collect all kinds of stuff. This device doesn't only collects dirt, dust, and animal fur but also metal, plastic, or any other pieces. It's a perfect option for every household in general or any workshop. Its power and efficiency allow for keeping your working space neat all the time!
Q: In which size best shop vacs come?
A: They mostly come in three variations: small, medium, and big. The small type ranges from 1 to 6 gallons. It's pretty small but very convenient for DIYers. The medium ones go from 7 to 14 gallons while the big one offers from 15 to 18 gallons.
Q: Which shop vac should I get?
A: It depends on your personal needs. Everybody use them in different places and in different ways. If you need a compact and very portable device, stick with the small one. On the other hand, all those who need a heavy-duty vac should go for the big tank. Lastly, if you need more power yet don't want for your vac to take all your working space, pick the medium one.
Q: Do they all transform into blowers?
A: These days, most of the newly designed vacs transform into blowers. However, this is not a general rule so make sure to check it out. Also, you should check whether a vac has a detachable head or it only blows the air from the stationary unit. The first type is way more powerful and easier to use.
Q: Can I use my shop vac to collect wet stuff?
A: Of course you can! All shop vacs should allow for both wet and dry pick-ups. They are designed for heavy use, after all. If you want to be 100% certain about this, just read the product's description before the very purchase. This should relieve your doubts!
Q: How durable are shop vacs?
A: Quite some! They should last for many years of continuous use. The high-quality vacs should last around 10 years. Just make sure to clean them after every use and maintain them properly. This way, you won't be needing a new one anytime soon!
Subscribe to our Newsletter