Best Safety Glasses Reviewed & Rated for Quality
last updated:
Aug 01, 2019
Growing up in my Chicago home, at any given time, I could frequently find safety glasses scattered throughout our basement and garage. I even remember putting on my dad's heavy welding mask, and asking questions why he needed to wear it. My father was a millwright and a darn good one. A millwright is a professional tradesman who installs, dismantles, repairs, reassembles, and moves machinery in factories, power plants, and production sites. My daddy called himself, "a jack of all trades – master of none". I, of course, beg to differ as he was notably knowledgeable and could build and repair industrial machinery – with ease. My father was very mechanically driven. He was a welder, a plumber, a pipefitter, an electrician, a boilermaker, an elevator mechanic, and an HVAC installer. There wasn't a tool this rugged, vintage, blue-collar fella didn't own, and he also owned a pair of safety glasses for every specific job he needed to complete. Even at a young age, I knew safety glasses were important to prevent eye injuries. I did not, however, think I would be reviewing and writing about them for you here, today. We are happy to share with you what we, at DrivRZone, have discovered to be the best safety glasses we could find in a relentless search across the hardware stores and auto parts houses of America!
Featured Recommendations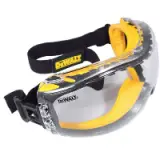 DEWALT DPG82-11

Our rating
Best all-around
Price:

See Here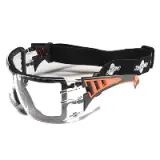 ToolFreak-Safety Glasses

Our rating
All-hazard protection
Price:

See Here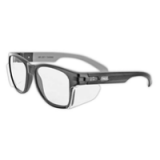 Magid Classic Black

Our rating
Classic value
Price:

See Here

Hello, and welcome to DrivRZone! If safety glasses are what you are looking for today, then you have come to the right place. Eye injuries are very familiar in the workplace, and it is reported that nearly 2,000 U.S. workers sustain job-related eye injuries every day. Also noted, three out of five workers do not wear safety glasses at the time of their injuries. Safety experts and eye specialists agree that wearing proper safety eye-wear could lessen the severity or prevent 90% of these injuries. Our goals at DrivRZONE is to ensure our readers are knowledgeable and have the tools and resources they need to make an educated decision when it comes to their safety. The American National Standard Institute (ANSI) creates guidelines for personal eye and face protection devices (including safety glasses). Occupational Safety and Health Administration (OSHA) sets and enforces protective safety and health standards in a workplace. Below are the best safety glasses reviewed and rated for quality – let's do the safety dance together – with our safety glasses!
10 Best Safety Glasses
1. DeWalt DPG82-11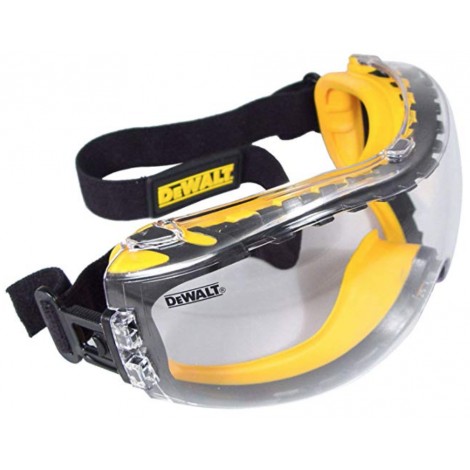 It is no surprise that the DeWalt DPG82 Concealer Clear Anti-Fog Dual Mold Safety Goggle comes in at number one. These safety glasses are made with an elastic adjustable headband strap which provides for an individual comfort fit. Comfort fit means you are less likely to remove your safety glasses, allowing for a great fit all day long. Featuring anti-fog lens coating with built-in ventilation to prevent safety glasses from fogging up and impairing your vision. Made with quality impact resistant lens and comes with a clip attachment for easy lens replacement when required.
Expand to see more
Strong and tough

Polycarbonate lens provides impact resistance and protects against breaking and scratching. We like the soft dual injected rubber that fits snug around your eyes and prevents dust, debris and other particles that could get into your eyes while using.

Anti-fog comfort fit

DeWalt ToughCoat anti-fog lens coating provides strong protection against fogging. Dual injected rubber with ventilation channels allows for breath-ability and extra fog control. Head strap is easily adjustable and made with soft, cloth-like material to allow for an individual comfort fit. More likely to wear these safety glasses with this comfort fit.

Cost and value

These are quality-made safety glasses, backed by a solid company at a great cost. Scratch resistant, anti-fog, and a comfortable fit goggle are why they were given the Editor's pick!

Scratch resistant
No fogging
Soft rubber contour around face
Soft adjustable elastic headband
Affordable
Could fog if you wear a facemask
2. ToolFreak Safety Glasses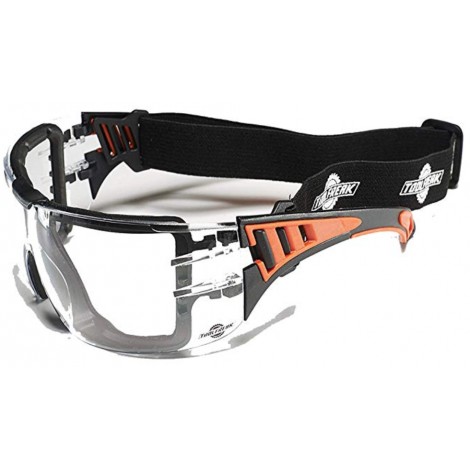 Arriving in at number two is the ToolFreak Safety Glasses with Foam Padding. When reviewing and rating safety glasses, we felt that it was necessary to give our readers choices. As with many tools, safety glasses are designed with different features, allowing consumers to choose an appropriate pair of glasses that suit their personal safety needs. We love that these glasses come with
UV protection
from the harmful sun for those whom you need to use them outdoors. These safety glasses are built tough with impact resistant lens and frames. Nice crystal-clear viewing with no distortion make these safety glasses superior!
Expand to see more
Choose your lens color
We love that ToolFreak gives you options. These safety glasses are distortion free and have UV protection. You can also choose your colored lens for the work environment you will be needing them for. These safety glasses come in smoke, clear, and yellow lens - or purchase them as a bundle and get all three.
Comfort
These safety glasses are designed for comfort. They can be worn solo or with an adjustable headband for maximum comfort that is included. We like that they come with a hard case to keep them from scratching which will provide years of safety. These safety glasses come with durable soft padding and included is a microfiber
cloth
to assure your vision is clear when things get a little dirty.
Cost and value
These are great safety glasses and we love their stylish, scratch-resistant design and UV protection. We believe the cost to be on point. These are perfect to be worn driving, working, playing sports, or just about any type of recreational activities.
UV protection
Impact resistant
Scratch resistant
Available in different lens color
No distortion
Can be worn solo or with adjustable head strap
Affordable
3. Magid Classic Black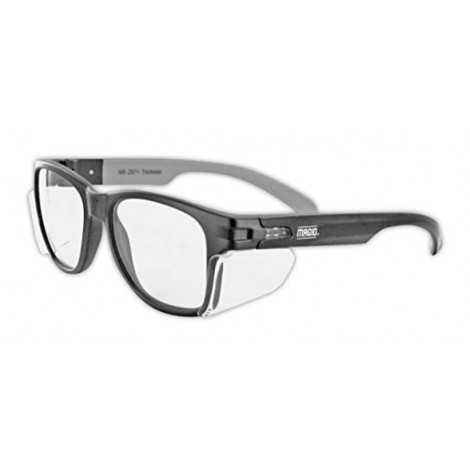 You can see clearly why the Magid Classic Black Safety Glasses came in at number three. Magid describes them as their "iconic design", and we agree they are just that! These are classic, old school traditional safety glasses, like the kind you received when you were a teen in shop class. These safety glasses are stylish and compliant with a curved frame and clear side shields for maximum peripheral vision and protection. These lenses are scratch resistant and built with a hard-coated
polycarbonate
making them lightweight and impact resistant.
Expand to see more
Classic design
Style options with protection? Yes, you get them both the Magid Iconic Design Y50's. Classic black lightweight nylon frame with grey or clear lenses with grey temple pads for comfort. When you wear comfortable glasses, you will be less prone to take them off.

Compliant
Nice traditional classic design, very stylish and includes scratch-resistant, anti-fog, and UV protection!


Cost and value

What is not to like with these safety glasses? Absolutely nothing. This is a simple design at an affordable cost. Cheap enough to buy a handful of them and keep them anywhere you need to keep your eyes safe! Great cost and value!

Classic design ANSI compliant
Side shields
UV protection
Anti-fog
Scratch resistant
Affordable
Too lightweight
Does not include headband
4. Jackson KC 25679 Nemesis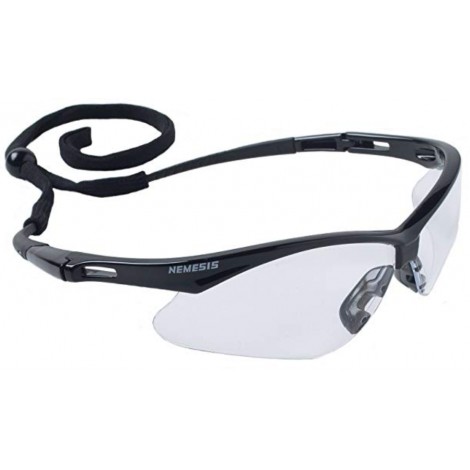 We really enjoyed reviewing the safety glasses that landed in our number four spot. These Jackson Nemesis Safety Glasses are also a very traditional choice. What you see is what you get, and we believe that sometimes a well-working
simple tool
– stands out above the rest. Weighing in at 3 ounces make them very lightweight and comfortable. These glasses are constructed as a single lens wrap-around design for protection. These safety glasses offer UV protection with an adjustable headband. These safety glasses are ANSI certified and OSHA compliant.
Expand to see more
Protection

These safety glasses are made for UV protection against harmful sun rays. Although they are not offered as "scratch resistant", they are very durable and seem to be able to take a beating before they show signs of real distress.

Lightweight

These safety glasses are extremely lightweight and offer all-day comfort if need be. Perfect for healthcare workers that work in labs, dental offices, veterinary clinics, or operating rooms.

Cost and value

These safety glasses are very economical but do offer a little more than the toss and go safety glasses. We think that these are a good choice for workers that misplace their glasses often or workers on job sites that demand they always wear PPE's (personal protection eyewear). They are lightweight, anti-fog and comfortable.

Lightweight
UV Protection
Adjustable Headband
Affordable
Does not fit smaller heads well
5. Pyramex Avante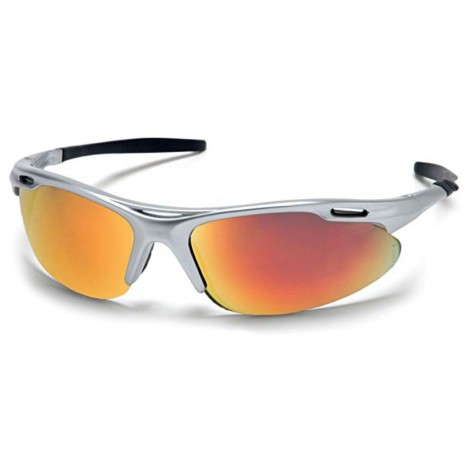 Our number fifth pick is a great pair of safety glasses. If you are looking for style and protection, we really like the Pyramex Avante Safety Eye-wear glasses. These safety glasses have a sports style frame that forms around the face for maximum protection. They have a nice built-in rubber nose pad for non-slipping and flexible temple, making for a quality comfort fit. These safety glasses are ANSI certified and OSHA compliant.
Expand to see more
Protection
We really like these safety glasses for the protection they offer. Hard coated scratch resistant polycarbonate lenses to protect your eyes from dust, debris, or impact. They all come with UV protection and vented frames to increase air-flow and prevent
fogging
.
Superb clarity
These safety glasses provide full side protection with an 8.0 base curved lens. UV protection and vented frames to increase air-flow and prevent fogging. Allowing for maximum clarity for all your delicate or dangerous jobs.
Style and protection
These safety glasses can be purchased in an assortment of different colored frames and lenses to show off your style indoors and outdoors. No need to give up style for safety, you can have the best of both worlds when you choose your frames and color lenses.
Cost and value
The Avante safety glasses do what they are intended to do, and traditional design with custom options. The cost is accurate and making it a good value.
UV Protection
ANSI certified and OSHA compliant
Curved lens for maximum clarity
Vented for increase air-flow
Anti-fogging
Cost efficient
Frame and lens color options
6. NoCry Work and Sports Sunglasses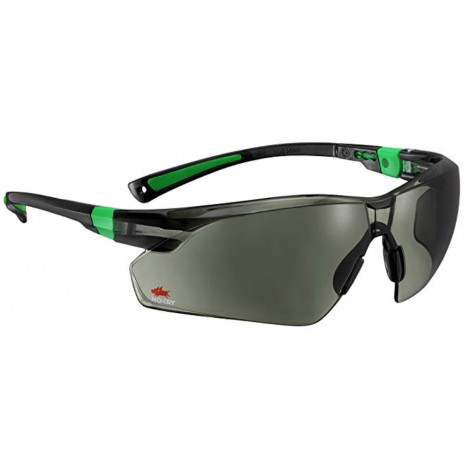 After reviewing the NoCry Work and Sports Safety Sunglasses, these are one of our favorites and is why they are number sixth on our list. Reminding our readers that these are safety sunglasses and not acceptable for indoor use. We realize, however, there are so many trades that work outside (including sports players), that we feel these sturdy quality-built safety sunglasses deserve to be on our top ten list. Well designed with UV protection to shield your eyes from damaging sun rays and created with a strong latex-free polycarbonate wraparound construction to lessen the chance of debris, dirt, or injury to your eyes. Below are some of the features we really like about these great safety sunglasses.
Expand to see more
No glare

High-quality double coated, green tinted lenses made strong and scratch resistant allowing for a greater visual experience with no glare. When working or playing sports outdoors, brilliant clear viewing with no visual distortion and providing complete protection for your eyes. Clear vision with no distortion enables the user to see road markings, traffic signs, and other safety flags and signals.

Customization

These safety glasses can be fully customized. Both side and nose pieces are movable to give you an individual fit without slipping or dropping off your head. Easy expandable side temple arms and angled to your face and head for a perfect personal fit. Also made with soft rubber covered tips to grip firmly behind your ears.

Cost and value

These are great safety sunglasses whether you are working in the sun or playing sports outdoors. These glasses will give you UV protection and guard your eyes against harmful sun rays. Great cost, with great features, makes this a nice value to our readers.

Customize nose piece
Customize temple arms
Padded tips for behind ears
UV protection
Tinted scratch resistant
Affordable
Lens may be too dark for some
Not ANSI certified
7. DeWalt DPG94-9C
Coming in at the seven is no surprise, The DeWalt DPG94 Dominator Safety Glasses. These safety glasses are both indoor and outdoor safe. These are full framed with large lenses giving ultimate protection to your eyes. Soft rubber tipped temples with smooth rubber nose support allow a for a nice non-slip comfort fit.
ANSI certified and they are OSHA compliant in most workplaces. Of course, always check with your employer what the rules and regulations you are to follow when it comes to personal protection eye wear.
Expand to see more
Indoor and outdoor

We like that these glasses are clear with a slightly tinted lens. Which makes these safety glasses perfect for an easy visual transition when walking in and out of the sunlight. Anti-fog, and ideal for contractors that are walking both inside and outside of construction sites, etc.

Comfortable fit

Very sturdy with quality rubber templates and rubber nose pieces. These safety glasses are lightweight and allow for a comfy fit for hours.

Cost and value

Dewalt is a well-known name for tools and safety glasses, and they stand behind their products. Made tough and durable these safety glasses can be worn just about anywhere. Great cost makes them affordable for work, boating, sporting events and more. Don't be caught without your safety glasses, buy a pair or two for your vehicle, work and home!

Tough and Sturdy
Indoor/Outdoor safe
ANSI certified
OSHA compliant
Clear with slightly tinted lenses
Padded nose pieces for non-slip
Rubber temples for comfort
Lightweight
8. NoCry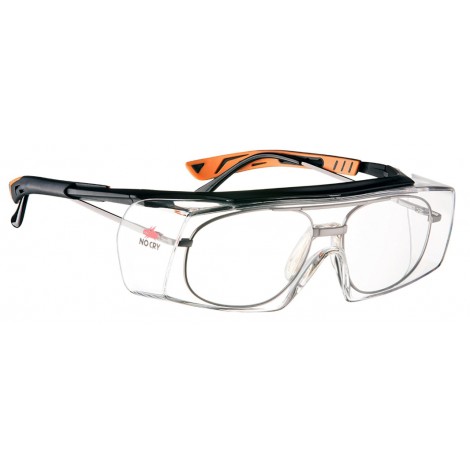 We really like our number eight pick, the NoCry Over-Glasses safety glasses. These type of safety glasses are often described as "over-specs". We, at DrivRZone, thought it to be of importance to offer an alternative for those who wear prescription glasses. These safety glasses are built strong and still allow a safe barrier to shield eyes from debris and/or direct impact to ensure that prescription glasses remain protected as well. These safety glasses come coated with anti-scratch wraparound lenses. These are ANSI certified and OSHA compliant.
Expand to see more
Over-spec comfort fit

NoCry Safety Glasses fit over most prescription glasses and readers. They will fit over glasses that are 5.7" wide, up to 1.37" high on the sides and 1.77" high in the center.

Quality made

The wraparound lenses are well designed and are made with scratch-resistant, latex free polycarbonate and offer a high level of direct and peripheral eye protection. Although they are clear, they are made with UV protection to shield your eyes from damaging sun rays. These glasses are assembled with padded adjustable arms to fit both large and small head sizes. Soft rubber tip ensures a snug fit with no pressure.

Cost and value

These safety "over-specs" are ideal for complete eye-wear protection for anyone with prescription glasses. If you are on a budget and must have personal protection eye-wear without spending a fortune on prescription safety glasses – this at a great option and a sound buy.

Clear UV protection
Wrap around design for full protection
Protects prescription glasses
ANSI Certified/OSHA compliant
Scratch resistant
Comfort fit
Affordable
9. Carhartt Carbondale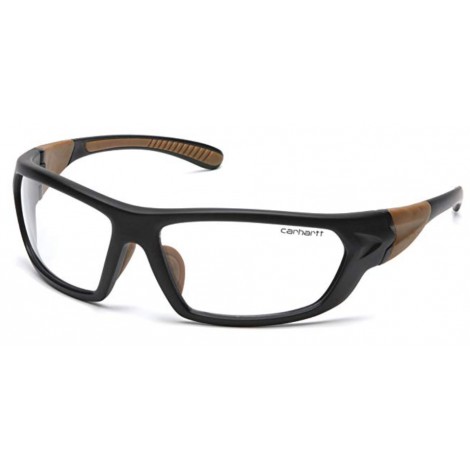 When reviewing and rating the Carhartt Gear Carbondale Safety Glasses, it is understandable why they landed in our number nine position. We really admired the all-around style of these safety glasses. It is a traditional pair of safety classes that are full frame and meets safety specifications. Made with UV protection to shield your eyes of harmful solar rays. These glasses can be used at the workplace, driving, shooting, fishing, and most sporting activities.
Expand to see more
Comfort and protection
These glasses are lightweight and can be worn for hours. Dual injected temples with a rubber nose piece provide all-day comfort and non-slipping, allowing protection from dust and debris. Lenses are made with a durable scratch resistant polycarbonate full impact strength. These safety glasses can be worn with work masks and
headphones
, and motorcycle helmets with ease.
Style and safety
No need to give up style when wearing these safety glasses. Modern design with black and tan contrast colors making them look sleek and acceptable not only at the workplace but outside of work as well.
Cost and value
These Carhartt Safety Glasses are made in the USA and priced well. Made durable and tough, the price is solid, making for a great value
Style and safety
Comfort fit
ANSI certified
Scratch resistant
Durable and Tough
Affordable
Well known company
Not a custom fit
Could be too small for some heads
10. Pyramex I-Force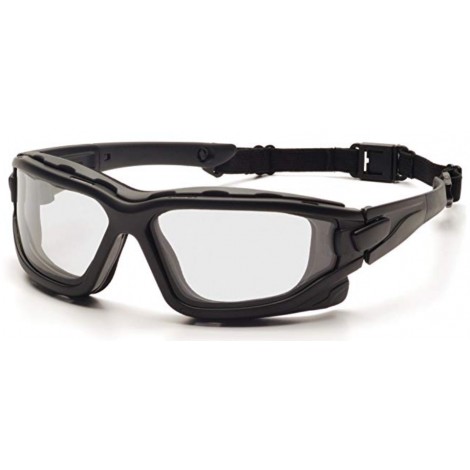 Rounding out our top ten list is the Pyramex I-Force Slim Safety
Goggles
. We especially like the slender design of these goggles making them lightweight and less bulky than some on our list. Highlights include quick release interchangeable temples that come with an elastic strap for a more snug fit. Vented foam frame that provides ultimate protection against dust, debris, and dirt. These safety glasses can be used in the workshop, at the workplace, fishing, hunting, or just about everywhere you are needing eye protection. Nice form fit if you are wearing a mask, hardhat or respirator.
Expand to see more
Scratch resistant and non-fogging

These safety glasses come with an outer polycarbonate lens protection to shield against harmful UV sun rays and inner acetate lens made to prevent fogging.

Choice of Lens color

These safety classes can be purchased in a few different lens colors; Amber, clear, gray, indoor/outdoor mirror, and silver mirror. Customize your look with proper colored lens protection for your individual safety needs.

Cost and value

These safety goggles offer simple safety protection that comes in a little more expensive than most. They are made well for the cost, which also makes them a good buy. These are great for the workplace, home or anywhere you are needing eye wear protection.

Scratch resistant lens
Interchangeable temples and headband
UV protection
Offered in different color lenses
Comfort contour goggles
May fog in the rain
Moderately priced
Criteria Used in Choosing the Best Safety Glasses
We, at DrivRZone, understand what it takes to deliver safety to our readers! Just as no two careers are the same, neither are the tools that make people safe. Did you know, 90% of all eye injuries could be prevented if proper Personal Protection Equipment (PPE's) was used. These glasses come in various types for many different purposes. Many companies and sporting teams set their own rules and regulations for certain types of glasses to be worn. The American National Standard Institute (ANSI) establishes guidelines for personal eye and face protection devices (including safety ). Occupational Safety and Health Administration (OSHA) sets and enforces protective safety and health standards in the workplace. Many companies reinforce safety standards that ANSI and OSHA set, and non-compliant employees are usually reprimanded if regulations and rules are not followed. These glasses are used in the workplace, at sporting events, and just about anywhere people are needing eye protection.
We spent many hours reviewing and rating our top ten safety glasses above. Our criteria listed below is only a baseline, but some of the features we wanted to highlight are material, comfort, lenses and cost and value.
Durable material
The safety glasses we reviewed and rated are all built tough. Most glasses are made with polycarbonate which is half the weight of standard glass eyewear. Polycarbonate is a softer material making them lightweight which makes them a great choice for safety eyewear, sports goggles, and even children's eyewear. These glasses are both impact and scratch resistant to allow for a more clear visual experience with no distortion. The advanced materials in use will not shatter when dealt the strongest blow. We found all these to be very durable, much more so than your naked cornea! All the glasses we reviewed and rated here are compatible with a special protective coating (UV protection, anti-glare, scratch resistant, & anti-fog). We chose glasses that stand out above all the rest, giving you the confidence that your eyes will be protected again impact, debris, and dirt.
Comfort and fit
If safety glasses are not comfortable, chances are, they will be omitted from your daily routine and increase your risk of eye injury by 100%! Safety should not come with the expensive price of being miserable, with skin irritations, slipping glasses, or distractions by constantly pushing your glasses back up onto your face. We want our readers to be comfortable with their purchase (literally), so when reviewing and rating – we chose safety glasses that we think will give our readers the most satisfaction. Some of these safety glasses have individual customization possibilities like choosing the arm lengths and adjusting nose pieces. Some safety glasses also include a headband strap for a snug fit. The goggles that we examined are made of soft rubber, making for a better contour to the face. Most of our safety glasses also include dual infused rubber, making for a softer more lightweight fit. Included in most are padded nose pieces, soft rubber temples for comfort, and rubber tips to make for a non-slip grip behind the ears. These manufacturers know, the more comfortable you are – the more likely you are – to keep your safety glasses on and protect them from impact, debris, and dust.
Lenses
Again, polycarbonate is used in most safety glasses, which also means most lenses are compatible with most protective coatings including; impact resistant, anti-scratch, anti-fog, and less glare for the user. Most of the glasses we reviewed also come with UV protection to prevent eye injuries from harmful sun rays. Lenses can also come with many tinted colors. The most popular are clear, gray, yellow, amber, green, mirrored, and slightly tinted (which makes for a smoother transition for your eyes when walking for indoor/outdoor. Identifying what you are needing your glasses for, will help you decide which safety glasses are right for you. The latest and greatest glasses are even stylish enough for every day wear as your normal sunglasses, and at much lower cost than a name-brand pair from the local sunglass shack. You can buy several, and keep them around the house and in each car. You'll never be without eye protection, or a nice pair of shades!
Cost and value
Safety should not have to come with an extravagant cost, and we like to give our readers choices for their individual needs and financial budgets. Our top ten list was determined by the material, durability, lens selection, comfortable fit, and all-around value. We, at DrivRZone, hope we were able to help you in your decision making. Keep in mind, most eye injuries can be prevented if proper eyewear is worn. What's the value of your eyeballs? A lot more than a few bucks for glasses. We did the tough work, we narrowed down the best of the best, and now it's your turn to choose the perfect safety tool for your eyes – safety glasses!
FAQ
Frequently Asked Questions
Q: What does ANSI and OSHA mean, and why do I need to know this?
A: The American National Standard Institute (ANSI) establishes guidelines for personal eye and face protection devices (including safety glasses). Occupational Safety and Health Administration (OSHA) sets and enforces protective safety and health standards in the workplace. Most workplaces have rules and regulations, check with the company you work for to see what is compliant and what is not. Safety glasses that are ANSI compliant will be noted by manufacturer and stamped with ANSI, usually on arm of the glasses. It is always important for employers to follow ANSI and OSHA guidelines, many safety departments buy their glasses in bulk for their employees. Making eye safety a priority for their employees!
Q: Can I purchase a pair of glasses with UV protection, because I work in the sun?
A: Absolutely, and most of them do come with UV protection coating. Safety glasses come in many different color lenses as well. Clear, yellow, amber, mirrored, tinted, smoked, green. Style and Safety – all in one!
Q: I work in a lab, and have to wear a mask over my mouth, will these glasses fit?
A: Most half masks and half respirators can be worn with safety glasses (and should)! We recommend you check specifics before you purchase, but most ANSI standard safety glasses will work with half face masks.
Q: Will these safety glasses fit under my hardhat?
A: Yes, absolutely. Many workplaces demand and require you to wear Personal Protection Equipment (PPE's), not limited to safety glasses only. Hardhats, gloves, safety glasses or goggles are a must!
Q: How do I keep my safety glasses clean?
A: Yes, and we recommend you clean your glasses often for a more clear view and to give your glasses longer life. You can use lens towelettes or a wet or damp microfiber cloth, and be gentle when cleaning them so you do not lose the anti-scratch features. If fog develops on the inside of your glasses, adjust the temple to allow ventilation to move freely to prevent fog from building up. You can store your glasses just about anywhere, but keep them out of reach of small children and dogs.
Q: Can I buy these in different sizes? Can these glasses be used by small children?
A: Some brands do come in different sizes, most glasses are made universal – meaning they will fit men and women alike. Some can also be purchased in child sizes as well. You may be able to find "slim designs" that could fit children, just be sure to check the specifications for sizes. Many glasses come with an adjustable headband strap, and you can tighten the strap to make for a more snug fit for your child. If children are needing glasses often, it would probably be a great idea to buy your child their own pair, for a more custom fit. Child safety glasses are great for sporting events, fishing, parades, and fireworks!
Q: If I do not work in a workplace that requires safety glasses, where else would I need to wear them?
A: Safety glasses are very common and you would be surprised where you could wear them. Where your glasses while using tools around the house, cutting the lawn, fun in the sun, riding your motorcycle, playing sports, driving the four-wheeler, painting, riding horses, and many recreational gun and bow shooting practice. These glasses are not just useful for the workplace, but for your everyday life as well.
Q: Can I use my regular eye glasses as safety glasses?
A: Unfortunately, no they should not be worn as safety glasses. They do not qualify unless they meet specific standards set by ANSI and are OSHA compliant. Regular glasses could shatter, or debris and dust could get underneath your personal glasses. Safety glasses are usually wider, some come with side shields, and some safety goggles are made with dual infused rubber to contour around your face for a more comfy snug fit. If you want to wear your prescription glasses, they do make safety glasses that fit snug over your own personal eyewear. Check out number eight on our list, the NoCry Over-Glass Safety glasses. We really like them!
Sources
Subscribe to our Newsletter