10 Best Full Face Helmets Reviewed for Protection
last updated:
Jul 12, 2019
Purchasing one of the best full face helmet for motorcycle is not a casual decision: when your life is on the line, you want to be sure you are buying a quality product. If you ride without a helmet protecting your head, you risk permanent brain damage or even death if you get into an accident. An unmitigated impact to the head at highway speeds is not something you want to be on the receiving end of, so you will want to keep yourself protected on the road. Wearing one of the best full face helmet will ensure that you are as safe as possible while riding, not just from accidents, but also from any other hazards that may come flying your way.
Featured Recommendations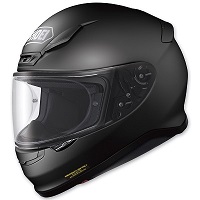 Shoei RF-1200

Our rating
Price:

See Here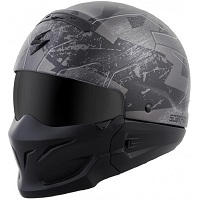 ScorpionExo Covert

Our rating
Price:

See Here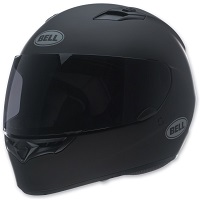 Bell Qualifier

Our rating
Durability is an obvious factor to consider when purchasing a one of the best full face helmet for your motorcycle, but there are other features to consider as well. Weight, comfort, and air flow are also important factors, because a helmet that makes it difficult to ride is just going to end up getting you into an accident anyway. You want a helmet that is not only tough enough to protect your head, but also provides enough visibility and sits comfortably enough on your head for you to ride safely. The best full face helmet will increase your chances of surviving an accident without increasing the likelihood of you getting into one.
10 Best Full Face Helmets
1. Shoei RF-1200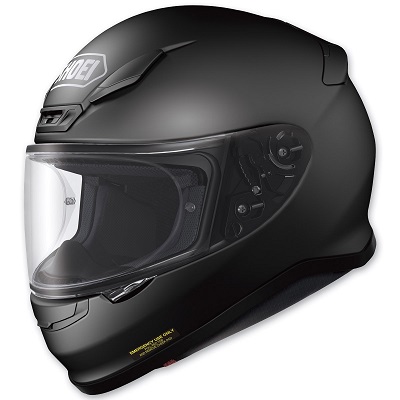 This is a high-quality and one of the best full face helmet with an extremely durable, lightweight construction. It has multiple shell sizes available so you can fit the helmet comfortably to the size of your head. This custom sizing, combined with significant levels of airflow and noise reduction, makes riding with this helmet an all-around pleasant experience.
Expand to see more
Lightweight
The RF-1200 uses high quality materials to create a small, light shell in order to keep you protected without weighing you down or swinging your head around with the helmet like a bobblehead.

Removable Cheek Pads
The cheek pads on the RF-1200 are removable in case of emergency. If you are ever in an accident that incapacitates you, emergency workers can pull the tabs on the side of the helmet to remove the cheek pads from the helmet.

Cost and Value
Shoei's helmets are not the absolute cheapest products on the market, and this option is the third most expensive item on this list. However, you truly get what you pay for with the RF-1200, and the features of this helmet make it well worth its price.


Small and light construction

Fantastic noise reduction

Fog-free visor

Excellent ventilation and airflow

Many sizing options
May be too small for some

Not the cheapest helmet out there
2. ScorpionExo Covert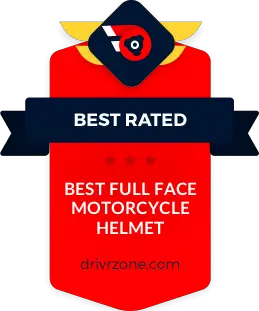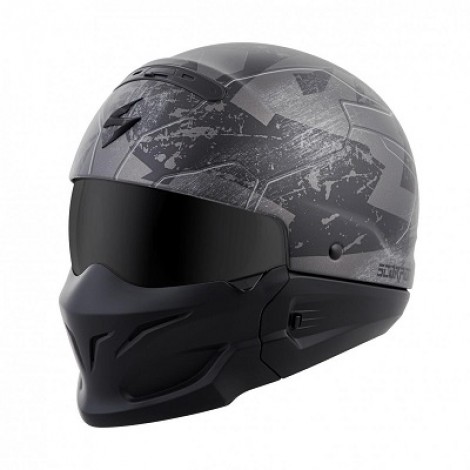 If you're not entirely sure that you always want to ride with one of the best full face helmet but don't want to buy a separate half helmet, the ScorpionExo Covert gives you both setups in one product. The helmet has a modular design allows you to choose exactly how much protection you need for a particular ride.
Expand to see more
Modularity
When producing this helmet, Scorpion started from a half helmet design and added modular parts to protect the rest of the face and head. The face mask is detachable and the visor is retractable, allowing you to use the helmet as is needed for the situation.

Airflow
The helmet's face mask is well-ventilated and will keep you cool and breathing while you read. Good air flow design also means that the visor won't fog up on you while you're riding.

Cost and Value
This helmet is priced middle of the line in comparison to other options on our list. Some of the helmet's cost can be attributed to its modular design, so if you are not interested in your helmet being modular it may be a good idea to consider other helmets on this list.

Modular design allows for choice in level of protection
Fantastic ventilation and airflow
Comes with a clear visor for riding at night
Comfortable to wear
Face mask and visor are easy to manipulate
Face mask is not as protective due to being removable
Airflow also lets in a lot of noise when riding
3. Bell Qualifier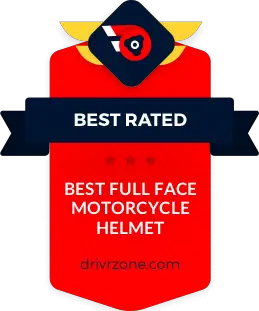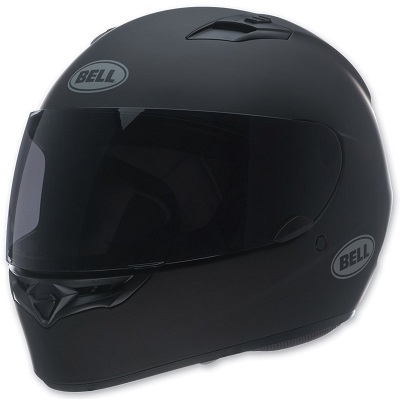 This helmet is a well-rounded helmet offered at a surprisingly affordable price. The Bell Qualifier is very comfortable and lightweight and has an aerodynamic design that means your head won't be knocked around by the wind. It comes with a clear visor, but there is also an alternative tinted visor and even a transitional self-darkening visor for those who wish to upgrade beyond the basic clear visor.
Expand to see more
Adjustable Front Vents
There are two vents at the top of the helmet as well as a vent on the chin that can be adjusted to increase or restrict airflow to the rider's preference. This means that you can keep things colder or warmer inside your helmet depending on what the weather looks like outside.

Transitional Visor Option
Even though it costs extra, the transitional visor is a great option if you don't care to change your visor each time the lighting changes. With the transitional visor, you can go riding in the middle of the day and have your visor darken itself for night-riding without any hassle.

Cost and Value
This helmet is cheaper than one would expect. This price can get a little bit higher if you opt to buy a dark visor to go with the included basic clear visor, and even higher than that if you go for the transitional visor, but even then it is still a very affordable helmet.

Low price for what it offers
Transitional lens option is convenientAerodynamic shape keeps your head straight
Wide field of vision
Keeps you warm with the front vents closed
Can get loud compared to more expensive helmets
Costs more if you want a non-basic visor
4. HJC CL-17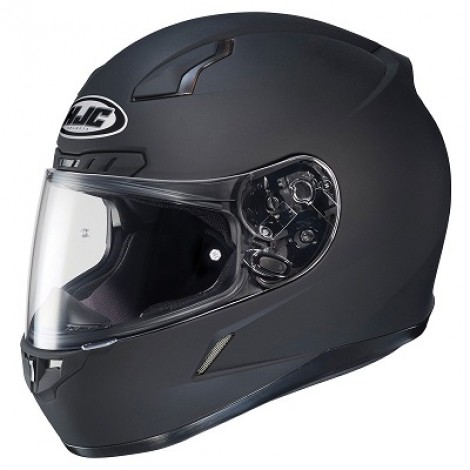 Going beyond just DOT certification, this option is a Snell-approved helmet at an incredible price. Unlike the DOT system, which works on an honor system where manufacturers test their own helmets, Snell certification gained through additional voluntary testing.
Expand to see more
Snell Certified
Though there is some debate over whether or not Snell testing is actually any better than DOT testing, you at least know with a Snell certified helmet that the product has been properly tested. Though it is unlikely that a trustworthy manufacturer would lie about DOT testing, it's still nice to have a guarantee other than a simple honor system.

Comfortable Padding
The padding on this helmet is very comfortable and will keep the helmet snug on your head. There is even some extra space around the chin where you can attach more padding, but you will have to buy the extra padding yourself.

Cost and Value
This helmet is slightly more expensive than the Bell Qualifier, but if Snell certification is important to you, then the HJC CL-17 is easily the best value on this list. Even without the Snell certification it is an extremely affordable helmet and is a solid choice for anybody not looking to spend too much.

Insanely cheap for a Snell certified helmet
Extremely comfortable padding, even on the chin strap
A variety of positions for the visor
Visor is easy to access one-handed
Air vents are reachable even with the helmet worn
Air gets in through the chin
Matte finish is easily scratched
5. Duke Helmets DK-120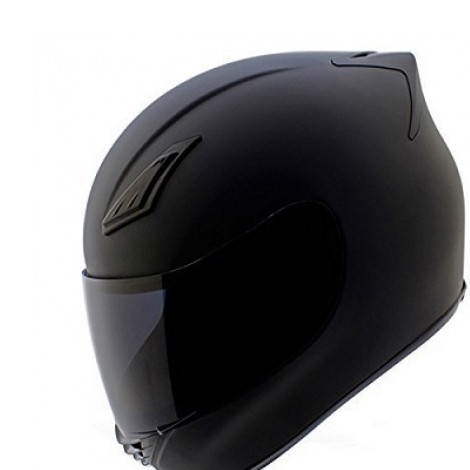 For those on a budget, this is a popular choice for those without a surplus of cash to spend. Of course, safety isn't something to skimp out on, but the DK-120 is DOT certified to protect you in a crash even at its relatively low price point. If you just want to keep yourself safe and don't need all the frills of a more expensive helmet, this is the helmet for you.
Expand to see more
Quick Release Strap
A quick release strap makes the helmet easy to remove even with gloves on. Whether you just hate fumbling with your helmet to get it off at the end of a ride, or you want to know that you can get it off quickly in case of an emergency, the quick release strap means your helmet won't be getting stuck on your head when you don't want it to.

Two Visors Included
Even at its extremely low price point, Duke Helmets offers two visors with the DK-120. Being able to swap out between a clear and tinted visor for day and night riding is usually expected when a helmet costs several hundred dollars, but it's an especially good deal with a helmet that is already so affordable.

Cost and Value
As the cheapest helmet on this list, cost is definitely not a problem with the DK-120. If you want a practical helmet which gives you a good value for your dollar without raising costs for extra features you may not care for, then this helmet will be the best choice for you.

Extraordinarily low price
Comes with two visors, one clear and one tinted
Generous number of ventilation slots
Hypo-allergenic cheek pads and lining
Very accurate sizing
Enough wind gets through to make a whistling sound
Some people have fogging issues with the visor
6. Bell Revolver Evo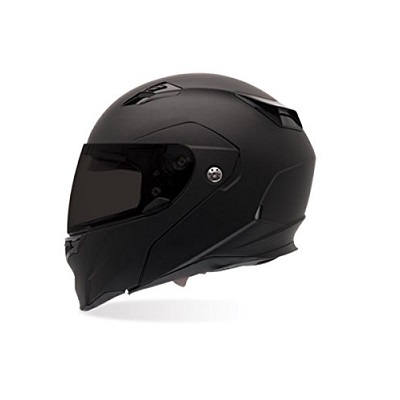 This is a helmet with a modular design lets you get some extra air and visibility when necessary. It does this without sacrificing any of its durability or structural integrity and will stand up in a crash. It's not the fanciest helmet around, but the Revolver Evo gets the job done.
Expand to see more
Integrated Sun Visor
This option comes with an integrated flip-down sun visor that you can deploy whenever you need it. It should be noted that the actual face visor itself is clear and you will need to buy a separate tinted one if the sun visor is not enough coverage for you.

Modularity
Though it doesn't quite break down to a half helmet like the ScorpionExo Covert does, the Revolver Evo's modular design is still a big selling point. The protection of a full face helmet is important, but sometimes it's nice to have a little breathing room when you need it.

Cost and Value
This helmet is almost twice as expensive as Bell's other product on this list, the Bell Qualifier, but it is still far from an expensive helmet. The Revolver Evo is a fairly affordable helmet that is good for people who don't want to spend too much, but aren't willing to scrape the bottom of the barrel either.

Modular release is easily accessible with gloves on
Sun visor can be lifted up and down as needed
Snug fit supports the head well
Detachable cheek padding can be replaced
Chin guard is easy to flip down
Modular design lets in a lot of noise
The magnet on the chin strap can weaken over time
7. AGV K3-5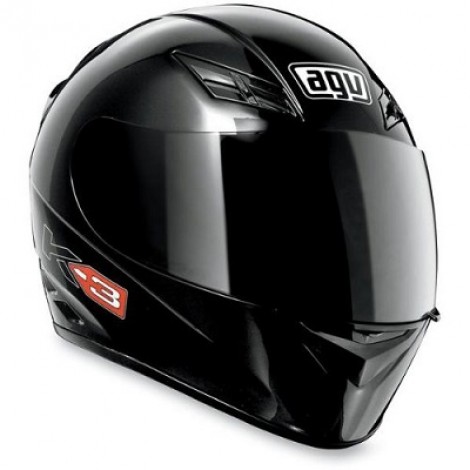 Similar to the Revolver Evo, the AGV K3 is one of the best full face helmet that is not too pricey, but not especially cheap either. It isn't a modular helmet, but it is extremely lightweight and fairly affordable as well. This helmet keeps up with more luxury brands at a fraction of the price.
Expand to see more
Lightweight
This helmet is surprisingly light, rivaling even more expensive competitors that took the top spot on this list. If you're worried about straining your neck with a heavy helmet, the AGV K3 might be for you.

Moisture Resistant Padding
The padding in this helmet is made with Dri-Lex technology, which keeps moisture away from your face while also keeping it from getting absorbed into the padding. This way, both your face and your helmet will stay cool and dry as possible even in wet conditions.

Cost and Value
The price point of this helmet option is about the same as that of the Bell Revolver Evo. It is a close decision between the two helmets, and the value of each respective helmet ultimately depends on which features you value more in a helmet.

Moisture resistant padding
Extraordinarily lightweight for its price
Extremely quiet with the visor on
Enough room in front of the visor to wear glasses
Blocks wind while providing ample airflow
Visor lacks a locking mechanism
Some complain that the helmet is a bit small
8. Biltwell Lane Splitter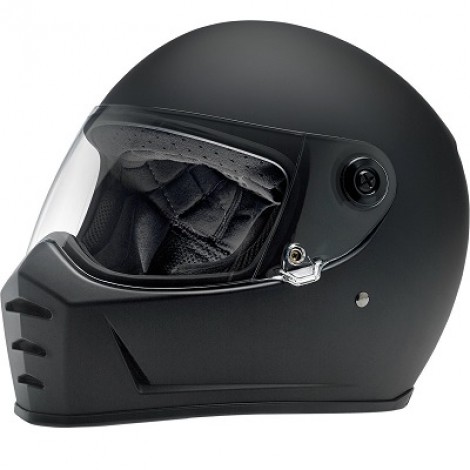 If you want all the protection of a best full face helmet and no extra frills to go with it, then you'll want to take a look at the Biltwell Lane Splitter. This helmet tries to cut down on weight and cost by focusing on the necessities.
Expand to see more
Field of Vision
Visibility is not a problem with the size of this helmet's visor. Stretching all the way toward the sides of the helmet, Biltwell has ensured that you actually have your peripheral vision while riding with this helmet.

Airflow
This helmet's ventilation system is good, perhaps even a little too good. You'll be able to breathe easily on a hot day, but some may find the airflow excessive when it's cold out.

Cost and Value
The price of this helmet is kept fairly affordable due to its lack of unnecessary frills and features. However, its material and construction is very high quality, so it isn't quite a budget helmet either and is a bit more expensive than the Bell Revolver Evo or AGV K3.

No value wasted on superfluous features
Very wide field of vision
Fog on visor clears nearly instantly
Substantial amount of airflow
Still includes ear recesses for earbuds
Might be too minimalist for some
Can get a little loud at higher speeds
9. Arai XD4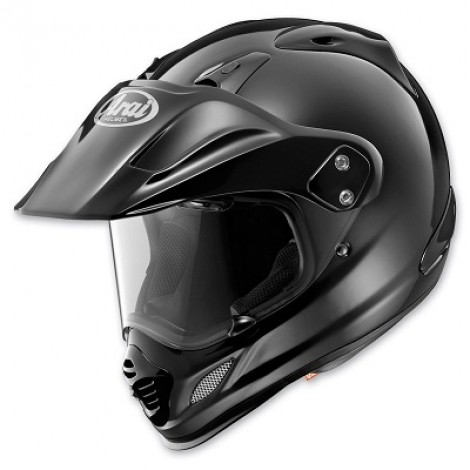 The Arai XD4 takes us back to the higher price range of motorcycle helmets. If you have the extra money to spare, this is a versatile and one of the best full face helmet with very solid construction.
Expand to see more
Easy to Take Apart
Various parts of this helmet can be taken apart as and individually cleaned or replaced. For example, the interior liner can be removed for washing and then replaced back into the helmet.

Build Quality
The construction is very solid, and you will notice when you wear the helmet. Every moving part feels and sounds satisfying when locked into place and you won't have to worry about parts of the helmet flying off while you're on the road.

Cost and Value
This is the most expensive helmet on the list and it's up to you if the security and luxury offered by the product is worth the high price tag. This option is a high quality product that lives up to its dollar value, but not every rider will be willing to spend that much.

Extremely sturdy build quality
Modern design is both functional and attractive
Advanced ventilation system with closeable vents
Snell certified
Many layers of protection
A bit heavy for its price range
Visor requires tools to change out
10. Klim Krios Karbon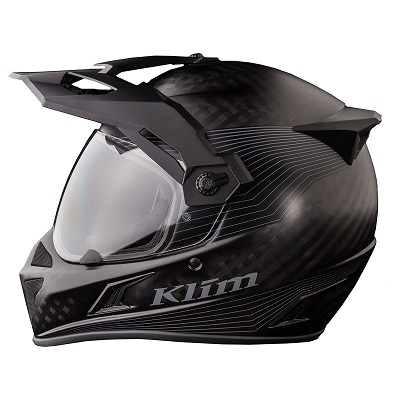 Made entirely with carbon fiber, this option aims to be the most lightweight and best full face helmet of its type. This is a premium helmet at a premium price point, but its carbon fiber construction leaves it lighter than any similar helmets. The designs of high quality, fully featured helmets can get heavy, but the Krios Karbon achieves its goals without weighing down the wearer's neck.
Expand to see more
Carbon Fiber
Everything on this helmet that can be made of carbon fiber is made with carbon fiber. This material choice ensures that the helmet is as light as it can possibly be without sacrificing other features such as durability.

Quick Release Visor
A quick release system makes the visor easy to remove without the use of any tools. This is done without sacrificing the integrity of the visor's attachment to the helmet, which can be a problem with cheaper helmets.

Cost and Value
The Krios Karbon is a luxury product, second in price on this list only to the Arai XD4, and even then the Krios Karbon is only slightly behind in price. However, if you want a helmet suited for long rides that manages to keep itself light, then the price for the Klim Krios Karbon may be well justified.

Carbon fiber construction is extremely light
Aerodynamic design keeps your head straight
Ventilation system is suited for long rides
Meets all safety standards despite light construction
Easy to set up without tools
High price is mainly for a lightweight helmet
Lackluster noise control
There are a lot of best full face helmets to choose from, and the choices can get overwhelming. When it comes to choosing a product that will safeguard your life, however, you don't want to be cheap with your time or money. All of the products listed here will protect you in the case of an accident, but other factors such as comfort or visibility can also affect your likelihood of getting into an accident. It's not necessary to buy the most expensive helmet available, especially if it's expensive due to extra features you don't personally need, but you also don't want to buy a helmet just because it fits within your budget but fails to keep you safe on the road.
Five Protective Helmet Categories
Full face helmet – This type of helmet pretty much covers the entire head, ranging from the base of the skull in the back to the end of the chin in the front. They also include a tinted or clear front view with a transparent plastic shield, which is also called the visor.
Motocross/Off-road helmet – These are one of the best full face helmets, and are typically designed with tough off-road conditions in mind, and they regularly feature an elongated chin protector, as well as an enlarged visor which allows for additional protective goggles to be worn inside the helmet.
Flip-flop/Modular helmet – A design solution that would come in between the two aforementioned kinds is the modular type of helmet, which bears the characteristics of both the full face helmet and the motocross one.
Open face helmet – This helmet covers roughly the three-fourths of the head, with the face part being left exposed, without any additional chin protection.
Half helmet – Offering the least protection of all five types, the half helmet is nowadays considered obsolete and its usage is also prohibited in some countries. It pretty much covers only the top of the head, while the parts on the side remain exposed and unshielded.
Subscribe to our Newsletter