Best Car Phone Chargers Reviewed & Rated for Quality
last updated:
Jul 16, 2019
So, you got to hit the road hard and fast. Whether it's a meeting or a school, or maybe you woke up late for work for the 5th time in a row and would like to get there fast to mitigate at least some of the damage. Unfortunately, seeing as how leaving your phone on the charger overnight is a bad idea, your phone is now close to death, which opens up a lot of potential problems later down the line, and you have no time to charge it now. What do you do?
Featured Recommendations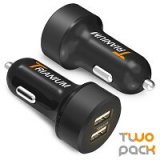 Trianium 24W

Our rating
Safe Charging
Price:

See Here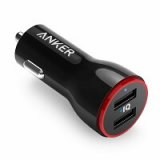 Anker 24W Dual USB

Our rating
Incredibly Fast
Price:

See Here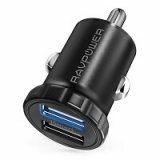 RAVPower

Our rating
Charge Smart
Price:

See Here

Car phone chargers are the ultimate boon for the modern phone owner-on-the-go. They work just like any other charging station, the difference being that you have to plug them into the cigarette lighter, letting the spark of electricity power the charger instead, and with it, your phone. And today, we're going to look at the ten car phone chargers that we felt were the absolute best. So, if you got to hit the road, Jack, then do it using one of these excellent chargers, as we count down the:
10 Best Car Phone Chargers
1. Trianium 24W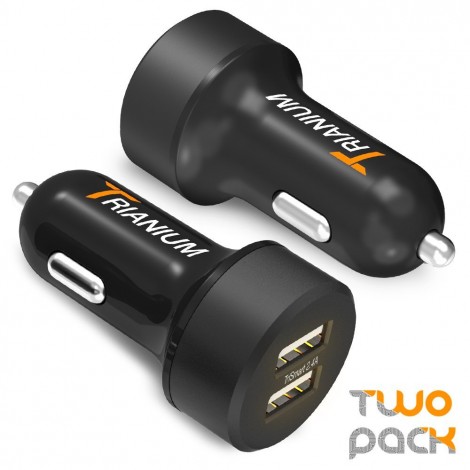 Kicking off our list, we have the Trianium Car Charger 24W. Trianium has quickly made a name for themselves with their car phone chargers. Quickly, they became known for consistently excellent products and chargers, and nowhere is this more apparent than with this 24W Car Charger.
Expand to see more
Safe charging

One of the things you usually have to look out for with these third party car chargers is the risk of short circuiting, overheating, and other malfunctions. There are many reasons for this, but none of it is important right now, because the Trianium car charger has none of these issues. Through careful, intelligent circuit design, and a failsafe that makes the charging stop once the battery is full, most of the negative side effects of going third party for your car charger are eliminated.

Adaptive charging

But that isn't the only thing going for this car phone charger. The other big thing going for it is that its charging is completely adaptive. Some things need a higher or lower charge than other things, and this charger is programmed to be smart enough to tell the difference between a phone and a tablet. And will alter the charge it gives out accordingly.

Cost and Value

This charger is a bit more expensive than the ones you find in bowls at the supermarket, but as we've shown, it's more than worth the money and isn't worth all that much in the grand scheme of things.


Safe charging
Safe charging
Affordable
Can be slow charge with some electronics
2. Anker 24W Dual USB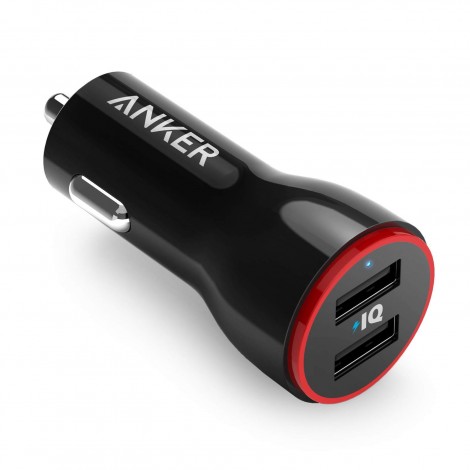 Coming in second place, we have the Anker 24W Dual USB Car Charger. Anker is counted among America's leading charger brands as one of the best and most reliable. With over 10 million satisfied customers, there's little reason not to join in and see what all the commotion is about. And if you agree with that sentiment, then this is a great place to start.

Expand to see more
Incredibly fast

When you're using a car charger, the primary thing on your mind is charging speed. After all, you're probably getting somewhere soon when driving, so you need to make sure that when you get there, you have a full charge, all ready to go. Which is why this charger is equipped with PowerIQ and VoltageBoost. Two technologies that already speed up charging alone, combined to boost the effect even further.

Certified safe

There are a lot of different things that endanger your phone when charging. But one of the biggest ones out there is the fear of getting your phone hacked, by hackers who know how to get into your phone via charging technology. Fortunately, Ankers has a patented MultiProtect Safety System that they pack into all of their chargers. This system is more than enough against any hacker.

Cost and Value

The best part about this entry is the price. This is a much cheaper option for a car charger than the previous entry, so if you're on a tight budget, then we highly recommend this.


Incredibly fast
Certified safe
Cheap
Has been reported to melt down after about 10 months of use, but these cases are rare
3. RAVPower
Finishing up our top three segment, we have the RAVPower Car Charger. Don't mistake its size for lack of power, as this may be one of the smallest car chargers on the entire market, but it's also one of the most powerful by far. How can this be possible? Well, let's take a look and find out.

Expand to see more
Charge smart

This charger is powered by iSmart 2.0 technology, which allows it to judge how much voltage is optimal for the device currently interfaced with it. What this means is that a phone and a tablet have different voltage needs, which is why most of the time, they're charged by different plugs instead of all sharing the same one. But this one knows exactly what machine you've plugged into it and alters its voltage accordingly.

Compact design

As we said, this is one of the smallest car chargers on the market right now, though we imagine RAVPower would prefer "compact." But either option is correct. Fortunately, this design doesn't seal off any charger options because of its size. And its aircraft grade aluminum construction ensures durability.

Cost and Value

This is the cheapest option yet. While there are cheaper options on this list to come, this is the cheapest one thus far, making it one of the best deals on the entire list.


Charge smart
Compact design
Cheap
Can get stuck in some cigarette lighters
4. Anker 50W 5-Port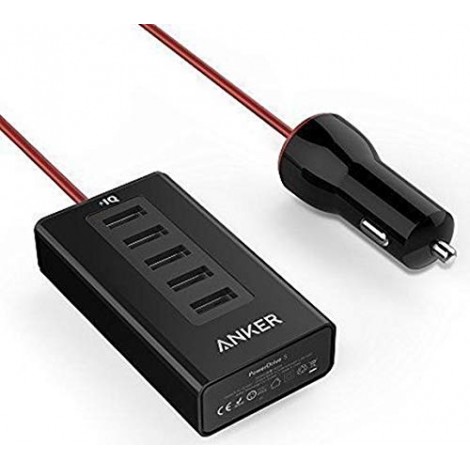 Coming in at #4, we have the Anker 50W 5-Port Car Charger. Anker was already one of the best charging technology companies in the country, but this makes them one of the best in the world. While by no means perfect, we can think of few better car chargers on the market right now, with its only competition being the three that preceded it.

Expand to see more
5 port charging

The main thing you're likely to notice about this charger is the fact that this charger is attached to a wire, which is then attached to a port holding 5 different charging ports. This means that even the most crowded vehicle will have a means of charging their devices. The cord isn't terribly long, but it's long enough to reach most inhabitants of the car.

Charges anything

Powered with a 50W output, and 5 ports to divide them between, this charger can handle anything you hook it up to. Whether it's a smartphone, an android, tablet, laptop, whatever you need to be charged, this little device has you more than covered.

Cost and Value

Of course, you don't offer that kind of innovation, without needing a bit more compensation in return. And sure enough, this charging station costs a good bit more than even the first entry, though it's clear to see why that is.


5 port charging
Charges anything
Certified safe
5. Maxboost 2 USB Smart Port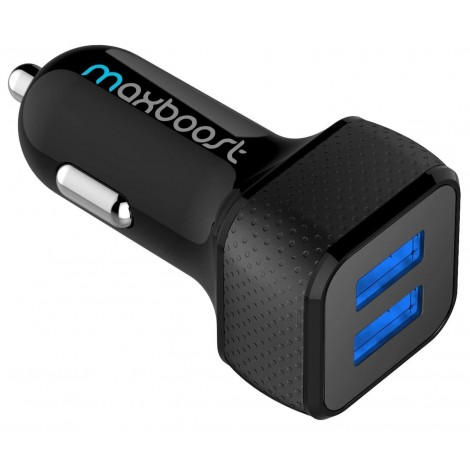 For our #5 spot, we chose the Maxboost 2 USB Smart Port Charger. Maxboost have been around for quite some time (long enough that this charger can charge both an Android S9 and blackberry, for the 3 or 4 people who still use those things) and have gotten quite the reputation for efficient service. Does this charger keep up that reputation? Let's find out.

Expand to see more
Intelligent circuit design

Like the first entry on this list, this charger has intelligent circuit design, all specifically modeled towards one specific goal: making this charger safer and less prone to negative side effects as much as possible. And sure enough, you won't have to worry about short circuiting, overheating, overcurrents, or even overcharging, as this battery will automatically stop when charging is complete.

Double injected frame

The construction of this charger is nothing short of superb. A double injected frame made with a polycarbonate inner layer, and external molding made from TPU, or thermoplastic polyurethane. This makes the charger extra durable while maintaining a soft grip.

Cost and Value

This charger does everything that the first entry does but at a much better price. At literally half the price as the first entry on this list, you'll get everything it does, but for much better prices.


Intelligent circuit design
Double injected frame
Cheap
6. SCOSCHE ReVolt Compact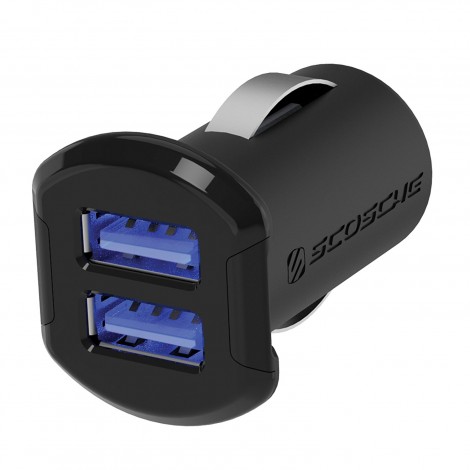 Coming in 6th place on this list, we have the SCOSCHE ReVolt Compact Dual Port Car Charger. SCOSCHE have also been in the charging port game for a while, though not as long as others. They've nonetheless built up a well-earned reputation for themselves, which is held up by this latest installment.

Expand to see more
LED backlight

We've all been in those situations. You just got out of a crazy long concert that went double encore, and now it's pitch black. So, you get back in your car, ready to head home, and you decide to charge up your phone. Unfortunately, it's so dark, you can't actually find the thing. This is why this charger, and many more on this list, utilize LED backlighting, to help things stay illuminated, making charging your phone in the dark easier.

Low profile design

We've also all been there wherein we move something around the inner cabin of the car, and accidentally knock loose the charger because it's always jutting out so far from the charging point. Luckily, you won't have such problems with this charger. It's built in a way that makes it sit about as flush as a car charger reasonably can against the car's dashboard.

Cost and Value

The price of this charger is very average, as far as car chargers go. So, if you have enough cash in pocket and you need a new charger, then this should do just fine for you.


LED backlight
Low profile design
Affordable
The connection can be finicky sometimes
7. Ainope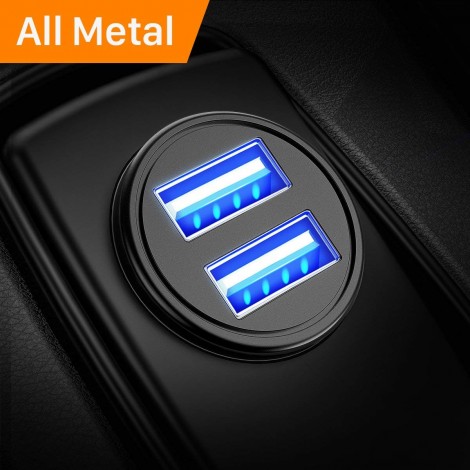 For the #7 spot, we chose the Ainope Car Charger. The main talking point about this charger is that it is, without question, the smallest charger on this entire list, and probably on the market at large. You can't get much smaller, after all, than being literally small enough to fit flat as a New York sewer lid on the charging hole. Of course, though, that isn't the only benefit.

Expand to see more
All metal material

Car chargers look so sleek when you buy them, it's such a shame to see them get scratched or scuffed for various reasons. Which makes it a definite good thing that this charger is made from 100% metal material, and scratch resistant technology coating the surface. So now you don't have to worry about doing permanent damage to such a lovely paint job.

Efficient charging

Like most chargers out there right now, you can charge two electronics simultaneously using this charger. And not only that, but you'll have both back up to full power in no time flat. This is thanks to the 2.4A that's contained in each charging port. Meaning that those two ports don't have to share the same charge, and can get both electronics back up to speed, as fast as it takes other chargers to handle one.

Cost and Value

Of course, something this small isn't going to be that expensive. And while not as cheap as the other cheap entries on this list, it runs a close second.


All metal material
Efficient charging
Cheap
Won't hold in all sockets
8. PowerBear Fast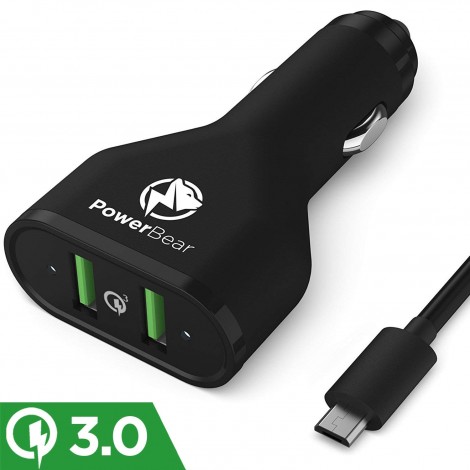 Kicking off the final three for this list, we have the PowerBear Fast Car Charger. Though near the end of our list, don't take that to mean that we're scraping the bottom of the barrel. Quite the contrary, in fact, as we still have three more excellent entries to go.

Expand to see more
Superior speed

This is easily one of the fastest entries on this entire list. Using the specialized Qualcomm technology, this charger gets an iPhone up to 75% in the time it takes other phones to get up to 25%. Making it, a definite must have for anyone who needs their car charger to get their phone up to top speed as quick as possible while on the go.

Premium design

There are a bunch of pet peeves when it comes to car chargers that aren't too bad to be real problems, but all that means is that they usually never get fixed. This is where the PowerBear differs. Through the use of strong grip connectors that keep the device in the port all the time, Bright LED lights to indicate charging progress, and a plastic body with scratch proof finish, this car charger will give you one of the highest quality designs on the market right now.

Cost and Value

The price here is a good bit above the average, but not enough to be considered pricey. This mostly comes from the bulkier design of the charger.


Superior speed
Premium design
Made with qualcomm technology
9. AUKEY
For our second to final entry, we have the AUKEY Car Charger. While not quite as compact as the 7th place entry, you still don't have to worry about accidentally knocking this thing loose when exiting or entering your car. This car charger will help you get back to full power in a quick and efficient manner and help with a few other things while it's at it. Let's find out more.

Expand to see more
Universal compatibility

Back when this charger first hit the scene, this was actually a pretty novel thing. For some reason, people thought it would be a good idea for different phone brands to have different sockets as if that made things easier. But this charger was ahead of the game and knew that USB was the way to go, and because of that, has earned a much longer lifespan than other third party chargers of its time.

EntireProtect

Every brand has their own method of protection against the various problems that plague third party car chargers, each with their own metric of success. However, this one is probably among the very best out there, featuring the EntireProtect system. This is a series of built in safeguards that protect your device against things like overheating, excessive current, and overcharging.

Cost and Value

While not the cheapest on this list, this one is definitely up there. So, if you're more budget minded, and don't feel like spending all that much on a simple car charger, then you're looking at the right charger.


Universal compatibility
EntireProtect system
Cheap
10. Spigen Fast
For our final entry, we're looking at the Spigen Car Charger. This ultra tiny, compact, dual charge car charger will have any two devices with USB charge ports you have charged up nice and fast. Of course, that's not the only reason to buy this excellent car charger. Let's go over the other reasons while we're at it.
Expand to see more
No risk of overheating

One of the most likely negative side effects of using a car charger is the threat of overheating. We've all disconnected our phone from a charger to find it almost red hot. That's because of the voltage being pumped into it over a long period of time. However, this charger has no risk of overheating your phone, even if it does get a bit toasty.

Qualcomm quick charge

Qualcomm doesn't work with every device, and this charger will give a standard charge to devices it isn't compatible with. However, those it does get up to 4 times the speed of a standard car charger. This is thanks to the Qualcomm quick charge 3.0 that powers this device. So, if you have a compatible device, and you need it charged up fast, then look no further.

Cost and Value

The price for this charger is very middle of the road for what's being offered. Not too cheap, but nowhere near pricey either, so if what we just listed sounds like a great deal to you, then you can rest assured that it is.


No risk of overheating
Qualcomm quick charge
Great deal
If not compatible with Qualcomm, then it only gets a standard charge time
Car phone chargers are one of the most convenient aspects of owning a phone. Not necessarily needed, at least not in the same way as a charger you plug into the wall is needed. But it is vital to a lot of our everyday lives. Not a lot of us like having to pull our charger out from the wall whenever we go somewhere and then find a place to put it when we get where we're going. Car chargers offer a good way to charge our phone on the way to where we're going and frees us from having to find a place to charge up when we get there. We can just get on with our business, worry-free about where our next charge is going to come from. And if that's what you're looking for, then we can say with utmost certainty that you will find what you're looking for in these ten highly advanced car phone chargers. Some are better, faster, newer than others, but they're all of premium quality. So, if you need a new charger for your on the go lifestyle, then track down one of these high-quality car phone chargers, plug them in, and drive off into the sunset with no worries.
Criteria Used in Choosing Best Car Phone Chargers
Coming up with a good list of criteria for this list was both easy and hard in the same way. On the one hand, it was easy to figure out what were the most desirable features and most beloved traits in a car phone charger. But on the other hand, it was also hard to decide which traits were the most desirable and culling out unwanted entries was hard. However, what we came up with was pretty thorough in weeding out which ones didn't work. So, with that said, here are the most vital criteria used to judge which entries got on the list, and how far.
Charge speed
Of course, this one would be at the top, was there any question? When dealing with a device that you use to charge up your phone or tablet or what have you when in the car, it stands to reason that you would want to make sure it was fully charged before you reached your destination. Charge speed is easily the most sought-after feature of any good car phone charger, for exactly that reason. So, we made sure to plan out our list accordingly. We judged each list by a long list of criteria, which you will soon see, but this was the one that cost us the most potential entries, judging each entry by a very harsh margin of speed. If one didn't meet our standards or didn't have enough features to pick up the slack, then we kicked it off.
Safeguards
Third-party car chargers have quite the stigma surrounding them by first-party purists. And the early days of these third-party developers did not help matters. The first car phone chargers were plagued with problems, even on the first party front. Whether it was overheating, excessive charging, or just plain shorting out when you needed them most, car phone chargers in those early days had a nasty habit of screwing over their users. However, things have come a long way since, and car phone charger manufacturers have all made their little safeguard systems against these negative side effects. To some extent or another, they each protect against the usual suspects of car phone charger side effects: overheating, overcharging, etc. However, some are better than others, and since most, if not all of the entries we screened for this list had some kind of safeguard in place, we simply focused on the quality of each safeguard thereof, instead of the mere existence of them.
Charging ports
You'll notice quite a few dual-port chargers on this list. In fact, save for the five port entry, they're pretty much solely comprised of dual ports. That's because car chargers are mostly meant for the front seat of the car, where only two people reside most of the time. It's just the more convenient option for everyone involved. Yeah, you might need a good charge up, but what about your buddy in the passenger seat whose phone is almost dead? Most car phone chargers out there these days make themselves dual-ported for exactly this reason. Better to just make two ports, easier too. And of course, finding a way to have more than two ports just increases the charger's value in our eyes. It makes it a much better deal, by ensuring that more people can charge up their electronics, or that one person can charge up all of their electronics. Speaking of which.
Versatility
Of course, these days, it isn't just iPhones or smartphones that you're bringing into that car with you. You could be bringing a tablet, or a gaming device, or some other kind of electronic, that needs a means of charging itself on those long road trips just as much as your cell phone does. This is why we looked for the best of the best car phone chargers, that also allowed themselves to be used to charge other electronics while they were at it. This wasn't exactly hard, mind you, since USB is one of the primary means by which electronics charge themselves, and pretty much all car phone chargers have adapted accordingly. So, if you find yourself bringing more than one type of electronic on your road trips, then get yourself a car phone charger that can charge more than just phones.
Backlighting
We've all had those nights where we've been driving for hours, and we need to charge up our newly dead phones. The problem is that the car has grown so dark that you can't find the darn charger in your half-asleep state. And your driver is one of those weirdos who has trouble driving for some reason if the cabin of their car is lit up. Fortunately, a lot of car phone chargers have since established a solution to this issue: backlighting. Yes, backlighting does more than just ensure that you can play your video games in the dark without having to rely on passing streetlights peeking into your car. It can also be used to help you find your charger in the middle of the night, by providing fluorescent LED light. And we made sure that this was an essential part of owning a car charger.
Price
Our final criteria concern the price of the objects in question, as usual. But the great thing about car phone chargers is that they rarely cost anything. And when they do, it's never anything much, especially when compared to some of the other products we've made lists for. As such, it made it a prime candidate for how we usually run this criterion. Since the price is never anything much by default, we instead judged each entry by how well they can justify each price. If the price is reasonable, and the features plentiful and the reputation sound? Then that entry is going much higher on the list than other entries.
FAQ
Frequently Asked Questions
For the final segment of this list, we're looking at the most frequently asked questions surrounding car phone chargers. Sure, there weren't many that we found, these were pretty simple devices and all. But those that we did find we important, and deserved a quick look and disclosure. So, with that said, here are the most frequently asked questions and commonly voiced concerns surrounding car phone chargers, and the answers thereof.
Q: Is it bad to charge my phone while I'm still using it?
A: That depends, are you using an off-brand, knock off, ultra-low quality, a hunk of scrap charger? No? Then you have nothing to worry about. Regardless of whether or not you use the device, modern chargers will always charge your phone at a regular rate, same as always.
Q: Okay, but what if, while I'm using the phone while it's on a car charger, the charge slows down?
A: Well then, friend, you've come to the right article, because either your car battery needs replacing (in which case you have so many more problems than a car charger not working) or more likely, your car phone charger needs replacing. This is not only the more likely problem but also the much, much less costly one, so you should cross your fingers and hope this is what ails you. Often the issue is as simple to fix as simply replacing the charger and moving on. Until that happens, we recommend simply not using the phone when it's on the charger.
Q: How likely are these issues like overheating, overcharging, and so forth these days?
A: These days? Pretty impossible, as long as you get your hands on the right chargers, which is a definite positive, as this was a big problem in the early days. Back then, using a car phone charger, even the really good ones, while not a gamble by any means, still carried with it that risk of overheating either itself or the phone, overcharging the phone and killing the battery, or short-circuiting, and taking the phone with it to the grave. Thankfully, that's not a problem anymore, as every manufacturer and their mother and their mother's house cat has a means of defending against these once very real threats. Now they're the rarest of rarities.
Q: I've had my phone for 2 and a half years, and my car charger for one. And the charge is no longer holding as well as it used to. Which one is the problem?
A: It could be either, but if close to three years like in this hypothetical scenario, then it's most likely the phone itself. Sad to say, but most phones don't last as long as they used to when being used as much as we use them. Lithium-ion batteries are stubborn little buggers, but they can't last forever. Especially not when manufactured by phone companies who want to make sure you come back for the next one. The longest a lithium-ion battery is known to last a little over three years. After that, the battery just starts giving out under its weight. So, if you've had your phone for a while, and the charge just isn't holding, consider that the charger may not be the problem.
Sources
Subscribe to our Newsletter