Best Women's Motorcycle Jackets Reviewed
last updated:
Jun 25, 2019
The safety can be bought! When it comes to motorcycle jackets, it is very important to buy the right one for a number of reasons. A good jacket provides a good amount of protection when you are riding. The motorcycles do not protect you from the impact like cars do, and the only way a biker can prepare himself for the crash or fall is by wearing protective gear like helmets, pants, and jackets. The jacket is a very important part of the bikers gear because it provides the protection for your torso. Some of the models even feature built-in armor. Now, there are so many models out there and it is not so easy to find the right jacket that will fit all your needs. Other than personal taste, there are more factors you need to pay attention to when buying a motorcycle jacket so you can enjoy safety and comfort on your bike. To save you some time and help you find the most fitting jacket for your needs we made this guide and reviewed some of the best women's motorcycle jackets on the market.
Featured Recommendations of Women's Motorcycle Jackets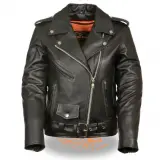 Motorcycle Leather Jacket

Our rating
Tight fit
Price:

See Here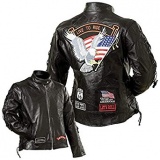 Diamond Plate Jacket

Our rating
Protective
Price:

See Here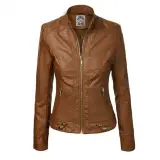 CTC Woman's Jacket

Our rating
Comfortable
Price:

See Here

What to consider when buying a motorcycle jacket
Match the jacket with your riding style
First of all, you need to decide whether you want a separate jacket or one-piece riding suit.
One-piece suits offer protection for your entire body and they fit very close to your skin which means that they won't flap when you are riding. The one-piece suits are perfect if you like to race your bike or to ride your sports bike very fast on the freeway.
Jacket and pants combination, on the other hand, is better if you want more flexibility. This combination is perfect for riders that like to enjoy the ride or for the casual riders. If you are just commuting on your bike you can easily take off your riding jacket when you reach your destination and put on your everyday jacket. One more positive thing about the separate jacket is the storage space. These jackets usually feature a lot of pockets for your wallet, keys, etc.
Choose the right material
It's an age-old argument between bikers which jackets are better; leather jackets or the ones made of textile. These two materials are very different but the one thing that they have in common is that the performance of the jacket depends on the quality of the material and how it's made.
Leather jackets are made of high-quality leather and they have an amazing abrasion resistance which means they will provide you with excellent protection against injuries if you ever fall or have an accident. The leather jackets are the most popular choice because of the sturdiness of the leather material. However, the leather doesn't breathe so well, making it a great jacket for winter, but not so great for summer unless it has vents.
Textile and leather jackets are made of the combination of these two materials. These are actually really good because the leather gives you protection on the most vulnerable parts of your body and the textile material provides you comfort because it's more breathable.
Textile jackets are made of polyester and nylon and they're great jackets for summer because of the breathability of the materials, but they don't offer enough insulation for the winter unless they are lined with something else. Nowadays most of the textile motorcycle jackets are made in combination with Kevlar or Dynatec which gives them great abrasion resistance and durability.
So choose the jacket according to your needs. Casual riders, cruisers, and touring bikers usually go with the textile jackets because of the comfort. However, the sportier riders pay more attention to safety and they usually go with sturdy leather jackets.
Age of the jacket is important
Always pay attention to the model's age. This is very important because the older models usually don't provide the same safety that is common for today's jackets. The outer material and the padding might not give you enough protection against the injury because the technology used when these models were made was not as advanced as it is today.
Color and type of women's motorcycle jackets
Most of the bikers have one favorite color – black. However, the black jacket can be very hard to spot in low light environments. This can be potentially dangerous so it might be smarter to choose the jacket that's easier to see in the dark.
Some of the motorcycle jackets feature patches made of reflective materials so the drivers can see you easier in the dark. More visibility means more safety.
When it comes to jacket types, there are several and each type has a different purpose which makes the choosing process much easier.
Classic jackets – These are all about fashion and they offer almost no protection but are pretty ornamented.
Race jackets – Racing jackets are made of thick material, they feature heavy padding, and they offer high protection. They are always tight fitting and decorated with graphics. The race jackets are made to provide the best safety while being aerodynamic.
Rain jackets – These types of jackets are made to keep you dry. They are usually made of very light waterproof material and very often are designed to go over your regular jacket.
Retro jackets – These have a modern shape and vintage patches and graphics. The safety level of a retro jacket can go from none to heavy protection.
Sports jackets – Sports jackets are very similar to race jackets. They have the same protection but sports jackets are more aerodynamic.
Touring jackets – These types of jackets are all about comfort. The protection level can vary from low to high. The touring jackets are made for a loose fit and they feature a lot of pockets and often a hydration system.
Traditional jackets – Traditional jackets are very simple. They offer a low level of protection and the design is basic with no decorations. Sometimes they have a vented fabric.
Buy a well-made jacket
For the best possible comfort and safety, the jacket needs to be well made. Two things are very important – seams and zippers.
Seams – The seams on the motorcycle jacket should always be on the inside so they can't cause the abrasion in case you fall. When it comes to leather jackets, they should have as less as possible seams because they compromise the sturdiness of the material. Additionally, the chest piece, as well as the back piece, should be made of one single piece of the material.
Zippers – The zippers need to be easy to open and close. Also, they should be covered with a flap of fabric to minimize the chance of injury during the accident. The flap also gives you extra protection against the moisture.
Safety is the number one priority
Safety should always be the first thing on your mind when you are choosing a motorcycle jacket. The leather is much denser than the textile and therefore much less likely to tear in case of an accident.
The textile weaves are easier to tear and this can cause the sliding of your unprotected skin across the pavement. This is why you should always choose the textile jackets that are reinforced with Kevlar or leather if you want to go with this material.
All motorcycle jackets should have integrated protectors. The protectors are paddings on the back, chest, and arms of your jacket. The best jackets should indicate that they are "CE approved".
The padding on the jacket should be elastic and big enough to distribute the energy evenly in case of the crash. If the jacket is close-fitting, the padding should be on the outside of the jacket and if it's looser, the protector should be large enough so they can fit closer to the body.
These shouldn't affect the comfort but they should cover a surface large enough to provide the necessary protection. Your ulna should always be protected from the injury by the elbow protectors.
Comfort is also important
Other than proper protection, the motorcycle jacket should offer you great comfort. After all, you are going to spend a significant amount of time in it.
The leather jackets are usually heavier than the textile ones and they also have much less pocket for storage. Which characteristics are more important depends on your personal needs.
Leather jackets need a special membrane in order to be waterproof or else they will absorb the moisture and become even heavier. This can affect the comfort significantly. On the other hand, waterproof textile jackets tend to retain the moisture that's evaporating from your body inside and therefore affect the comfort.
To avoid overheating and moisture retention but remain protected against the cold weather, it's probably best to buy a jacket with a removable liner.
Perfect fit
The motorcycle jacket should fit your body perfectly while you are both standing and sitting. It's recommended that you try out the jacket in a position you are riding in.
Sleeves should be long enough to cover your arms completely when your arms are extended and the sleeve cuffs should feature a zipper to tighten the sleeves around your wrists to prevent slipping up in case of an accident.
Now that you know what things to consider when buying a motorcycle jacket, let's see which models are the best women's motorcycle jackets out there.
Best Women's Motorcycle Jackets Reviewed
Ladies Leather Motorcycle Leather Jacket plain sides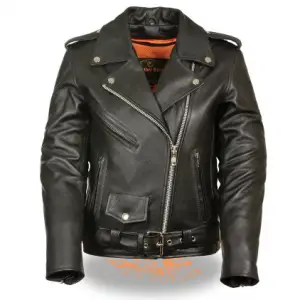 This model is among the most popular choices when it comes to motorcycle jackets for ladies. It's a classic leather jacket that has that rock'n'roll biker look. This is a retro type of jacket and it doesn't feature any ornaments. It's just a plain black leather jacket.
It's made of 1.2mm thick cowhide leather and it's very easy to take care of. The leather is water resistant and most of the spots will just wipe off. It's a very durable jacket and the stitching and leather are premium quality.
The hardware on the jacket is the original YKK Silver Hardware. When it comes to storage space, the jacket features two zip pockets plus one coin pocket on the outside and one additional snap closure pocket, and one more pocket on the inside.
The sleeves also have a zipper to provide you a tight fit and there is a half belt so you can tighten it around your waist.
The crossover front can be closed up to your neck when it's cold outside and the lapels and collar can snap down if you want to look cool. For maximum comfort, it's recommended to buy one size larger jacket because it can be tightened with a half belt for a better fit.
Diamond Plate Women's Leather Motorcycle Jacket w/Live to Ride Patch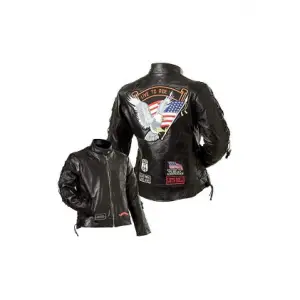 This is one of the classic jackets. It's made of genuine buffalo leather and it's ornamented with a few patches. It's great for riding during the fall and it's excellent for mountain riding.
When it comes to the protection it gives you as much protection as leather can provide you. The leather is durable and it will last for a long time while still remaining soft. It's really well made and skillfully designed.
The jacket looks really good and the patches add a great value to it. It features one big "Live to Ride" patch on the back and a few smaller patches on the lower back and lower front side.
The zipper closes the jacket all the way up to the neck and the collar snaps close which gives you excellent protection against the wind. There are also leather laces on the sleeves that look amazingly good and the jacket can be tightened for a snug fit with the laces on the sides.
Overall, this is one really good looking jacket that offers excellent quality for the price.
CTC Woman's Dressy Vegan Leather Biker Jacket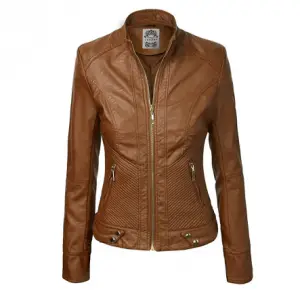 This nice jacket is made of faux leather material, making it ideal for animal lovers. The outside shell is made of polyurethane and the lining is made of polyester. It's fully lined and it features a mock neck collar.
The pockets are zippered and the jacket also closes with a zipper. The sleeves feature a cuff but there is no zipper or laces to tighten them. Same goes for the bottom of the jacket, so pick your size carefully because it can't be tightened.
This beautiful women's motorcycle jacket is available in a variety of colors so you can match the jacket with the rest of your gear and your bike without a problem. The material is soft and the jacket is very comfortable. It's very well made and the stitching and zippers look really nice on this jacket. Because of the design of this jacket, it can also be used as a regular jacket, not only a motorcycle jacket.
ACEVOG Women's Quilted Biker Bomber Zipper Faux Leather Moto Coat Jacket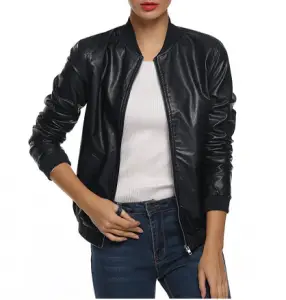 The Women's Quilted Motorcycle Jacket is one nice light jacket that will keep you warm and comfortable. The jacket is made of faux leather and it's available in four different colors. It's also available in a variety of sizes, from small to extra large.
The jacket is extremely well made and the lining feels great on your skin. It features high-quality zippers that are easy to zip and unzip.
The quality of the jacket is outstanding and it probably won't have problems with seams coming undone or tearing.
The nice plus is that this jacket is machine washable unlike most of the faux leather jackets. The jacket looks really cool and it has the classic biker details. It's very fashionable and you can pair it with a bunch of different styles.
The jacket can't be tightened so it is advisable to choose your size carefully.
Women's Zip Up Faux Leather Motorcycle Jacket with Inset Fleece Hood and Sleeves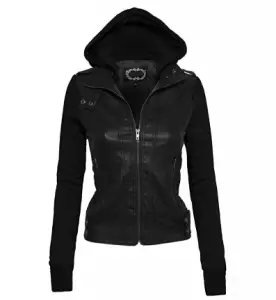 This interesting jacket is made of 100% polyurethane but only the torso is faux leather. The sleeves are knitted and it has a nice addition of knitted hood which adds to the comfort level and it looks really cool.
The front high-quality zipper zips and unzips with ease and it zips all the way to your neck and then there's a snap-tab collar to protect your neck against the wind. The knitted sleeves have ribbed cuffs and they fit tightly but they offer no protection in case of a fall.
The hood is detachable which gives you the ability to switch between styles and the jacket features nice snap-tab details on the shoulders, waist, and collar. The jacket feels very soft and it is a fairly warm jacket that looks very trendy.
The jacket is not machine-washable and it can't be dry cleaned, so the only option is to wipe it with a damp cloth.
Exportica Leather Women's Lambskin Leather Motorcycle Biker Jacket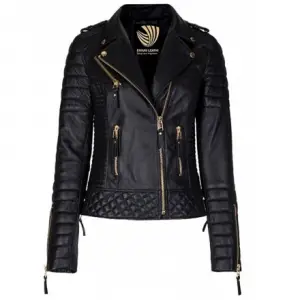 Exportica Lambskin Leather jacket is made of 100% genuine lambskin leather and it looks amazing. It's one of the traditional leather jackets made of high-quality leather and it features original YKK zippers and hardware. All of the materials used here are top notch.
The golden zippers and hardware on the black leather motorcycle jacket look truly amazing. The jacket is made for a slim fit and if you are a bit busty it's recommended that you go one size up.
There are three zippered pockets on the outside and one inside pocket. When fully closed, the jacket creates a double layer on the chest which is great for protection against the wind.
There are also zippers on the sleeves so they can be tightened. There is a certain amount of padding on the shoulders and upper back, but not enough to provide some serious protection against abrasion, so the level of protection you can expect is as much as the leather gives you.
Overall, this cool jacket has excellent value for the price and it will last for a long time.
Kogmo Women's Faux Leather Zip Up Everyday Bomber Jacket with Stretching Sleeve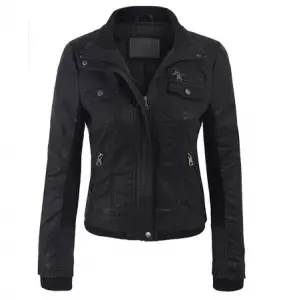 This model can be both an everyday jacket and a motorcycle jacket. It looks very nice and it's made of high-quality faux leather.
When it comes to storage space, the jacket features two zippered pockets and two snap-tab pockets on the front side with the addition of one small zippered pocket for change right above the left snap-tab pocket.
The sleeves have a knitted stretchy area on the inside and elastic cuffs so they fit snugly around your wrist. The front zipper closes all the way to your neck and it's covered with a faux leather flap that can be secured with snap-tabs on the top and bottom.
The jacket is very comfortable and warm and it's fully lined, but the level of protection against abrasion is lower than with the leather jackets.
It can't be machine washed or dry cleaned, only wiped with damp cloth and soap.
VANGULL Women Ladies Zipper Slim Biker Motorcycle PU Leather Jacket Punk Rock Coats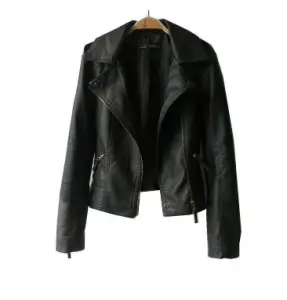 This is another traditional-style jacket but this one is more of a punk rock style jacket. It's made of PU leather and it's a slim fit. The sleeves can be too tight for a bit larger ladies so it's advisable to pay attention to the size chart.
It is not very thick but if you wear a sweater under, it should keep you warm enough. When it comes to protection against abrasion this jacket offers almost no protection.
The faux leather is very soft and nice looking and the lining feels nice and comfortable. The zipper on the front works really good and the zippers on the sleeves enable you to tighten them.
There are no pockets on this jacket and all the other zippers and snaps, other than the front zipper and the sleeve zippers are purely ornamental.
The entire jacket is lined and it's well made. It's durable and it will last for a long time. Overall, the jacket has a really good value for the price.
Ladies Casual Retro Brando Soft Nappa Leather Biker Jacket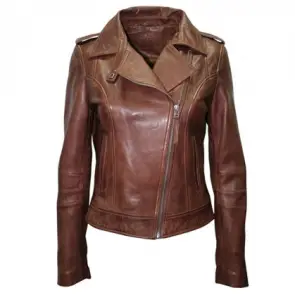 This beautiful jacket is really cool and it looks like it came straight out of the "Terminator" movie. It has a retro/traditional look. This vintage jacket is made for a slim fit and it's a great choice for biker ladies with style.
The jacket features a wide lapel front that gives you double layer on the chest when closed. The sleeves have epaulets and cuffs with zippers, which enables you to tighten them.
It has one inner pocket and in the front, there are 3 pockets with zippers and one stud pocket for change.
There is no lining on this jacket but it is still very comfortable and provides great protection against the wind. When it comes to abrasion protection, it provides as much as the leather provides.
If the sleeves are too tight for you, you can order a larger size and you don't have to worry because the jacket can be tightened with a half belt.
LLF Women's Faux Leather Zip Up Moto Biker Jacket With Many Details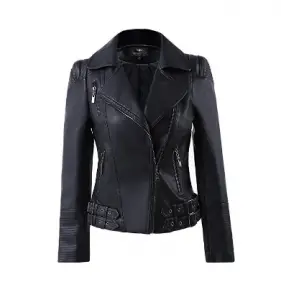 This faux leather jacket is just gorgeous. It's a traditional style jacket with many cool details. It's made of 25.5% polyester, 69.5% PU and 5% cotton.
The jacket is fully lined and it feels very soft and comfortable. It's very well made and very durable and sturdy. The jacket is designed by a famous designer from Milan and with this jacket, you will look very stylish while you cruise on your bike.
There are 3 zippered pockets on the outside and one inner pocket. All of the zippers work great including the ones on the sleeves.
On the bottom edge of the jacket, there are 4 belts that enable you to tighten the jacket. It comes in a variety of colors so you can match it with your bike and the rest of your gear.
Subscribe to our Newsletter