Best Radiator Fluid Reviewed & Rated for Quality
last updated:
Sep 16, 2019
Radiator fluid, also known as coolant/antifreeze, is one of the most important, yet least understood fluids circulating in your engine. Unless you drive an old Volkswagen Bug with an air-cooled engine, you have this fluid circulating in your engine. If you have a liquid-cooled: motorcycle, ATV, UTV, riding mower, zero-turn, tractor… anything powered by an internal combustion engine that is liquid-cooled, read on! You need this stuff, and you need to understand it. Also, read your owner's manual and follow its recommendations for change times and mileages.
Featured Recommendations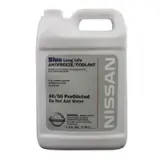 Nissan 999MP-L25500P

Our rating
Best for Nissan
Price:

See Here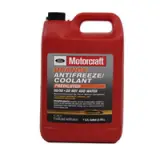 Ford VC-3DIL-B

Our rating
Ford quality
Price:

See Here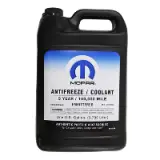 Mopar 68048953AB

Our rating
Mopar performance
Price:

See Here

It's hard to develop a list of "best" products when a formulation of antifreeze that's excellent for one car may damage another. We are presenting a list of excellent products that will do a great job in the vehicles they are designed for. Read on as we discuss some of this with every product reviewed below. Remember that the metal, alloys, hoses, gaskets, and seals are engineered differently from model to model, and the recommended coolant is designed to chemically interact with the particular materials used in your car. Long-term use of the wrong fluid can be devastating. That said, all the products that follow are high-quality mixtures that are approved by the automakers for their various applications.
10 Best Radiator Fluids
1. Nissan 999MP-L25500P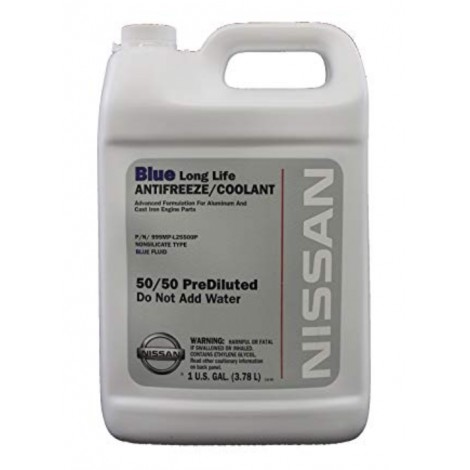 Nissan 999MP-L25500P Antifreeze/Coolant radiator fluid is the same blue antifreeze/coolant that is delivered in the radiator and cooling system of every new Nissan vehicle. It is matched to Nissan's internal engineering, and under normal use has a service life of 10 years or 135,000 miles. Follow your owner's manual recommendations.
Expand to see more
High quality for Nissan

This Nissan Blue 999MP-L25500P Antifreeze/Coolant is an advanced formulation using P-HOAT (phosphate hybrid organic acid technology) chemistry to provide corrosion protection for your Nissan's engine.

Long life

When properly matched with the vehicle, this antifreeze/coolant will last up to 10 years or 135,000 miles. It may be suitable for other late-model Asian makes such as Acura, Honda, Infiniti, Mitsubishi, Nissan, Subaru, Suzuki or Mazda. Check your owner's manual for details.

Cost and value

This Nissan 999MP-L25500P Antifreeze/Coolant product is not inexpensive, but consider the expense of cooling system and engine repairs, and you'll agree that it's cheap insurance against trouble. We like that it's widely available, and you don't have to spend a lot of time searching for the correct antifreeze for your Nissan or Infiniti.

P-HOAT chemistry
Long life
Distinctive blue for identification
50/50 premix
2. Ford VC-3DIL-B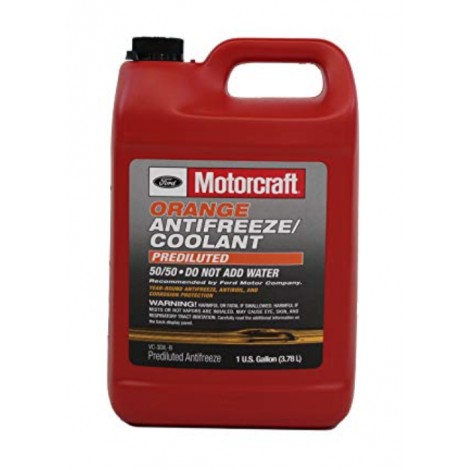 Ford VC-3DIL-B Antifreeze/Coolant is an orange-colored radiator fluid that meets Ford's WSS-M97B44-D2 specification. It is intended for use in some Ford vehicles from 2010, and all Ford vehicles since 2013. Powerful protection from corrosion is right here in this jug!
Expand to see more
Convenient and effective

This Ford product is ready-to-use, do not add water, it is a 50/50 mixture of antifreeze/coolant and purified water which will protect your engine down to -34°F (-37°C) and up to 265°F (129°C).

Late-model Fords and some GM

This orange coolant meets Ford's specifications for some cars since 2010 and all Fords since 2013. It also meets GM's GM 6277M specification for late model GM cars using orange DEX-COOL. Repeat after us: check your owner's manual.

Cost and value

This convenient premix product is a good value for your recent model Ford and some GM cars.

Orange color
Use in late model Fords
Good in some GM products
50/50 premix
Prevents corrosion
Not for use in older cars
3. Mopar 68048953AB
This is a hybrid organic acid technology (HOAT) antifreeze/coolant radiator fluid suitable for 2002-2013 Chrysler, Jeep, RAM, or other FCA vehicles. Mopar is synonymous with performance; you can trust your car to give you great service when you use genuine Mopar-branded parts and supplies.
Expand to see more
HOAT chemistry

HOAT stands for Hybrid Organic Acid Technology. These antifreeze/coolant products use organic acids, not including 2-ethyl hexanoic acid, but including some silicates to protect your aluminum engine parts. HOAT coolant/antifreeze was used by many European car manufacturers and also North American manufacturers like Chrysler and Ford in the mid about the 2002-2013 range. This type of coolant should be changed every five years or 150,000 miles and following your owner's manual.

Factory protection

This is the coolant that your Chrysler product came from the factory with between about 2002-2013. Continue using what your car was designed for! Never use green, IAT fluid in your newer car. The silicates and phosphates are likely to damage your engine.

Cost and value

This antifreeze is a good value for your recent model Chrysler product. Use it under the guidance of your owner's manual.

HOAT chemistry
Mopar factory protection
2002-2012 model years
Pink color
Do not mix with any other chemistry fluids
4. Ford VC-7-B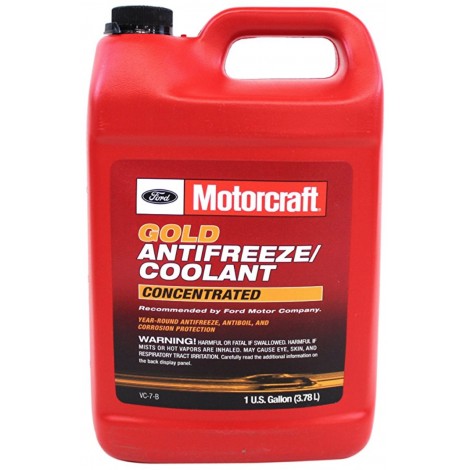 This Ford radiator fluid meets their WSS-M97B51-A1 specification for Ford vehicles produced from 2002 through about 2011, though some Ford vehicles manufactured after 2011 use it. The Econoline (E-Series) trucks are an example, they use this coolant up through part of the 2017 model year.
Expand to see more
Ford tough

This antifreeze will keep your Ford product protected at the level it came out of the factory. This is a concentrated antifreeze, it must be diluted with water (ideally deionized water) to the appropriate mix based on your ambient temperatures. A 50/50 mix generally prevents freezing down to -34 degrees F and boiling up to 265 degrees F.

Millions of vehicles

Motorcraft coolant made to this specification will fit millions of Ford vehicles. Check your owner's manual for exact fitment and change requirements. Do not mix this fluid with any other chemistry.

Cost and value

This is a premium quality product, and it comes at a higher price. If it's what you need, it is worth every penny as protection for your investment.

Motorcraft quality
GOLD performance
2002-2011 Fords (some earlier and later)
Factory protection
Concentrate, must be mixed before use
5. Valvoline Zerex ZX001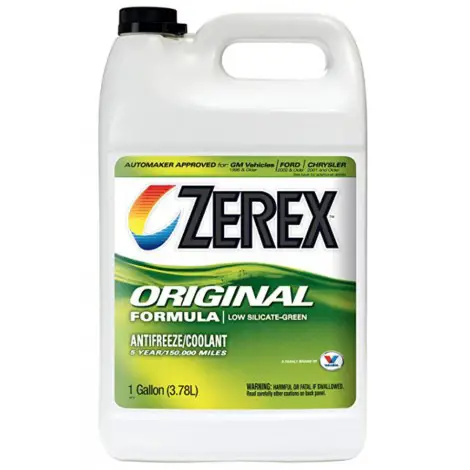 Valvoline Zerex ZX001 Original Green Antifreeze/Coolant radiator fluid is the original stuff your dad, and probably your granddad poured in the radiator. Back in the day, most vehicles (North American anyway) used this type of antifreeze. It uses IAT (inorganic additive technology) chemistry, those inorganics being silicates and phosphates. It's got that old school look and feel to it; seeing that green fluorescein dye makes some of us nostalgic for the high school auto shop days.
Expand to see more
Old school

This lemon-lime fluorescent glowing green radiator fluid is approved for 1996 and older GM vehicles, 2002 and older Ford vehicles, and 2001 and older Chrysler products. We use it in our 1939 Ford tractor. Don't put this in anything newer than what you see above! It is not compatible with later vehicles. Consult your owner's manual!

It will do the job

This stuff will do the job, but you do need to change it every couple of years or 30,000 miles or so to keep up its protective qualities. Don't try to stretch it any further, it loses its corrosion protection capabilities pretty quick, which the reason for the frequent service interval.

Cost and value

This product is not complicated and tends to be a wee bit cheaper than the later, more advanced chemistry types of antifreeze. But you do have to change it more often, so over the life of your vehicle it might cost you more.

Green color
Good in older vehicles
IAT chemistry
Protects to at least -34 degrees F
Corrosion protectant
Must be changed frequently
6. Mercedes Benz Q1030004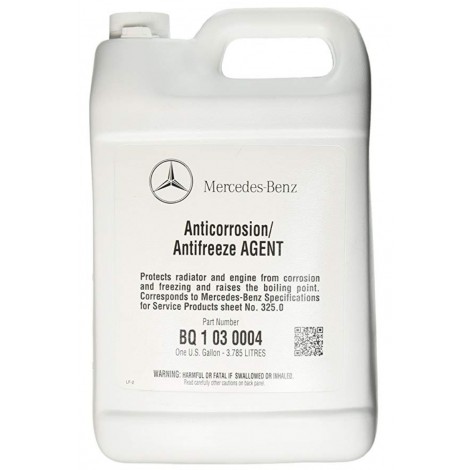 This is a HOAT, G48 formula coolant/antifreeze as delivered in Mercedes cars from the factory in the 2012-2013 model years. It is backward compatible with the G05 formula used in Mercedes cars since the 1990s. It is forwards compatible with the G40 formula used most recently, provided it is not mixed, but the system is drained and flushed.
Expand to see more
Lord, won't you buy me a Mercedes-Benz

This is a HOAT coolant antifreeze, G48-type coolant, specified on Mercedes-Benz DBL 7700.20, Page 325.0. It can be used with all G05 (earlier Mercedes products) type fluids. It's also cross-compatible on these specifications: BMW N600-69.0, Caterpillar SEBU6250-12, Opel/General Motors B040-0240, Saab 6901599 and Audi Porsche, Seat, Skoda, VW: TL-774-C.

Eurocars

This antifreeze is the one used in most European cars except Caterpillar in the list above. Go figure. But, always check your vehicle's documentation for the correct fluid to use. For example, this G48 fluid, according to the charts, should (emphasize should) be compatible with the G05 coolant antifreeze used in mid-2000s Fords and Chryslers. Why you'd want to buy antifreeze for your 15-year-old Ford at the Mercedes dealer, we don't know, but it could be done.

Cost and value
Cost, as you might guess, is a bit higher than average. It's not premixed, however, so you are buying twice as much finished fluid when compared to 50/50 premix. European cars use specific antifreeze formulations, just as Asian cars do. Don't try to go too far afield when selecting a coolant. It's your car you're protecting. Give it a long, happy life to keep you and your family happy too!

G48 formula
Backwards compatible with G05
Distinguishing blue color
HOAT chemistry slows corrosion
7. Valvoline MaxLife 719005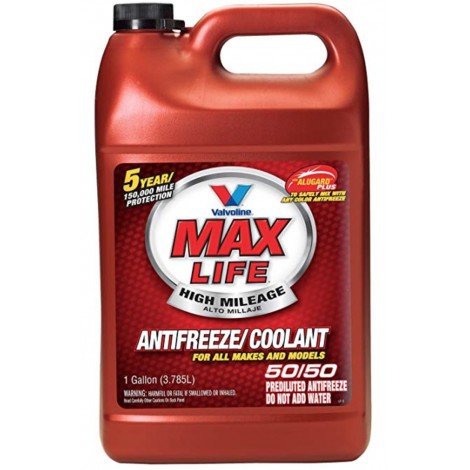 Valvoline MaxLife 719005 Universal Antifreeze/Coolant radiator fluid claims to be compatible with all vehicles, all years, and with coolants and antifreeze formulations of all colors.
Expand to see more
Universal soldier

This Valvoline product is billed as compatible with all cars, and all types of antifreeze. Being a proprietary mix, it's difficult to tell exactly what's in this mix, though they do say they have Alugard Plus, and aluminum corrosion preventative in it.

But there's more

The Valvoline company recommends this for high-mileage cars, claiming to lubricate seals and gaskets as well. You always want a high-quality coolant/antifreeze circulating in your cooling system. Don't hedge, and don't try to save money by using tap water in the summer. Tap water will promote scale and corrosion. If your system leaks, get it diagnosed and repaired, then refill your system with the correct fluid.

Cost and value

Cost is a little more expensive than some, but not too out of line in the price department. It is available as both concentrate and 50/50 premix.

Universal for all vehicles
Compatible with all colors
Mix or concentrate available
Red color
Long service life
May not be as universal as claimed
8. Toyota 00272SLLC2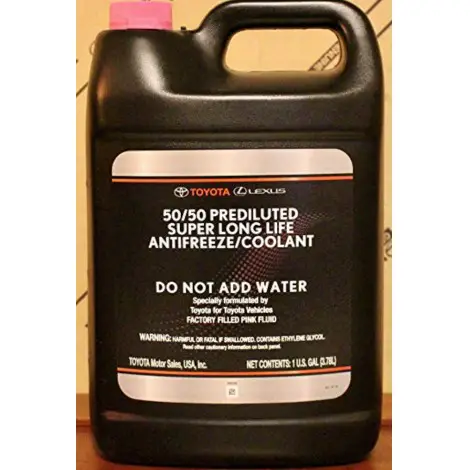 Toyota 00272SLLC2 Engine radiator fluid is a p-HOAT chemistry product with an advertised 100,000-mile life. It is intended to replace Toyota's factory pink radiator fluid. Toyota has used this formulation since the 1990s, and it should be compatible with all Toyota and Lexus models.
Expand to see more
Toyotas galore

Toyota 00272SLLC2 Engine Coolant/Antifreeze is going to be the right mix for your Toyota or Lexus, going back to the 1990s. Toyota has been using the p-HOAT chemistry in their engines since then. Toyota has become a perennial contender in NASCAR racing; lately, they must know something about performance.

Halfway to the moon

Toyota claims a 100,000-mile life for its coolant, not a bad rating. You could drive halfway to the moon before looking around to get your car's cooling system serviced. Might be hard in space. But get your system serviced on time, you won't have a problem finding a shop to do it here on Earth.

Cost and value

This antifreeze could be considered expensive, and it is premixed, so it's not like a 2-for-1 deal. Still, if it makes it to the 100,000-mile mark, it is a decent value. If you are running a Toyota or a Lexus, this is the coolant/antifreeze you need. You'll want to protect your investment by always using the correct fluids.

Works in all Toyotas
p-HOAT technology
Prevents corrosion
Stops freezing to -34 degrees F
Pink color
9. Valvoline Zerex G-05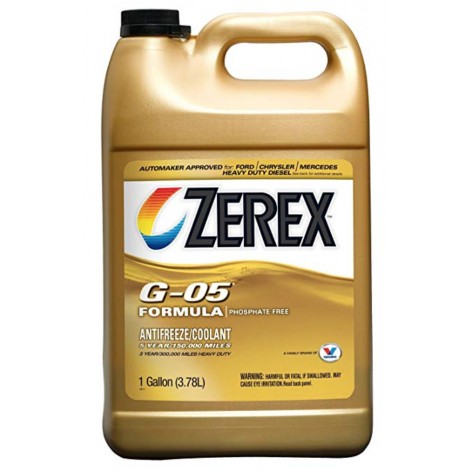 Valvoline Zerex G-05 Antifreeze/Coolant radiator fluid is recommended for a vast number of vehicles from the early 2000s up to recent models. It's approved for use in both gasoline and diesel engines.
Expand to see more
Lots of applications

Valvoline Zerex G-05 is available in both concentrate and 50/50 mix packaging, and 1-gallon jugs to 55-gallon barrels, is approved by a bunch of manufacturers of both vehicles and engines: Chrysler, Cummins, Ford, John Deere, Mercedes-Benz, Case-New Holland, Mack, Navistar, Detroit Diesel, and Paccar, to name a few.

HOAT chemistry

Zerex G-05 is formulated using a phosphate-free hybrid organic acid technology to prevent corrosion in modern car and truck engines, both gasoline and diesel-powered. This ensures a long, trouble-free life for your vehicle's cooling system.

Cost and value

The cost of this product is moderate, particularly in comparison to some of the premium automaker-branded formulations. It's useful across many vehicles; we'd rate it a good value.

HOAT chemistry
Corrosion preventative
Approved by many manufacturers
OK in both gas and diesel engines
Make sure you know if you're buying 50/50 or concentrate
10. ACDelco 12346290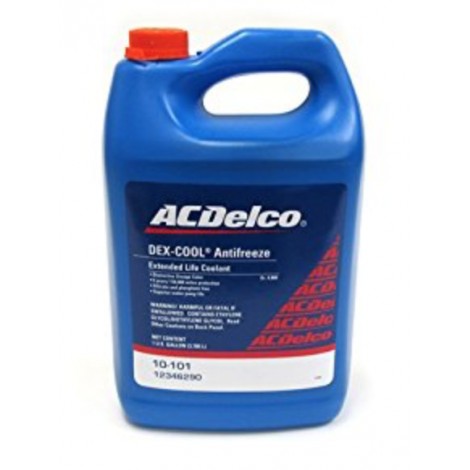 ACDelco 12346290 DEX-Cool radiator fluid is a non-phosphate HOAT antifreeze used in all new GM cars since 1997. It is specifically formulated for a high service interval, lasting up to 5 years or 150,000 miles.
Expand to see more
Not just GM

DEX-Cool's formulas have been adopted by Ford and Chrysler since about 2013. Check your owner's manual for what you need. DEX-Cool is even okay in older GM products that used IAT green from the factory. You must observe the old 30,000 mile or two-year life on those older cars, though. However you choose to go, you know you need a good quality coolant/antifreeze in your system. Remember, not only does it prevent corrosion and carry away waste heat, it prevents the liquid in your radiator freezing, keeping it liquid down to -34 degrees F, at a 50/50 mix.

Undiluted fun

ACDelco 12346290 DEX-Cool Coolant Antifreeze comes undiluted so you can choose your mixture for the ambient conditions. The 50/50 mix protects from freezing down to -34 degrees F; more concentrated mixtures will allow safe vehicles operations in even the coldest polar vortex conditions. It will keep you from boiling over as well. With a 15-20 psi radiator cap installed, it will raise the boiling point in your radiator to 265 degrees F. That's a great safety margin.

Cost and value

ACDelco 12346290 DEX-Cool Coolant Antifreeze is not that expensive, considering it's not diluted, and mixing it 50/50 basically gives you two gallons for the price of one. We rate it a good value for that reason.

Concentrated formula
For the latest cars
Corrosion and boil-over protection
Backwards compatible in GM cars
Criteria Used in Choosing the Best Radiator Fluid
Antifreeze/coolant technology
We looked at antifreeze/coolant technology in our journey through this list. They all use ethylene glycol, ditethylene glycol, and/or propylene glycol as the major component that carries heat away. after that comes additives to prevent corrosion. In your daddy's day, that 351 Windsor engine had a cast iron block and heads, and the IAT technology antifreeze bonded well with the cast iron surfaces. That bonding process is called passivating. The silicates in the fluid formed a non-reactive surface layer, passivating the iron. As gas mileage requirements increased, the automakers started saving weight by using more aluminum. One of the places to do that was the heads. Aluminum heads, formerly a racing innovation, became mainstream. Accessories such as water pumps, went to aluminum as well.
Now the IAT antifreeze wasn't good enough… it didn't protect the aluminum very well. That's when the OAT or organic acid technology antifreeze came along. There have been further refinements and tweaks, like the newer HOAT, hybrid organic acid technology, and the p-HOAT, phosphate hybrid organic acid technology. You don't need to sort it all out (unless your a garage geek, like we are), follow the recommendations in your owner's manual for what you need, or work with a service professional for your car's needs.
Additives
All the additives in the coolant are what makes the difference in how it acts in your car. The mixtures used are proprietary, the ingredients not generally listed on the label. If you want to get an idea of how it works (and you need something to put you to sleep), read US patent #3,291,741, Antifreeze Composition. Or, follow your owner's manual. Boy, we say that a lot, don't we? But it couldn't be more exact. Your vehicle, its engine, and its cooling system are united as a system of systems if you will. All parts need to be operating well to keep it together as a harmonious whole. All the little things need to come together, and those additives are essential. If they are not correct, your car's trouble-free life could be shortened.
Specificity
We looked at specificity, or how specific a product was to its application. And they are, as it turns out, all highly specific. They are designed and formulated to meet the manufacturer's stringent requirements. Even the so-called universal fluids are meet requirements in various ways or may have restrictions on use that keep it within parameters.
Bitterant added
Ethylene glycol, the primary component of many mixtures and has a sweet taste. It was not unusual for a family pet to encounter a spill in the garage, driveway, or street, and lap it up like a treat. Within a few hours, they'd be dead, poisoned by that same sweet substance. In some cases, children encountered it and suffered the same fate. To defeat that possibility, manufacturers, under pressure from state governments and animal rights groups, agreed to begin adding a bitterant (a substance with a very bitter, disagreeable taste). The material chosen is called denatonium benzoate. Since 2013, all antifreeze sold in the US has included it, eliminating risk to thousands of animals and children.
Product life
The product life in the engine has a lot to with the technology and the additives. The old school IAT green liquid lasted about two years or 30,000 miles. The agent in the antifreeze that passivated the metal inside the engine lost effectiveness in that time/mileage frame. It then needed to be replaced. The newer technology fluids have corrosion preventative additives that last longer, which allows the maintenance period to be extended. It's not unusual to see fluids that are in the car when delivered from the manufacturer that have a design lifetime of 10 years or 150,000 miles. And when it does come time to replace them, they need to be replaced with radiator fluids with the same specification, to give the same life into the future.
Value
We are firm believers in value, and yeah, that's why we do what we do, helping you find them. Every one of these radiator fluids will do its job and do it well. You can watch for value where you have two fluids that will work in the same vehicle, but one's a little cheaper. You can also save by watching the price of concentrate vs. 50/50 premix. If you buy a gallon of concentrate for $30, you're getting two gallons of 50/50 mix. If you pay anything more than $30 divided by 2, or $15, for a gallon of premix, you're better off paying for the premix. Of course, if all you need is a gallon of premix to keep around for topping off your car's cooling system, then that might be the simple, easy way to go.
FAQ
Frequently Asked Questions
Q: What is engine coolant/antifreeze?
A: Engine coolant, also called antifreeze, is a colored liquid that serves two purposes in your car's engine. It is mixed with water, usually a 50/50 mix. Its primary purpose is carrying away heat that is generated inside your engine. Its secondary use is preventing corrosion inside the car's cooling system, and its third purpose is to prevent the coolant from freezing when the ambient temperature dips below that point. All three of these things are critical to good performance and trouble-free operation. Don't skimp on the basics when it comes to servicing your car.
Q: How does engine antifreeze work?
A: The major portion is a chemical called ethylene glycol. Ethylene glycol not only depresses the freezing point of water but also elevates its boiling point. The pressure inside the car's cooling system further elevates the boiling point of the mixture. The circulating mix carries heat from the hot areas of the engine interior to the radiator, where airflow carries the heat away. The radiator cap allows the pressure inside your cooling system to rise by raising the pressure to 15-20 psi before venting. The additional pressure raises the boiling point of your radiator fluid even further. Expect a boiling point around 265 degrees F with a 20 psi cap and a 50/50 mix.
Q: What makes each type different?
A: All products start with the necessary chemical mentioned above, ethylene glycol. Whatever the color of what's in the jug, blue, green, pink, or orange, all of them have the same base. But, and this is a big but, then different chemicals are added to protect the engine's internals from corrosion. Each car has different metals making up the engine, and different materials for seals. Different types react differently to those metals and other materials. Some won't protect from corrosion, and some will damage your vehicle's parts if used where they don't belong.
In the old days, the color of fluid depended on the type of corrosion preventative chemicals used. That meant you could tell something about the kind of coolant according to its color. Early coolants that used Inorganic Additive Technology (IAT), additives such as silicate, phosphate, borate, or nitrite appeared blue or green (you all know that fluorescent neon green color, we're sure).
Later chemistries used Organic Acid Technology (OAT). OAT mixes offer superior protection for cooling systems, by using chemicals such as (ready?) 2-ethyl hexanoic acid. These are generally orange in color, and they usually offer extended service life over IAT coolants. There are also hybrid IAT/OAT antifreeze/coolants. Read your owner's manual or consult a service professional to make sure you get the right substance in your car.
Q: How often does my car need new antifreeze/coolant?
A: Follow your owner's manual recommendations. Ethylene glycol has no life limit, but the corrosion preventatives do. Older technology coolants (IAT) remain effective against corrosion in your engine's systems for about two years, or 60,000 miles, then should be replaced. Newer chemical technologies, such as the aforementioned organic acid technology (OAT) can extend the life of your antifreeze to 10 years or 300,000 miles, which amounts to the life of the car.
Important note! You can't just pour radiator fluid that's labeled "7 years or 150,000 miles", or any other high time/mileage figures and decide you are good to go! The fluid and the materials in your engine form a system. If the contents of the mixture you use don't match your engine's internals, corrosion will occur. You'll find yourself with a leaking cooling system, or worse, devastating damage to your engine internals.
Q: What's in radiator fluid?
A: It depends on the formulation. Usually, the primary ingredient is ethylene glycol, though diethylene glycol is used, and in some cases, the not-so-good tasting propylene glycol is used to discourage children or animals from consuming it. Additives for corrosion protection are them put in: IAT (inorganic additive technology), OAT (organic acid technology), HOAT (hybrid organic acid technology, and p-HOAT (phosphate hybrid organic acid technology). Use only the chemistry specified for your car; never mix chemistries. If you are forced to in an emergency, you will need to flush your cooling system and refill it with the correct fluid.
Other components include copper corrosion inhibitors to protect the radiator, antifoaming agents, lubricants, and anti-cavitation agents. All these combine to protect and preserve the internal parts of your vehicle's cooling system, including engine block, cylinder heads, gaskets, pumps, hoses, tanks, and radiator.
Q: What is Organic Acid Technology (OAT)?
A: OAT stands for Organic Acid Technology. OAT coolant/antifreeze contains additives such as 2-ethyl hexanoic acid, sebacic acid, and other possible organic acids. These compounds passivate (seal the surface against corrosion) metals, and have a long life doing it. They may have a service life of up to five years or 150,000 miles.
Q: Do antifreeze/coolants colors mean anything?
A: The green color of the original IAT was a facet of the additives used, and a disodium fluorescein dye to add in locating leaks. Later formulations have been dyed different colors, but the proliferation of types of radiator fluid has led to a situation where you cannot rely on color alone to decide if it is correct for your vehicle or not. You must read the label and determine if it's the correct fluid for your car.
Q: Where do I put coolant in my car's system?
A: Usually, it is added in a plastic reservoir located in the engine compartment. It is normally made of translucent plastic, with fill lines on the side, so you know when and how much fluid to add. Never open the radiator cap and add it directly there. That's doubly true if the engine is hot because releasing that pressure on a hot engine could cause it to boil instantly, yielding a geyser of hot antifreeze aimed at your face. That's not good. Read your car's owners manual for details and even more safety warnings.
Subscribe to our Newsletter