10 Best Vintage Motorcycle Helmets Reviewed for Protection
last updated:
Jul 22, 2019
Motorcycles have gained a huge following over the past years, more so than almost any other time.  People are riding more, and are just taking part in the overall culture more. That culture stretches back almost 100 years and is rich with history and style.  As a nod to the golden era of bike culture, new riders and veterans alike have started to choose a more retro style of gear. One of the most notable and obvious examples of this is the helmet.  Helmets have come a very long way over the years, both in technology as well as in aesthetic. Originally, they were more like leather caps that covered the head and ears but did little to offer much protection.  We're not going to go quite that far back, however. For this buying guide, we'll be looking at new helmets inspired by designs from the '30s to the '70s, and everything in between.
Featured Recommendations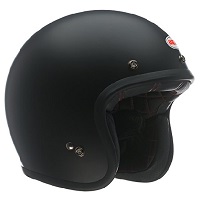 Bell Custom 500

Our rating
Multi Density EPS liner
Price:

See Here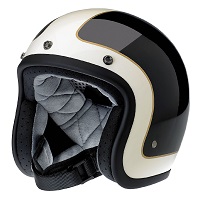 Biltwell Bonanza Le

Our rating
Expanded polystyrene inner
Price:

See Here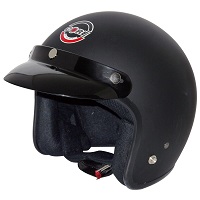 Core Vintage

Our rating
thermoplastic alloy shell
Price:

See Here

That was just a brief sample of what's in store on this list.  There is a very wide selection of styles and shapes to choose from, so ideally, this will cover a little bit of everything to meet the needs of all riders.  Whether you want the top-of-the-line when it comes to safety, or just something that looks good, regardless of safety features (though they will be included, it's the law), come with me, and we'll see what we can find.
10 Best Vintage Motorcycle Helmets
1. Biltwell Gringo Full Face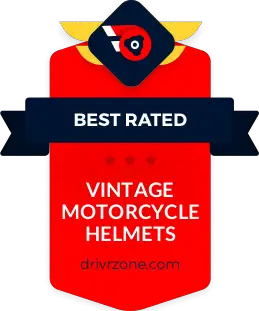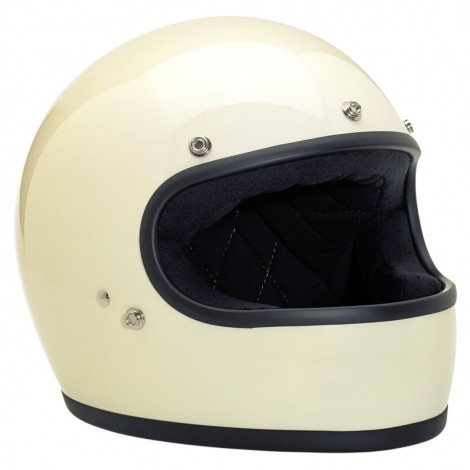 To be honest, this one is probably going to be the most "modern" looking helmet on the list, though the vintage aesthetic is definitely still there. It's also going to rank among the top in terms of protection, as this one covers virtually your entire head and face. If you care about not being recognized, this is a good choice.

Expand to see more
Comfort, secured
With a rugged, foam padded chin strap securing it to your head, the helmet does its best to give you the comfort and protection you need. The removeable Lycra liner is soft and breathable, so you'll scarcely notice it perched atop your head.

So many finishes
This helmet comes in around seventeen colors and finishes to choose from. Some are more conservative and have a matte finish, while others are bright and shiny enough to light up a room. How much attention do you want?

Cost and Value
This helmet falls right in around the middle of the pack, making it very affordable, yet not too cheap as to lead the consumer to suspect the quality. It's a great value with a nice entry level price point.


Expanded inner shell for a snug fit
Attractive matte finish in several colors
Comfortable removable lining
Strong and sturdy neck strap
Fits way too large
Cheaply made chin protection
2. Core Vintage Open Face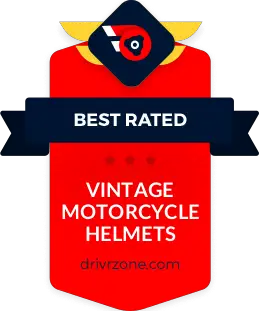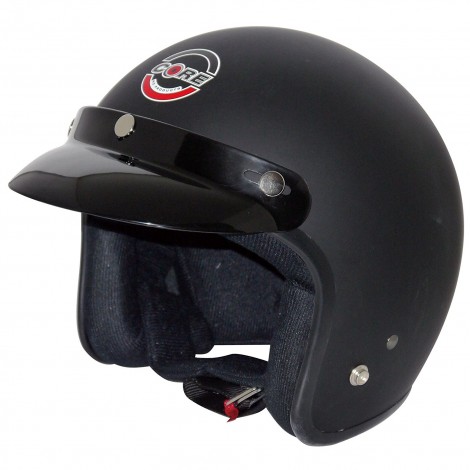 This helmet has more of an old-school racing look to it, and if you want something that protects you but doesn't cover up your face, is the perfect style for you. With the included visor you'll be able to keep out the sun while trying to focus on the road ahead. It also optionally comes with a balaclava, in case you don't enjoy the taste of bugs.

Expand to see more
Extra safe
The US department of Transportation requires any helmet available for purchase to meet certain qualifications set out by them to ensure safety on the road. This helmet goes above and beyond in that case, exceeding their standards and all but guaranteeing your safety and well being.

Great finish
The entire exterior of this helmet is finished with an automotive grade paint, which provides it with extra durability and scratch resistance. For a piece of equipment where even a scratch can compromise the integrity, this offers a lot of assurance while on the road.

Cost and Value
I didn't think it was possible to have an approved helmet be so affordable, and yet I was wrong. This offers safety and style while being incredibly low-priced. It does have less going on in the front, but that can be easily and cheaply remedied.

Breathable nylon interior promotes airflow
Automotive paint finish gives extra scratch resistance
Exceeds DOT standards
Very high quality construction
Snaps that hold the visor are weak
Too round to fit most head shapes
3. Bell Custom 500 Open Face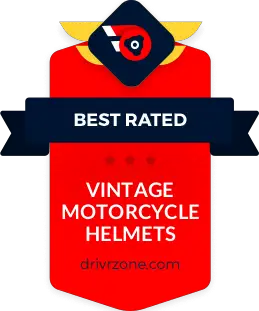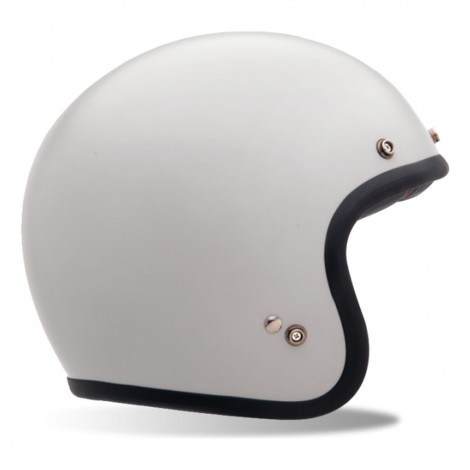 Bell is really trying to capture all of the nostalgia of the 50's and 60's with their open-face helmets. Available in a wide variety of finishes, each one conjures up memories of a decade of expression and free speech. These sharp looking helmets are like a piece of art, and are bound to get you noticed while cruising around town. Calling the line "custom" doesn't begin to describe it.

Expand to see more
Amazing style
I'm going to take this opportunity to talk about the look of these helmets just one more time. Because, let's face it, this is the feature that is going to draw you to it. All of the helmets listed here have passed regulations, otherwise you wouldn't be able to buy them. So, if you're okay with the half helmet shape, give one of these a try.

Germ free riding
This is a unique feature that I think should be included with every helmet. The liner is the what your face comes into contact with for the entirety of your ride, absorbing all of your sweat and dirt. That's why making a liner with antibacterial properties is such a good idea.

Cost and Value
This helmet is worth every penny just based on looks alone. Luckily for the average rider though, it won't set you back all that much, so even a first timer can customize their gear just a little bit.
Low profile doesn't get in the way
Incredibly stylish vintage look
Antibacterial liner for germ free riding
Multiple safety ratings
Padded chin strap adds comfort
Quite heavy despite their size
Interior cushioning not the greatest
4. Bell Helmets Bullitt Full-Face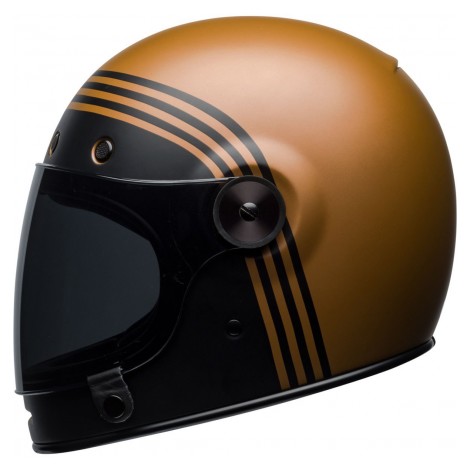 Now this helmet was ripped straight out of the 80's. This is a street racer's dream piece of gear, with a full face mask and shield. It also has venting to allow for proper airflow, because something that covers and protects you so completely is bound to get pretty hot. Since it's made by Bell, you can expect to pay more than for some competitors, but you'll also know that you're getting some of the best quality out there.

Expand to see more
Important aspect 1
You could wear this helmet around the house and not notice it. While this does sound a bit silly, the next time you purchase a new helmet, try wearing it for a while to break it in, and see if you notice it.

See it all
One thing that drives most riders away from purchasing a full face mask helmet is the perceived lack of vision. Everyone tends to think that it will impede your ability to see your surroundings. This helmet takes care of that by having a very wide opening, providing the same peripheral vision you would have without the helmet.

Cost and Value
It's a full face mask made by Bell, so have no illusions that this helmet is going to be cheap. For what you get though, it's more than affordable, and the value is evident on every inch of it.


Removable interior lining makes cleaning easy
Micro suede lining is incredibly soft and breathable
Wider face opening allows good peripheral vision on
Very comfortable interior and strap
Fits too snugly against the head
Doesn't block out a lot of outside noise
5. Voss 888FRP Fiberglass DOT
Tis particular offering is a very glossy, sleek looking helmet that is a perfect blend of safety and comfort for the road. Since it is a half helmet, it's not going to be as restricting a full size version, though for the sake of your face, sunglasses and possibly a bandana are recommended accessories. Otherwise, this is a solid piece of biker gear.

Expand to see more
Comes off quickly
You can never know when you may be in a situation when you need to get your helmet off as soon as possible, for whatever reason. This one has a quick release, meaning when you need it off, it's as good as off.

Comfort is the key
As important as safety is with bike helmets, comfort is almost as crucial. The reason for that is because as a rider, you are likely going to spend a good portion of your time wearing your helmet. This one happens to be one of the more comfortable options.

Cost and Value
Right In the middle of the road where price is concerned. This helmet isn't going to do anything incredibly impressive, but it will do its required job, which is really all you need. As such, it's a solid value.

Sits very deep for a half helmet
Kool Komfort microfiber liner is fully removable
Metal quick release system for the chin strap
Integrated visor system with removable sun lens
Sun visor doesn't provide full coverage over the eyes
Doesn't tend to fit properly
6. TORC T50 Route 66 3/4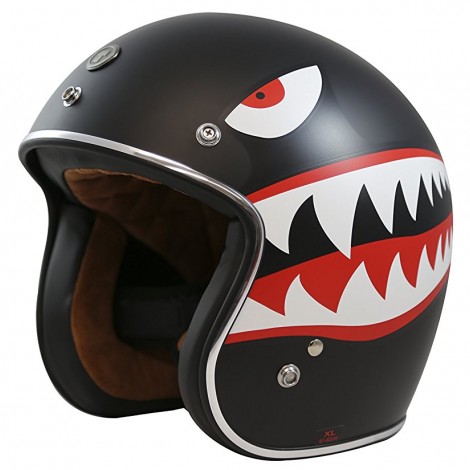 This one is a bit different in the regard that it actually a ¾ quarter helmet, meaning it has most of the coverage if a full version, with the open front of a half helmet. These provide increased protection but don't restrict visio at all, and are a good all around choice for bike enthusiasts of all levels. Like Bell, Torc incorporated and old school look that works very well, helping these helmets stand out just a little bit above the rest of the crowd.

Expand to see more
Feeling good
The interior of this helmet is lined in faux suede, ensuring your comfort on every excursion. Yes, it's not real suede leather, but that helps keep the cost down, and in terms of comfort and feel, you won't likely notice any difference. Besides, who's going to notice the inside of your helmet?

Looking good
All of the helmets in this line boast a different decal, all of which add a bit of a custom touch to your biking ensemble. Regardless of which one you choose, style-wise you'll be in good hands. It has a strong finish as well, making sure that graphic isn't going anywhere.

Cost and Value
Three quarters of a helmet for the price of a half helmet. What a deal! Seriously though, this one offers plenty of protection but costs less than most others on the market, all adding up to a tremendous value for your buck.

Faux suede liner provides optimal comfort
Padded chin strap secures helmet to your head with little movement
Several unique patterns to choose from with a high quality finish for protection
Fits true and holds snug, allowing for prolonged use.
Excellent value for what you get
Tends to block out a lot of sound and muffled hearing
Small and medium sizes tend to be very bulky
7. Biltwell Bonanza Le Tracker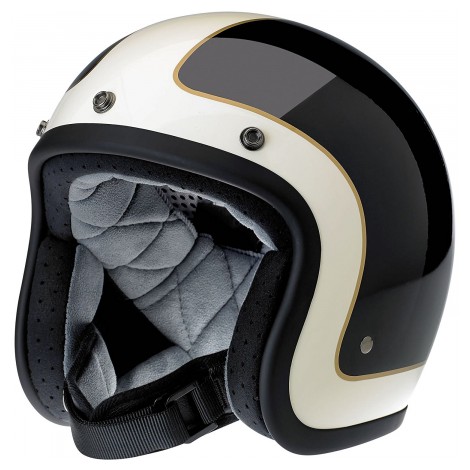 Another full face helmet from Biltwell makes its way on to this list, though this one is just a bit different. Instead of going all the way around the chin, this one goes past the ears to the chin, and then fastens to the head with a chin strap. Like the previous selection though, this one retains all of Bitwell's high quality construction and sharp appearance. Another similarity, and the standard by which the company makes their helmets, is the high cost to value ratio found with all of their helmets.

Expand to see more
Injection molded outer shell
This means that the helmet is essentially one piece, which greatly increases the strength and resiliency by reducing the number of parts and the seams created from fitting those parts together. This creates greater rigidity, ensuring the helmet will hold up remarkably.

Perfect for cruising the town
While this helmet is going work great on any type of road way, it is best suited for murban based settings thanks to its clean lines and stylish decals that adorn most of its surface. People are bound to take notice as you drive by.

Cost and Value
Looking at Biltwell helmets, a trend is beginning to emerge. They like to make top of the line, visually appealing products for every type of rider, but they don't like charging all the much for them. That alone is enough to rank this up there with the best when it comes to value.


Injection molded shell gives added stability and strength
Hand-sewn liner with quilted pattern offers superior comfort
Relatively lightweight for a full face helmet
Ideal helmet for cruising around town
Several hand painted images to choose from
Fits pretty small even for average size heads
Despite fitting small, it is actually quite bulky
8. VCAN V531 Solid Half Helmet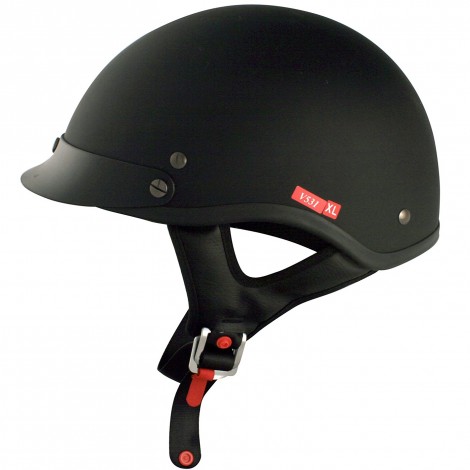 Admittedly, this helmet does look a bit like an equestrian helmet, which is a good thing. With the simple design and clean lines, this helmet stands apart from the rest of the bunch while still being understated. It adds a bit of an elegant edge to your motorcycle ensemble that you aren't likely to find anywhere else. Add to this the great value,and you've got a great piece of gear suitable for all level of rider.

Expand to see more
Keep it clean now
For a lot of the helmets on this list, whatever they choose to use for the inner lining is often removable to allow for easier cleaning. This one does the same thing, but in this case, the lining is more complex than on other models, giving you practically full coverage over your entire head.

Off the beaten path
The helmets covered on this list, for the most part, are mainly meant for paved roads, be they urban streets or the open highway. This one is no exception though it is just as well suited for off road trail riding. Some people like to blaze their own path, and this pone lets them do just that in comfort and safety.

Cost and Value
This helmet gives the wearer a unique look, great features, and a low price. Granted, half helmets aren't supposed to cost that much anyway, but this took affordability to whole new levels, resulting in unmatched value.


Attractive flat paint finish
Removable cheek pads that can be easily washed
Works very well for offroad riding
Minimal design adds an aerodynamic element
Convenient one-handed operation for the chin strap
Despite being DOT certified, the helmet is quite thin
Inaccurate sizing chart causes confusion when fitting
9. Fuel Helmets SH-HHFL66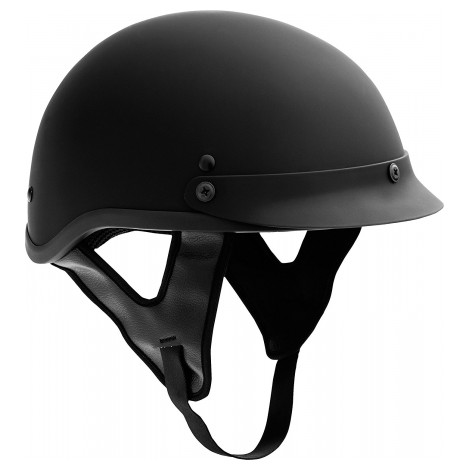 You would think that all half helmets would be the same, since they are by nature pretty simple pieces of motorcycle gear. On the contrary, this one has probably the most classic design, epitomizing the concept of the helmet. Minimal in appearance and cost, this one will still nonetheless keep you safe for as many moles as you decide to put in while wearing it.
Expand to see more
Keep it as vibrant as ever
The finish on this helmet is a UV clear coat, which is going to help avoid fading, and in turn keep your helmet looking as pristine as the day you first put it on. The helmet itself is going to last a while, the paint job might as well too.

Riding high
Confidence is the single best feeling a helmet can provide a rider with. Knowing that you are safe and in good hands goes a very long way, and this helmet does that just by looking at the solid construction.

Cost and Value
Half helmets are typically fairly cheap and reliable products, which probably helps add to their immense popularity. This one is definitely cheap and reliable, with the added bonus of going the extra mile where comfort is concerned, making it an even better value.

UV Clear coat will help to prevent the paint from fading
Exceptionally lightweight
Color matched visor keeps it looking sharp
Mesh lining at forehead promotes air circulation
Solid build breeds confidence while riding
Screws holding the visor have been known to fall off
Helmet tends to sit very high on the head, causing discomfort
10. LS2 Helmets Kurt Union Bobber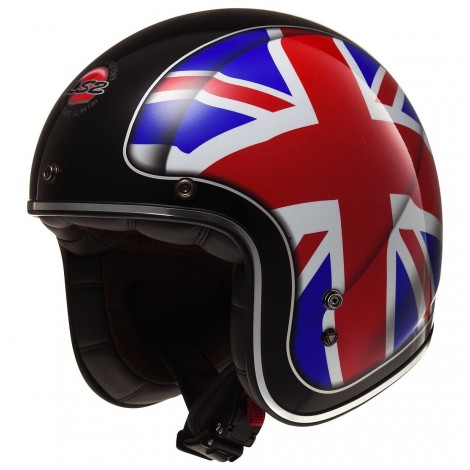 This is probably going to be the most patriotic helmet that you're going to lay eyes on. While it isn't the US flag, the Union Jack represented here is bold and colorful, and adds a bold accent to your motorcycle gear. It's a three quarter helmet, so it's going to give good stability and protection form the wind, all while keeping out the harsh sounds of the road. This lets you concentrate on the journey, and that's what it is all about.

Expand to see more
Does what it's supposed to
This helmet is a no nonsense piece of equipment that does its job perfectly, and that's it. It lacks a bunch of unnecessary bells and whistles, but when you're out on the road, who needs any of that. This is the perfect accessory for purists, which is what old school helmets are all about.

Easy to get into and out of
Pretty everything on this helmet is designed to be easily removed, as if the manufacturers wanted nothing to stand in your way. The straps come apart quickly, the liner is removable, and taking off the visor is a matter of three snaps. All of which is very convenient.

Cost and Value
Even though this helmet is meant to look the part of a vintage piece, it has an unmistakable modern edge about it, making it look much more expensive than it actually is. In this case, quality isn't going to cost a lot, and that is always a good thing to find.


Fiberglass shell is lightweight but very strong
Quick release chin strap is also DOT approved
Included sun visor is easily removable
Padded straps won't dig into the skin
Contains a high level of noise reduction properties
The lack of a helmet bag can increase the risk of scratching while stored
The no frills design of the helmet is almost too bare
There you have it.  I took a look at so many different vintage motorcycle helmets to provide the widest selection for the sake of variety, and I think it's fairly safe to say that all of the major designs and features have been touched on at least a little bit.  That being said, it all comes down to a matter of opinion, and I can't begin to tell you what choice to make. All I can do is present all of the best selection to the best of my abilities, and then leave it up to the consumer to make as informed a decision as they can.  I provide you with all of the relevant information about features and cost, to take a bit of the pressure off so you can concentrate on getting out on the road, and enjoying all that biker life has to offer. Just be aware though, that I didn't manage to cover all types of vintage motorcycle helmets, as some are more specialized and don't apply to average use.  The ones on this list are a great all-around selection and should have you covered for most circumstances.
Criteria Used in Evaluation
of The Best Vintage Motorcycle Helmets in 2019
Before I get into what makes up the rules for selecting the proper motorcycle helmet, I have a bit of a disclaimer.  As long as you find a helmet that meets or exceed safety standards, it doesn't matter which one you choose. Forget the features, or the price, or the fact that it has an open face, so bugs get in your teeth.  The ONLY thing that is important is how the helmet is going to protect your head and brain. After that, the world of vintage motorcycle helmets is completely open to you.
Price
How much a helmet is going to cost you is dependent on three main factors:  Who made it, what style it is, and how many cool features it has. Safety or protection has nothing to do with price because those considerations are already a given.
Like any product on the market, there are going to brand whose offerings cost more than others.  This can be due to them only making high-end products with the best materials, or maybe they are renowned for producing the best quality items.  Either way, sometimes the name alone can drive the price. This does work both ways, however, as some companies aim to be the preferred choice by giving great value, or going above and beyond in the way of features while still charging a lower overall price.
The style only matters in as much as how much material is needed to produce the item.  For example, Full face vintage motorcycle helmets are going to cost quite a bit more than half vintage motorcycle helmets, as they take considerably more money, materials and effort to produce. Also, these vintage motorcycle helmets have more requirements.  Since full vintage motorcycle helmets don't allow a lot of exposure to air, measures have to be taken to provide airflow to the rider through the use of strategically placed vents found throughout the helmet.
Fit
When it comes to picking the ideal helmet for you, the fit is non-negotiable.  That's because the right fit affects more than just comfort. It has a large hand in the overall safety of the piece itself.
First off, yes, proper fit does equate to comfort, since the right helmet will conform to the shape of the skull, and fit snugly against the head.  This prevents the helmet from moving around too much or being jostled, which would otherwise cause discomfort and irritation for the rider.
Style
As I stated in the disclaimer, style is going to do nothing to change the level of safety of the helmet.  What is can do, however, is affect how you like to ride.
Other riders, however, prefer to shut out the rest of the world and just be in the moment with their bike.  These riders will more often than not opt for the full helmet with a face shield. This will keep out any distractions, allowing them to focus on the road ahead.  Most of the newer ones also incorporate a wide field of view, which reduces the visibility restrictions that have hindered them in the past.
Certification
Unlike the other criteria, this one directly relates to the safety of the helmet.  There are three main regulations that a helmet can and should at least meet. Many of these regulations are followed at least to some degree in other countries, and they have become something of a standard by which they are rated.
DOT refers to the Department of Transportation regulations that were put in place by the organization to improve the safety of motorists on US highways and waterways.  The standard it is based on is the Federal Motor Vehicle Safety Standard #218, and is applied to helmets sold in the country.
The third standard is known as the Snell Helmet Standard.  This comes from the Snell Memorial Foundation, a nonprofit group dedicated to improving safety.  The group goes above the government standard and is an optional standard for manufacturers to follow.
All vintage motorcycle helmets available on the market are going to have passed at least either the DOT or ECE 22.05 standards, but a lot of manufacturers are opting to include others in an effort prevent injuries as much as possible.
Terminology
DOT: Department of Transportation.  This organization is responsible for the safety and well being of motorists on the roadway and waterways.  They set standards that any automotive safety equipment must adhere to to be permitted for use.
Visor: A piece of material, usually plastic, that is affixed to the front of a helmet above the eyes, shading them from sunlight and helping to keep out objects to some degree.  Most visors for vintage motorcycle helmets are easily removable.
Face Shield: A device that protects the wearer's entire face form all manner of debris or flying objects.  They are either completely clear to allow full visibility, or slightly tinted to protect from the sun's rays, while still maintaining a high level of visibility for the wearer.
Open face: A type of motorcycle helmet that leaves the face open for the most part.  This can include almost any style of helmet, from three quarter fits full helmets.  Half helmets are not considered open face because no part of them extends coverage beyond the eye line.
Injection molding: The process of producing parts, in this case, vintage motorcycle helmets, by literally injecting molten materials into a mold cavity.  The material is fed into a barrel and then injected through a nozzle, and then is allowed to cool and harden. The molds themselves are typically made of a high strength metal.
Retention System: The method with which the helmet is secured to the head.  The retention system is found around the chin, connected by straps that clasp together and hold the helmet in place.
Half helmet: Intended as an efficient balance between having a full helmet and no helmet at all.  The half helmet covers the entire top of the skull extending up to but not past the eyeliner of the rider.  They offer no protection for the face, but are a popular option due to their not being restrictive at all, and leave the face completely open to the wind and other elements
Skull cap: Another name for a half helmet, skulls caps are the same, but don't typically have the brim over the eyes as many half vintage motorcycle helmets do.  They were first popularized in the early days of regulated helmets, as the brims if half helmets were very rigid and therefore presented a serious injury risk during an accident.
Frequently Asked Questions
About Vintage Motorcycle Helmets
Q: Do I have to wear a helmet when I'm riding?
Unfortunately, not always.  In the United States, there are only nineteen states where wearing a motorcycle helmet is mandatory in all situations.  Twenty-eight states have partial laws regarding helmets, will three have no laws at all mandatory regulating use of the helmet.  Other countries have different laws regarding their use, though it is widely accepted that wearing one gives you a much greater chance of surviving a crash without a head injury or brain damage.
Q: Are all vintage motorcycle helmets the same?
In terms of safety, all vintage motorcycle helmets are going to perform pretty much the same, though some offer more coverage over the face, increasing protection for those areas.  However, lawmakers and manufacturers are mainly concerned about preventing long-term brain damage or death, so half helmets that offer no face protection are going to protect the rest of them just as well as a full helmet.  A broken nose or the loss of a few teeth are considered an acceptable alternative to a shattered skull.
Q: Is there a way to make vintage motorcycle helmets look cooler?
There is nothing a wearer can do to a helmet to make it look "cooler" without potentially compromising its performance and safety.  Nowadays, since the culture has exploded, more designers are incorporating full graphics or paint schemes to give their vintage motorcycle helmets a greater visual appeal to a wider audience.
Q: Do I have to wear anything underneath the helmet?
Wearing something underneath a motorcycle helmet is completely up to the discretion of the rider.  While a balaclava or simple bandana may help keep sweat away, they don't tend to be very breathable and can increase the risk of overheating poor perspiring.  Most vintage motorcycle helmets now include at least some kind of liner, often removable, that can wick away moisture and may even be antibacterial.
Q: Do these vintage motorcycle helmets protect my skull?
Absolutely.  Since the enforcement of mandatory helmet laws is such a controversial subject. Countless studies have been conducted that prove that riders who are involved in accidents while wearing a helmet have an exponentially greater chance of surviving without sustaining a serious brain injury.  There are some that still believe there is no difference, but evidence proves otherwise.
Q: Is wearing a helmet going to mess up my hair?
Probably, but if it's that much of a problem, you need to decide whether riding a bike or having nice hair is more important.  If you are an avid rider, it may be a good idea to have your hair short or even shavers.
Sources
IIHS – Motorcycle helmet use
Safe Roads – Motorcycle Helmet Laws
MSF – Cycle Safety Information
Subscribe to our Newsletter