Best Cargo Carriers Reviewed & Rated for Quality
last updated:
Jul 23, 2019
So, you got a long drive ahead of you, and sadly, your trunk just won't cut it. Either because your car's trunk just isn't big enough, or you just have too much to fit it all, it seems you don't have the room you need to pack all of your stuff for the big trip. So, what are you to do?
Featured Recommendations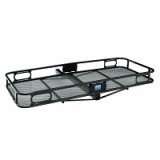 Pro Series Black Reese

Our rating
Durable Powder Coat
Price:

See Here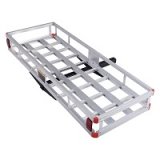 Goplus Aluminum Hitch

Our rating
Safety Reflectors
Price:

See Here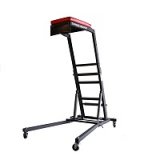 Mockins Hitch Mount

Our rating
Included Cargo Bag
Price:

See Here

Well, you get a cargo carrier. But which cargo carrier to get? If that's the question on your mind, you've come to the right place, so please read on, as we count down the:
10 Best Cargo Carriers
1. Pro Series Black Reese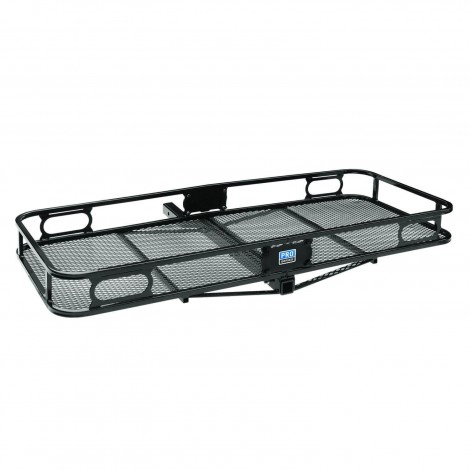 Kicking off our list, we have the simple but sturdy Pro Series Black Reese Cargo Carrier. Pro Series specializes in making things that aren't the most complex equipment on the planet but are sturdy and tough enough to never fail you when you need them. And this cargo carrier lives up to that splendidly.

Expand to see more
Rugged mesh floors

If you're driving through heavy rain or winds, your cargo carrier is liable to arrive at your destination a lot dirtier than when you set off towards it. Luckily, this cargo carrier is built with a smart, rugged mesh floor, that's super easy to clean whenever it gets dirty. So, you don't have to worry about having to scrub down the thing afterward, just take a hose to it for a minute or so, and you're done.

Durable powder coat

But when the elements are involved, there's a lot more than just dirt you have to worry about. Rain, wind, and snow can wreak havoc on a metal appliance if it isn't properly prepared. Fortunate then, that this cargo carrier doesn't have that problem. The metal of this carrier is made with a durable powder coat that makes it resistant to not only the elements but most forms of physical damage. So, it'll retain the same flawless black look for years to come.

Cost and Value

If you want a really good cargo carrier, then you'll end up having to pay a lot of money for it. Fortunately, this cargo carrier, like the others on this list, more than earns the price it asks for.


Rugged mesh floors
Durable powder coat
Side rails keep cargo securely in place
The cargo carrier is fine, bolts are made of Zinc, which isn't as strong
2. Goplus Aluminum Hitch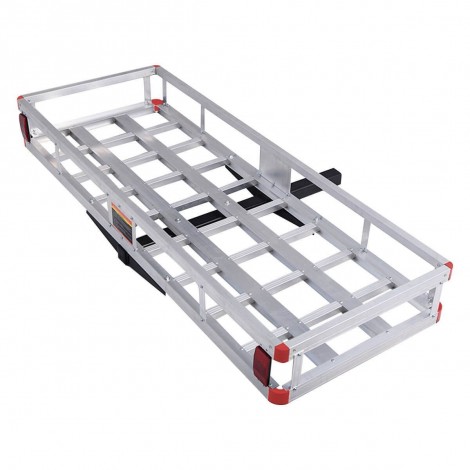 Coming in second place is the Goplus Aluminum Hitch Mount Cargo Carrier. Sometimes other cargo carriers just won't cut it. Sometimes you need something stronger for when you're carrying a heavy duty load on a long trip. This is when you go Goplus.

Expand to see more
Safety reflectors

It's nice knowing when the cars around you are carrying some kind of add-on, it's the same principle as putting safety lights and reflectors on a trailer you drag behind your truck. It's just an added bit of consideration that other drivers appreciate. Which is why this cargo carrier opts to outfit itself with safety reflectors to keep everyone on the road aware, especially at night, of the added peripheral on top of your car.

Heavy duty construction

You will pretty much never have to worry about this cargo carrier giving out on you. Not only is this cargo carrier made from premium aluminum, which a step above the rest in terms of durability and sturdiness, but it also has a weight capacity of up to 500 pounds. Which isn't to say you should be in a hurry to see if your car can handle the weight of 500 pounds, but if you know for a fact that it can, this cargo carrier has got you covered.

Cost and Value

The price of this cargo carrier is about the same as the previous entry, though a bit higher depending on which retailer you're buying it from. So, if you need a heavy duty cargo carrier for a modest price as cargo carriers go, this is the one for you.



Safety reflectors
Heavy duty construction
Large storage space
Bolts may be too long for the locking nuts
3. Mockins Hitch Mount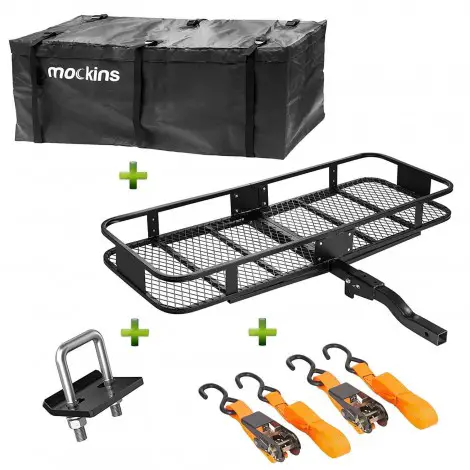 Finishing up our top three segment, we have the Mockins Hitch Mount Cargo Carrier. While not quite as heavy duty as the previous entry, this is still an excellent cargo carrier for a long trip. What makes it so excellent? Let's take a closer look and find out.

Expand to see more
Improved ground clearance

This is what's known as a hitch hauler cargo carrier, which means instead of being mounted on top of the car, this cargo carrier is mounted on the back of the car like a small trailer. And when you have a cargo carrier like this, one of the most important aspects is ground clearance, or how far above the ground the carrier can stay. And thanks to this carrier's 2" shank rise, this cargo carrier manages to have an improved ground clearance over other carriers like it.

Included cargo bag

But what if you're transporting luggage or some sensitive piece of equipment, and you're more than a little sure that it's going to rain before you reach your destination? Well, when this happens, you use this cargo carrier's included cargo bag. This waterproof bag can wrap around just about anything that you can put in that cargo carrier, and it comes with two extra ratchet straps to make sure that the bag doesn't go anywhere when you're driving.

Cost and Value

This cargo carrier, given everything that comes with it, is a bit more expensive than the previous two entries. However, when you consider the high quality design, as well as the incredibly useful add-ons that come with it, the price becomes a lot more bearable.



Improved ground clearance
Included cargo bag
Works with every car, from SUV's to truck
Reflectors have been known to fall off
4. Thule Motion XT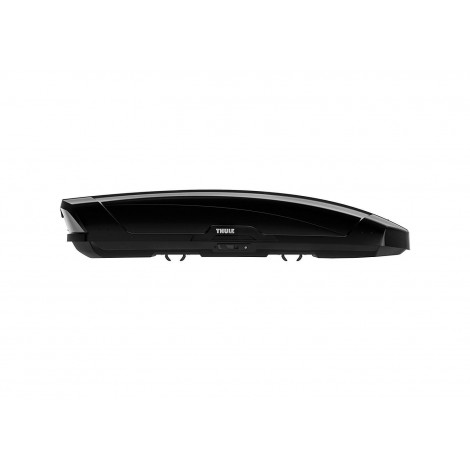 Coming in at #4, we have the Thule Motion XT Rooftop Cargo Carrier. If you're looking for the pinnacle of efficient design in a rooftop mounted cargo carrier, then you have definitely come to the right place with this one. This carrier is sleek, stylish, and fully functional. And while definitely not the cheapest on the planet, nor the most spacious, it's more than worth your money.

Expand to see more
Slide lock system

With a rooftop cargo carrier, there is one thing you absolutely make sure is working properly above all else: the locking mechanism. Otherwise, you run the risk of your luggage flying out into the freeway at 60 mph. Which is why this cargo carrier comes with the slide lock system. This system automatically locks the lid in place, clearly and unmistakably indicates to you when the box is securely closed and comes with separate locking and opening functions for good measure.

Quick-mount system

On the ladder of priorities, the very next rung under making sure the locking mechanism is working is making sure that you mounted it correctly. Fortunately, this cargo carrier goes the extra mile to make mounting it incorrectly about as hard to do on accident as possible. This cargo carrier uses a quick mount power click system. The torque indicator will let out a loud click when securely mounted in place, ensuring that you aren't constantly adjusting it to get the thing mounted just right.

Cost and Value

The main problem with this cargo carrier is the price. While definitely one of the most advanced cargo carriers out there, it's also one of the most expensive entries on this entire list. Combine that with the lack of actual storage space, and you have a cargo carrier that just misses out on the top three.


Slide lock system
Quick-mount system
Full trunk access
Fits onto most aftermarket racks
Very expensive
Not a lot of storage space
5. Curt 18153 Basket-Style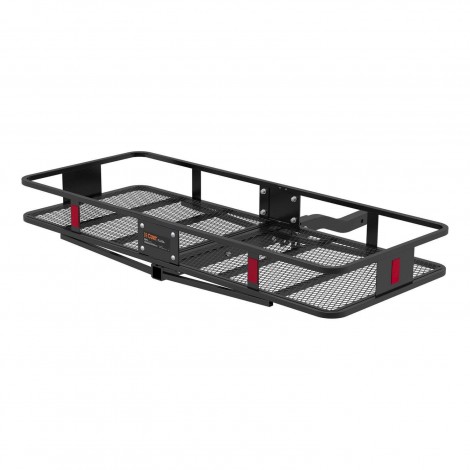 For our #5 spot, we chose the Curt 18153 Basket-Style Cargo Carrier. Another hitch style cargo carrier, meaning once again you'll have to hook this cargo carrier up to the back of your car rather than mount it on the rooftop. And in terms of that, while not quite as good as the previous one we covered, this is still an excellent choice if this is the kind of cargo carrier you're looking for.

Expand to see more
Tough construction

The reason people tend to choose this kind of cargo carrier over the rooftop mounted variety is when they have to transport something that really shouldn't be on the roof of any vehicle, as a large tool or piece of cargo. And for that reason, this cargo carrier is made a lot tougher than most carriers out there. Constructed from heavy duty tubular steel, this cargo carrier can handle pretty much anything you put on it.

Folding shank

But what about when you aren't using this cargo carrier? Taking it off and putting it back on later is too much of a pain when it's something this heavy, and you can't just leave it jutting out like it is if nothing is sitting on it. Fortunately, this cargo carrier comes with a folding shank that allows you to fold the carrier upwards, out of the way when you aren't using it.

Cost and Value

For a cargo carrier of this quality, the price is pretty average for this list. And the high quality materials used to make it are just icing on the cake.


Tough construction
Folding shank
500 pound capacity
Fabrication tolerances could be better
6. Merax Foldable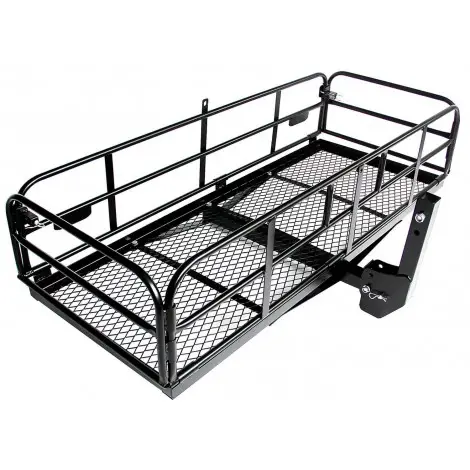 Coming in our #6 spot, we have the Merax Foldable Hitch Cargo Carrier. Another hitch cargo carrier, and a big one at that. Make no mistake, this is the kind of cargo carrier you put on the back of the biggest commercial trucks and RV's. So, what does it offer you once you actually put it there? Let's find out.

Expand to see more
Tall side bars

Using this kind of cargo carrier on a bumpy road is always stressful because there's always that risk, however minuscule, that you'll hit the wrong bump at the wrong time, and send your cargo flying off. Something that this cargo carrier alleviates for you with ease. By simply raising up the side bars to 15.4 inches, this cargo carrier keeps the cargo in question nice and secure.

Very quick clean

Since this carrier is primarily meant for camping trips and so forth, it's kind of inevitable that it will get a bit dirty. Fortunately, much like our first entry, this cargo carrier comes with a mesh floor that makes cleaning a breeze.

Cost and Value

The price of this entry is a good bit above the average price for this list, but if you have a big camping trip coming up and you need the added storage space, this is right up your alley.


Tall side bars
Very quick clean
Easy to install
7. Rola Vortex Steel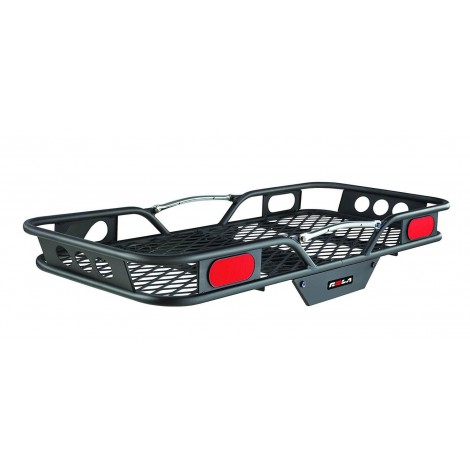 For our 7th place spot, we chose the Rola Vortex Steel Cargo Carrier. This cargo carrier may not seem like much when compared to the entries we've covered thus far. But when you look closer and get down into the specifics of this cargo carrier, you see exactly what it has to offer.

Expand to see more
Optional lighting

One hurdle cargo carriers like this have to cross is the fact that they're kind of obscuring your backlights on your car. So, the solution to this is to do what larger trailers do and install lights on the carrier. Just plug this cargo carrier into the back of your truck, just under the hitch, and the lights on the back of the cargo carrier will activate. Now you have clearly visible lights when using this carrier.

Built to last

It will be quite some time before you're in need of a new cargo carrier when you buy this one. Not only is it made from high quality steel and designed to be tough as nails, but it's also covered in durable black powder coating that makes it almost completely resistant to the elements or physical damage.

Cost and Value

While not the most expensive thing on the list, nothing has beat the 4th place pick yet, it's still pretty pricey. But if you want durable and efficient performance from your cargo carrier, there's none better out there.



Optional lighting
Built to last
Easy to install
8. CargoLoc Aluminum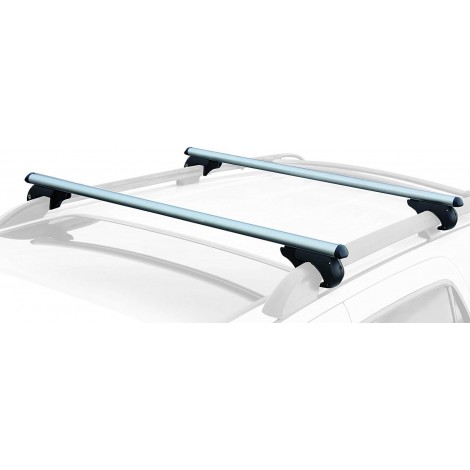 Kicking off our final three entries, we have the CargoLoc Aluminum Roof Top Cross Bar Set. We return to the rooftop mounted cargo carriers with this one, but not in the way you might think. This entry isn't the carrier itself, but rather a set of bars you would put a carrier on, which are just as important. So, let's see what this entry brought to the table to get on this list.

Expand to see more
Safe and secure

Often when your cargo carrier goes flying, it isn't the fault of the carrier itself, but rather the bars it was attached to, not being properly mounted to the car — a problem that, fortunately, this set avoids. This cross bar set comes with a heavy duty clamping mechanism that ensures the bars will stay right where you put them at all times. It also makes them very easy to install, which is a definite plus.

High quality aluminum construction

We're sure you want your cargo carrier and bar set to be made from the best possible materials, but the stronger the metal, the heavier it tends to be, which can prove problematic for certain vehicles. Which is why this cross bar set builds itself out of high grade aluminum, which is equal parts lightweight, while also being incredibly strong.

Cost and Value

The best part about this entry is the price. Cross bars tend to be cheaper than the cargo carriers they go with in general, but this is probably the cheapest entry on the list, at least so far.


Safe and secure
High quality aluminum construction
Cheap
Can only handle about 150 pounds of weight
9. MaxxHaul Hitch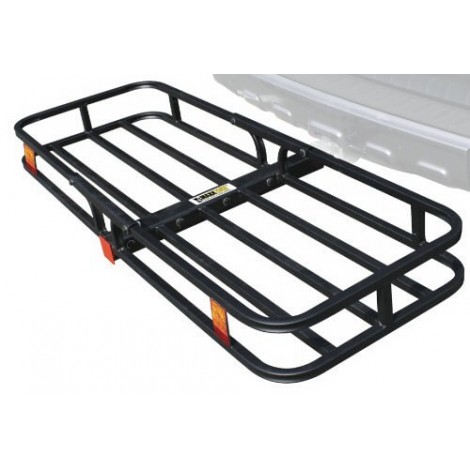 For our second to final entry, we have the MaxxHaul Hitch Mount Compact Cargo Carrier. When it comes to price matching quality for a cargo carrier, the general rule tends to be that the higher the price, the higher quality. Thankfully, this entry breaks that streak by being just as good as the other entries, while being less than half the price.

Expand to see more
Sturdy construction

The construction of a cargo carrier goes a lot further than just what the cargo carrier is made out of. It also concerns how those materials are then applied to the construction of the cargo carrier. Two factors that this carrier nails with flying colors. Made from high quality steel and given a black powder coating for environmental protection, this carrier is also constructed in a way that evenly distributes weight with a strong bar floor that guarantees added strength.

Included reflectors

Some cargo carriers have full lights added to them to make it easier on the driver behind you to see what you're doing. And while this cargo carrier doesn't have that, it's small enough so that other drivers will still be able to see your lights. And the reflectors on the back will make night driving a lot easier.

Cost and Value

Speaking strictly of actual cargo carriers, this is probably the cheapest of the entire bunch. So, if you want a good sturdy cargo carrier on a tight budget, this is the one for you.


Sturdy construction
Included reflectors
Cheap
10. King Bird Folding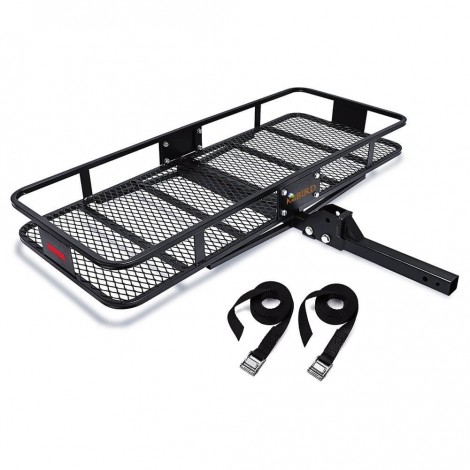 For our final entry, we have the King Bird Folding Cargo Carrier. This is more of what you would expect, given what we've covered on this list so far. However, don't mistake that to mean that this carrier is generic, because a closer inspection will reveal that it does a lot that the others don't.

Expand to see more
Advanced straps

Usually, you have to buy the straps yourself for the cargo you plan on putting on these carriers, but this one cuts out that extra step by actually including 2 highly advanced straps for securing whatever you feel like putting on the carrier. Most of the time, these two will be the only ones you need.

More stable design

It's no surprise that the design of a hitch cargo carrier can raise some skepticism. After all, it does not exactly look like the most stable thing in the world, what with its only support being a single bar going horizontally (which any physics major will tell you is not ideal). Fortunately, this carrier considers this and adds on 2 metal poles on each side of the basket. This adds a whole new level of stability to the basket, especially when you have something heavy on one side of the carrier.

Cost and Value

While somewhere around the average price for this list, this entry is just low enough for us to consider it an affordable alternative to some of the other entries on this list.


Advanced straps
More stable design
Affordable
A bit too much play at the joint
A good cargo carrier will be your best friend when you are out traveling. The sad fact is that your trunk can't hold everything you want to take with you. A lot of them can get close, do not misunderstand, but there is always more to pack, and not enough room to pack it.
And on top of that, suppose you do get it all in there, where's everyone else going to sit? And then there are times when you have to haul something large and cumbersome like a cement mixer or other large tools somewhere, and of course, you can't just put it in the back of your truck. A cargo carrier is a good alternative for all of these situations. They act as a sort of second trunk, not able to take everything, but enough so that the actual trunk of your car can handle the load better, and still give everyone riding in the car ample room to move around in. And if you're looking for the absolute best of the best cargo carriers out there, then you've come to the right list. From hitch backs to rooftop mounts, look through this list, find the one you're looking for, and enjoy that extra added space.
Criteria Used in Choosing the Best Cargo Carriers
Deciding on what makes the best cargo carrier is an interesting conundrum, even if it does not seem that way at first. The problem is that these are such simple devices, and so many are so similar to one another; it can seem downright impossible to narrow down a set of criteria to choose one over the others. However, when we looked closer, we were surprised to find just how easy it was to narrow down a good list. So, with that being said, here are the most vital criteria we used to determine who got onto the list and where.
Weight capacity
Of course, top billing goes to the amount of weight each cargo carrier being screened can handle. Do not worry about just anything toppling over your cargo carrier, as by default, your average cargo carrier can handle well above 150 pounds of weight. How much weight capacity you should look for depends on the kind of cargo carrier itself, as well as what you'll be expecting it to handle. If it's just a normal set of luggage for a long car ride, then the average weight capacity is all you need to manage. However, if you are transporting anything of significant weight, then you should probably look for something a bit stronger than that. Weight capacity is particularly important for hitch cargo carriers since they're specially made for heavier loads.
Weight support
But one of the big secrets behind a cargo carrier's weight capacity is its weight support. This refers to the various ways in which the cargo carrier supports itself and stays upright even when faced with a heavy load. After all, just because a hitch cargo carrier can hold something, does not mean it won't come out of it a bit more bent than it was beforehand. Unless, of course, that hitch carrier has a support system in the form of, for example, a pair of poles connecting the hitch to the left and right edges of the carrier. This keeps a large object from rolling to one side, thus putting all of its weight on that otherwise very vulnerable edge, and potentially bending that part of the carrier. This is also why so many cargo carriers focus so heavily on making their cargo carriers as tough as possible in the material's department because that also helps support against heavyweights. Steel is a lot less likely to bend and break when something heavy is put on it than, say, aluminum.
Stability
There are few things as "freeze you in place" horrifying as watching your luggage fly off from the top of your car and go spreading across the freeway, your clothes being scattered to the winds by the cars whizzing by at deadly speeds, while you scramble to pick up what you can. Equally, there's also the scenario wherein your hitch cargo carrier topples off of your hitch because you didn't latch it on correctly or whatever other reason and the heavy cargo you were hauling has now just fallen down a hill, and you have to drag it back up again. Stability is something we all look for in our lives, both in what we do, and what we do it with. And it's certainly no different for cargo carriers. You use a cargo carrier when you have something you'd rather not try to lift and transport the old fashioned way, so you put it on a mini trailer to do it for you. So, if the thing topples over at the first somewhat stiff breeze, then you have a serious problem. Stability is decided by a large number of different factors, not the least of which is the materials used to make the carrier, and what's done to support it.
Price
The last criteria we looked at for this list was the price of each entry, and how it reflected on the overall quality of the product in question. Cargo carriers tend to be on the expensive side, at least if you want the really good ones like those shown on this list. So, we chose to look at each entry's price and look at how the price reflected the quality of the product. After all, if you pay a lot for something, but it gives you everything you wanted from it, you're less likely to feel ripped off.
Other Factors to Consider
Luggage type
You should always take into account what it is you are transporting when looking for any kind of cargo carrier. Not every cargo carrier is meant for the same kind of, well, cargo. There are two main types of cargo carriers showcased on this list. There are the car top carriers, which are meant for things like luggage and suitcases for long car rides. And then there are hitch cargo carriers. These go on the back of trucks and RVs and are meant for things like large tools that won't fit anywhere else, or grills for those big camping trips with the kid/grandkids.  Always take into account what you expect to be carrying before buying a carrier, and you'll save yourself many an undue headache.
FAQ
Frequently Asked Questions
For the last segment of this list, we will be taking a look at some frequently asked questions surrounding cargo carriers. Considering the fact that you'll be expected to trust these things with very important luggage of yours, it makes sense to want your choice to be as informed as possible before you make it, especially considering how pricey a cargo carrier tends to get. So, with that said, here are the most frequently asked questions surrounding cargo carriers and the answers thereof.
Q: What is the general absolute maximum weight that a cargo carrier can handle before it begins to buckle?
A: This can vary from product to product, but generally speaking, the average maximum weight that a cargo carrier can handle is about 500 pounds. But like we said, this is just a general estimate, as many out there have far less or even far more of a tolerance for high weight. For this list, however, we did indeed find that the general weight capacity was around 500 lbs.
Q: Hitch cargo carriers or car roof carriers?
A: This question is the same as asking which is better: going biking, or going roller-skating. They're two different devices that just happen to be within the same niche. However, there are certain parts about each that make the other a potentially more appealing choice. For one, a car roof cargo carrier adds to your car's wind resistance, which slightly slows you down. It also needs mounting brackets, which makes it less accessible. Finally, a car roof cargo carrier will negatively affect the mileage of your car, especially if you have a lot of luggage stuffed into the carrier.
On the other hand, a hitch cargo carrier only has the hitch to support it most of the time, with certain exceptions adding in a bit more support in the form of added rails. This can make it easier, especially for heavier loads, to break off of the hitch and fall to the ground. A hitch cargo carrier is significantly less stable than a car roof carrier, which has an entire car roof to hold itself up on. Whichever one of these has the more glaring issues to you, is probably the one you should avoid.
Q: Why do hitch cargo carriers need reflectors or lights?
A: The same reason a full-on trailer needs them; having them is required by law. Automotive law dictates that a car must have visible lights or reflectors that drivers directly behind them can't miss due to obscurity. Obscuring your tail lights without some means of keeping other drivers on the road informed of which way you're going to turn or whether or not you're going to break is an actual crime, and the law takes it very seriously. As such, the law dictates that all cargo carriers must have some kind of reflectors or taillights that you plug into the back of your car like a trailer. This way, other drivers remain up to speed, as it were, of what your next driving choice is going to be. So, if you see a hitch cargo carrier you want, but it doesn't have tail lights or reflectors, you should put buying some for it next on your to-do list.
Sources
Subscribe to our Newsletter