Inflatable Backseat Mattress Reviewed & Rated for Quality
last updated:
Jun 04, 2019
Okay, so the big family car trip is taking a lot longer than anyone involved initially believed it would. The sun is setting, and fortunately, there are enough adults in the car for the driving to be taken over in shifts. But maybe one of you has an awful back and thus can't stand sleeping in the chair. So, what can you do? Well, if you've come to this list, then you know precisely what you can do. You can get your hands on an inflatable backseat mattress.
Featured Recommendations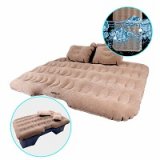 Shelterin Inflatable

Our rating
Stronger and Comfier
Price:

See Here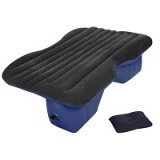 Sailnovo

Our rating
Quick Inflation
Price:

See Here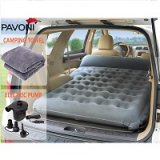 Pavoni

Our rating
Comfortable Sleep
Price:

See Here

An inflatable car mattress is, well, precisely what it says on the tin. It's an air mattress whose whole point is to be used in the car when you need to shack up in your car for the night. Whether it's because you live in your car (a sad reality in this economy) or just need somewhere to sleep during long car rides, these are excellent alternatives to the rough leather of a car seat. And we're counting down the ten best of them, here today. So, in case you're feeling sleepy, read on, because we're counting down the:
10 Best Inflatable Backseat Mattresses
1. Shelterin Inflatable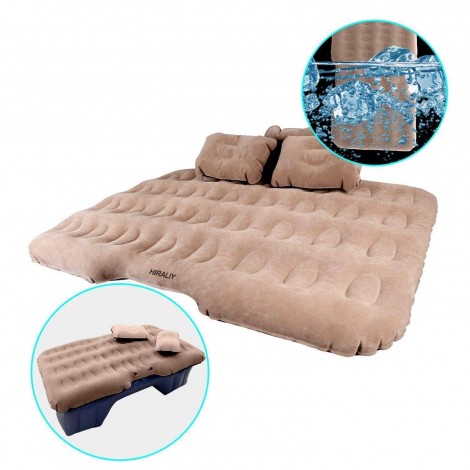 Kicking off our list, we have the Shelterin Inflatable Car Air Mattress. If you're looking for a good, simple air mattress, but one that performs marvelously for the affordable price it's auctioned at. What do we mean by this? Let's find out.
Expand to see more
Functional

One drawback that you'll find with a lot of car air beds out there, and even on this list, is that you will often be asked to put down a seat or two in order to fit it in, seeing as how many car air beds are just normal air beds that have the word "car" printed across them. Not this bed, though, which lets you lay down on the seats without any need to put anything down. It even comes with a special fill in the section for the floorboard so that you don't have to worry about falling off.

Stronger and comfier

This bed is equal parts incredibly strong and comfortable to lay in. Made from a new generation of nanometer oxford cloth, this air bed is both stronger against physical punishment, especially with pets that would otherwise rip the surface apart, but is also incredibly comfortable to lay in.

Cost and Value

The cost of this mattress is very average for a mattress of this size. Not the priciest thing on this list, but not the cheapest either. Still, if you want a great, convenient mattress for your car, this is the one for you.
Functional
Stronger and comfier
Affordable
Trouble staying inflated depending on the weight of the user
2. Sailnovo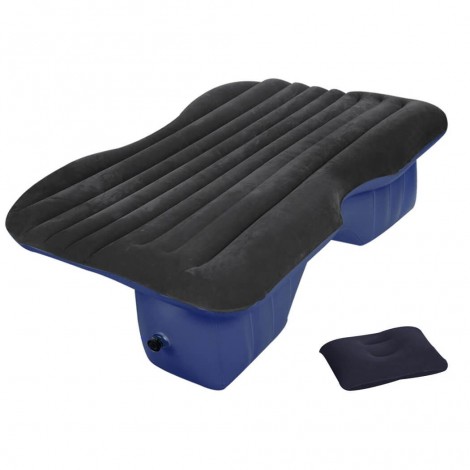 Coming in second place, we have the Sailnovo Car Air Bed. This car heavily resembles the previous entry in terms of design, with all of the benefits that come as a result of that. However, upon closer inspection, you will find plenty of differences that set the two apart. What are these differences and how significant are they? Let us take a look.
Expand to see more
Quick inflation

With other air mattresses, you have to worry about how you're going to blow it up, and how long it's going to take you to do so. Fortunately, this bed comes with a quick and easy inflation system, thanks to the fact that the inflator for this bed runs on the car battery energy, which you plug into the cigarette lighter. Not only is this car air bed's inflator easy to use, but it's also incredibly fast in getting your bed to full capacity.

Strong load bearing capacity

The main hurdle any air mattress out there needs to get over is the load-bearing capacity. This is how heavy an object it can handle before it starts to give out. Fortunately, this is probably one of the strongest out there. When filled with air to its capacity, this inflatable backseat mattress can handle weights of up to 150kg. What this means is that you can have two full-grown adults laying on this bed and not even be the slightest bit uncomfortable.

Cost and Value

The best part of this bed is the price, which is a lot fairer than the previous entry, which was already pretty affordable itself.
Quick inflation
Strong load bearing capacity
Very affordable
The seal could be stronger
3. Pavoni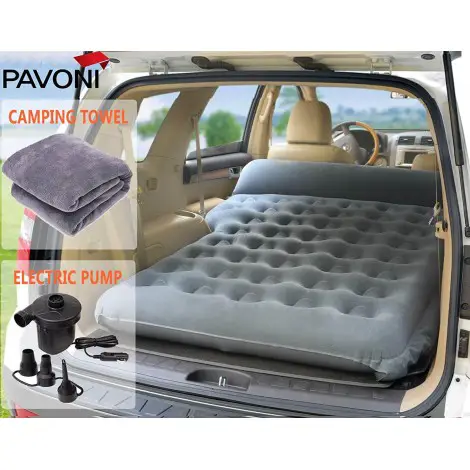 Finishing up our top three segments, we have the Pavoni Car Inflatable Air Camping Mattress Pad. Like the name says, this isn't meant to give you a place to sleep while the car is still in motion, this is meant to give you a place to sleep when you're camping, and you need a place elevated from the ground to sleep on.
Expand to see more
Comfortable sleep

The biggest benefit to using this bed, by far, is the fact that it's a lot bigger than the beds we've covered so far. This is one of those car air mattresses that you will have to put down every seat behind the two front ones in order to use. But the benefit of doing this is that you have more room than the last two entries could ever possibly give you. So, if you hate sleeping with your legs coiled up, then this is the bed for you.

Premium quality design

But it isn't just the size, what this car mattress is made out of is also of premium quality. Made with nothing less than the highest quality materials currently available, this bed is incredibly soft, cold-resistant, and offers much more coziness while you sleep than the leading brands. Perfect for the camper who wants to bring the comfiness of their home's bed to the great outdoors.

Cost and Value

The main drawback to all of these great benefits is the price you have to pay for it, which only makes sense when you get down to it. This is the most expensive bed we've covered so far, and while far from the most expensive, it is indicative of what you'll have to pay to get it.
Comfortable sleep
Premium quality design
Easy and quick inflation
4. Berocia SUV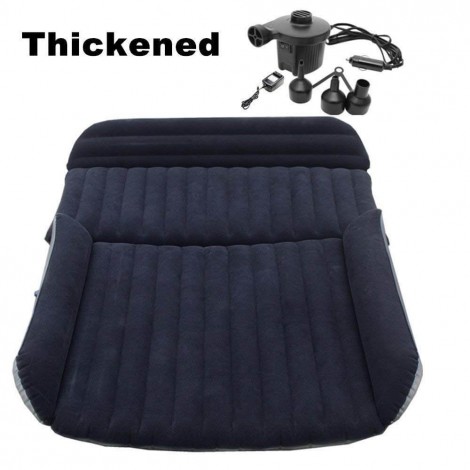 Coming in 4th place on this list, we have the Berocia SUV Air Mattress. Like the name says, this is an air bed for an SUV, not for your average car or truck. And that's all thanks to its large size, and how you really do need that extra room that an SUV gives you. So, let us take a look and see what this bed brings to the table to warrant that.

Expand to see more
Thickened design

It isn't enough to make an air bed out of good materials; you also need to have those materials be thick enough to comfortably handle a human body's weight in critical areas. Fortunately, this air bed is way ahead of you on that front, having a thick, premium build for its design that gives your head somewhere to rest, and large side areas to keep you from bumping up against the wall when you're trying to sleep.

Fast inflation

Inflation speed is incredibly important for an air bed, because when you're blowing one up, you're probably getting ready for bed, and thus aren't in the mood to wait a long time just to get your bed blown up. Which is why this bed uses a state of the art air tap for extra-fast deflation and inflation. And the air pump used for the bed is made from the pure copper core. What this means is that it's better at properly conducting heat, and even after 15 minutes of blowing, it won't get hot.

Cost and Value

For its size and build quality, we were surprised to find that this air bed is closer to the first two entries in terms of price than the previous one.
Thickened design
Fast inflation
Affordable
Does not have a one way valve
5. SmartSpeed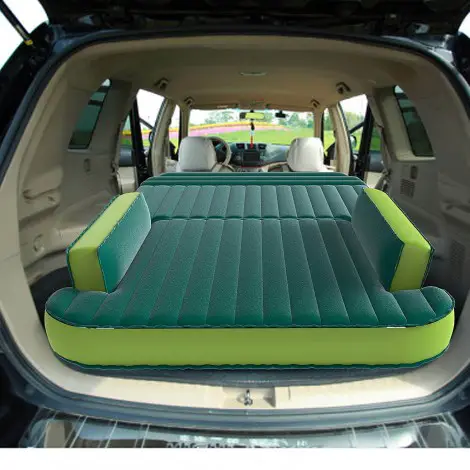 For our #5 spot, we chose the SmartSpeed Car Air Mattress. When you're on a long car trip with the kids, you need to get them a means of sleeping when it's past their bedtime, and you're still miles away from your destination. However, the beds we've covered thus far maybe just a bit too big for your tyke. This is where this car air bed comes into play.


Expand to see more
Portable

Even among the other entries on this list, this one is particularly portable, given its size and easy to set up nature. This bed is just big enough for a single seat, which is what makes it so perfect for small children who need a place to sleep. This small size may seem like a detriment, but if you have a small child, or you don't mind sleeping with your legs not having quite as much bed to lay on as your head and upper torso, then it'll work just fine for you.

Easy deflation

Inflating this air bed is simple enough, but it's deflation where the real difference is made. Deflation for a car air bed needs to be fast and, most importantly, deliberate. No accidental deflations if you want to get on this list, a car air bed can only be deflated on your order. Not only does this bed accomplish that, but it's also one of the fastest deflations on the market, so you have more time to properly roll it up and store it.

Cost and Value

The best part about this bed is its price, which is probably the fairest price we have seen so far. Which is definitely good when you consider its small size compared to the other inflatable backseat matress we've covered so far.
Portable
Easy deflation
Cheap
6. NEX Car Travel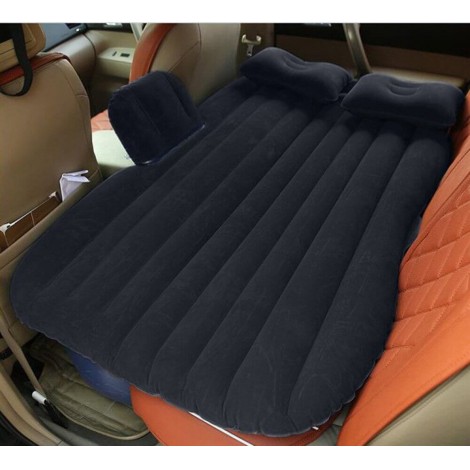 Coming in at #6 on our list, we have the NEX Car Travel Air Mattress. If you need a high-quality car bed, or a nice mat to sit down on and watch the sunset with your sweetheart, it doesn't get much better than this. What makes us say this? Let's find out.

Expand to see more
Durable and strong

How much weight an air bed can support all depends on how much air its interior can handle, and what materials are used to actually make the thing. This mattress is made from high-quality PVC and cloth that's not only non-toxic and pressure-proof but can handle weights of up to 300 lbs. Which is more than enough for two full grown humans to sit and lay on it without any trouble.

Perfect fit

With other car air beds on this list, you have to constantly worry about whether or not it's big enough or small enough to actually fit into your car. Meanwhile, with this bed, you'll find that it's more than enough for a saloon car, SV, MVP, and almost every other type of commercial car out there. So, you never have to worry about whether or not the bed is actually going to fit.

Cost and Value

From one cheap model of air bed to another, we have what's definitely the cheapest entry thus far, and a strong contender for the cheapest on the entire list.
Durable and strong
Perfect fit
Cheap
The air pump is a bit hard to work with
7. FBSport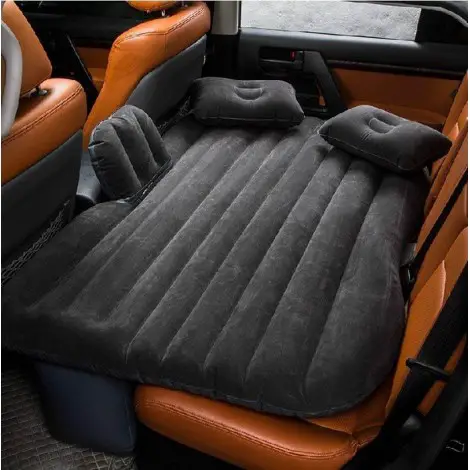 For our 7th place entry, we have the FBSport Car Travel Inflatable Mattress. We continue on our quest to find the cheapest entry on this list, as this is, without question, the most affordable entry we've covered thus far. Thankfully, it still keeps to the quality that we've been demanding these entries adhere to in order to get on this list.

Expand to see more
Comfortable material

Half the battle of making a really good inflatable mattress is making good materials for that mattress, something this mattress more than takes to heart. This mattress is made from high-quality oxford cloth that always provides excellent texture and comfortable sit. So, no matter what, you're always feeling the most comfortable you can be when using this bed.

Can be used as a seat

But what if you don't feel like deflating it just yet, even after you've woken up? Surely there must be some other function that this bed can serve? Fortunately, there is. This bed, simply being flipped over, can then be used as a comfy little seat for you and your significant other to watch that sunset over the horizon.

Cost and Value

Like we said at the top of this segment, this is cheaper still than the previous two entries, making it the current contender for the cheapest entry on the entire list.
Comfortable
Can be used as a seat
Cheap
8. Haitral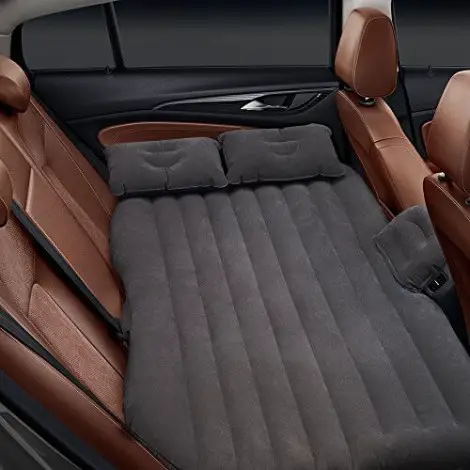 Kicking off our final three entries, we have the Haitral Car Inflatable Bed. Unlike the other car beds like it on this list, this is meant for car seats that are more closely pressed together, like the kind you would find in a smaller convertible car, unlike, say, an SUV. So what benefits does this slightly different design bring to the table? Let's find out.

Expand to see more
Fast filling

This is one of the fastest to fill air beds on this entire list. This is mostly thanks to car-powered quick fill electric pump that comes with this bed, bringing it to full capacity in mere minutes. So, nothing gets between you and the comfort of your air bed. Start pumping just before you get to bed, and you will not have to worry about waiting an hour for the whole thing to be filled to capacity.

Portable

One of the main hurdles that a lot of these inflatable beds need to get over is portability since even when deflated, a lot of these inflatable beds can be bulky and cumbersome. A problem that this bed circumvents by deflating itself completely and being as flat as a pancake, even when completely folded up.

Cost and Value

Thankfully, the chain of entries vying for the spot of the cheapest entry on the list is broken with this entry. Although not much more expensive than the previous entry, it is a bit pricier, thanks to its higher grade materials.



Fast filling
Portable
Affordable
Not suitable for every type of vehicle
9. WolfWill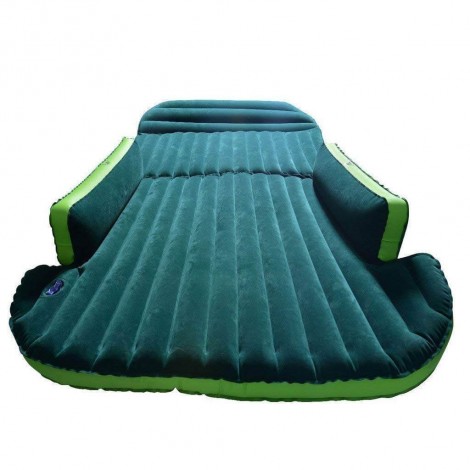 For our second to final entry, we have the WolfWill SUV Dedicated Mobile Cushion. Like with previous entries, this bed's purpose is to replace all four back seats of an SUV with one long, ultra comfy air mattress. What else does it have to offer besides that, though? Let's take a look and find out.

Expand to see more
Breathable and eco friendly

Like the other entries on this list, this air bed is made from cloth covered PVC, but the difference between them is that this bed breathes like nothing else on this list. Which means you're less likely to make the bed unbearably hot due to your own body heat. And on top of that, it's incredibly eco friendly, which, besides the main environmental benefit, also carries with it a non-toxic odor.

Adjustable inflation

The biggest difference by far between this and the other entries on this list is the fact that this bed is divided internally into three segments, all of whom can be blown up or deflated independently of each other. So, if you like your legs to have more support than your head, then this is the bed for you.

Cost and Value

The main issue with this entry is its price. We have gone from the most affordable entries on this list, to by far the priciest. Still though, if you want high end quality from your car air bed, look no further.


Breathable and eco friendly
Adjustable inflation
Great for both kids and parents
10. Ancheer Multifunctional
For the last entry on this list, we have the Ancheer Multifunctional Inflatable Car Mattress. We end this list with the style of seating with which we began, with an SUV style bed that goes on top of the seats without needing to put them down. But what does this one do differently? Let's find out.
Expand to see more
Independent inflation

While the previous entry had three segments that could be inflated independently of each other, this one only has two, due to its smaller size. Those two segments are the bed itself and the supports for the floorboards in front of the seats you're laying it on. You don't want that to be as stiff as the bed, necessarily, so you can adjust how much air is in either to better suit your needs.

Electric pump

An electric pump is quiet, powerful, and very fast compared to small gas pumps. Which is why most inflatable backseat mattresses go for an electric pump. And on top of that, ones that can plug into the car rather than finding an outlet to plug into.

Cost and Value

We slingshot back down to affordability with this entry, so if you're looking for a wonderfully affordable inflatable backseat mattress, this is the one for you.
Independent inflation
Electric pump
Cheap
Long car rides can be a nightmare if you hate sleeping in car seats. And why wouldn't you hate sleeping in the bloody things? They're cramped, the leather isn't made for that purpose, it's made to make sitting upright easier and more supportive, and you never get as much sleep as you need. This is the importance of a good inflatable backseat mattress. A really good inflatable mattress, like the ones on this very list, provide you with the kind of support and comfort you need from a good bed. They're comfortable to use, firm and supportive for your back and joints, and are generally considered the best choice for sleeping in the car. Whether it's because you have no choice but to live there now, or because you just need a nice place to rest while driving is taken over in shifts, an inflatable backseat mattress is the best choice for either scenario. And when it comes to the best inflatable backseat mattress currently on the market, we consider these ten to be the place to go for that purpose. All of them provide everything you're looking for in a good car air mattress. So, look through the list, pick out the one you like, and pleasant dreams.
Criteria Used in Choosing the Best Inflatable Backseat Mattress
Putting together a list of criteria for this article was a tricky endeavor, due to how similar every entry appeared to one another. Even the ones we left off, especially so in some cases, every single entry seemed to blend together. However, by asking ourselves what we would want from an inflatable car bed, we managed to narrow it down to a somewhat cohesive list. So, with that said, here are the most vital criteria we used to determine who got on the list, and where.
Weight resistance
When it comes to their own weight, you'll find that car air beds are more than lightweight enough for you to handle them with relative ease. But that's not what these criteria are about. No, these criteria are specifically referring to the resistance an inflatable backseat mattress has against the weight of another object. Because in reality, these beds are still the flat pieces of PVC and cloth, just pumped full of air until they can support the weight of a fully grown person. But how heavy that person can be before the air starts to give out is another matter entirely. The weight resistance of an inflatable backseat mattress depends on a few things, most notably, of course, being how much air that bed can actually take in before giving out on you. That, more than anything, will decide how much weight the bed can take. Because when something heavy lies on it, then the air is pushed outward from the weight. But if it has nowhere to go, then it will turn back around, and start pushing up against the weight, thus keeping it up.
Materials used
The most commonly used material for the main body of a car mattress is PVC plastic. And it isn't hard to see why, what with PVC being incredibly easy to modify into different forms, incredibly durable, and just enough stretch when made this way to be perfect for an air mattress. But then, of course, you need to put something on top of that bed to signify which side you're supposed to lay on top of. The best car air beds will often go for oxford cotton, a high grade, durable, and very soft material that's perfect for any bed to be made out of. These two materials are what we looked for in our air beds for this list unless the entry explicitly displayed something superior being used for their bed.
Air pump quality
But it's only one thing to have a high-quality air bed; it's another to have a high-quality air pump to blow it up with. Air pumps are considered the standard issue with most car beds since it can't just be assumed that you have an air pump that perfectly matches the bed's socket with the nozzle. The qualities you want to mainly look for in a good air pump is the speed of the pump and its ease of use. By ease of use, we, of course, refer to how easy it is to plug the pump in before using it, seeing as how these are electric pumps. The best air pumps use car charging stations usually reserved for phones, or the cigarette lighting ports on the dashboard. This way, you can have the air bed actually in place before you turn it on. Making placing the air bed a lot easier without having to worry about a big cumbersome PVC balloon.
Dimensions
This is where we get into what type of air bed you're specifically using. There are two types, generally speaking, the kind that let you keep your seats upright, and the kind where you need to put your seats down. The latter is the biggest and meant for overnight camping trips, with the car stationary, though they can, by all means, be used for driving. But the former is generally what people go for that purpose. This type lets you keep the seat up and not have to put it back down to use it. Choose the kind you want, since on average, there really isn't a wrong answer here.
Price
The final criteria we judged for this list was the price of each entry and how it reflected back on the product's quality. It only makes sense that you would be more on board with paying top dollar for something if you got what you paid for out of the bargain. Meanwhile, you'd have every reason to be angry if you paid that amount of money for something that, you felt, didn't deserve it. Which is why we judged each entry, not by the price itself, but by how well the entry justified the price it was asking for. That way, you'd feel less ripped off, and more satisfied with your purchase.
FAQ
Frequently Asked Questions
For the final segment of this article, we'll be taking a look at some frequently asked questions surrounding car beds. Now, these are, like we said earlier, pretty standard, simplistic machines, that don't have a ton of complexity poured into them. However, that does not mean they are beyond any questioning, quite the contrary, as a matter of fact. So, with that said, here are the most frequently asked questions and commonly voiced concerns about inflatable backseat mattresses, and the answers thereof.
Q: How many times can I use a single portable car mattress?
A: As long as you get your hands on a well-made inflatable backseat mattress, like the ones shown on this list, you shouldn't have a problem keeping your hands on it for a long time and multiple uses. The reason people use PVC to build these things, along with Oxford cotton, is that those two are some of the most durable and long lasting examples of their specific materials. So as long as you make sure to get one of the entries on this list, you should be good for a year's worth of use or so. Don't worry, though, they're easy enough to replace, and it won't exactly be hard for you to realize that you need a new one.
Q: Is PVC even comfortable to lay on?
A: It is not just PVC being used for an inflatable backseat mattress, it is also some kind of cloth for the part that you are actually meant to lay on top of. And on top of that, the PVC being used is flocked, which makes it easier on the skin, especially after hours of continuous contact. Flocked PVC is more likely than the normal variety, to give you the comfort of a normal bed. But add onto that, PVC is mostly used as the structure of an inflatable backseat mattress, not the comfort. You are not meant to actually on the side that's all PVC, you are meant to lay on the side that has the cloth on it. The PVC is there to make it harder for the air to get out, PVC is a very airtight material and all. The highest quality air beds out there are also micro-flicked, which makes the texture even softer and feathery to the touch.
Q: Why would I use one type of inflatable backseat mattress over the other?
A: Generally speaking, there are two different types of car mattresses. The one most often used is the kind where you have to lay down all of your car seats in the back of the car in order to make room for it. The other kind is the kind that you lay on top of two chairs, which lets you continue to use the chairs when you aren't in need of sleep, while still being able to lay the bed down and use it when you need to. You use the latter for things like family vacations you take by car, where the driver will need to swap out every few hours in shifts so that they can take a nap. You would use the former for things like camping, where the car would stay stationary while you sleep, giving you a nice, dry, elevated area to sleep in, which is especially good if you couldn't afford more than one tent. Though this doesn't mean you can't use either in the other scenario, it just means that one is better suited to it than the other.
Sources
Subscribe to our Newsletter