10 Best Power Tools for Motorheads Reviewed in 2023
last updated:
Jun 20, 2019
Power tools can be a rookies nightmare, especially for someone who may always have had limited exposure to them.  Many people, though, feel that they have no choice but to embrace them as a means of performing all of the mundane tasks on their vehicle without having to take it to a mechanic.  When it comes time to start looking for which tools to buy, however, the consumer is often immediately overwhelmed with options, and it's very hard to know where to begin. This is a problem that affects many people, and that's why this buying guide now exists.
There are corded models that plug into outlets and get their power from a generator, cordless tools that rely on a rechargeable battery to provide the power, and air tools that use pressurized air to power them. Since there are so many types and variables, this list is going to focus on some of the best, most accessible power tools on the market.  This way, we can provide you, the consumer, with a wide selection of tools to fit all of your needs, while still covering as many aspects and variations as possible.
Featured Recommendations for Best Power Tools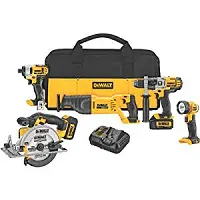 DEWALT 5-Tool Combo Kit

Our rating
Designed to prevent overheating
Light and compact
Price:

See Here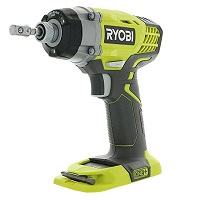 Ryobi One+ Cordless Impact Driver

Our rating
1600 inch pounds of torque
Integrated LED light
Price:

See Here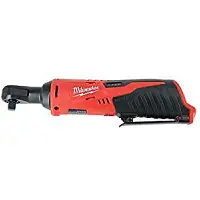 Milwaukee Cordless Ratchet

Our rating
Onboard fuel gauge
Reasonably priced
Price:

See Here

There's nothing too crazy on this list as far as uncommon tools go, but these are all solid tools that are the most commonly used, and cover the largest amount of applications.  Please bear in mind that this guide is designed to be as all-encompassing as possible, so along with the usual array of saws and drills, you'll also find a few items that are more geared for hobbyists, or even just for some everyday household cleaning jobs.  So, with that being said, let's take a look at some of what's out there in the huge world of power tools, and maybe then you can start to get an idea of what you should add to your collection.
10 Best Power Tools
1. Dewalt Tool Combo Kit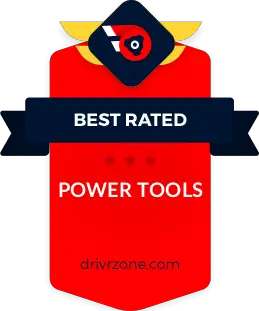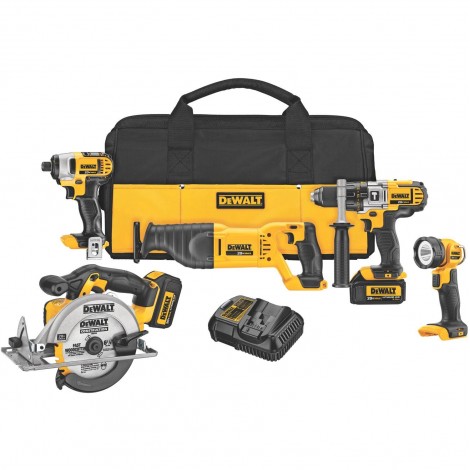 I think this selection is as fitting a place to start as any. This offering by DeWalt is a full on kit that provides homeowners and professionals alike with everything they could ever need a huge variety of tasks. In it, you get four top-quality cordless tools, a powerful work light, two battery packs, and a
charger
, leaving you in a good position to work on anything you choose to your heart's content. An excellent starter kit, this is a must-have for families everywhere.
Expand to see more
Bag of Tricks
This kit comes packed up and shipped in a sturdy contractor's bag that can fit everything it, plus plenty more. The convenience of it is unmatched, as it helps you keep all your tools and equipment together in one place where it belongs.

All-In-One
Talk about the second most important feature or aspect of the product. You can be specific. This By far, the best part of this kit is the fact that it is a kit, that has what you need for a full workday, and powerful lights to take you into the night, if necessary.

Cost and Value
This tool kit by Dewalt is definitely going to cost you a sizable chunk of change, but you get so much in here. It has everything you could need to get started on any household projects and even have more than enough for aspiring professional handymen to get their foot in the door. That's exactly where its great value comes in. Designed and built for the average person, this kit can elevate anybody to the level of expert in a short time.
All-in-one kit lets users tackle a wide range of jobs conveniently
20 volt battery provides plenty of power to handle the toughest work
Specifically designed to prevent overheating and overloading, helping increase the life
Contractor's bag is more than roomy enough to hold all of the tools and more
New design of the tools is lighter and more compact than previous models
Charger isn't as efficient as would be expected with a higher end product
Newer versions of some of the tools seem to be of a lesser quality than older versions
2. Ryobi One+ Impact Driver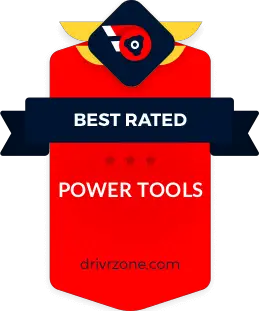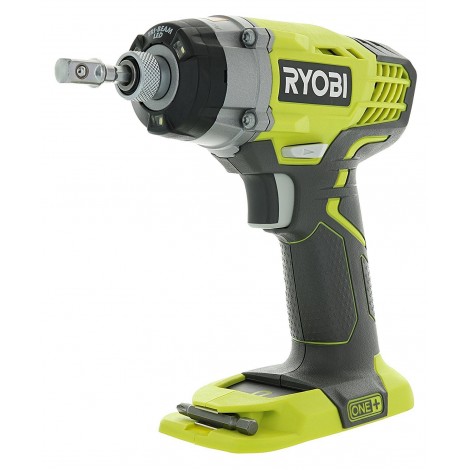 This impact driver is part of Ryobi's top-selling One+ line of interchangeable tools. The reason the line is so popular is very simple: a full range of versatile tools all functioning on the same battery. No more worrying about
having the right batteries
along for the job, or whether or not you remembered to bring the charger needed for each tool. Not only that, but the One+ line is gaining a reputation for high-quality tools that meet or exceed every standard. Other companies promise this level of compatibility but seem to give up partway through. Ryobi however, is committed to each of their products.
Expand to see more
Have Everything Close At Hand
Ryobi presumably thought of everything when putting this driver together, including a bunch of handy features all designed to make your life easier. One of the best features it has is that it's magnetized, so you can keep all of your screws, bits, and other baubles right where you need them.

Tons of Power
This tool is known as an impact driver, and as such, it's expected to drive a screw into whatever surface you need with relative ease. In order to do that, it needs a lot of power. This just happens to have 1600 inch-pounds of maximum torque, so I'd say you're good to go with it.

Cost and Value
Very affordable, even as far as impact drivers are concerned. While it only really performs a single task, you're still liable to find impact drivers that are up there in price, yet their quality is often suspect. This is not the case with anything that Ryobi makes, as they pack a whole lot into a cost-effective shell.
Notched rubber mold in the pistol grip gives superior traction and grip
Integrated LED light helps illuminate the darkest surfaces
Magnetized base keeps screws and bits in an easy to reach, convenient location
One+ battery is compatible with the entire range of tools
1600 inch pounds of torque gives plenty of force to quickly drive screws effortlessly
Rotation switch doesn't hold up very much abuse
Has been known to overheat pretty easily
3. Milwaukee Cordless Ratchet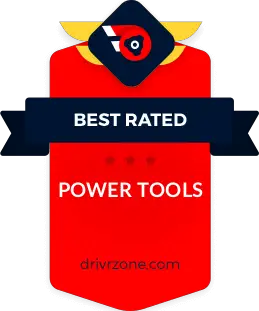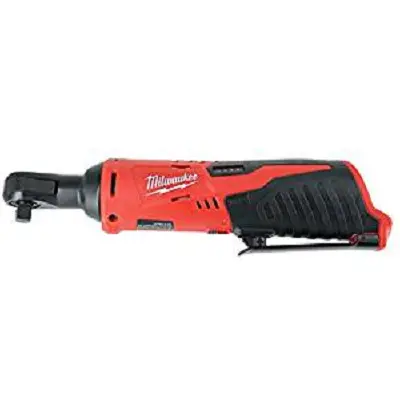 This handy little power tool is a must-have for all of those jobs where the parts just aren't cooperating. This ratchet tool produces plenty of torque, letting it take care of the most stubborn situations with relative ease. On top of that, it has a sleek, low-profile design, so getting into and out of tight spaces is no longer a problem, and once the work is done, it stores away quickly and conveniently. There aren't a lot of problems that this tool doesn't immediately become the solution to.

Expand to see more
Gets Into Tight Spaces
The very nature of this tool makes it indispensable when working on a vehicle, and thanks to this particular model's low-profile and compact design, it becomes even more important. Now, without having to take everything apart, or risk pain and injury squeezing into an already cramped engine block, the mechanic can get at the most isolated parts a lot easier than ever before.

Never Run Out of Juice
This is a handy feature: an onboard indicator that tells the user precisely how much power is left before the battery will need to be replaced. This helps to take care of those annoying situations where the tool just dies halfway through completing a job, killing all momentum and wasting a lot of time. This tool solves that problem.

Cost and Value
For a tool that packs so much power and usefulness into one compact little unit, one might expect the cost to be in the three digit range at least. On the contrary, this is a high-end grade tool that Milwaukee managed to put together that isn't going to break the bank. This ratchet does more than enough to qualify it as a great value.
Onboard fuel gauge so there are no power shortage surprises
Low-profile head design makes working in engine bays a stress free proposition
Integrated LED light makes even the lowest light areas bright enough to work in
Compact enough to fit on any tool belts
Metal trigger and reinforced steel housing gives a significant amount of durability
The required battery to operate the tool is not included
The motor has trouble holding up to prolonged heavy duty use
4. POWER PROBE III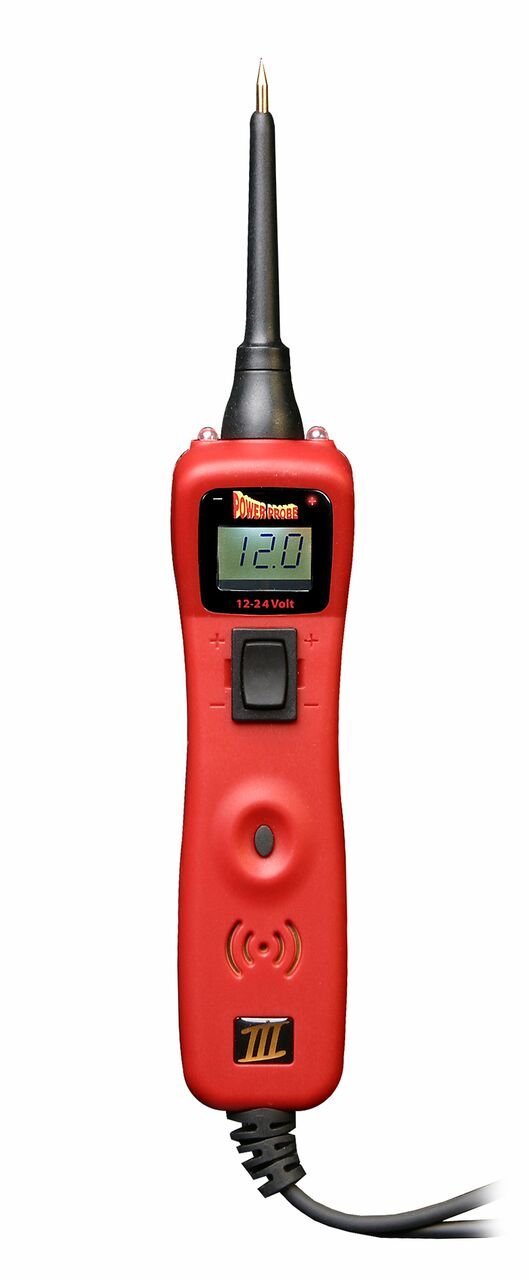 This is a fine example of a tool that is a staple piece in a mechanic's repertoire that is usually out of reach to the average car owner due to price. In this case, however, Power probe has managed to put together a product that opens up a whole world of self-diagnostic options that allows anybody to take care of their own needs. This probe can illustrate every aspect of a car's electrical system, and for that reason alone, it needs to be in every garage. Add in the built-in ability to power up components in the palm of your hand, and this tool is pretty amazing.
Expand to see more
Tells It Like It Is
This is a diagnostic tool, so it is expected to be able to tell the user what is going on with the vehicle. That being said, some tools just manage to perform this task with a higher degree of accuracy, leading to less second-guessing and time wasting.

Power Close At Hand
This diagnostic tool has the added feature of allowing mechanics everywhere the ability to instantly power up multiple components in order to check for continuity while identifying any issues on an individual basis. This helps narrow down exactly what is going on one piece at a time, eliminating the frustration of not knowing where the problem lies.

Cost and Value
Again, this tool packs professional mechanics resources into a compact tool that brings a wealth of power and versatility to the working everyman. Spending a few dollars on this diagnostic tool will very quickly earn its keep and become the go-to tool for every new job. Just being able to know what's going on with a vehicle before having to go to a shop gives it huge amounts of value.
Gives the user the ability to power components in the palm of your hand

Varied tones can indicate positive and negative charges easily

Impressive 12-24 volt range

Can very quickly diagnose key issues with a high degree of accuracy

Switches from providing power to ground in an instant
Housing is not as sturdy as it should be to hold up to abuse

Overall build quality is not at a high level
5. Milwaukee Drill Set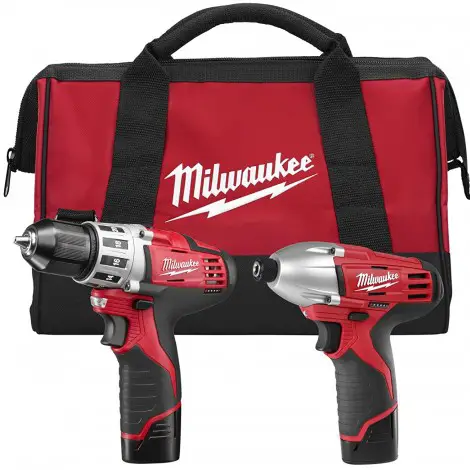 Look, it's another kit. That's right, and why not? The value that they bring to the table helps make them the perfect
entry level tool
set for first time homeowners. Of the kits that do show up in this buying guide, this is the one I would personally choose for myself. For one thing, it's made by Milwaukee, so right there you know that the quality and performance is going to be second to none. On top of that, it's a bit more specialized, focusing primarily on drilling holes and driving screws, so they were able to put a lot more care and attention to detail into it without having to jump from tool type to tool type.
Expand to see more
The Cold Can't Hurt It
One thing that Milwaukee tools have going for them is their astounding ability to keep going without hesitation in the cold conditions you could possibly be working in. The city of Milwaukee is a working man's town, and it gets cold in the winter. Both of these aspects shine through in every inch of this kit.

All Metal Toughness
Both of these drills feature all-metal construction, meaning that you can beat them up as much as you need to, and they'll just keep on going without skipping a beat. One thing to keep in mind on the drill is that the chuck is aluminum, which is still technically metal, though a fairly weak one. So the drill will show some wear, but that being said, is still going to be pulling its weight many years down the road.

Cost and Value
For such a highly specialized tool kit form a renowned brand like Milwaukee, you'd think that it would cost quite a bit more than the competition. Instead, it costs less in some cases than some single drills. With this kit, you are getting two very well-made pieces of equipment that highlight each other's strengths, and that adds unparalleled value to an already great product.
All metal construction ensures that both drills will hold up well for many years to come
Textured grips provide pain free use for a prolonged period of time
Hex driver features 1000 inch pounds of force, giving the power and control to do the job
Cross stitching on the contractor's bag helps keep everything together and in place
Milwaukee tools have a strong reputation for holding up impeccably in cold weather
Aluminum chuck isn't likely to hold up to a lot of abuse
Battery life is definitely up to par with competitors
6. Black & Decker Project Kit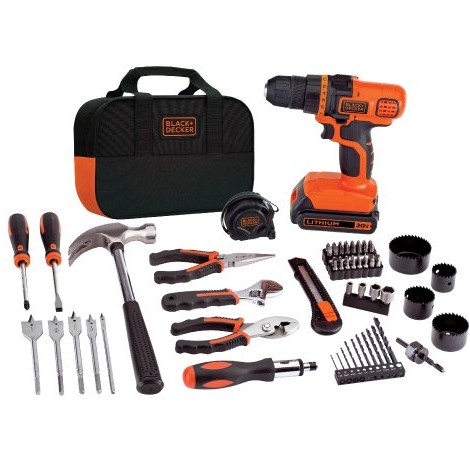 This is yet another kit, but it is so much more than just a collection of a few power tools. This is as complete a kit as you are likely to find, with the focus on a single drill that is critical to any toolbox. After that, they surrounded it with a wealth of hand tools and accessories, all combine to give you all the options to complete jobs and projects galore. This 120 piece kit was put together by the professionals at Black and Decker, so if you don't what you need in it, then you may be just a bit too picky.
Expand to see more
Lasts Forever
The battery that comes with the drill has the capacity to hold a charge for up to 18 months. That is pretty impressive, considering that all batteries experience self-discharge to some degree, so being able to come back to a battery that's been idle for several months and having it work is a welcome feature.

The Drill Is The Key
The centerpiece of this kit is obviously going to be the powerful drill, and Black and Decker pulled out all the stops to make sure that you know it. With a wide range of bits in multiple sizes, you can easily get through wood, metal, plastic, and masonry, all with one convenient tool. They made this with the intention of covering almost any home project, and it definitely delivers.

Cost and Value
With a price point that puts it at less than a dollar per piece, how could you ever go wrong with choosing this kit to meet all of your needs? The easy answer is that you can't unless you're the kind of person that doesn't appreciate exceptional value. Black and Decker have a habit of providing a lot of bang for your buck, and this kit just continues that trend.
Lithium battery for the drill can hold a charge for up to 18 months
Kit includes a variety of drill bits for wood, metal, plastic, and almost anything else
66 hand tools and accessories should provide a solution for every need
20v lithium battery can be used across a huge range of tools
Extremely durable construction holds up for a long time
The chuck is notorious for not being able to hold the bit securely enough
Motor is prone to overheating after only a short time
7. Dewalt Rotary Tool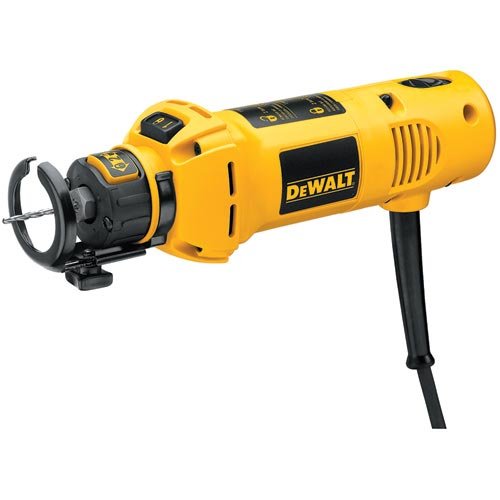 Now we have another corded power tool to take a look at. This time, it's a rotary tool by DeWalt, a company known for making high-end products, and this one is right up there in terms of quality. I chose this one over several cordless options because though it does lose a bit in terms of convenience and portability, the enormous amount of power it puts out makes up for that minor downside quite nicely. Overall, another great product by a solid company.
Expand to see more
The Case Is Everything
From the slim, ergonomic design that keeps your hands from cramping up, to the dust-resistant power switch, DeWalt thought of everything when it comes to making an outstanding outer shell to protect your rotary tool. Now you can work in both comfort and confidence.

Drywallers Rejoice
Even Though this tool was designed for all types of jobs, it just so happens to be a drywaller best friend. It allows you to adjust the height to the exact depth of the drywall, taking a lot of the guesswork out of stabbing blindly into a wall without knowing what's behind it. Plus, it's more than powerful enough to cut through sheet after sheet without skipping a beat.

Cost and Value
As far as corded tools go, this one is a little bit more expensive, and understandably so. DeWalt doesn't mess around with their tools, and instead of loading them with all the latest features and gadgets, they concentrate on making the most reliable, best-performing product that they are capable of, and that's saying a lot. Value is as important to them as it is to you as the consumer.
Bump off switch is an easy to access emergency shut-off
5 amp, 30,000 RPM motor packs a significant punch of power output
Slim body design causes less fatigue for a longer duration
Casing is specifically designed to protect against dust and other particles
The ideal tool for working with drywall
Lack of speed control reduces versatility a bit
The locking collet is not very effective at holding the bit securely in place
8. Craftsman Impact Wrench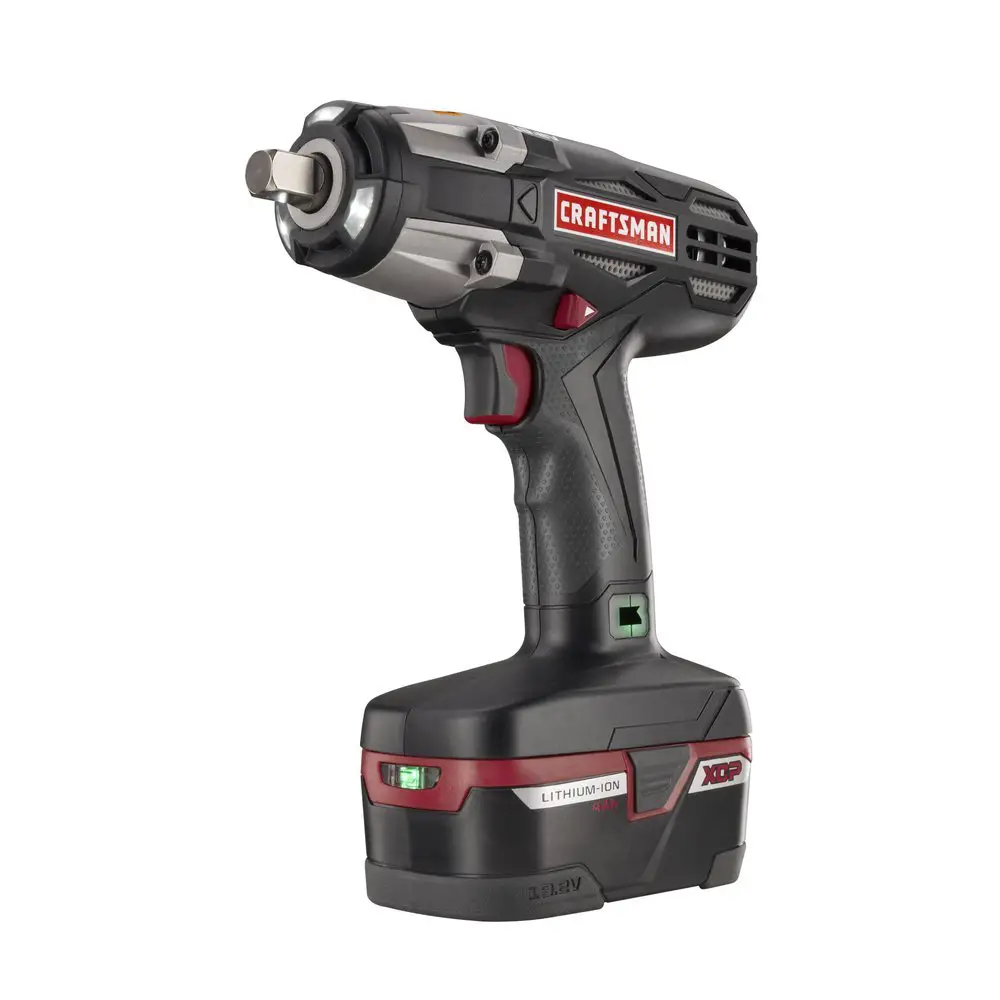 With all of the popular, high-end brands included on the list, this Craftsman impact wrench fits right in., This is an offering from another well-known brand that has been around for quite a long time, bringing decades of quality, experience, and know how. At first glance, it may seem like another high priced tool that will work well enough as long as it lasts, but that is far from the truth. What you get with this particular impact wrench is very hard working tools that strive to get every job done exactly the way you expect it to, and doesn't compromise performance in any way.

Expand to see more
As Powerful As The Best of Them
This particular impact wrench is a slightly more compact version of a what is normally found on the market, and it has the power to spare for jobs that are much larger than it would normally be considered for. They designed it to perform like the most powerful corded models, giving up no noticeable decreases in output or efficiency.

Built For Power & Comfort
This impact wrench can't make an appearance on the list without talking about the design. It's already been said how light and compact it is, but all that makes it possible to operate it easily at full power for as long as it's needed, and the ultra-comfortable grip gives all the peace of mind needed when operating a tool like this one.

Cost and Value
It's often true that you get what you pay for, especially when it comes to any piece of electronic equipment, but sometimes you end up getting so much more. This is a mid-level impact wrench that was built to compete with the heavy hitters and packs a whole lot of power and functionality into a very reasonable price.
Up to 300 ft. pounds of maximum torque to get the toughest jobs done

Three powerful LED lights illuminate the darkest places

Cordless convenience that doesn't sacrifice any power output

Extra long runtime can save a lot of time and energy

Excellent value for a mid-range power tool
The battery doesn't retain power for very long due to self discharge

Motor doesn't hold up to everyday use for a prolonged period of time
9. F2C Frame Repair Tool Kit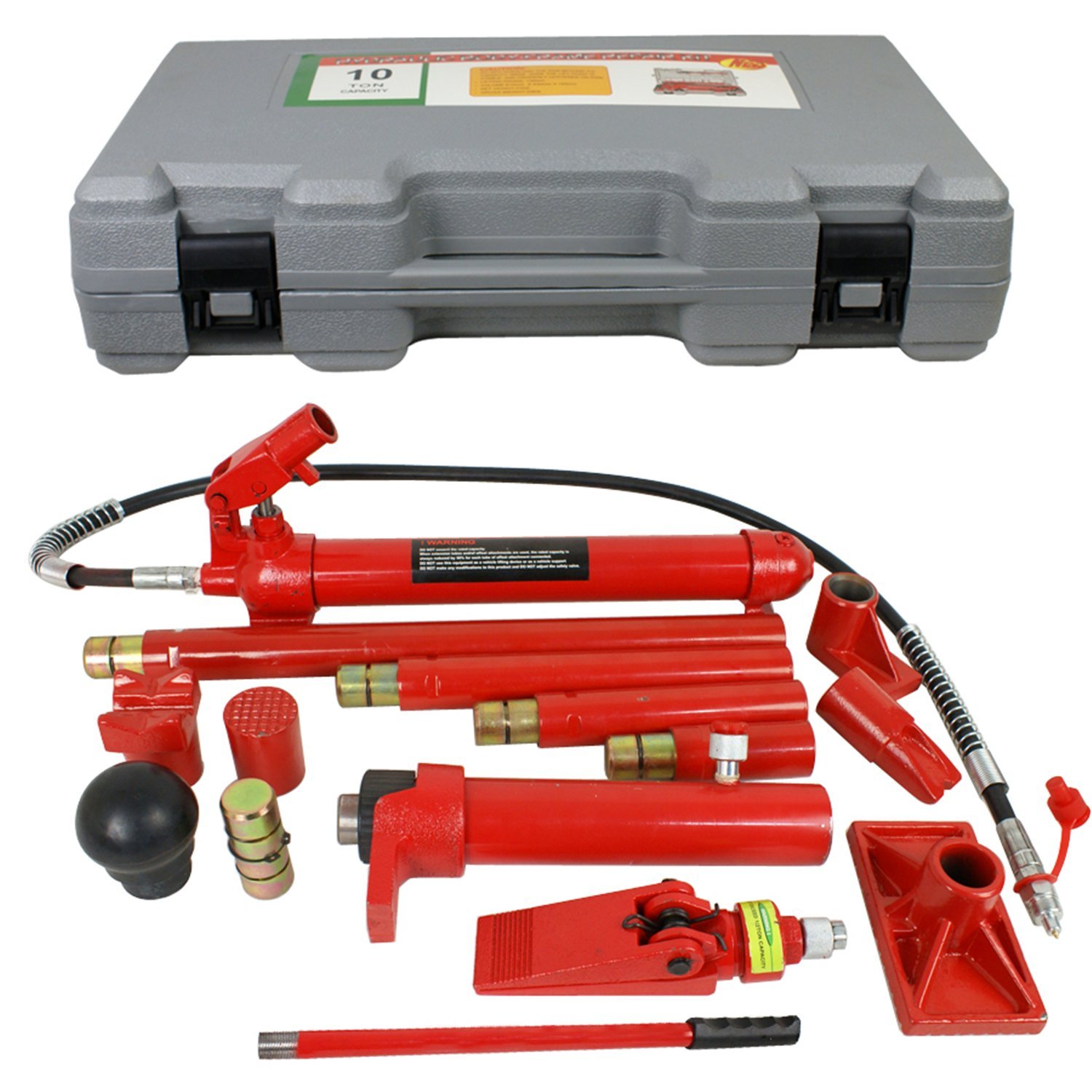 Looking at a slightly different aspect of the world of automotive repair and maintenance, this kit is not meant for working on the engine but instead takes care of the issues found in the skeleton of the vehicle. This auto body frame repair kit is an essential tool for a variety of frame related issues. Powered by hydraulics, it packs a ton of power suitable for even heavy-duty farm or construction equipment. Also, it's built to be durable enough to hold up to all of that abuse for years to come.

Expand to see more
Power To Spare
This is one bad looking hydraulic repair kit, in a very good way. Hydraulic power gives it the capability to move up to ten tons with absolute ease. That kind of performance is hard to come by, but when there's high stress, extreme job to take care of, this kit does it all.

Safety First
Forget all of the features and perks that this kit has to offer. Regardless of how well it performs, the number one concern that the manufacturers took care of before even thinking of putting the toll on the market was to ensure that anyone who puts it to use would be absolutely as safe as possible. Essentially, they provided peace of mind, which is invaluable.

Cost and Value
I'm continuously amazed whenever I look at the price of this hydraulic kit when compared to many others available on the market. It has all the benchmarks of a high end, high priced power tool that demands as much as they give. This isn't the case at all though, because of all of the value it offers, its asking price is among the lowest of the bunch.
The manufacturers aid a lot of attention to making safety the number one priority

Very generous ten ton maximum weight capacity can work with a variety of equipment

Has a high level of performance comparable to higher priced models

Sturdy enough to hold up well in a typical shop environment

Comes with a variety of optional attachments that provide plenty of versatility
Quite a bit heavier than one would expect

Prone to several oil leaks
10. Stanley Pressure Washer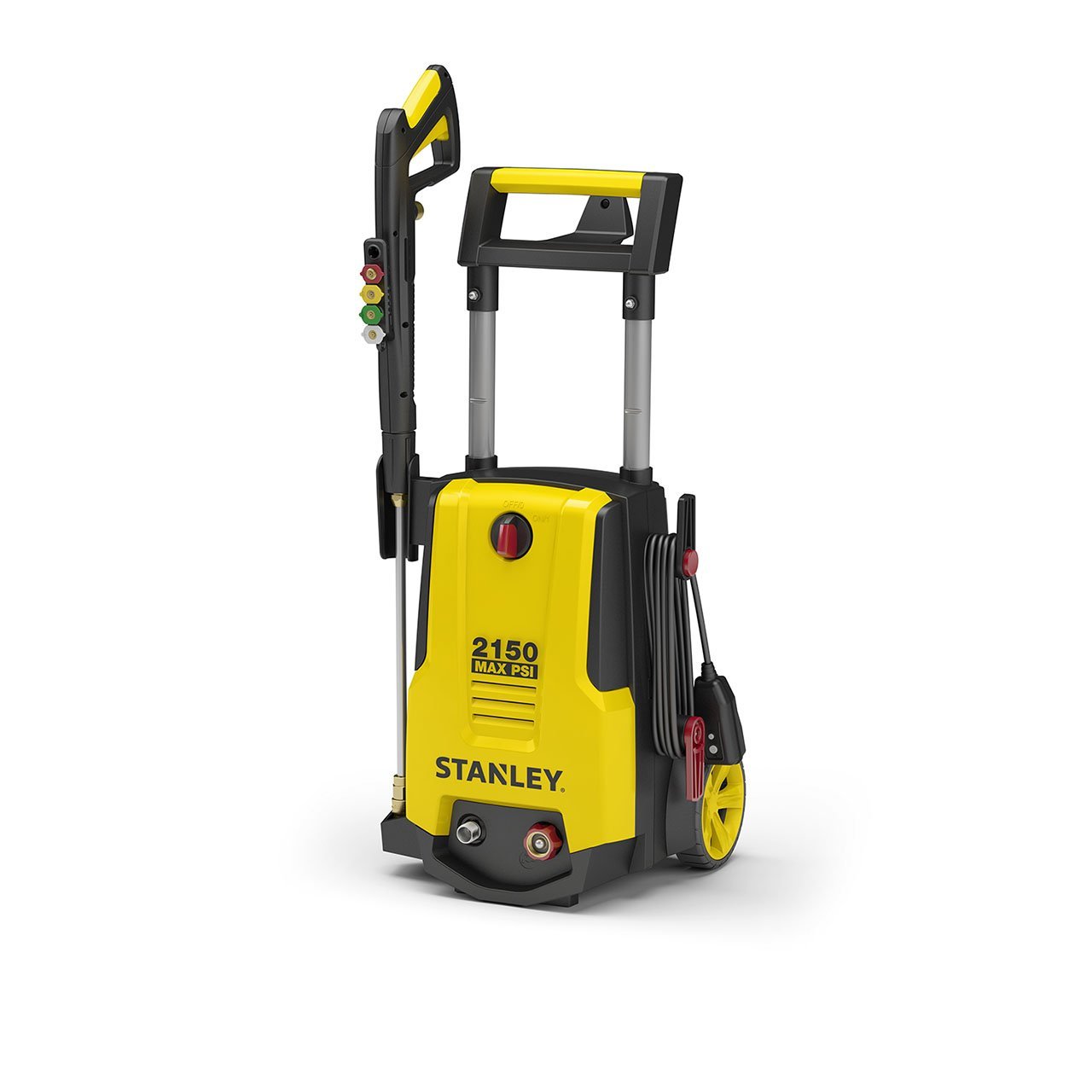 For the last selection on this list, we're taking things in a bit of a different direction, and looking at less of a tool than a cleaning implement. That doesn't mean in any way that it isn't going to be every bit as useful, because it is. I'm talking about a pressure washer from Stanley, so right there it already has two things going for it. Pressure washers are capable of doing so much, and being a Stanley product, this particular one is pretty much guaranteed to do the job every single time.

Expand to see more
Water Goes Where It Needs To
It doesn't matter how much water pressure a washer boasts if all of the water leaks out before it even gets to where it needs to go. Stanley took care to make sure that all of the connection points on this pressure washer are sealed tightly, making them fully waterproof and keeping the water contained in the unit.

Does A Good Job
Lots of power and versatility. That's exactly what you're going to get with this pressure washer. It packs a punch, letting it get into tough to reach places and get them as clean as can be, with very little effort.

Cost and Value
As far as pressure washers go, this offering from Stanley comes with a very reasonable price point, all while still managing to maintain top-notch performance. You get a lot of value here just by virtue of how well it cleans, but it's all the little touches that really put it into a category of its own.
Includes a high pressure foamer to get out the toughest stains
All of the connection points are waterproof to improve efficiency
Comes with a wide variety of attachments to let it accomplish many different tasks
Lots of pressure can clean the hardest to reach places
Professional grade construction makes the unit very durable
Pressure washer is not put together very well and isn't sturdy
Not as efficient as gas powered models
It should be clear now just how important power tools are, as well as how versatile and easy to use that they can be.  Admittedly, there were quite a few of the same types of tools on the list. That was done deliberately because every manufacturer builds their tools a bit differently, and everyone is going to be better suited in its own way.  Using this approach can provide better coverage for each type of tool, so you can make the most informed decision possible, all while wasting as little time and money as you can.
In the end, however, each of these tools this is just a guide, and for you to fully know which power tool is going to do the required job in the most efficient way possible, you need to expand on what's provided here and do some more research for yourself.  It might seem like I'm making you do most of the work, and in a way I am. I made this list to be fairly thorough, yet accessible at the same time, and there are just so many different power tools on the market that I can't possibly cover them all. If I did my job properly, though, you'll be provided with all the tools necessary to make the right choice for you and find that perfect tool.
Criteria for Evaluating the Best Power Tools in 2019
Is the tool made for a Linear Purpose or Versatility?
When power tools first came around, their main purpose was to make work easier for the user, providing greater power and efficiency while requiring less exertion in order to get the job done.  Drills were faster screwdrivers, skill saws replaced the slow, tedious hand saw, and sanders were much more efficient than sanding things by hand. As time went on though, manufacturers began to realize how versatile and multi-functioning their power tools can really be.  One power tool could perform the work of a variety of hand tools, and do it quickly and easily. Now, there are several power tools that perform multiple tasks. Two of the most popular examples are the driver/drill, and the rotary tool, though there are other, more specialized tools that accomplish this same task.
The compact drill is used both to create the holes that the screws and bolts will be driven in to, as well as to drive those screws and bolts into the surface.  In the days of hand tools, working on a car's engine would mean having to use a hand-powered drill and screwdriver to make any adjustments. This required multiple tools, which took up more space and was more inconvenient.  In modern times, the power drill does both tasks comfortably and conveniently, and in some cases can do even more. The most recent versions not only drill the holes and drive the screws, but some also act as impact drivers, which allow users to tighten and loosen the most difficult screws and bolts.  A lot of drills now also have integrated LED lights which help illuminate the workspace and help users get into darker corners of a work area.
Rotary tools are a more recent innovation and are a great choice for more finely-detailed work, making them a very popular go-to for hobbyists, woodworkers, and auto body mechanics. These tools can perform a huge variety of tasks depending on the type of nut that is attached to it.  The rotary tool is mainly used for more specific jobs on a smaller scale and is therefore not recommended for bigger tasks where a larger dedicated tool would suffice. Instead, these tools can be used to quickly sand, drill, grind, etc. various smaller surfaces. They are ideal for much more detailed automotive projects and are used often to get in to otherwise hard to reach areas.
Does the value warrant its price?
Because there are so many different types of power tools for both at home mechanics and professionals, their price is going to vary quite widely, depending on how much power is required, the source of the power, and the number and type of add-ons and features that are present.  Even though this list is geared toward homeowners, that still doesn't really narrow things down that much. Manufacturers make tools for the average user in a wide range of power outputs and quality that verge on professional grade tools, and they also provide a multitude of features for their power tools, keeping the differences in price between cheaper tools and higher-end offerings at quite a large margin.
The amount of power that a tool will output can vary widely from tool to tool.  For basic, everyday tools, consumers are opting for more power than is typically needed.  Formerly, most power tools were on the lower side, around 2-4 amps. Now, most smaller power tools can be found in the area of 6-8 amps, which is often more than enough for most common jobs on the vehicle.  Most cordless power tools now have similar levels of power output, though because of the limits of using a rechargeable battery, often they aren't able to perform consistently, and will begin to lag toward the end of its battery lifespan.  In the case of larger tools such as lathes and table saws, significantly more power is needed, and these tools are corded, and in some case even hardwired into the power source.
Obviously, the larger tools are going to be quite a bit more expensive than the handheld versions, and are generally reserved for use by commercial businesses.  On the flip side, for the smaller, handheld power tools, it's the cordless versions that tend to be more expensive, largely due to the added convenience that they provide, through increased production costs can play a role.
As stated above, for the smaller power tools, the power source plays a large role in determining the cost of the tool.  The traditional corded models, though arguably more useful due to their ability to maintain a consistent level of output for an indefinite amount of time, are typically the most affordable version of the tool.  They also tend to be less labor and time intensive to assemble, which does help keep the cost down a considerable amount. Cordless tools, on the other hand, are usually more expensive right from their base model, and as the requirements for battery capacity and output increase, so does the cost, usually significantly.  With the substantial leaps forward in cordless technology, these tools may be more expensive, but in a lot of ways are also more cost-effective.
Any extra cost is pretty easily justified by the insurmountable convenience of having a full-capable power at your disposal in virtually any location or situation. As long as you bring a couple of batteries and a means to charge them, your options are pretty much unlimited.  Lastly, and as far as home use is concerned, air tools are seen as highly specialized tools that are made to be high performance. On the contrary, pneumatic tools are often among the most affordable, though the requirement of an air compressor in order for them to function means that they aren't very cost-effective.
One of the drawbacks that pneumatic tools face is that their power is directly related to the aunt of compressed air available.  The more air you have, the more powerful the tool that can be used for a longer period of time. For the more powerful tools, a very large air tank is needed, which is expensive and heavy. They do, however, pack a comparable amount of output, if not more in some cases, all while being much smaller and lighter than electrically powered versions.
One of the "tricks" that manufacturers employ to bring in more revenue with their tool sales is to produce a larger assortment of attachments that enable the tools to perform other functions not normally associated with them.  This usually comes in the form of extensions to give the tools greater reach, or guides that provide better accuracy. A good example of having a strong collection of add-ons and features is the rotary tool. There is a wealth of bit that allows it to function as a sander, a grinder, a saw, and several things in between.
On top of that, there are optional pieces that can attach to the tool that gives it other abilities depending on what is required of it. Aside from the optional accessories, many tools have integrated features that improve performance and functionality. A lot of drills, for example, have integrated LED lights on them that allow them to be used in low light conditions without having to invest in an external lighting source.
Does the power tools Functionality meets Performance Standards?
Performance is no longer as important a criteria as it was in the past, especially now that pneumatic, cordless, and corded tools all have similar stats in terms of power and functionality.  The only aspect where performance is necessary to take into account is based on your individual needs. If the job is a common bit of car maintenance, then a tool that has upwards of 10-12 amps is going to be a bit much.
Generally, all that is required for even the most seasoned handyman is a set of durable, well-built cordless power tools that can output a consistent 8 amps, with at least one extra battery, a charger, and maybe even a protective carrying case to keep it all together.  To this end, most manufacturers have put together specific lines of power tools have to use the same battery across a wide range of different tools. This way, you can have all of the tools that you need, a handful of batteries, and a charger, and you're good to go.
Many companies also offer these tools as a complete set with everything you'll need.  To be fair, there is a relatively small handful of brands that consumers go to because of their dependability over a long period of time. Performance becomes less of an issue when each product that is being put out for sale is at the top of its game. Unfortunately, there is always going to be a number of lesser-known upstarts that flood the market with poorly made tools at a lower price in order to capitalize on consumer's inherent thriftiness.  That's why it's generally a good idea to stick to the brands that have been around for a long time.
Is the power tools Brand important?
Speaking of brands, it's a good idea to know what is available before making the decision to spend your money.  As I've said, while the market for automotive power tools is flooded with countless options from dozens of companies, there are only a select few that stand the test of time in terms of quality and reliability.
Many of these brands have been around for several decades at least, and have been making high-quality power tools from the very beginning. Some of these brands got their start with hand tools before bringing their expertise to the fairly new world of power tools.  Other companies a fairly new, only popping up in the past decade or two. These newer brands are no less dependable, and bring to the table a wealth of innovation and quality seldom seen in a power tool. Here is a quick summary of the brands who have built very strong reputations over the years.
Ryobi: A Japanese manufacturer founded in 1943, that began producing power tools in 1968.  They are mostly known for both their electric power tools as well as high-quality lawn and garden equipment, though they also make die-cast products and printing equipment.  Ryobi is now part of Techtronic Industries, along with other well-known household brands such as Milwaukee, Dirt Devil, and Rigid.
Makita: Makita is another Japanese manufacturer, this time having been founded in 1915.  They began by selling and repairing lighting equipment, motors and transformers. They began producing power tools with the introduction of the first rechargeable power tool, the 6500D battery powered drill, in 1969.  Since then, they have continued to push innovation in the market, having the first nickel-cadmium tool (6010D drill in 1978), the first nickel-hydride battery tool (6213D driver drill in 1997), and the first lithium-ion battery tool (TD130D in 2005).
Black and Decker: A US-based manufacturer that first appeared in 1910, B&D and Stanley Tools combined in 2010 to form Stanley Black & Decker.  Originally a small machine shop started by  A. Decker and S. Duncan, they invented the portable power drill as it's known today in 1917 when they filed a patent for a drill that incorporated a trigger switch and pistol grip. For decades, they continued to file patents for new tool innovations, and upon their merger with Stanley, joined other popular brands like Craftsman, Dewalt, and Mac Tools.
Dewalt: After being acquired by American Machine and Foundry in 1949, and then being sold to Black and Decker on 1960, Dewalt Inc. was founded in 1924 by Raymond E. Dewalt, the inventor of the radial arm saw.  In 1992, Dewalt became the high-end arm for Black and Decker, including lines of contractor tools. Despite being the first manufacturer of radial arm saws, Dewalt no longer makes them, and Black and Decker sold off the manufacturing branch in 1989.  Radial arm saw can still be found bearing the Dewalt name, though they are produced and sold by the Original Saw Co.
Milwaukee: Now a part of Techtronic Industries along with Ryobi, the Milwaukee Tools Corporation was established in 1924 in Milwaukee, Wisconsin.  Besides producing power tools and hand tools, Milwaukee is also known for producing a variety of meters, testers, and elimination devices that can be found worldwide.
The Terminology of Best Power Tools
Anti-vibration Slots for Power Tools
A series of cutouts, usually found throughout a saw blade, that helps to reduce vibrations and allow the blade to run more smoothly and in turn produce a cleaner cut.  This is most commonly found on circular saw blades, as they tend to have a much larger surface area.
Chuck
A clamping device found on drills that secures the bit in place, preventing it from getting shaken loose while the drill is in use.
Circular saw
A heavy-duty saw that is used for cutting larger, sturdier materials such as lumber or tile.  Circular saws can also be used for slotting holes and notches into surfaces. These saws can be corded or cordless and do not feature a built-in guide for cutting, though users can use a hand-held guide for added convenience.
Collet
A collet is a type of chuck that forms a collar around the bit to be used, clamping it securely when tightened.  Depending on the tool, a collet is used to either hold a bit, much like a drill or the workpiece itself, as found on lathes.
Cordless Power Tools
Any power tools that are not plugged into a power source. But instead, derive their power from a rechargeable battery connected directly to the tool.  Modern cordless power tools have almost comparable levels of power output. And are virtually completely portable, whereas corded versions must have an outlet of some kind nearby the work site in order to operate.  One main drawback of cordless power tools is that the battery needs to be recharged fairly frequently, using a dedicated charger that is, ironically enough, plugged into a power source.
Countersink
The act of cutting the recesses in preparation for screw heads and threads.  This allows the screw to sit flush with, or just below, the surface of the material, improving the overall finish of the product and preventing anything from sticking out and possibly catching.
Extension for Power Tools
A long, rigid steel bar that is connected to the drill.  The bit is then attached to the extension and allows the drill to access hard to reach areas.
Impact drivers
A tool that can produce a strong downward force. Allowing the user to either loosen or tighten a screw or bolt that would otherwise be difficult to work with.
Impact wrench
A socket wrench powered by an air compressor that delivers a high amount of torque with minimal effort on the part of the user.  While air pressure is the most common method of powering these wrenches, cordless electric impact wrenches have become more widely used in recent years.
Rotary Power Tools
A tool that rotates a bit at high speeds that stay in place by a collet.  Depending on the type of bit used, the rotary tool can perform various tasks such as grinding, polishing, cutting, carving, and several others.  Other attachments can be added to a rotary tool to allow it to perform more complex tasks.
Power Tools Runtime
For cordless power tools, the runtime is the total amount of time that the tool can consistently operate using one battery before it needs to be replaced.
Sander
A tool that people use to smoothen surfaces of various textures.  You can use sanders to remove rough bits from a surface to prepare it so you can work on it, and also finish surfaces by polishing it. You can find different types of sanders. Mainly for bodywork, and can include a belt sander, disc sander, or detail sander.
Frequently Asked Questions
Q: Are power tools better than hand tools?
The answer to this question depends on what you need to do with the tool.  For general jobs such as drilling holes or cutting lumber, power tools are going to be your best bet most likely.  However, some jobs are small enough that employing power tools seems like a bit of a waste. And in these cases won't actually save any time or effort.  In the early days of power tools, a lot of fine detail and finishing tasks were still performed better by hand tools, though recently power tools have become much more precise, and are quickly becoming the go-to by craftsmen everywhere.
Q:  Do I have to use corded power tools for bigger jobs?
With great advancements in battery technology, in a lot of cases, cordless tools will be able to do almost any job you can think of.  This has the added advantage of being completely portable, allowing the user to go anywhere they need to without hesitation or preparation.  The only main drawback of cordless tools is the limited lifespan of the battery. Requiring the user to bring along extra batteries and/or a charger.  In some instances where a portable tool isn't going to have enough power, corded stationary tools are a solid option.
Q: Do air tools count as power tools?
Yes.  Air tools still require a power source, though in this case it comes in the form of air, and is produced with an air compressor.  The air compressor itself uses a motor that can be either electric or gas-powered. Many people use gas-powered compressors more commonly for outdoor jobs wheres direct electrical power source may not be available. The motor generates air and then transfers it to the tool via a high-pressure hose.
Sources
Subscribe to our Newsletter