Best Underhood Work Lights Reviewed & Rated for Quality
last updated:
Jul 12, 2019
We all know that creepy moment while driving down the road in the middle of the night, and the car's engine starts to sputter. Yes, it's perhaps one of the spark plugs, and you'll still probably manage to come home somehow, but don't you think it's better to check it out? However, stepping out of the vehicle in the middle of nowhere means wanting to be prepared for every unexpected situation, and you can't do that if your hands are busy holding a flashlight. Well, it's maybe time for you to find an underhood light!
Featured Recommendations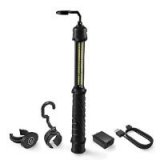 Neiko 40464A

Our rating
High-Performance
Price:

See Here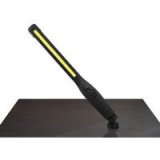 Astro 40SL

Our rating
Versatility
Price:

See Here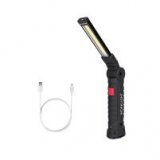 Coquimbo LED

Our rating
Compact Design
Price:

See Here

An underhood light lets you light up the dark environment under the hood and see all the car's parts. Using a flashlight is quite bothersome, especially because you get one bright spot while everything else stays in the dark. Secondly, you have to use one hand just to hold a flashlight, and one-handed car fixing is impossible in most situations. Whether you are a professional auto mechanic or a home mechanic maintaining a car on your own, an underhood work light is a must. These work lights have become increasingly popular because they make life much easier! They'll light up all your garage and allow you to work freely. If you wonder which underhood light is the best, you came to the right place because we have prepared a detailed list of:
10 Best Underhood Work Lights
Neiko 40464A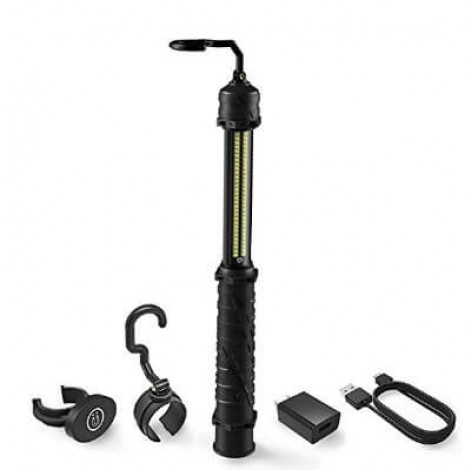 Neiko 40464A is one of the most popular led work lights. It has a very bright light that will illuminate your car and pretty much most of your garage! If you want to avoid the bothersome one-handed repair work, Neiko is a perfect pick!
Expand to see more
Bright Light
Neiko utilizes 60 SMD LED's arranged in a bar, generating 350 lumens of ultra-bright light. It features a 3.7 v 4000 mAh Li-ion rechargeable battery which makes it perfect for emergency repairs,
garage and shop tasks or any outside use
. This battery needs around 4 hours of charging and it can continuously work for 5 hours. The charging process is simple – using a USB outlet you can charge the device while you're driving and have it ready on the road anytime you need it. There's also an indicator that will inform you that your battery is getting low.
Durability
Being a cordless light, Neiko has great portability. You can use it as a light stick, carrying it by the rubberized handle, or you can hook it up on the car's hood for hands-free use. Neiko also has a magnetic base which allows easy attachment to metal surfaces. However, it seems that this magnetic base isn't as sturdy as other parts of this underhood work light.
The best thing about this underhood work light is its durability. Neiko has a strong polycarbonate surrounding that can endure quite a lot. Many customers reported that they dropped down their Neiko light countless times and nothing ever endangered its functionality. Additionally, Neiko can fit in most tight spaces and illuminate all hard-to-reach areas. Rubberized handle allows for a firm grip. The work light won't just slip through your fingers even in the toughest weather conditions.
Cost and Value
We have to continue with praises of Neiko 40464A because not only that you'll purchase a durable work light and get rid of the fragile flashlights, but you'll get it at an economical price. Neiko provides an incredible value for its attractive price.
Very bright light
Rechargeable battery
Portable – 3 types of use
Durable
Comfortable to handle
Fits into tight places
Attractive price
The magnetic base isn't sturdy enough
Astro 40SL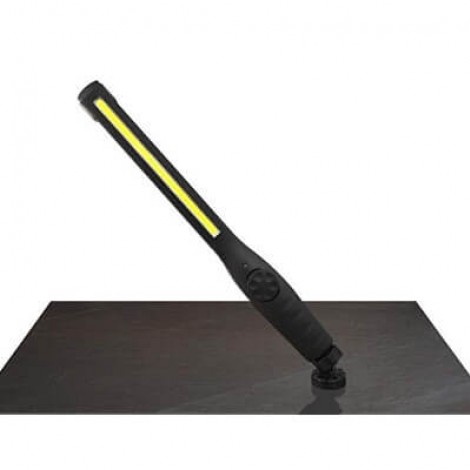 Astro 40SL is another popular LED work light, especially because of its magnetic base and slim design. It provides bright light anywhere you need it, illuminating even the smallest and hardest-to-reach areas. If you're interested in other features that distinguish the Astro 40SL COB LED work light, keep reading our in-depth review!
Expand to see more
Harsh Conditions
Astro 40SL is designed for harsh conditions – it can work flawlessly no matter if the place is full of grease, grime, and solvents. Every professional mechanic will be delighted to have this great device. It will light up every garage or workshop instantly, providing excellent visibility. Astro also gives you the possibility to adjust the amount of light according to your needs – it can go from dim light to blinding 410 lumens. This will be enough even for demanding users that want to light up the whole room!
Easy to Use
Astro has a 40 chip COB LED array that provides up to 850% of light density. Battery life supposedly goes up to 10 hours at 50% of power, and 2.5 hours at full power. However, many users reported that the battery doesn't last that long. It seems that it can endure about half of that time.
The assembling part is quite easy. Astro attaches to any surface by the magnetic base, no matter how uneven a surface can be. You just need to lock it in a desired angle by the tension ring.
Cost and Value
Astro 40Sl provides great value and has a reasonable price. It's not as cheap as previously reviewed Neiko light, but it provides additional versatility because of its sturdy magnetic base. You can hang it and place it almost anywhere, using it for
various garage and house tasks
. Additionally, you'll get a 1-year warranty in case you run into any issues.
Designed for harsh conditions
Adjustable light power
40 chip COB LED
Easy to assemble
Strong magnetic base
Affordable
Battery life isn't very long
Coquimbo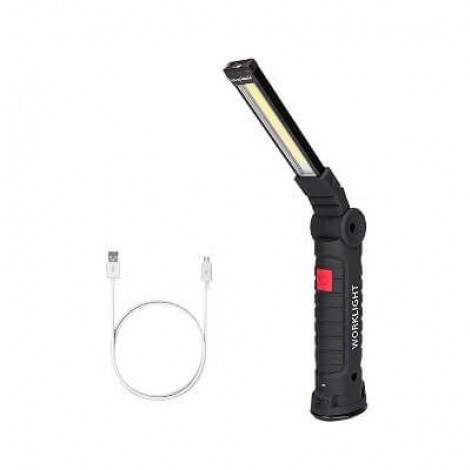 Here we have a compactly designed LED work light that has great performance. If you want a device that you can easily carry around and store in your pocket or your bag, Coquimbo is a perfect choice. It has various features that provide easy usage for many purposes, from home to garage tasks and car repairs. This little device will provide enough light to illuminate all areas, and you'll just love its brightness and pocket-sized design!
Expand to see more
Variable Features
At first sight, it doesn't seem that Coquimbo can produce enough light to allow working at great visibility, but it turns out that it's quite powerful. Coquimbo can rotate for 360 degrees to provide better illumination angles, and it has 5 lighting modes: high and medium brightness, front light, red warning, and red strobe. It features a rechargeable battery, but keep in mind that it charges by USB port which is inconvenient for many users. If any garage dirt comes to the light, you may don't want it anywhere close to your computer.
While you may carry it like a flashlight, Coquimbo also has a magnet base if you want to attach it to metal surface so your hands can be free while working. This way, you can use it for various purposes and in many situations, from home tasks and car repairs to any outdoor use.
Compact Design
Although the measures can be found on the product details page, most users are surprised by the size of this work light when they finally get it. Coquimbo can be folded down if you need a pocket-sized light that's easy to carry around and store. When it's completely open, this light is 10.5 inches long, and it has about 5.5 inches when it's folded down. Its size allows you to illuminate even the most inaccessible areas. Additionally, this work light is made of hard rubber for simple anti-slip handling, but it also has an aluminum head that dissipates the heat. This way, Coquimbo light provides good performance and lasts longer.
The only issue seems to be the position of the clip that allows you to pin the device to your pocket or belt. It's located on the inner side of the handle, so when you fold the light down the lens comes exactly in front of the clip. This way, the lens can get damaged while carrying the light in your pocket or purse.
Cost and Value
Coquimbo offers great value for low cost. You also have a 1-year warranty if you run into some issues. Therefore, if you want
a small yet effective light
, you can go with Coquimbo without any worries.
It can rotate for 360 degrees
5 lighting modes
Features a magnet base
Compact design
Inexpensive
The clip can damage the lens while in 360 degrees position
Neiko 40447A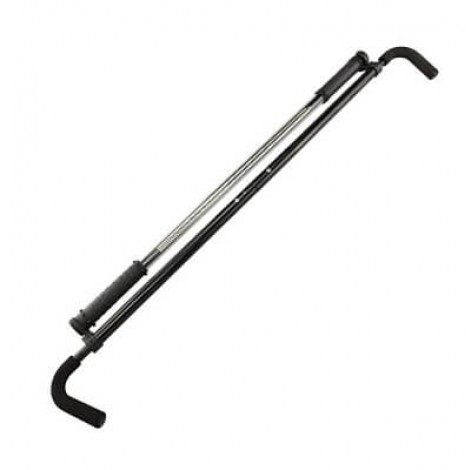 Neiko 40447A is a powerful LED underhood light that every user praises because of its brightness and various mounting options. You can attach it under the hood, mount it on the fender by magnets or place it on the ground when working under the car. Options are various with Neiko, so keep up reading if you want to know more about this great product!
Expand to see more
SMD LED Bulb
Neiko 40447A offers 200 Lumens for maximum brightness in your garage and under the hood. You'll be blinded by the power of 202 SMD LED bulbs. Additionally, it has an 8000 mAh rechargeable Lithium-ion battery that can run up for 3 hours on high mode and up to 6 hours on low mode. The run time of 3 hours is a bit short, but at least you have an option to plug it in the power source while working.
Pro tip: Try not to stare at the light too long because it will take quite some time to recover from the LED flash.
Extendable
Neiko underhood work light is actually a simple tube that contains a LED light lens and telescopes from 47 to 76 inches. It should fit any hood size, especially because it has cushioned hood hooks as well as detachable magnets. While cushioned hooks are made for
car protection
, ergonomic non-slip rubber grip is there to provide you comfortable handling. Additionally, Neiko features polycarbonate light housing and lens for more protection and durability. It can endure various weather conditions and extended daily use without any issues. The work light weights around 6.3 pounds and comes in 43.3 x 4.9 x 9.7 inches.
Cost and Value
Neiko 40447A is more expensive than the previously reviewed products, but it won't cost you an arm and a leg. Actually, almost all customers are satisfied with its overall quality and price, and consider it's worth every penny!
200 Lumens
202 SMD LED bulbs
8000 mah rechargeable Lithium-ion battery
Various mounting options
Telescopes from 47 to 76 inches
Durable
Short battery life
A bit pricey
DAWAY W6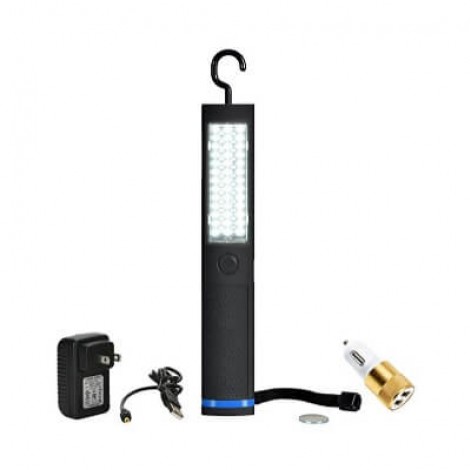 Daway W6 is a portable work light that will make your life easier! It can be used as a garage and shop work light, but it's also great for many outdoor situations such as camping, emergency lighting (especially because of the possibility to charge it by in-vehicle cigarette lighter) and other. Therefore, if you're searching for a multipurpose underhood work light look no further! Daway meets all your needs.
Expand to see more
Great Performance
Daway W6 is a cordless underhood work light with 5000 mAh Li-ion battery that lasts around 3.5 hours on high lumens and up to 7 hours on low lumens. You can adjust the brightness from 300 to 700 lumens which is more than enough to light up underhood parts and your garage. Not to mention that it features 63 SMD LED bulb (39 white and 24 red). The additional great thing about this product is the fact that you can charge it by USB or by the vehicle cigarette lighter! However, keep in mind that W6 uses a special cord, so if you lose it you'll have to purchase the same one because others won't fit.
Portable and Durable
Daway W6 is very adjustable due to the fact that it has 360 degrees rotating hook and strong magnet base. You can easily hook it under the hood or attach it to any metal surface for hands-free use. It comes with a strap that provides easy carrying, and with a non-slip handle for comfortable use. We should assert that the magnet isn't so sturdy as it should be. It's because W6 has only one small magnet.
With ABS resistance polycarbonate lens Deway is protected from almost every impact. It's very useful that the light itself is covered with a non-slip rubberized coating. You'll especially love its waterproof design (IP55) that provides protection even in
hard weather conditions
.
Gentle warning: Don't test its waterproof feature by soaking it into the water.
Cost and Value
Overall Daway W6 offers great value for an attractive price. It's hard to find a powerful work light that's reasonably priced and W6 is certainly among rare ones. You'll also get a 1-year warranty and ability to contact their great customer service if you run into any issues.
Multipurpose work light
5000 mAh Li-ion battery
Adjustable brightness from 300 to 700 lumens
Rotating hook and magnetic base
Quality and durable materials
Attractive price
Requires a specific cord
The magnet isn't strong enough
Aceland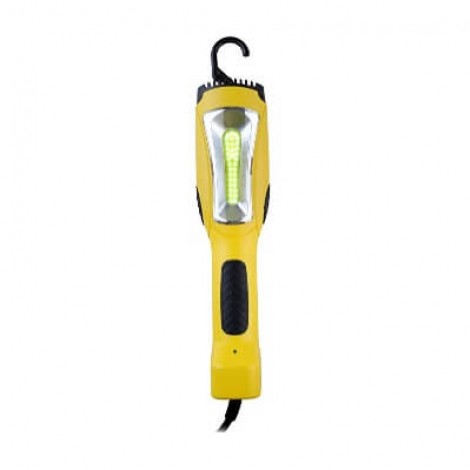 Aceland work light is a newly designed COB LED that provides excellent brightness for every garage and house task. It offers features that provide great portability and durability, so you'll be able to use it almost anywhere. Therefore, if you want a compact underhood work light that will give you enough visibility to perform any task, you came to the right place because Aceland is a perfect pick!
Expand to see more
Small yet Powerful
Aceland has a COB LED light bar located on one side of the stick. It seems that this light bar is too small to provide required brightness but that's not the case! Actually, it shines bright and gives you enough visibility to perform any task under the hood. It offers 1200 lumens and it comes in 15 x 2.9 x 2.8 inches. Therefore, it's compactly designed and yet very powerful. Aceland's size also provides great portability, even though it's a corded underhood work light that can't work without being plugged in the power socket. However, it's good that you get a 6 ft long cord and you can replace it with any standard cord reel if necessary.

Portable Yellow Light
The light has 360 degrees rotational hook that you can fold down when it's not in use. It also has a strong magnetic base on the back to provide easy mounting to metal surfaces. Aceland also features rubberized front and back side of the handle to ensure a firm grip and avoid unfortunate dropping.
Another useful detail that we noticed is the yellow color of this work light. Many users complained that they usually lost their work lights in their garages because of their unnoticeable colors. Aceland thought about that and colored its work light in yellow.
Lastly, after we presented all the good features, we should warn you about 2 possible issues. Firstly, the hook is made of plastic and it often happens that it detaches from the device. Secondly, for some users magnet wasn't strong enough to provide easy attachment to metal surfaces.

Cost and Value
Aceland work light has an economical price and the manufacturer gives you a 1-year warranty for a more protected purchase. If you want to light up your garage and finally work without exhausting your eyes in the half-dark environment, don't hesitate to try out this great work light.


1200 lumens
Compact design
Features a rotational hook and magnetic base for great portability
Compatible with any cord type
Colored in yellow
Economical price
The hook is made from nondurable plastic
The magnet isn't strong enough
ATD Tools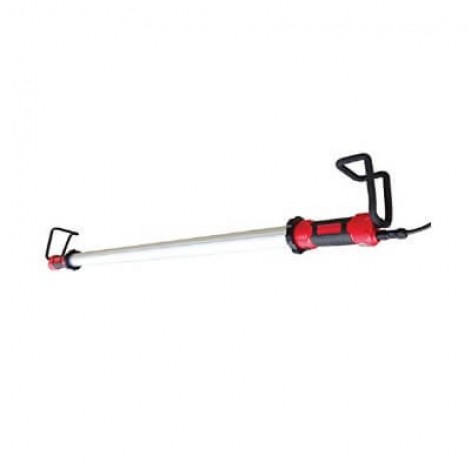 ATD Tools offer a highly powerful LED underhood light. If you're searching for a bright underhood work light that can fit under most hood types and provide great visibility and durability, you just found a perfect one! ATD Tools work light provides some high-quality features that will satisfy most of the different situational requirements.
Expand to see more
Very Bright Light
ATD Tools work light features 150 SMD LEDs that provide 2000 lumens of bright light. This is quite amazing brightness for an underhood light! We are talking about a underhood work light that's not even corded, although it can be plugged in the charger while working. It features 7.4 V 4400 mAh Li-ion battery that can last 3 hours on low brightness mode (1000 lumens) and 1.6 hours on high brightness mode (2000 lumens). For example, the low mode is adequate for
working in the engine compartment
while the high mode is so strong that it can easily light up the whole garage.
Useful Features
The light bar is 40 inches long and the whole device has two hooks for easier underhood mounting that extend from 55 inches to 83 inches. The hooks are padded for high protection and easy attachment. You can also adjust the light tube, twisting it to light up a specific area. Another useful feature is a LED battery indicator that notifies you when the battery is low.
However, there are two issues with this design. The first is more of a drawback because the ATD Tools light only attaches under the hood and it's hard to move it around. This is not a huge problem when we consider the fact that it produces enough light to illuminate the entire area, but still some parts can remain in the dark. The second thing is related to the plug-in area on the light. It seems that the arms can easily plug off the cord when you try to rotate the light.
Cost and Value
ATD Tools underhood light has a reasonable price compliant to the excellent value that it provides. It's not cheap as previously reviewed compact lights but the truth is that it's way bigger and it offers a high level of brightness. Therefore, if you prefer brightness over portability, ATD tools work light is a perfect choice for you!
150 SMD LEDs provide 2000 lumens
4400 mAh Li-ion battery
Two brightness modes
Battery charges while the light is working
Extendable hooks
Led battery indicator
Not so portable
Some issues with the plug-in area
SuiTech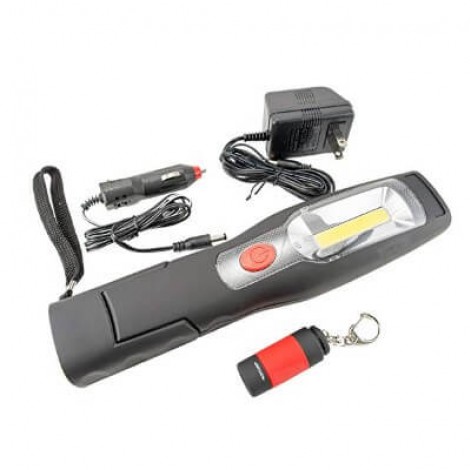 If you need a compact underhood work light that can be used in various situations and for many different tasks, SuiTeck is an excellent choice. It's lightweight and it has several mounting options to provide great visibility. You can use it as underhood light as well as many home and outdoor tasks.
Expand to see more
Small and Bright
SuiTeck offers 280 lumens on floodlight and 80 lumens on the flashlight. It comes with a lithium battery of 2400 mAh that lasts up to 3.5 hours on a floodlight and 4 hours on the flashlight. It'll need around 3 hours to fully charge. For a small underhood work light that's also lightweight (around 1.25 pound) you get more than enough brightness, but this isn't sufficient for those who want
a bigger work tool
. If you're one of them, you should rather stick with a powerful LED underhood lights that we reviewed earlier.
Versatile Device
SuiTeck is a multipurpose work light that attaches on metal surfaces with a magnet base but it also comes with two hooks if you need it in other positions. That way, you can light up many angles and spots without any difficulties. The magnetic base rotates for 180 degrees while the hooks rotate for 360 degrees – this is useful if you want to adjust the position of the tool so the light falls down or up more accurately, according to your specific needs. You also get a free rechargeable mini keychain light which comes very useful in various situations.
Lastly, SuiTeck is made to endure dropping accidents so it won't break as easily as other LED lights. It features IP 64 protection which means that it's water and dustproof.
Cost and Value
SuiTeck is a compact work light that has an attractive price and a 1-year warranty. You also get a highly durable work light that you can use for a long time. With all these protective measures, you can't go wrong with SuiTeck!
280 lumens on a floodlight and 80 lumens on the flashlight
Lithium battery of 2400 mAh
A rotating magnet and two rotating hooks
Comes with a free mini keychain light
Water and dustproof
Attractive price
Steelman PRO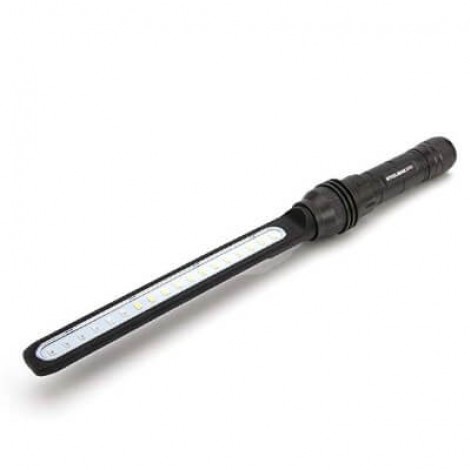 Steelman PRO underhood work light features a slim design for easier access to any tight and hard-to-reach areas. It's a perfect choice for car mechanics as well as any handyperson that needs a practical yet efficient tool. The possibilities are various, and if you go with Steelman PRO light you'll most likely end up loving it!
Expand to see more
White and UV LEDs
Steelman PRO features an anodized aluminum casing with a polycarbonate lens that protects 18 SMD LEDs. From 18 LEDs 12 are standard and white, and they produce light of 400 lumens – you can set them on low mode for 130 lumens or high mode that goes up to a maximum of 400 lumens. The rest of the LEDs are ultraviolet lights, made for serious investigators! You can easily detect any spills and leaks. Additionally, the rechargeable lithium battery can last up to 2.5 hours when the light is on the high brightness mode and up to 8 hours when it's on the low mode.
Ultra-Slim Design
This Steelman work light features a compact design – the stick is ultra-slim with only ¼ inches, providing great access to tight and narrow places. The whole device measures 14 x 3.25 x 1.5 inches and weighs only 13 ounces. Therefore, it's very portable and easy to use. The handle has rubberized parts for a simple and comfortable grip. One of the downsides is its rounded form. It seems that the light tends to roll away from you if you put it on the flat surface. The other drawback considers button and options, not so the design itself. While it's great to have various modes and options on any device, many users complained about the strobe function because most of them don't even use it and it's hard to turn off.
Cost and Value
Steelman Pro underhood work light is a bit pricey for such
a small tool
. Overall it's a bit of nitpicking to regard this tool as a pricey light because it offers some great features and generally it won't cost you a fortune.
3 brightness settings
Charging port is concealed
Durable construction
Very bright
Doesn't have a long runtime
Strobe function is useless
Nextool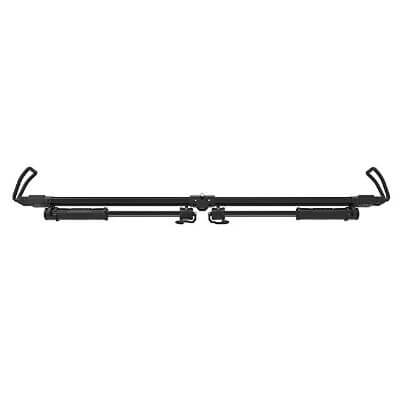 If you're searching for a powerful LED underhood work light that can easily light up the entire engine bay and still be versatile and useful in different situations, NextLED is the perfect pick for you!
Expand to see more
Bright Light
NextLED underhood light uses COB LED technology that produces 1500 lumens. You can adjust the brightness from low (750 lumens) to high (1500 lumens) mode, and accordingly, you get the battery life of 3 or 6 hours. The battery itself has a large capacity of 8000 mAh and you can fully charge it in 4 hours. However, keep in mind that both lights need separate cords and that chargers are not included in the package.
2 in 1
The light attaches under the hood by hooks that can extend from 48 inches to 77 inches. That should provide enough length for light to fit under every type of hood. The handles of the hooks are foam cushioned so you don't have to worry about damaging the paint or vehicle's parts.
The best thing about this light is that it detaches in the middle, providing two work lights if you need them separately. Both lights have their own hooks so you can hang them wherever you want. Additionally, both lights rotate for 360 degrees while hanging at the frame. This is very useful if you need to illuminate the entire area at once.
Cost and Value
Considering that nestled is
a versatile tool
, which gives you two LED lights instead of only one, we expected a higher price. However, because of the fact that chargers aren't included, we still feel like this underhood work light is a bit overpriced.
COB LED technology produces 1500 lumens
Two brightness modes
8000 mAh lithium battery
The tube extends from 48 inches to 77 inches
Detachable – provides two separate lights
Both lights rotate for 360 degrees
Chargers are not included
Pricey
Criteria Used in Evaluation of the Best Underhood Work Lights
We have evaluated the best underhood work lights according to strict criteria because we wanted to rate every product by their quality and performance. Only then we were able to provide you a thorough list with products ranked from 1 to 10. Here are the things we searched for in every underhood work light:
Brightness
The most important and essential thing is knowing that the chosen underhood work light will provide the needed brightness. The most powerful lights are on the top of our list. This doesn't mean that products on the bottom of the list don't have quality features, but they offer less light or don't have other essential features, as we took into account their overall performance. Lastly, you may find that tools with dull light work great for you – it all comes down to the matter of preference.
Battery Life
Like you have seen in our in-depth reviews, we have paid attention to the quality of underhood work lights' batteries and their durability. We know how exhausting and annoying can often be recharging and battery changing. Not to mention all the hassle around cords and power sockets. That's why every product earned points according to long or short battery life, recharging options, etc.
Mounting Options
Another important thing that determines the quality of underhood work lights are mounting options. Without firm magnet or strong hooks, the lights are unusable! The whole point is to have a light that can free your hands and still shine brightly to illuminate all your working area. That's why we have taken into account all mounting options of every underhood light on our list.
Cost and Value
Lastly, we have rated products according to their overall relation between cost and value. It's always important to know that we're paying our money's worth and that we have some kind of customer protection or a warranty.
Other Factors to Consider
If you want to be completely sure that you made a perfect choice, here are some factors you may want to consider before you finally purchase that shiny new underhood work light:
Power
How much brightness do you need? You should first answer this question, and then you'll be able to determine which type of underhood light you need. If you don't need a light that's too bright, you can go with small underhood work lights and if you need a powerful light don't make that mistake and assume that a compact light will perform just as well as a big one.
Personal Needs
Where do you intend to use the underhood work light? If it's just for underhood car tasks, you can easily go with magnet bases and hooks, but if you need a versatile work light, you may want to examine other additional options such as tools with detachable lights and ones that are completely foldable.
Budget
Last but not least, consider your budget before you make a final decision. There are some great underhood work lights that cost next to nothing, but you should make your choice according to the previously mentioned factors. Those inexpensive lights may end up unsuitable for your specific requirements. You should consider your budget together with all other factors and only then make a purchase. Don't let the price dictate your choice!
FAQ
Frequently Asked Questions
Q: What is the best mounting option for an underhood work light?
A: Well, that depends, where do you want them to shine. If you need to light up the whole engine bay, the best option are lights with arms that attach straight under the hood. On the other hand, if you want to light up the specific area, you can go with ones that have hooks, and that can hang from any place. The magnetic base is also useful if you want to attach the light to the bumper. It comes down to your needs and preferences!
Q: Do every underhood light has an adjustable brightness mode?
A: No, not every one of them. We advise you to carefully look into the product description or ask the manufacturer before you make the purchase. Descriptions are not always 100% accurate.
Q: Can I use an underhood work light for other tasks around the house?
A: Of course, you can! If you want a versatile underhood work light that you can carry around and light up different areas, go for the compactly designed ones. There are many pocket-sized work lights that are very portable and efficient.
Q: Are underhood lights harmful to my eyes?
A: Underhood work lights are very bright because they use more bulbs than regular lights, and because they are frequently LEDs, they can cause some dizziness and fatigue if you stare at them too long. That would be painful as itself, so it's hard to imagine that anyone would do that. Other than that, you'll be fine. It can't hurt your eyes when you use underhood lights daily without prolonged staring. However, some of the underhood work lights that have more power can emit some radiation, so make sure to always read the product description page carefully.
Subscribe to our Newsletter