Best Brake Tools Reviewed & Rated for Quality
last updated:
Sep 06, 2019
If you ever had your brake system repaired by a mechanic, you know how expensive these services are. They run from a couple of hundred to eight hundred dollars! No wonder why so many people opt to work on their vehicles all on their own. Getting the tools needed to change brake pads, brake lines, or other parts is still way cheaper than going to the mechanic shop every once in a while. Of course, you'll have to put some effort to choose and get all of them, but you're going to have them for years! That means constant repairs and working in the best conditions. Therefore, expanding your mechanic tool arsenal seems like the best decision.
Featured Recommendations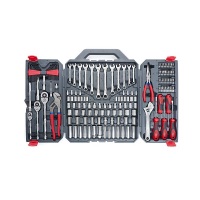 Crescent Set

Our rating
170 Pieces
Price:

See Here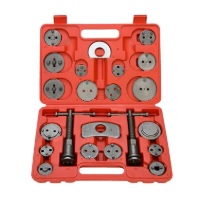 8MILELAKE Brake Caliper Tool Set

Our rating
Versatile
Price:

See Here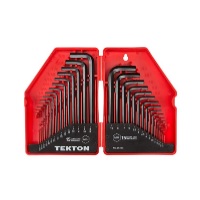 Tekton Hex Key Wrench Set

Our rating
All-In-One
Price:

See Here

If you're looking for general brake tools set, you won't find all that you need in one place. You'll need different tools and accessories for all the work on the brake system. However, the good news is that we are here to help! In our buying guide, you'll find recommendations for all the tools you need to work on your brakes. They are the very best we can find on the market, and we examined every single tool type! Hopefully, after you get through this list, you'll be completely ready to work on your vehicle. Let's start right away:
10 Best Brake Tools
Crescent Set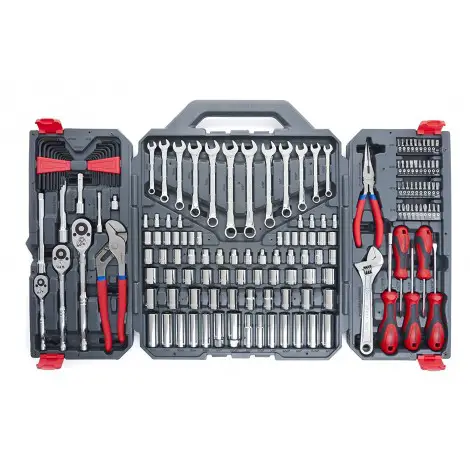 You can't start with the repair without a general-purpose toolset. Whether you're planning to bleed the brakes or change the pads, you need different tools within your hand's reach. You need a multipurpose Crescent toolset! This is an extra-large set that includes many tools and accessories. To be precise, it comes with 170 pieces! With them, you'll tackle all your household projects as well as commercial ones.
Expand to see more
170 pieces
This set includes 170 pieces! It features drive tools, wrenches, pliers, screwdrivers, bits, and hex keys. All these tools will help you change brakes in a breeze. The set includes everything you need to work on the brake system as well as perform other tasks. Crescent is perfect for most mechanical and industrial purposes. With such a large set like this, you'll enjoy working around the household!

Heavy-Duty
All tools included in the box are made of chrome vanadium steel alloy. Thanks to the heat-treating construction process, they are resistant to the harsh environment. They won't rust, bend, or break no matter how often you use them. The entire set is designed to last and you'll use it for many years. Additionally, all pieces have a chrome finish which allows for easy maintenance.

The users only had complaints about the design of the case. It seems that it doesn't provide a tight fit for all tools. The pieces could fall off their slots and make a mess.

Cost and Value
This is a versatile set suitable for both professionals and DIYers. Regardless of the job type, you'll enjoy having it. You'll get an extra-large set at a reasonable price. How great is that? The company also offers a lifetime warranty in case you run into some issues.

170 pieces
Perfect for car repairs
Made of high-quality materials
Sturdy and durable
Easy to maintain
Reasonable price
8MILELAKE Set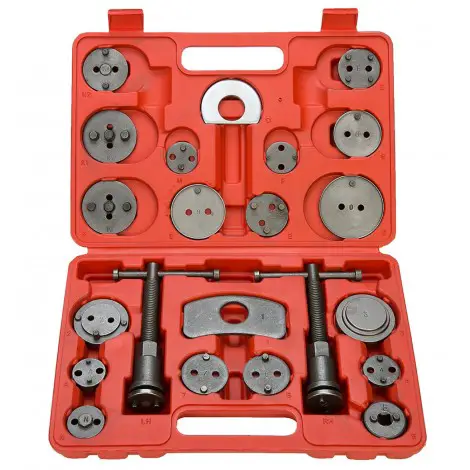 The second most important thing when working on your brakes is to have a quality caliper piston set. When changing the brake pads, you have to retract the pistons so they can fit around the new pads. You'll need a brake caliper tool to perform this action. Of course, you can't get the first one that catches your attention. Which is why we included one of the most popular and praised calipers set on the market.
Expand to see more
Versatile
This set includes 22 pieces, and 18 of them are adapters. Such a large number of pieces ensures great performance regardless of the vehicle type. You can use them on just about any car or truck. The set includes both left and right-handed assemblies. This design type should additionally ease the process, although the threads are already easy to turn. All in all, if you're planning to change brake pads, this caliper brake toolset is a must!

High-Quality
As we mentioned above, this is very easy to use. It includes all the necessary parts for changing brake pads. They are all made of high-quality materials and prove to be quite durable. You'll use them for many years, that's for sure!

We only wished for a better-written manual. The included one doesn't help at all, which can be a big drawback for beginners. There's a useful youtube video, though. It shows how the kit works. Also, some buyers complained about the case. They didn't like the flimsy plastic as it doesn't hold the pieces securely.

Cost and Value
If you're planning to work on the brake system, don't hesitate to get this set! It's efficient, durable, and easy to use. On top of all that, it comes at an attractive price! Who could ask for more? Both DIYers and professionals will benefit from having it.

22 pieces
Suitable for most vehicle types
Includes left and right-handed assemblies
The threads are easy to turn
Made of quality and durable materials
An attractive price
Poorly written manual
Some complaints about the case
Tekton Hex Key Wrench Set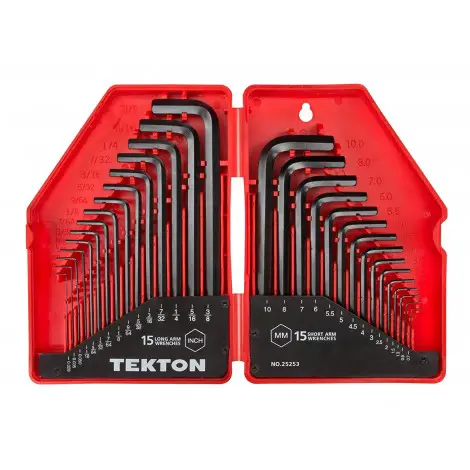 In some vehicles, brake calipers are held in place by Torx bolts. Now, if you have them on your vehicle, you'll need a Torx wrench set for changing the brakes. How should I know which one to get, you may ask? Fear not, we have a perfect one in mind, and it comes from Tekton.
Expand to see more
All-In-One
This is a 30-piece set that includes a wide range of hex wrenches. It features 15 Imperial and 15 Metric wrenches. How cool is that? It means that you'll be able to use them on almost every hex key out there. All pieces feature chamfered ends for easy and safe use. You should be able to take them off and put them back on with ease. Also, the bolts won't get damaged in the process.
Another
great thing about these wrenches
is that they have long arms. They'll allow you to reach tight spaces and torque with ease.
Durable Steel
All included pieces are made of high-quality steel. They are heat-treated for more durability and also feature the black-oxide finish. The steel construction ensures excellent performance in harsh working conditions. The coating makes them resistant to rust and moisture as well.
Once again, many buyers complained about the carrying case. It seems that this is a general issue with most of the sets. This one allows for the pieces to fall off their slots and move around. It's rather inconvenient. However, we did like that it has sizes marked on the material for easy selection. It allows you to quickly pick a piece that you need for the job.
Cost and Value
This is not only dirt cheap but also comes with a lifetime warranty! The company is quick to respond and resolve every issue. They stand behind their products, which is why most buyers opt for their products over and over again. Therefore, don't hesitate to try out this set. You won't be disappointed!
30 Customary and Metric wrenches
Versatile
Easy to use, safe for bolts
Long arms for better reach
Strong and durable
Dirt cheap
Tekton Torque Wrench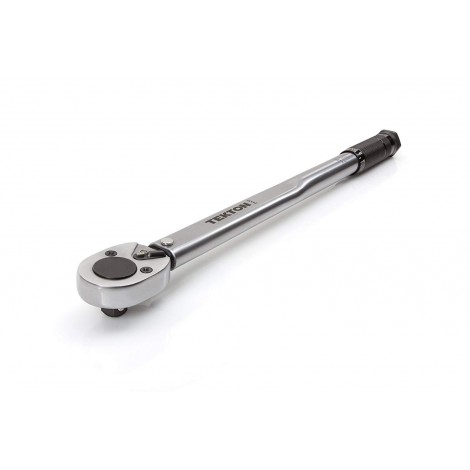 No matter which vehicle you own, a torque wrench is a must! You can't work on the brake system without it. This wrench type is designed to tighten and loosen the caliper bolts and therefore, it's a must-have. That's why we included one on the list. We picked another Tekton tool, and we had many reasons to do it! This torque wrench is incredibly well designed. Along with great efficiency, it provides comfort during the use and outstanding precision. It's just one of those tools you have to have in your toolbox for regular car repairs!
Expand to see more
Versatile and Efficient
This is perfect for working on brake systems. It's also very useful for other mechanic applications and regular jobs around the household. Now, we liked a lot of things about it. Firstly, the ratchet head is reversible and turns in both directions. Secondly, it's very accurate and safe for use.
Also, it offers a drive click feature. What is that you may ask? The tool will produce a sound to let you know that you have reached the proper torque value. Thanks to this feature, you don't run at risk of using it in the wrong way. The only thing to keep in mind is that it sometimes requires more force. Be prepared to put in some extra effort!
User-Friendly
This is made of heavy-duty iron and features a protective coating. It's resistant to bumps and falls as well as to corrosion. As long as you store it properly, the tool will last for many years! We also liked the knurled handle that ensures a firm and comfortable grip. It gives you more control over the process and also reduces fatigue at extended use.
You won't be disappointed with extra features either. The tool offers a dual-range scale that's easy to read even during night time. It also comes pre-calibrated so you can use it straight from the box! Lastly, it's packed in a handy case for
storage and transportation
.
Cost and Value
Tekton doesn't disappoint! The company offers this amazing wrench at an attractive price. It even includes a lifetime warranty. They stand behind their products and allow you to buy with confidence. One is certain, every handyperson will be thrilled with this tool. Even the most demanding professionals have it in their toolboxes!
Multipurpose tool
Reversible ratchet head
Accurate and safe
A drive click feature
Sturdy and durable construction
An attractive price
Torin Jack Stands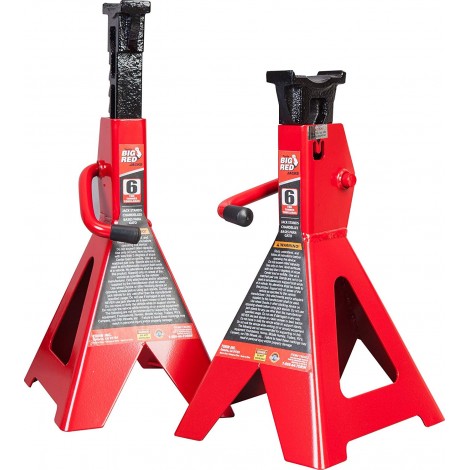 Fear not, we didn't forget about the jack stand! You already know why you need this piece of equipment. You can't change brake pads without lifting your vehicle, and you need jack stands
for more stability
. Safety always comes first, so this one is not to be avoided! To ease the searching process for you, we picked one of the best jack stands on the market.
Expand to see more
4 Sizes
After you lift your vehicle with a jack, you need a proper stand to stabilize it even more. Torin is a perfect choice. It comes in pairs that can support 2, 4, 6 and 12 tons. All of them are designed to provide support and keep you and your vehicle safe. You get to choose the one according to your vehicle size.

These Torin models feature locking mechanisms for more security and stability. They also have a large saddle surface that ensures safe contact with the load. You get to adjust them according to your needs and preferences, and the process is quite easy. The stands are rather lightweight so you should be able to move them around without any issues.

Safe and Durable
Regardless of the size and capacity, all these stands are equally well made. They are constructed of first-class steel and feature a welded frame. They won't only keep you safe during repairs, but they'll also last for many years.

The only thing that could bother you is the design of the legs. They feature a sharp bottom, so be extra careful where you're placing them. The legs could scratch the floor coatings and sink into the soft surfaces. Keep this in mind if you're planning to use the tools outside or on the freshly coated floor.

Cost and Value
The price depends on the capacity. The 2- and 4-tons jack stands are cheaper than 6- and 12-tons ones. Still, most buyers are quite satisfied with the price range. They say that all types are reasonably priced and well worth the money. Also, the package includes a 1-year warranty for some extra peace of mind.
Four types support 2, 4, 6 or 12 tons
A locking mechanism for more stability and security
Strong and safe
A large saddle surface
Durable
Worth every penny
Capri Tools Brake Spreader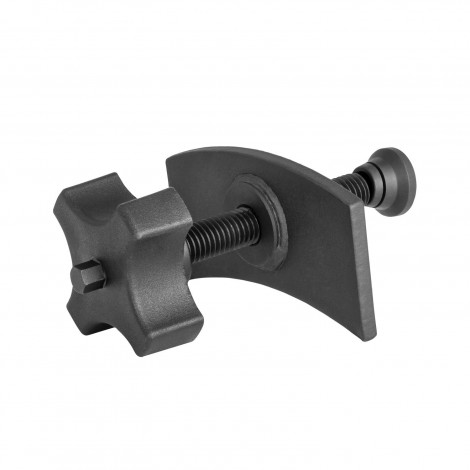 When changing brake pads, you need to retract the piston. The tool that presses the piston into the caliper is called a brake pad spreader tool or a c-clamp. It's a useful little accessory we should all have in our garages. If you don't own one already, Capri Tools has to offer a perfect tool. It's the most popular and praised brake pad spreader tool on the market. You'll love it!
Expand to see more
Easy to Use
Changing brake pads is quite easy with this tool. After removing the caliper, you need to put the inner brake pad on the piston. Then place the tool on the caliper and twist the bolt! You'll notice when the piston is pushed in.

As you can see, the process is rather simple, and you'll get through it in a breeze. The tool is very efficient and easy to maneuver. We should only warn you that it doesn't work equally well on dual caliper pistons. You'll get the job done, but you'll spend quite some time and effort on the process.

Solid Construction
This one is made of high-quality steel that can withstand quite a lot. The sturdy construction makes the tool super safe and powerful. It also makes it more durable. We also liked that the tool has a built-in comfort knob. This piece allows for easy maneuver. There's also a socket adapter so you can use it with a socket wrench. All in all, the tool is simply designed and it will make your life a lot easier.

Cost and Value
This breaker spreader is cost-effective and suitable for every garage. It's efficient, durable, and easy to use. You won't find the same combination for the money.

Easy to use
Made of high-quality steel
Safe, powerful, and durable
Built-in comfort knob
A socket adapter for socket wrench
Cost-effective
Not equally efficient on dual caliper pistons
DEWALT Drive Socket Set
You can't perform any car repair without a quality socket set. Therefore, you need one if you want to work on the brakes! Luckily for you, we have a perfect one to recommend. Getting the set from a reliable company like Dewalt is always a smart choice. They are known to produce all kinds of tools and accessories, and everyone loves their products. For more information about this particular socket set, keep reading our detailed review.
Expand to see more
34-piece
This is a 34-piece socket set. It's perfect for mechanics who seek for perfection. It's great for beginners too! The set includes sockets, adaptors, and a ratchet. The sockets are available in both SAE and Metric. You get to use them on vehicles, machines, and other objects around the household.
You should only keep in mind one possible issue. Some buyers weren't satisfied with the depth of the sockets. Examine the measures before the purchase, so you don't end up unsatisfied with the set!
Rock-Solid
All pieces are constructed of sturdy and durable materials. They are designed to withstand heavy use so you can use them for industrial purposes as well. We also liked the ergonomic design.
The sockets are meant to be used with the included ratchet, but they are perfect for an impact drill as well. They come in a box you can use for transportation and storage. It even has a removable inner tray, so you can adjust it at your preferences.
Cost and Value
On top of all amazing features comes a budget-friendly price. You'll also get a lifetime warranty and the contact with great customer service. They are quick to respond and resolve every possible issue.
Dewalt doesn't disappoint
!
34-piece set
Sockets, adapters, and a ratchet
Perfect for both professionals and newbies
Made of high-quality materials
Sturdy and durable
Budget-friendly
Some buyers are not satisfied with the depth of the sockets
Arcan ALJ3T Floor Jack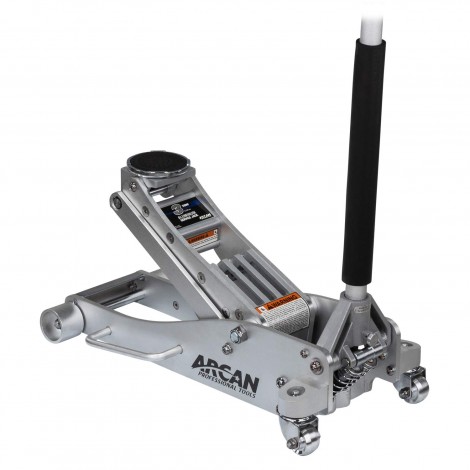 You can't even start working on the brake system without a jack! You need to lift the vehicle to access all its parts. In a word, you need Arcan ALJ3T! It's the most popular floor jack on the market and praised among countless buyers. The reasons are various, but all users love its efficiency and strength.
Expand to see more
Smooth and Fast
This can lift 3 tons, which makes it perfect for most cars, vans, and trucks. It raises the load from 3.75 to 18.25 inches. Thanks to the dual pump pistons, the action is smooth and fast. Each piston has a dust shield to prevent contamination. The tool will work its best regardless of the working conditions. Also, the jack has a long foldable handle for easy operation and storage.

However, some buyers did complain about the handle. It tends to flex from time to time. It's not a safety concern, but it could be annoying. We all want to feel completely confident while working with these items. Also, make sure to compare its size to your vehicle. Some users didn't manage to fit it under their car models.

Heavy-Duty
Safety is a major concern when it comes to using floor carjacks. Luckily, you found Arcan! This tool offers great support and proves to be extremely safe. It's made of high-quality aluminum that's very stable and durable. It even has a reinforced lift arm for more security. Also, we find the aluminum very useful because it gives allows for more portability.

Cost and Value
What every buyer loves about this is its competitive price! Considering the performance and the quality construction, there's no better option available right now. Nor there's a better priced one. Therefore, we highly recommend getting an Arcan ALJ3T for your garage!

The capacity of 3 tons
Smooth and fast operation
Dust shield designed to prevent contamination
Foldable handle for easy storage
Strong materials for more stability and durability
Competitive price
The handle tends to flex
Some issues with the proper fit
Powerbuilt Lug Wrench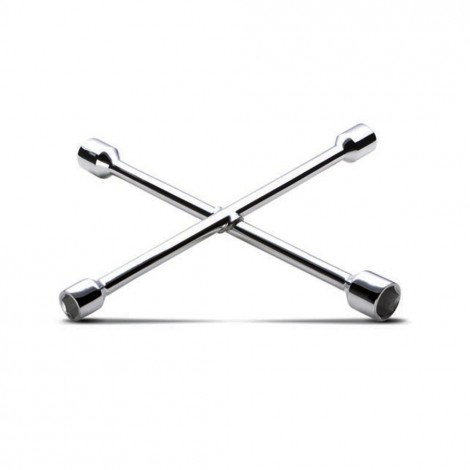 Once you
lift your vehicle
, you'll need a lug wrench. This tool will help you loosen the nuts and remove the wheel so you can access the brakes. If you're not sure which lug wrench to get, we have a perfect one in mind. Powerbuilt is the first choice of most mechanics, which is why it's so popular and well-rated. For more information about the product, keep reading our review!
Expand to see more
Easy to Use
This 14-inch lug wrench designed to easily tighten and loosen the nuts. We also find it very handy when it comes to removing seized bolts. It includes lugs in 11/6, 3/4, 13/6, 7/8 inches, which makes it rather versatile. You get to use it on almost every car type.

Compact Design
This one is quite small and lightweight. The compact design makes it easier to maneuver. It's constructed from forged steel. The handles are made of chrome that is rust- and corrosion-resistant. They give the necessary security while they also ensure a longer lifespan. Additionally, the handles are comfortable and reduce hand fatigue.

Keep in mind that a compact tool like this doesn't offer long handles. This could be an issue for some buyers. If you need a long-handled model, this won't satisfy you. Still, you can use it as an addition to your toolbox.

Cost and Value
This is a high-quality lug wrench suitable for both professionals and DIYers. It's designed to withstand heavy use and last for many years. With it, you get to work on almost every car model as well as on other objects around the household. On top of all that, the tool is cheap, and everyone can afford it!

Great for regular and seized nuts
Versatile
Compact design for easy use
Made from durable steel
Corrosion- and rust-resistant
Cheap
The handles are not too long
Tekton C-Clamp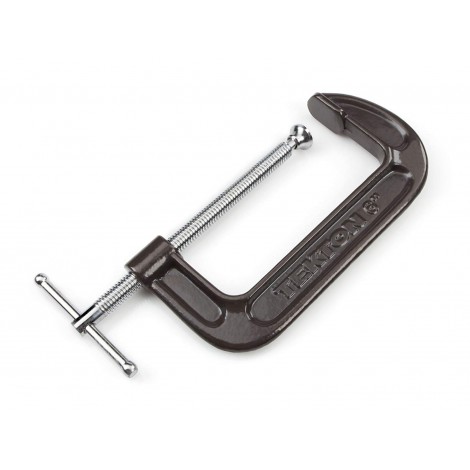 We already mentioned that you need a brake pad spreader or a C-Clamp to compress the calipers. Now we have an excellent C-Clamp for you, and it comes from a good old Tekton! This tool is reliable, easy to use, and durable. It's also rather versatile, as you get to use it for many household projects.
Expand to see more
Versatile
This tool is super versatile. You get to
use it for car repairs
, woodworking, cabinetry, and other applications. It's very sturdy and ensures exceptional performance. It's designed so that the applied pressure is evenly spread through the object. Therefore, you'll get the job done in a breeze, and you'll do it with great accuracy.
Sturdy Construction
The C-clamp is made of iron and has a reinforced frame. Thanks to the I-beam design, it's sturdy and quite durable. We also liked the construction of the screw. It slides into the tool smoothly without binding during the process.
Also, the handle ensures a firm and secure grip. It will give you more leverage and some extra confidence.
Cost and Value
This is dirt cheap, so we highly recommend trying it out. Although professionals will probably want to get the high-end option. This one is mostly designed for light jobs on small vehicles and other objects around the house.
Suitable for different job types
Strong and efficient
Made of iron and has a reinforced frame
High-quality parts
A firm and comfortable grip
Cheap
Not a high-end professional tool
Criteria Used in Evaluation of the Best Brake Tools
Our ten best list is the product of long and thorough research. Our best picks are ranked from 1 to 10 according to the strict criteria. To give you the most accurate results, we had to test each product and compare them all together. Here are some of the things that influenced our final decision:
Performance
All products on the list are different, so we had a hard time ranking them. How can we compare tools designed for different purposes? Well, we didn't compare them at all. We ranked them according to their performance. Regardless of their purpose, the most powerful tools are at the top of our list. They are efficient, accurate, easy to use, and much more. From lug wrenches to socket sets, our picks are ranked according to their performance.
Versatility
The second most important thing was to determine how versatile are our picks. The best tools and accessories should be suitable for different vehicles, machines, and other objects. Also, they should allow for many different applications. The ones that are not limited to car repairs are more useful.
Ease of Use
The design of every tool and accessory is very important. It makes the item secure, stable, and comfortable to use. Also, it eases whatever job we have to perform. Having an easy-to-use tool for car repairs is crucial. Most of the mechanic work takes time and a lot of effort. Having a tool that can ease the process is a big advantage. Therefore, the products that allow for easy use made it to the top of our list.
Cost and Value
To give you a complete list, we also examined the cost and value of every product. We wanted to provide some extra tips so you can choose the product according to your budget as well. Hopefully, this will help you choose a perfect tool for your needs!
Other Factors to Consider
Before you make up your mind and get some of these amazing tools, take a few moments to consider some other factors. They'll help you choose the perfect product and be sure that you made the right decision. Let's do it together:
Job Type
First thing first, you should determine for what purpose you need any tool or set. Some of the tools that are necessary for brake repairs can be used for other purposes as well. For example, you can get a versatile C-Clamp tool you can use not only to compress the calipers but also for making furniture, metalworking, and other applications. Consider your job type and how versatile your tool has to be. Also, it's sometimes better to get the entire set if possible. It gives more options, and it's way more versatile than just one tool with a lot of adapters.
Tool Type
Now, it's important to determine what you need from a tool. Compare the design of every available product. You should get the one that will feel comfortable and secure. You'll spend hours on your brakes no matter which repair you have to do. Therefore, you need tools that won't cause fatigue. Consider your expectations and look for the best-designed tools!
Working Space
We all want for our tools to last for many years. However, depending on the working space, you might need more protection for your tools. For example, if you're working in a harsh environment, you shouldn't get entry-level tools and accessories. They'll break, wear, or malfunction rather quickly. You should opt for heavy-duty products that can withstand daily abuse. Consider the threats that your tools might be exposed to and then pick the tool accordingly.
Budget
Of course, your budget will influence your decisions. Still, if you can add some extra cash to get the best brake tools, go for it! Getting the best tools for mechanic repairs is a matter of safety. You want to be safe during the process, and you want what's best for your vehicle as well. Adding a few more bucks on these tools seems like a smart choice!
FAQ
Frequently Asked Questions
Q: What tools do I need to work on the brake system?
A: How many and which tools you need will depend on the type of job. The requirements will differ according to the type of repairs. However, there's a list of some tools you'll need during most of the brake repairs.
The first and most important is a car jack, of course. You need a quality tool to lift your vehicle and allow you to access the brakes. Also, you'll have to get a pair of jack stands for additional support. You want your car to be completely stable and secured on the jack.
Now, when it comes to the repair itself, you'll need a general-purpose toolset. These include wrenches, pliers, and other tools you might need at some point. You'll use having it within your hand's reach.
Don't forget to get a socket set as well. You'll be dealing with many bolts and nuts, and a socket set is a must.
Let's not forget a brake spreader tool or a C-Clamp. This little tool will help you retract the piston and remove brake pads.
When it comes to wrenches, you'll need a torque wrench, a lug nut wrench, and Torx or Allen type. These tools will help you remove bolts and nuts and apply a proper torque value.
Lastly, don't forget to use gloves, protective glasses, and other accessories to keep yourself safe during the process!
Q: What are disc brake caliper tools?
A: The brake caliper tool is used to retract the piston back into the caliper so you can easily remove and replace the brake pad. You can't just push the piston back into the caliper. This piece is quite sturdy, and you'll need a secure and strong tool for the job. That's why it's not recommended using tools such as pliers and regular wrenches for the job. The brake caliper tool will perform this action in a breeze, saving you quite some time and effort.
Q: Which brake line tools do I need?
A: As you already know, brake lines carry fluid from the master cylinder to the other brake parts. Due to damages or use itself, they can sometimes cause leaks. If you think you can handle the issue all on your own, you'll need a few tools for the job.
A set of wrenches is a must, and you'll probably need a hex type. To replace the brake line, you'll have to loosen fittings on both sides so you'll need at least two wrenches. Also, you have to have a tube cutter to cut through the line. Make sure to get the quality one so you can achieve a clean and perfect cut.
That's about it for working on the brake line. If you're going to perform a more complicated work like brake flaring, you'll need more tools for the job.
Subscribe to our Newsletter