Best Breathalyzers Reviewed & Rated for Quality
last updated:
Jun 07, 2019
We all like to go out with our friends and family and have a drink or two. It's just part of the fun! People get to relax from our daily responsibilities and enjoy some quality time with our loved ones. But going out for "one drink" rarely means one glass of alcohol. It soon turns out to be round after round, because nobody is really counting! If you haven't counted or you just had some good time, we recommend trying out some of the best breathalyzers out there.
To err is human after all! It's completely normal for us to take advantage of these short moments of relaxation. However, there are still some things we shouldn't allow ourselves to do at any cause. Driving while at the influence of alcohol is definitely the first one on the list! Even with the high road traffic control, intoxicated drivers still cause most accidents. They don't only bring themselves in danger, but they also jeopardize other people's lives! Keeping every driver and passenger safe should be the top priority of each one of us. That's why we recommend using a breathalyzer!
Featured Recommendations of Breathalyzers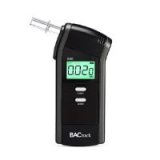 BACtrack S80

Our rating
Impressive Accuracy
Price:

See Here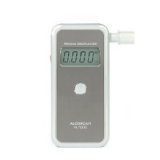 AlcoMate Premium AL7000

Our rating
Modern Technology
Price:

See Here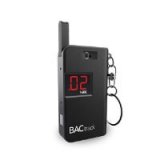 BACtrack Keychain

Our rating
Compact Design
Price:

See Here

Even when a huge amount of alcohol gets in our system our brain is still saying: "You're okay, not drunk at all!" That's the common mistake among drivers. They think that they're capable of driving, but the truth is quite the opposite. That's why it's so useful to have a little device like a breathalyzer. If this little device says you're over the line with alcohol and you need to take a rest, you're probably going to do it. Why is that? Well, maybe you only need a reminder of how dangerous alcohol could be. A breathalyzer is certainly a good and responsible friend that will try to warn you about this!
Now that we concluded why these devices are essential for every driver, we can get to the part of choosing one. Although this could take a while, it should be fun – or at least technophiles will enjoy it to the fullest! No matter if you're a techie or not, we prepared a list to make your task a lot easier. It contains reviews of 10 best breathalyzers on the market. Hopefully, it will help you find the perfect one for your personal needs!
10 Best Breathalyzers
BACtrack S80
If you want to have the same accuracy as the police, BACtrack is a perfect option for you! This company uses the same technology as law enforcement, hospitals, and other institutions. This makes all their products completely reliable and very useful. We were stunned by the accuracy that comes with this particular device! Although we should have been prepared for it - almost the entire market is thrilled with this product!
Expand to see more
Impressive Accuracy
So what does it test? It detects the amount of alcohol and BAC from your breath and gives you the most accurate numbers. It's so precise that goes to the third decimal place – it shows the BAC range of 0.000 to 0.400%. We know, it's very impressive!

You'll be pleased to know that BACtrack also passed several tests for reliability and durability. It performed quite well on all of them which means that it offers excellent accuracy in the long term. What else could we ask for?

Easy to Use
All you need to do is to power the device by using included AA batteries. It's simple as that! The device does the rest on its own and gives you the readings on the convenient LCD screen. There are two buttons on the front that allow for simple power up and mode change. The only drawback is the fact that you'll have to wait around 20 minutes to use it. But that's a normal thing with every breathalyzer. None of them will give you the correct results if you use them right after the drink!

Cost and Value
The accurate device like this doesn't come at a low price. If you want the same precision as police officers and medical staff you'll have to add some extra cash to get it! You'll get a 1-year warranty if that gives you more peace, but not like you're going to need it with this top-notch product. The package also includes 6 mouthpieces so you can borrow the device to your friends and family!
As powerful as professional police and hospital equipment
Impressive accuracy
Reliable and durable
One-button operation
Convenient LCD screen
Includes 6 mouthpieces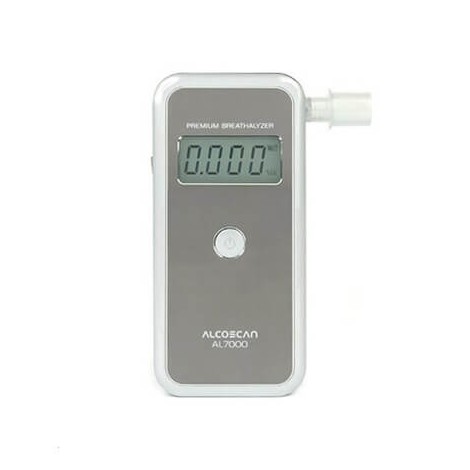 Another highly popular device comes from AlcoMate. They produce such a wide range of breathalyzers that we had a really hard time to pick only one of them! We decided on this one for several reasons, including sleek and modern design. The first and most important was the excellent accuracy and reliability, of course! We provided a more detailed explanation and review below, so make sure to check it out.
Expand to see more
PRISM Technology
What we liked the most about this product is a unique PRISM Technology. The device relieves you from the problem of re-calibration. Most of the other devices lose their accuracy over the years and often require manual calibration. That's not the case with AlcoMate! This device offers a convenient and replaceable sensor panel. You can change the panel manually, and that's about it with the calibration. Yes, you read it right! You don't have to bother with returning the product no more. This design allows for quick maintenance and guarantees more accuracy over the years. Also, this makes AlcoMate stand out from most of the competition!
Easy to Operate
This unit is very easy to operate! There's a power button at the front and that's about it. You only need to push it once for the device to start working. There's also a 4-digit LCD display that allows for accurate readings. The numbers are bright and they pop up a few seconds after the test. Although some users are not satisfied with the fact that they have to wait around 20 minutes after the drink to perform it. We say it's normal if you want the most accurate results!
The device is powered by 2 AA batteries and turns out to be very compact. You can take it with you wherever you go and make sure to be safe on any occasion. Also,
you'll get a car adapter
in case you need to recharge the device while on the road!
Cost and Value
Once again we have the product with a higher price tag. This could be a big drawback for those on a limited budget. Although great value is waiting for you! You'll get a 1-year warranty and a breathalyzer that is unlikely to malfunction for years. Who could ask for more?
Simple re-calibration for improved accuracy
Very precise
Easy to operate
4-digit display
Compact and portable
Comes with a car adapter
BACtrack Keychain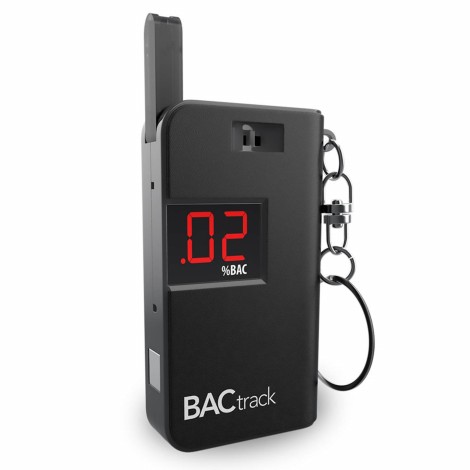 All those who are searching for a compact breathalyzer can finally take a pause! We have a perfect device for you, housed in a tiny box. You get to carry it around on a keychain and perform the alcohol test wherever you are. As you know, the compact device allows for more portability and it's way more convenient. It's much harder to lose it when you have it stored with your other keys!
Expand to see more
Reliable and Accurate
Just like the other BACtrack products, this one offers reliable and accurate results. You'll be able to determine the amount of alcohol in your system in a matter of seconds. We were actually surprised how powerful and accurate this device is. It needs only 10 seconds to warm up, and it's ready to take the most precise test. The battery lasts for about 150 tests, which is very impressive for the tiny device like this!
You should only make sure to use the battery properly. It seems that it malfunctions if you use it non-stop. Follow the manual which says that you should wait for a few minutes between every test! The other drawback is the fact that you'll have to send this unit for re-calibration every month if you use it on a daily basis. If you don't use it so often, you could get 6 months out of it without any issue!
Keychain Design
There's nothing easier than storing this little breathalyzer!
You can hang it on your keychain
and bring it everywhere with you, ensuring a safe ride every time. It also fits purses and pockets which is quite convenient. There's no hassle at all with this device! It's easy to use, compact, and very portable. One simple push of the button powers it up, the LC display shows you the numbers, and that's about it.
Cost and Value
Once again, BACtrack made sure to put all their effort into producing a high-quality breathalyzer. We are really thrilled with this little device, and you're going to love it too! As if all the mentioned wasn't enough, we have more great news. This BACtrack comes at an attractive price! You might as well be tempted to order several pieces for your family and friends. Also, you'll get three extra mouthpieces if you want to test other people using one device.
Reliable and accurate
The battery lasts for 150 tests
Compact design
Portable
Easy to use
An attractive price
The battery could malfunction if you don't use it on a proper way
Needs frequent re-calibration
BACtrack Trace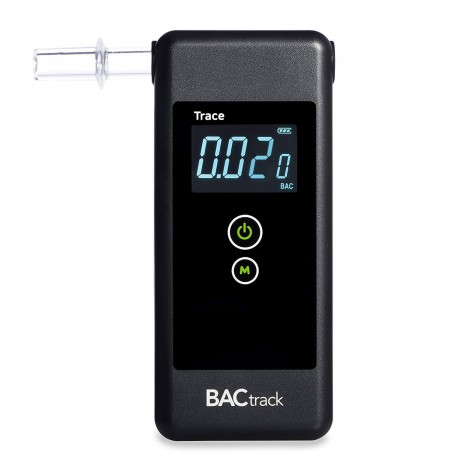 We know what you're about to say, another BACtrack product! Yet, we couldn't help ourselves because they are such a great company. You're about to see why we have chosen this particular model and not countless others our there. Not only that you're going to understand us completely but you'll find it irreplaceable!
Expand to see more
Everything You Need
All BACtrack breathalyzers offer the same top-notch accuracy. They are equal to the performance of professional police equipment. Things are not different with this particular model, and we couldn't find any flaw in its performance. It tracks the amount of alcohol from 0.005 to 0.050 which is quite good. You're also going to love its compact design that allows for excellent portability. All in all, you'll get everything you need with this BACtrack product!
Unfortunately, this one doesn't have self-calibration. You'll have to send it on re-calibration every 6-12 months. We don't find this as such a big drawback but we get why people are annoyed with it!
Great Memory
This one is very easy to use thanks to the one-button design. It's powered by 2 AAA batteries (included in the package) and once you turn it on, it does everything on its own.
The results come out on the simple LCD screen
and they are quite bright. You won't have any difficulties with reading them at any day or night time. This device also has one unique feature – it can memorize up to 10 last readings! This is very useful because you get to compare your results anytime you want. We loved it for it!
Cost and Value
Such a high-quality product just had to be on the expensive side! If it's any consolation, this model is definitely not among the most expensive ones. It won't be too hard on your pocketbook!
Outstanding accuracy
Compact
Portable
Easy to us
Memorizes up to 10 last readings
Requires re-calibration every 6-12 months
Pricey
AlcoMate Revo Fuel-Cell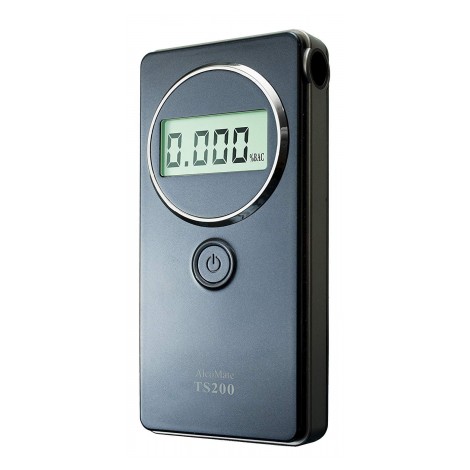 Low maintenance, the most accurate results, simple design, and easy to use – it seems like a real deal! AlcoMate Revo Fuel-Cell offers all these things, keeping you safe from unwise decisions all the time. You're going to love it, just like all other AlcoMate products!
Expand to see more
Easy Re-Calibration
First thing first, the best thing about this breathalyzer is definitely PRISM Technology! The device comes with replaceable sensor modules to allow for easy re-calibration. You don't have to send the product for maintenance every 6-12 months (or even less) no more. Simple replace these intelligent modules and enjoy the high accuracy all the time. You'll be more than satisfied with the accuracy range from +/-0.005 to 0.10 g/dl.
User-Friendly
This AlcoMate product fits everywhere, from purses to pockets. The compact design
allows for more portability and improved safety!
The device is pretty straightforward. There's one power button you get to press when you want to run the test, and that's about it. The sensor modules are easy to change and the display is easy to read. All in all, it's a user-friendly breathalyzer designed to meet your every need.
Cost and Value
Here we come with the biggest drawback. This breathalyzes will cost you an arm and a leg! Of course, it provides outstanding accuracy and the performance worth admiration, but most people avoid it because of the high price. However, if you do have that amount of money to spend, we say go for it!
Sleek design
Replaceable sensor modules for easy re-calibration
Outstanding accuracy
Compact
Portable
User-friendly
BACtrack C6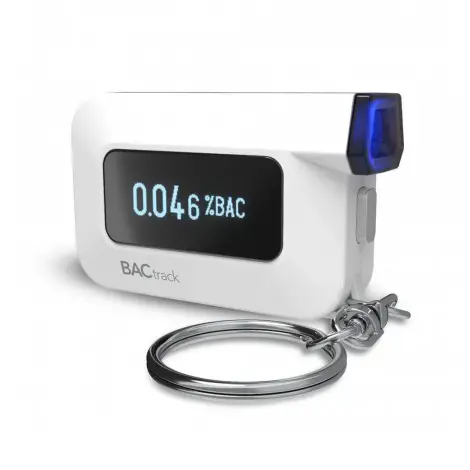 If you're searching for more accuracy yet you want a compact device, BACtrack C6 is a perfect option for you! This little breathalyzer offers performance and reliability equal to professional equipment. That can give only a reliable company like BACtrack! The compact design wasn't made on the expense of outstanding accuracy, so you'll definitely be thrilled with this little gadget!
Expand to see more
High Level of Accuracy
If you take a look at our previous reviews you'll see that BACtrack uses only the best technology for production of breathalyzers. They offer a high level of accuracy you'll find only with professional equipment. This particular device also comes with the phone application. Users all over the market are thrilled with it! The app gives you more options, including the ability to call an Uber. Yes, you read it right, you can call it straight from the app!

Simple Design
We already mentioned that this is one of the best compact breathalyzers. It offers a straightforward design for simple use and comes with durable batteries. All in all, you'll be quite satisfied with it, especially considering its portability. However, we have to address some issues you should consider before the purchase.

Although the device is super accurate, it could give some confusing results from time to time. It seems that it performs the best when it needs to count how quickly you'll get to 0%. The other drawback is the design of the button. Sometimes it gets stuck in app mode and you need to hold it down for an eternity to get back to the blow mode.

Cost and Value
Except for being accurate and portable, this tiny device will also be easy on your pocketbook. The company stays behind their products so they also include a 1-year warranty. This allows for making small presents to your friends and family, reminding them to drive safely!
High level of accuracy
Includes a phone app
Compact design
Easy to use
Easy on the pocketbook
The results are sometimes confusing
The button sometimes get stuck in the app mode
AlcoHAWK Slim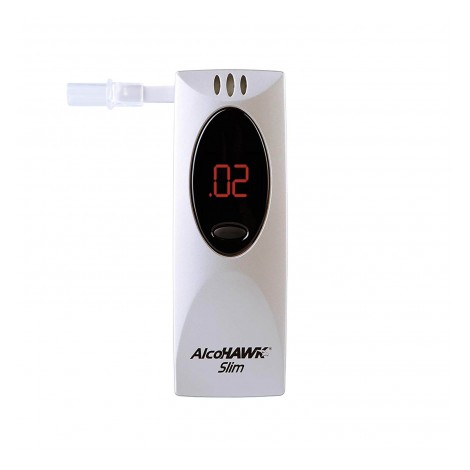 If you're searching for an affordable breathalyzer that will give you a satisfying level of accuracy, AlcoHawk definitely meets your needs! We were actually impressed with how precise is this device. It proves to be useful in many situations, and not only because of the compact design. You can't go wrong with it!
Expand to see more
Great Performance
As we mentioned earlier, this device offers great performance.
It should keep you safe
from driving intoxicated, and it does that quite well! The unit is pretty simple, you can turn it on and off with one button and see the results on a convenient 2-digit display. You'll only have to wait for a few moments before you take a test because it needs some time to warm up!
Sleek Design
When it comes to its overall design, we don't have any complaints at all! The exterior is made of resistant ABS plastic. It can withstand quite a lot so you don't have to worry too much about how you store it. You should be able to carry it around with great ease because it's not bigger than an average phone. It also offers a sleek design that's not so noticeable. This is great if you don't want anyone to see you're using it, although there's no reason to hide how responsible you are!
Cost and Value
This little breathalyzer is a great budget-friendly option. It's not the most accurate device on the market, we give you that, but you can't really beat it for the price!
Great performance
Easy to use
Simple and convenient LED screen
Sleek design
Made of resistant ABS plastic
An attractive price
Needs some time to warm up
Not the most accurate device out there
BACtrack Mobile Smartphone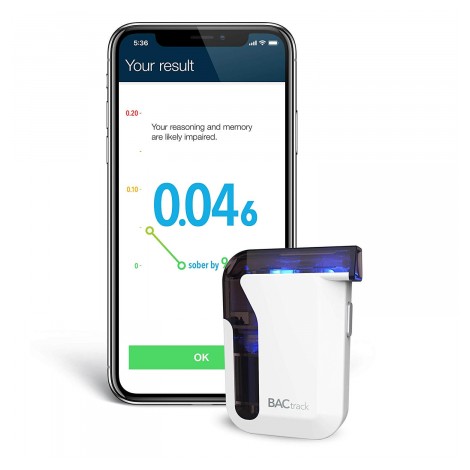 BACtrack offers another keychain-sized breathalyzer to meet your every need! This little gadget comes with a set of seriously good features. It ensures that you don't get anywhere near your car when you drink. You're going to like it for many reasons, and mostly because of the super useful phone app!
Expand to see more
Bluetooth App
The little gadget offers an app that
works over Bluetooth
. You don't even need a network connection! This makes it even more useful because you get to use it anywhere. The app gives you more options than the unit itself. For example, there's a great feature that measures how quickly you'll sober up. We shouldn't forget to mention that this device allows for simple recharges. This makes it stand out from most of the competition that comes with one-use batteries! All in all, it's super efficient and does the job very well.
We should only warn you not to expect too much from it. The app is a little old and the connection is not as strong as we would like it to be. This could annoy you a bit, although the app itself is very useful!
Keychain-Size
The size of this device is very convenient. You can hang it on your keychain or carry it in your pocket, wallet or purse. The possibilities are endless because of its portability! It also comes with a somewhat futuristic design,
with a blue LED light
that shines through the transparent plastic part. We know this isn't as important as safety, but a nice-looking device is always a plus!
Cost and Value
Although this BACtrack product is not as pricey as other high-end breathalyzers, we have to complain a little bit. This comes from the earlier mentioned problem with the app. For the price, we would really like to see a better-designed app that won't have connection issues!
Accurate
Bluetooth app
Calculates the time needed for 0% BAC
Convenient size
Portable
Modern design
App connection issues
Pricey
AlcoHAWK PT500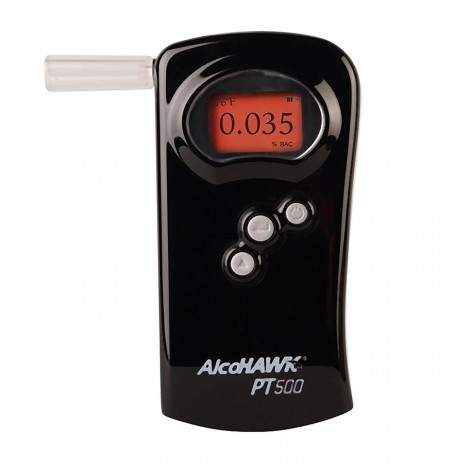 If you're searching for a device with a bigger screen and more buttons for easy operation, look no more! AlcoHawk PT500 has all the necessary features to be a simple yet powerful device. There are all those buttons to help you go through different modes with great ease. And the screen is super bright so you get to read the results at any day or night time. You'll love it as soon as you see it, so make sure to check out the pictures and our detailed review!
Expand to see more
Outstanding Accuracy
The PT500 has excellent accuracy and could stand up to any professional equipment. The company wanted to achieve the same results as the police and medical staff. That's why they used the modern technology for producing this one. The results are rather impressive – PT500 allows for 1000s of most accurate tests!
We would only like to see it with a more durable exterior. The plastic parts seem a little fragile like they could easily break. It comes with a case, though, so it's not a deal breaker!
Easy Handling
This one is not as compact as keychain-sized breathalyzers but that's why it offers a bigger screen and three operation buttons. They allow for easier handling than most of the competition. You can turn on and off the device and switch between modes using separate buttons. Except for the test option, you can set specific alarm points and see the previously taken tests. Super cool, right? We loved it!
Cost and Value
The big drawback of this impressive device is definitely a high price. You'll have to add a few bucks to get it, although the package includes some useful stuff. There are replacement batteries and 5 extra mouthpieces. You never know when will some of your friends or siblings need to borrow
your super useful device!
Excellent accuracy
Modern technology used in the construction
Easy operation
Big screen and more buttons
Memorizes previous tests
Comes with extra batteries and 5 mouthpieces
Plastic on the outside seems fragile
Pricey
iSOBER 30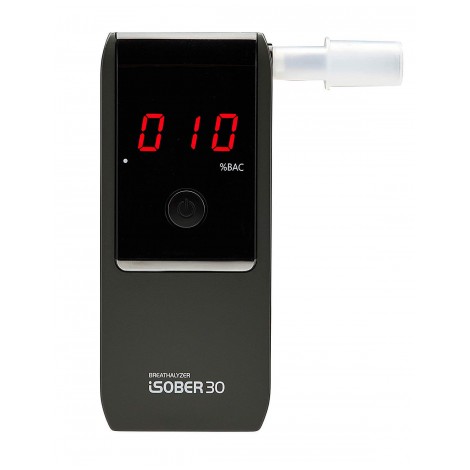 Last but not least, we have an iSober breathalyzer that's well worth your attention. If you want a no-nonsense design and accurate readings, you can't go wrong with this one. It offers great performance, precision at any time, and modern design. What's there not to like?
Expand to see more
Simple Design
This is a
simple device
that offers accurate results thanks to the modern Fuel Cell Sensor Technology. To put things simply, it's designed to operate smoothly for an extended time. We were quite surprised (and excited) with its precision and durability. This launched it straight on our top 10 products list!
Keep in mind that you'll have to send this device for re-calibration more often. It's not a big issue, but the company didn't notice the customers about this. It should be in the product's description!
Suracell Sensor
This one is compactly designed and very portable. There's a button on the front for simple power up and the device has an automatic power off feature to save energy. The 3-digit display is very bright and easy to read. We shouldn't forget to mention the innovative SURACELL sensor. It makes the unit more durable and ensures the most accurate results even at the highest and lowest temperatures!
Cost and Value
This one is so well priced for the value it provides! You'll get 5 replacement mouthpieces, a pouch for more protection, and the comprehensive manual. It's basically all you need for undisturbed performance and easy usage!
Simple design
Modern technology for improved accuracy
Durable
Compact and portable
Suracell sensor for improved performance
An attractive price
Needs frequent re-calibration
Criteria Used in Evaluation of the Best Breathalyzers
In order to rank our best picks, we had to examine and compare all their features. This wasn't an easy task, especially because these little devices have a lot to offer! Our main goal was to rank them according to their overall performance and to do so, we had to apply strict criteria. You can take a little peak and find out more about the criteria used in the evaluation:
Performance
Our first task was to determine how accurate is every product on our list! Precision is the most important thing with all breathalyzers. If they can't offer it, they are not doing their job well! As we included only the best products on our list, they all provide excellent performance. However, there are still some differences between them. We tried to hold to those minor differences and rank them accordingly!
Design
The second important thing was the design and portability of every product. They don't only have to be compact and portable but also easy to use. Imagine clicking those little buttons when drinking? It could get pretty difficult, right? That's why the interface has to be intuitive and the screen large and bright enough to be easy to read from it. You should also be able to carry them around with great ease! We thought about all these features and then assigned some points to the products. The more user-friendly device is the higher is on our list!
Cost and Value
The first-class breathalyzers can turn out rather expensive! Don't get us on the wrong way, we think they are worth every penny – they allow for safety measures after all. Our concern was something else. We had to make sure that every product on our list offers enough value for the money. That's why we paid some special attention to the balance of cost and value of all breathalyzers. You'll see a detailed review along with every product, but you should know that the most valuable ones are at the top of our list!
Other Factors to Consider
Have you already found your favorite breathalyzer? We didn't doubt for a second! There are so many outstanding devices on our list that was just hard to resist them. However, you should still take a few more steps to make sure you made the right decision! We promise, it will take only a few moments of your time but it's very useful. You get to be satisfied with the product or even change your decision completely! Here is what we have in mind:
Reliable Results
First thing first, you want to know whether a particular device offers enough power and precision to meet your needs. Read the product's description carefully! You'll want to get the most accurate device out there, the one that can give you the exact readings in a matter of seconds. You can make a compromise with other features!
Easy-to-Use
The chosen device has to be easy to use. This is especially because you don't know whether you're going to be completely sober when using it or not! The screen has to show clear and bright numbers, and the buttons have to be intuitive. Don't let anything to the chance! Think about all the features that could make this little device easier to handle.
Calibration
Don't forget to check whether a particular device requires professional re-calibration or you can do it yourself. It's important to determine this before the purchase. If you don't want to send the device on calibration every once in a while, you should aim for the one that offers replaceable sensors! On the other hand, if you opt for more accuracy you'll have to make some compromise. Only the professional equipment offers perfect performance and that means professional calibration! You'll be sending the device every few months or so.
Other Features
Don't forget to think about the additional features you expect from a breathalyzer. For example, you should ask yourself whether you want an app with this device or not? What size do you need? Would you prefer a keychain-size or a phone-sized one that you can't lose so easily? What about a memory feature that lets you see your previous test? Think about all these features and what you would like to heave. Then you'll be able to pick the perfect product to meet all your needs!
FAQ
Frequently Asked Questions
Q: Why use a breathalyzer?
A: This is an excellent safety device that allows for accurate BAC measurements. It's very useful when you're out having fun with your friends and family and want to take a few drinks. In these situations, it often happens that we can't determine whether we had enough or not. There's where a breathalyzer steps in! It warns us about the BAC in our system and whether is safe to sit behind a wheel or not. However, this device is not only designed for drivers. Most people use it to determine how alcohol affects their bodies. You won't believe how useful it gets once you try it out!
Q: What does BAC stand for?
A: It stands for Blood Alcohol Content or Blood Alcohol Concentration. When we refer to BAC we are talking about an amount of alcohol in your system. That's why you see this quite often in the description of breathalyzers!
Q: Are these compact devices really as useful as they seem?
A: Yes, they are! Some of them are actually as accurate as police or medical staff equipment. With first-class breathalyzers, you can determine the BAC with the impressive precision. You'll only have to add a few more bucks to get them, but we promise you – it's well worth it!
Q: Should I drive if my BAC is under the legal limit?
A: Most people wrongly assume that it's safe to drive if their BAC is under the legal limit. Don't make that mistake! Use the breathalyzer to test the level of alcohol in your system and then use it again until you get back to 0%. You should drive only when you're 100% sober! Breathalyzers are more like a safety test, you shouldn't use them only to make sure not to get charged. Even the slightest amount of alcohol still influences your motor skills and cognitive abilities. Think about you and other drivers' safety and always drive completely sober!
Q: Are there any tips for better use of a breathalyzer?
A: As you already know, this device is very easy to use. You only need to blow through the provided mouthpiece for around 5 seconds. After another 5 seconds or so, you'll get the BAC results. Usually, you should wait for around 5-10 minutes between each test. This allows for better accuracy and also makes the device more durable. Also, you may hear by now that some users complained about having to wait up to 20 minutes for a test, after having a drink. We have to say that this is completely normal.
You'll have to wait because the alcohol in your mouth is still too strong. Of course, you'll get inaccurate results! When it comes to maintaining the device, we can give you one useful tip – don't forget to send it for re-calibration. You should do this every 6-12 months depending on how much you use it. This will prolong the device's lifespan and allow for the most accurate results. However, if you get the device that offers for self-calibration, this step is not necessary at all!
Subscribe to our Newsletter