Drill Presses Reviewed & Rated for Quality
last updated:
May 30, 2019
A hand drill is a necessary part of every handyperson's tool kit. It's one of those tools that we use on a daily basis, from simple repairs around the house to car fixing. Yet, drilling a hole with one hand doesn't always give us the needed accuracy. We all get to the point when we want more of our DIY work or better results in the professional area. We can't really do that using a hand tool, can't we? That's were a drill presses steps in! This great tool allows for more accuracy than we could ever achieve using bare hands. Craftsmen, jewelers, artists, and other professionals use it all the time. They know how amazing is having one of these tools in your tool arsenal, and you're about the find it out for yourself!
Featured Recommendations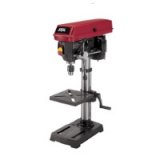 Skil

Our rating
Outstanding Accuracy
Price:

See Here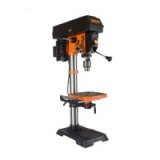 Wen

Our rating
User-Friendly
Price:

See Here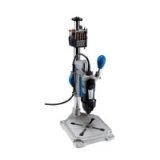 Dremel

Our rating
3-in-1
Price:

See Here

If you're here because you want to get a quality drill presser or you want to replace your old one, you came to the right place! We made a list of 10 best drill pressers we could find on the market at this moment. Our main goal was to ease this tiresome searching process for you. Hopefully, our list will save you some time and help you find just what you need! Here are our best picks:
Best Drill Presses
Skil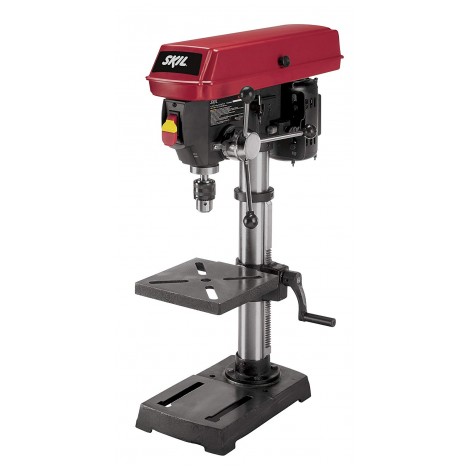 Our first pick is ideal for every hobbyist and DIY enthusiast who needs an entry-level machine! It is a laser-guided drill that allows for great accuracy and professional results. You can use it to work with a variety of materials and it never fails to deliver outstanding performance. Therefore, if you want something that is easy to use yet powerful and accurate, you have just found it!
Expand to see more
Accuracy
Skil comes with a stable base for easy drilling and more precision at every project. You don't have to hold the material and tire your arms anymore! Simply put it on the work surface and use the laser guide to mark the holes. The laser is useful because it shows you where the hole is supposed to be and prevents mistakes. Also, we personally love that the work surface tilts left or right from 0° to 45°. This allows for easy angled drilling.

The assembling part is quite easy. Skil comes with all necessary instructions so you won't have to guess what goes where. They also explain how the machine works, so they pretty much covered, everything. The tool runs smoothly, without too much noise and rocking movement when drilling. It is also quite portable and easy to store, unlike other bulky presses. You can even transport it without any issue!

Adjustable Features
The head of the unit is adjustable and it can accommodate different drill bit sizes. You can change it according to the working material and get the perfect results. It's that easy! The tool won't damage the material, a drill bit, or itself for that matter. Thanks to the half-inch keyed chuck you can loosen or tighten the jaw of the drill with great ease. What's even more important, the tool lets you choose between five speeds, from 570 RPM to 3,050 RPM. This is crucial because it makes the tool quite versatile. It's suitable for a variety of materials such as metal, wood, plastic, and more. You can bore holes whenever you find it convenient thanks to the speed adjustments!

However, we have to address that changing the speeds could give you some hard time before you figure it out. Once you get the handle of it you'll change them quickly, but we would like to see a button for this feature!

Cost and Value
Here comes the best part – this drill press comes at an attractive price! Like all the other satisfied buyers, we were impressed with the value that comes for the low price. You'll get the tool itself, a chuck key, two AA batteries, a cast iron base, and a work table.
Keep in mind that this is an entry-level tool. Professionals who need a drill press for big projects will have to search for another option.

Stable base for easy drilling
Has a laser for improved accuracy
Easy to install and use
Portable and easy to store
5 speeds from 570 to 3,050 RPM
An attractive price
A speed changing option is tricky at first
Not suitable for big projects
Wen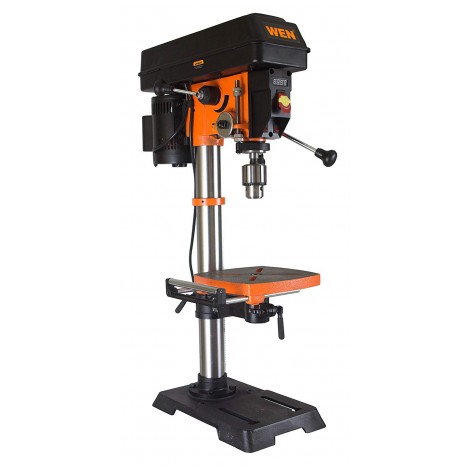 If you have never heard about Wen and their amazing power tools, now it the perfect time to check out their offer. It's a reliable company praised by countless satisfied customers. We included one of their amazing drill presses! It's one of those tools so versatile that both professionals and DIY enthusiast are going to love it.
Expand to see more
User-Friendly
Although this is primarily a drill press that bores a hole in wood, we find it quite versatile. It's also showed excellent results when drilling metal, plastic, and other materials. The results might turn out less perfect when working with industrial steel, dough.
That being said, Wen is very easy to use. It comes with a work table that allows for simple adjustments when you need to drill at the proper angle. You can also use a built-in laser to bore perfect holes in the material. Not to mention the adjustable chuck that adds to the already high accuracy of the tool. We especially liked the built-in work light. It illuminates the working area and the material. It makes working at night time a lot easier!
The only annoying thing is a little spring-loaded pin! It prevents you from accidentally leaving the key in the chuck, but it also gets in the way every time you try to adjust the chuck.
Simple Installation
The speed range goes from 580 to 3200 RPMS. You can adjust it to your personal needs and preferences. The tool works smoothly regardless of the operation mode or material. The installation is quite simple. The machine comes partially assembled so you won't even have to do many things. In case you don't figure it out immediately, the provided comprehensive manual will help you out.
Our only big issue with this tool is the lack of spindle lock. We were surprised to find out that it doesn't come with this feature. The manufacturer should definitely add it in the future!
Cost and Value
While it's not the cheapest option out there,
this tool is well-priced
and it won't be too hard on your pocketbook. Considering the value you'll get with the tool, we say it's a real steal!
Ideal for wood
Easy to use
Adjustable chuck and speed
Comes with a laser and work light
Simple installation
Well-priced
Issues when drilling steel and with the spring loaded pin
Doesn't have a spindle lock
Dremel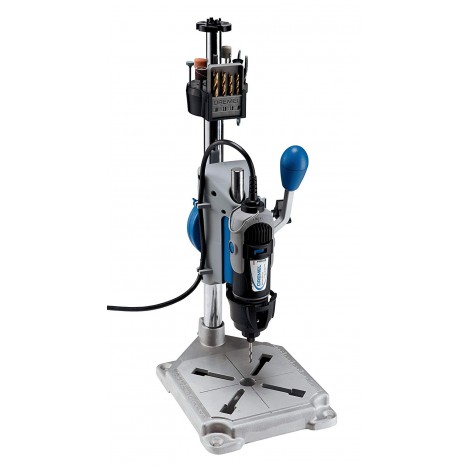 Dremel is one of the leading companies in producing all kinds of tools and accessories. You probably know them by some of their famous tool kits, don't you? Well, we have another one in our list, and it well deserves the top position! This time, Dremel offers a tool holder and a drill press. You can go for both or for only one of them according to your preferences. Both items are super useful and they will complement any tool equipment!
Expand to see more
3-in-1
This is a 3-in-1 tool that includes a drill press, a holder, and a tool stand. This drill kit is a perfect option for a variety of tasks, from polishing metals to wood decoration carving. It should be able to work with a variety of materials too. The holder keeps the drill in the firm position and allows for adjustments from 16 to 29 inches in height.
You should also know that other users tried to set up the holder with other drills and it works perfectly! If you have other drills in your tool equipment you can also use them in the combination with Dremel holder.
Easy to Install
The installation is rather simple, although you won't be satisfied with the manual. It will come with the product, but you won't find it useful at all.
When it comes to performance, this tool has a lot to offer. It can make holes perpendicular to the assembly or angled ones. The top of the entire unit comes with a storage nest. It's useful for keeping drill bits and wrenches when working with the machine. We find the market base is one of the best features. It will give you more accuracy when drilling.
The entire unit is sturdy and mainly assembled from metal parts. With the heavy metal base, you don't have to worry about the unit being unstable. However, the clamping parts are plastic and we are worried about the mounting point. It seems that we have to trust a single nut to keep the drill in its place. Other than that, it works perfectly and it should easily drill all kinds of materials.
Cost and Value
While this is not a heavy-duty drill press, it's perfect for light tasks. People mostly love it because of its versatility. It is useful for polishing, drilling, cutting, and more. It also comes at a
low price
! This makes it very popular among handypersons and DIY enthusiasts who would love to make it a part of their tool equipment.
Includes a drill press, a holder, and a tool stand
Suitable for tasks such as drilling, carving, polishing
Adjustable holder
Easy to install
Storage nest at the top
Low price
Concern about plastic parts
Jet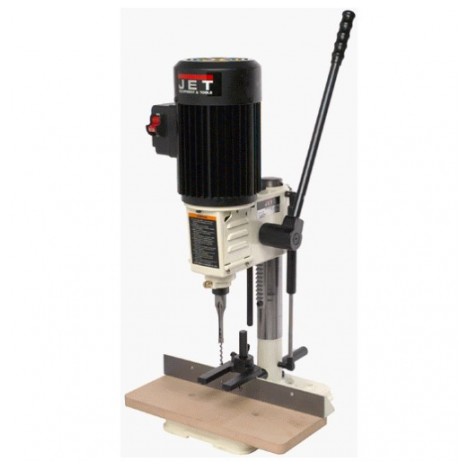 We have a great tool for all those who are searching for a quality mortise machine! This JET tool bores holes in every type of wood with great ease and accuracy. DIY enthusiast who would like to make some pieces of furniture all on their own will be thrilled with this tool. It allows for simple drilling so even the newbies can have professional results in no time!
Expand to see more
Easy to Use
The tool has a power of 1,752 RPM and runs on a half horsepower motor. It is super useful and offers outstanding performance! It can even cut square holes in the wood. How cool is that?
Jet is incredibly easy to use and offers professional results. Even the complete beginners will drill holes effortlessly. The mortising handle mostly helps with that. You get to adjust it according to your current task and materials to achieve better accuracy. Additionally, the box includes some chisels that are pretty sharp.
Sturdy Construction
This tool has an impressive and durable construction. High-quality materials ensure accurate drilling and a long lifespan. The head of the unit is super sturdy and gives more control over the process. The company used high-quality steel and iron for construction. The motor is placed in a steel case that dissipates heat and prevents overheating of the machine. There's also a control switch for improved safety, but you can remove it if you don't find it useful.
The installation part is quite simple. The unit comes pre-assembled and you only need to add a couple of parts on it. We would only like to see it with mounting hardware.
Cost and Value
Comparing to most of the drill presses that work with wood, this one is well-priced. However, things are different when we compare it to our previously reviewed models. Some people still might find it a little pricey. Although you should keep in mind that we are talking about entirely different models. If you intend on working mainly with wood, you should consider adding a few more bucks for a
quality tool
.
Powerful and efficient
Easy to use
Adjustable handle
Sturdy and durable
Overheating protection and control switch
Simple installation
Mophorn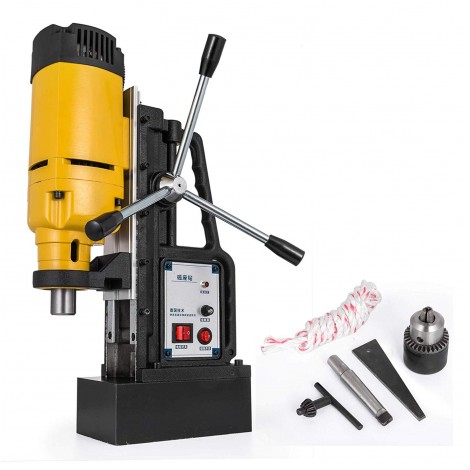 Here we have a magnetic drilling press ideal for professionals and hobbyist. It's one of those compact and versatile tools suitable for all kinds of tasks. You can use it at a construction site or install it in your small workshop for simple repairs. This tool does all the jobs perfectly!
Expand to see more
Easy to Operate
This tool offers 500 RPM and it works with all kinds of materials. The drill is easy to use, and it attaches or detaches from the magnetic base with a simple turn of the switch. Although we expected the worst, this mechanism doesn't make it flimsy at all! The magnets are strong and the drill stays firmly on its place during the drilling process. What users like the most about this product is the ability to finish any drilling process in a blink of an eye!
We only have to warn you that high-speed drilling has its flaws too. It seems that the speed is too high for large drill bits, and you will have issues with 1-inch ones. Also, keep in mind that this is not an every-day tool.
If you want something with more power to use on a daily basis
, you should search for another product.
Compact
The tool is rather compact and therefore very portable. It weighs around 20 lbs, which is rather impressive for one drill press! You get to move it around and store it at your convenience. The construction is solid and long-lasting. As we mentioned earlier on, the magnets are quite sturdy and you won't have any issues there. The package also includes some drill bits, but they are poor quality. If you don't have your own drill bits you should order ones separately.
Cost and Value
This is the best budget pick! Mophorn is one of the cheapest magnetic drill presses on the market and it offers outstanding performance. Sure, it's not perfect, but it does come with some great features that guarantee durability. Those who are on a tight budget are going to love it!
Easy to use
Stable and efficient
Compactly designed
Sturdy and durable construction
Good-quality magnets
Well-priced
Too high speed for larger drill bits
Not for everyday use
Delta
Another mortising machine comes from a well-known company! Delta offers a high-quality drill press that will complement any woodworking shop. It's designed mostly for professionals and complex projects, but everybody can use it. Delta simply doesn't disappoint when it comes to quality and flawless performance!
Expand to see more
Complex Projects
This tool is mostly designed for professionals and serious projects. However, serious hobbyists and handypersons can use it as well! It works on a half horsepower motor and generates around 1725 RPM. The rotating mortising head is designed to deal with more complex projects. There's also a hand lever for more positions when drilling. The machine is suitable for different wood types and shows the most accurate results. It can drill a hole and square the corners as well, which we find quite useful.

Users only struggled with the extension column that comes with the tool. It seems that the entire unit feels less sturdy when the extension is installed on it.

Easy to Set Up
This one is easy to set up and use. The head is adjustable and the jaws allow for simple drill bit replacements. Additionally, it comes with 4 drill bits and chisels which are actually pretty solid. You get all you need to use the tool straight from the box!
When it comes to the quality of the tool, we have to say that it is pretty durable. It's mostly made of metal which makes it heavy (around 77 pounds). This doesn't make it very portable, but the sturdy construction does prolong its lifespan!

Cost and Value
We can't deny that this tool is well worth the price considering its quality. But we have to admit that some users would have to search for a more affordable option. Don't get us on the wrong way, Delta isn't overpriced by any means. You'll just have to add a few more bucks to get it!

Powerful and accurate
Rotating head of the unit
Easy to set up and use
Simple bits replacements
Durable
Issues with the extension column
Pricey
Rockwell Shop Series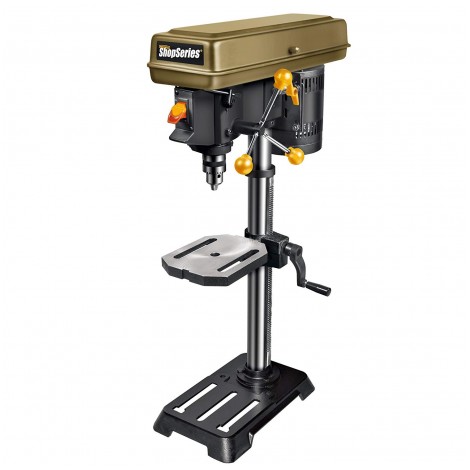 If you need a budget-friendly product that is also very powerful, we have a perfect one for you! Rockwell offers a durable machine that works with a variety of materials. It's an ideal option for small business and hobbyists who need accuracy in their everyday tasks!
Expand to see more
Versatile
This is a versatile tool that can deal with materials such as wood, metal, and plastic. It has a powerful motor and its speed range goes from 620 to 3100 RPM. You can adjust it according to your current task and get the most of your machine! It also comes with a lithium-ion battery and LED light. We really like that light that allows for better visibility during night works.
The only issue with the design comes from the motor that slightly vibrates. It's not such a big deal, but it might annoy you.
High-Quality Materials
The unit has a nice intermediate size. It's a bit heavy due to sturdy materials but not too much. It's made of high-quality and durable materials and comes with a sturdy iron work table. The assembling part is easy, but we find the provided instructions rather useless! Assembling the parts together is not rocket science, but we would like to see a more comprehensive manual.
Cost and Value
Those who are searching for an affordable drill press
for their household
or small business should definitely consider buying this one! It's probably one of the cheapest drill presses on the market and it offers impressive value. It also comes with a 2-year warranty.
Versatile tool
Powerful motor and 5 different speeds
A lithium-ion battery and a LED work light
Intermediate size
Durable
Inexpensive
Slight vibration
Comes fully disassembled and without detailed instructions
SE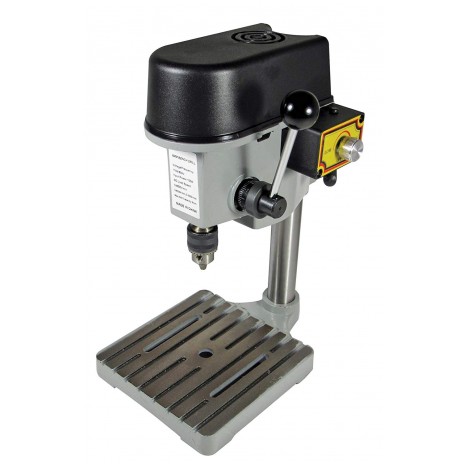 If you're searching for a mini drill press that could tackle small projects with great ease, search no more! You have just found the perfect little tool for your needs. It will help you tackle all those demanding small projects with great ease. Making of the fine jewelry and other amazing craft items was never so simple!
Expand to see more
Impressive Accuracy
This tool offers impressive precision when drilling holes in different materials. The work table makes it more accurate and perfect for making jewelry, small mechanic, crafts, and more. You can adjust the motor speed according to your needs from 3 variable speeds. It's not recommended for heavy-duty drilling, but we couldn't take this as a drawback. The tool is made for drilling small objects and it does what is supposed to with great ease. You'll have impressive results in no time using this drill press!
Compact Design
The tool comes almost fully assembled, so the setup part is child's play. It is lightweight and therefore
very portable
. You can move it around according to your needs and store it in a convenient place. This is very important if you use it in your workshop. You don't want a bulky tool taking up all of your working space. Also, it's important to note that the unit is stable enough not to vibrate.
However, this little tool is not perfect. Some users had problems with the lever which is not as smooth as it should be. This could make a hassle out of the drilling process. Also, it has only one inch of spindle travel, so it won't be able to do some of the medium-sized projects.
Cost and Value
This mini tool is rather inexpensive. We compared it to other mini drill presses to get a full picture and it's still one of the cheapest products. You'll also get a chuck key and 3 wrenches in the package.
Impressive accuracy
Offers different speeds
Comes almost completely assembled
Lightweight and portable
Cheap
Lever action could be smoother
Only one inch of spindle travel
Grizzly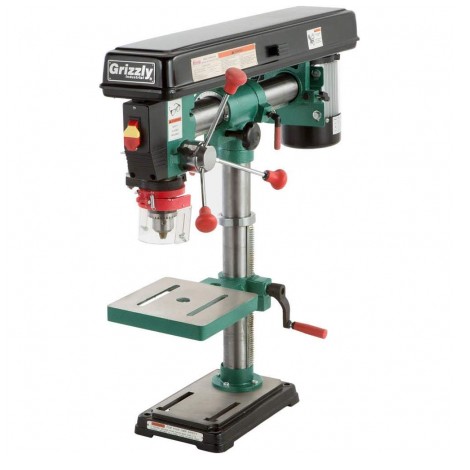 This is one of our favorite picks. Grizzly is synonymous with exceptional performance and quality. They didn't do anything different with this particular tool. It's super useful, offers perfect results, and durability. It's actually a radial drill press that allows for improved accuracy during every task. With Grizzly, you can drill the holes at just about any angle with great ease!
Expand to see more
Perfect Angled Holes
Grizzly is an impressive drill press that has a radial configuration. This makes drilling the angled holes a lot easier. You don't have to tilt the work table or the material when making them. The numerous speeds allow for quick drilling and excellent results. You won't be wasting any materials with 5 provided speeds!
User-Friendly
This tool is quite easy to use. It makes the holes with great accuracy and so fast that we were stunned! You can also adjust the lever according to your needs. The work table is sturdy and stable yet it tilts 90 degrees when needed for angled holes.
However, we didn't like the fact that this tool can't handle metal. It's primarily designed for wood because of the minimum speed. Also, the radial drill press has a bulky design and it will take quite some free space in your garage or workshop.
Cost and Value
We weren't surprised that Grizzly comes with a high price tag. It's a radial drill press after all, and that means more accuracy and easier drilling. We highly recommend it to all those who can spend
a few more bucks on this amazing tool
!
Radial configuration
Simple angled drilling
Powerful motor
5 speeds
Easy to use
Durable
Shop Fox
Another great radial drill press comes from Shop Fox! This one will complement any garage and workshop. Shop Fox put a real effort to make this one super efficient and durable. We think every handyperson and every professional will be thrilled to have it. If you're up to find out more about it, keep reading our detailed review!
Expand to see more
Powerful Motor
The radial drill press allows for more accuracy and easier drilling at any angle. You can use it in standard position or as a horizontal boring machine, the choice is all yours. The
powerful motor
allows for 5-speed settings according to your needs. It can accommodate all kinds of drill bits and work with a variety of materials. This means not only that you can drill faster but also easier!
Durable
Shop Fox has an impressive life span. The work table is made of durable iron and it's adjustable. You can tilt it left or right according to the task. There's also a safety switch and cushioned handles for improved user experience. All its features are designed to last, so you'll get a durable unit that will perform well for years!
Just like the previously reviewed model, this tool has an awkward size. It's rather tall which could be inconvenient for many users. Also, there were some buyers that complained about the unit's head is heavier than the base. This is a big drawback because it requires more hassle with the installation.
Cost and Value
Once again, a radial drill press comes at a higher price. Actually, Shop Fox is a bit easier on the pocketbook, so that's definitely a big advantage.
Improved accuracy
Drilling at any angle
Also a horizontal boring machine
5-speed settings
Versatile
Durable
Awkward size
The head of the unit might turn out heavier than the base
Criteria Used in Evaluation of Drill Presses
When ranking our 10 best picks, we tried to examine all their features and compare them to get the most accurate results. It wasn't an easy task, but we did it systematically and we came out with the perfect list. Here are some of the things that were important to us:
Power
Every drill press has to be powerful enough to allow for easy drilling. They also have to provide accuracy with every task, so that we can have flawless holes and cuts on the material. This was the most important thing for the evaluation. Also, we looked for the ability of every unit to accommodate and work with different drill bits. Working with drill bits of different sizes makes the tool more versatile. Therefore, the most versatile tools that can handle a variety of materials are at the top of our list.
User-Friendly Experience
We assigned some points to all tools that come pre-assembled, with comprehensive manuals, and simple design. Regardless of the specification and power, every drill press has to be user-friendly. There are many hobbyist and newbies that find themselves unable to use the tool they bought! This is due to incomplete instructions and complex design. Every company that prevents this from happening got some appreciation from us!
Adjustable Features
If you want to drill holes successfully, you have to have a set of adjustable features to meet your needs! For example, having a unit that can tilt left or right is precious. This allows for more accuracy and easier handling of the material. Thus, we looked for all features that allow for adjustments and improved performance.
Design
So, what we actually think about when we say design is portability and storage. We had to take some points to all tools that are rather bulky, take a lot of free space, and more. Our favorite ones are very portable and easy to store.
Durability
The durability of our best picks was incredibly important for the evaluation! Firstly, drill presses are tricky tools that have to be safe for use. Quality materials ensure durability and they protect the user during the drilling process. Secondly, these tools are not cheap at all. Having to replace an expensive tool very often is not that painless. Therefore, we took into account the quality and durability of every product and then ranked them accordingly.
Other Factors to Consider
Before you make up your mind and go for a particular product, we recommend taking a few extra steps. It's a short list of extra factors to consider yet they could influence your final decision.
Material
First thing first, consider what you're going to drill with your new tool. The type of material will determine which type of drill press you need. Some of them are better for metals, the other ones are perfect for wood, and so on. You'll have to make some compromise!   Thankfully, the working material will make the proper decision instead of you!
Overalls
Don't forget to ask yourself about what do you expect from this tool. Do you need a heavy-duty one for making furniture or you need a mini tool that can bore perfect holes in small stuff? What about the angle of drilling and adjustable speed? You should determine how much power you need from a drill press and what do you expect from it in general. Otherwise, you'll end up with the tool you're not satisfied with.
Design
You'll also have to consider that some drill press designs won't suit your needs. For example, you might find the one is too heavy to be portable and the other one too tall to be easy to use. Not to mention other features such as large work tables, adjustable heads, lever, and more. You'll have to think about all of these things and whether they are just what you need at this particular moment!
Budget
Drill presses are quite expensive tools, and you'll have to consider your budget. Its limitations will also influence your decision. We recommend adding a few more bucks to get the better tool. It's the one that will last for many years, after all. However, if this is not possible, don't despair! These days, you can find a perfect budget-friendly drill press to meet your needs!
FAQ
Frequently Asked Questions about drill presses
Q: What is a drill press?
A: It's a powerful tool designed to bore holes in different materials. You can use it to drill plastic, wood, metal, and more. This tool has an adjustable chuck that allows for changing the drill bit. With this simple replacement, you choose the size and the depth of the holes in your working material. Also, this tool provides you more accuracy than any hand drill could ever give you!
Q: Can they all drill every material?
A: No, they can't work with any material type. Some of them are quite versatile and you can use them to bore holes in metal, wood or plastic altogether. However, most of them are designed to tackle perfectly only one type of material. Carefully read the review when buying one for yourself to prevent getting the wrong type!
Q: Are any of them designed for small objects such as jewelry and crafts?
A: Of course! These days, the market is full of all kinds of mini drill presses that offer a high level of accuracy when drilling. You can bore holes in the smallest objects without ruining the material. Also, they are super easy to use. You'll be making jewelry in no time!
Q: Are they safe for use?
A: Yes, they are. These tools come with many safety features to protect the user during the process. However, you should still read the safety tips provided with the tool. Although the tool is safe itself, you might accidentally hurt yourself. Be extra careful when using it!
Subscribe to our Newsletter