10 Coolest Motorcycle Helmets Reviewed for Motorcyclists in 2023
last updated:
Jan 04, 2021
When it comes to saving your life, your choice of motorcycle helmet is very important. Which is why there is a lucrative market, and a dizzying amount of options to try and sift through. Unfortunately for riders the world over, the kind of helmet you need and the kind of helmet you want often bump heads. Then you have to take into account the fact that helmet shapes and fit will restrict your options, as there is little to no room for wiggle when it comes to brain safety. In the end, the trials to finding the perfect helmet is a tough one. This list forgoes the value ranking or feature set of helmets for the sake of looking cool.    
Featured Recommendation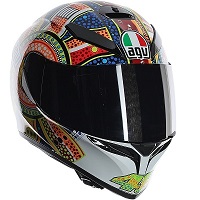 AGV K3 Dreamtime

Our rating
Price:

See Here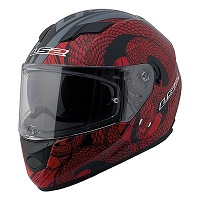 LS2 Stream Snake

Our rating
Price:

See Here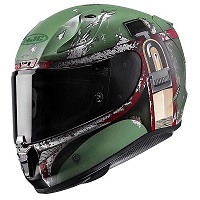 HJC Boba Fett

Our rating
Price:

See Here

Though readily available to the public, everything on this list is drenched in cool, and oozing with "look at me!" but more importantly aren't commonly seen in the real life. Here, you can get the inside track on snagging the edge on your friends in the awesome department. Here are the 10 coolest motorcycle helmets.
10 Coolest Motorcycle Helmets
1. HJC Boba Fett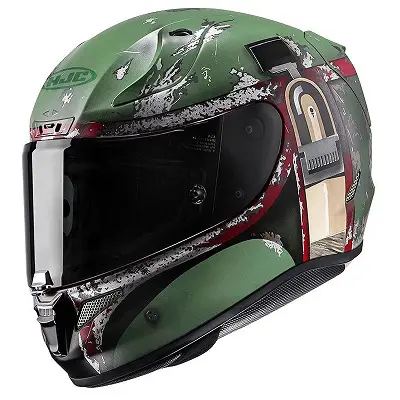 Star Wars is the biggest multi-media and entertainment franchise the world over. George Lucas' fanatically intricate sci-fi western was a long shot that blew everything out of the water back in the late 1990's. Want to look your utmost badass standing up on your pegs, or flowing through traffic? HJC has the exclusive deal with Marvel and Star Wars for all of your capable, yet cosplay-esque moto lids.
Expand to see more
Bounty Hunting
As this is number one on our list, it's most important to look as cool as possible. The titular bounty hunter who lived and died (spoiler … sorry?) in brief on the silver screen. But regardless of his short-lived stage in the Star Wars original trilogy, Boba Fett gathered a feverish fan-base. This motorcycle helmet is covered on its every inch by graphics replicating Fett's iconic mandalorian armor.

Comfort & Quality
The beautiful thing about this awesomely cool lid is that it is a wonderfully geeky graphic on top of what is easily HJC's best helmet. The RPHA-11 is the premium helmet that every motorcyclist should own.

Cost and Value
There's some guff at the expense of this helmet, and that's understandable on the surface. But it's one-thousand percent value. You'd be hard pressed to find more than a handful of viable competitors for quality and comfort at this price-range.

Casually cosplay as the deadliest Bounty Hunter in the Galaxy
Extremely cool (temperature wise)
Star Wars licensed
DOT and ECE approved
Epically light at 3.5 lbs
Fit it a little rigid - Medium oval fit strictly
No SNELL approval
2. LS2 Stream Snake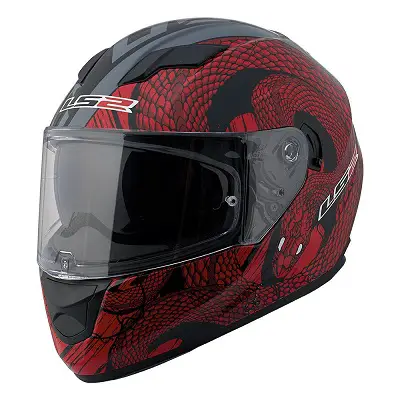 LS2 might have left the Stream helmet in the past with their new Stream Evo offering, but this beautiful standard from a days gone is a must try if you're seeking your first, or a backup helmet. The Snake graphic is just one of a figurative thousand that are available for this lid.

Expand to see more
Magnificent Decal
The most detailed of any graphic design on this list (aside from the Boba Fett, maybe.), the slanted change from a tangle of red scaled snake with white eyes, into a grayscale SnakeBite Rye logo. It's stunning.

Under-priced
This company is about quality, and their entire line-up of helmets don't skimp out on features and attention to detail and rider comfort. This helmet could easily fetch a price four times what it sells for today.

Cost and Value
The value in the LS2 Stream is bonkers. You're looking at a helmet with some features that more expensive lids don't even have, mixed with quality of life improvements, one of our favorite graphics, and at one-fifth of that price. This helmet is by far the best value here.

Best value
Genuinely comfortable
Starter price, expert manufacturing
Drop down sun shield
Top-tier ventilation
Only DOT certification 
On the heavy side
3. AGV K3 Dreamtime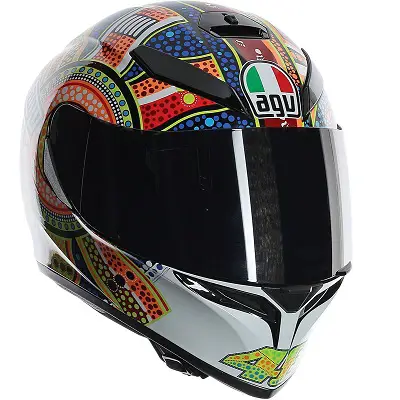 AGV is one of those brands that has a shell shape immediately recognizable. Yes, it would be a dumb decision for a manufacturer to take their branding off of their lids, but their line-up doesn't need them. Quality and uniqueness are two major factors in the assertive popularity that this near century old Italian company has gathered in the west of late.
Expand to see more
Aggressive AGV Shape
Like I mentioned above, the shell shape of AGV helmets is iconic. It's sleek, pointed at the chin, and looks extremely aggressive in a tuck riding position.

Color Explosion
To add to the cool factor of this lid, the brand has added a beautifully colorful South American design featuring a Mayan-esque tiled painting, and a sea turtle adorning the backside of the helmet.

Cost and Value
Generally considered among the other top-tier helmet manufacturers, these lids aren't cheap. However, the this helmet was the brands answer to the average price of their own line-up. You're getting an incredible helmet for a near steal.

Highly affordable
Intricate & colorful graphic
Great ventilation 
Top-tier entry level helmet
Aggressive shape
It's a beast at nearly 4.5 lbs
Only DOT approval 
4. NECA Master Chief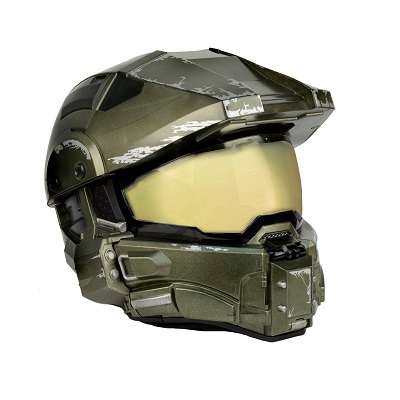 This toy and replica prop maker isn't about to break into the scene of actual motorcycle gear, but it's hard for a company with a license as large as Halo to watch as the internet makes replicas themselves of the iconic Master Chief helmet. So they decided to make their own.
Expand to see more
Not A Toy
This brand has a reputation for making amazing prop replicas, and action figures that resemble some of gaming and pop-cultures most iconic characters and brands. But this helmet is a legitimate DOT certified, legal riding helmet.

Rarity
It's important to note that this item was extremely popular upon initial release, and this brand only has a handful currently available on their Amazon page. As of writing this, there is little to no information from NECA regarding the possibility of them manufacturing more.

Cost and Value
If you're a gamer, or a hardcore geek, and you love the video game franchise Halo with a little bit of motorcycle riding, there really is no cost that is too high for a street legal version of one of the coolest protagonists in gaming.


Licensed prop replica
Professionally manufactured
The geekiest
Street legal
5. Shoei Cog GT-Air Street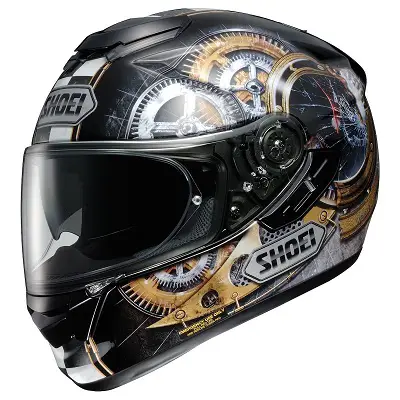 The super-serious of us two-wheelers will always kiss the feet of Shoei. The company behind arguably the best catalogue of motorcycle helmets the industry over, and they've been doing it for decades. There is no quarrel to say that these manufacturers are kings of this realm. This helmet is their coolest looking graphic.
Expand to see more
Steampunk Shoei
The graphic on this helmet has that awesomely mechanical steampunk feel to it. Running down the center is a faded finish line, with the sides adorned by brass, silver, and bronze gears and near seamless brand logos.

All The Work
Buying into a Shoei brand helmet today is like accepting the gift of a thousand years of hard work and research. Like I mentioned earlier, this company has been leading the quality and protection field in helmet manufacturing for a while, and this helmet is a fantastic culmination of all their intentions and efforts.

Cost and Value
Much like the number one on our list, this helmet is on the higher side of the purchase spectrum. You're not going to break the bank on a helmet north of $1000 here, but at around $700, this is going to be your main squeeze. The value of that is one of the world's greatest helmets with an awesomely punky twist.

Built-in sun shield
Hyper-cool ventilation
Steampunk interior
Max-dry washable interior
Pinlock anti-fog shield
Fits very round heads only
Expensive
6. Biltwell Gringo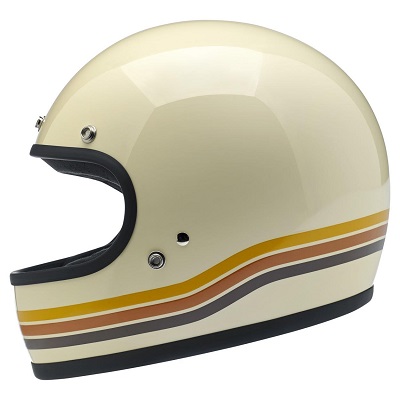 Hipsters. Hipsters, everywhere.

One thing we can thank a generation of retro-styled individuals for is deliciously hand-tossed meticulously crafted wood-fire pizza. Another thing that we can thank them for is the burst of revisited styles. This helmet is the pinnacle of cool and retro. Match your lid with a bubble shield, and you're going to be the most popular rider at the local, slow-pour coffee roaster (just a fancy way of saying not a Starbucks).
Expand to see more
Retro-Fusion
Obviously the biggest selling point of this helmet is the flare of an old-school style, and that it goes really well with your chopped up Cafe Racer. But you're also fortunate that you get the latest in safety and comfort here as well.

Blank Canvas
A large part of the draw to join the moto-enthusiast community is a need for self expression. And there is no better place than a large, blank canvas. The uniquely individual designs that people have made out of and on their Gringo lids is astounding.

Cost and Value
This brand's standard line of motorcycle helmets are not expensive when compared to most of the other popular full-suite lids on the market. The bare bones design, but well manufactured products are to thank for that. Their entire line-up is minimal but effective.

Comfortable
Low cost
Adaptable style / customizable 
Blank canvas
Won't break the bank
No ventilation (Air is for not-cool kids)
Shields / bubbles come separately
7. Scorpion EXO-R410 Novel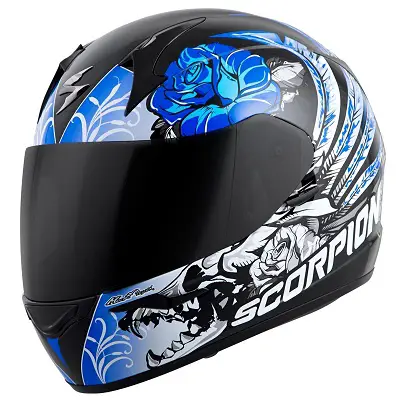 Easily the cheapest point of purchase into coolsville, this helmet has a surprising amount to offer at a low price point. A brand not normally known for being flashy, or intricate put an astounding graphic on one of their trademark lids.
Expand to see more
Entry Level
Being a rider, and doing so safely is not a cheap endeavor. While it's not the soundest piece of advice to slide down the cheap scale when it comes to protecting your noodle, sometimes it is necessary.

Graphically Significant
Let's talk about this perfect graphic. The animal skull on the jawline meets with a flower, tailed by bird feathers coming up behind the ear -- much like the wind will -- topped off by a colored flower. It's not flashy, but it's beautiful and fits the helmet design perfectly.

Cost and Value
The cost is almost nothing here. There are some amazing riding gloves that cost more than this bucket, but even at a budget price, This brand doesn't cheap out on this helmet. There is a generally reliable shield lock, and enough vents to keep your dome chilled.

Budget priced
One of the best graphics on the market
Sleek shape
KwikWick interior fabric
Ratchet chin-strap
Heavier than you'd like it to be
Only DOT cert.
8. Bell Vortex (Flying Tiger)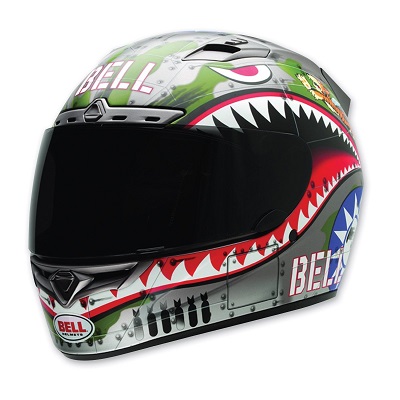 Another company that makes amazing retro throwback helmets, this option is far more modern than almost anything they offer. A full street helmet with a retro flair in the form of this historic graphic.

Expand to see more
Future Lid / Retro Inspiration
This might be a helmet for the 21st century, but the Flying Tiger graphic is an ode to a past most have forgotten. Designed, and named after the group of volunteer fighter pilots that took part in combat during World War II -- known for their shark-faced nose art.

Entry Level
The appeal to this company's helmets, especially their Vortex line, is the price point for the product. At around $100 it is hard to find a more carefully designed helmet at that price. It might seem like this is a overtly cheap lid for a first, but it is well worth the dollars spent, and will last you a for a long time.

Cost and Value
The biggest gripe against the Vortex helmet line-up is the mechanics. The shield lock is shaky, and the air-vents and latches are cheap plastic. But for a Polycarbonate shell, and a Snell certification, you absolutely can't beat the Vortex.

Entry level price 
One of the coolest graphics on the market
Snell certified
Aggressive shape
Lightweight for a budget lid
Plastic vent controls
Won't be your number one lid
9. HJC RPHA-10 Lorenzo Graffiti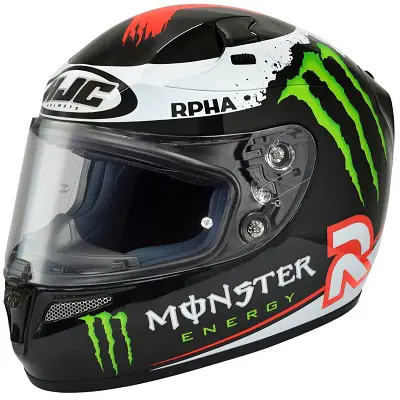 Get the Grand Prix treatment, and ride the streets in style with the Jorge Lorenzo replica helmet (graffiti edition) from HJC. Most of what can be said about how awesome this brand is at producing top-tier motorcycle helmets was already mentioned in the Boba Fett entry, but this has it's hooks into motorcycle fandom over the geeky universe that Boba Fett comes from.
Expand to see more
Grand Prix Champ Approved
If there's one thing that is vastly different between the motorcycle business and other businesses, it's that famous names are completely unlikely to endorse a replica product unless they believe in it. So if Lorenzo can buy in, you can too.

Street Art
Though he takes to two wheels on closed tracks and in the grandest of Prix, Lorenzo doesn't shy away from his roots as a trickster, and street rider. This helmet displays some of the raddest and most colorful graphics on the market today.

Cost and Value
Being that this is a cut below on HJC's premium line of motorcycle helmets (at RPHA-10), you can shave a tiny bit of money versus purchasing one of the 11 models. But, it's good to know that you've got a cutting edge technologically developed protective device here. Add to that the clout of a superstar celebrity name, and there is a great value for your new main lid here.

Graffiti graphics
Astounding air flow
Slightly cheaper than top-tier
Full-tuck design
Premium interior
Fits tight in the temple
A touch heavier than most high-end tiers
10. S&S - SS1310 In My Blood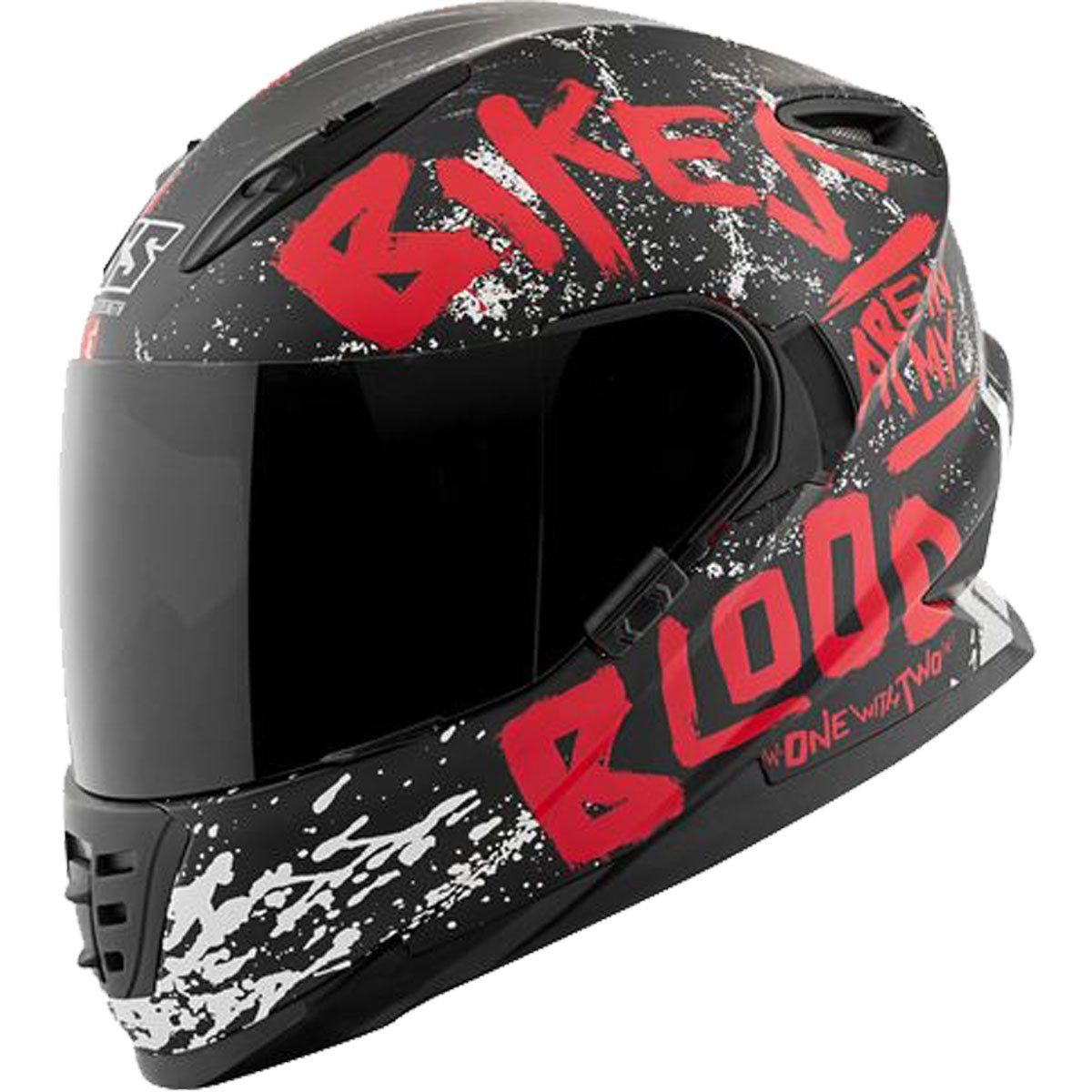 Speed and Strength is a notoriously mean looking helmet manufacturer. We're talking, 883 modders, and noisemakers only. And that's not a comment on the people that work there, rather, the forward tilt and sleek edges of their helmet design is aggressive even when it's sitting on your shelf.

Expand to see more
One with Two
Whether you're new to motorcycle riding, or a seasoned veteran, there is a reason why we all remain. It's in our blood now. Being one, with the world of two-wheels is what brings us together as friends. This graphic is bloody, and raw, but very accurate.

Canadian Innovation
The proudly northern design and manufacturing company gains a base advantage on most companies just by birth. Canada is home to some of the greatest rides, most beautiful terrain, and rugged backcountry. These products are designed and tested with Canada in mind, and the quality shows.

Cost and Value
For a decently small investment, you really can't go wrong with this helmet in the "Bikes Are In My Blood" graphic. The lid is beat in every individual aspect by most (if not all) of the other helmets on this list, but as a complete package, it will serve you right for the price, and you'll have the benefit of representing your obsession on the side of your dome.


Proudly Canadian
Great value
Beautiful graphic
Aggressive shape
Fantastic ventilation
Slightly overweight
No quick release strap
Criteria Used in Evaluation
Of The Coolest Motorcycle Helmets in 2018
Graphics and Aesthetic Uniqueness
There is one true thing that makes a helmet cool, and that's the way that it looks. Some lids, across the spectrum of styles look far cooler on your shelf than they ever will on your head, so we ensured that everything included in this list was an option that you would want to wear, purposely disqualifying those closet trophy helmets. There are also a lot of helmets out there with interesting and unique designs that just lack the production value necessary to deliver on a great graphic. Everything on our list is wrapped in, and oozes quality both functionally and visually.
Quality of the Base Helmet
It's important that you want to ride around in your new awesome-looking helmet. So, the quality of the helmet — even if it were stripped away of every aesthetic aspect — has to be some usable at worst, and extremely reliable at best. Many of the lids on our list of Coolest Helmets are specialized graphics or designs built atop already popular and stable frames. Companies like HJC, Shoei, and Biltwell have taken extremely beloved helmets off of their product line, and added stunning visuals to them. There are some helmets on our list that are "Entry Level" quality, and others that are for those far more advanced (or are looking to a long-term investment).
Popularity Among Riders (or Lack Thereof)
The very last thing you want is to spend X amount of money thinking you're getting this wickedly cool helmet, only to roll up to your next ride and see someone else wearing the same bucket. It's a little hard to determine, and purely consulting memory of past meetups, and social media photos, we attempted to choose a heaping list of unique lids, that are NOT popular with riders, making you the standout in the crowd.
Bang For Your Buck
There are two sides to the justice pendulum when it comes to trying to place value on a purchase. With helmets, it is no different. On one end you have quality, and on the other end you have price. Sometimes (as it did happen a few times on this list) you get a surprising mix of the two, culminating in a value that is hard to ignore. Often, you as a consumer are forced to sacrifice a bit of quality in order to get a cheaper price, or spend a bit more money for a higher quality product.
Are They Relevant Today
Much like smartphones, televisions, cars, and more, protective riding gear is an ever-evolving beast of an industry. Always striving for the lightest, safest, and most comfortable (in the case of helmets), it is highly suggested that you ensure the lid you pick is relevant today. You do not want to go too far back in time when it comes to protecting your noodle. Or protecting any other part of you for that matter. In order to make our list, the helmet in question had to have been publicly released in the past few years.
Frequently Asked Questions
About Motorcycle Helmets
Q: I'm looking to buy my first helmet, but don't want something boring. What should I look for?
Assuming that your budget is small–as most people looking to build their first set of riding gear will opt for a smaller budget–then you've got to look for something middle-of-the-road. Your helmet should be the place where you spend the absolute most you can. Road rash is one thing, but skimping on a dome protector is not an intelligent move from any angles. From our list, the AGV, and the LS2 helmets are astounding products, with really cool graphics, for a very reasonable price.
Q: How much of the price should I allocate for graphics and design?
Truthfully, none of it. Often, brands like HJC and others that use official brand licenses to make wicked helmets have to pay the property owner a fee for using their characters likeness. If you want to budget for coolness factors, and you're dealing with a intellectual property, expect to pay roughly 10-15% more than the base model. For everything else, you should never pay more than the original solid-color versions because of a sweet decal or graphic. It is not worth it to go above or extend your budget just for a cool helmet. Especially when considering that if you intend to ride for a while, you will accrue a large collection of lids. Some will be cooler than others.
Q: When should I get rid of a helmet?
Ahhh the age old debate. A lot like tires, and other parts, manufacturers tend to include suggested retiring periods for their products. The public, however, will always see this as a ploy for more purchases. But the truth is, things degrade. There are general rules, followed by most motorcycle enthusiasts, and they're easy to follow. Retire a helmet after 10 years of no use. Or, retire a helmet after 5 years of use.

Q: Retro helmets Are Cool, Right?
 Yes, as a garage trophy, they are among the coolest collectibles. Though, for our list we focused on helmets you can actually use today. Along the same lines as our guidelines for retiring helmets, it is safe to remember that you should never purchase protective gear that is more than a decade old, for actual use. Armor degrades. Technology advances. There are plenty of reasons to keep it locked to the late aughts and beyond for your shopping list. However, plenty of manufacturers make modern retro helmets.
Q: How do I know if a helmet is safe?
There are three globally recognized regulatory tests that put Helmets through their paces. In order to earn a certification from one of these tests, the helmet must meet or exceed the criteria.
DOT: The Department of Transportation

(run in the United States of America) is the most common of the three tests. This certification basically just means that someone, somewhere deemed the lid you're looking at fit for road use. Though, it is important to note that while you should NEVER ride while wearing a helmet that isn't at least DOT approved, the DOT tests are not very extensive, and it is widely recognized among riders that a DOT sticker doesn't mean much.

ECE: The Economic Commision of Europe

is a middle-ground certification test. The ECE is the European version of the DOT, but it's noteworthy that they have much more comprehensive guidelines for passing. All helmets sold within the EU are required to pass the ECE tests, and anything without it isn't considered road worth.

SNELL: The Snell Memorial foundation

was created in 1957 after a horrific fatal accident, and to this day upkeeps the highest standard of all motorcycle helmets the world over. With far stricter regulations, and pass/fail criteria, it is widely considered that riders always choose and wear helmets with a Snell certification sticker on them.
Though you may get away with it, you're advised to never ride while using a helmet that doesn't at least have one of these three certification labels directly on or inside the helmet. They're easy to spot, and the certification should be the absolute first thing you check when you're shopping for a new helmet.
Q: What kind of helmet should I wear?
The short answer is; whatever is comfortable. The longer answer is; whatever is comfortable.
Cruiser – If you're the type of rider that prefers to cruise through any given country on a cruiser for long hours, then I might suggest a "Modular Helmet" which is a full-face helmet that has the capabilities of flipping the front chin up, turning it into a three-quarter helmet. This will help with food, water, relaxation, talking to members of the local townships motel etc, all without having to take your lid off.
Off-Road – If your the trails and dirt type, then you're best bet is to find a comfortable motocross helmet. It may look odd while you're on the winding highways, but once you hit the trails, you'll be so thankful for the exposed underside (giving you more air-flow while you exert energy), and wider viewing angles. Motocross helmets are also generally light in nature, which is great for your neck as you twist your body through those turns and past those trees.
Street – Sure everyone loves to wait at red lights, and sit in traffic right? No, this style isn't referring to the commuters lifestyle. Rather, if you're a speed demon who spends more dollars on track-day passes than groceries, you will definitely want a street helmet. Street bikes have a forward, and aggressive riding position, leaving the rider cranking their head back, and looking through the top 3rd of their visor. Most helmets of other styles would give you little to no vision in this position. Street helmets are specifically designed to give you the greatest viewing angle, while leaning forward.
Decision Time
Helmet shopping is a close second when it comes to complicated choices regarding enjoying life on a motorcycle; the first would be buying a bike. Even narrowing your filters down to full-face, or open-face lids doesn't help much in making your decisions easier.
But if looking as cool as you possibly can — in an attempt to stand out amongst your riding crew —  is your top priority, then this list has what you need. There are budget lids here that are a cut above the rest of their pack as far as appearance goes. Then there are the near replica helmets that can run you nearly a year's worth of insurance at prices just south of $1000.
In the end, it's always got to be comfort and protection first. Unique designs, and epic graphics should be an afterthought.  
Sources
Subscribe to our Newsletter