Best Womens Motorcycle Helmets Reviewed for Protection
last updated:
Jul 22, 2019
Safety always comes first, and helmets are the most important piece of gear when it comes to driving a motorcycle. While other accessories such as leather gloves and jackets will protect you against harsh weather conditions, things like chaps and helmets protect you in case of dangerous accidents when you can seriously get hurt. You probably heard at least one horror story about motorcycle crashes and how one saved somebody's life from certain death. Whether you're driving at low speeds around the town or you're hitting high speed at the highway, you need one of these accessories to keep you safe and protected in every situation.
Featured Recommendations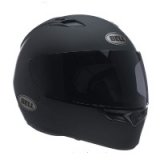 Bell Qualifier

Our rating
Superior Comfort
Price:

See Here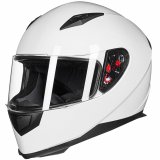 ILM

Our rating
Adjustable Features
Price:

See Here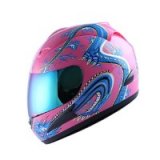 WOW

Our rating
Budget-Friendly
Price:

See Here

While most people assume that all are the same, this is not quite the truth. They come in many types and sizes, offering a wide range of different features. The main difference between men's and women's styles is the size. Women generally have smaller heads and narrower faces, and not all offer enough sizes to fit both genders. Although there are many top-notch unisex products on the market, some of the best are not suitable for men and the other way around. This time, we searched for the best options we could find on the market. We came up with the list of 10 exceptional products that will hopefully meet your needs and help you with the bothersome searching process. Here are our picks:
10 Best Womens Motorcycle Helmets
Bell Qualifier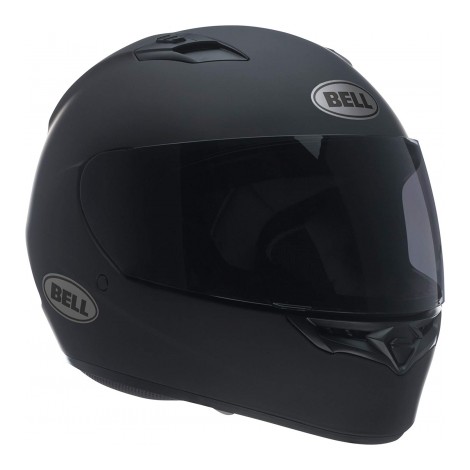 If you're searching for an affordable entry-level helmet that will keep you well protected and provide comfortable feeling during every ride, there's no better option than Qualifier! It offers some great features and quality materials that ensure exceptional performance. As if that wasn't enough, you'll also look incredibly stylish in this classic piece of motorcycle gear.
Expand to see more
Superior Comfort
You won't believe how comfortable this helmet gets even during extended use. It's extremely lightweight considering the sturdy materials and incredible protection it provides. Featuring contoured cheek pads and padded chin strap, Qualifier ensures a perfect fit and superior coziness. Also, it offers an aerodynamic design for more stability during the ride.
We had only one major issue with this helmet – it can get pretty loud when you hit over 60mph, despite the used padding. You can solve this problem by wearing earplugs, though. The other tiny issue is more like a wish because it doesn't influence the overall quality of the helmet. While it features a photochromatic and tinted shield, it would be nice to have a drop-down sun shield as well.
High-Quality Features
Qualifier doesn't disappoint with a wide range of high-quality features and exceptional performance. There is an extra padded wind collar to ensure less noise when driving at higher speeds as well as a removable antibacterial interior that's simple to take out, and easy to clean. Not to mention a very useful click-release button that allows a quick replacement of the shields. When it comes to little yet incredibly useful features, we have to mention anti-scratch and UV repellent shield as well as
specially designed pockets for audio speakers
.
Cost and Value
There are several colors and patterns from which you can choose your favorite Qualifier, and they all come at an attractive price. Those who are on a limited budget will be very surprised and satisfied with the value that this item provides for the money.
Superior comfort and a snug fit
Aerodynamic design
Removable interior part
Easy to clean
Incredibly stylish and available in several colors
Inexpensive
Gets pretty loud at higher speeds
We would like to see it with the sun shield
ILM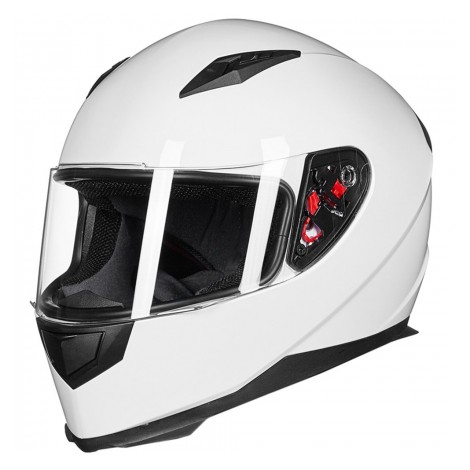 This is one of the most popular budget-friendly options on the market. We were stunned by its sturdiness and overall durability, not to mention additional features that often come accompanied by the sky-high price. Considering all of this as well as classy design, you're definitely going to love it too!
Expand to see more
Amazing Features
ILM features a sturdy designed ABS shell that ensures durability and excellent protection. The shell is also lightweight, allowing a comfortable feeling for extended use. It has a clear and a tinted visor included in the box, so you can change them according to your needs and preferences. Another very useful and practical feature is an included neck guard for more protection during cold days. It has a convenient zipper that makes attachment a lot easier. Additionally, the aerodynamic design reduces the annoying noise that is inevitable at high speeds.
Quick-Release
What we liked the most is the quick-release chin buckle that allows a full adjustment. This ensures a perfect fit and superior comfort at every ride. Other than that, the inside padding is very comfortable while the side pads are removable for easy washing. The visor is also easy to remove, so you can change it in a matter of seconds. Additionally, there are several vents that allow ventilation and make the ride even more comfortable.
However, there are some drawbacks that are usual for budget-friendly products. The first thing that bothered us is the fact that the visor and the paint finish are prone to scratches. The other issue comes from vents design – we would like to see them locked in their place because the simple open and close button can be very tricky in some situations.
Cost and Value
We already mentioned the great popularity of this product. This is mainly because it offers some outstanding features that usually cost an arm and a leg with other options. Therefore, we strongly recommend making this budget-friendly item
a part of your motorcycle protective equipment
.
Sturdy ABS shell
Lightweight and comfortable
Neck guard included
Aerodynamic design
Quick-release chin buckle
Budget-friendly
Prone to scratches
Doesn't have a locking mechanism for vents
WOW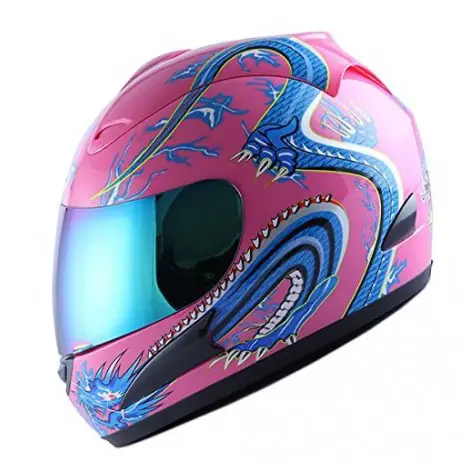 This incredibly stylish piece of motorcycle gear comes in a variety of colors, and every one of them has different patterns to suit both men and women. It's one of the cheapest options out there yet incredibly well designed and reliable. Therefore, if you're searching for the beginner option, you just found the perfect one!
Expand to see more
Lightweight and Comfortable
People praise this WOW motorcycle accessory as one of the most comfortable products on the market. It comes with a durable yet lightweight thermoplastic alloy shell and it offers an aerodynamic design. We really liked a tinted lens as well as adjustable features such as quick-release strap and removable and washable padding. It also has a vent on the front to prevent fogging when you're riding at cooler days.
The only thing we didn't like is the annoying noise that occurs at higher speeds. However, this is primarily the beginner's product, so you probably won't be driving too fast. For passionate bikers that enjoy a faster ride, this could be a big drawback.
Incredibly Stylish
As we already said above,
this is an incredibly stylish motorcycle item
that comes in many colors. It features a glossy UV protective finish that adds to the entire beautiful design. This is not all, of course, because WOW thought about the overall comfort and stability. The interior is super cushioned for a soft and cozy feeling, and the adjustable strap adds to the stable and perfect fit.
Cost and Value
Considering the overall quality and comfort that this provides, you probably won't find a better one for the same price. The box also contains a free carry-on bag that is very useful for storage.
Super Comfortable
Durable yet lightweight thermoplastic shell
Aerodynamic design
Adjustable buckle and removable padding
Stylish and available in several colors
Inexpensive
HJC CL-17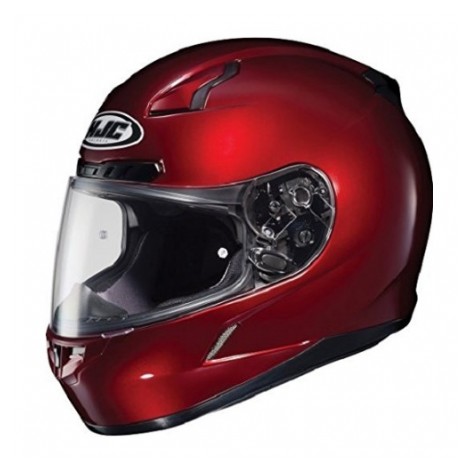 If you want a stable and durable option that will protect you from dangerous situations and yet be comfortable, HJC is a perfect choice! This extremely popular item comes with some seriously good features and outstanding performance that will just make you love it. With HJC you'll be completely protected every time you get on your bike.
Expand to see more
Locking Mechanisms
This offers a polycarbonate composite shell that's extremely comfortable and lightweight. You won't even feel that it's there! We especially liked the fact that it doesn't move an inch from its position regardless of the speed. Also, you'll love it because of the locking feature that keeps the shield down at high speeds. You can finally say goodbye to the annoying fly up that occurs every time you ride a bike on a windy day.
Soft Inner Part
As we already mentioned, this accessory is incredibly soft in the inside, featuring extra padding for superior comfort. All in all, the interior looks luxurious like its designed from most expensive materials. It offers a snug fit and comfy feeling during every ride, especially because of the several vents that ensure a cool driving experience at high temperatures and less humidity. There's also a chin strap made of some kind of soft nylon that allows for a perfect adjustment. Everything locks into place with simple clicks and stays that way no matter how long you're on the bike. Additionally, you can remove cheek pads and inner liner for a quick cleanup. The only thing we want to see improved is a chin curtain because it can get pretty cold without it.
Cost and Value
HJC offers incredible value for the money!
This product is one of the best we could find on the market
and yet it doesn't come overpriced. You can choose a favorite one from several available colors that are beautifully coated with matte finishes and UV protection.
Polycarbonate composite shell
Comfortable and lightweight
Incredibly soft in the inside with extra padding
Perfect fit
Several vents for cool driving experience
Great value for the money
Could become noisy at higher speeds
Has no chin curtain for colder weather
FreedConn
Here we have a reliable and powerful Bluetooth option that stands out from the competition with great overall performance and quality. This is one of the best protective items on the market, extremely durable and impact-resistant, that keeps your head safe and comfortable in all kinds of situations. For more details about the product, look down for our comprehensive review!
Expand to see more
First-Class Features
It comes with a durable and lightweight ABS shell, offering a wide range of first-class features. For example, there is an advanced echo and noise cancellation system that ensures a pleasant ride. Our favorite feature is definitely a built-in Bluetooth system that allows for connection with the phone, mp3 player, and a GPS system. You can easily answer the call or listen to music without having to use your hands. Almost all operations are controlled by the simple one-click button. That way, you get to enjoy your favorite activities yet drive safely.
Keep in mind that this runs smaller than advertised, so consider buying a bigger size than you need. There's a size chart that will hopefully help you with the measures.
Easy to Operate
The inner side is quite soft and comfortable, with removable pads for simple cleaning. There's an advanced 3D ventilation system that ensures a cool and cozy driving experience. When it comes to adjustments, the visor opens and closes quite easily with the simple push while the sun visor is operated by a quick flip. However, it seems that this product lacks the padding around the forehead and this is something that the manufacturer should resolve in the future.
Cost and Value
This is a top-notch option
so we weren't so surprised by its high price. Those who are on a limited budget will want to skip this one, but if you have some extra cash to spend, we strongly recommend buying this durable and super protective item. You'll get a 1-year warranty and contact with the great customer service if you run into any issues. The box includes a pair of driving gloves as well.
Durable yet lightweight ABS shell
Echo and noise cancellation system
Built-in Bluetooth system
The soft inner side, cheek padding for more comfort
3D ventilation system
Easy to operate
Smaller than expected and lacks padding in the forehead area
Pricey
YEMA YM-627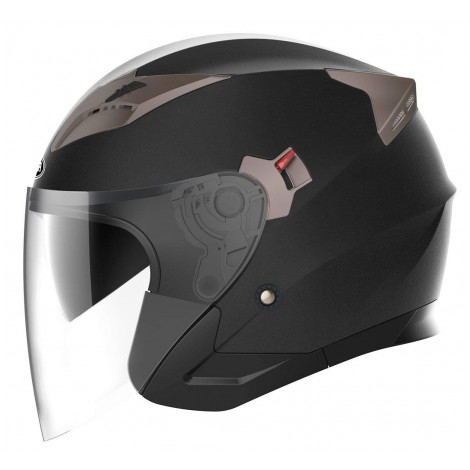 Another highly popular and well-priced option comes from Yema, offering incredible quality and performance. We didn't expect to see such a wide range of first-class features that Yema has to offer. If you're interested in this top-notch and good looking motorcycle gear, keep reading our in-depth review for more information!
Expand to see more
Safe and Stylish
Meeting and exceeding DOT standard,
this product provides exceptional protection during every ride
, but it also complements every style. Yema features a sleek design available in two colors, white and black with gray details. Those who are fans of no-nonsense design and elegant finishes will undoubtedly fall in love with this product.
We have to warn you about one possible issue. Don't make a mistake and ignore the manufacturer's recommendation to order a larger size than you need. Many customers didn't follow the fair warning and they had problems with the product being too small.
Many Useful Features
There are several important features that will make your life a lot easier on a daily basis. Firstly, the quick-release button and reinforced chin straps are very useful and practical. Secondly, the ventilation system is fully adjustable and it keeps you cool and comfortable. Lastly, there's a fully removable liner and pads that will make the cleaning process a lot easier, and a sun visor with a simple switch for a quick replacement.
Cost and Value
It's just hard to beat Yema in terms of quality and price. It provides exceptional value for the money, so you shouldn't hesitate to try it out. You'll be pleasantly surprised by its quality and performance!
Meets DOT standard
Great protection and nice look
A quick-release button and a reinforced strap
Has a ventilation system
Removable inner parts
Great price
1Storm
Here we have a classy motorcycle accessory that comes with a variety of useful features and outstanding overall performance. You can finally have an incredibly stylish product that wasn't designed at the expense of overall quality. One is certain, 1Storm is a great protective accessory that complements the whole motorcycle riding gear.
Expand to see more
Dual-Lens Design
This item proves to be a reliable protective item that keeps your head safe during every ride. It features a modular and dual-lens design with inner tinted lens and outer clear shield. The aerodynamic thermoplastic shell is very lightweight yet durable enough to withstand every dangerous impact. Additionally, you'll love how comfortable this gets even after a long ride. It fits snugly on the head, just keep in mind that it can turn out bigger than you expect.
Classy Look
Not only that you'll be quite satisfied with the overall performance and quality of this 1Storm accessory but you'll adore its amazing look. There's a UV protective finish that also contributes to the beautiful design. When it comes to adjustable options and features, 1Storm offers a quick-release chin strap as well as simple push up for the visor. You can also completely remove the inner padding for a quick cleanup.
Cost and Value
1Storm offers this quality item at an attractive price, so don't hesitate to make it
the part of your motorcycle riding gear
. You can choose a favorite one from 18 available colors and designs, and they are all equally stylish!
Superior protection and comfort
A modular and dual-lens design
Aerodynamic thermoplastic shell
Looks great in 18 available colors
Removable padding and quick-release chin strap
An attractive price
Comes bigger than expected
Vega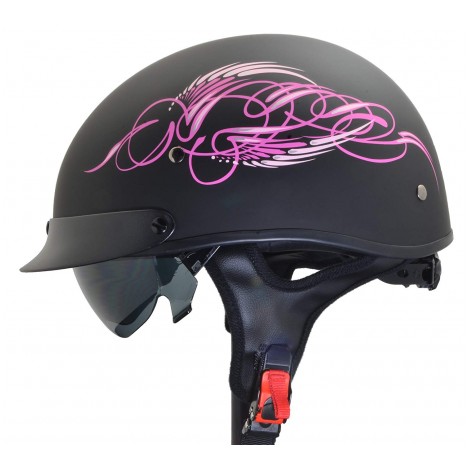 Here we have a half style suitable for all those bikers who prefer small and custom-fit accessories rather than bulky ones. Vega stands out from the competition with a wide range of options, adjustments, and features that allow for a completely safe ride and superior comfort. Overall, this is a high-quality accessory that offers exceptional protection in every situation!
Expand to see more
Compact Design
As we already mentioned above, this is a lightweight and compactly designed option that offers a variety of useful features and a high level of protection. You don't have to have bulky styles to be protected while driving, so you might as well go for a lighter version that is easily stored and incredibly comfortable. This one has a standard clear shield and inner sun shield that works on a simple slide button. You won't be needing any glasses for driving, but there's also plenty of free room inside if you still want to use them.
Lightweight and Comfortable
Vega offers a perfect fit
and comfortable feeling no matter how long you're on your bike
. This is the main advantage of the lightweight half style. Additionally, it features a moisture wicking liner and vents for a cooler experience. Not to mention extra padding and a quick-release strap that ensures more comfort and a snug fit. However, while some people enjoy the overall design of this type, there are many customers that are not fans of the mushroom look. We advise you to carefully examine the pictures before you make the purchase in case you end up unsatisfied by its look.
Cost and Value
It's really hard to beat this one in terms of quality and price. We strongly recommend trying it out, especially if you're a not a fan of bulky options. There's also an excellent returning policy if it doesn't meet your needs as well as a 5-year warranty if you run into some issues.
Compact design
Excellent protection
Super comfortable
A moisture-wicking liner and ventilation system
Inner padding and
Well-priced
Some people don't like a mushroom-like design
Voss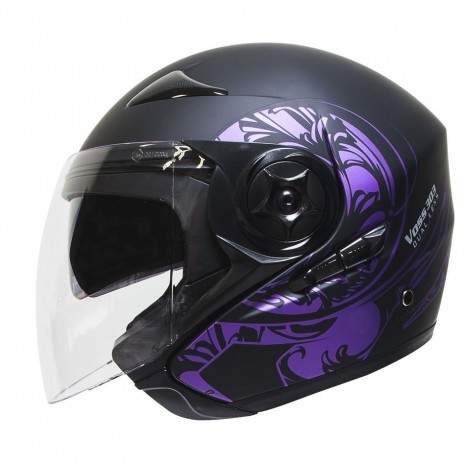 Whether you want a classic style to complement your
elegant leather gear
or you want a more vibrant option with some colorful patterns, Voss is a perfect product for your needs! This stylish and well-made accessory offers superior protection and guarantees comfort during every ride!
Expand to see more
Compact and Powerful
This is an in-between option for those who are not fans of bulky full-face styles but still want more protection than a half style could provide. Voss features a thermoplastic ABS shell that is very lightweight and comfortable. We are talking about a dual-lens protective accessory with inner tinted shield and outer clear one. Both can be easily replaced, no tools are required. There's also a practical quick-release system that allows for simple adjustments and a snug fit.
Super Soft
This accessory offers several vents for superior comfort and cooler driving experience. You can easily adjust them to your personal preferences no matter if you're driving with your gloves on. The entire inner part is cushioned for a pleasantly soft feeling. Additionally, it has a breathable and moisture-wicking interior that is fully removable for simple cleaning. The only thing that we didn't like in its design if the flaw that causes the whistling noise at higher speeds. We don't know what causes it, but it's pretty annoying and it happens frequently, although not necessary with every model.
Cost and Value
This is not a budget-friendly product like previously reviewed ones, we admit it, but it comes reasonably priced and
you can easily make it the part of your motorcycle gear.
Compact design
Thermoplastic ABS shell lightweight and comfortable
Dual-lens design
Quick-release system
Several wents, breathable and moisture-wicking interior
Reasonable price
Annoying whistling noise at higher speed
Typhoon Helmets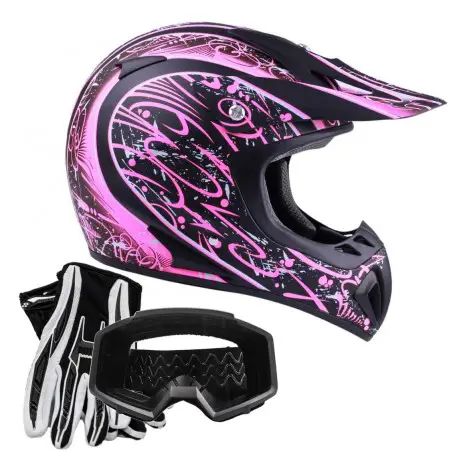 Last but not least, Typhoon Helmets offers this exceptional accessory with the beautifully designed exterior! Users all over the market are praising it for its great quality and performance and considering that the package includes gloves and goggles to match the stylish look, you're definitely going to love it too!
Expand to see more
High Level of Protection
Cut to the chase, this is a durable option that offers a high level of protection in case of an accident. It provides a wide field of view to meet your needs while driving many types of vehicles. It's also suitable for all kinds of weather, and you can use the chin strap to easily adjust it for a perfect fit. However, we advise you to take the measures accurately and double-check the provided size chart because some people had issues with the sizing.
Soft and Lightweight
Overall, this item is very soft and lightweight, ensuring a comfortable feeling no matter how long you end up wearing it. There is an extra padded interior part for superior comfort as well as intake vents on the front that ensures air flow and cooler experience at high temperatures. The liner is fully removable and machine washable which is very useful.
Cost and Value
Typhoon Helmets are hard to beat in terms of quality and price. It offers this incredibly fashionable accessory at an attractive price, and you get to chose a favorite one from several available colors. Additionally,
it comes with gloves and goggles to complement your motorcycle riding gear
!
Durable with an excellent level of protection
Provides a wide field of view
Suitable for all kinds of weather
The adjustable chin strap and removable inner part
Lightweight, soft and comfortable
Well-priced
Some users had problems with sizes
Criteria Used in Evaluation of the Best Womens Motorcycle Helmets
Ranking our ten best picks wasn't an easy task at all! We had to examine the overall quality of every product on our list, compare them, and then rank them according to their quality. Considering the fact that we picked only the best ones on the market, this was a rather challenging task. To give you a slight hint about the ranking process, we provided a detailed list of criteria used in the evaluation.
Protection
Safety always comes first. When it comes to these products, it's crucial to have the best out there, the one that can withstand every impact and protect you in case of accidents. However, all of our picks provide an equal level of protection because we choose only the best ones we could find on the market. The thing that influences the overall protection they provide is their type. The full face protection is the best you can use, and they are on the top of our list. Half styles are comfortable accessories, but they provide less protection, and they are ranked lower on the list. No matter which one you prefer personally, we have to agree on these differences.
Comfort
You have to be fully protected while driving a motorcycle, sure, but that doesn't have to exclude the comfortable feeling. Furthermore, every product should provide enough comfort to make every ride pleasant. That's why we took into account the design of inner parts of every option on the list. The soft and extra padding is crucial for a comfortable feeling as well as some additional features that provide a snug fit. The more adjustable features the item provides, the more you'll be able to set it for a perfect fit. Driving safe and comfortable is the key formula for every biker!
Additional Features
While we can say that all options on our list offer great protection, they are all very different when it comes to additional features they provide. They feature fully removable pads for simple washes, several vents for a better experience at higher temperatures, single or double-lens design, adjustable straps, UV resistant finishes, and more. However, it's often hard to find an option that has all of these features. In the best-case scenario, one accessory has several exceptional features and one annoying flaw, such as inadequate sizing. No matter which combination the product has, all of the provided features are essential for the overall performance. Therefore, we had to take all of them into account during the evaluation, and then assign points according to the overall performance.
Cost and Value
Last but not least, these pieces of motorcycle equipment are rather expensive because they have to be sturdy enough to withstand all kinds of dangerous situations. However, the market is full of differently priced products, and we have to be sure that we will get what we have paid for. Therefore, the balance between cost and value was very important for the evaluation, regardless of the high or low price of each product.
Other Factors to Consider
We believe you had the chance to make up your mind by now and find at least one favorite item from our list, but we advise you to look up for some additional recommendations we prepared for you. There are some factors you might want to consider before you make the final decision. Here is what we have in mind:
Type
Firstly, you should ask yourself what type you need. All professional drivers and serious bikers prefer full-face styles because they doubtlessly offer the best protection, covering your entire face, including the chin.
On the other hand, there are also three-quarter options that cover the top of the head and ears, but they don't cover the chin. People like to wear them because they still offer incredible protection, yet they are widely considered more comfortable than the previous full version. Lastly, there is a half style that doesn't include a visor at all, but it covers the top of the head. This type is preferred by beginners or those people who intend to drive a motorcycle around town at lower speeds. Think wisely about the type you need because, as you know, protecting your head during the ride is a crucial thing for every biker!
Size
There's always a size chart provided by the manufacturer that should help you take your measures accurately and decide for a certain size. We advise you to take seriously these recommendations and even look up for more experiences from other users. Things could be tricky when it comes to choosing the right size, and the provided charts are not always 100% accurate.
Additional Features
We all know that the most important thing about every product is the protection it provides, but there are some additional features that you might want to look at before you make the purchase. You might find yourself unsatisfied with the product only because it lacks some additional features you need, or it has ones that you don't like at all. Therefore, we recommend looking up into all straps, locking mechanisms, shields, removable or locked pads, etc. All of these features are equally important for your overall satisfaction and comfortable feeling when driving. Don't make that mistake to neglect some of the drawbacks only to find yourself extremely unsatisfied with the product afterward.
Budget
Lastly, these are rather pricey accessories, but they are the most important ones when it comes to safe driving. You can find some great products that are reasonably priced and yet designed to provide superior protection and comfort, but we still advise you to look carefully for all features listed above. If you're planning to ride your motorcycle around the town, you don't need a first-class option, but if you're going to ride at higher speeds or make a long ride trip, you want the best protection you can get. Don't hesitate to spend some extra cash on your new product because it could save your life after all!
FAQ
Frequently Asked Questions
Q: Which type should I choose?
A: It depends on your driving plans. If you're planning to take long trips and drive faster on a highway, you should go for full-face protection – a heavy-duty option is specially designed to protect you even in the most dangerous situations. If you're a beginner that drives at lower speeds, you can purchase a three-quarter style that is more comfortable yet sturdy enough to protect the entire head. Lastly, if you're planning to make quick drives around the town and stay at low speeds, you can go for a half style. It will protect your head in case of a fall, which is what you'll need for short drives.
Q: Are there differences between men's and women's styles?
A: The common misconception is that all helmets are suitable for both genders. Yes, there are many unisex accessories that offer various sizes and models, but some of them are specially designed for men, and others are specially made for women. The difference mostly includes the sizing – women have smaller heads and narrower faces, which means that they need smaller sizes, while men's ones are bigger and wider.
Q: How often should I replace these?
A: If you survive an accident or you drop down it on a hard surface, you should replace it as soon as possible. These two situations can influence the overall quality and protection ability of your driving accessory. Even if it might seem the same to you, the inner parts could get damaged and therefore dangerous to wear. If none of this happens to you, the recommended use is five years. After some time, the inner foam gets thinner, less comfortable, and consequently less safe. Not to mention all the scratches and possible flaws that come from the outside after years and years of usage. Even if your helmet withstands five years in the best condition, you should replace it just in case.
Sources
Subscribe to our Newsletter