Best Car Lumbar Supports Reviewed & Rated for Quality
last updated:
Oct 23, 2019
These days it seems like many people suffer from spine problems, feeling unbearable back pain. There are many causes of back pain, such as continuous bad posture, injuries, or hard physical work. While we live in a time when everything is run through computers which makes our lives a lot easier, that results in a lot of sitting and less than healthy life habits. Back pain can deprive you of many of your favorite activities. Good support could keep you from getting to the point where It becomes hard to play any sport and to be physically active at all when the pain turns into a constant thing. However, there are some things you can do about it, starting with some small (yet significant) improvements in your everyday life!
Featured Recommendations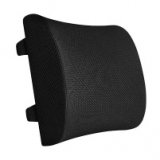 Everlasting Comfort

Our rating
Universal
Price:

See Here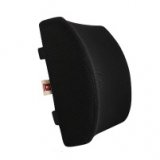 LoveHome

Our rating
Ergonomic Design
Price:

See Here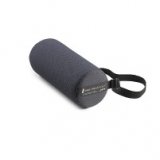 The Original McKenzie

Our rating
Versatile
Price:

See Here

A small improvement made in your everyday life will provide pain relief in the long run. That's the thing with driving – it doesn't really require too much effort, but sitting for long periods of time can aggravate back issues. This is where a proper back support pillow comes in! Rollers, pads and pillows, they are all specially designed to provide support for your spine while driving. You'll feel instant relief while using one of these products, and even reduce the further issues you might experience if you don't watch yourself from painful back positions.
10 Best Lumbar Support Pillows
Everlasting Comfort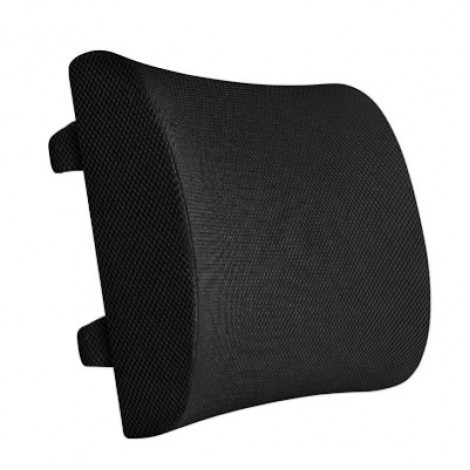 Everlasting Comfort is one of the most popular back supports on the market. You can use it for driving, for your office chair or any home chair that you need it for, to provide more comfort and support for your painful back.
Expand to see more
Memory Foam
This lumbar support is made from memory foam. It relieves acute and chronic back pain as well as general soreness in your back. It'll give you the desired feeling of comfort and support during every ride. The pillow has a universal contoured structure that allows you to use it as a neck, upper, middle, thoracic and lower back support. The memory foam is firm enough to provide excellent support, and yet it is soft and comfortable.

Breathable Cover
It has two adjustable straps that will help you tighten it properly to the back of the seat. That way, it will stay in its position no matter how much you move in in the seat. It has hypoallergenic and breathable mesh cover that allows airflow through to keep your back dry during use. The only issue is a bit bulky design that takes up most of the car seat.

Cost and Value
Everlasting Comfort has an attractive price and a lifetime replacement guarantee! It will help you with that tiresome pain that comes after every extended ride.



Made from memory foam
Has a universal contoured structure
Two adjustable straps
Hypoallergenic and breathable mesh cover
Inexpensive
LoveHome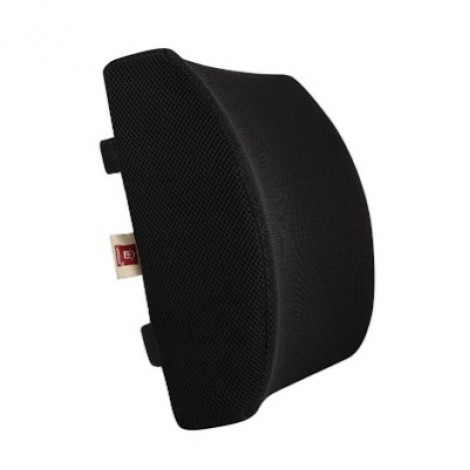 Love Home lumbar support is one of the best you can use for your chairs and car seats. It relieves lover and mid back pain and promotes good and healthy posture. It's medically approved and recommended for different kinds of lower back problems.
Expand to see more
Ergonomically Designed
This is ergonomically designed, made of quality memory foam that provides excellent back support and comfortable feeling whether you're driving for an extended period of time or spending 8 hours in the office every day. However, keep in mind that this is not as firm as the previously reviewed model from Everlasting Comfort. If you need something less soft for your back during driving, you might want to search for another option.

Removable Cover
LoveHome lumbar support has two adjustable straps that go around your car or your car seat for a firm fit. That way, the pillow is suitable for most types of chairs and seats. It also has a removable cover that is breathable and washes simply. There will be no sweat thanks to this cover, no matter how long you sit in your chair.

Cost and Value
Love Home back support is well-priced and it offers 60 days of use during which you can decide whether you like this pillow enough to keep it, or you want to return it. Either way, there is an excellent customer service that will be there for you in case of any issues.



Made of memory foam
Two adjustable straps
Removable cover
Breathable and simple to wash material
Well-priced
The Original McKenzie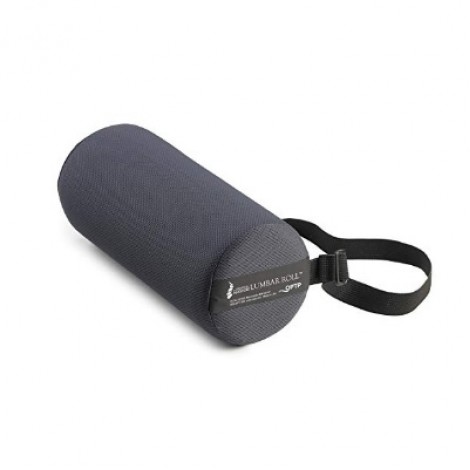 Many people prefer lumbar rolls rather than back support pillows. Original McKenzie Lumbar Roll is just the product that occupies all the market's attention. It works as a lower back pain relief and many physical therapists, chiropractors and back pain professionals recommend it as great daily support.
Expand to see more
High-Quality Foam
The lumbar roll is made of high-quality foam that ensures proper spine alignment and posture while sitting. You'll instantly experience a comfortable feeling and pain relief will follow in no time. You can use it for any chair or seat as well as support wherever you need to feel comfortable during extended sedentary positions. Lastly, let's not forget that OPTP offers two lumbar rolls: you can choose the one with standard or the one with firm density.

Easy Fit
The roll has a removable cover made from 100% polyester. It has a built-in strap that fits easily to any chair or seat type. The only issue you will probably have with it is related to the cleaning process. The cover is completely removable and made from breathable material that provides comfortable feeling for your back, but it's a bit hard to wash it.

Cost and Value
The Original McKenzie Lumbar Roll is surprisingly inexpensive considering its great quality. We are almost certain that this roll is one of the cheapest options on the market. If you had any doubts about purchasing this lumbar roll, they'll all disappear considering its great value for money.



Made of high-quality foam
Versatile
Choose a roll of standard or firm density
Built-in strap
Inexpensive
ComfiLife
Here we have another product recommended by chiropractors. ComfiLife lumbar support offers lower back pain relief during long office hours or extended road trips. You can safely travel using this great product that will provide a comfortable feeling along the way!
Expand to see more
Contoured Structure
The main material is memory foam with a contoured structure that supports the lumbar area and provides incredible back pain relief. The ComfiLife pillow also works as a body posture corrector whether you use it in your car, your office or home. The high-density material provides a comfortable feeling and firm support during extended use. The pillow can be a neck, back, and hip support.

Mesh Cover
ComfiLife lumbar support has a mesh cover that's breathable and removable. You can easily clean it whenever you want. The pillow comes with an adjustable strap that ensures proper fit to most car seat and chair types. Some users reported that straps aren't as sturdy as they seem though. It happens that they loosen a bit after a period of use.

Cost and Value
This lumbar support comes with a reasonable price and a guarantee so you can return the product if you're not 100 percent satisfied, no questions asked.



High-density memory foam
Contoured structure
Breathable and removable cover
Two straps
Reasonable price
Ziraki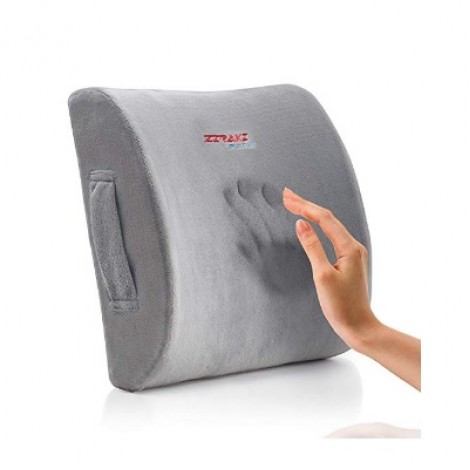 Are you tired of that constant striking back pain while driving or working at your desk every day? If you are and you want to change that, we have an excellent product for you. Ziraki lumbar support offers pain relief and a feeling of comfort and it comes with some great features.
Expand to see more
Natural Spine Contour
This lumbar support gently supports the natural contour of your spine using quality memory foam. It allows you to sit for hours without the feeling of constant discomfort. Not to mention that it works as a body posture corrector and offers long-term protection from harmful sitting positions.
However, keep in mind that the Ziraki is primarily designed to provide firm support. If you're looking for a soft lumbar pillow, this is not that kind of product.

Versatility
The support can fit regular chairs, wheelchairs, and any type of seat, whether you want to use it on a plane or in your car. The adjustable strap ensures this proper fit and a removable cover allows simple cleaning. Lastly, it comes with a sturdy travel bag so you can easily take your Ziraki pillow with you.

Cost and Value
This Ziraki product is a real steal! It comes with a great price and it offers excellent lumbar support. We shouldn't forget excellent customer support that will help you with any possible issue.



Memory foam
Gently supports the natural spine contour
Fits any chair or seat type
Adjustable strap and removable cover
Well-priced
Might be too firm for some users
Sweet Relief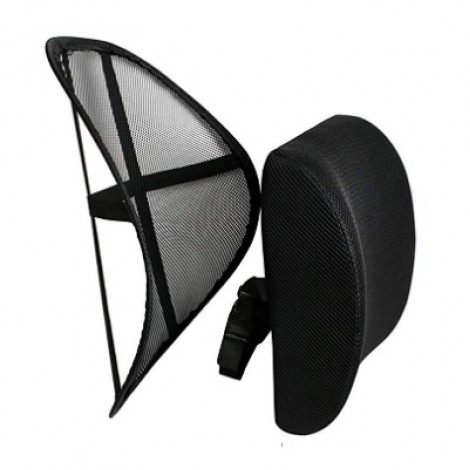 Sweet Relief offers lumbar support and a breathable mesh, both designed to provide a maximum level of support to your back. Both pieces have straps that secure supports firmly to your seat and chair, making this Sweet Relief product suitable for home, work or road use.
Expand to see more
High-Quality Foam
The lumbar support and the mesh are made from high-quality memory foam that supports the spine naturally. They reduce stress and strain, supporting healthy body position wherever you are. The material is designed to be breathable and to keep your back cool and dry no matter for how long you remain in sedentary position.

Proper Fit
Both pieces of support have a strap on the back so they can fit any chair or seat type. There should be another strap on it because it tends to move from its position, and the extra strap keeps it firmly attached. There's another issue we should address – many people find the mesh part better than the pillow, but they complained about it being prone to tears.

Cost and Value
This Sweet Relief 2 pack support is an excellent option for those who struggle with unhealthy positions on an everyday basis and experience pain and discomfort. This is a budget product that will upgrade your car seat or your office chair and provide a comfortable feeling and pain relief in the long run.
High-quality memory foam
Breathable material
You get a pillow and a mesh
Versatile
Well-priced
Only one strap
The mesh tears up quickly
Go Lumbar Support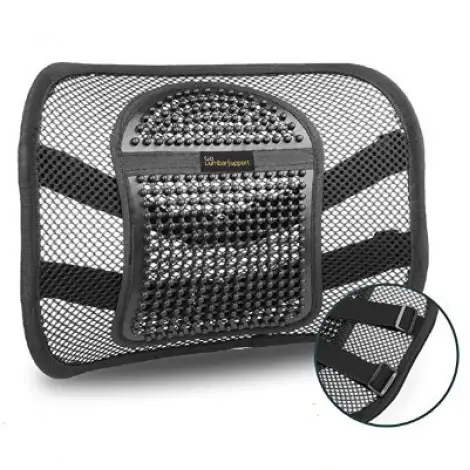 If you're searching for strong support for your back, Go Lumbar might be the right choice for you! This is made of durable materials that provide a feeling of comfort and excellent support. It's suitable for car seats as well as any kind of chairs.
Expand to see more
Cozy
The manufacturer claims that this back support provides a feeling of comfort even if you rely on it 7 and more hours. Users confirmed this statement, praising this support for its firm design and coziness. The ergonomically designed support that follows the contours of your back provides great support and relieves you from acute and chronic pain caused by backaches, muscle aches, arthritis, stenosis, herniated disks, and general sore back.

Breathable Mesh
The item is covered in the breathable mesh that prevents sweat during extended use. It has an improved design and double adjustable straps that keep it in its place. However, it slides a bit off the chair when users get up and sit down. The manufacturer should resolve this problem in the future because the proper chair fit is one of the most important things for lumbar support to work properly. Other than that, you won't have any big issues because this is made from durable material and should last for a long time.

Cost and Value
Along with quality materials and firm support, Go Lumbar Support comes with an attractive price.
Ergonomically designed
Relieves back pain
Breathable mesh material
Two straps
Well-priced
Slides a bit on the chair
MemorySoft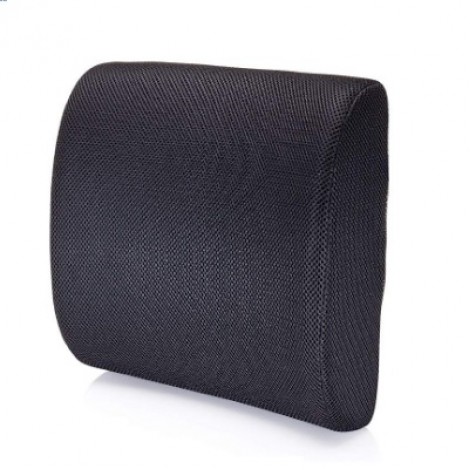 Here we have another versatile lumbar back support that you can use on your traveling adventures or on a daily basis at your work. Keep your back supported and healthy in tiresome sedentary positions with MemorySoft Premium lumbar support!
Expand to see more
Comfortable
This lumbar support is made from contoured memory foam that allows you to sit comfortably for a long time. The only complaint comes from its bulky design. It seems that some users have a hard time fitting it to certain car seats. Other than that, it's made from durable material and meant to last!

Durable
This is made from durable mesh fabric and has an adjustable elastic snap-on strap that's easy to use. The strap has an extension (17 inches) that ensures a proper fit in every chair and car seat type. You'll also like the fact that the pillow's cover is removable and washable.

Cost and Value
This lumbar support is a bit more expensive than previously reviewed models but most users are just happy with the value it provides for money. You also have the option to try out the product and return it if it doesn't fit you, no questions asked.



Contoured memory foam
Durable mesh fabric
Adjustable elastic snap-on strap
Removable and washable cover
It may not fit every car seat
A bit pricey
LoveHome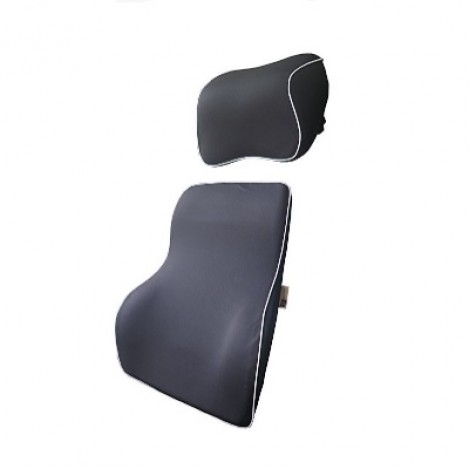 Here we have another great product from Love Home that provides excellent lumbar support and a comfortable feeling in the long run. If you're interested in this keep reading our in-depth review to find out all its great features!
Expand to see more
Quality Materials
This lumbar support is ergonomically designed so it can help with blood circulation and relieve your lower back pain. It should reduce numbness and slouch. This item is made from quality malleable memory foam that fits perfectly to your back and neck.
Keep in mind that it isn't too firm, and it might turn out too soft for some users. However, a bigger problem seems to be the memory foam – some users complained about it flattening after some time of use.

Perfect Fit
As we already mentioned, this item is made from durable quality materials, and it fits your head, neck, and shoulders. It doesn't have straps which might be a downside but most users are quite satisfied with the way it fits seats and chairs. It also has a removable and machine-washable mesh cover that is fully breathable and provides a comfortable feeling even after many hours of sitting.

Cost and Value
Love Home's product is more expensive than other items on our list but it offers support both for your lower back and upper back. If you have a few extra bucks to spend on your new back support, you should definitely try out this product!
Ergonomically designed
Quality malleable memory foam
Support lower and upper back as well as your neck
Removable and machine-washable mesh cover
Great value for money
Too firm for some users
In some cases, the memory foam flattens
Xtreme Comforts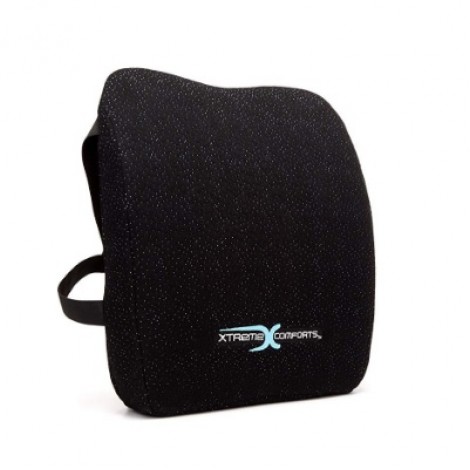 This option from Xtreme Comfort is designed from anyone who experiences striking back pain. Whether you suffer from herniated discs, sciatica, arthritis, scoliosis or other condition, this pillow will provide enough support to relieve that pain.
Expand to see more
Relieves Back Pain
This product helps with back pain and promotes healthy posture. It improves blood circulation and reduces pressure on your spine. It's made from 100% pure memory foam that aligns perfectly to your spine. However, if you're looking for something firm for your back support, this is not the right product for you. This lumbar pillow is designed to be softer support for your lower back.

Hypoallergenic Bamboo
It comes with a protective carrying bag so you can safely take it with you wherever you want. It can fit any chair and car seat type. There's also an adjustable elastic strap that ensures a proper fit. The cover is made of hypoallergenic bamboo – you can easily take it off and clean it because the material is machine washable. This material is also highly breathable so it'll keep your back cool and dry.

Cost and Value
Xtreme Comforts lumbar pillow is a bit pricey but it gives you a lifetime replacement guarantee! There's also a great customer service if you run into any issues with this product.


100% pure memory foam
Comes with a protective bag
Fits any chair and car seat type
Adjustable elastic strap
Hypoallergenic bamboo
Breathable and machine-washable cover
Criteria Used in Our Evaluation of the Best Lumbar Supports
Evaluating the best car lumbar supports was not as easy as it looks at first sight. Our 10 picks are the best supports that one could find on the market and therefore competitive in terms of quality.
Quality Materials
The material is crucial when it comes to car seat back support – the one that determines its overall quality. You want a back pillow or a roll that will provide enough support to relieve the pain and promote a healthy posture. That's not all, of course – good support has to provide a little comfort! What's the use of back support if it's uncomfortable and you can't sit with it longer than a few minutes?
It should accompany you on your everyday activities such as driving, office work, gaming, and others, and make them easier and less painful. This is possible only with quality material that aligns to your spine and provides excellent support for a herniated disk or sore and weak muscles. A back with a medical condition has to be treated with maximum care, and providing some additional help from back support pillows and rolls can be very helpful in the long run. That's why lumbar support that provides firm yet soft and comfortable relief is on the top of our list. Of course, there are products that are either firm or soft because different people need the support of different density, the only important thing is that the material provides durability and quality at every moment.
Proper Fit
If you're going to use back support in your car or at your work, you want to be sure that it will fit your chair and seat type. Some lumbar pillows and rolls are wider and some of them are smaller in general, but that's not a big issue. A good support cushion should stay in place in most types of car seats if there are straps to better attach to the seat. Single strap models are good if they come with a roll, but back support pillows require two straps because they tend to slide to the side when you get up or sit back in the seat. This may seem not as important as other features for first-time buyers, but for the support to work, the proper fit is crucial. Therefore, we had to take it into consideration when evaluating them.
Additional Features
One of the most important things to consider is a quality cover that can be easily removed and washed. You'll be relying on it a lot and everyday use will eventually make it dirty and smelly. It's nice when the cover is machine-washable too, but we were satisfied to know that you can remove it at all – many back support pillows and rolls come without a cover. Another equally important feature is breathable material.
Breathable material ensures dry and cool back no matter how long you sit in a chair or in a car seat. Sitting with sweaty back is so uncomfortable that often people give up instead of getting that support with all of the sweat. We wanted to ensure that this wouldn't happen with you, so we chose the products made of quality materials that allow for the air to circulate. These features were important in our evaluation, and we assigned points to our picks according to their quality and performance. It's necessary that you find out all you can about the specific product before the purchase, after all. That's why we made a thorough review of every product on our list.
Other Factors to Consider
You can always use our criteria used in the evaluation of the best car lumbar supports and navigate to the perfect product for your needs. However, there are some things that you should consider before you make a final decision and they require for you to determine your personal preferences.
What do you need from it?
If you're searching for cushion, it's clear that you have some back issues that deprive you of driving your car comfortably. However, every product differs a little, as far as the density design goes. Some people want to have firm support rather than soft foam against their back while others prefer a soft feeling. This depends on your back condition too because every condition requires different support. Think about what you need before you decide on the specific product because even first-class lumbar support might not be the perfect one for you.
Where would you use it?
If you intend to use your back support for road trips, whether you're a driver or just a passenger in a car, airplane or train seat, work or in your home, you'll need a durable product that can fit all these different seat types and chairs. These days many supports have adjustable straps that allow proper fit wherever you take them. However, their design might turn out unsuitable for all purposes so you should carefully read the product's description and then determine whether a product can fulfill all your needs.
What do you expect?
You should keep in mind that car lumbar supports won't bring instant relief from your back pain. They are excellent little things that will help you while sitting and improve body posture, but you shouldn't expect too much from them. A pillow can't resolve all problems that come from serious medical conditions and it would be unrealistic to think that. You should think about it and search for support that works exactly as you need it to – if you're simply looking for comfort, you should go with the one that has soft memory foam, and if you want the one that will promote your body posture and strengthen your muscles you should go for a well designed product that is recommended by chiropractic professionals.
FAQ
Frequently Asked Questions
Q: Why do I need a car lumbar support?
A: Car lumbar supports are not only beneficial for those who have chronic or acute back pain from medical conditions such as sciatica, herniated disc, scoliosis, and others but also for those who spend a lot of time in their cars, offices and home chairs. They provide back pain relief and a comfortable feeling during long sitting hours. Not to mention they help promote healthy posture, and a lot of back pain comes from unhealthy everyday positions that pressure our spinal disc. These days we all embrace the sedentary lifestyle that results in chronic pain even with people that never had any back problems. Therefore, using something like this can be beneficial in the long run whether you have back pain or you don't.
Q: How can I make driving more comfortable?
A: Whether you're a driver or only a passenger, sitting in a car seat for an extended time period can be quite exhausting. Regardless of the car seat type, sitting in the upright position quickly produces discomfort and soreness in your back and legs. If you wonder what you should to ensure a more comfortable ride, we have several useful tips for you. Firstly, you should adjust the seat distance and allow for a proper distance from a steering wheel.
If you can't comfortably grab the wheel and if you're hands are extended forward, you're in an unhealthy position that will cause back pain. The pain can come from both too large and too short distance from the wheel so be sure to adjust your seat perfectly. Secondly, don't recline your seat too far and be sure to adjust the seat's height. Proper seat height will allow you to see the road properly and loosen the pressure in your thighs, and consequently your lower back. Lastly, if you have a car back support pillow you should check if it's properly adjusted to your car seat before you sit.
Q: Could a car lumbar support be bad for my back?
A: The support gives lower back pain relief and promotes a healthy body posture. It's rather beneficial for people that spend a lot of time in their car, whether they or not have back problems. However, they only work when they are aligned to the spine properly, so you should check every time before you start driving. Even if the lumbar pillow isn't in the right position it shouldn't cause you any harm, it'll just be less efficient.
The only time it can cause pain and damage to your spine is when it's unsuitable for your specific back problems. That's why you should check whether your doctor recommends using a car seat support in your case, especially if you had a serious medical condition or you had surgery. Also, you should always be aware of the things that are pleasant to you – people have different needs so the ones that like soft pillows often don't like firm ones and the other way around. If you don't feel comfortable while using a car seat support, the safest thing you should do is to stop using it. Maybe find a friend with one and try it first before buying.
Q: Could my work chair be the real cause of my back pain?
A: Yes, a bad chair can cause lower back pain by pressuring your spinal disc the wrong way. However, not everything is the fault of a bad chair. When we're sitting for a long time we tent to slide in a chair, to lay forward and backward in unhealthy positions that cause pain. Even if it seems that our backs are more comfortable in these positions the truth is far from that – not only that unhealthy posture causes pain but it causes permanent damage to your spine in the long run.
Additionally, sitting for an extended period is exhausting whether you're sitting properly or not. Modern lifestyle promotes less movement and more sitting which is very unhealthy. You should take some time to exercise or walk on a daily basis because physical activity is a way to a healthy spine.
Q: Can I sleep with lumbar support?
A: Technically, you can sleep with lumbar support, but you have to be very careful. We are sleeping in many different positions during the night, and some of them are harmful to our back. Adding a support pillow that is too firm or too soft for our needs can result in more back pain rather than reducing it. However, there are several body positions that can reduce pain. You can sleep on the side with a pillow between your knees – don't always sleep on one side, try to change it whenever you can.
The pillow between your knees should help you to better align your hips, pelvis, and spine. If this isn't helpful, you can try out the same without a pillow – sleeping in a fetal position is great for people that have problems with the herniated disc. The next position is sleeping on your stomach with a pillow under your abdomen- this position relieves pain caused by stress on the space between your discs. You can also try to sleep on your back with a pillow under your knees. Sleeping on the back proves to be very helpful in reducing the striking lower back pain in the morning. There's nothing that could measure with refreshing feeling in the morning that comes from healthy sleep.
Subscribe to our Newsletter