Best Car Phone Holders Reviewed & Rated for Quality
last updated:
May 10, 2019
When you're on the road, whether it be to the store or on a road trip, then your phone is 100% vital. It's your GPS, your road trip playlist, not to mention your sole means of calling for help in the event of an accident. But if you are using it as a GPS, then you've probably run into the problem of not having anywhere convenient to put it while driving. You can't keep holding onto it while driving, that's a crash waiting to happen, and you can't put it down on the dashboard, you won't be able to see. Well don't worry, there is a solution to this in the best car phone holders.
Featured Recommendations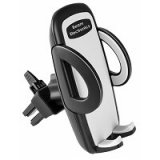 Beam Electronics

Our rating
Quick Release Button
Price:

See Here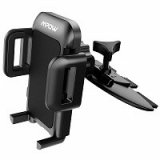 Mpow

Our rating
Fits Into CD Slot
Price:

See Here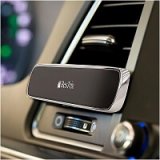 Bestrix Magnetic

Our rating
4 Strong Magnets
Price:

See Here

Whether it's just there to charge up your phone or to give you a handy place to put your GPS while on those long car rides, a car phone holder has many different uses. And today, we're going to be counting down what are, in our opinion, the ten best. So, turn on Spotify and get ready to drive, because we're counting down the:
10 Best Car Phone Holders
1. Beam Electronics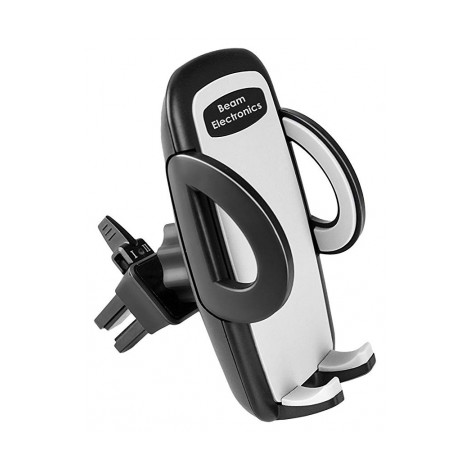 Kicking off our list, we have the Beam Electronics Universal Smartphone Holder. This is what people normally think of when they think of this kind of product. It's a flat platform on an arm-like attachment that you put into the air vent in order to keep your phone suspended. But a closer look will reveal some very interesting features.

Expand to see more
Single handed operation
When you're driving, you really only have one hand free, if even that. So, you probably don't have much patience for a phone holder that makes you use two hands to get your phone free. Fortunately, this is a problem not shared by Beam Electronics' phone holder, which allows for complete operation with only one hand.
360 degree rotation
The head of this device exists completely on an axis, meaning that it can be turned a full 360 degrees in any direction. So, if you prefer
looking at your GPS
while the phone is turned on its side, you can do that. And if you prefer to do so while the volume buttons are facing upwards, you can do that too.
Cost and Value
The great thing about car phone holders is that they're actually very cheap. Sure, there are a few pricey ones out there, but for the most part, they're like this one, nice and affordable.
Single handed operation
360 degree rotation
Cheap
Grip won't work on some vents
2. Mpow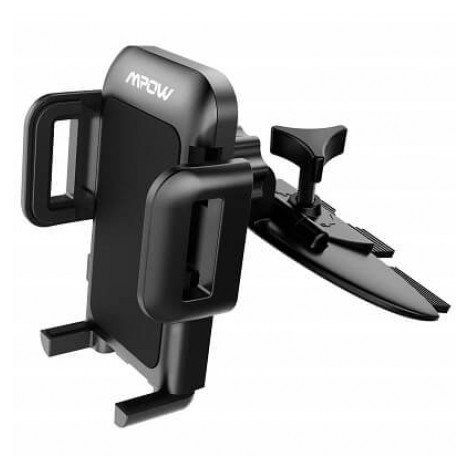 Coming in second place is the Mpow Car Phone Mount. This is a phone holder that you probably won't see around for much longer, as it's intended to be inserted into the CD slot on your car radio, and with CD's dying more each day, it's doubtful that this will be common for much longer. But until that happens, we can appreciate what a marvelous little device this car phone mount is.

Expand to see more
Sturdy
One thing that you definitely want out of your cell phone holder is a
tight, sturdy grip
. When driving, you don't have the ability to reach down and get your phone. You have to rely on the holder having a good firm grip on whatever you have it stuck to. Fortunately, through the use of three side grips that go into the CD slot, this car phone mount will go into the CD slot and stay there until you tell it to do otherwise.
Works with a phone case
One hurdle that phone holders have had an issue with crossing is that phone cases don't tend to agree with them. Fortunately, you don't have to worry about that with this one. While it won't work with every kind of car phone holder under the sun, it will work with a lot more than your average phone holder can handle, which counts for a lot.
Cost and Value
This one is a bit more expensive than the previous entry, but not enough for it to actually matter, so it still lands nice and safely into the cheap category.
Sturdy
Works with a phone case
Cheap
The future of CD usage in cars is shaky at best, so the lifespan of this product is up in the air
3. Bestrix Magnetic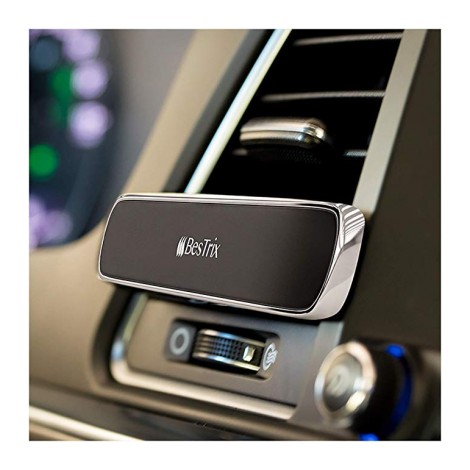 Finishing up our top 3 segment, we have the Bestrix Magnetic Dashboard Cell Phone Holder. The main thing this holder has going for it, that the others don't, is the fact that you don't slot this one into any kind of platform, but rather you place it against a magnet and let that hold onto the phone for you. What difference does this make? Let's find out.


Expand to see more
Powerful magnet

All you have to do to put your phone into this holder is to just stick it against the magnetic surface, and four magnets under a surface of silicone will do the rest. And if you have a phone that you keep in a case and don't feel like taking it out just to put it on something you're going to take it off of later, then you don't need to worry about that either. Just put a small metal plate in the case and then stick it to the holder. Problem solved.

Durable design and high quality

Accept nothing but the best, that's our motto in life. And Bestrix agrees, which is why this car phone holder is completed with the highest grade materials in this niche market. Made out of high grade ABS plastic that offers durability and flexibility, and the base of this holder is made from a sturdy gel material that will keep it stabilized on most dashboard materials.

Cost and Value

The main problem with this phone holder is the price. Of course, such a high quality gadget, made from top shelf materials, would cost a bit more than the run of the mill stuff. And while you are definitely getting what you paid for, this may be a bit more than what most may be willing to part with for a phone holder.


Powerful magnet
High quality and durable design
Easy to install
Doesn't fit great on leather surfaces
4. Bestrix Universal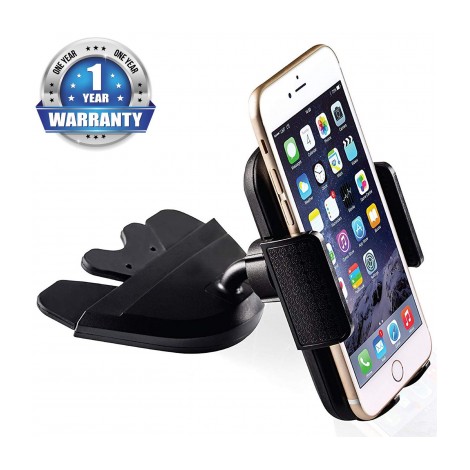 Coming in #4, we have the Bestrix Universal CD Phone Mount. Once again, we have another CD phone mount and the main inevitable problem that applies to it. However, this is Bestrix, who always turn out amazing products, so there are definitely good reasons for this decision. Let's go over them now.

Expand to see more
Perfect viewing angle

The reason these phone holders keep coming back to the CD mount design is that of the fact that, whether by intention or convenience, the CD slot represents a perfect view for a phone holder. Angle the phone properly, and you have yourself a perfect view of the GPS when on a long trip. Just a quick turn of the head, no neck craning needed.

One touch removal

When it comes to the removal mechanism for a car phone holder, you typically want there to be as little distraction as possible. Even having to press a single button a little harder than you otherwise would be a huge problem. Which is why, despite this phone holder having one of the most secure grips on this entire list, the release mechanism is as easy as just running your finger along the back of the holder.

Cost and Value

While near the price of the previous entry, being Bestrix and all, this phone holder is just low enough that we consider it to be the much more desirable price of the two.

Perfect viewing angle
One touch removal
Affordable
Particularly thick cases are a problem
5. WizGear Air Vent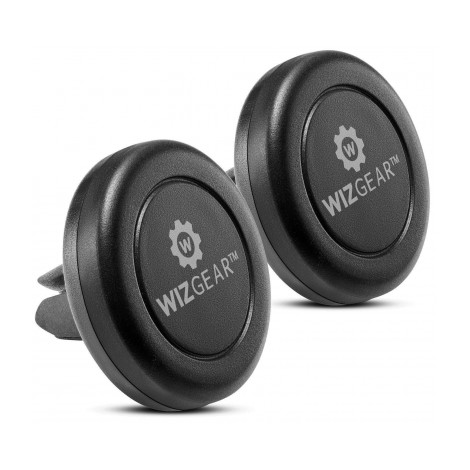 For our #5 spot, we chose the WizGear Air Vent Magnetic Phone Car Mount. This is another magnetic car mount, this time meant to be mounted to your air vent instead of your dashboard. This holder will produce an intense, attractive force that will hold any smart phone. Speaking of which.

Expand to see more
Universal application

The great thing about using magnets instead of platforms for the phone mount design? They're nondiscriminatory about the kinds of phone they can work with. No matter the type, make, or model, this phone holder will handle any kind of phone you put it up to. Mostly because metal is found in every phone, somewhere.

Comes with a metal sheet

With the last magnetic entry, you had to scrounge for your own metal sheet to put in your phone case if you didn't feel like taking off the phone case and putting it back in again over and over again every time you wanted to use the phone case. With this one, there's a free metal sheet included with the package, so that's nice.

Cost and Value

Thankfully, we're back to much cheaper prices, which only makes sense, given the small size of the object. This is among the cheapest entries on the entire list, so if you want excellence of a good price, this is it.


Universal application
Comes with a metal sheet
Very cheap
6. Bosynoy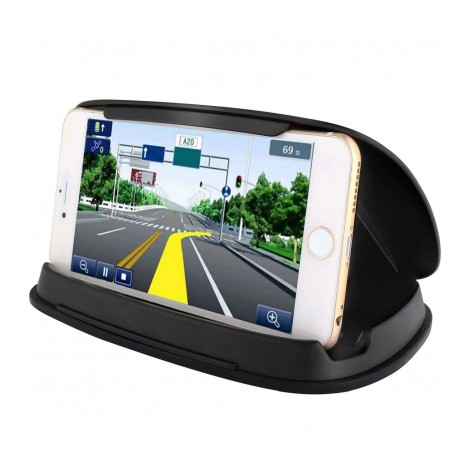 Coming in at #6, we have the Bosynoy Cell Phone Holder. This is easily one of the most unique designs we've featured on this entire list. Instead of an arm that extends outward from the dashboard, this is a small platform that you mount on top of the dashboard and then stick your phone into. So what benefits does this have? Let's take a look.

Expand to see more
Immediately within view

Even with the best placed cell phone holder thus far, you still usually have to turn your head pretty far in order to see it. But with this one, since you can put it on any part of the dashboard that's flat (which depending on your car, can be anywhere) you just have to turn your eyes to see the screen of your GPS, telling you where to go next. It's the ultimate in convenience for the busy driver.

Efficient

This phone holder has a lot else going for it besides just being able to be well placed. It's also one of the most efficient entries on this entire list. It's triple reinforced, can be opened in a single touch, has no visual blind spots, ensuring that you drive safely, and its large silica gel base ensures that it isn't going anywhere.

Cost and Value

The price of this one is pretty affordable. Not cheap, of course, but not expensive either. If you want a fairly unique, very well-made cell phone holder, and you have some money to throw around, we definitely recommend this one.


Immediately within view
Efficient
Affordable
The adhesive could be stronger
7. Koomus Pro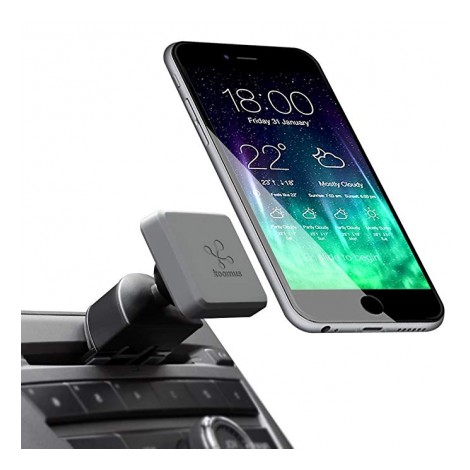 For the #7 spot, we chose the Koomus Pro CD-M Magnetic Smartphone Car Mount. We have yet another CD slot phone mount, and this one is about as simple as it gets. Although it does have a few innovations to it, beyond simply being magnetic.

Expand to see more
Full 360 degree rotation

Bringing this chestnut back, because several of the previous entries didn't have it. So it became special to have it again. And sure enough, whatever angle and direction you like having your phone mounted in, this phone holder will accommodate you no matter what. You can even mount it with a protective case still on your phone (in fact, if you're using an iPhone X, then a smartphone case is required for it to work properly).

Hassle free mounting

Installing this holder and mounting something to it is almost hilariously simple. Just slot it into the CD compartment, and the holder is now stuck there and never coming out unless you press the right button. And you can just slap your phone onto the mount when you get in the car and leave it there. Completely hassle and worry free.

Cost and Value

The price for this entry is just a little bit below pricey. Just enough to be considered affordable, but not enough for that fact to be considerable.


Full 360 degree rotation
Hassle free mounting
Universal compatibility
The neck can snap if not handled with care
8. iOttie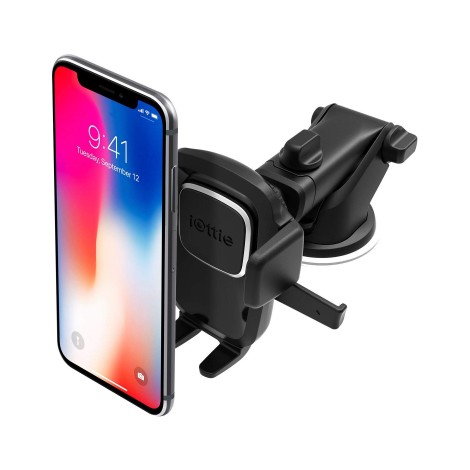 Getting into the final three entries of this list, we have the iOttie One Touch Car Phone Mount. With this entry, we return to the classic design of placing the phone on a platform and then locking it in. So, what does this one bring to the table that the others didn't? Let's take a look and find out.

Expand to see more
Dashboard Mounting
Unlike the other traditional car phone holders, this one goes for the
suction cup design
instead of the usual clamp and lock design. This means that you can put it pretty much anywhere on the top of your dashboard, as long as it's a semi flat surface that you're putting it down on. In fact, if you're feeling creative, you could pop it onto the inside of the windshield and tighten the grip so that your phone stays in place, and you have your GPS in your immediate peripheral.
Adjustable viewiuser-friendly
The arm of this holder is specifically designed to be as user friendly as it can possibly be. Telescopics are not a new thing, not by a long shot, but they're rarely done with such small devices as this. However, this arm is completely telescopic and is thus one of the most adjustable entries on the entire list. Whatever position you need this thing to be in, this arm will get there.

Cost and Value
This is one of the most expensive entries on the entire list. Telescopics are not cheap, especially not when you want the good stuff.
Dashboard mounting
Adjustable viewing
One touch lock and release
The adhesive is a bit iffy
9. Auto Tech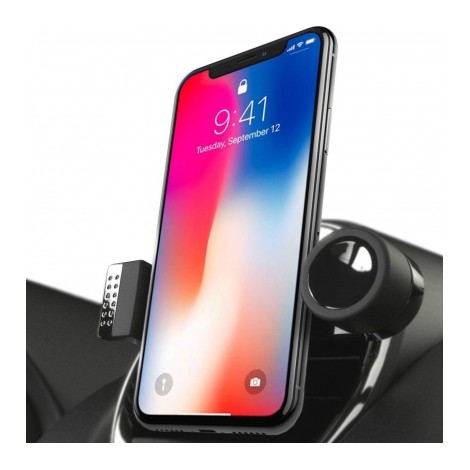 For our second to final entry, we have the Auto Tech Cell Phone Holder. This is basically the same design mindset as the previous entry, only with a different twist to the design. There's no lower platform to rest the phone on, it's all on the two arms of the holder to keep the phone in place. However, there is a certain advantage to this minimalist mindset, which we will go over now.

Expand to see more
Ultra durable grip

Given that the grip of the hands on this holder is the only things between your phone and the bed of the car, it makes sense that the grip of this phone holder would be of above average quality. In fact, this is probably the strongest grip out of any entry on the entire list. You can hit road bumps and potholes until the cows come home, stay a week, then go back to work in the city, and that phone won't have moved an inch.

Fits all car vents

As you've likely deduced by now from the photos, this phone holder is meant to be put into car vents. With other phone holders like this, you usually have to make sure that your air vents will be able to handle the car phone holder you're considering. But this one is completely universal with pretty much all car air vents. So, if you have an air vent with any kind of surface for it to grab onto, you're pretty much good to go.

Cost and Value

While not the cheapest on the list, it's definitely up there. Easily the second cheapest entry we've covered so far. So, if you're on a tight budget, but don't want that to get in the way of your enjoyment of a good car phone holder, then this is the one for you.


Ultra durable grip
Fits all car vents
Cheap
Phone cases are a problem
10. Scosche MagicMount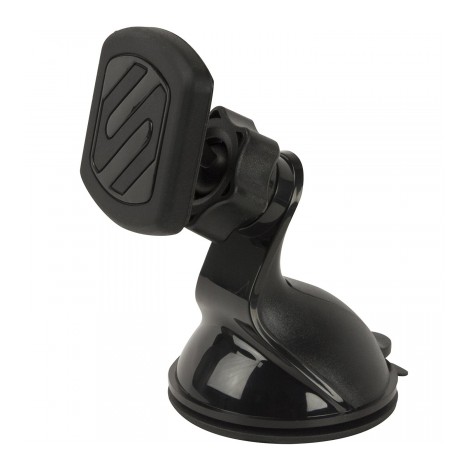 For our final entry for this list, we have the Scosche MagicMount Phone Mount. Yet another magnetic phone mount, this one actually poses some unique features that set it apart from the other phone mounts we've covered so far on this list. What are those features and how did they get this entry on this list? Let's close out our list by finding out.

Expand to see more
Versatile and secure
Not only can this car phone holder fit onto just about any surface you can think of, whether it be in your car or elsewhere, but it will grip onto those surfaces hard, and not let go until you press the release switch. This is all thanks to the strong, automotive grade adhesive that coats the bottom of the holder. So, whether it's the inside of your car, the outside, or even in places like your home office, this holder isn't going anywhere.
Convenient
For
such a small device
, almost every inch of it is specifically modified for your convenience. Including a charge cable clip that you use to keep your charging cable for your phone nice and secure. This keeps it from wobbling around and potentially disconnecting itself, and from getting in your way when you need to reach for something near it.
Cost and Value
While this one is a bit more expensive than the previous entry, it's not by a whole lot and nothing you can't manage besides. If you want an ultra-convenient, versatile phone holder, you've come to the right product.
Versatile and secure
Convenient
Affordable
Too big a phone and the thing will shake loose regularly
Car phone holders are so convenient and useful for drivers that some states have made it the law to have a phone mounted in a phone holder when driving. And it doesn't take a long look to see why, as they allow you to keep a close watch on your phone, whether if you're playing music or using your GPS, and allows you to keep both hands on the wheel at all times. Car phone holders come in many shapes and sizes, but the basic idea remains the same: keep the phone out of your hands but within reach. They allow you to keep a constant eye on it, charge it conveniently, and generally make your driving experience easier because you aren't constantly pestered by your phone. And if that's what you're looking for, then we can safely say that every single one of these entries will give you precisely what you've been looking for. Every single one provides excellent service, keeps your phone secured and conveniently placed, and makes your driving experience all the easier for it. So, if you're tired of constantly having to keep an eye on your phone, and always having to have one hand off the wheel, then pick out one of these phone holders, and watch as so many pet peeves just melt away.
Criteria Used in Choosing the Best Car Phone Holders
This was actually one of the easier lists of criteria to figure out for this list. These devices aren't so complicated that it's hard to know where to begin, but not so simple that any criteria we list feels like common knowledge. This one was right down the middle, which is right where we like it. So, with that said, here are the most vital criteria we used to evaluate which entry got onto the list and where.
Grip
Whether you're using a clamp to secure it in the CD slot or air vents, or a suction cup to stick it to the windshield, or whatever else you're using, then grip is of utmost importance. This goes for both the side you're sticking to the dashboard, and for the part, you're using to hold the phone. If your phone falls out of your holder and onto the bed of the car, then if you're driving, you're probably not going to be able to get your hands on it until you stop the car. You want to make sure you're getting your hands on a car phone holder that can handle any kind of road bumps and potholes, and still maintain a good grip on your phone, and the dashboard to which it's clinging.
Versatility
How many places can the car phone holder be placed? Can it be used outside of the car? If so, where? These are important questions you should ask about the car phone holder you're buying. Because if the part you were putting the holder on is no longer an option, then you need to make sure that you have somewhere else to put it. This is why most people prefer car phone holders with suction cups on the end. Because they can really be put anywhere that there's a flat surface. And if the head of the holder can be adjusted in full 360 degrees, all the better. Versatility is what you should look for in a car phone holder because it's always good to have a backup plan.
Adjustability
But it's one thing to be versatile, but what about adjustable. Sure, you have it in just the right place, but now you have to make sure that the phone is pointed at you to complete the placement. This is why the majority of car phone holders will come with adjustable arms that you can use to aim in any direction you need it to be. At the very least, the holder will have a head that can be angled in various different directions. If you can, we recommend getting your hands on a car phone holder with a telescopic arm, as those are the most adjustable types of car phone holders out there. But be forewarned, they're also by far the most expensive. Telescopic isn't cheap, after all.
What you're basically looking for with a car phone holder is just enough adjustability to be able to aim at your face, so that it's close enough to your peripheral vision that you don't have to take your eyes off the road too much to see where you're going on the GPS.
Universal usage
There are a lot of smartphone designs out there, and for whatever reason, none of them can agree on a single size for all of them. Which is why the hands for platform car phone holders are so adjustable in their own right. Car phone holder manufacturers know that very rarely will two customers who buy their product, do so while also owning the same type or size of the phone. So, it's best to make your phone holder as universal in usage as much as possible. This means able to accommodate multiple types of phones, from iPhones to androids and so on. This is one reason that magnetic phone holders have become so popular.
Price
The final criteria we went over for this list was the price of each item. This was actually one of the easiest criteria to judge because even the priciest item on this list was incredibly affordable by the standards of other items we usually showcase on this list. And as such, we applied our usual tactic of judging products like this. Namely, judging each entry by how well they justified having the prices that they did. This all came down to the features each entry had and the quality thereof. If the price reflected that of the features being offered, then it got more points to its favor. If not, then we had to dock it quite a few. Some otherwise very excellent entries lost out on higher spots because of this. After all, people aren't looking for a lot from these sorts of products, they just want something good enough to hold onto their phones while driving. They aren't looking to spend a lot of money on it, so we kept that in mind.
FAQ
Frequently Asked Questions
For the final segment of this article, we're looking at some FAQs surrounding car phone holders. We didn't find all that many, true, but as usual, the ones we did find were very important, vital information to know in order to have a fully informed opinion when buying a car phone holder. So, with that said, here are the most frequently asked questions surrounding car phone holders, and the answers thereof.
Q: Is it actually safe to use a magnetic car phone holder?
A: If you mean if it's safe for your phone and the data within to use a magnetic car phone holder, then yes, it's completely safe. In fact, not a single reported incident has been found to be credible where the owner's data was erased due to interaction with the magnetic car phone holder. This is because there are not any magnetic disks in the phone like there used to be in old landline phones. Thus, there's nothing for the magnet to mess with, especially since the data inside isn't stored magnetically. In fact, some manufacturers will even source magnetic cases that will generate certain purposes when closed. And if you're really worried about this happening, don't worry, you can just put a metal sheet in the case of your phone, and use that to hold it to the holder.
Q: the suction cup for my car phone holder has gotten dirty from years of use, how do I clean this thing without it losing its adhesiveness?
A: This is definitely a problem because that layer of dirt and dust has probably caused the suction cup to lose its adhesiveness at the same time. As such, you need to clean this thing very carefully. The first thing you do is remove the mount from your car, of course. You then clean off the gel layer of the suction cup with water and very mild soap. If your mount has a charging circuit, be sure not to get the rest of it wet. Finally, leave it out to dry in the air, do not use a towel to dry it off. Then place it back in the car, it should work fine now. One last thing to remember is that you should not touch the surface of the suction cup while it's wet, you will negatively affect the adhesiveness after it dries.
Q: Why does a suction cup mount need a completely flat surface in order to work properly?
A: You never studied. Basically, suction cups work by, well, read the name. They suck up air when pressed against a surface and maintain that suction in order to stay stuck on. Then the gel-adhesive does the rest, keeping it there after you press it against the surface. However, that road goes both ways, as the gel needs a complete lack of any air pockets and any breaches in the suction in order to work. So, you need to find as flat a surface on the dashboard as you can find in order for it to work properly.
Sources
Pitaka, It's True – A Magnetic Car Mount will NOT damage your Smartphone
Hunker, How to Clean Suction Cups
Subscribe to our Newsletter