10 Best High Back Booster Seats Reviewed for Safety & Protection
last updated:
Apr 06, 2021
You just couldn't fit your little one in the infant car-seat anymore. You kept moving the belts up and adjusting till you ran out of slots to put them in. It's time for a booster seat! There are lightweight, backless booster seats which raise your child's height to safely use your vehicle's seat belt. There are also high-back booster seats, which are heavier and more expensive…but safer.

So which should you be looking for?
The most important feature of a child car seat is safety.  While backless booster seats lift your child to the point where they are safely strapped in, that's all they have for crash protection.  High-back booster seats are safer than backless ones because they have much more.

In one study, the risk of injury was 70% less with a high back booster seat, as opposed to the use of a seat belt alone. Further testing showed the low-back booster seat wasn't much safer than using just the seat belt by itself!
Featured Recommendations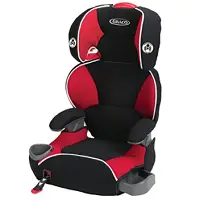 Graco Affix

Our rating
Unique front adjustment
Price:

See Here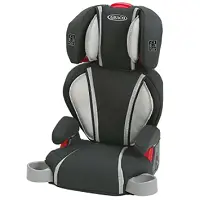 Graco Turbo Booster

Our rating
from 4 - 10 years old
Price:

See Here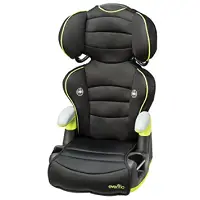 Evenflo Big Kid

Our rating
6-position height
Price:

See Here


One reason for that added safety is movement.  In a backless booster, your child's seat belt will lay in the perfect position, if your child is motionless.  Who expects your young child to sit entirely still while you drive? If and when your child moves around, the seat belt will shift away from the safest position.

High-back booster seats have special clips through which your seat belts run to place the belt at just the right position for your child.  This ensures that in the case of an accident, the belt secures them safely and will not reposition itself with your child's movement.

Another reason for the advanced safety of these seats is the added height and padding around your child's head.  These are especially effective in keeping children safe in a crash. The high back protects their head and neck, and also cushions their heads while napping.  No need to worry that there may not be headrests in your vehicle's back seat; a high-back booster seat comes with its own headrest.

There are a lot of options out there.  That's why we've compiled a list of the very best high-back booster seats, based on customer rankings.  You can feel safe making a great choice after reading through a detailed review of each of the top 10.
10 Best High Back Booster Seats
1. Evenflo Big Kid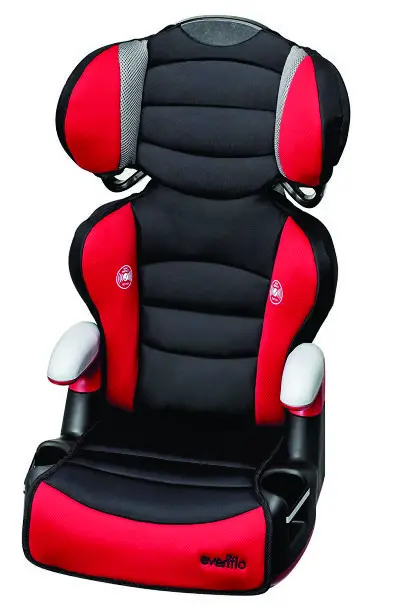 Like many of the products listed here, it is both a high-back and a backless booster built into one. It's simple in design and the seat belt clips keep the belt at just the right height for your child. You'll get your money's worth out of it since it can fit children for several years, from weights of 40 - 110 pounds, entirely adjustable for your child to grow into. Your child can rest easy with comfy cushions around his or her head for naptime and have treats at hand with the dual cup-holders.

Expand to see more
It grows with your Child
You will not have to buy another seat for your child, as the seat has 6 different heights you may adjust as your child grows. When your child 'graduates' to a backless booster, the whole back comes right off easily.

Easy to clean
Because of its simple design, this booster seat is easy to keep clean. Only the head cushions are plush, while the rest is material that's easy to wipe down. You may also easily remove the whole seat pad and launder separately. The simple design means easy wiping, with cup-holders that open to the side, elastics on one side holding securely any container to avoid spills.

Cost and Value
The cost of this seat is average for this kind of booster seat. You don't get the bells and whistles of some of the more expensive seats listed here, but you get a functional, adjustable seat you can use for years. A reliable name in car seats offers you a reliable, simple solution at a reasonable price.

Easy to wipe clean and padding is removable for laundering

Lightweight for moving between vehicles

Price is comparable to other boosters of this type

Back of seat adjusts to 6 different heights

Converts to backless booster easily
Padding lacking for your child's back after the seat is adjusted for height

Doesn't have as solid a frame as more expensive booster seats
2. Graco Affix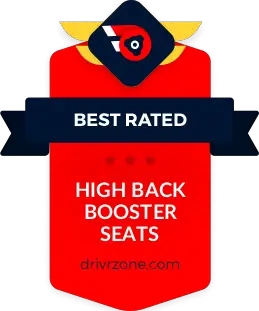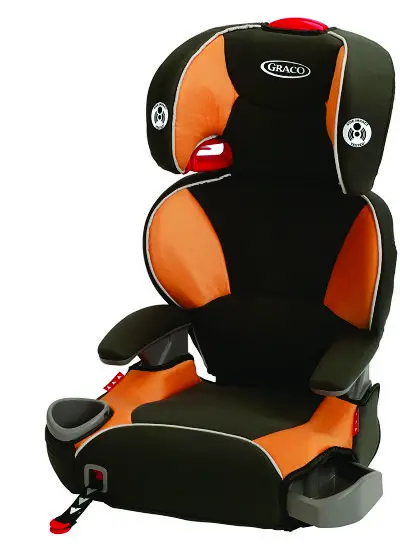 Another 2-in-1 booster, this seat will not separate itself when you move it in or out of your vehicle. It also sports a latch system, which helps the seat stay still in the event of a crash, and prevents the seat from moving when your child is seated in it. You even have the option to teach your child to buckle themselves in with the self-buckling feature. 2 cup-holders at the bottom hold your child's snacks, and the comfortable, wider seat will ensure a smooth ride for all, even on long trips.

Expand to see more
Latch System means Security
An empty booster seat can make a dangerous projectile in the case of a crash when unoccupied. The innovative latch system can allow you to simply push a button, pull out two connectors, and latch it to the seat of the vehicle. This allows it to stay in place whether or not your child is sitting on it.

Self-Buckle Option helps Independence
How many of us waste minutes buckling and unbuckling our children into car seats when we go for trips? The people at Graco know this annoyance, and developed a system on this booster seat through which your child can start doing it for him or herself. Then your child can buckle in just like you!

Cost and Value
This is another booster seat that is on the low end of the price scale. Just a bit more expensive than the Evenflo listed above, you get great value because of the extra features it has. With more solid construction and extra padding around the headrest, this is a good value for the price.

The latch system keeps the car seat from moving off the seat

Adjustable height, up to 10 different heights

Option to set up self-buckling for your child

Soft and secure headrest and side pads, and back even when extended

The pad is easy to remove and launder
Latch system could become a little loose on one side

The headrest has been reported to slip down out of position



3. Graco Highback Turbobooster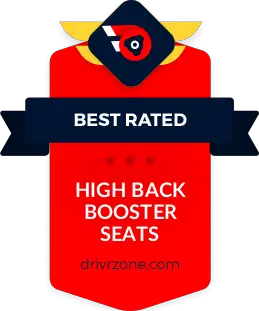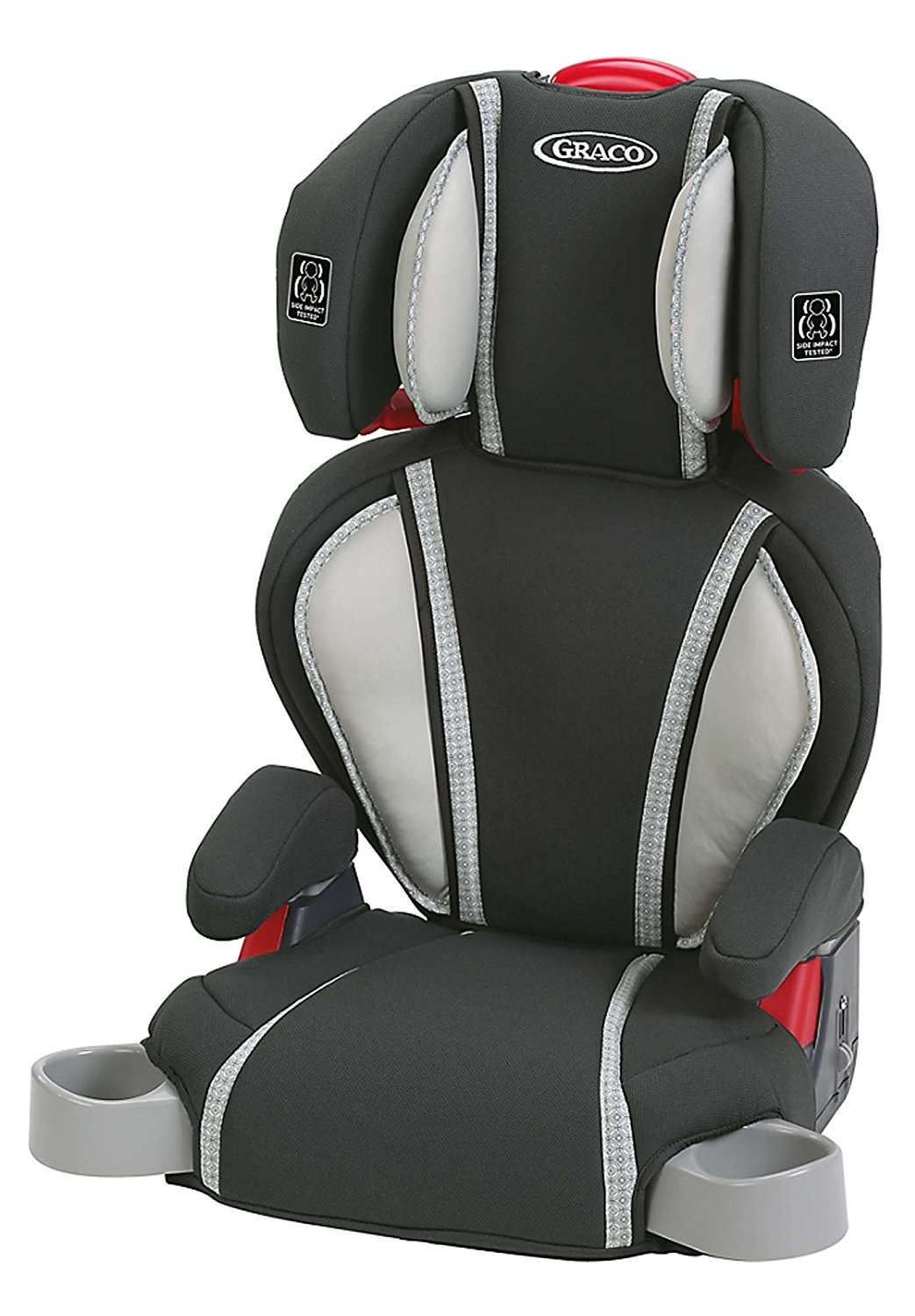 This booster has child-friendly features like put-away cup-holders and an adjustable headrest that will give your child a custom-fit seat like no other. The back grows with your child, and the material is easy to launder. While it is missing the safer side support that other booster seats have, it is one of the lightest seats to carry around when you are moving it from vehicle to vehicle.

Expand to see more
Entirely Adjustable
You may adjust the height of the back and the headrest so your child can sit comfortably with a custom fit, including adjustable armrests. It can be adjusted by you, or your child can make the changes they need in order to get comfy for a long trip.

Narrow and Lightweight
This booster seat is great for parents who need extra room, like a small car or for placing side-by-side with other car seats. These seats can fit 3 in a row in the back of a van and are easy to carry away when needed.

Cost and Value
Parents like the cost for the value of this seat. It has several features that other seats don't have at a similar price. It maintains a competitive price, even though it features adjustable armrests and put-away cup-holders.


Adjustable back, a 2-in-1 booster that grows with your child

Narrow for multiple placements or for installing in small cars

Lighter than other boosters

Padded armrests even your child can adjust

Put-away cup-holders for more space



Lack of padding around where the thighs and legs rest

If your vehicle has forward-leaning headrests, this seat will not fit securely



4. Evenflo Maestro Booster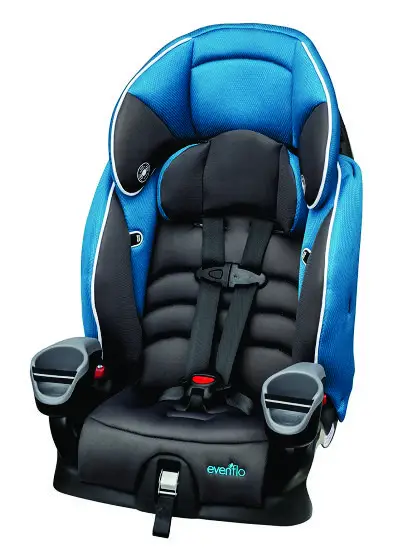 This lightweight, compact booster seat transitions from a 5-point harness to a booster seat. Its small size makes it great for small cars and for transportation. The shape of the padding around the headrest makes it perfect for bringing your vehicle's seat belt to just the right position. The belts are easy to adjust using the strap at the front of the seat.

Expand to see more
Convert from Rear-Facing to Booster
This seat is one of the few on this list to protect your child from the age of a rear-facing baby to an older, front-facing child. It is soft and comfortable for your child at any age. While you may need to purchase another high-back booster if your child is taller than others, you can use this seat for years before that is necessary.

Small and Lightweight
This booster seat 2-in-1 is easy to install, and reinstall, and is a smaller size, perfect for small cars or multiple car seat usage. The cup-holders even come off entirely to make more room for other passengers.

Cost and Value
The strap system that secures the seat to your vehicle ensures that even though it's lightweight, it is secure as you drive. The price is a little higher than the last two seats, but it is sturdy and compact and gives great value for your dollar. You pay a lower price but get a quality seat.


Small enough to use beside other car seats

Approved for use on aircraft

Adjustable straps, including the crotch buckle

Easy to install and move in and out of vehicles



Headrest does not adjust

No support for the head during naptime
5. Britax Parkway SGL G1.1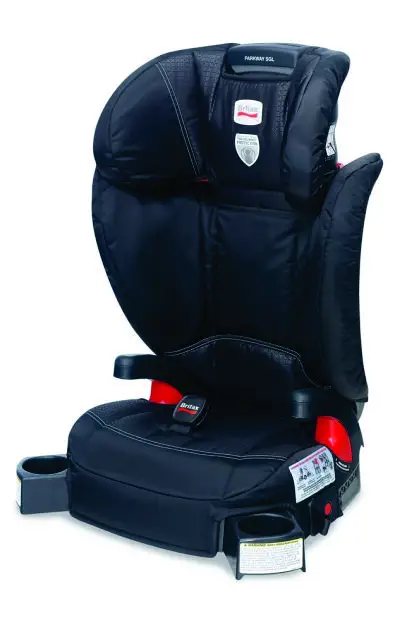 A lot of consideration about safety went into the design of this convertible high-back booster seat. The inner construction is a steel frame with impact-absorbing foam from three sides. It has extra padding on the sides of the headrest for protection in the case of side crashes. And even if your child is not in the seat, it stays put because of the built-in latch system that clips the seat to your vehicle's seat.
Expand to see more
SafeCell Technology brings Safety
The SafeCell technology is a system of different safety components working in unison to protect your child. The side padding protects against impact and the high-back shell and headrest will absorb crash energy to keep your child's head and neck protected. Sitting in this seat, your child is protected, and the latch system also protects other passengers.

Wide back allows movement
We all know how squirmy our children can get in the car seat. This seat features a wider back than most, so for comfort and room to stretch, the size of the back of this seat is unique and welcome, especially for those of us with children with bigger frames.

Cost and Value
Given the high value of the safety features of this seat, it is no surprise that this booster seat is on the pricey end of the scale. But what you pay for is extra safety and a durable, long-lasting structure. It is an investment that you will benefit from for years.

Wider back, providing more comfort

Constructed with a steel frame

Lap belt clip secures your child from slipping under during a collision

Easily converts to a no-back booster

Fits in any kind of car
Due to its steel frame, this seat is heavy to carry around

Children find it hard to operate the buckle on their own
6. Britax Frontier Clicktight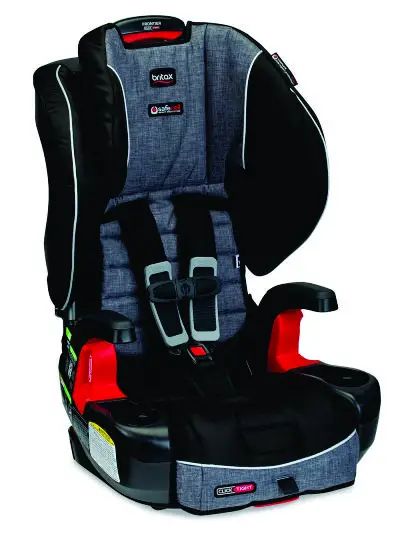 An attractive, safe and long-lasting booster, this seat has got a steel frame and shock-absorbing foam on all sides for maximum protection. It is padded so well that parents complain that their child falls asleep too quickly during car trips! The click tight combination keeps the booster securely attached to your vehicle, adding an extra level of safety for your child.
Expand to see more
Tallest Height of any Car Seat
Your child will be able to grow along with this seat until he or she is ready to sit alone with a seat belt, no matter how tall your child is. The height of the headrest is padded very well, too, ensuring that your child's head and neck are protected from movement or injury, even when fully extended.

Installation and Removal a Breeze
The Clicktight Combination is an innovative and easy way to install and remove the seat from your vehicle. Parents will appreciate the ease and speed of opening a door, securing a belt, and pushing a button to lock the seat in its place.

Cost and Value
When you consider the cost of this booster seat, factor in the steel frame, the size, and the shock-absorbing foam that surrounds and cushions your child. Add to that the durability and long life that this product is designed for, and the price is worth it when you consider you will not need to buy another seat.

Click-tight technology locks the seat in place in your vehicle

Impact protection from all sides

In harness mode, can recline

Size and weight limits mean more years of use

Easy to install and remove from vehicle
Harness difficult to tighten

Headrest rattles when traveling
7. Graco Atlas 65 2 in 1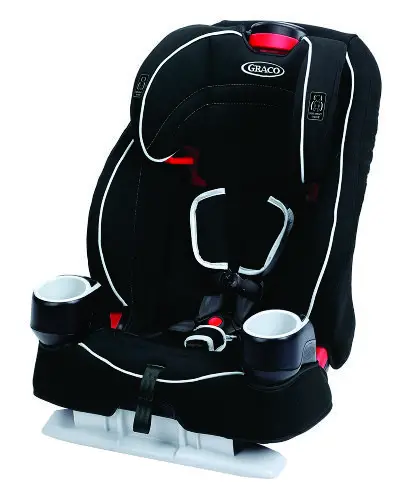 While this booster seat is convertible into a booster seat, it does not transform into a backless booster. You may store the 5-point harness in the seat when it is no longer needed. The headrest is entirely adjustable to the growing height of your child, and the steel-reinforced frame and padding will keep your child safe for years to come. It's easy to clean, and the cup-holders are within easy reach. This seat is a comfortable, simple solution as your child grows.
Expand to see more
From Harness to Booster
This car seat may be used with the 5-point harness for your child when they are between 22 and 65 pounds. You simply store away the harness so your child can begin using the vehicle's seat belt with it when they weigh between 30-110 pounds. Because it doesn't come apart in the middle, you never need to worry about it coming apart in your hands when moving it.

Safe but Light
You will have no trouble hauling this car seat around. Even though this car seat is the lightest on the market, it has a safe, solid structure. Normally light car seats can feel less safe, but this seat is engineered and tested well for the safety of your child.

Cost and Value
This booster, converting from a harness to a booster, with a steel-reinforced frame and secure padding, will cost parents just a fraction more than the boosters listed above. When you consider that you will use this booster seat for many years, you save on buying another: great value for your purchase.

This seat weighs just 12 pounds, much lighter than any other booster

Very simple to convert from 5-point harness to booster seat

Fits a wide range of child sizes

Great value for the price

2 cup-holders near to child's armrests



Some assembly required after purchase

Fastening it to your vehicle may prove difficult
8. Safety 1st Backed Store n' Go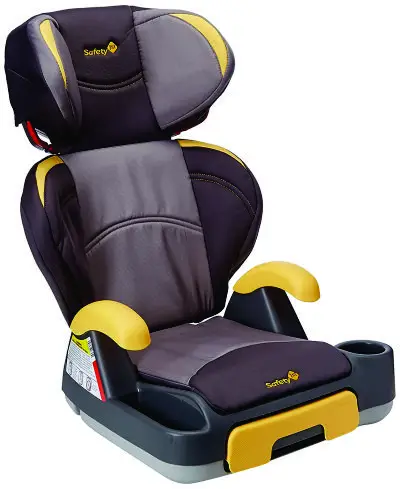 This handy 2-in-1 booster seat is not only easy to clean, it helps keep clutter organized with a storage drawer built in that is within easy reach of your child. It converts easily into a backless booster and is easy to move in and out of vehicles, as it is lightweight and simple to install.

Expand to see more
Storage Drawer
A wide drawer in the front of the seat can store a tablet or books and toys for your child, keeping the clutter off the seats and floor of your vehicle. The drawer is easy for a child to open, but stays put when closed. This is in addition to an outer cup-holder and a snack tray on opposing sides.

Comfortable
This seat is well-padded on the bottom and sides, ensuring your child is comfy and restful as you drive. The positioning of the headrest allows your child's head to rest comfortably as he or she naps.

Cost and Value
This booster is reasonably priced as it has features, such as the storage drawer and vibrant colors, above and beyond other seats. When you buy this seat, you save money for years as it converts fully to a backless booster. Not too expensive, it is a great value buy.

Storage drawer in easy reach of your child

Headrest adjusts to your child's height

Converts easily to a backless booster

Vibrant colors children love

Lightweight for moving from vehicle to vehicle
Headrest does not stay in place

Seat is narrow and could use more padding
9. Chicco KidFit 2-in-1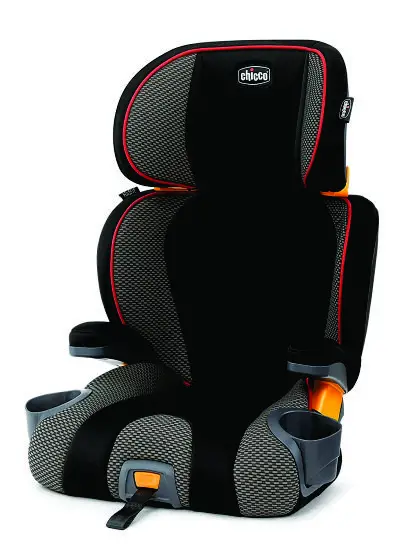 With this booster seat, you can securely latch it to your vehicle, and easily adjust it to the growing height of your child. The Duozone padding protects your child's head and shoulders as both can be adjusted to your child's height. It's easy to clean, too. You can take the main pad and the armrest covers off to launder and the flexible cupholders are a breeze to clean and fold up out of the way. The backrest reclines so your child can rest easy, seated comfortably on the contoured seat padding.
Expand to see more
Entire Head and Back Panels Adjustable
While other high-back boosters have headrests that can adjust to the height of your child, this booster brings the entire back with the headrest up to protect your child while he or she grows! There are 10 different height settings so you can use this booster for years. Because they can both adjust, the seat can fit the shape of any vehicle's seats.

Comfort and Convenience
The Ergoboost double-padding on the seat is contoured to the shape of your child, making it one of the most comfortable boosters on the market.

Cost and Value
When you consider that you will use this booster seat for probably 8 years, you can see that it's a good investment. This seat had great ratings, and it was difficult to find any cons to list. When you purchase this seat, you know you're getting good quality at a fair price.

Cup-holder folds away for more space

Latches onto your car for easy one-pull installation

Double-foam padding makes seat comfortable

Seat pad and arm-rest covers are removable and washable

The backrest reclines like your vehicle's seats
When extended and empty, the car seat rattles when driving

Not easy to clean
10. Cosco Finale DX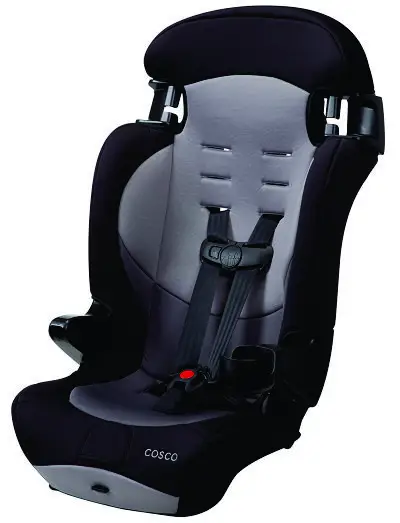 This booster seat will fit your child as he or she grows from 30 pounds to 100! While it may not be the last car seat you will ever need to buy, you will use it for years before needing a larger seat. Its narrow design makes it easy to fit in your vehicle with other passengers, and it is one of the most affordable 2-in-1 seats available.

Expand to see more
Room for 3
The narrow size of this seat will please parents or caregivers with several small ones to transport, as the size of the seat fits 3 across in a back seat. The narrow size doesn't mean your child will be uncomfortable, however, because it also has soft padding.

Shoulder Belts Two Ways
When the car seat is in booster mode, you can have the option of having the shoulder belts go in two different ways. You may choose how to thread the vehicle seat belt in the position that suits your child best at his or her present height.

Cost and Value
For the low price this seat is offered at, it's a good option for a secondary booster seat or another caregiver's vehicle. It is lightweight because it has little padding or reinforcements, so for this price point, it's good value as a secondary car seat for quick trips.

It is flight-approved so you may use it when in harness mode

Padding is easily removable and washable

It has seatbelt position guides to keep belts where they should be

Comes with a latch system to secure to your vehicle's seats

Lightweight for moving between vehicles
Nothing to hold the vehicle's seat belt in place

Little padding, uncomfortable for long rides



When you realize that your once tiny little baby is getting older, taller and heavier, it may be time to convert them to a booster. For new parents, this can be a confusing time. Which booster seat do you choose? Do you need a backless or high back booster seat with harness? How big should they be? How do you install one?
So there you have it.  There are a lot of great options out there.  When you choose a high-back booster seat, it helps to think about how you are going to use it.  Will it be in daily use, for long car trips, or for a secondary vehicle? Will you need it to be narrow, or wide? Does color or style matter much to you? Can your child climb in and buckle up themselves? Do you want your child to do that on their own? And, the most important: how easy is it to clean?
Until your child is 4 feet, 9 inches tall they cannot travel in your vehicle without a booster seat. And the safest kinds are the ones listed here, with the high backs. The backs offer support and extra protection in the case of side impacts. And when the time comes, you have a backless booster ready for them.  Some have bells and whistles that you can pay for if you like, but others are more simple and at a lower price range. Choose wisely!
Criteria for Evaluating the Best High Back Booster Seats
These are the questions that we would like to help you with. We feel that high back booster seats are some of the best booster seats on the market, so we've compiled an entire comprehensive review so that you can find the best high back booster seat for your child. We've looked at many hundreds of the safest high back booster seats to locate the ones that we think you'll love. So check them out, and get ready to go shopping.
What to look for in a High Back Booster Seat
Look for a High back booster seat with these features:
Adjustable back and & Headrest
Side protection
Comfort
High safety ratings
A strong car seat base
Belt clips at several heights
Adjustable side & base
Accessible harness adjusters
Smooth fabric
Easy Installation Guide
high height and weight limits
What is a booster car seat?
It's the final type of car seat that a child will use before "graduating" to using a regular seat belt. This seat comes after a child has used a rear facing and a front facing car seat. Booster seats primarily serve to lift (or boost) the child up so that they are at the proper height to use a seatbelt. 2 types of booster seats exist, high back boosters and backless boosters.
As the names suggest, the seats differ based on if there is a back to the seat or not. A high back booster contains a back to the seat, and a backless booster is simply a bottom seat that a child sits on top of. These seats are not the same as a front facing car seat and come with far fewer components. Because your child has already grown a lot, they do not need the same amount of protection that they used to when sitting in an actual car seat. However, because they are still not quite tall enough to use a seat belt on their own, a booster is the final step needed.
High back booster seats are different from backless booster seats in that they do have a back. In other words, backless booster seats simply have a small booster bottom. In many ways, the backless booster is lighter weight and smaller. To be sure, backless booster seats can be useful for kids who are learning to become more independent.
But high back booster seats have a lot of unique benefits that backless boosters do not. For one thing, they offer more support to the backs of children. They support the entire back area whereas backless boosters simply butt up against the back seat.
They are also great because they offer a headrest to protect the head and neck. In the event of a crash, this will be very important for your child. Some safety tests have also shown that top-rated high back booster seats have better side impact protection. And finally, having one will better align the safety belt to the areas of your child's body that are best suited for the impact of the seat belt. On children, this will be the upper shoulder and the lower hip area. Altogether, high back booster seats are much better than other forms of booster seats and have a great number of benefits for you and your children.
We want you to have optimal information when it comes to purchasing the best booster car seat. We're the experts, and we know you're coming to us with questions about which seats offer what features. So we've decided to create a unique selection of the top 10 high back booster seat reviews. These are the seats that parents like you are looking for, so check them out and find the one that fits your needs.
Installation Tips & FAQs
Making sure the kid is safe is always your first priority as a parent. As your child grows, you begin to realize how challenging child safety can be. In particular, keeping your child safe can be a stressful experience. With so many different types of seats, it is not always easy to understand when a child should be in that seat. Beyond that you also have to worry about picking the right model, installing it properly, and placing your child in it properly.
The final type of car seat that your child will use before they can use a regular seat belt is a booster one. As you will learn, there are various types of booster seats. These seats are just as important as any other car seat and will help keep your child protected while they are still too small to ride on their own with only a seat belt.
Are you looking for a booster, but aren't sure where to begin? Do you have questions about the installation process or about when to use this type of seat? Don't worry. Plenty of parents share these same questions and for this reason, we have put together this guide with some basic installation tips and answers to frequently asked questions. Hopefully, this will help clear up any confusion and help you make the right decision for your child.
How are booster seats installed?
What you will come to like about booster seats is that they are much easier to install than rear or forward facing car seats. This is because, in the majority of cases, there is no installation process for a booster seat. These seats do not attach to your car using your car's seat belt system or LATCH system. Instead, a booster one is simply placed where the child will sit, and the child secures himself using the seat belt from the car. The seat belt works to secure the child and the seat in place.
There are rare cases where a seat has some sort of installation process, so be sure to always read the instructions to make sure you are doing the right thing. An improperly installed car seat, no matter what type of seat, can be dangerous for a child, so make sure you are completely aware of what the procedure is for your particular booster seat model.
Does a child use a regular car seat when switching to booster seats?
Yes! When a child switches from using a children car seat to booster seats, they also switch from using a specific car seat harness to using a regular seat belt. For most booster seats, a child will secure themselves using your car's seat belt. Without the booster seat, the seat belt would hit your child in the wrong areas, but with the booster seat, the seat belt will fit comfortably across the child's lap and chest.
As we said earlier, booster seats are much simpler than car seats, as their main purpose is to just give your child a slight lift so that they are able to use a regular seat belt. If the seat belt does not fit properly with your child when they are in their booster seat, you might have switched from a children car seat too soon. An improperly placed seat belt can be very dangerous should you get in a car accident, so make sure everything is properly in place before driving anywhere.
FAQ
Frequently Asked Questions
Are you interested in learning more about the best-rated booster seats? Or perhaps you have more questions about how to choose the best high back booster seat on the market.
We often get a lot of the same questions about these seats, so we've compiled a list of the top most frequently asked questions to give you a better idea of what you should be looking for in terms of the best boosters and also to answer any other questions you may have. Check it out!
Q: When should children transition from a children car seat to a booster one?
A: You need to wait until your daughter or son is a certain age, height, and weight before they can transition into a high back booster seat. Remember that rules and regulations may vary from state to state. But in general, your child needs to be at least age 4 before they can be transitioned to a booster one. And in addition, they need to weigh at least 40 pounds or must be tall enough so that their shoulders go higher than the straps for the harnesses in their car seat.
It may be tempting to move your child into a high back booster seat as soon as possible, but the best course of action is to wait until it is absolutely necessary to move them. Car seats are by far the best option if children fit them safely.
Finally, remember that it is important that your children do not sit in the front seat of the car until they are older and taller. This is because the head and neck of children who are shorter would be right at the angle that the airbag might hit them squarely. This could cause head, neck or spine damage or even a fatality.
Q: What's the difference between a high back booster seat and a backless booster seat?
A: 2 Types of booster car seat exist. High back booster seats look more like car seats, but they use the seatbelt from the car that is threaded through the booster. The high back booster has a high, cushioned back and padded sides.
On the other hand, backless booster seats just have the bottom seat area, so they are much smaller and lighter weight. The problem is that backless booster seats use the seatbelt from the vehicle too, but because the belt is not threaded through anything, it can hit the wrong places on your child.
Q: How do you install one?
A: It can be very intimidating to install a baby car seat or high back booster seat. Did I do it right? Is it safely attached to the car? Unlike infant car seats and different convertible seats for smaller children, booster seats of any kind simply sit in the back seat of your car. They don't actually get attached to the LATCH system as the car seat does.
For this reason, you don't have to worry about actually installing the seat into your car, but you do need to make sure that you are using the booster seat properly. For example, they must be securely strapped in with the seat belt, and they should fit snugly in the seat against the back.
Q: Do they come with seat belts?
A: Generally speaking, a booster is unique from a baby car seat in that it actually uses the seat belt of the vehicle. The seat belt just goes through guides on the booster seat and fits around the child.
The reason that it is important for the child to be raised up when the seat belt goes around them is that if the child is not raised, they are too short so that the seat belt would not hit the right spots on their body. Instead, the seatbelt would hit their neck and side whereas it should ideally hit their upper shoulder and lower opposite hip.
Q: How long will your child have to be in a booster seat?
A: As your child transitions from their rear facing infant seat to a toddler front facing seat to a booster seat, you will need to be ready for yet another change. After they are finished with their high back booster seat, they've got to then transition to a regular seat in the back seat. When they transition will depend on how old the kid is and what their weight is. This may also depend on what kind of car you have and what the laws are in your state. Check your state's laws before making any changes to your child's seating.
But besides laws, you should also know that they must be at least 4 feet 9 inches tall before they can sit alone in a seat with a seatbelt. Typically, this means that your child will be between 8 and 10 years of age.
There are some other things you can look at to decide whether or not you are ready to transition your child into a full seat belt seat as well. For example, check to see whether or not your child can sit against the seat back comfortably. In addition, their knees should naturally bend at the extended seat edge. The seat belt should touch the top of your child's thighs and strap across their torso. Finally, the belt should touch the upper shoulder and go across the chest. If the kid is able to sit like this for an entire car ride, they should be ready to switch to a regular seat in the back seat of your car.
Q: Should I look for a car with an integrated booster seat?
A: There are some newer models of cars that have infant seats and booster seats built into them. These may be good for some people, but certainly, not everyone is going to want to have a children car seat or booster seat in their car for the entire length that they own the car. On the other hand, if you have or are planning to have a lot of children, or if you plan on selling your vehicle after your child outgrows the built-in seat, these may be options that you should look into when buying a new car.
A Summary and How to Make Your Final Decision on a Baby Car Seat
Wow! That's a lot of information, right? Don't get too overwhelmed by everything that you've found here. There are certainly a lot of considerations that you will need to make where high back booster seats are considered, but if you use comprehensive reviews like this one, you can rest assured that you will find the seat that best fits your needs.
One thing that we should talk about before we leave you is where you should shop for your high back booster seat. We recommend going online. It is true that brick and mortar stores or department stores will have a lot of options that you can look at in person and touch and hold, but the Internet is really where it's at.
With the Internet, you can see the weight and dimensions of all of your favorite seat options, and you can also get the best deals. Having several different chairs sent to your home with free shipping and sending those that are not your style back is also an option. Ideally, you've found a high back booster seat that's perfect for you, and you're ready to check them out at a site like Amazon. We appreciate you visiting our review page and good luck on your booster seat quest.
Subscribe to our Newsletter