10 Best Cheap Car Seats Reviewed for Safety in 2023
last updated:
Apr 06, 2021
You don't have to be a parent to know that having children is an expensive journey. From cribs to daycare to strollers and everything in between, it doesn't take long for the child-related bills to start stacking up. Thankfully, many companies who specialize in baby products have taken this into account and have started to offer lower priced options for their items.
Featured Recommendations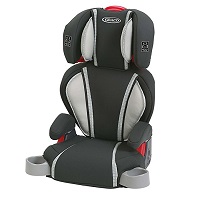 Graco Highback TurboBooster

Our rating
Side impact tested
Grows with your child
Price:

See Here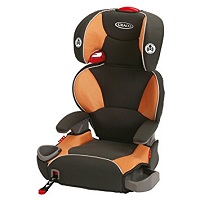 Graco Affix

Our rating
Unique front adjustment
Uses cars anchors to ensure stability
Price:

See Here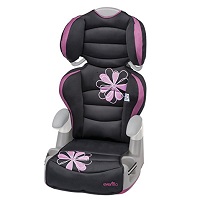 Evenflo Amp

Our rating
Removable back
Energy absorbing foam liner
Price:

See Here

Contrary to popular belief, a cheaper priced item does not necessarily mean a poorer product. Many people are under the wrong impression that by offering a lower priced item, companies must be cutting corners in some places. This just isn't the case anymore. And, as you'll see with our top ten list, you don't have to pay an arm and a leg to keep your children safe in your vehicle anymore.
We have scoured the internet in search of the most cheap car seats on the market and are quite pleased with the top ten list we have compiled here. Although these items won't break the bank or cost you an entire pay cheque to purchase, you can rest assured knowing that your little ones will still be as safe as they would be had you shelled out hundreds on a car seat. We are sure you will find something on this top ten list that will suit your little one's needs and will help cut back on some of the stresses that can come with traveling as a parent.
10 Best Cheap Car Seats
1. Evenflo Amp High Back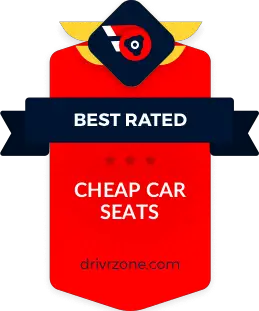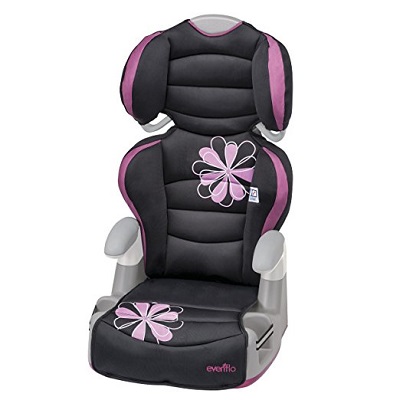 Rated number one on our top ten list, for good reason, this Evenflo car seat packs a one-two punch. It's not only incredibly affordable, but it's incredibly structurally sound, ensuring your little one will be kept as safe as possible in the event of a car accident.
Expand to see more
Adjustable
This car seat, rated for children 40-110 lbs, will grow with your child. It features a removable back for when they are ready to be in a booster seat and a six different positions for height adjustable as your child grows taller.

Safety First
This seat features a foam liner that is meant to absorb energy in the event of a car crash. It also is designed to withstand energy levels two times the crash test standard.

Cost & Value
Priced a bit lower than other options on our top ten list, this seat is a perfect choice for parents who need an option that is lower in cost but high in safety.


Cup holders are nice touch
Pad is machine washable
One-hand adjustment is fast & convenient
Easy assembly
Easy to move from vehicle to vehicle

Some kids may not find the seat comfortable
2. Graco AFFIX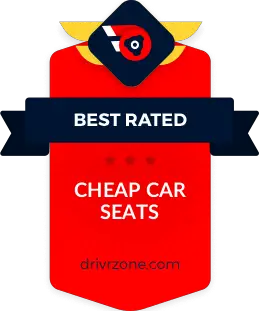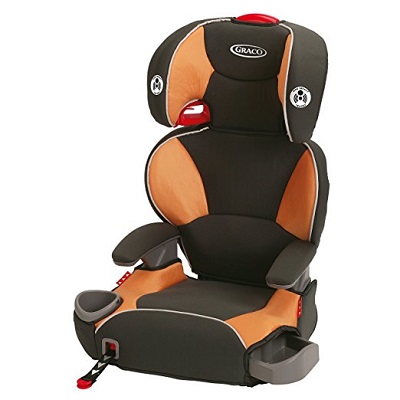 Coming in second on our top ten list is this beautiful high back booster seat. This aesthetically-pleasing car seat is a perfect choice for parents who want something durable and thoroughly safety tested.
Expand to see more
Safe & Secure
This car seat stays very secure in your vehicle thanks to its UAS system that uses your cars anchors to hold the seat securely in place.

Front Adjustment
The unique front adjustment system of this car seat lets you tighten the seat to your vehicle quickly and easily. No more struggling to get the right fit or having to remove the seat to try and make it fit properly.

Cost & Value
Priced a bit higher than other options on our top ten list, this car seat is a perfect choice for the parent who wants a mid-range priced product with added security features and adjustment options.


Integrated cup holder
Converts to backless booster for years of use
Drawer on side for small toys
Some reviews commented how secure the seat stayed in the event of an accident
Seatbelt positioner helps to keep the seatbelt in the proper position

Some reviewers commented they struggled with the headrest adjustment system
3. Cosco High Back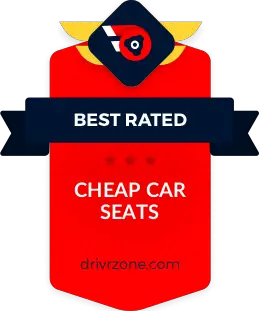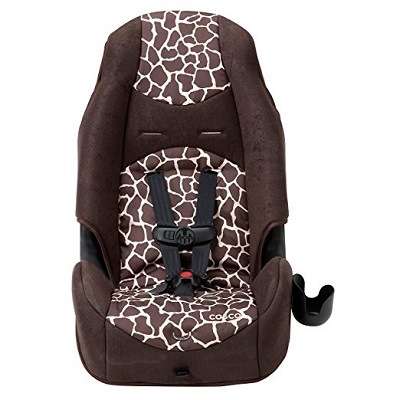 This 5-point harness booster seat from Cosco is a great option for parents of younger children wanting a seat that will grow with them. When used as a forward-facing seat, this works for children from 22 to 40 pounds. When using it as a booster, it's meant for children 40 to 80 lbs.
Expand to see more
Easy To Use
As mentioned, this seat will grow with your child throughout many stages in their young life. It is an easy process to switch as your child grows by removing the harness and using it instead as a belt-positioning booster seat.

Easy To Clean
This is another important feature that many parents will surely appreciate. The cupholder for this car seat is not only removable for easy cleaning, but it is dishwasher safe as well. The seat fabric for the seat is also washing machine and dryer friendly.

Cost & Value
Priced mid-range in comparison to other options on our top ten list, what sets this Cosco car seat apart from others is that it's perfect for families who still require a 5-point harness for their little ones. It's a great investment that will grow with your child.


Very easy to install
Built to accommodate growth
Fantastic to use in a second vehicle
Low profile
Lightweight, easy to move from vehicle to vehicle
4. Evenflo Tribute Sport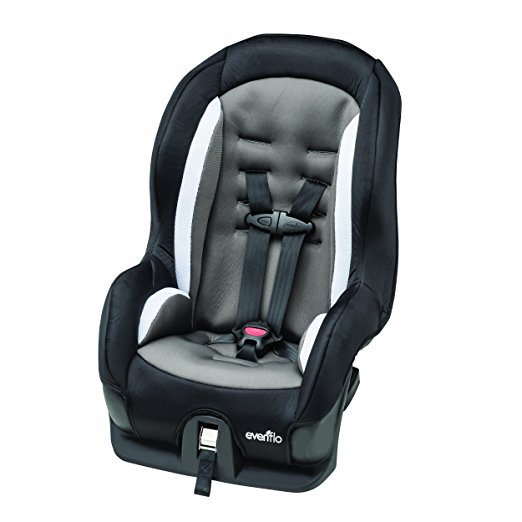 Similar to the other Evenflo car seat options on our top ten list, this seat is made with safety at the top of mind. It's tested to withstand energy levels at two times the federal crash test standard, making it one of the safest options available in this price point
Expand to see more
Grows With Your Child
This seat features four different harness positions that will grow with your children. The 5-point harness can easily be adjusted from the front of the vehicle. This seat also has two crotch buckle positions available that are easy to adjust as your little one grows.

Rear Facing Recline
This car seat features rear-facing incline and is a perfect choice for parents with young children who still need to be rear-facing.

Cost & Value
Priced higher than other options, we had to include this seat in our top ten list because of how versatile and safe it is. Because it can be used as a rear-facing car seat, the Tribute can be your child's first car seat and keep on being used until they outgrow it.


Perfect choice as a second car seat or to take traveling
Weighs less than 10lbs so it's easy to transport
Easy to fix twisted straps
Doesn't feel flimsy
Easy to clean

Rear-facing install might be difficult
5. Graco Highback Turbobooster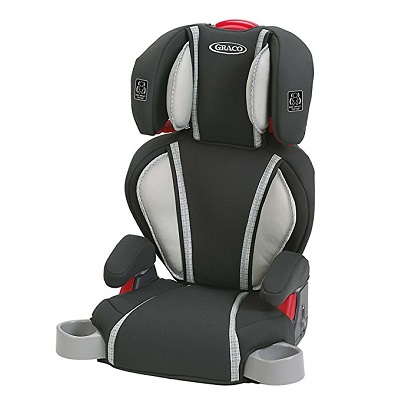 This high back booster from Graco is a fantastic choice on our top ten list not only for its supreme level of comfort for your little one, but in the high level of safety testing that it has gone through before leaving the manufacturer.
Expand to see more
Side Impact Tested
This car seat has gone through vigorous testing to ensure that it provides superior safety for your most precious cargo. Side impact vehicle crashes account for only about one-quarter of all vehicle crashes, but they tend to result in high injury levels than other types of impacts. Being that this car seat has been thoroughly side impact tested, you can rest assured that you're making a great choice in the name of your child's safety.

Grows With Your Kids
This seat is rated for children from four to 10 years old. It easily transitions from a highback belt positioning booster seat to a backless belt positioning booster as your child grows and their safety needs change.

Cost & Value
Priced lower than other options on our top ten list, this car seat is the perfect option for the parent who want a top rated car seat that will provide supreme protection in the event of a car accident.


Padded arm rests are extra comfortable
Dual slide-away cupholders
Back is adjustable to grow with your child
So lightweight it is easily portable
Padded headrest a nice touch
Shoulder attachment for the base can be awkward to maneuver
6. Minnie Mouse Pronto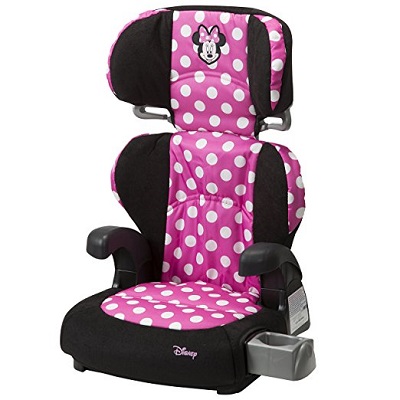 This Disney brand belt-positioning booster seat is a perfect option for children who are too big for a 5-point harness car seat but still need the extra lift from your vehicle seat to ensure proper seatbelt fit.
Expand to see more
Adjustable Headrest
This seat is made to accommodate children from 40 to 100 pounds and, as such, offers a number of adjustable options to ensure a customized fit for your child. One of these options is an adjustable headrest. As your little one grows taller, you will need to move the headrest up to ensure they stay safe (and comfortable!) in the seat.

Built-In Cupholders
A definite 'pro' by many parents standards, this car seat features two cupholders built into the seat. These cupholders slide back into the bottom of the car seat when not in use.

Cost & Value
Usually anything labeled with the word 'Disney' will automatically have a signfiantly higher price tag because of the brand name, but this is not the case with this car seat. Priced amongst the lowest in our top ten list, this Minnie Mouse car seat is a great option for the Disney lover in your life that won't break the bank.


Cute design, perfect for Minnie Mouse lovers
Easy to transport to different vehicles
Material is machine washable
Narrow in design, making it easy to fit more car seats in
Easy to assemble

Lacks a bit in the cushioning department
7. Cosco Apt Convertible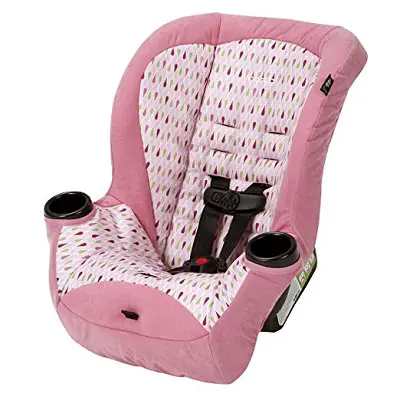 This 2-in-1 Cosco car seat, rated for use for children five to 40 pounds, is perfect for brand new parents. It is meant to be used when your child is a newborn and will stay with them until they hit that 40 pound mark.
Expand to see more
Easily Adjustable Harness
No more struggling with the harness while you're trying to calm a crying infant! This car seat offers a front adjustable 5-point harness for easy fixing on the go.
LATCH Connectors
This seat arrives with
LATCH connectors
to help you secure the car seat. LATCH stands for Lower Anchors and Tethers for Children. It's a special way to secure a child's car seat to your vehicle by way of using the attached straps from the car seat to the metal anchors in your vehicle.
Cost & Value
Priced a bit higher than other options on our top ten list, this Cosco seat is a great choice for parents of newborns who will get a lot of use out of this convertible seat.
Straps won't easily tangle
Machine-washable
Two built-in cupholders
Adjustable strap height make it long lasting
Totally removable cover makes clean up a breeze

A bit bulkier than other options on the market
8. Evenflo Spectrum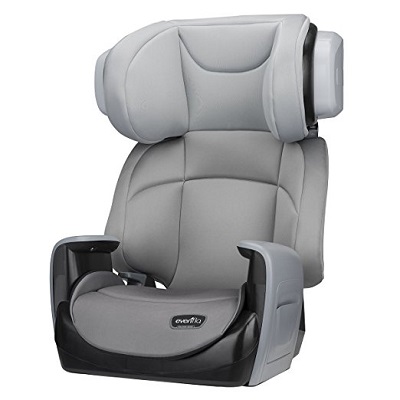 This booster seat from Evenflo features a 2-in-1 design. It can be used as a highback booster for younger kids on the lower end of the weight limit or as a backless booster when they grow up a little bit.
Expand to see more
LyfGuard
This car seat feature LyfGuard, Evenflo's brand new energy absorption technology. This feature is meant to reduce the forces that could reach your little one if there were an accident. LyfGuard is an advance compression technology that will keep your child safe in the event of a side impact accident.

Sip & Snack
This seat features two cupholders that are removable if necessary as well as two snack trays for the little snacker in your life. Both the cupholders and snack trays are stowable when not in use.

Cost & Value
This car seat is priced a bit higher in comparison to other options on our top ten list but you can expect to pay a bit more for a seat that is so rigorously tested for your child's safety. before it leaves the manufacturer.


Far easier to install than other leading car seat brands
Soft and cushioned for ultimate comfor
Kids love the two side comparments
Plenty of back height adjustments available
Aesthetically pleasing
Cupholders can be difficult to open at first
9. Disney APT 40 Convertible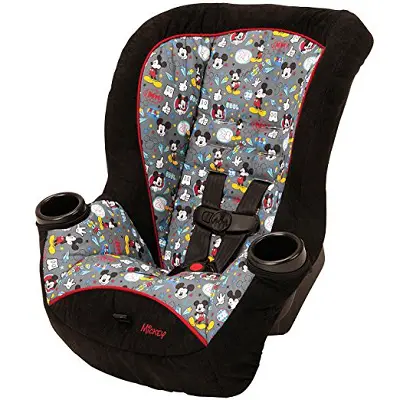 Another Disney brand car seat has made our top ten list and for good reason. This brand offers a high quality product with highly sought after design options for the Disney-obsessed little one in your life!
Expand to see more
Perfect Starter Car Seat
This car seat is rated up to 40 pounds and 40 inches in height, so it's a great choice for parents of newborns looking for a seat that will grow with their baby until toddler-hood. It acts as a rear-facing seat for children five to 40 pounds and then can be converted to forward-facing for little ones in the 22 to 40 pound range.

Different Design Options
The great thing about purchasing a Disney brand car seat is that you have a number of different Disney-themed design options to choose from. From a cute pink Minnie Mouse design complete with her trademark bow to a design with Mickey in various poses, you're sure to find a design that will catch your little one's eye.

Cost & Value
This car seat is one of the pricier options on our top ten list, but it is a great choice for families who want an eye-catching, durable and adjustable car seat that will grow with their children.


Double cup holder a hit with parents and kids alike
Straps are ergonomically designed
Not bulky or heavy at all
Instructions are simple and easy to follow
Kids love the Disney design

10. Graco Backless TurboBooster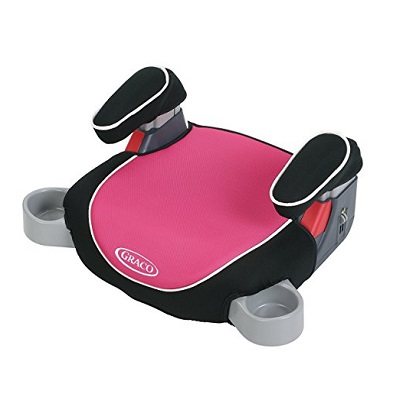 This car seat is the perfect choice for the big kid in your family. It's designed for children ages four to 10, from 40-100 pounds and for kids up to 57" tall.
Expand to see more
Adjustable Armrests
Some car seats don't have this feature and we believe that's doing a huge disservice to the little ones who will be using the car seats. This seat does feature padded height-adjustable armrests that will help to keep kids comfortable on long car rides as their bodies grow and their arm rest needs change.

Deluxe Seat Cushion
The booster seat features a deluxe seat cushion with padding for added comfort. The cushion is also entirely removable and washing machine friendly in case there are any spills or accidents.

Cost & Value
You can't beat the price of this car seat! This is one of the lower priced options on our top ten list as well as one of the most long-lasting. Pay one low price for this car seat and it'll last for years as it grows with your child!


Seat will stay in place as your child enters/exits the vehicle
Cupholders are always a hit
Easy to clean
Comes with a seatbelt adjuster
Narrow in design

Might not work well in vehicles with curved seats
As you can see, there are many different types of cheap car seats on the market, from rear- and forward-facing options to convertible seats that offer both to booster seats for when the kids get a little bit older. We have only reviewed ten of the most affordable options in this top ten list but we are confident that one of these ten will surely suit your families needs as you search for the perfect seat for your little ones.
5 Tips To Make Sure Your Cheap Car Seat Functions Well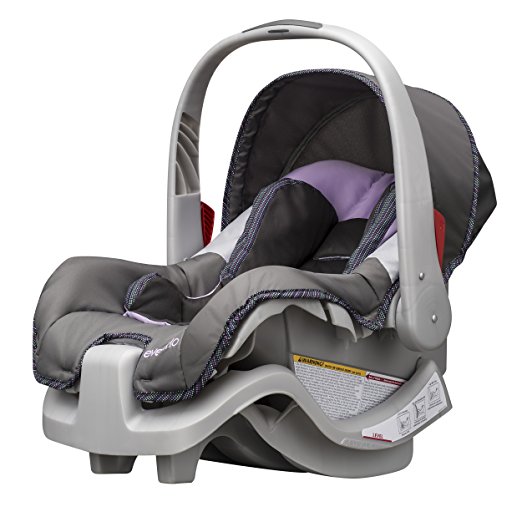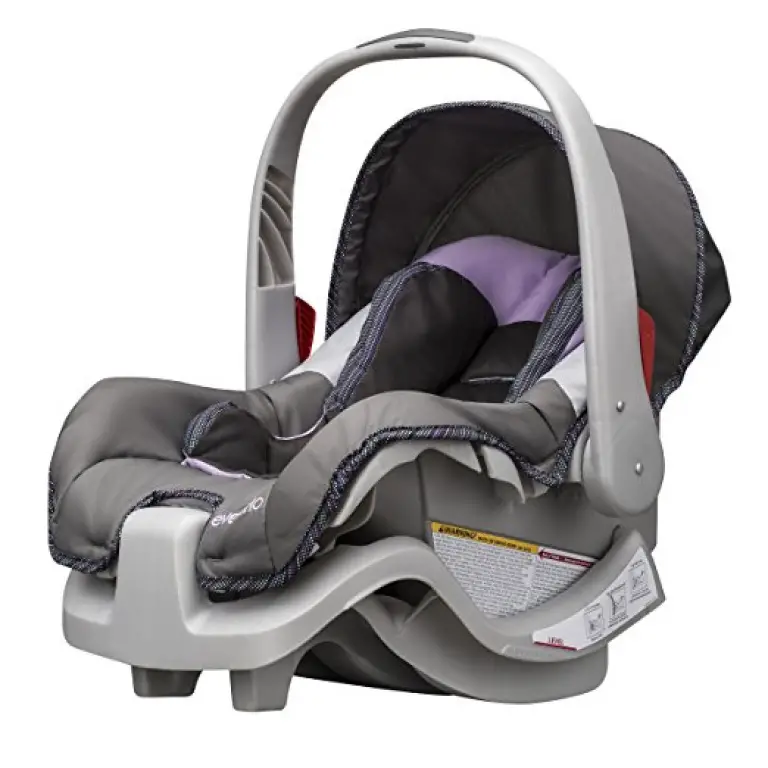 Check the weight limit: This is one of the most important things to keep in mind when selecting a cheap car seat. It is crucial that you only use a seat when your child fits within the weight and height maximums for the seat. If your seat is a convertible seat, also make sure that you are using the seat in the correct way depending on your child's size. For example, you should not convert a harness seat to a belt-positioning booster seat until your child is large enough. Your specific seat will give you the specific height and weight limits, which you should always follow exactly.
Stay rear facing as long as possible: You might think it is a pain, but in reality, rear facing is the safest position for a child. Convertible seats often list a low weight for when you can switch your child to front facing. While that is true, it is best to stay rear facing until the upper limit has been reached. For ultimate safety, select a seat with a high rear facing limit. Some seats, such as the Cosco Apt 50, Cosco Scenera or Disney APT have weights limits of 40 or 50 pounds for rear facing.
Make sure you know how to install the seat: This may sound obvious, but the reality is that installing a cheap car seat can sometimes be confusing. Instead of just guessing how to install the seat, always make sure you follow the instructions exactly. If you need additional help, search online for tutorial videos that will walk you through the process. If you still cannot figure it out, do not be afraid to ask for help. You can either hire an expert or ask a fellow parent who knows how to do it. An improperly installed car seat can be dangerous for your child, so make sure you do it right every time.
Ensure the seat will fit in your car: Some cheap car seats are bulkier, which might be a problem for parents with smaller compact cars. Make sure you measure the back seat of your car before purchasing a cheap car seat to ensure it will fit easily without having to sacrifice leg room in the front seat.
Determine if you'll need it on a plane: Finally, if you know you are planning to purchase a cheap car seat that you will be traveling with, make sure it is airplane friendly! Car seats that can be used on an airplane must be certified for usage, so make sure to check for that specification if this is a feature you are planning to use. On this list, the Cosco Apt 50 and Cosco Scenera are certified for aircraft usage. Other seats on this list may be as well, check with your airline to be sure before purchasing.
How to Recognize a Quality, Cheap Car Seat from a Bad Product
Parenthood is loaded with many different expectations and responsibilities. It can often be difficult and overwhelming, and you may sometimes feel immense pressure to do the right thing all of the time. The best course of action is to cut yourself a little slack, look at the most important things and take care of them, and then take everything one thing at a time. Don't overwhelm yourself and try to take everything on at once. One of our most important jobs as parents is to keep our children safe, which can give us a good place to start.
There are many aspects to keeping your child safe, but there is one thing in particular that is necessary to ensure your child is safe each time they are in the car, which is a car seat. A car seat is essential to ensure your child's safety. You may not realize it, but putting your child in a car is likely the most dangerous thing you ever do with your child. The statistics clearly show what a massive threat car accidents are to children, so making sure your child is in a safe car seat is completely vital to keep your child as safe as possible in the event of a vehicular accident.
One common dilemma that parents tend to run into when choosing a car seat for their child is the cost of the car seat. We aren't all made of money after all, and children can be very expensive as it is. At the same time, we all want the very best for our children, but with some cheap car seats costing hundreds of dollars, you might simply not be able to get the most expensive seat for your child. The good news is, that is okay! Fortunately, pricier does not necessarily equal safer. Many cheap car seats are just as safe as the fancier, expensive car seats.
The question then arises, how can you differentiate a quality, cheap car seat from a bad product? Well, there are a few things that you will want to keep in mind when shopping for a good-quality, cheap car seat. An important thing to remember is that a truly good-quality, cheap car seat can come at a lower price not because it sacrifices safety, but because it typically would have less fancy features and whatnot than a higher-costing car seat.
Safety
The first thing that you will want to look at when choosing a quality, cheap car seat is that it truly is a safe option for your child. All car seats, legally, must undergo the same safety testing and meet or exceed the same safety standards. However, that does not mean that all car seats do that. There can certainly be car seats out there that are sold illegally even if you may not realize it. Additionally, a cheap, a bad product may only barely meet the very minimum requirements for safety.
Research whatever car seat that you are looking into and find out exactly what safety standards, if any, that it has been tested for and met. Safety is the most important thing when it comes to purchasing a cheap car seat, so you want to make sure that whatever car seat you end up choosing does meet or exceed appropriate safety standards to make sure that the cheap car seat will hold up well in the event of a car accident.
Functionality
The other big thing that you want to look at when it comes to searching for a good-quality, a cheap car seat is how well it functions. You want to make sure that it isn't excessively difficult to install into your car, that it isn't so bulky that it won't fit well in your car, and that it is easy to buckle your child into it. When it comes to cheap car seats, bad products are likely to suffer in these areas of functionality. You may find a seat that is more difficult than most seats to install or you may find one that has buckles that are very difficult to adjust or unbuckle. Consider these things when you are shopping for an inexpensive car seat. A truly good-quality, the cheap car seat will still have good, proper, and easy functionality.
Other Users' Opinion
Beyond checking which safety standards that the cheap car seats you are looking at have met or exceeded, you would also do very good to check the user reviews of different cheap car seats. This is often the absolute best way to distinguish a bad product from a good-quality product, especially when you are looking at the low-cost items of a category such as car seats.
User reviews are a perfect way to get a clear and truly honest picture of what a product is like for those that have purchased and used the product. The real users of the car seats can tell you if the product is actually good-quality or if it is just a bad product. They know how easy or difficult the seat is to install as well as if it is easy or difficult to adjust it and put the child in the seat.
Do Your Research
When you are shopping for a cheap car seat on a budget and trying to distinguish the difference between products that are true of good-quality and those that are just bad products, your best bet is to simply do your research. It is important to know what you are buying and that it is a safe, good-quality option to keep your child nice and safe.
Criteria Used in Evaluation
Cheap Car Seats in 2021
Price
Price was the major determining factor when creating this list. We wanted to put together a list of cheap car seats that were incredibly affordable without sacrificing safety. Therefore, all cheap car seats on this list should be accessible to all parents, even those on more limited budgets.
User Ratings
We always consider user ratings when selecting products, especially ones as important as cheap car seats. Seeing how these seats performed in the event of an accident, for example, is incredibly important information that we consider when selecting items for our lists.
Manufacturer's Reputation
This is crucial when purchasing items that will keep your child safe. For that reason, there are a lot of repeating brands on this list, simply because we know they are known for being incredibly safe. Brands like Cosco, Evenflo, and Graco have a great reputation, and for that reason, we include them a lot on our lists.
Ease of Use
Finally, it's always important that items are easy to use, especially cheap car seats. As we said earlier, installation is crucial to the success of your car seat. Car seats can always be a little bit tricky, but we try to find ones that are pretty straightforward and have a lot of helpful information or guidelines to follow. Things like seat belt guides and stay-in-car bases help make these car seats much easier to use, so we are always looking for these types of features.
Frequently Asked Questions
About Cheap Car Seats
Q: Are cheap car seats safe?
A: Not always. We don't want to make a broad claim that all cheap car seats out there are safe, but there are plenty that are. Just because a car seat does not cost a lot of money does not mean it isn't safe. What is more important is to see the cheap car seat and read up about safety features and the materials that are used, how it's installed, and things like that. The seats on this list are safe, and there are likely others as well. Always do your research, but do keep in mind that you can find quality products for a good price.
Q: Can you use a cheap car seat at any stage of your child's life?
A: Yes! There are affordable rear-facing seats, forward facing seats, and booster seats on the market today. Safety is always a number one concern when it comes to children, but the budget is an important factor for many parents as well. You can use a cheap car seat, even when first taking your child home from the hospital. For ultimate safety, we recommend either the Evenflo Nurture DLX or just the Evenflo Nurture, as they are both filled with safety features and are specifically made for newborns and can only be used a rear facing.
Q: How long should a child be rear facing?
A: There is not one set answer to this, but rather, you should understand that rear facing is the safest position for your child to be. If you already have a cheap car seat that can be rear facing, check the weight limit, and see how long you can keep your child there. If you are still shopping for one, look for ones with upper limits of 30 or 40 pounds, and keep your child there until they reach that limit. In the event of an accident, being rear facing will help absorb the shock and will keep your child much safer.
Q: Are booster seats necessary for children?
A: Yes! Some parents think that once a child is big enough to not use a typical car seat with a harness, they must be big enough to sit in the car with just a seat belt. That couldn't be more wrong! A booster seat not only provides additional protection in the event of an accident, but it also helps position the child's seat belt into the proper position. A seat belt that is up too high near a child's neck can be incredibly dangerous should you get in an accident.
Q: Are cheap car seats easy to install?
A: For the most part, yes. Just because these seats are cheap does not mean that they are any more difficult to install. Car seats in all price ranges can sometimes be tricky to install, but choosing a cheaper seat won't make the job any more difficult for you. Always follow the instructions exactly and ask for help if needed. Check online for tutorial videos, as they can also be a great resource.
Sources
Subscribe to our Newsletter