Best Brooms Reviewed & Rated for Quality
last updated:
Aug 01, 2019
We all know that moment when the cleaning starts with a simple dusting and ends up with a headache. By the inevitable Murphy's law, a full coffee mug falls on the perfectly clean floor, your buttered toast lands butter-side down, or your pet destroys the whole house running away from its imaginary friends. It feels like falling in a slow-motion movie, watching helplessly how everything collapses around you. Suddenly, you're facing a horrible mess that needs to be cleaned, and all you can think is: why me? Fortunately, these "kill me now" situations can be alleviated by some good quality cleaning equipment, and most of the time you don't need anything else than an old reliable tool like a broom!
Featured Recommendations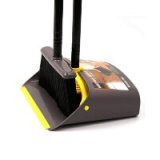 TreeLen

Our rating
A Notch Above the Rest
Price:

See Here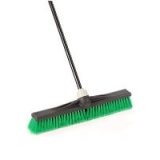 O-Cedar

Our rating
First Class Broom
Price:

See Here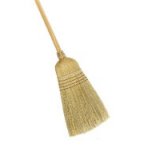 Weiler

Our rating
A Timeless Classic
Price:

See Here

A broom is a tool which every house needs. Who wants to bring out the heavy vacuum cleaner whenever something spills on the floor? A broom can be an easy solution for a different type of messy situations. Many people don't know that nowadays there are many types of best brooms with special features on the market. For example, some are perfect for sweeping up dust, and others for cleaning wet surfaces. Having a good broom often means a world of difference between an effortless and exhausting cleaning.
Knowing how the cleaning process can be exhausting, our eagle eye scouted the market for best brooms available. You are maybe asking yourself, "how different can they be, they're just brooms!?" Well keep reading this review, and we'll solve that riddle for you. We have taken into account all the special features of every broom type and came up with:
10 Best Brooms
TreeLen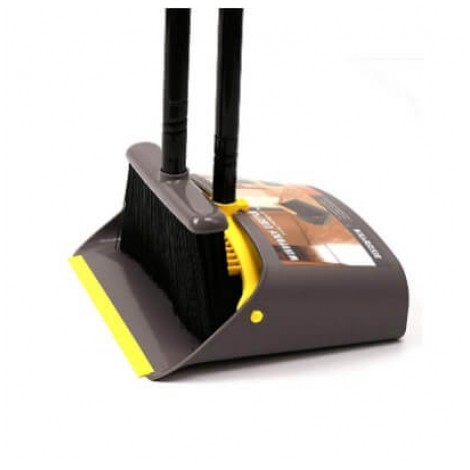 TreeLen's broom and dustpan make one of the best sets you can find for everyday usage. This broom has a traditional design and is perfect for indoor sweeping. It's 54 inches long, with a dustpan 11.4 inches wide (with a height of 38.5 inches). You can see that not only this broom's handle is very long, but it has a large-capacity dustpan, making cleaning both easy and efficient!
Expand to see more
Multi-Functional
We've already mentioned that this broom is perfect for everyday cleaning and floor maintenance. Well, you may wonder, why is that? This broom's bristles are made from plastic (ABS) material. They are very soft and therefore applicable to many types of floorings. This kind of material also makes broom durable. Brooms often lose their shape, or they shed a lot – with TreeLen that's not the case. With its water-resistant materials, TreeLen broom can be used in various situations and still keep its basic form.
TreeLen dustpan has teeth on the outside that easily comb out the dirt accumulated on broom bristles. That helps not only with the maintenance of the broom itself but with preventing the dirt to spill all over as well. The lip of the dustpan fits perfectly on the floor surface, which also helps with maintaining all the unwanted debris inside the box.
Compact Design
What makes this broom really great is it's easy storage. The handle of the broom snaps into dustpan handle for upright, simple disposal. The broom and the dustpan both have holes through which they can be hooked up. They can fit in a small out-of-the-way area, whether you hang the set or put it upright. You don't have to worry about bad-looking space because of your cleaning tool. Another positive thing about this upright design is comfortable usage. Swiping in standing position eliminates back pain. Additionally, the broom's handle can be adjusted manually. You can change its height according to your personal needs.
Cost and Value
Both cost and value are really balanced with this
cleaning product
. Not only that you get the all-purpose broom, but there's also a large dustpan included! The best part is that this set doesn't need much storage space at all.
However, according to user reviews, the upright position can be a bit tricky. The broom just kept falling down for some people.
All-purpose broom
Soft plastic bristles that don't shed
Adjustable handle
Easy storage
Some problems with upright storage
O-Cedar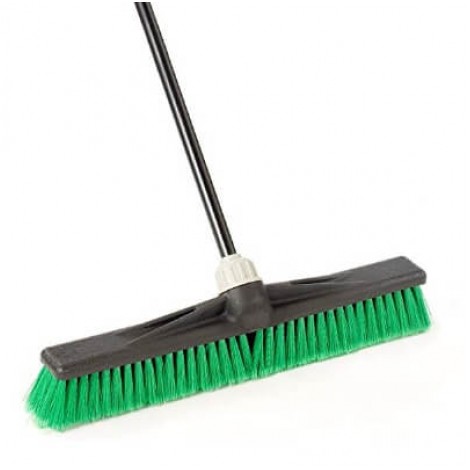 The second place on our list goes to O-Cedar's multi-surface broom. It is one of the biggest brooms on the market, specially designed for outdoor sweeping. Not only that you get a perfect multi-surface broom, but you also get a long-lasting product due to its durability.
Expand to see more
Heavy-Duty
O-Cedar broom has 24 inches and an anti-rotation head, which makes it sturdy and durable. There are always some of us that clean with passion, and this broom definitely makes it possible. It is not likely that it would break under any hard pressure.
Not only that this broom is stable and durable, but it can wipe away different types of dirt and debris. You can also use it instead of a shovel for snow cleaning! Nevertheless, it happens sometimes that the collar around broom's head loosens a little bit. This is just a natural consequence of heavy cleaning, but it can be fixed easily.
Quality Material
This broom is well balanced with both soft and firm bristles in a way that it can clean up every mess without damaging the surface underneath. The bristles include plastic fibers made of 80% recycled materials. The outer (soft) ones are designed to clean up smaller particles and debris. The inner bristles are perfect for harder surfaces. This way, the O-Cedar broom covers a wide range of surfaces.
Cost and Value
While it isn't the cheapest broom out there, O-Cedar is definitely worth its price. You should keep in mind that this is primarily an outdoor push broom. It's perfect for your garage, backyard, or sidewalks. Even if O-Cedar Multi-Surface Broom isn't
the best option
for indoor cleaning, you will probably end up needing one of the big outdoor brooms. It's just an essential part of every cleaning equipment!
Sturdy and durable
Eco-friendly design
Soft and firm bristles cover a wide range of surfaces
The collar around broom's head loosens up
Weiler 44008 Heavy-Duty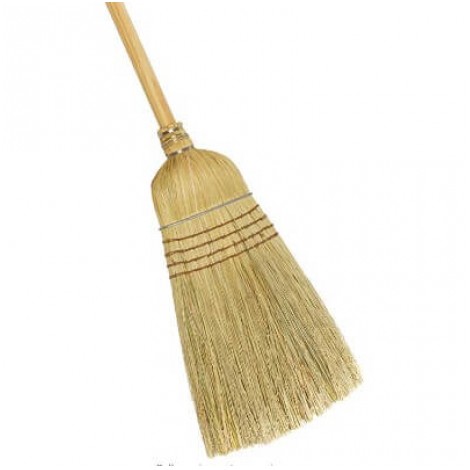 Here we have a traditional broom specially designed for easy, but heavy cleaning. Weiler broom achieves best results on outdoor surfaces, but it can be used for wiping off any indoor mess as well. Maybe it isn't the right choice for every flooring (e.g. soft surfaces that get scratched), but this is compensated with other features. Let's see what Weiler's got for us!
Expand to see more
Natural Features
Weiler heavy-duty broom is made of corn and fiber-filled materials. The result is both a simple and effective cleaning process. The broom head is entirely made of bristles, making it straight and firm. Therefore, the broom doesn't shed and has a longer life.
The natural coloring of the bristles and the handle made of wood make the whole look more traditional. If you like that not-in-the-face look, this is the right choice. You will have a simple broom that gets the job done.
Simple Cleanup

The long bristles of this broom are spread out from the handle, covering a wide swipe-off area. Approximately one or two swipes are enough to clean up most of the dirt and debris.
As we already mentioned, the handle of the broom is long and made of wood. That makes it easy to clutch, and even easier to sweep.
Cost and Value
Last, but not least, the price is what makes this broom very popular. Even if sometimes Weiler isn't the first choice on the list, people tend to buy it together with another type of broom. Its price makes it an essential part of every cleaning equipment. If you have an option to have multiple brooms that correspond to different everyday situations, you should grab it! Your
tool kit
would be happy to have another great, valuable broom as an accessory.
Simple and effective cleanup
Traditional and natural look
Durable and firm
Deals great with big messes
Inexpensive
Not so good for indoor cleaning
Evriholder FURemover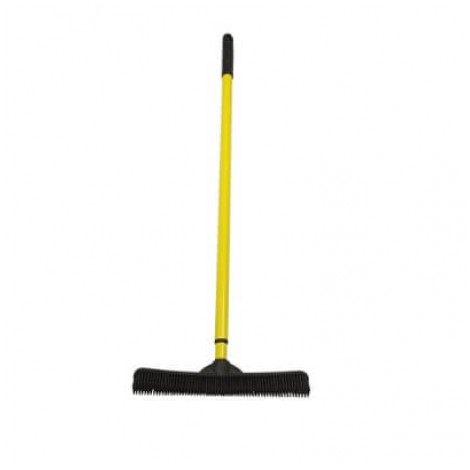 A very innovative broom design comes from Evriholder. Unlike standard brooms that have straws, the FURemover uses natural rubber. It's very efficient with pet hair and any kind of fiber. Additionally, this broom can't shed at all because it doesn't have standard bristles. It is great with surfaces like hardwood, linoleum but also tiles and carpet.
Expand to see more
Multi-Purpose
Like the name of this broom says itself, this FURemover broom is great for cleaning up pet hair. Every pet parent knows how exhausting is pulling the pet hair out of the carpet. The hair sticks hard to carpet fibers, causing you a hell of a headache! Evriholder FURemover solves that problem for you.
Getting this broom means having a full-purpose cleaning tool. It is also great with wet and hard surfaces. Built with a squeegee, this broom can be used on windows, cars, and floor spills. Furthermore, the squeegee of 12 inches dries a large area with every pull. You don't have to use any towels or mops for additional floor drying. Evriholder PURemover does it all by itself!
Easy Cleanup
Great with many different surfaces, this broom also has a telescopic pole that extends from 36 to 60 inches. It makes every surface accessible without using ladders or step stools. Unlike standard brooms, it is possible to use water and soap with this one. Therefore, you can pick up dirt and hair easily, and also clean the surface with some detergent. Evriholder broom has an easily removable head, so you can store your cleaning tool at any place you like.
Cost and Value
Having in mind that it has features that allow for all kinds of cleaning, this broom has a very attractive price. You can have your pet hair remover along with window, carpet and floors cleaner. Looks like
a must-have
! It has one substantial drawback though - this great innovative design isn't very suitable for outdoor cleaning as well.
No scratches on the floor or furniture
The rubber squeegee makes it multi-functional
Extendable handle
Easy cleanup and store
The natural rubber is not ideal for outdoor cleaning
OXO Good Grips Sweep Set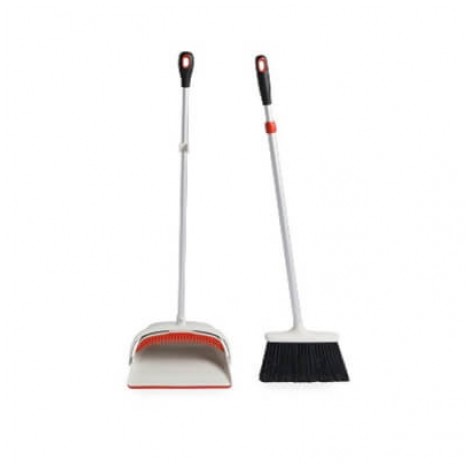 OXO Good Grips Sweep Set is a compact and efficient cleaning tool. The big sized broom head and large-capacity dustpan make the perfect solution for sweeping of large areas. As you will see further on in our review, OXO made this set very practical and easy to use.
Expand to see more
Adjustable Features
The OXO broom is 34 inches high and it can extend to 53 inches. The full length of the broom is perfect for bigger spills. When you reduce the length of this broom you can store it in any small area. You can have it in your hand's reach and use it in unexpected everyday situations. Simply twist the handle to adjust the length and twist again to lock. This way the handle won't slip through your hands.
User-Friendly
Another marvelous thing about OXO broom is its angled head. The broom's head falls diagonally on the floor so your hands can be placed naturally on the handle. This design definitely contributes to easy cleanup but also increases the reach of the broom. Now you can get to those hard-to-reach spaces under furniture or the corners of the room.
The broom also has flagged bristles with a feathered texture that grabs any dust and dirt. It is perfect for any soft surface, as well as the harder ones. The dustpan has teeth on the outside that comb out dirt and dust from the broom. With this set, the cleaning process really seems like child's play!
Cost and value
The drawback for this product can be its price. Even though it's accompanied by the dustpan, it isn't the most affordable set on the market. Overall, the OXO Good Grips broom is a handy tool, especially with all its
ergonomic features
. In fact, it is one of the best-angled brooms out there!
Extendable handles
Easy to clean, easy to store
Super efficient angled broom's head
Dustpan has teeth that clean the bristles
Landhope Extra Large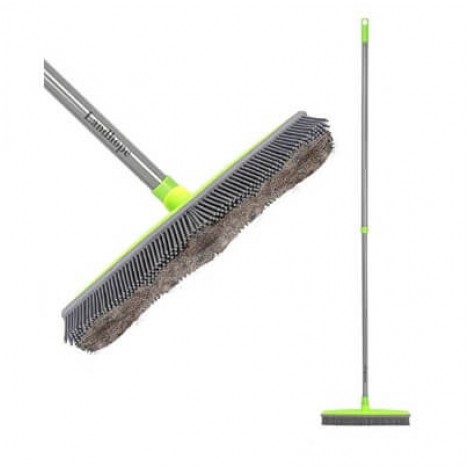 If you need just one big broom that can clean large areas or different types of flooring, the LandHope push broom is the right choice for you! It's suitable for soft surfaces like carpets, but it can also be great for outdoor sweeping. No matter how good a vacuum cleaner can be, when it comes to big messes or pet hair, you just need all the help you can get. LandHope broom is definitely a helpful cleaning tool.
Expand to see more
Effortless Cleaning
LandHope push broom has rubber bristles that work great in collecting all dirt from the floors. This type of bristles collect all the little particles of dust on the ground. You won't see ash or pet hair floating all around you. You can clean all visible and invisible dirt and dust with just one or two swings!
The long handle, which extends from 31.5 inches to 54 inches, makes the cleanup even easier. You can adjust the height of the broom to your personal needs. LandHope does have some problems with the lock mechanism on the handle though. It can come loose due to heavy cleaning, which is quite annoying for most users.
Easy Maintenance
With built-in squeegee edge, LandHope broom can clean up almost any surface. It is also great for wet spills. This multi-purpose broom is water resistant, and therefore easy to clean. You can just run it through water and soap. Plus, this design makes the broom durable. However, there is one downside in this type of design. Even if it's great for combing out pet hair out of the carpet, it doesn't pick it up. You will pull the hair out of your carpet, but you will still have to collect it with a vacuum cleaner or other tools.
Cost and Value
As we mentioned above, LandHope push broom is a great option for different types of surfaces. It's also a big broom, which makes the cleaning of big areas very easy. Therefore, the price can be justified by the multi-purpose product, but it's not so
easy on the wallet
!
Cleans large areas
No floating dust
Adjustable handle
Water resistant
Easy to wash
Poor lock mechanism on the handle
Doesn't collect hair
Carlisle Duo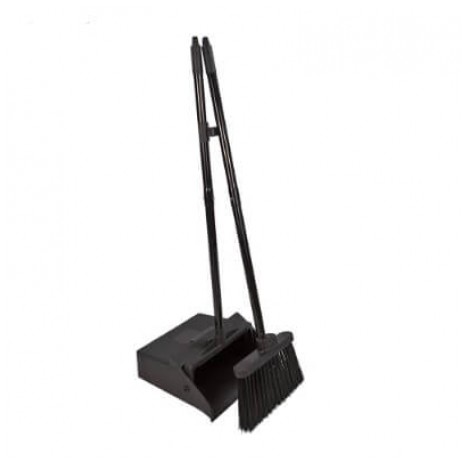 Here we have another great broom and dustpan set. Carlisle broom and dustpan make the perfect addition to any cleaning set. The dustpan's handle has a catch that keeps it upright and a clip where the broom can snap into. There is also a jagged edge on the top of the dustpan where you can clan the broom from collected dirt. Carlisle set makes you think that cleaning was never so easy!


Expand to see more
Great Storing Feature
There are times when to clean something, it means you have to dirty something else to do it. Well, Carlisle set makes a big exception to this rule. The dustpan is designed to collect and store dirt and debris very easy. It lies horizontally on the floor and then folds back up for quick and safe disposal. In that way, the mess stays inside the dustpan as it should. The broom bristles are plastic and therefore suitable for sweeping any kind of hard floors.
Indoor compact broom
The head of the broom is 12 inches wide, suitable for both large and small areas. The unflagged bristles make this broom efficient on both, hard and soft surfaces. However, it isn't so good for wet or massive spills. This is a big drawback because people often want to have an all-in-one broom. Carlisle broom set is made mostly for indoor sweeping. It's compact and simple to use, so you can maneuver it easy around the house.
One of the main features of the Carlisle broom is at the same time its flaw. The handle of the broom is adjustable, but not that long (about 36 inches). Most people find it too short for easy cleaning. However, this can be a good option if you need a smaller broom at your hand's reach.
Cost and Value
We can't overlook that budget price is one of the reasons for this product's popularity. Getting good value for the cheap product is always
a good bargain
. If you are one of the people that needs a big all-in-one broom, you will definitely consider buying this one too. It's never a bad decision having a small, compact broom in the house!
Quick and safe disposal
Compact design
Efficient on both hard and soft surfaces
Budget price
The broom's handle is short
Not so good with wet and massive spills
O-Cedar Angler Angle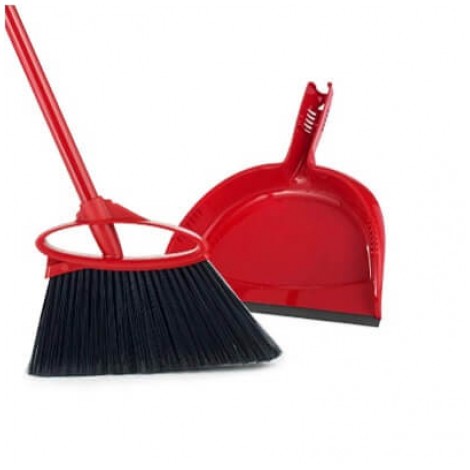 If you need a super handy broom and dustpan set, O-Cedar Angler Angle can be the right one for you. The double bristle technology makes the broom efficient with different types of surfaces, but also with different kinds of dirt. The dustpan has a rubber lip that falls closer to the surface, preventing any dirt to go under it. Overall, this set has some subtle but great features that make it a good pick.
Expand to see more
Double Bristle Technology
O-Cedar Angler Angle broom has gray and black colored bristles. The grey bristles capture soft dust and hairs, while the black ones pick up bigger dirt particles. This double bristle technology makes sweeping very easy and efficient. Additionally, the bristles made of recycled plastic make this broom long-lasting.
Ergonomic Design
There is a reason why O-Cedar came up with the Angler Angle name for a broom. The angled bristles can reach areas like room corners and easily sweep up the dirt along walls. On the other hand, the flat-contact design makes the broom very close to the floor. You know how frustrating can be skipping small dirt particles, or sweeping again and again because the broom isn't in full contact with the floor. O-Cedar Angler Angle apparently found the solution for this problem: Angler's Angle dustpan has a wide mouth that picks up more dirt. While its short handle makes the dirt collecting way faster, it can also be a downside. You will need to bend down every time you want to sweep the debris into the dustpan.
Cost and Value
Many customers are hesitating to try out this broom because of the cost. It is understandable that a bit pricey product can be a drawback. However, many people that courageously tried this broom said that you get
great value for money
. Seems that you should definitely give it a shot!
Double bristle technology
Dustpan has a rubber lip
Eco-friendly material
Long-lasting
Ergonomic design
A bit pricey
Short dustpan handle
Primica Set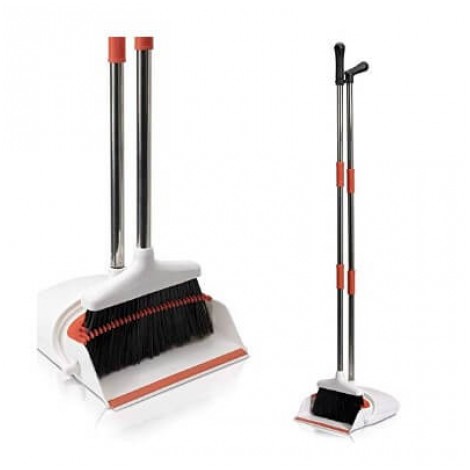 Primica broom is a great compact broom that comes with a large-sized dustpan. It's perfect for indoor sweeping, but water resistant bristles make it good for outdoor cleaning as well. The dustpan is big enough so the dirt doesn't fly around when you're collecting it. If you search for a multi-functional and yet compact handy broom, this is a great choice!
Expand to see more
Lightweight
What makes this set so good is its easy-to-maneuver compact design. The broom's head is 10 inches wide, which is not too much, but that makes it lightweight and easy to handle. The handle doesn't slip through your hands so you don't need to hold it very firm. However, keep in mind that the broomstick is 45 inches long, and that can be too short for some people.
This sweeping duo can be stored easily because the broom slips into the dustpan handle. It also has a hole so you can hang it for space saving.
Durability
You may wonder: "Is this broom durable?". Yes, the high-quality materials provide its durability. Water-resistant formula also contributes to its life span. Also, dustpan has an edge where you can clean the broom. In that way, you are maintaining your broom and making it durable.
The only thing that could be improved is the firmness of the bristles. Even though they're pretty durable, they can shed a bit. The softness and flexibility of the broom make hair sweeping easier, but these features don't work with big spills.
Cost and Value
Primica broom and dustpan set is one of the affordable products of this kind. Even if you determine that this set isn't the best choice for your specific needs, you'll still find it very useful. It's great for smaller spills in and around the house, and its budget price makes it
quite popular
.
Good for both indoor and outdoor sweeping
Water resistant
Large-sized dustpan
Easy to maneuver
Very durable
The handle can be too short for some people
The bristles shed a little bit
WISPsystem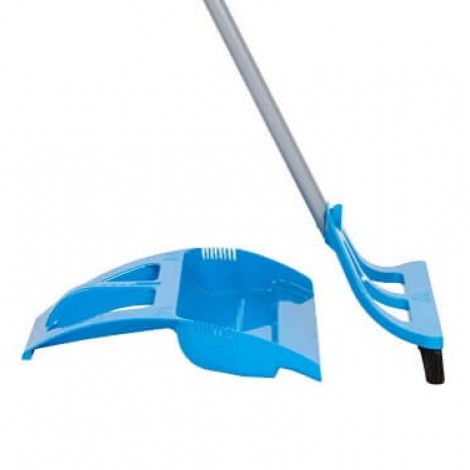 WISPsystem broom is a little bit different than the other best brooms on our list. It's worth all the attention with its innovative angled head and one-handed design. It includes a telescopic handle that can be extended up to 52 inches and a super-effective dustpan.
Expand to see more
Innovative design
This broom's best feature is its angled head (90 degrees) that provides easy push and pull sweeping. The push-pull action prevents dirt to rise up in the air. It is also great with difficult-to-reach spaces e.g. space under furniture or room corners.
With electrostatic bristles, this broom creates a squeegee-like effect on the floor. It prevents dirt to scatter all over the room. The short bristles are also great for collecting pet hair. However, some users complain about the pressure that this type of broom needs. Due to a certain amount of space between the bristles and the surface, you may have to apply harder pressure when sweeping.
One-handed broom
WISPsystem insisted on the one-handed design of this broom. They wanted to make sweeping as easy as it can get. Still, the effective cleaning remains the main focus of this set. Holding the dustpan with your foot, you can sweep with one hand and rearrange the stuff that comes in your way with the other. In one pull you can collect the dirt into the pan.
Cost and Value
We can perfectly understand that great and innovative design demands some extra money. However, it seems that the WISPsystem set is a bit overpriced. Of course, you get a
super-effective
broom and dustpan, but its price is definitely the main drawback.
Easy sweeping
Angled head for better reach
One-handed design
Dustpan seals with the floor on foot pressure
The broom needs more pressure against the surface
Pricey
Criteria Used in Evaluation of the Best Brooms
Picking the right kind of product sometimes feels very easy, but when you start searching for it, you realize that its a tricky process. There are so many of them on the market that our head usually starts spinning. That's why we evaluated many types of best brooms for you. Our selection of 10 best brooms is taking into account an average customer's needs. It's hard to guess everybody's preferences, but we wanted to consider as many as possible. Here is the list of criteria we used in evaluating our best picks:
High-quality materials
The most important thing in the evaluation of the best brooms was their material. The brooms with a better quality of the bristles have a higher position on our list. Both good bristles and broomstick make the sweeping easier and more efficient. They also determine the durability of every broom. That's why it was very important to take into account the material of every broom on our list.
Size and length
The biggest complaints about some of these best brooms come for their length. It may seem silly, but short broomsticks can cause serious problems. It can be annoying, yes, but more than that, it can cause back pains. Plus, the size of the broom's head drastically shortens the sweeping. We took the size of the dustpan (when included) into account as well. Bigger dustpan makes cleaning much easier.
Cost and Value
There are brooms on our best brooms, and also there are broom and dustpan sets. We thought about the cost of every broom and broom and dustpan sets on our list. It's very important that you get a proper value for the purchased items. Broom and dustpan sets are very efficient, and they often provide great value for money. Therefore this was very important for us.
Overall
In the end, we have taken into account the general performance of every broom on the list. We have ears for satisfied customers as well as for unsatisfied ones. We've put together the positives and the negatives for each product and made a list rated from number 1 to number 10.
Other Factors to Consider
There is a lot of new broom buyers that can easily make mistakes when choosing the right broom. Although you can follow our steps in choosing some of the best brooms, there are some choices that only you could make. Therefore, we provided a list of some important factors to consider before making the final decision.
Where are you using your broom?
There are types of best brooms that are great for indoor as well as outdoor sweeping. However, in most cases, you can't get the one that does everything. Think about your specific needs. Do you need a broom for sweeping inside your house, or you need one for your garage? The type of surface determines the type of broom. You will also need to consider the space size. A wide broom is perfect for spacious rooms or outdoor areas, and a narrow one for smaller spaces filled with furniture.
What are you sweeping?
Do you need a broom for smaller spills and dirt around the house, or you need a bigger broom for your garage or backyard? The type of broom differs with the things you are sweeping. Think about the type of debris that you expect to encounter and then search for a proper broom.
What is your budget?
The cost of the broom is very important. Bigger brooms are more expensive, but they can withstand a lot of sweeping, and they also last longer. However, the price is not everything, and if you don't need a heavy multi-functional broom, the smaller and cheaper will work too. There are also greatly affordable and best brooms and dustpan sets. In the end, you should consider having two or more different broom types if possible. It's easier for you, but it also prolongs the life span of every broom.
FAQ
Frequently Asked Questions 
Q: Which broom is the best?
A: The best broom is the one that fits your personal needs. You can buy a broom that gets multiple-jobs done, but you will hardly ever find the one that does everything. That's why you first need to determine which type of broom you need.
Q: Where to keep a broom?
A: The best place to store the broom and overall whole sweeping and cleaning equipment are specially designed area or a closet. That is the best option, but let's face it, most of us have to deal with already overwhelmed space. It all depends on your broom and dustpan type. If you have holes on your set handles, you can easily hook them on the wall. In this case, you can also try to dedicate some space in your closet and make a special place for your brooms to hang. For those who have a staircase, the nook under it is perfect. Consider all narrow and well-hidden places where your sweeping equipment could be organized, and yet not visible to everybody. You may also consider buying a broom that fits your storing ability. With all these broom types on the market, you will find something suitable.
Q: How to clean a broom?
A: A broom is one of the basic cleaning tools we use quite often. With all the dirt it collects, it can become quite messy. Also, you don't want to make a new mess while trying to clean the old one.
If your broom has water-resistant bristles, you can clean it with water and soap every time. No matter how many times you do it, it will maintain its form. With brooms that aren't water-resistant, you need to be careful. The safer option is to leave your broom outside for some time or to shake the dust out of it by yourself. Washing the broom with water is recommended, but not so often. However, when you do it, remember to place it horizontally or to hang it up on something because bristles can warp. Put it in some extra warm place if you can – it is always better to dry the broom faster!
Q: Is it better to sweep or vacuum?
A: Sweeping and vacuuming are two different processes. While broom is pushing and collecting the dirt into the disposal box, the vacuum cleaner sucks the dirt into its box. In a lot of situations, both tools can handle the mess. It's up to your personal preference, which one to use. However, keep in mind that a vacuum cleaner can scratch hardwood or certain types of tiles. On the other hand, it can suck all of the dirt out from a carpet – the thing that a broom will never be able to do. Another thing worth mentioning is pet hair. Many people have problems with removing pet hair, and vacuum cleaners just can't collect it well. Broom's bristles can be designed especially for pet hair removing. Overall, what is better is a question of your particular cleaning situation.
Q: What are the parts of a broom called?
A: Many people get into a big confusion when they want to buy a new broom. Product descriptions often have so many features that it's hard to understand them all! The confusion is even bigger if we don't know the exact names of every broom part. Two main parts of the broom are the head and the shaft/broomstick. Broom's head contains bristles that collect the dirt and a cap that keeps that bristles in one place. The broomstick is a long stick with a handle that sometimes can be adjusted to different lengths. It also has a handle where your hand can fit more comfortably.
Subscribe to our Newsletter