10 Best Bluetooth Motorcycle Helmets for Motorcyclists Reviewed in 2023
last updated:
Jan 04, 2021
Riding a motorcycle can be an exercise in exhilaration.  That's one of the primary reasons that people decide to own such a powerful machine.  The thrill and freedom of being out on the open road are feelings that can't be replicated to that level anywhere else.  Some riders want the pure feeling of the elements surrounding them, their face exposed to the caress of the wind. Others go in a different direction altogether, choosing to shut out any outside influences and distractions in favor of an uninterrupted, steely focus on the road ahead.  However one chooses to ride, sometimes everybody needs to stay connected to the rest of the world in one way or another. One of the most effective ways to go about this while still maintaining that sensation of freedom is through Bluetooth.
Thanks to this revolutionary technology, riders everywhere can be hooked up to their phones, or, if they're in the mood for it, their music, hands-free and effortlessly.  Now, while there aren't that many motorcycle helmets out on the market yet with this capability, the ones that are can vary widely in terms of quality. Good thing, then, for this helpful and timely buying guide. In it, you'll find the very best of the available Bluetooth motorcycle helmets on the market, along with highlights of what exactly makes them so desirable and sought after.
Featured Recommendations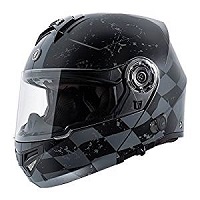 TORC Full Face

Our rating
Thermoplastic alloy shell and chinstrap provide superior durability
Price:

See Here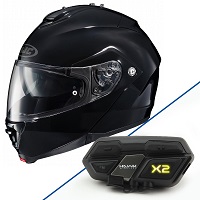 HJC IS-Max II

Our rating
One button chinbar and face shield release for quick access
Price:

See Here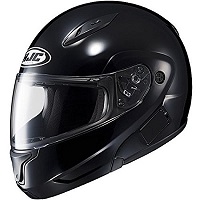 HJC CL-MAX II

Our rating
The faceshield delivers full, unobstructed line of sight
Price:

See Here

Before jumping right in, there is a bit of a caveat that consumers will need to be aware of in order to get the most out of this guide and avoid any potential disappointment.  While there are a handful of great helmets with fully integrated Bluetooth capabilities, including conveniently placed speakers, not all selections on this list provide the same service.  There are a few manufacturers who have decided to instead leave recesses in their products to allow the rider to easily install their headset of choice. Instead of just having all choices in this guide contain integrated Bluetooth, in the interest of customization, having a healthy mix of both was the better option.  Also, because this is a fairly new advancement in helmet design, having all ten with its own self-contained Bluetooth would quickly begin to scrape the bottom of the barrel, and expose all of the limitations that are still present. So with that in mind, riders at all levels are sure to be able to find just what they need within the confines of this guide.
10 Best Bluetooth Motorcycle Helmets
1. TORC Integrated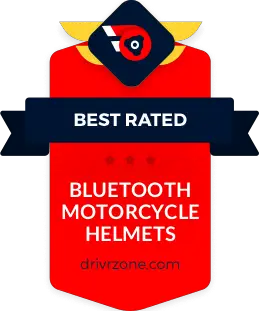 What a way to start this list off. For years, Torc has been gaining a lot of notoriety for producing professional style helmets and making them accessible to as many riders as possible with a very reasonable price point. Now that they've entered the Bluetooth helmet market, nothing has changed. They still make great helmets, only this one has the added luxury of having built-in Bluetooth capability, giving an already top notch product insane versatility. Surprisingly, even the added technology wasn't enough to warrant that much of a price increase, so even entry-level enthusiasts now have an option.

Expand to see more
Long lasting speakers
It wasn't enough for Torc to incorporate Bluetooth speakers in their helmet, so they made sure that the speakers they used were able to last throughout the duration of the ride. For continuous use, the speakers are capable of going for up to eight hours without fail, and for more sporadic use, they can remain on standby for up to 150 hours. That's a lot of peace of mind that they provide.

Compact design
When designing this helmet, Torc apparently took a lot of inspiration from their European contemporaries, resulting in a lighter, more compact model that doesn't sacrifice any protection or safety. These helmets are twenty percent smaller than other North American models. Less weight and less bulk equals unmatched comfort and convenience for those longer road trips where regular helmets would quickly cause problems.

Cost and Value
Any time a Torc helmet is reviewed, for better or for worse, price is never a point that is going to be criticized. They have been making excellent helmets for years, and every new generation has seen increased performance, but the price has never followed that same level of increase. It's important for new riders to have the ability to wear well-made great at a fair price, so they don't get scared away. Torc takes care of that need very well.


European inspired design makes for a streamlined helmet with a low profile
Well made venting systems keep the airflow at optimum levels
Excellent value for the low price point
Bluetooth speakers last for up to eight hours of continuous talk time
Thermoplastic alloy shell and chinstrap provide superior durability
Matte finish is susceptible to sun damage
Lots of outside noise still seeps into the helmet, limiting audio quality of the speakers
2. HJC IS-Max II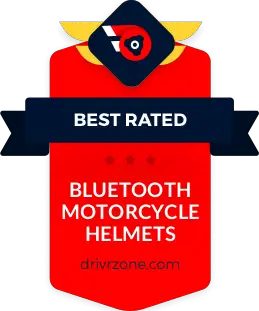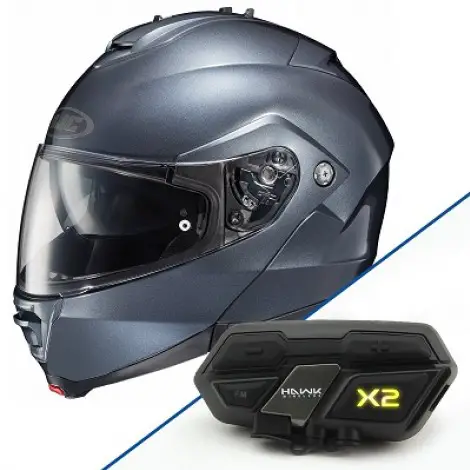 Welcome to the first appearance on this list of HJC helmets. They'll be showing up a few times, each one bringing another layer of quality and performance to the table. By itself, this helmet epitomizes what a well-made motorcycle helmet should be. HJC put a lot of thought and effort in to all of their products, as you'll see as this list continues, and this one is no exception. Adding in the easy to use Hawk Bluetooth headset just takes everything that makes this helmet great and multiplies it, producing a product ideal for riders of all styles, skill levels, and budgets.

Expand to see more
Keeps the sun out
This helmet offers a smoky tinted visor that fully covers the face, keeping out not only the noise and debris of the road, but the potentially harmful rays from the sun as well. This way, focus and concentration are uninhibited, creating the perfect environment for optimal Bluetooth performance.

Keep it clean, inside and out
Where the Bluetooth compatibility is a features worth talking about, it's a necessity in order to be considered for this buying guide, so it won't show up very often as a key feature. ONe feature that will be highlighted is the ability to easily clean this helmet, inside and out. For the outside, it's as simple as using a cloth with some soapy water, and the helmet will quickly look as good as new. On the inside, the lining can be completely removed and machine washed.

Cost and Value
Comparing prices through all of the integrated Bluetooth helmets, HJC often comes out as a more expensive choice. However, it must be realized that these helmets offer everything that any rider could think to need in a high-end helmet. For that reason, any of their helmets would be a sound investment, if for no other reason than the great value they provide.



Polycarbonate shell and chinguard are top level protection

Fits like a custom made helmet without the enormous price tag of one

One button chinbar and face shield release for quick access

Advanced channeling ventilation system keeps things cool and dry

A wide range of face shields and sun visors are optionally available for all conditions
Allows a lot of road noise to get in

Doesn't work very well with round head shapes
3. HJC CL-MAX II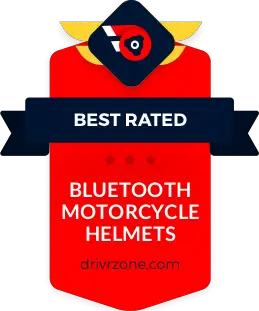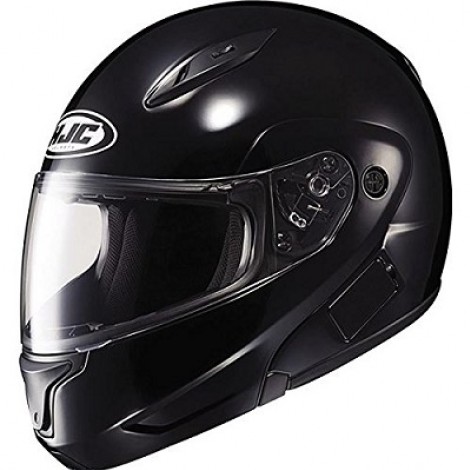 Quickly following up their previous entry to the list, HJC has yet another high-end offering for consumers to consider. This helmet differs from the last one because while it is a well-made helmet using superior technology much like its predecessor, it doesn't contain integrated Bluetooth, but rather is known as Bluetooth ready. This means that the helmet was designed and built with recessed cavities throughout the interior to allow users to easily install and use a third party Bluetooth system. This is ideal form those who already have a BT device, and don't want to spend the money on a whole new setup. Also, being an HJC product, they are guaranteed a great helmet.

Expand to see more
See for miles
This helmet comes with a full flip down face shield as well as a tinted visor. This way, riders can block out any glare or UV rays when the sun decides to come out to play, without having to mess with bringing along any additional items. It's this level of control that makes the helme so well-received.

Bluetooth ready
Yes, this helmet isn't technically a Bluetooth helmet insomuch as it enables the use of the technology. Still, that's saying a lot more than what many other brands offer. Also, it creates a level of customization that some riders need to have available to them, allowing them to choose what exactly will go in to their helmet to fit their needs.

Cost and Value
Since this is a BT ready helmet and does not include the system already installed, it has the immediate advantage of being more reasonably priced compared to a fully integrated model. What consumers get for that reduced price, however, is still a high-functioning piece of protective motorcycle gear that delivers outstanding performance and value, with the added perk of allowing Bluetooth connectivity.


Lightweight polycarbonate shell offers advanced protection

The faceshield delivers full, unobstructed line of sight

Fully recessed cavities make the helmet ready to go for a Bluetooth system

Full front to back ventilation system transfers heat away from the head quickly

Helmet is designed to be impact resistant, pushing the force away from the head
Does initially fit small and takes a while to break in for comfort

The face shield does have a habit of fogging up too easily
4. Snell Full Face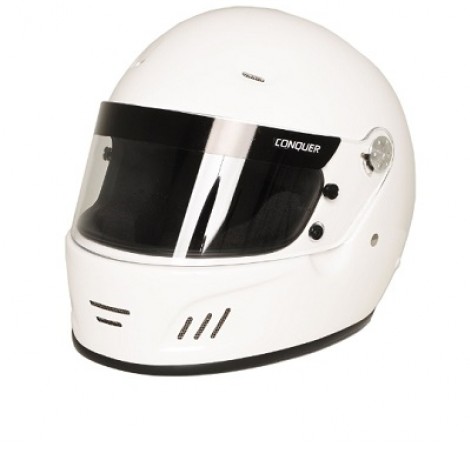 This helmet is a bit different from the rest of the pack. It's not a Bluetooth integrated helmet, nor is it specifically designed to be BT ready. Why is it here then? Because, in the interest of variety, and to respect each rider's individual needs, this helmet shows up as a viable option for those who demand the unmatched safety and versatility of a dedicated racing helmet, but want the ability to be connected at all times. There is plenty of room in this helmet to allow for the DIY installation of a BT system, without compromising any any comfort or protection for the rider. So, it's a solid option without breaking the bank.

Expand to see more
Lightweight protection
Most motorcycle helmets are going to e made from a polythermal plastic, which no doubt offers exceptional protection. This helmet is a bit different however, as it was constructed using a fiberglass composite. This material retains the same durability of the safest plastics, while being more lightweight than their counterparts. This is great for not putting much pressure in the head and neck, allowing a safe, comfortable ride every time.

Safe as can be
Instead of highlighting one specific safety feature, it makes more sense to talk about the helmet level of safety as a whole. Everything about this piece seems to be geared toward keeping the rider protected at all costs. From kevlar parts to fire retardant lining, not one safety concern was apparently overlooked by the manufacturers. That's the beauty of having a racing designed helmet: the safety and wellbeing of the rider will never take a back seat to anytihg else.

Cost and Value
This is the primary reason that this helmet shows up in this list. It's a professional grade helmet with what is essentially an entry level price point. Everything about it is geared toward safety and functionality, yet it's low cost makes it accessible to motorcycle enthusiast of all skill and experience levels. Value-wise, this is definitely a piece of gear worth checking out.



Lightweight fiberglass composite shell is easy on the neck

Anti scratch flame resistant shield for maximum face protection

Kevlar chin strap keeps the impact away from the face

Includes a drawstring bag that makes transport easy and convenient

Built to Snell's high standards and expectations
Not very comfortable to start, taking time to break in

Doesn't fit true to size
5. YEMA Full Face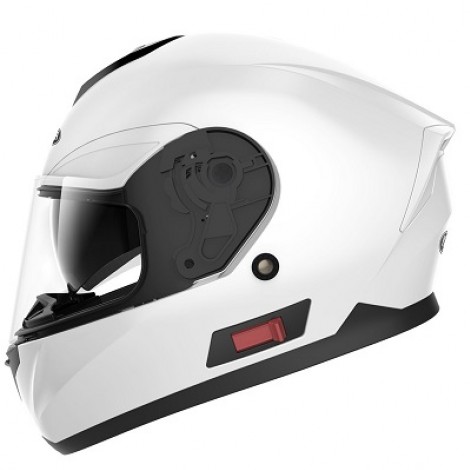 Here we have yet another Bluetooth ready helmet that brings an almost perfect blend of safety and performance to the world of Bluetooth motorcycle helmets. Yema is already known for producing high quality riding gear that any rider would be happy to have, and now they're getting noticed by tech savvy riders who wouldn't think of having a helmet that wasn't at least compatible with BT technology. This helmet provides something to suit the needs of every riders from every walk of life. Buy this helmet, slap in your favorite BT system, and you have a perfect piece of gear.

Expand to see more
A visor for all occasions
This helmet, like many others, includes multpile visors to accommodate for any potential situations. Unlike the competition though, it only uses one visor at a time, saving space and preventing any inhibitive extra parts. This can be even more convenient, letting you switch between the clear version to a tinted model efficiently and quickly.

No sweat, no smell
While out on the road, there's not a lot that can be done if something comes up regarding the comfort of the helmet in any way. Once you're out there, it is what it is until you can stop for any length of time and make adjustments. This helmet takes care of that by incorporating inner pads and liners that will not only keep yupo dry unconditionally, but they're antimicrobial, so any odors that may otherwise invade your nostrils is non existent.

Cost and Value
Yema has garnered quite the reputation in recent years. Not because they're a high end brand, since they're not, but rather because they focus on quality and value over everything else. Being one of the lowest priced offerings on the market doesn't hurt either, and makes this helmet one of the best options for entry level riders who want to have connectivity while they ride.



Amazing value for a low cost

Reinforced chin strap keeps the helmet securely in place

The aerodynamic ABS plastic shell provides outstanding performance

Fully removable inner pads and liners keep out odors and moisture

Tool free removal and replacement of visors
Very loud helmet lets in all kinds of wind and road noise

Chin strap is supposedly reinforced yet tends to fray quickly and easily
6. IV2 Modular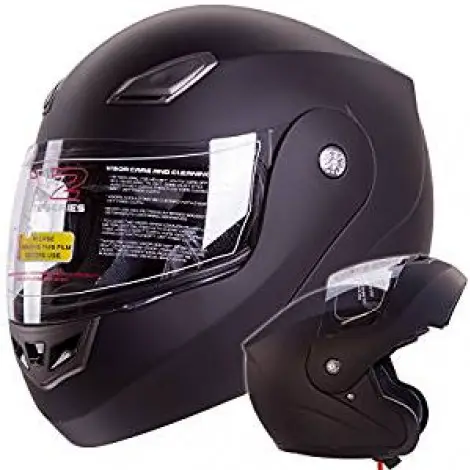 Right off the bat, this helmets earns points for being probably the most visually appealing helmets on not only this list, but throughout the entire market. Its high gloss finish is bound to turn heads anywhere it's worn, and deservedly so. The appearance also serves to indicate just what to expect when getting in to this helmet. Everything that went in to it is over the top in terms of quality and performance. The visor is super simple to use, the ventilation system is second to none, and the composite shell is reinforced for increased durability. All this overachieving ultimately leaves the customer with a product that definitely has to be seen to be believed.

Expand to see more
Convenience first
This is a modular helmet, so right there you know that it offers a lot of convenience. By nature, thuis style of helmet flips up at the front, giving easy access to the interior. What makes this helmet so special, is that it flips up very easily at the touch of a single button. Not only that, but all of the functions are accessible by even gloved hands, making it very user friendly.

Hard shell protects the head nicely
All motorcycle shells are going to have a sturdy, durable outer shell in order to offer the most protection possible for the skull, but the manufacturers of this one blows those other ones out of the water. It uses ABS plastic, just like a lot of others, but takes the extra step of reinforcing it with a strong, resilient fiber. This all equals superior protection and peace of mind.

Cost and Value
If you want to see a helmet that has no place offering a ridiculous number of features given its very low price point, look no further. This is the lowest prices helmet on the list by quite a few dollars, yet the list of bells, whistles and conveniences rivals that of the most expensive models. Even better, is all of these features are very well implemented, giving a high value helmet.


Fully compatible with most third party Bluetooth headsets

Reinforced shell for optimal protection

Modular helmet flips up at the touch of a button

Easy open air vents offer full air circulation

Controls ae user friendly, allowing for gloved use
Front module has been known to come off pretty easily

Chin strap is too short and difficult to use
7. Bell Qualifier DLX
This helmet has a look about it that lets people know what it's intentions are. It's a no-nonsense piece of gear that bell put together using their wealth of experience and knowledge, giving consumers a superb option when they are looking for a simple, minimal design coupled with high performance. It will keep you safe, provide plenty of comfort, and let you stay connected with the world, if you choose. It takes care of your needs, so put it on, and you're good to go.

Expand to see more
Does its job, nothing more
One of the most desirable aspects of this helmet has to be the fact that there are not going to b e any surprises popping up when using it. It's meant to do exactly what the consumer would need it for, and that's about it. No superfluous features to up the price and get in the way are included, and that's the way it should be. Just the rider, the bike, and the gear, taking in all that the ride has to offer.

Full visibility
Across the board, most reviews agree that the best feature of this helmet is the visor. It's fully tinted, keeping out glare, UV rays, and prying eyes with ease. And it helps to keep out any unwanted noise from the road. Also, Bell made sure that the visor wouldn't limit vision in any way, so they provided a wider cutout for better peripheral vision.

Cost and Value
This is designed as more of an entry level helmet, so it's not going to be very costly. Unfortunately, because of this designation, don't expect too much in the way of added bells and whistles. For what it is, this helmet does its job exactly as expects, offering safety, comfort, and Bluetooth compatibility. So, for those with simple needs, this is their helmet of choice.


So many colors and patterns to choose from

Face shield is as fully tinted as is legally allowed, keeping out harmful UV rays

Wind and road noise is very minimal inside the helmet due to the padded wind collar

Designed to accommodate a variety of head sizes and shapes

Aerodynamic design keeps wind resistance down
Has compatibility issues with certain BT systems

Not a lot of room in the helmet for easy use of the Bluetooth system
8. HJC CL-MAXBT II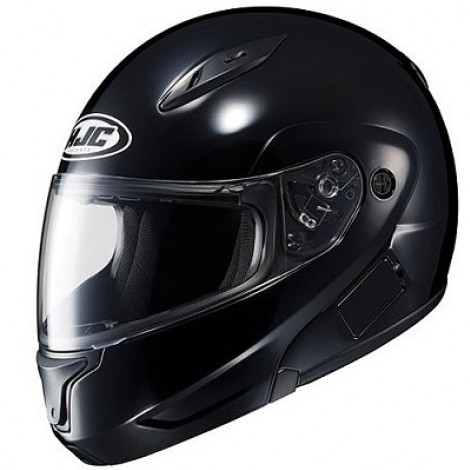 This particular HJC offering makes the list because it epitomizes incredible value when it comes to Bluetooth motorcycle helmets. What stands out the most is the helmet's ability to deliver the same level of outstanding features of the top three models, with a cost that rivals the most value-priced products out there. It's almost reminiscent of a custom fitted helmet, tailored to perfectly fit any head shape and size to provide the utmost levels of comfort, without the hassle and effort that goes in to actually getting a customized helmet. Overall, it's a very highly rated helmet capable of selling based on the looks and name alone, with a world of quality on the inside where it counts.

Expand to see more
Bluetooth ready to go
This helmet doesn't offer integrated Bluetooth technology, but that isn't necessarily a bad thing. It still provides all the space and ports needed to full install any Bluetooth system, and this level of customization is feature that is hard to come by. Not only that, in case the user wants to switch to a different system, they can, without any hassle.

Excellent face shield
The superior shield provided with this modular helmet has been designed to deliver unparalleled performance. It provides a clear unobstructed view of the road ahead, won't fog up under normal circumstances. On top of that, it aids in the protection of the eyes, blocking out virtually all harmful UV rays. All that, and in the event of needing to replace the visor, it's a simple matter that only takes seconds.

Cost and Value
This is where this HJC Bluetooth ready helmet has a chance to shine the most. For all of the custom color choices, as well as the comfort and Bluetooth adaptability, the price is shockingly low. It doesn't feature integrated Bluetooth capability, but is nonetheless an exceptional value. You will need to provide your own Bluetooth system, but once it's installed, the full functionality really comes out. Plus, it has the added advantage of allowing the rider to switch otu systems at will.


Enormous selection of different color schemes to choose from

Bluetooth ready, fully recessed helmet accommodates any speaker system

Face Shield provides up to 95 percent protection from UV rays

Shield installs by sliding in, eliminating the need for tools

Ventilation system provides full airflow throughout the helmet
Tends to fit a bit smaller than as advertised

Helmet is advertised as being a Bluetooth helmet, but is only Bluetooth ready
9. FreedConn Bluetooth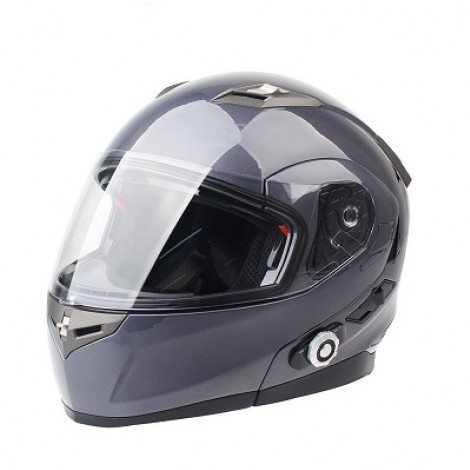 Another helmet coming in near the end of the list, yet is fully capable of competing with the cream of the drop, this helmet from FreedConn is exceptionally lightweight and comfortable, and features fully integrated Bluetooth capability. It's a preferred choice of street riders everywhere, thanks to the superior fit and finish that the helmet provides. In terms of visual appeal, this helmets is second to none. Just keep in mind the Bluetooth system isn't quite as use friendly as one would like, but seasoned riders will be able to figure it out quite easily.

Expand to see more
Looks and comfort to spare
FreedConn has been turning heads more and more lately, thanks in part to its insane amount of comfort combined with a very attractive shell. As far as integrated Bluetooth helmets go, this one feels like there's nothing different compared to the most basic setups. There's a fine line between functionality and practicality in terms of design, and this helmet straddles it perfectly.

Cutting edge
While the Bluetooth system included here isn't overly intuitive, it's more than capable of delivering solid performance, especially when used for calls. Regardless of how hard it may be to use, FreedConn went with the most up to date technology out there, so connectivity is never an issue.

Cost and Value
This helmet, for all of its minor flaws, is right at the top concerning price. Now, that isn't necessarily a bad thing, since as stated before, it's more than capable of going toe-to-toe with the big boys. The only thing holding it back is the harder to use interface. However, for those who are looking for the most current, top-of-the-line technology, this may prove to be the better value, what with it using the latest version of Bluetooth and all.



Supports Bluetooth 3.0 and is compatible with most devices

Simple one button controls makes completion actions second nature

Inner lining is absorbent with deodorizing properties, and is easily removable

Enables a group intercom system for up to three riders in proximity of each other

Built-in FM tuner picks up local stations quickly
Helmet design puts a lot of pressure on the forehead when worn for long periods

Battery doesn't hold a charge for very long
10. Bilt 2.0 Bluetooth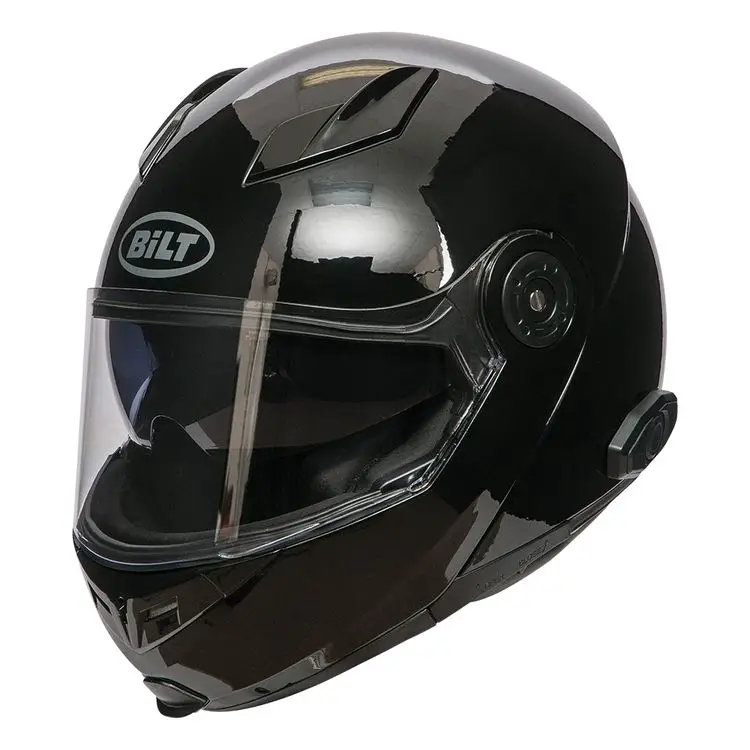 To end this list, let's finish off with another Bluetooth integrated helmet. This time, the offering is from Build, a well-known name in the world of motorcycle helmets. While that brand alone would probably suffice to let consumers know just how high quality a product this is, but the makers at Bilt incorporated a Sena Bluetooth system, a company that is no slouch themselves. All this name power, backed fully by decades' worth of experience, all lend themselves to help make a high-end, moderately price piece of gear that performs well above expectations.

Expand to see more
Talk amongst yourselves
One feature that more and more Bluetooth helmets are beginning to include is a wide range intercom system. If you like to ride in packs, why not stay in touch with everyone around you instantly? If other helmets have this feature, why talk about it here? Because if you were to look at who makes the BT system on those other helmets, it's all Sena.

Talk for as long as you need to
This particular Bluetooth helmet has been made to keep riders connected for a long time. Sena has made sure that their BT system has enough juice to last for a long time, leaving riders with the confidence of knowing that they can make or take a call anytime the need arises.

Cost and Value
Bilt knows exactly what kind of helmet they have on their hands, and have priced it accordingly. They know their worth, and what the consumer will get in return, so there's absolutely nothing wrong with charging a higher price. Based on performance alone, this helmet quickly begins to pay for itself.


Eight hours of continual talk time with a week's worth of standby

The intercom protocol is universal, making it compatible with virtually everything

Multiple airflow vents promotes an incredible amount of airflow

Syncs instantly with any Bluetooth enabled device

Drop down tinted sun shield keeps the sun out
Not the most comfortable helmet

Bluetooth range for the intercom system is very limited
Despite the limited pool of Bluetooth motorcycle helmets to choose from, what was available brings a lot to the table, as should have been made evident in the above list.  As far as the helmets themselves are concerned, each one is more than capable of living up to the most rigorous safety standards that are the norm today. Each one has been built to provide all of the protection and comfort as the best standalone helmets, only these ones have the added bonus of allowing the user to be on the road while conducting a conference call if that's what they desire.  While that doesn't necessarily seem like the safest choice to make, it does help to prove a point. The true benefit of owning and using a Bluetooth motorcycle helmet is that they allow the rider the freedom to do whatever they choose while on their bike. Isolated from reality, or connected to the world, any way you want to ride, go for it.
Criteria Used in Evaluation 
Of The Best Bluetooth Motorcycle Helmets in 2018
It cannot be stressed enough that when you look for a high tech motorcycle helmet, you shouldn't be overly hung up on the cost.  A good quality Bluetooth helmet is going to be essential to the overall motorcycle experience. Though cost should not entirely dictate what to look for when choosing that perfect helmet, it's still going to have a big hand in the final decision.  Along with price though, Here are some other factors to consider when doing the research to find a Bluetooth helmet that meets all requirements.
Features Included
With current innovations in wireless communication, calls can be placed via voice prompts, and on some models, text messages can be sent with the more high-end integrated systems. The entire purpose of this is to allow the rider to remain connected with the outside world while maintaining complete focus on what's in front of him or her. Another handy feature that Bluetooth compatibility offers is turn-by-turn GPS mapping that will take a rider anywhere they want to go. For those who don't want that kind of connectivity with the world while on their bikes, Bluetooth technology also lets them control more entertainment focussed features such as a built-in radio and also allowing access to playlists from a personal electronic device. Most of the time, all of this is also executes simply using voice controls, allowing the rider much greater control over the total riding experience.
Any other features present are going to be aesthetic in nature for the most part, outside of added safety features.  These features range from custom graphics, as seen on a couple of models on this list, full or partial venting systems to keep the temperature at a comfortable and consistent level, or other slightly more useful perks that improve comfort, like a removable neck skirt.  For the rare Bluetooth helmet that isn't a full face model, one especially useful addition is what's known as a peak, or sun visor. These peaks are attached to the half-helmet over the brow, just above the eye so as not to restrict line of sight.. These add to the overall visual appeal of the helmet and serve the same function as the full face shield or visor, which don't normally fit these lower profile helmets.
Finally, to briefly touch on some of the more safety-first features that may be found on every type of helmet, and aren't exclusive to Bluetooth versions, we need to address the extra safety measures that manufacturers may take to improve overall protection and functionality.  This is going to focus mainly on the full-face or ¾ face models, as those are by far the styles used for Bluetooth inclusion. Some of these features do overlap a bit with the more cosmetic additions, such as a venting system to both increase airflow and keep the rider dry, or anti-microbial liners that keep out bacteria for an odor-free ride.  Beyond this, some helmets employ a single clear flip-down face-shield, while others will combine that with an additional tinted visor that acts as a pair of sunglasses for when the sun starts to become a concern. These features aren't required by law in order for the helmet to be deemed safe, but instead, they will work as support pieces. Improving total safety by increasing comfort and removing unwanted annoyances.
Durability
Since a Bluetooth helmet now has electronic equipment within its shell, a few new concerns spring to life.  One of the biggest is the proximity to water. Like any other electronics, the speakers and wires tend not to react in a positive way when it comes in to contact with any moisture.  This doesn't just mean water from outside sources, such as rain or snow. The biggest source of moisture comes directly from the rider. Through continuous use of the helmet, the rider can begin to overheat and perspire, which then introduces moisture to the interior.
As Bluetooth motorcycle helmets become more common, manufacturers are taking steps to implement preventative measures to prevent this issue from occurring. One of the biggest improvements that have been made is to ensure that the material housing the Bluetooth system is essentially waterproof.  This is the easiest and most efficient way to ensure top performance. Another measure that can prevent moisture is implementing a venting system. Having vents on the front and back of the helmet can improve airflow, thereby lowering the temperatures and chances of sweating. The final piece to this puzzle is the use of a breathable lining inside the helmet.  This fabric will absorb any accumulated moisture and quickly wick it away from the rider, and preventing the electronics from coming into any contact.
It doesn't make a lot of sense to touch on the durability of the helmet itself since most federal transportation departments already have legislation in place to ensure that all helmets made available for sale meet or exceed a rigid set of safety standards.
Style and Finish
Even though there are a lot of different options to choose from when selecting the ideal helmet, they all fall under five main styles: the full face helmet, off-road helmets, modular helmets, open face helmets, and half helmets.  All of these perform a similar purpose in keeping the rider safe while on the road, but they each perform this task in a different way, designed to suit the particular needs and desires of the individual.
The full-face helmet is one that does the most.  Encompassing the entire head and face area, these helmets offer complete protection from impacts, especially if the rider chooses to add a face shield to completely cover the opening in the face.  They fully isolate the rider from the noises and distractions of the road, allowing them to instead focus solely at the task at hand. These helmets are ideal for the type of rider that appreciates the destination over the journey or are single-minded in their approach to riding.
Off-road helmets are generally more simplistic in nature, requiring far less in the way of features in order to accomplish its job.  These are full-face helmets that focus more on durability and toughness in order to hold up better to the increased abuse that off-road riding can cause.  Used largely in remote areas such as deserts, forests, mountains, and everywhere in between, these helmets need to withstand the elements while at the same time keeping the rider safe, dry, and comfortable.  They often include vents for airflow but are pretty minimal in terms of visors or other, more superfluous features.
An interesting hybrid of open-face and full-face helmets, the modular helmet is a full-face helmet, at least in function.  While riding, they are intended to fully cover the face of the motorcyclist, but can instantly flip up to become open-faced while the bike is at a stop, to allow the rider to get some fresh air, or give easy access to the face. It was originally believed that these helmets were created for smokers, but this has since been debunked.  Many of these helmets offer a second visor that is tinted in order to increase comfort and convenience for the rider.
Open-face helmets are the perfect choice for riders that want as much exposure to the elements as possible while still maintaining a higher level of safety and protection.  They aren't perfect, since they don't protect from rain, bugs, or other annoyances, nor do they offer as much protection as a full-face model. However, the rider who chooses this style does so knowing full well what the drawbacks are, yet they still prefer the feeling of the wind on their face.  Also, they are a safer choice than a half-helmet as they cover the back and sides of the skull down to the base of the neck. For added protection from the elements, riders can add a flip-down visor to keep particles and debris away from the eyes.
The final type of helmet is the half-helmet or the skull cap as it is also known.  These ones offer the most basic protection during accidents, covering just the top of the skull down to the brow.  They do not cover the ears or face at all and are the go-to choice for riders who want the full riding experience.  They are also considered open-face helmets, but don't allow for a visor, or much else in the way of added peripherals.  Half helmets also have the added bonus of not impairing vision at all, though for many people the trade-off isn't worth the reduced face coverage.
Bluetooth Quality
This is a very minor criterion in terms of required knowledge and research, yet it is huge in scope.  That's because the quality of Bluetooth functionality is the whole point of a Bluetooth enabled motorcycle helmet. To that end, this section is going to be short, sweet, and as succinct as possible.  To start. the Bluetooth system must be compatible with virtually every type of phones. Older models of phones should also be freely compatible without having to tinker with it to make it work.
The range is another critical element, and the Bluetooth system should remain operational at a distance of at least 500 feet for best results.  Once these must-have qualities are met, there are some optional features that work to make life easier. These additional features include noise cancellation, a multi-person intercom, and the ability perform tasks like shuffling music, changing the volume, and switching between talking and listening modes in order to get the most out of the experience.  One further feature that more and more brands are including is voice control, in order to make the headset as hands-free as possible. This bears mentioning because it improves functionality and safety, as the bulk of concentration needs to be on the road.
Price
It goes without saying that for the most part, Bluetooth helmets are going to be quite a bit more expensive than a traditional model.  That is, at least, the fully integrated helmets are going to cost more. Because of the need for specialized parts, as well as the increased work that invariably goes into producing them, full Bluetooth motorcycle helmets can cost hundreds of dollars more in some instances.  For all of that extra money though, riders get something that didn't exist just a few years ago. Whereas in the past, communication would be relegated to occasional rest stops, now calls can be placed instantly with the simple press of a button, and the rest is taken care of by voice alone.  Even when carrying a cell phone became the standard, there was no practical way to make and receive calls while in the middle of a ride.
For all of the available options for integrated Bluetooth helmets out there, there are some people who are too attached to their helmets, and as such would rather not have to buy and break in a new model. Alternatively, there are those who are looking to upgrade their existing helmet in order to enjoy all of the benefits of Bluetooth technology, but for whatever reason can't justify the added cost of a new helmet. Either way, new Bluetooth helmets can be very expensive, especially if the existing helmet is perfectly serviceable.  To combat this issue, many helmet manufacturers are making their more traditional helmets to include recessed compartments to allow the installation stand-alone third-party Bluetooth devices. In fact, there now exist on the market motorcycle helmet kits available that make life that much easier. Some examples of such include:
Sena SMH5-02 – Available at a much lower price and includes a two-way intercom, intuitive interface, jog dial, noise control feature and significant battery life compared to competitor models.
Blinc M2 – This is a lightweight Bluetooth unit that boasts superior quality speakers and microphone.  It does have some issues with compatibility, but that can be remedied by a bit of pre-purchase research, and the easy to use platform makes up for this small concern.
SMH-10 – Sena is the industry leader in stand-alone Bluetooth systems, as evidenced by their presence here.  This one's a bit pricier but offers high-end features such as a long-range intercom for multiple riders and advances noise control.
Sena SMH10D-11 – This is a Bluetooth kit that includes two units, each with a universal microphone.  It offers many of the same abilities of the SMH10, but comes with two units, and has an increased battery life of up to twelve hours.
Regardless of the direction consumers decide to go in, Bluetooth helmets are more of an investment than anything else, one that has the potential to yield great returns for a very long time. With that in mind, a choice has to then be made.  Do you choose to go with a Bluetooth ready models at a lower price, knowing that the system you install may need to be replaced within a few years, or make one hefty investment initially for a fully integrated model that should hold up indefinitely without having to change out the system, barring a drastic evolution in the technology.
Disclaimer: Since this buying guide is dealing with a piece of equipment that concerns the safety and well being of the rider, as well as offers a service of convenience in added Bluetooth technology, the following Terminology, and FAQs sections are going to deal with both aspects.  The safety of the helmet goes without saying, so the inclusion of some of the terms related to that is necessary.
Applicable Terminology For Bluetooth Motorcycle Helmets
Bluetooth: A technology discovered in 1998 by a group of engineers work for Ericsson in Sweden, Bluetooth allows for the transfer of data, without the use of wires, between two devices that were permanently connected. Unveiled in the year 2000 in the form of a hands-free headset, Bluetooth has since been integrated into a wide range of devices.
DOT: The US Department of Transportation.  The federal entity that is ultimately responsible for the well being of motorists on roadways and waterways in the United States.  Most countries and regions have similar governing bodies that oversee the safety standards for motorists under their jurisdiction. The standards set out by these bodies make sure that any automotive safety equipment meets all requirements in order to be made legal for sale.
ECE: The European standards that determine safety regulations for most of the European continent.  Also known as the Economic Commission for Europe, it was created under a United Nations agreement in 1958 to create a universal standard of helmet regulations for a number of different countries that now encompass what is known as the European Union.
Face Shield: This is a protective piece of clear plastic that sits over the front of the helmet and protects the wearer from various hazards found on the road.  They are usually made clear to allow full visibility, and some helmets have a secondary flip-up visor behind this initial shield. The visor is generally tinted and acts as a pair of sunglasses to help keep both the glare of the sun as well as harmful UV rays out of the rider's eyes.
Full-face helmet: The best, and most commonly used style for Bluetooth helmets.  Full-face helmets cover the entirety of the head and include a full face shield to complete the coverage and protection.   Increased heat does become a concern though the vast majority now have venting systems to help alleviate this issue. As well as being the most functional style of helmet for Bluetooth compatibility, it also removes the greatest amount of outside road noise in order to maximize sound quality.
Half helmet: While half helmets are often preferred by a rider who wants the full experience of exposure to the elements, these helmets are far from ideal for Bluetooth compatibility because of this increased exposure.
Inner liner: Materials that are used to line the interior of the helmet while serving several purposes.  They offer increased protection for the head in the event of an accident, helping to keep the skull from bouncing around and being damaged. Inner liners also help keep the wearer dry by absorbing moisture and transferring it away.  Finally, it helps increase comfort by acting as padding against the hard shell of the helmet.
Modular helmet: This is another style of helmet that is considered ideal for Bluetooth integration.  This is also known as a hybrid of open-faced and full-face helmets, representing the best of both worlds in terms of performance and function.  The face shield flips up, providing quick and easy access to the face as well as the Bluetooth system itself.
Open face:  The name of this helmet pretty much gives away its function, as the face is left open and exposed, though in most cases a visor can be attached to offer greater protection.
Piconet: A piconet is a network created to link a group of devices using Bluetooth protocols.  It consists of multiple devices simultaneously using the same channel. The network enables this connectivity using a master/slave dynamic, in that it always designates one of the devices as the main, or master unit, and any subsequent devices are the slave units.  Each unit is assigned a time period in which to transmit, ensuring that there is no overlap or delay between devices.
UHF radio waves: UHF stands for Ultra High Frequency,  and is the method by which Bluetooth connectivity is achieved.  These frequencies work best at shorter ranges and can be blocked by hills and large buildings.
Frequently Asked Questions
About Bluetooth Motorcycle Helmets
Q: Does Bluetooth work?
Bluetooth works by using radio waves to the Bluetooth device to cell phones, computers, or any other enabled products.  It's a short-range wireless technology that allows the devices to connect with each when within close proximity, by "pairing up." Most Bluetooth devices are now capable of connecting to multiple pieces of equipment at one time.
Q: How many devices can I have connected at one time?
The maximum number of devices that can be connected to Bluetooth at one time will vary by manufacturer.  However, the absolute limit is seven devices, though the suggested practical number is three or four at a time.
Q: Do I have to wear a helmet?
This is a question that unfortunately will continue to be asked for as long as people ride motorcycles.  Motorcycle helmet use is mandatory in most areas, though in the US there are still some states where they are not required.  To date, 19 states have mandatory requirements, with 28 states having at least partial requirements, and three states with no helmet laws whatsoever.  To answer the question as clearly as possible, yes, all riders should wear a helmet. To not do so would be a stupid, and potentially fatal, mistake.
Q: What can Bluetooth do?
Initially, Bluetooth technology was used primarily to enable hands-free voice calling through the use of a Bluetooth headset.  Now, however, since Bluetooth is able to work between devices without the required aid of a modem or any other network equipment, it has become a popular choice for a variety of applications.  Bluetooth is now incorporated into computers, allowing easy connection of peripherals such as a mouse, keyboard, or wireless speakers. It is also used to effortlessly transfer files between two computers, or from one computer to an enable wireless printer.  Bluetooth is also used in the home, allowing users to control lighting, temperatures, or a variety of other logistical household tasks. The most common use, however, is with personal electronic devices. This allows users to easily connect their devices to Bluetooth enabled headphones or speakers, providing hands-free use when performing tasks such as driving.  This is the sole purpose of a Bluetooth-enabled motorcycle helmet.
Q: Why aren't half helmets good for Bluetooth?
Speaking strictly in terms of safety, both types of helmet are pretty much much exactly the same, though half helmets offer more exposure to the elements than full face versions.  When adding Bluetooth integration, half helmets quickly show their limitations. Wearing a half helmets is pretty close to not having a helmet on at all, leaving your face fully free and exposed to the wind and other elements.  This exposure makes Bluetooth speakers virtually useless, as they aren't going to be able to carry quality sound past all of the noise of the road. Full-face helmets, on the other hand, leave the entire head covered, and provide almost complete isolation from outside noise, making this style ideal for making calls and listening to music.
Sources
Subscribe to our Newsletter