Best Wheel Cleaners Reviewed & Rated for Quality
last updated:
Jul 11, 2019
If you've ever begged your parents for something you wanted as a kid, you were probably put to work cleaning the car to get it. During which time, you likely came to the same conclusion as everyone else: cleaning the tires should not be this hard. And yet it is, as these rubber wheels just will not budge with their stains and built up grime. There has got to be an easier way to go about this; there just has to be. Indeed, there is.
Featured Recommendations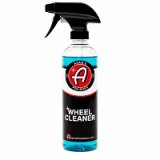 Adams Deep

Our rating
Advanced Chemical Technology
Price:

See Here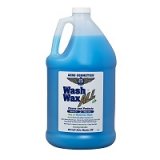 Aero Cosmetics Wash Wax

Our rating
Water Based
Price:

See Here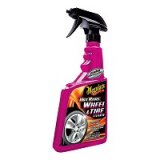 Meguiar's Hot Rims

Our rating
Xtreme Cling Foam
Price:

See Here

Wheel cleaners refer to a type of chemical you apply to your wheels, to make the process of cleaning off dirt and grime easier. Whether you're spraying it directly onto the wheel or dousing a washcloth in the stuff, wheel cleaners are a great way to get those stubborn stains and caked on grime off of your wheels to leave them sparkling clean. And we're looking at the top ten best of them, here today. So, get ready to see your reflection in those rims, because we're counting down the:
10 Best Wheel Cleaners
1. Adams Deep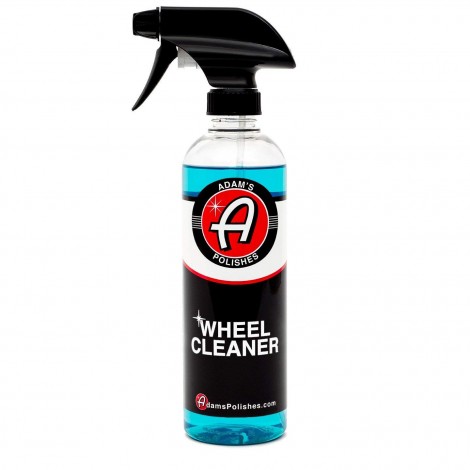 Kicking off our list, we have the Adams Deep Wheel Cleaner. Got that horrid mix of dirt and brake dust caked onto your wheels? Soap and water will basically have no effect on that combination. But this spray will do the trick and have your wheels cleaned in no time. So how does it accomplish this? Let's find out.

Expand to see more
Advanced chemical technology

It stands to reason that this, on of the best wheel cleaner would be sporting some powerful chemicals in order to achieve the effect it has on dirt and grime. However, this formula contains no acids and is completely pH neutral. Meaning that you don't have to worry about any harm coming to you as you watch it penetrate the built-up brake dust and peel it off of your wheels.

Safe on almost all finishes

But it's one thing to be effective, but there's more than just dirt on those tires. There's also paint jobs, finishes, and other coatings that you would rather not get peeled off with the brake dust. Fortunately, that is not a concern when it comes to this wheel cleaner. As it gets deep into that dirt and grime without bringing any harm to the vast majority of finishes that are likely to be on your tires.

Cost and Value

This wheel cleaner comes in a variety of different sizes, ranging from small 16 oz to a massive 5 gallons. And as such, this product also comes in a variety of prices. The 16 oz bottle won't be anything unmanageable, but 5 gallons of this stuff will cost you quite the pretty penny.


Advanced chemical technology
Safe on almost all finishes
Immediate penetration on brake dust
Larger sizes are obscenely expensive
2. Aero Cosmetics Wash Wax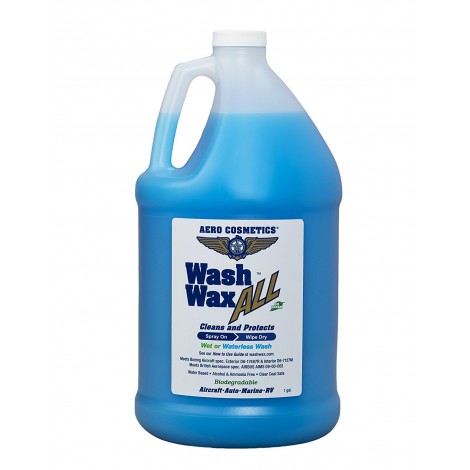 Coming in second place is Aero Cosmetics Wash Wax. It's nice to clean your car, but your motorcycle could use some love too, you know. So, it's a good thing we have Aero Cosmetics Wash Wax, which can work on both car and motorcycle wheels. And that's not all it can do.


Expand to see more
Works on aircraft too

Work at a hangar? Got airplanes that need cleaning? Well, this stuff isn't called Aero Cosmetics for anything, as it's one of the best at getting out tough aircraft exhaust soot. Which, as you can imagine, is not exactly easy to get out.

Water based

Most cleaners build themselves off of a base of some kind of chemical cleanser. Which works just fine but can be irritating to some people. Which is why this cleanser builds itself off of a water-based formula. Making it not only healthier to be around in general, and produces fewer harmful fumes, but it's also completely biodegradable.

Cost and Value

Thankfully the price range for this one is far more forgiving than the previous entry. Of course, this has to do with the fact that the sizes aren't as extreme as the previous entry, but the effort is appreciated all the same.


Works on aircraft too
Water based
Affordable price range
The top isn't as secured as it could be
3. Meguiar's Hot Rims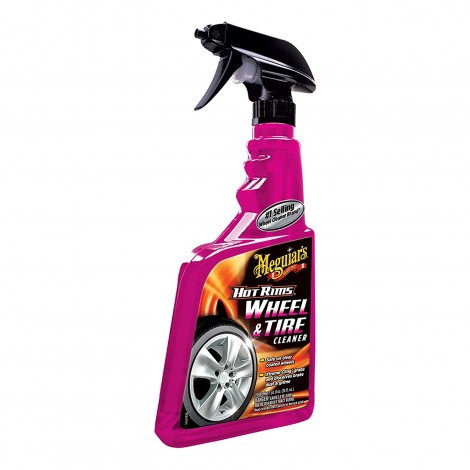 Finishing up our top three, we have Meguiar's Hot Rims Wheel Cleaner. At first, this just looks like any old wheel cleaner, even if an effective one. However, that all changes the minute you spray this stuff onto your wheels, and you notice the first big thing about this wheel cleaner that sets it apart from the rest.

Expand to see more
Xtreme Cling Foam

This cleaner takes a page out of bathroom cleaner formulas and takes the form of an extremely clingy foam that penetrates and melts brake dust, and grime no matter how well built up the stuff may be. And don't worry about getting it on your paint job, as this foam is safe to use both on clear coated and factory painted rims. So, you can just sit back and watch the grime and dirt be lifted off of your wheels in real time.

Easy clean

Just give this foam a minute or five to lift everything out of the surface you spray it onto, then break out the hose and wash it off. No scrubbing, no kneeling down uncomfortably, no hassle. Just a quick spray and hose and you're done. It's that kind of ease and convenience that makes Meguiar's one of the most trusted names in vehicle sanitation.

Cost and Value

The best part about this spray is the price. With most retailers, you'll barely be paying a fraction of what you'd pay for the previous two entries when paying for this one. Making it easily one of the best deals on the entire list.


Xtreme cling foam
Easy clean
Very affordable
Might not work with powder coated surfaces
4. CarGuys Best Wheel and Tire Cleaner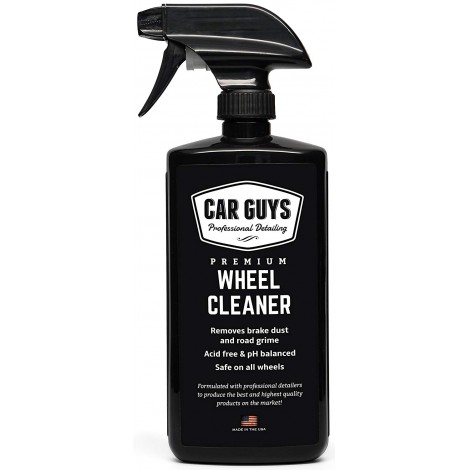 Coming in at #4, we have the CarGuys Best Wheel Cleaner. Wheels and tires are two different things if you can believe it. Wheels are the round metal parts in the center of the tires, and so, both need different chemicals working together in order to clean them properly. This one does both at the same time.

Expand to see more
Cleans salt and winter grime

If you live in a northern part of the US, then you're all too familiar with the practice of pouring salt on the road to eat away at snow buildup. A fairly common practice, but the issue is that salt can also eat away at your car if you leave it there too long. This is especially true of your tires and wheels, which is why this cleaner makes quick work of any built-up salt and winter grime, ensuring that your tires stay nice and whole.

Safe with every tire

Not some tires, not most tires, every type of tire is safe to use with this cleaner. From alloy to aluminum, to anodized, chrome, painted, and polished, there isn't a single tire under the sun that this spray can't make beautiful in a quick scrub down.

Cost and Value

The price range for this one is a bit stark, but nothing too bad. It only comes in two sizes, and the larger size is, of course, pretty pricey. But again, it's nothing you shouldn't be able to afford.


Cleans salt and winter grime
Safe with every tire
Environmentally friendly
Must be scrubbed off for maximum effect
5. TriNova Spray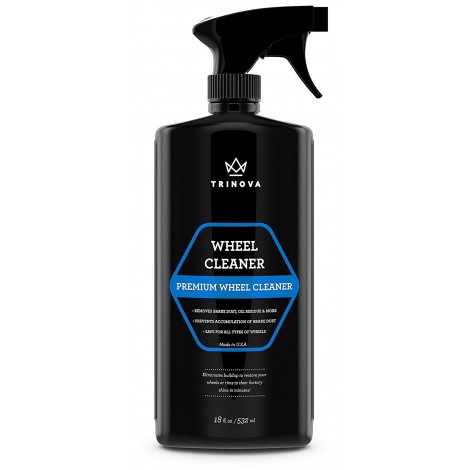 For the #5 spot, we chose the TriNova Wheel Cleaner Rim Cleaning Spray. TriNova is considered to be one of the most trusted names in
vehicle
cleaning, and this best wheel cleaner demonstrates this better than most. How does it do this? Let's take a look and see for ourselves.
Expand to see more
Restores shine

Removing the stains from your wheels is only half the battle. The other half is about restoring the shine to the metal, especially if your wheels are made out of materials like chrome, which are meant to give off a shine. Which is why this cleaner not only gets out the toughest dirt and grime buildup but also acts as a polish for your wheels, restoring them to their original shine.

Suitable for all wheel types

It's not often you find a best wheel cleaner that can work for all types of wheels. So, whenever we have one on this list, we feel the need to declare it. And indeed, this best wheel cleaner cleans every type of wheel out there, car or motorcycle. So, if you have a wheel type that other wheel cleaners just can't work with, don't worry, because TriNova has got you covered.

Cost and Value

This cleaner only comes in one size, and thus one price. And the price for this one is actually very affordable, even by the standards set by this list.


Restores shine
Suitable for all wheel types
Very affordable
6. Sonax Full Effect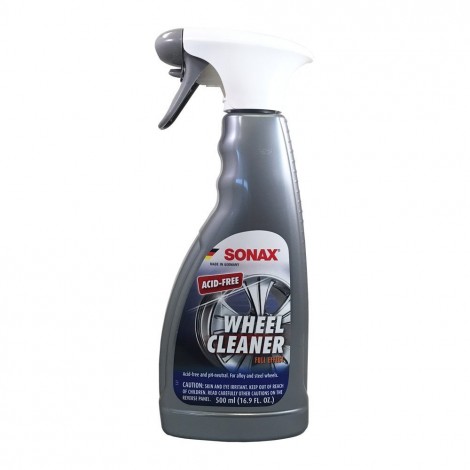 Coming in at #6, we have the Sonax Wheel Cleaner Full Effect. The design of the spray bottle may seem a bit unorthodox for a best wheel cleaner, but trust us, there's nothing odd about the way this cleaner efficiently handles all kinds of dirt and grime.

Expand to see more
Clearly telegraphs when it's time to scrub off

One of the biggest frustrations with most types of wheel cleaners is that there's rarely any way of telling when it's good to actually clean the formula off of your tire. Fortunately, this one is very hard to miss. Once applied, you wait for a little while, and when the formula turns bright red, then it's time to scrub or hose off. This is a sign that the formula has brought all the dirt and grim to the surface.

Great for aluminum

Aluminum and alloy finishes are typically rather hard to make a good cleaner for. They're metal types that don't work well with the chemicals typically used in most cleaners. However, this cleaner manages to find the right balance, providing excellent cleaning service to all wheel types, but especially aluminum and alloy wheels.

Cost and Value

Back to price ranges based on size for this bottle, and this one goes a tad bit pricier than the last one. While not the most expensive thing in the world, if you want the bigger bottle, you'd best be prepared to cough up the necessary funds.


Red coloring when grime and dirt is pulled up, clearly telegraphing when it's time to hose down
Great for aluminum and alloy wheels
Acid-free and pH balanced formulation
7. Black Magic Bleche-Wite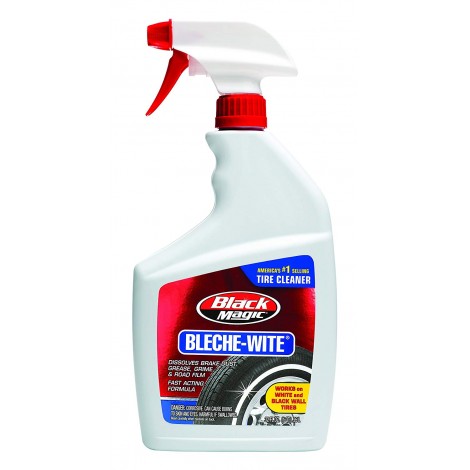 In the #7 slot, we put in the Black Magic Bleche-Wite Tire Cleaner. Black magic has been around for a while and have made quite the name for themselves when it comes to making high quality tire cleaners. And nowhere is that more clear than with the Bleche-Wite Tire Cleaner.

Expand to see more
Primascrub fortification

To make sure that this formula gets out every last inch of gunk from your tires, this cleaner is rejuvenated with Primascrub. Primascrub is a series of hard cleaning agents designed to fight the soils that stick to tire surfaces. Making this one of the most aggressive tire cleaners you're liable to find on the market right now.

Cleans everything

Not only does this tire cleaner get pretty much everything off of your tires, from brake dust to road film, it also cleans every surface until it's spotless. This includes black walls, white walls, and even the white lettering on your tire. This cleaner doesn't stop until everything is shiny and clean as the day you bought it.

Cost and Value

Despite coming in packs of 1 gallon per bottle, this cleaner is shockingly affordable for all that it's giving you. So, if you need every inch of your tires to be spotless and clean, you can't go wrong with a little black magic.


Primascrub fortification
Cleans everything
Affordable
Cleans but doesn't shine or polish
8. Mothers Foaming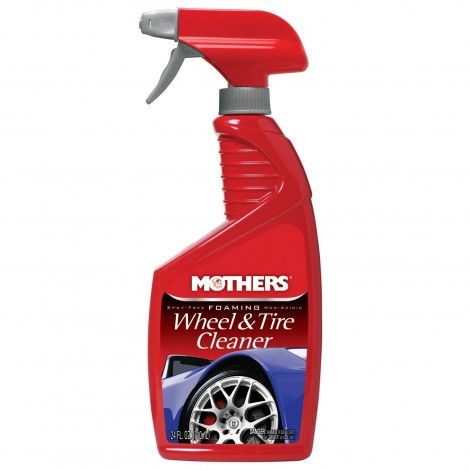 Kicking off the final three entries for this list, we have the Mothers Foaming Wheel and Tire Cleaner. When it comes to no nonsense, basic automotive detailing, Mother's is generally agreed upon to be the way you go. They offer the best in no frills, basic detailing, and cleaning, and if that's what you need, you can't go wrong here.

Expand to see more
Foaming spray

Once again, we have a spray that takes the form of foam the minute it hits the tire and interacts with actual oxygen. Mothers tire cleaner quickly and easily penetrates the dirt and grime on your tires, whether they be black or white walls. This spray will have your tires completely clean within minutes of you putting it on.

Spray on, hose off

No one likes scrubbing tires, and anyone who says that he or she do is a liar. Which is why Mothers tire cleaner goes for a spray on, hose off design that makes cleaning your tires a snap. No scrubbing or thorough application needed, just spray the stuff onto your tire wherever there's dirt or grime built up. And after a minute or so, once the foam has completely built up and gotten all of the dirt and grime up to the surface, just spray it all off with a hose.

Cost and Value

The best part about this entry is the price. This is easily the cheapest entry on the entire list, far below $10 no matter the retailer you consult.


Foaming spray
Spray on, hose off
Cheap
Certain brake calipers don't work well with it
9. Chemical Guys Diablo
In our second to final spot, we have the Chemical Guys Diablo Gel Wheel and Rim Cleaner. One use of this, and you'll quickly see that this cleaner lives up to its name, as it truly is the diablo to stains, dust, and dirt everywhere. So, what makes it such a terror to such messes? Let's find out.

Expand to see more
Sticks, breaks, and loosens

When it comes to cleaning tires, or really any part of the car for that matter, there are three acts that need to be covered: sticking, breaking, and loosening. The formula needs to stick onto the tire and not drip off, break up caked on dust, dirt, and grime, and loosen contaminants to then be washed off by a hose. And that is precisely what this cleaner does when you apply it to your wheel.

Multiple applications

Some people don't feel quite comfortable enough using a spray bottle as they do a brush. Well, seeing as how this is basically dish soap for tires, you don't have to worry about that. Simply apply this gel to a brush of your choosing and scrub your tire down. It'll basically have the same effect, and you can more thoroughly get every last inch of your wheels.

Cost and Value

We're back to price ranges again, and we have a very nice one here. This is one of the fairest prices ranges this entire list has to offer, in fact, with a variety of sizes, all for fair and reasonable prices.


Sticks, breaks, and loosens
Multiple applications
Fair prices
Tougher grease stains need harder scrubbing
10. Griot's Garage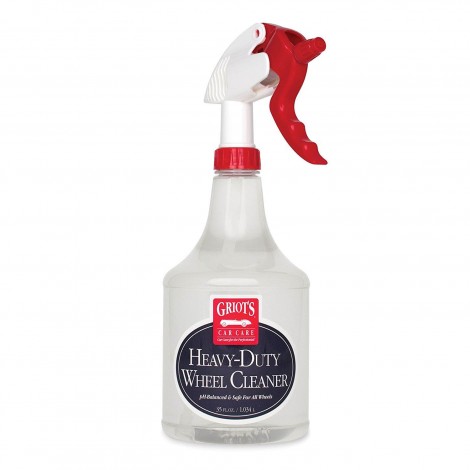 Finishing up our list, we have Griot's Garage Wheel Cleaner. When you're in the market for something cut above the rest, something high quality, then you go to Griot's Garage. They've built a well-earned reputation for being one of the go-to names in best wheel cleaning. Let's find out how they got that reputation.

Expand to see more
Gentle deep clean

Usually, when you think of a best wheel cleaner, you think of something aggressive, that will tear into that dirt and grime and really get it out for good. But sometimes the gentler approach is warranted. This cleaner will provide a gentle, but no less thorough cleaning to your tires,

Environmentally friendly

Call us tree huggers all you like, but we'd prefer not to wash toxic chemicals into the soil we walk on, and our dogs roll around in, thank you very much. Which is why we love Griot's Garage Wheel Cleaner. It's one of the best environmentally friendly wheel cleaners out there right now. You never have to worry about where the chemicals you wash off of your wheels are actually going when you use this cleaner.

Cost and Value

For a gallon of premium tire cleaner, we certainly expected this cleaner to cost a lot more than it ended up costing. If you want a premium tire cleaner, and you have a fairly lax budget, then we cannot recommend this one enough.


Gentle, deep clean
Environmentally friendly
Affordable
Takes a bit of elbow grease to get out the really tough stains
Without a best wheel cleaner, the wheel of your car can be easily the most stubborn part of your car to clean. Rubber is notoriously hard to clean as is, but a giant rubber wheel meant to have the traction to carry a giant metal box filled with people down the road multiple times a day, at several dozen miles per hour? Frankly, we should be lucky we can clean them at all. Which, of course, is where the best wheel cleaners come in. Wheel cleaners are your best bet for returning your car's wheels to the shape in which you bought them: shiny, clean, and ready to face the world. And if that's what you're looking for, then we can safely say that you've come to the right article. Every single entry on this list is worth your time and money. Each one embodies what it means to aggressively get out those tough stains on your tires. Whether gentle or aggressive cleaning, soap or foam, there's something here for every car owner. So, if you've meant to get out those super tough stains from your car's wheels. If you've been scrubbing and scrubbing and not even making a dent in it. Then maybe it's time you got your hands on a best wheel cleaner.
Criteria Used in Choosing the Best Wheel Cleaners
Coming up with a good list of criteria for this article was an interesting process. We essentially had to learn what makes up a best wheel cleaner, and then break it down into good criteria for this list, to determine who got onto the list and how far up. Because there was a lot of good competition for this list. So, with that said, here is what we used to determine the ten winners.
Stick
Do you want to know why normal soap and water doesn't work on stains and dirt that's gathered on your tire? Because it keeps dripping off and never sticks around long enough to be fully effective. This is the biggest advantage the best wheel cleaners have over normal cleaning supplies when it comes to wheels: they stick onto the tire and don't move until you hose them down with water. This is something you do have to remember: 90% of the time, DO NOT use water to apply this cleaner. Apply it dry, then either scrub it or wait to hose it off with water after it's given you some kind of sign that it's gotten the stains out of the tire. The cleaner is just fine on its own, working its magic on the tire and getting the stains without any input from you.
Wheel Versatility
It's one thing to clean some wheels, but the best wheel cleaners can clean them all. Wheel versatility is one of the aspects of the best wheel cleaners that you should look for because it's just easier on yourself. After all, it's better to find a wheel cleaner that can clean all types of wheels and work with all kinds of finishes, than to spend $30 or more on a wheel cleaner, only to learn that it can't clean your tire because it only works on chrome, and your tires are alloy. However, this can be a lot harder than it sounds. Every type of wheel has different needs when it comes to cleaning. But even so, we looked for the most versatile and best wheel cleaners that we could find, to fill this list with the most effective entries possible.
Environmental Safety
Let's not kid ourselves about what we're working with here. You are rubbing multicolored chemicals all over your wheels, then washing them off with a hose, sending them into the ground and likely the sewers, where they'll then be washed into the ocean. And even if that isn't the case, they'll at least soak into the grass around your home. It stands to reason that you wouldn't want these chemicals to be toxic. Pets roll around in the grass, so you probably shouldn't continuously pour toxic chemicals into that grass. Fortunately, most of the best wheel cleaner manufacturers understand this, and every entry on this list is made with the environment, as well as your safety, in mind.
Penetration
The most common kind of mess that forms on your wheels is going to be brake dust, the residue left over from constantly using the brakes. Brake dust is notoriously hard to scrub off, as anyone who's tried to clean their tires without actual tire cleaner can tell you. The problem is that no other soap penetrates it as some of the best wheel cleaners can. And that's the kick of it, a good wheel cleaner penetrates the dirt, grime, and brake dust, getting into the wheel below, and pulling all the grime out with it when it goes.

Ease of application
But it's one thing to clean like mad once it's on there, but how it gets on there, to begin with, is another matter entirely. The most common way of applying wheel cleaner is, naturally, to spray it on. Most of the best wheel cleaners have the same general consistency as a normal spray cleaner, so of course, they put it in spray bottles. You spray it onto the wheel, and usually, that's it. You then wait for the formula to either foam up or change color, signifying that it has pulled all the contaminants out of its areas of application, then hose it off with a power washer. However, there are some out there that you apply by putting it on a rag and rubbing it on the tire. This can be tedious for some, but it is a good way to make sure that every inch of the tire gets the same amount of cleaner as the rest of it. Wheel cleaners are supposed to make cleaning your vehicle easier by reducing the task of one of the most tedious aspects of it. So, it should not make it harder for you to clean the car.
Price
The last criteria that we judged these entries by were the price. And the price of these entries was not quite as high as we thought they would be. Though, that's because we were usually looking in the smaller sizes for these entries. Almost every single entry on this list comes in an array of different sizes, and thus different prices. Sometimes the price range is perfectly reasonable for every entry, and sometimes it's a bit more unforgiving. But either way, our method of judging each entry did not change. Instead of judging them based on the price, we judged each one based on how well they justified the prices they ask for. If the entries offered excellent service for slightly higher prices, then we felt that it was worth it. However, if the prices offered were a little higher than what we felt the consumer would be getting out of the deal, then that cost the entry quite a few points.
FAQ
Frequently Asked Questions
For the final segment of this article, we're going to look at some frequently asked questions surrounding wheel cleaners. Wheel cleaners aren't used by everyone, unfortunately, so there are some concerns or just simple questions from those who want to know more. And that's what this segment is here to help with. So, with that said, here are the most frequently asked questions and commonly voiced concerns surrounding wheel cleaners.
Q: Why do wheel cleaners exist and how do they work?
A: Wheel cleaners came about when people realized that the wheels on your car take perhaps the most punishment than anywhere else on your entire car. For one, they are meant to be in near constant motion, usually on the very rough terrain. For another, every part of the car messes with them, from dousing them in brake dust to putting more strain on them. They are battered by grit, dirt, and loose stones from the road, and the thing about brake dust is that it's comprised of very tiny, very hot pieces of metal that are shredded all over your tires. So, of course, they felt that something had to be done to help keep your tires clean.
Q: Why do some wheel cleaners foam up when you use them?
A: As we said previously, wheel cleaners work by going into the deepest parts of the wheel, the tiny cracks and crevices invisible to the human eye but hiding a lot of dirt and grime and pulls said dirt and grime out to the surface to be washed off. But of course, once pulled out, there have to be some means of keeping them there so that they don't go right back in. This is where the concept of foaming up comes from. The foam may be easy to break up for us, as simple as swiping at it with our hand, but for smaller particles, it's like being stuck in impenetrable goo that it cannot escape. It pulls out the dirt, then foams up and holds it there. Then all you have to do at that point is wash it off with a power washer. And make sure that it is a power washer, not a regular hose. No real reason for this, though, at least not an important one. A regular hose will just take a lot longer than a power washer, which will have your wheels and tires completely clean in no time.
Sources
Subscribe to our Newsletter