10 Best Pink Motorcycle Helmets Reviewed for Protection in 2023
last updated:
Jan 06, 2021
Finding a reliable pink motorcycle helmet can be hard enough at the best of times, but when you positively must have a pink motorcycle helmet, you greatly reduce the number of possible helmets you have to choose from.
Luckily for you, we've trawled through the best available pink motorcycle helmets on the web and ranked and arranged them according to several important criteria, while also factoring cost and value into the equation.
Featured Recommendations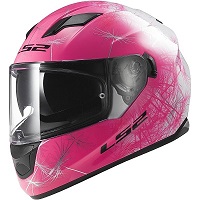 LS2 328

Our rating
Twin Face-Shields
Quick-Release Chin Straps
Price:

See Here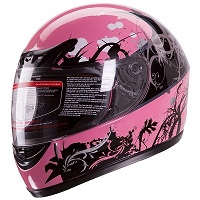 IV2-901

Our rating
Full-Face with Wide Field of View
Machine Washable Removable Padding
Price:

See Here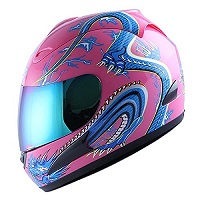 WOW Dragon

Our rating
Beautiful Blue and Pink Dragon Design
Multiple Ventilation Shafts
Price:

See Here

This review contains a variety of helmets in all shapes and sizes. Full-face, half-helmets and modular helmets are all listed here and come in a variety of styles: from the bold and beautiful to the sleek and retro – everyone's fashion sense is catered to.
All of the helmets on this list have been DOT tested and approved for safety, and most come with useful features like machine washable inner padding, quick-release latches, and handy ventilation grooves. Some helmets featured on this list come with holes cut out for speakers to fit into, while others integrate multiple face-shields to protect you in a range of different conditions.
As is the case with any new product, you want to make sure you're getting the right one for you. Motorcycle helmets are more important than the average purchase you'll make, so it makes sense to put in the time and research the strengths and weaknesses of the best available products.
That's why we've put together this review – to save you the time. So read on and find out what pink motorcycle helmet is the one for you.
10 Best Pink Motorcycle Helmets
1. LS2 328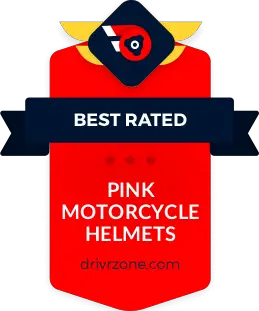 This stylish model from LS2 combines eye-catching aesthetics with useful safety features like dual-visors which can be flipped up or retracted. The shell is made from high-performance HPTT polycarbonate alloy, and LS2's 3D laser fitting technology creates a snug fit without annoying pressure points. The attachments which make up the pink motorcycle helmet come with quick-release latches and the helmet also meets or exceeds DOT and ECE standards

Expand to see more
Twin Face-Shields
The outer shield is clear and can be flipped up or kept down according to conditions, while the inner visor is tinted and can be tucked up into the helmet when not required. This pink motorcycle helmet eliminates the need for a pair of sunglasses underneath.

Quick-Release Chin Straps
The chin strap employs quick release straps which can be loosened quickly and easily in the event of an emergency. The straps themselves also have DOT rated approval and make slipping the helmet on and off a breeze.

Cost and Value
The LS2 provides solid value for money compared to similar models, and while not the cheapest helmet on this list, it still maintains an approachable price for just about any motorcycle enthusiast.


Twin adjustable visor system
Quick release straps
Removable, washable interior lining
Long, slightly oval shape
Made from a polycarbonate alloy
Sizing issues due to EU-based construction
Possible fogging issues
2. IV2-901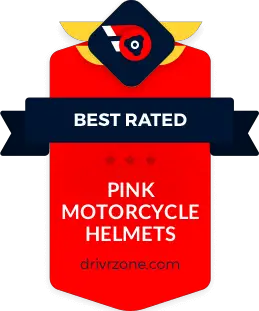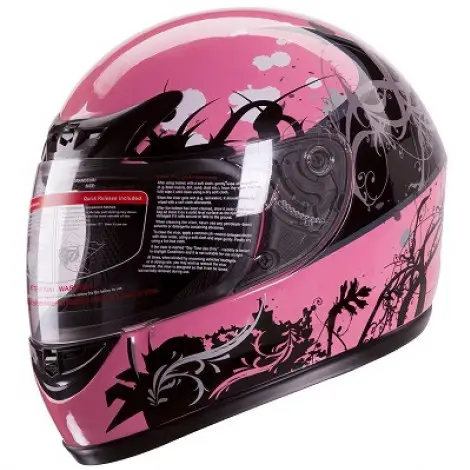 This pink motorcycle helmet comes with a glossy pink, Japanese floral design which will make any driver stand out from the crowd. The shell is constructed from a light-weight ABS thermoplastic composite material, and the inner lining of the helmet is made from EPS impact absorbing foam. The IV2 also features removable and washable cheek-pads, while the foam is self-wicking and pulls moisture away from the face.
Expand to see more
Full-Face with Wide Field of View
This pink motorcycle helmet provides full-face protection while also being built with peripheral vision in mind. The clear front visor stretches to the far edges of the face, giving the wearer a solid range of vision without sacrificing safety.

Machine Washable Removable Padding
The self-wicking fabric lining will require washing from time to time, and the process is made easy by having removable padding sections which can be washed in the washing machine.

Cost and Value
This helmet achieves exceptional style combined with some solid safety features, and it comes in at a price which can be afforded by just about anyone. The helmet has a budget price, although this hasn't harmed its popularity. Exceptional value.


Dual D-rings with adjustable chin straps
Ventilation grooves throughout shell
Fiber reinforced shell
EPS impact absorbing foam
Easy-wash, removable interior padding
Sizing issues may require a size above normal
Short chin straps
3. Vega VRX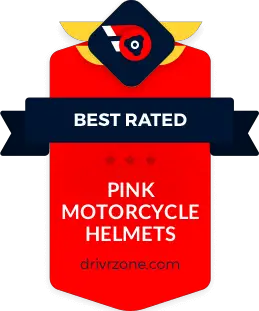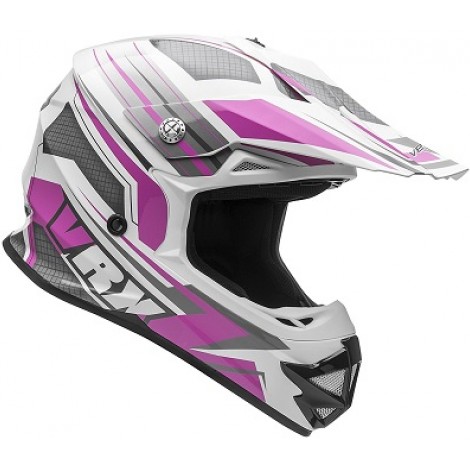 This stylish and sporty full-face displays a vibrant flash of color and is a great choice for those who ride dirt-bikes or quads. This pink motorcycle helmet has a modular design with a flippable front face shield and comes equipped with multiple ventilation shafts, D-ring straps and a high-density EPS foam lining, which works to absorb the impact from crashes
Expand to see more
High Density EPS Foam
The inner foam lining is made from a very dense foam which is designed to absorb impacts. The foam is also vented to allow for good airflow, while it can easily be removed and washed in a washing machine

Five Year Limited Warranty
When it comes to buying safety gear, the option of a warranty and a five year one at that is always a good sign. For five years after a purchase, the manufacturer will foot the bill for any defects that arise which could be shown to be their fault.

Cost and Value
This helmet comes in at a very affordable price and represents great value for money. It is one of the sportier items in this review and is available at a much lower price than many of its current competitors.


Eye-catching pattern
Removable and washable padding
D-ring nylon straps
Only 3lbs in weight
Sporty design
Chin piece cannot be flipped up
May be too bulky for some
4. HJC Cosmos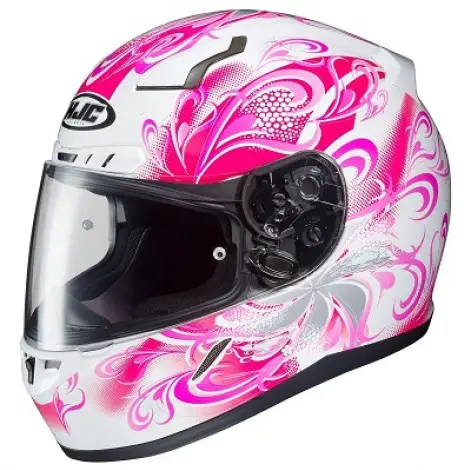 This pink motorcycle helmet from HJC comes with a bold design and a range of useful safety features, like the ACS advanced channeling system which strategically directs airflow in a useful direction. The face shield is treated with an anti-scratch finish, while the face shield can be easily removed and replaced at your wishes. Constructed from a composite of polycarbonate materials.

Expand to see more
Fast Shield Replacement
The face shield on this pink motorcycle helmet can be removed and fitted at the click of a button. Extrememl;y useful if you ride in varying conditions and have a choice of face shields at your disposal.

Multi-Point Ventilation System
The helmet employs ventilation and exhaust grooves at the top and at the rear of the construction. By creating a steady flow of air throughout the helmet the possibility of fogging-up is greatly reduced.

Cost and Value
The Cosmos is one of the more expensive items on this list, but it backs up its price by offering a unique design and enough safety features to reliably make this helmet well-suited for the roads.


Easy-click removable face shield
Several ventilation points
Anti-scratch coated visors
DOT approved
Not SNELL approved
Weighs a full 5lbs
5. 1Storm HB89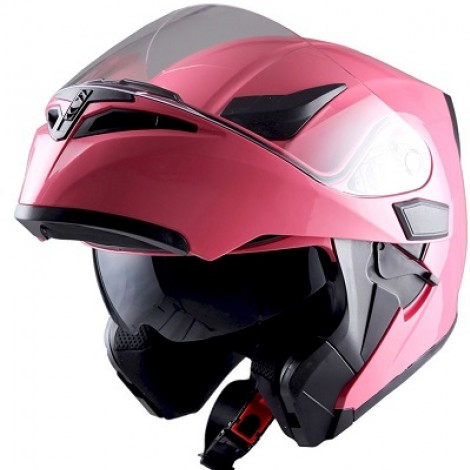 This modular pink motorcycle helmet comes with a flippable front section which can be fully lifted up for clearer vision, while also containing an attached tinted visor underneath. Made with aerodynamics in mind, this sporty helmet from 1Storm also comes with a UV protective finish, and its interior padding can be removed and is machine-washable. The helmet is available in a choice of five different sizes and should accommodate any motorcyclist.

Expand to see more
UV Protective Finish
Driving out in the sun for along time leaves you open to sun and UV exposure. The anti-UV finish applied to this pink motorcycle helmet goes some way towards providing protection from the sun's ultraviolet rays.

Glossy All-Pink Aesthetic
Other helmets on this list go for intricate or sporty designs, whereas the HB89 comes with a uniform, all-pink glossy design which is simple and yet eye-catching. The black ventilation shafts offer nice little touches of contrast.

Cost and Value
The HB89 comes with free shipping and starts at a very affordable price compared with other full-face, modular helmets on this list. This model supplies all the features expected of a thermoplastic alloy helmet, at a reasonable price.


Modular construction
Dual-visor system
UV protection
Removable, washable interior padding
No need for sunglasses with tinted visor
Recommend ordering a size bigger than normal
Tight fit may be too much for some
6. Bell Monarch Vortex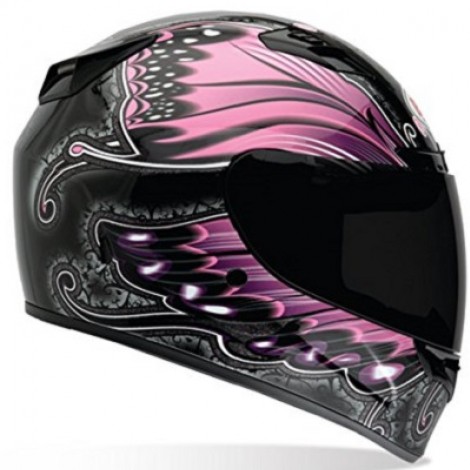 This women's pink motorcycle helmet from Bell comes with some unique features which set it apart from others on this list. First of all, it comes with integrated pockets for attaching speakers to the interior of the helmet, while also coming with contoured cheek pads and a five year warranty to protect against any unexpected malfunctions. Made from lightweight polycarbonate alloys.

Expand to see more
Integrated Speaker Pockets
Wearing earphones or speakers underneath your pink motorcycle helmet can often be a tricky enterprise. Luckily, this helmet comes equipped with slight grooves in the side panels to accommodate any speakers or earphones that the user may choose to wear.

Noise-Reducing Wind Collar
The helmet includes a wind-collar layer around the bottom which blocks out the wind while driving. This, used in conjunction with the helmet's multiple exhaust grooves, creates a well-ventilated product which shouldn't be troubled by wind or fog.

Cost and Value
Bell is an established brand within the motorcycle helmet market and this helmet does carry a slightly larger price-tag than average. The Monarch Vortex's price is justified by its features, and the option of free shipping also adds value, a does the five-year warranty.


Relatively light-weight at 5lbs
VelocityFlow ventilation system
Integrated wind collar
Space included for speakers or earphones
Five year warranty
Sizing issues - check size chart carefully
Large outer shell may be too bulky for many
7. WOW Blue Dragon Pink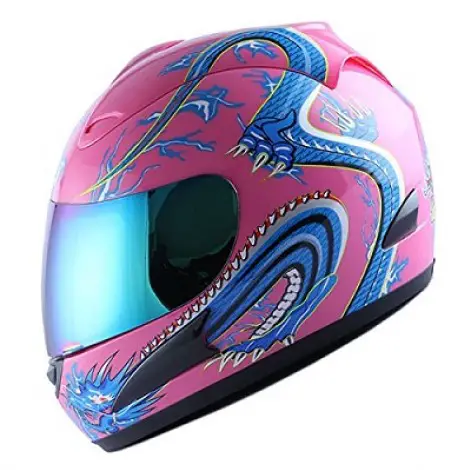 This pink motorcycle helmet has an evocative Japanese dragon design, and has a glossy pink finish which is contrasted against the blue-tinted visor. This model contains protection against ultraviolet rays, and the interior padding is extensively cushioned, and can be removed and washed as needed. Also uses intake vents on the top and front, with exhaust vents at the rear to allow for efficient airflow.

Expand to see more
Beautiful Blue and Pink Dragon Design
Like many helmets reviewed here, this model achieves a truly unique, intricate design which easily stands out among any other pink motorcycle helmet on the market. The contrast of the pink shell against the blue-tinted visor also creates a striking look.

Multiple Ventilation Shafts
With three intake vents at the front and four exhaust grooves at the back, this WOW helmet is well-prepared against possible fogging. Constant airflow means heat and moisture doesn't get a chance to settle and makes for a fog-free driving experience.

Cost and Value
This helmet ships with a very reasonable and affordable price-tag - one which can be attained by even the most careful spender. For such a striking helmet at such a low price, this model achieves solid value for money.


Multiple ventilation shafts
Very unique design
UV protective finish
Choice of five different sizes
Large, flippable front visor
No choice of clear visor
Big, bulky shell
8. Outlaw T70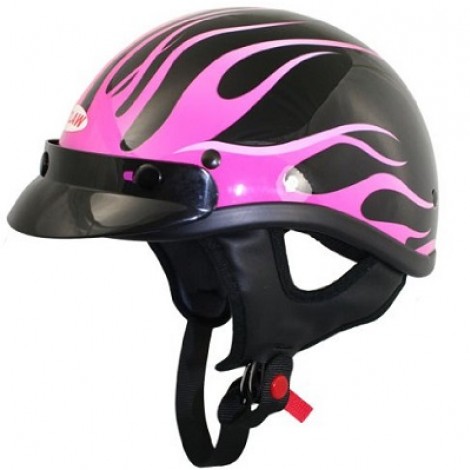 The Outlaw T70 is a stylish half-helmet made from DOT approved polycarbonate, and uses impact-absorbent foam padding in the interior. The helmet comes with an adjustable nylon strap and a button-on front visor which can be attached or detached when needed. It comes in half-helmet form and is decorated with vibrant pink flames which sweep back across the length of the helmet.

Expand to see more
Very Light Weight - 2lbs
Weighing only 2lbs, or around 32 ounces, this is easily one of the lightest items on this list and represents a good choice for those who don't want to be weighed down by a bulky full-face helmet.

Pink Flame Design
The pink flame design achieves all the swagger and verve of a stylish motorcycle helmet, while still being suitable for those looking for an elegant andsafe half-helmet. The removable button-on visor adds another layer of customization.

Cost and Value
Falling at around the average price of helmets on this list, the T70 presents an affordable option for those seeking a stylish half-helmet, and represents fairly good value for money.


Unique aesthetic style
Option of using or removing the front visor
Adjustable nylon strap
Impact-absorbent interior padding
Extremely light weight
No face visor, may need sunglasses
Sizing issues - check size chart for certainty
9. X4 365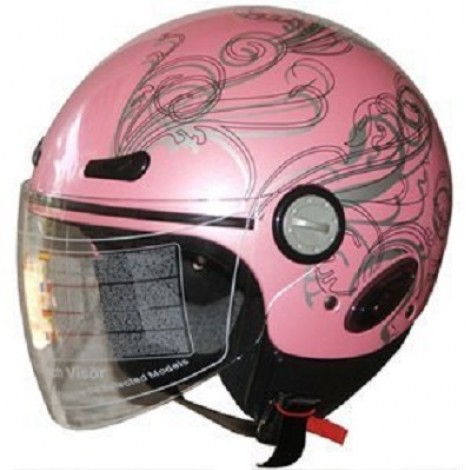 This open-face pink motorcycle helmet employs a polycarbonate shell construction, uses comfort padding for the interior lining, and is also equipped with extensive ventilation capabilities. The helmet includes a clear front visor which comes right down over the face and fulfills many of the functions of a typical full-face helmet. Meanwhile, the 365 also uses a quick-release mechanism for the visor, and its interior padding can be removed and washed easily.
Expand to see more
Open-Face Design
The benefits of an open-face pink motorcycle helmet like this are that you can use it as a full-face with the visor, or you can remove the visor completely and allow the helmet to function in the same way as a half-helmet.

Multiple Ventilation Points
Even though it uses an open-face design, the helmet still employs ventilation grooves on the top, and exhaust grooves on the back to ensure proper and efficient airflow throughout the helmet.

Cost and Value
Available at a very affordable price. Provides good value for such a stylish, open-face model, and this particular helmet can compete with slightly more expensive items contained in this review.



Adjustable, removable front visor
Open-face design
Stylish pink and grey pattern
Dual D-rings
Fairly light weight at 3.6lbs
Provides less protection than a normal full-face
Driver can be exposed to winds and weather
10. Woljay Half Helmet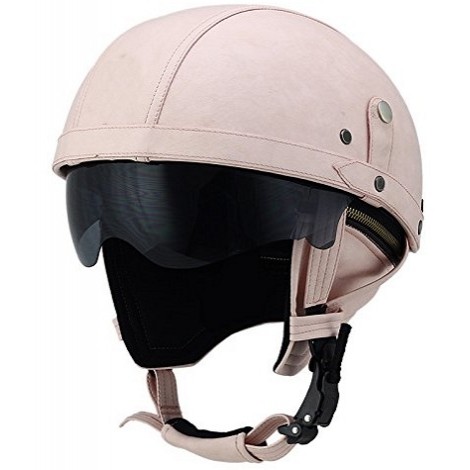 This stylish half-helmet from Woljay uses a DOT approved polycarbonate shell which is encased within a gorgeous pink leather-effect sleeve. This provides an excellent balance between safety and style, while the smart metallic buttons add a nice contrast against the pink leather, and make for a sleek, retro style which sets this pink motorcycle helmet apart from similarly priced competitors. The chin-strap uses a nifty one-touch buckle for easy removal.

Expand to see more
Leather Effect Design
Don't be put off by the stylish leather-effect design - underneath the pleasing leather is a solid polycarbonate shell which has been fully approved to DOT standards. Not many helmets go for the retro leather look, and it makes this pink motorcycle helmet stand out.

Low-Profile Fit
This helmet sits low on the head, and manages to avoid one of the common problems associated with half-helmets - namely, the mushroom head effect. By sitting low on the head, the mushroom effect is thankfully avoided.

Cost and Value
For such a unique and stylish helmet, this model from Woljay is still available at an approachable price, and should provide excellent value for the prospective buyer. You're getting a helmet with a bespoke style for a budget price.


One-touch chin strap unlocking
ABS polycarbonate underneath
Trendy metallic buttons
Unique pink leather design
Smoke-colored lens
May be too lightweight for some
Chin straps cause trouble for certain buyers
As you can see, there are a range of options to choose from. While each of these helmets has been DOT approved, the stipulation of being pink in color does reduce what's available to you in terms of features and materials. While the polycarbonate blends used in these helmets are up to road safety standards, there are other carbon fiber options available if you'd prefer to opt for a more bulky but pricey option.
Otherwise, these helmets are the best available on the net in pink color. None of them could be accused of being boring, and all of them carry their unique flare and style. If you're intent on making your choice of pink motorcycle helmet a fashion statement, then there should be enough variety in this review to get you started.
All products have their pros and cons, so here are some things to keep in mind when buying a pink motorcycle helmet.
Benefits
Distinguish yourself with a pretty and pink motorcycle helmet! There are loads of designs to choose from, so get creative and stand out from the crowd.
Many of these helmets come in X-small sizes, so they are suitable for children as well as adults. Kids tend to prefer vibrant colors, so get your child enthusiastic about safety with a colorful helmet.
Drawbacks
Some companies may offer loads of colors to disguise the fact that their helmets aren't great quality, so always keep an eye out for the finer details before buying.
Not everyone likes pink, and not all the products listed above offer alternative colors. Some women may also feel that pink motorcycle helmets are an overtly gendered product and may prefer neutral colors.
Don't compromise on safety because of a pretty exterior. All the helmets we have featured above have passed safety tests, but you can't assume that's the case with every product. If a helmet doesn't say it's certified, it probably isn't. Don't be seduced by a pretty design without making sure the other specs are up to scratch.
Hopefully, you have found this list helpful and are now feeling confident and able to make a decision. Motorcyclists don't have to stick to any one style or look, so brighten things up and show your individuality with a pink motorcycle helmet!
Factors to consider
When you buy a new helmet, you have to keep an eye out for certain factors that can mean the difference between well-fitting comfort and lopsided misery. Here are some things to keep in mind before you make a purchase.
Sizing. No matter what color or style a helmet is, always measure your head and check the sizes before buying to make sure you don't end up with anything too big or too small.
Price. Helmets can range from tens to hundreds of dollars depending on the brand, style, and quality. It is always worth spending a bit more on a helmet that's going to last, but make sure to compare lists of features before you purchase to ensure you're not missing out on a better deal.
Material. The material a helmet is made out of can make all the difference because some materials are lighter-weight, more durable, and stronger than others. Avoid cheap plastics and always check user reviews to make sure you are buying a quality product.
Design. You can get a full face and half face helmets, both of which have their advantages and disadvantages. A full-face helmet offers more protection but can fog over and obstruct your vision, whereas a half face helmet is likely to be cooler and less claustrophobic but may not offer as much protection.
Comfort. Most helmets will come with some sort of interior padding for extra comfort, but some helmets offer more padding than others. Some helmets will also let you remove the padding so you can clean your helmet easily, so make sure you check the specifications to make sure you know exactly what you're getting.
D.O.T approved. When buying a helmet, you want to make sure it meets the most up-to-date safety requirements, so make sure the helmet you are buying is certified. We understand shopping for the perfect helmet can be tricky and time-consuming, so to make things easier to read on for our list of the best pink motorcycle helmets available today.
Criteria Used in Evaluation
Of The Best Pink Motorcycle Helmets
Protection
Your head needs as much protection as it can get when riding. This is why you need to wear a helmet, regardless of the color, although a pink motorcycle helmet is nice too. How do helmets protect you? What are they made from that does protect your head? Keep reading to learn more about the layers of a helmet and how each layer provides your head with the protection it needs while you are riding your motorcycle.
Outer Shell
The outer shell is the pink motorcycle helmet is the hard and rigid part that has the designs on it. This part of the helmet was made the way it is to protect you from getting a big hole in your head in case of an accident.
The outer shell is made of hard plastics, fiberglass material, kevlar, or carbon fiber. These materials are made for protection. Not only does the hard outer shell keep you from getting a hole in your head, but it also helps protect you from abrasions, as well as in case you skid across the ground.
Crushable Layer
The next layer on most motorcycle helmets is the crushable layer. This second layer of protection is made of expanded polystyrene or EPS. The main reason for using this type of material is because it is a light material and will crush under pressure. You are probably thinking that this is the very reason they shouldn't use a material like this. However, it is the reason they should. This is because it is an important part of the physics of a helmet. Meaning, when an accident happens on your motorcycle, when this material crushes under pressure, the rest of the helmet starts working by absorbing the high energy that would otherwise cause your head to crush.
Padded Comfort Layer
The padded comfort layer is just for what the name suggests, comfort. The interior of it is lined and cushioned to make the whole helmet nice and snug and comfortable. However, this interior padded comfort layer isn't just about comfort. When a helmet is a snug, this is also an important feature for making it safe. This important safety feature will ensure that the edges of the helmet won't hurt you in case of an accident.
Chin Strap
Not only does the chin strap keep the helmet on your head, but, in case of an accident happening while riding your motorcycle, it also keeps everything on the helmet that can save your life, in their place where they belong. It also keeps the rest of the important parts of a helmet in their place while riding.
All helmets should come with a chin strap for your safety and security. There are varying materials used for the strap, depending on where you buy your helmet. It is also important that your strap is adjustable so that it is snug on your head while you are out and enjoying the ride.
Adjustable
One of the most important features you should look for when buying a pink motorcycle helmet is adjustability. There are numerous that helmets can be adjusted. You should check all of the straps, the comfort pads, and other parts to make sure they can be set to your personal preference.
Aside from the ability to be comfortable, having an adjustable helmet can save your life. If your helmet fits loosely, it can fly off your head, and even a minor motorcycle accident can hurt or kill you. If the helmet fits too tight, a seemingly small impact could cause serious brain damage and leave you hospitalized or prove to be fatal.
Protective Visor
The visor is the part of the helmet that covers your face and eyes. Many "old-school" helmets were missing this feature, but now it has become the norm. There is a reason that this feature is so popular when looking at the top 10 pink motorcycle helmets. Visors, as a general rule, are tough plastic that encases the front of your face around the rest of the helmet. In most cases, visors are used to keep wind, bugs, and dust out of your eyes while you are riding down the open road. However, there is a life-saving feature that these pieces of plastic possess.
Let's say you get into a horrible accident. If you get tossed off the bike face first, you can destroy your face, and possibly die from the injuries. A visor can take help with the initial impact and absorb most of the shock that would otherwise damage the front of your face.
Comfort Features
Depending on how often you're going to be riding your motorcycle or dirt bike, you might be wearing your helmet almost every day. If that's the case, you're going to want to make sure that your helmet of choice comes with different comfort features.
One of the features that most people look for is ventilation holes along the sides and top. These holes are not huge and don't put your head at any additional risk during an accident. However, having these holes in your helmet ensures that you can stay comfortable and dry when you are riding. Have you ever tried to ride a motorcycle when you have sweat pouring down the front of your face? It's no easy feat.
You are also going to want to make sure that your helmet is lightweight. It's crucial that your helmet doesn't weight you down or make you feel "unbalanced" while you are riding. This is both a comfort feature and a safety feature. There are plenty of great helmets available that are both lightweight and provide superior protection.
Warranty
When shopping for ANY item, you always want to check and make sure that the product in question comes with a warranty. Motorcycle helmets are no exception to this rule. If you spend top dollar on a helmet only to wreck the next day and ruin it, you might feel like you wasted your money, despite being thankful that you were protected.
There are a variety of warranty types available, ranging from 30 days to 5 years. Depending on how often you ride, you may want to consider something with a longer warranty when shopping for the top 10 best pink motorcycle helmets on the market.
Frequently Asked Questions
About Motorcycle Helmets In General
Q: What is the best protective material to look for when buying a new helmet?
A: As it pertains to protection, you need to look at both the interior and exterior material when purchasing a new helmet. When looking at the different types of materials, typically the outer shell will be made up of polycarbonate plastic, kevlar, and even reinforced fiberglass for shock resistance.
The outer material is a little different. You're going to want to try and find something that is shock resistant and can handle the impact of a severe accident. Most of the time, the inner cushion is made up of a special type of polystyrene or polypropylene foam. This material is great at reducing the impact and saving your life.
Q: Should I wear my helmet if I'm going on a short ride down the block?
A: The truth is, it doesn't matter if it takes longer for you to put the helmet on than it does for you to get to your destination — ALWAYS wear your helmet. You might have the urge to say "Everything will be fine," and go.
Fight that urge. Studies show that most accidents happen close to home. This is even more of a reason for you to make sure that you are always wearing your protective helmet when riding your motorcycle.
Q: What is the acceptable/comfortable weight? I should look for when buying a new motorcycle helmet?
A: When you are shopping for the best motorcycle helmet, it's very important that you find one that is lightweight. A lightweight helmet will provide you with additional comfort and make sure that you don't feel like you are "off-balance" when you hit the road.
The weight of helmets can vary. However, in most cases, people find that a comfortable helmet weight is around 3 pounds. A "medium" helmet weight is around 5 pounds. For your safety, make sure you try on your potential helmet and walk around with it on before you make your purchase. You should feel comfortable and be able to walk straight with the new helmet on.
Q: My helmet strap doesn't fit right, I can just forget about it, right?
A: You NEVER want to neglect to wear the nylon/leather strap on your motorcycle helmet. The purpose of the strap is to secure your head in case of an accident. Failure to wear the strap can result in serious injury and even death.
If, for whatever reason, your helmet strap doesn't work properly — take it back or get a new helmet. The strap is just as important as the padding and outer shell. Do not take this seemingly small part of the helmet for granted.
Q: What does it mean when a helmet is "DOT approved?"
A: If you have ever been shopping for a helmet, you've likely seen a sign or notice that points out that the helmet is "'DOT Approved." If you are not familiar with this saying, don't worry, you're not alone!
In a nutshell, DOT is the abbreviation for the federal government's Department of Transportation.
A helmet manufacturer goes over all of the information required for approval and submits the information and helmet to the DOT. The Dot then goes over everything to make sure that the helmet meets the minimum safety requirements. You should always ensure that your new helmet is DOT approved!
Q: My old motorcycle helmet makes me sweaty! How can I solve this problem with my next helmet?
A: If you're getting sweaty in your old helmet, you certainly could use a new helmet to solve your problem. Sweaty helmets can slip easier from your head and put you at serious risk if you get sweat in and around your eyes, nose, and mouth.
You are going to want to look for specific features to ensure that your helmet is going to keep your head dry and comfortable. First, look to see if the helmet you want to buy comes with ventilation shafts. The ventilation allows air to move freely through the helmet when riding and prevents a buildup of heat. You're also going to want to look for a helmet that is lightweight. Heavier helmets can cause you to sweat more.
Q: Are visors mandatory?
A: Believe it or not, new helmets are not required to come with visors. Luckily, there are a variety of options available to make your buying decision easier. You can get a helmet that has no visor. In that case, you'll have to wear goggles or sunglasses to keep the wind and dust out of your eyes.
Some helmets come with visors connected to the helmet. These are good for people that know they need a visor and want to ensure that it will always be there and ready for use. Finally, for those on the fence, you can buy a helmet with a removable visor. This feature allows you to test different riding techniques so you can find a method that fits your style.
Q: Will I be able to find a high-quality helmet with my budget?
A: Great news! Due to the insane amount of motorcycle helmet brands and companies out there, you can get a new helmet at an affordable price — regardless of your budget.
It's important to keep in mind that regardless of how much you have to pay for a helmet, you should always invest in a QUALITY helmet before you start riding your motorcycle or dirt bike. When you ride without a helmet, you are putting yourself at risk for serious injury, and even death. Make sure you are always riding smart — your life depends on it.
Sources
Driver Knowledge Tests – Benefits of Wearing a Helmet Visor or Goggles
Wikipedia – Motorcycle Helmet
Snell – Motorcycle Standards Comparison
Subscribe to our Newsletter