Best Car Vacuums Reviewed & Rated for Quality
last updated:
Jul 22, 2019
So, you finally got up enough to buy that new car you've had your eye on for months, and it's everything you wanted and more. It mainly has that new car smell that is utterly irresistible to car lovers such as you. But as soon as you leave the lot, you suddenly find yourself extremely hungry. You eye a fast food place. But what happens if there's a spill? This is a brand-new car, and the last thing you're going to let happen is a stain that never comes out when you've barely had this thing for five minutes. Fortunately, there is a solution.
Featured Recommendations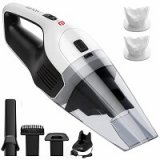 Holife 6KPA

Our rating
Powerful Cyclonic Suction
Price:

See Here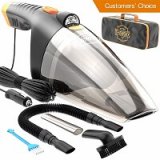 ThisWorx TWC-01

Our rating
Ergonomic Design
Price:

See Here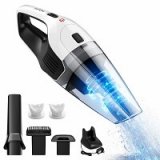 Holife 14.8V Li-Ion

Our rating
Thorough Cleaning
Price:

See Here

The only real difference between a car vacuum and your run of the mill vacuum is the size of the device. Car vacuums are handheld devices, with smaller, easier to manage storage. While you can't clean your living room with the speed of a normal vacuum, you can take care of whatever spilled in your brand-new car very quickly. Which is why we're counting down the top ten best, here today. So, get ready to clean, because we're counting down the:
10 Best Car Vacuums
1. Holife 6KPA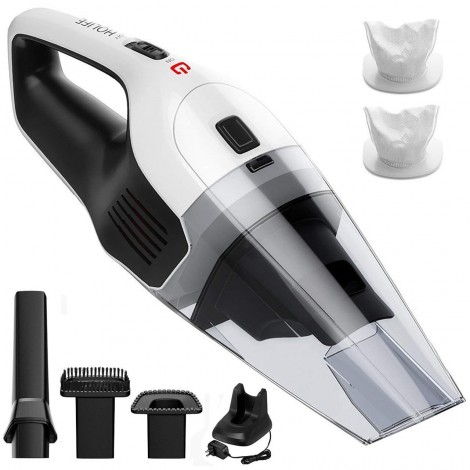 Kicking off our list, we have the Holife 6KPA Hand Vacuum Cleaner. This is what you look for if you not only want the best car vacuum around but simply one of the best handheld vacuums around. Holife does portable vacuums better than just about anyone else working right now, and this is a perfect example thereof. Allow us to demonstrate.

Expand to see more
Powerful cyclonic suction

The suction is, of course, the most important part of any vacuum, and this one has the best among its peers. Sporting a multi-layer filter, 90-100W high-performance motor, this vacuum achieves a suction level of 6KPA cyclonic suction. Pretty much the closest a hand vacuum will ever bring you to going mad with power.

Multiple tools

This vacuum comes with three different attachments, meant to help you deal with those pesky crevices and crawl spaces that are so prevalent in cars, and that stains and spills love getting into. This includes a crevice tool a dusting brush, and a liquid nozzle. So, no matter what kind of mess may have been made, you will always have the tool for the job.

Cost and Value

Car vacuums are a bit pricey on average, but they're usually nothing to actually get worked up about. And sure enough, this vacuum has a very average price for a hand vacuum of its quality.



Powerful cyclonic suction
Multiple tools
Quiet, unobtrusive motor
Battery lasts only about 30 minutes. More than enough time for a car interior, but other parts of the house will drain it fast
2. ThisWorx TWC-01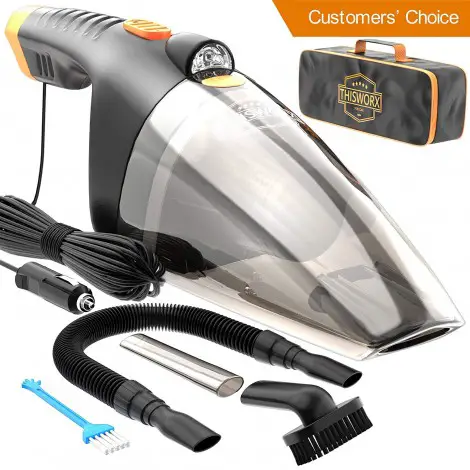 Coming in second place, we have the ThisWorx TWC-01 Vacuum. Whereas the previous vacuum was all about sheer performance power, this vacuum is all about giving you the tools you need to feel as professional in your cleaning as possible. What do we mean by this? Let's find out by taking a closer look.

Expand to see more
Ergonomic design

Ergonomics is basically a fancy word for efficiency. If something is ergonomically designed, that means it was designed with the intent of making the most efficient product they could. And with this vacuum's automatic trash container that shuts off when it's close to overflowing, 3 nozzle set that gives you the solution to whatever you need, and a system that can process both dry and wet trash, it's hard to get much more ergonomic than this.

Powerful suction

The suction provided by this vacuum will make short work of anything you put it up against. Not only does it have a 106W motor powering it, but it also has a strong metal turbine to give it that extra kick. Nothing short of a landfill will be able to resist this vacuum's suction power.

Cost and Value

The price for this vacuum is about half of what the #1 spot was asking of you, making this a much better deal by comparison. While not as powerful, it is just powerful enough for the price to make it a more attractive offer.


Ergonomic design
Powerful suction
Affordable
Dog hair in carpet gives this vacuum trouble
3. Holife 14.8V Li-Ion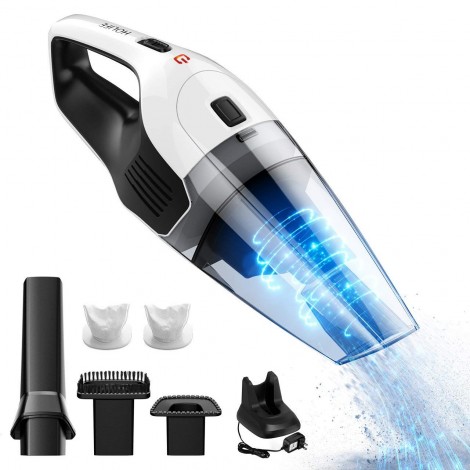 Finishing up our top three, we have another Holife product with the 14.8V Li-Ion Vacuum. Once more we have another excellent product from the wizards at Holife. While this is the last item from them that we'll be looking at today, the fact that they're both at the top three of the entire list should speak volumes.

Expand to see more
Thorough cleaning

Whether it be crumbs, spilled drinks, or whatever else you spill into your car, it all has a nasty habit of finding every little crevice it can to hide within from traditional cleaning tools. Fortunately, Holife never does anything traditional. This powerful 90W motor, with suction up to 6Kpa, not only gets up everything you would expect that setup to accomplish, but it does so with a thoroughness unmatched by the other entries on this list. Often leaving behind less than 0.1-micron debris behind.

Wide cleaning scope

If you've cleaned out your entire car but notice that you've still got quite a way to go on the battery, then yeah, you can definitely keep going. In fact, there are very few surface in your home that this vacuum can't clean. From the living room to the bedroom, you'll be cleaning your entire house stem to stern before you find a surface this vacuum can't clean.

Cost and Value

This product exists in a comfortable in-between area between the first and second entries. Not quite as pricey as the first, but nowhere near as cheap as the second. Making this a good middle ground between the two.



Thorough cleaning
Wide cleaning scope
All-around cleaning
Charging base could use some work
4. Homasy Cordless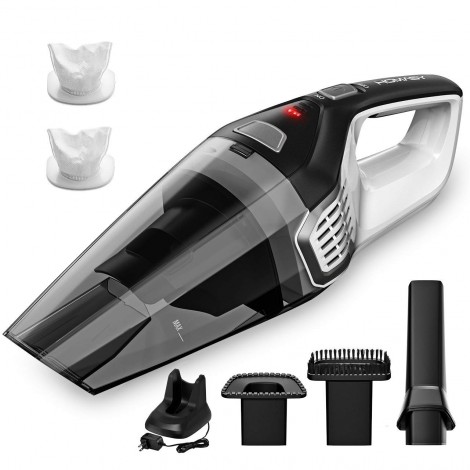 Coming in at #4, we have the Homasy Cordless Vacuum. Homasy isn't quite as well known as Holife, and that is a real shame because we stand by their products as being incredibly high quality in many respects. And this cordless vacuum is, in our opinion, a culmination of the brand's best qualities.

Expand to see more
Long cleaning time

When judging anything cordless, the biggest criteria for judgement is how long the battery lasts when taken off the charger. Luckily, this vacuum, like many of its peers nowadays, uses a lithium ion battery, which has a much longer battery life than most other types of commercial batteries. Sure, 30 minutes of cleaning time may not sound like a whole lot. But considering how fast this vacuum gets everything up, it's more than enough time.

No dead angles

Like others on this list, this vacuum is equipped with a set of three different interchangeable heads which you can attach to the end of the vacuum. All three of these attachments are expertly crafts to be as thorough as possible, leaving not a single dead angle left behind once you're done.

Cost and Value

This vacuum is a bit cheaper than the previous entry, but not by a whole lot. But it's still affordable all the same, so it evens out.



Long cleaning time
No dead angles
Very quick charge
Lint has been known to give it trouble at times
5. HOTOR Corded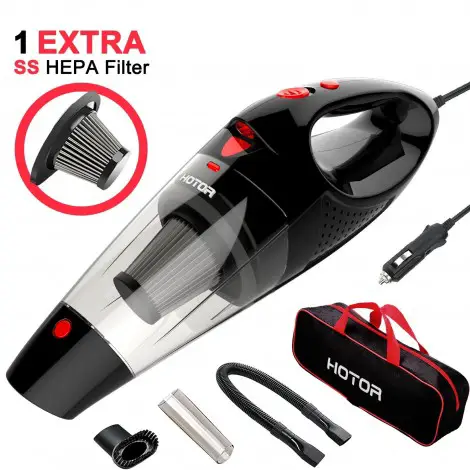 For the #5 spot, we decided to go with the HOTOR Corded Car Vacuum. This portable auto vacuum cleaner is one of the best car vacuums on the market, and while it's not really meant for anything besides cars, that niche focus allows it to be one of the absolute best at what it does. Allow us to explain in further detail.

Expand to see more
Innovative minimalist design

When it comes to a handheld vacuum cleaner, less is more. For one, dumping out the trash is easier than ever, since the trash compartment is attached to the head, which can be easily screwed off for quick waste disposal. Everything about this vacuum has been meticulously designed to be as convenient for you as possible, including having the charger for the vacuum be plugged into the car.

LED lamp

But what happens when you have a nasty spill at night, where crumbs and stuff could be hiding in shadowy corners you wouldn't notice until long after they've stained over? Simple, you get this vacuum, so you can take advantage of its LED lamp feature. While not blindingly bright, it's just bright enough to give you the clarity you need to find every last trace of dirt in your car.

Cost and Value

The best part about this vacuum, though, is its price, which is incredibly affordable for what it's offering you. So, if you're in the market for a top-notch car vacuum, and you're currently on a tight budget, then this should do nicely for you.


Innovative minimalist design
LED lamp
Very affordable
The filter can get clogged up quickly depending on what you're sucking
6. Fortem The Extra Mile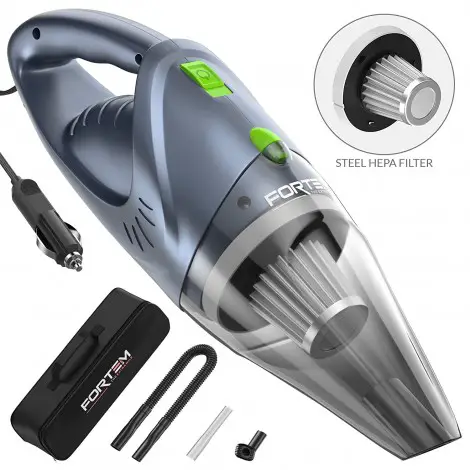 Coming in at #6, we have the Fortem The Extra Mile Car Vacuum. Fortem is a new-ish player in the car vacuum game, though if this product is any indication, then it's likely we're going to be seeing more of them for years to come, considering the excellent product they've opened up on us with. Let's take a look and see what this vacuum further brings to the table.

Expand to see more
Powerful and compact

The two main appeals of a car vacuum are that they offer the power of a full-sized vacuum cleaner in the palm of your hand. And this vacuum more than lives up to that hype, being one of the most compact and easy to carry vacuums on this entire list, while also being outfitted with a 120W motor that will suck up anything in its path. While not cordless (you plug it into the cigarette lighter) this vacuum will more than make up the slack for that with excellent performance.

Nozzle for every task

On the one hand, this vacuum has the same three different types of nozzles as any other vacuum with interchangeable nozzles: standard, crevice, and brush. However, those nozzles are themselves shaped in such a way that they never miss a crack, never leave a corner untouched, and generally leave your entire car interior spotless once done.

Cost and Value

The price for these vacuums just continues to drop, as we have likely the cheapest entry yet on this list. If efficiency for a great price is what you're looking for with your car vacuums, then this is what you need to get your hands on.


Powerful and compact
Nozzle for every task
Very affordable
Not cordless needs to be plugged into the cigarette lighter
7. HUNLEE Cordless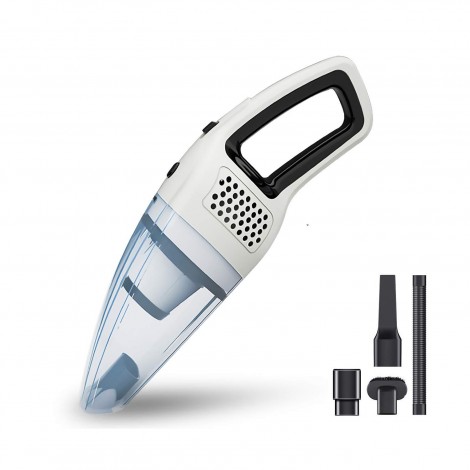 For the #7 slot, we chose the HUNLEE Cordless Handheld Vacuum. Thankfully we're back to a cordless model for our car vacuums. But the qualities of this vacuum go beyond simply being able to clean out a car without worrying about tripping over a cord. As we will demonstrate, there are a lot of reasons to like this vacuum.

Expand to see more
Superior runtime

The best part about this vacuum is the runtime. While the other vacuums, especially those at the top of this list, peter out at around 30 minutes, this vacuum keeps going strong for up to 3.5 hours. Not that you'll need that much time, as this vacuum's 120W high-performance motor will enable you to suck up anything loose in your car within minutes of starting.

Easy to clean

We often overlook the fact that the tools we used to clean other things often need cleaning themselves, which can definitely have some repercussions if you aren't careful. Luckily, this vacuum is very easy to clean, with its removable translucent bag-less dirt bowl which can be removed with the press of a button.

Cost and Value

The price of this vacuum is fairly typical for what it's offering you. If you need a decent vacuum for a fairly good price, then this one will suit you just fine.


Superior runtime
Easy to clean
Versatile
Solely a car vacuum, won't affect stains or crumbs on the couch
8. Black+Decker 16V Cordless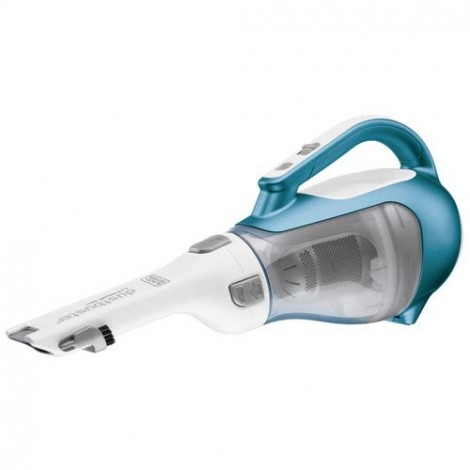 Kicking off our final three entries, we have the Black + Decker 16V Cordless Hand Vacuum. Black + Decker need no introduction, as they've been killing it in the home appliance business for decades now. So of course, they've dabbled in making a few hand vacuum cleaners, the result of which being this beauty.

Expand to see more
Smart charge technology

Chargeable electronics have been around for a while now, so it's kind of absurd that they still go through their batteries as fast as they do. Luckily, Black + Decker agrees, which is why this hand vacuum is outfitted with smart charge technology, which allows the machine to run full blast at only 50% the energy consumption. Meaning that the longevity of this vacuum between charges is almost double that of other leading brands.

Cyclonic action

Filters have been getting a lot easier to clean these days, haven't they? Well, that's all due to the unsung hero of hand vacuums, cyclonic action. Cutting through all the technical jargon, what it basically does is keep the filter clean for longer periods of time as well as keep the power running at peak efficiency long past when earlier models would've broken down.

Cost and Value

Once again, we have a very middle of the road cost for this vacuum, but it's a much better deal considering the hardware you're getting in exchange, which is top notch quality, in our humble opinion.


Smart charge technology
Cyclonic action
Rotating slim nozzle
Interior needs to be thoroughly cleaned
9. Black+Decker DustBuster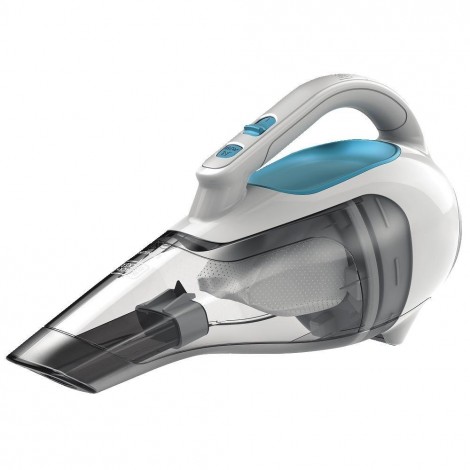 For our second to final entry, we have the last Black + Decker entry on this list, the Black + Decker DustBuster Hand Vacuum. We end our look at Black + Decker with another one of their best models, as this compact little hand vacuum will give you everything you're looking for, at an admirably modest sum.

Expand to see more
Wide mouth design

If you've used a lot of vacuums in your life, then you may have noticed a little problem that a lot of these vacuums share: the mouth is often way too narrow. Not that this is immediately a problem, it's just that larger debris can often be harder to pick up as a result. Which is where this vacuum comes in, with its much wider mouth design giving you ample room to suck up whatever you need to be gone.

Washable bowl and filter

Spending money on a new vacuum filter every time it gets too dirty can really add up over time, especially if you use the vacuum often. And if you don't take good care of the trash bowl in your vacuum, you can negatively affect the overall performance. Which is why this vacuum makes both the bowl and filter reusable and washable. Just put the bowl or filter under a steady stream of water, and it'll be clean and ready to use again in no time.

Cost and Value

While not the cheapest on the list, this vacuum's compact design, and minimalist approach allow it to come very close.


Wide mouth design
Washable bowl and filter
Very affordable
Charging cord has to be unidirectional in order to work
10. Bissell Wall Mounted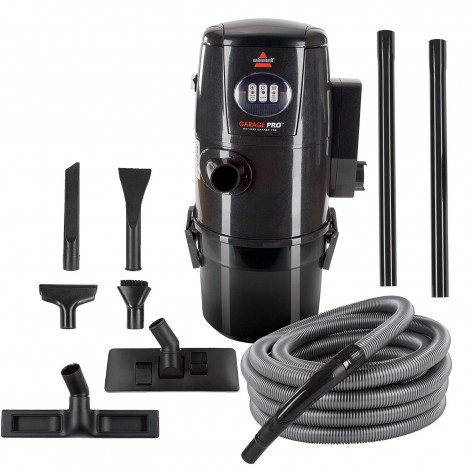 For the final entry on this list, we have the Bissell Wall Mounted Car Vacuum and Blower. While not exactly the easiest thing in the world to manage compared to the previous entries, this wall mounted vacuum and blower is one of the toughest entries on the entire list to make up the difference.

Expand to see more
The highest number of attachments

With this vacuum, you can act like you run your very own car wash, as, like the vacuum stations at your local car wash, this vacuum comes with up to 7 different attachments. Whether you're leaning bare floor, carpeting, upholstery, or whatever else you might be dealing with, this vacuum has you more than covered.

Picks up messes anywhere

It would be silly of Bissell to ask you to put this up in your garage, and then not have it be also capable of cleaning up messes that happen in your garage as well. Sure enough, just as you can clean up dirt, dust, and other gunk out of your car, you can also do the same to the inside of your garage. And if it's too much to vacuum, don't worry. A flip of a switch and that vacuum becomes a blower.

Cost and Value

The biggest problem with this vacuum, as you can imagine, is its price, which is about as high as you would expect for a device this large and complex. This is the kind of thing you would find at a professional car wash, so do remember that when you decide that you want one.


The highest number of attachments
Picks up messes anywhere
Converts to blower
We all make a mess in the car at some point. Whether it's because you got clumsy, or you're drowsy and driving at 5:30 in the morning for some reason, or definitely if you have kids, a mess in a car is pretty much inevitable. They're a nice safety net, especially if what is spilled is a drink that can leave a nasty stain if you leave it in there for too long. Car vacuums in this day and age are pretty much the best at cleaning out the inside of your car since they've been carefully modified to be able to handle anything. Used to be that you'd need a special cleaner to get out liquid stains, and yeah, if they've been there for a particularly long time, you still will. However, when it comes to most anything else that can dirty up your car, car vacuums have you covered. We can say with almost certainty that the ten entries on this list are the best car vacuums that we could find on today's market. You won't find other car vacuums as efficient, as polished, or as powerful as these ten killer entries. So, if you need a top-notch car vacuum for those pesky messes that just won't come out, pick one of these ten and give it a try.
Criteria Used in Choosing the Best Car Vacuums
Forming a list of criteria for this list without it just being a list of criteria for what makes a good basic vacuum cleaner was tricky. Car vacuums have to do everything that a normal vacuum can do, but smaller, lighter in weight, and on a rechargeable battery instead of being plugged into a constant source of energy. The cards are stacked against them. With that in mind, here are the main hurdles we felt a car vacuum needed to cross to be good enough to be considered for this list.
Battery life
While we had one or two entries on this list that could be plugged into the electrical system of the car itself to do the cleaning, for the most part, we were dealing with wireless electrical car vacuums that needed to be charged at charging docks to be used over and over again. Thus, the lifespan of these batteries with each consecutive use became one of the main criteria for this list. The average lifespan of a modern car vacuum, powered by a lithium-ion battery, is about 30 or so minutes, though as we've discussed, there are plenty out there that go for much longer. The reason for this being the average lifespan is simple: that's usually how long it takes actually to clean the car. To make up the difference caused by this short battery life, manufacturers focus their efforts on the next criteria.
Suction strength
It stands to reason that this would be one of the most important criteria on a list of vacuum cleaners. It doesn't matter what else a vacuum can do; if it can't suck up dirt and debris worth anything, then you're going to rightly want your money back. Fortunately, for the most part, this was not a problem, as plenty of the entries on this list understood this and had, at least, a suction strength that was above average if nothing else.
The strength of a vacuum's suction all has to do with the power of the motor inside it. It also helps if that motor is paired with a powerful turbine. Other important factors to consider are the filter and filtration system used for the vacuum.
Nozzle choices
But when you're cleaning a car, you're going to have to deal with a lot of complications. Annoying corners, crevices that trap crumbs forever, upholstery that doesn't take well to the default nozzle, etc. For this purpose, most car vacuums will include multiple types of nozzles. This way, you can get into those hard to reach areas and make sure you get it all out, leaving the entire car spotless. Speaking of which.
Thoroughness
Being a good vacuum is only half the battle. The other half is being a thorough one. What this refers to is the process of running the vacuum over the dirty area. How much of it is gathered up on that first or second pass? If it isn't a lot and you have to keep bearing down on it to achieve any kind of headway, you're probably due for a new vacuum. This also concerns what people like to refer to as deep cleaning. This is what you want when you need to get out a really deep stain that's been there forever. Up until recently, deep cleaning has been an ability reserved solely for professional-level cleaning equipment. However, in recent years, vacuums, and handheld vacuums specifically have developed the capability to deep clean just as easily as the big boys on the block. All of this is vital to achieving peak thoroughness with your car vacuum.
Size
Car vacuums and handheld vacuums often go hand in hand, since the whole idea is the same. This is a vacuum that you need to be flexible and small enough to fit into an ultra-cramped car cabin and clean it out. You need it to be able to navigate small corners, tight spaces, and plunging crevices. So, with all of that in mind, it makes sense that you would want a car vacuum to be small and easy to deal with. The #10 entry just barely made it onto the list because it was just so cumbersome, you had to mount it to the wall just to get it working properly. Meanwhile, most car vacuums go a different approach, choosing to be small, easy to manage, and able to get down deep into all of those tight corners and spaces.
Value
The final criteria we judged for this list was the value of each item. The price didn't concern us seeing as how the prices, even at their highest, weren't anything too bad, all things considered, especially compared to the average price of a high-quality full-sized vacuum cleaner. Instead, we looked at the price; then we looked at the features the vacuum was offering, and then asked ourselves if those features warranted such a high price. This is why the top 3 entries can get up there, even if the price is incredibly high. Because if they do, the features they offered were so good that the price was justified.
FAQ
Frequently Asked Questions
For the final segment of this article, we're looking at the most frequently asked questions about car vacuums. Granted we didn't find all that many, at least when compared to other products we've looked over before, but the ones we did find were very important and needed to be put up here. So, with that said, here are the most frequently asked questions about car vacuums, and the answers thereof.
Q: What are the most common types of car vacuums, and which one is the best?
A: This ends up blending over into handheld car vacuums, but we're okay with that, so we're just going to go forward. The most common types of car vacuums used are: corded hand vacuum typically used for the home, a corded hand vacuum solely meant for cars, a cordless general hand vacuum, and of course, a shop vacuum. A shop vacuum will give you the most power and suction since they're used for industrial and construction projects. However, they're also big, and their nozzles are long and cumbersome. So, they aren't recommended if you have a really small hybrid with a lot of corners. If you can help it, go with a handheld vacuum meant solely for cars every time. They're the best equipped to handle the special conditions a car will put you through.
Q: What are the most common interferences I can expect to find when cleaning out my car?
A: For one, clutter. This is where you will finally notice just how much stuff you have stuffed into your car regularly. But after you handle that, then you notice the real problem: corners, crevices, and cracks. The three C's as we like to call them. These are all of the annoying little holes and crawl spaces that a spill of crumbs or candy loves to get all up into. And when they do, you'll find that they can be very stubborn about being made to leave. This is why you need a vacuum with multiple nozzles so that you can anticipate and neutralize these otherwise infuriating annoyances.
Q: Why should I spend more money on a car vacuum when there are plenty around for cheap?
A: Like with any product, more money spent to buy it usually means more money was thrown at making it. That means, in the best-case scenario, that the hypothetical vacuum in question is more powerful, has better features, or at least runs for much longer than your average, cheaper priced car vacuum.
Sources
Subscribe to our Newsletter