Best Push Mowers Reviewed & Rated for Quality
Having a beautifully tidied up lawn is every house owner's dream. There are several tools that you need for growing and maintaining the perfect grass in your yard, and one of them is certainly a lawn mower. If you want a yard that stands in the neighborhood you want the best mower one can find on the market! Maybe you didn't know that there's a huge difference between types of lawn mowers and that they all mow the grass differently. The one we definitely recommend is the push lawn mower!
Featured Recommendations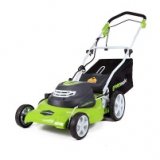 Greenworks 25022

Our rating
Eco-Friendly
Price:

See Here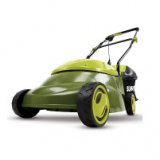 Sun Joe

Our rating
High Power
Price:

See Here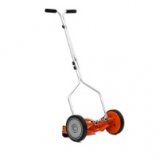 American Lawn Mower

Our rating
Classic
Price:

See Here


Why are push lawn mowers good for your lawn, you may ask? Because they cut grass like a pair of scissors, maintaining it rather than damaging it. Other lawn mowers, like the power rotary mower, can seriously damage the grass because they tend to chop it off. Hence, push mowers are working on your lawn's aesthetics, and all you need to do is to manually run them across the yard. If you're interested in tools that will make you proud about your perfectly maintained yard, follow our list of 10 best push lawn mowers and choose the right one for yourself!
10 Best Push Mowers
Greenworks 25022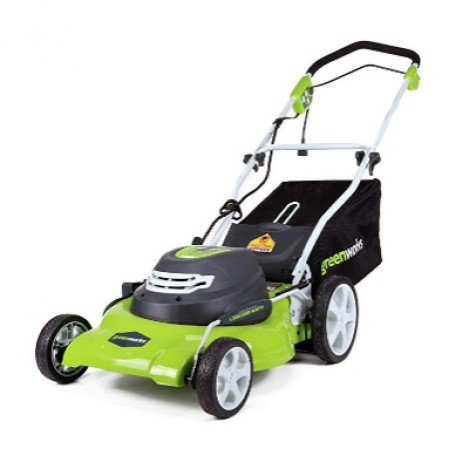 If you want a powerful and eco-friendly push lawn mower, Greenworks 25022 is a perfect choice! It comes with various adjustable options and compact design that will make your life much easier. With a model that features a 20 inches wide front deck, you can mow your lawn like a professional and get the best out of your grass.
Expand to see more
Adjustable Options
Greenworks 25022 is an electric push lawn mower with a powerful 12 amp engine. This mower can cut even the toughest grass without leaving leftovers, and it has various adjustable options that provide different results. Firstly, Greenworks has many grass clipping options. You can mow with a bag for rear discharge or you can do it with a side discharge. Another option is mulching if you prefer to return grass clippings back to the soil. No matter what option you choose, Greenworks will efficiently cut grass and provide the best results. Oh, and you get the clipping bag with the mower, of course!
Lastly, there are different opinions about the proper height of a freshly cut lawn, and people from Greenworks tried to satisfy as many of those as they could. Greenworks 25022 has 7 different height positions, from 1 ½ inch to 3 ¾ inches, that you can choose from by adjusting the handle located on the wheels.
User-Friendly Design
The wheels are designed to provide comfortable handling of the mower. Front wheels are smaller (7 inches), and they provide better navigation, while the rear wheels are bigger (10 inches) and they make cutting high grass or going over bumpy ground possible.
Greenworks 25022 is of the average weight (56 pounds). It's not lightweight, but most users won't have any problems with it. In the worst case scenario, you could end up making more breaks during the mow.
We shouldn't forget to mention that Greenworks is an environmental-friendly lawn mower. This electric corded mower doesn't produce any omissions so you won't be endangering the environment.
Cost and Value
This push lawn mower has an attractive price and a 4 years warranty! The only thing you could struggle with is the customer's service. Many users have complaints about long waiting lines, but if you can live with that, you'll find out that Greenworks 25022 brings
incredible value to your lawn
!
Has a powerful 12 amp engine
Many clipping options
Features 7 different height positions
Easy to maneuver
Eco-friendly
Attractive price
Reported problems with customer's service
Sun Joe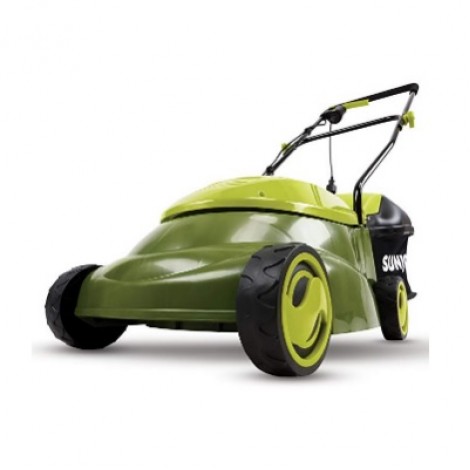 Sun Joe is another electric mower that we just had to include here due to its great performance. It uses a 12 amp electric motor which has enough power to handle any kind of grass. You'll mow the lawn in no time with Sun Joe mower, and you'll attract the entire neighborhood's attention with your beautiful lawn!
Expand to see more
Powerful Mower
We have already mentioned that Sun Joe is
a powerful electric mower
which can cut almost anything on its way. You have an option to adjust the cutting height on 3 different levels up to 2.5 inches, according to your personal preference. The only thing we could consider as a flaw is the cutting deck which is a bit on the short side (14 inches). That's not a problem that concerns people with smaller lawns, but those that have bigger ones might have to make more passes to finish it perfectly! Also, keep in mind that wheels are mostly designed for flat surfaces because both pairs are 6 inches tall.
Compact Design
The best thing about this push lawn mower is its lightweight design. You can easily move it around because it only has 29 lbs. This provides two side advantages – you'll be reaching areas that you thought no mower could possibly reach, and you'll store it easily. The cord is also long enough (100 ft) to provide great mobility of the mower. Additionally, the mower comes with a disposal bag that can store up to 10.6 gallons of grass clippings. The bag detaches from the mower so you can easily take it off and empty it.
Cost and Value
Sun Joe MJ401E is one of the most popular push lawn mowers on the market, and one of the reasons for that is definitely its competitive price. You could maybe find a more powerful mower, but not the one that's both powerful and easy on the pocketbook as Sun Joe.
Has a 12 amp electric motor
Adjustable cutting height (3 positions)
Lightweight
Mowing hard to reach areas
Has a detachable bag
A bit of a small cutting deck
Wheels are designed for flat surfaces
American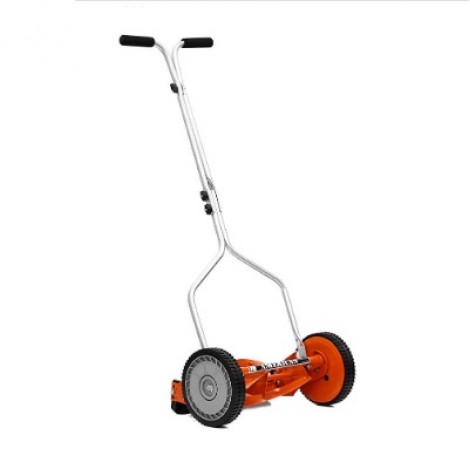 American Lawn Mower is a manual grass cutter that can handle smaller lawns without using gas, electric power or batteries. This is one of the easiest-to-use type of mowers that will get almost any job done. You may find that American Lawn Mower is just the right kind of tool you want to have in your lawn maintenance equipment.
Expand to see more
Eco-Friendly
The best thing about this manual lawn mower is its user-friendly design and great efficiency. Along with easy maintenance, you'll be thrilled with its excellent performance. American Lawn Mower can work on almost any kind of grass and is suitable for small to medium-sized lawns. Although you'll need to put some extra effort in mowing compared to other types of mowers, this is also for a good purpose because the American mower is environmentally friendly. Not only that it doesn't emit dangerous fumes in the air, but it also doesn't require electric power and dealing with cords or battery chargers. You just need to push it across the lawn and that's it!
Valuable Features
American Lawn Mower has a 14 inches long cutting deck which is great for a manual mower and more than enough to get all smaller to medium sized jobs done. Another excellent aspect is that you have the ability to change the cutting height from ½ inches to 1 ¾ inch. The mower features a 4 blade reel that cuts the grass really quickly. Additionally, because it has
big wheels
(8.5 inches) you shouldn't have any problems with bumps on the ground. Its lightweight design provides an easy maneuver and simple mowing.
Keep in mind that we are talking about a smaller mower that may not be the best choice for every lawn type. If you have a smaller yard and you're able to put additional effort in mowing your lawn, you'll be satisfied with American Lawn Mower. However, if you think that this would demand too much from you, it may be better to search for another option.
Cost and Value
If you're eager to have a traditional mower that's eco-friendly yet efficient, American Lawn Mower might be the right choice for you. It's one of the cheapest mowers on the market, and you'll definitely find it incredibly valuable!
User-friendly design
Easy maintenance
Environmentally safe
Changeable cutting height
Inexpensive
Doesn't have optimal performance in some situations
Black and Decker Besta512CM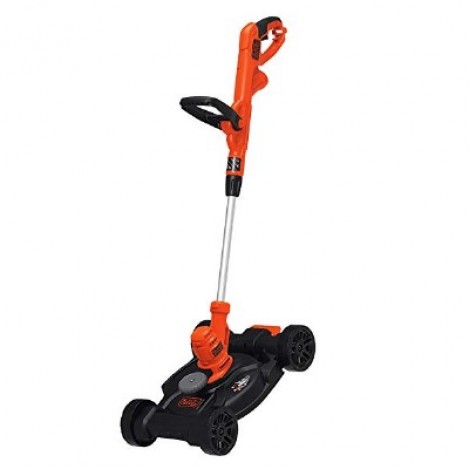 Black and Decker is one of the well-known manufacturers that produce various kinds of tools. Here we have a high-quality lawn mower that will bring incredible value to anyone's lawn equipment.
Expand to see more
3 in 1 tool
Black and Decker is a powerful 3 in 1 tool. Along with being a mower, Besta512CM can also be a trimmer and an edger, suiting all your lawn requirements. All you need to do is detach the cutting deck and you are set to go! The mower features 6.5 amps of power and a power drive transmission that allow great performance. Additionally, the mower has an automatic feed system that enables continuous work without the need to adjust the spool every now and again. You'll be cutting even the highest grass and toughest weeds in no time!
Mow Everywhere
The best thing about this mower is its compact design that allows you to get close to paths, garden flowers, and other hard-to-reach areas. This is not possible with bigger mowers due to the fact that they can be damaged, so you have to get back and cut the grass with pruning shears or other hand gardening tools. Besta512CM is also lightweight (9.9 lbs) and has two handles for more comfortable mowing. One of the handles can be adjusted as well as its height of cutting (from 1.6 inches to 2.4 inches) which provides easy handling of the mower and a great performance. The only thing that Besta512CM lacks is a dust bag.
Cost and Value
You'll get Black and Decker Besta512CM with a 2-year warranty which is more than enough for a mower that's so well-priced! It's truly a bargain to get this 3 in 1
tool
for your lawn maintenance.
3 in 1 tool
6.5 amps of power
Adjustable handle and cutting grass height
Lightweight
Attractive price
EGO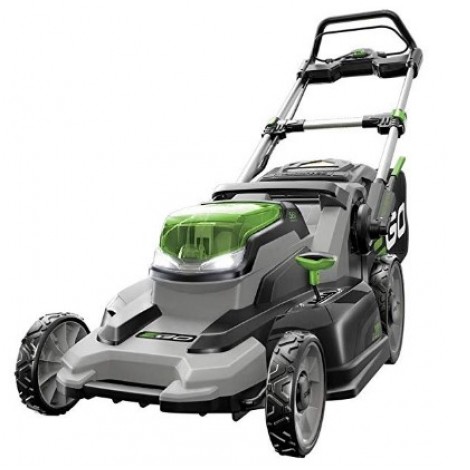 If you want an eco-friendly mower but worry about the overall performance and cutting abilities of a battery powered one, fear no more! Here we have a powerful cordless lawn mower that can easily deal with any grass type. EGO mower is efficient, environmentally safe and easy to use, so it's definitely one of the best grass cutters on the market.
Expand to see more
Variable Options
EGO Lawn Mower is powered by a 56-volt lithium battery and a 600-watt magnetic motor. This provides great performance, and it's still significantly quieter than any gas mower. It has a 20-inch long cutting deck which is pretty impressive, and it can endure 45 minutes of mowing. While that may seem like an issue keep in mind that the rapid charger is included in the box, and you can charge the mower while you're taking a short break. Last but not least, there are also 5 cutting heights that you can adjust from 1.2 inches to 3.5 inches.
Compact Tool
You'll just love this environmentally safe and compactly designed mower! You can
store the tool
almost anywhere because it doesn't require a lot of space and the handle can be folded down for easier disposal. The mower is a bit heavy (65.3 pounds) but not so much that it causes discomfort. It comes with a detachable bag which you could use or you could switch to the side discharge option or mulching.
Cost and Value
Even if EGO mower brings an incredible value, keep in mind that it will cost you an arm and a leg! You'll definitely be satisfied with its performance, but we have to mention that this doesn't come cheap, especially because you'll need to buy an additional battery.
Has a powerful motor
20-inch long cutting deck
5 cutting heights
Easy to use and store
Rear bagging, side discharge, and mulching
Pricey
Battery not included
Great States

If you have a small lawn, a traditional push mower might be the right choice for you. One of the best is the Great States 415-16 which provides easy mowing, doesn't require demanding maintenance and what's more important – it's both environmentally safe and cheap.
Expand to see more
Hassle-Free
Great States Mower works like a pair of scissors, cutting your grass rather than ripping it off which is healthier for your lawn. It's way easier to use this mower that doesn't require any batteries and their subsequent frequent charging, or any cords that you need to drag around. Not to mention all the hassle that comes with a gas-powered mower! Great States Mower works on a simple push, and that's all. It may not be suitable for all lawn sizes, but it gets all smaller jobs done with its five blades cutting reel.
Simple to Use
Great States Mower has a 16 inches wide cutting deck which is quite good for smaller or medium-sized yards. It's also lightweight (only 26 pounds) so everyone can easily use it. Along with its compact design that provides simple disposal, it's great that you have an option to change the cutting height from ½ inches to 2 ¾ inches. However, keep in mind that it's way harder to use this mower for cutting high or dense grass.
Cost and Value
If you were searching for a budget
tool for your lawn equipment
, Great States Mower is definitely a wise pick! It comes with an attractive price and a great value so you won't even think about it twice.
Cuts rather than rips off the grass
Easy to maintain
Five blades cutting reel
16 inches wide cutting deck
Adjustable options
Not suitable for all lawn sizes
Struggles with high and dense grass
Remington RM1159

Remington RM1159 is a powerful push gas-powered mower that every big lawn owner praises because of its efficiency. It deals with small and big mowing jobs so easily that you'll soon find it irreplaceable!
Expand to see more
Mow and Trim
Remington RM1159 is a great choice for those who have big yards and want to maintain them without much effort. We know how hard it is to mow a big lawn and to trim around paths and flower beds with just one tool. That's why people often have to purchase various different tools to get all yard jobs done. There's no need for this when you purchase Remington mower because it's designed to do all of them by itself.
The mower has a powerful 4-cycle OHV engine that can cut even the toughest grass and weeds. The 22 inches big cutting swathe also adds to the overall great efficiency of this mower. Its cutting height can be adjusted from 1 inch to 6 inches. What's more, the mower features an off-set trimmer head that can trim around hard-to-reach areas.
Big Wheels
Remington mower lays on big 14 inches wheels that can run over bumpy ground and therefore provide easier maneuver. It's not quite lightweight (78 pounds) but it features these big wheels and also a comfortable handle, so it's easy to push it across the lawn. The handle can also be folded down for simpler storage and transportation. However, there's a flaw in a gas tank design – it's pretty small and it's located too close to the hot
engine
which can be a problem during the refuel.
Cost and Value
When you have a large lawn you've already made peace with the need to purchase a big mower. However, we have to mention that Remington mower is a bit pricey. Its value justifies the price, that's for sure, but it costs way more than some other options we have considered on this list.
Has a powerful motor
Cuts all types of grass and weed
22 inches big cutting swathe
Adjustable cutting height
14 inches big wheels
Badly designed gas tank
Pricey
Husqvarna 7021P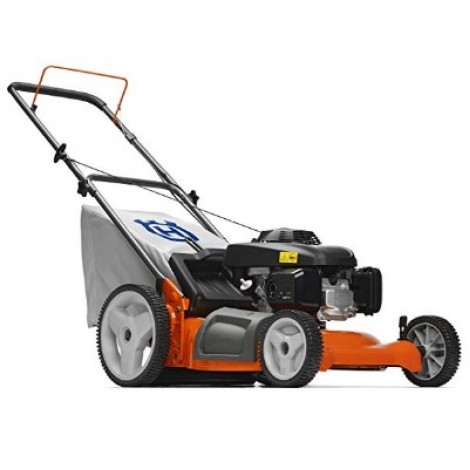 If you need a powerful lawn mower, your best pick would be a gas-powered one. Here we have just the one that could be the right choice for those who want to mow their medium or large-sized lawns with ease. Husqvarna 7021P is specially designed to handle most yard tasks without making a hassle out of them. Keep reading if you want to get a closer look at its various features!
Expand to see more
Various Features
With 160cc Honda GCV engine this mower shows great performance and produces less noise. It has 5 cutting height positions, from 1.25 inches to 3.5 inches. You can also decide whether you want to mow with the side discharge or to collect grass in a rear bag for later disposal. Don't forget that the mulching option is in the game too. However, keep in mind that this mower has some problems with higher grass. There can be some issues with wheels too, especially because you have to adjust their height separately.
Compact Lawn Mower
Husqvarna has less weight (65 pounds) than any other high-level gas mower, and that makes it easy to use and simple to maneuver. It has an excellent 21 inches wide cutting deck that ensures easy mowing without the need of making too many passes across the lawn. Also,
the cutting blade is made from steel
so you won't have to sharpen it too often. All of this means that mowing would take less time than it usually takes with smaller lawn mowers! Overall, we are talking about a compactly designed gas mower and that's a rare case.
Cost and Value
We can definitely say that Husqvarna is one of the more well-priced gas mowers. Along with great value and innovative design, it won't cost you a fortune to have it in your lawn equipment.
160cc Honda GCV engine
5 cutting height positions
Mulch, collection or side discharge options
Lightweight
21 inches wide cutting deck
Steel cutting blade
Problems with higher grass
Wheels have to be adjusted separately
Greenworks 25072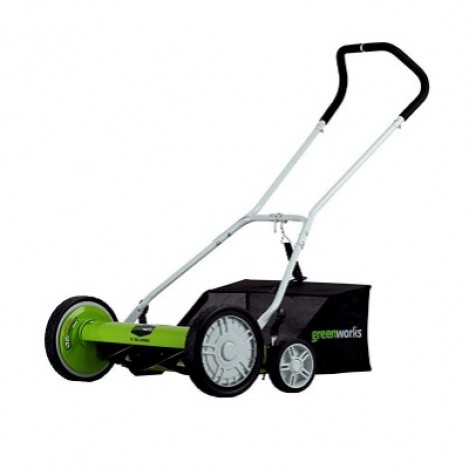 Here we have another Greenworks mower with great performance and a user-friendly design. If you were searching for a small, compact lawn mower that's efficient but environmentally safe Greenworks 25072 is an excellent choice!
Expand to see more
Manual Push Reel Mower
Greenworks 25072 is a manual push reel mower. It doesn't need electric power, gas or batteries so
it doesn't emit any fumes in the air
. No additional setups are required while working with Greenworks 25072 – just push it across the lawn and get the mow done!
The mower works with 5 steel blades that cut the grass on the height you can adjust for your personal preference between 1.75 inches and 2.75 inches. We shouldn't forget to mention that it has a 20 inches wide cutting deck which is great for a reel mower.
Use It With Ease
One of the best things about this lawn mower is its lightweight design (39 pounds). Everybody can push it with ease, especially because the handle has a cushion grip for more comfortable use. It also comes with a disposal bag that you can attach or detach using a simple strap with a hook. Additionally, you'll fully enjoy using it because it's a silent mower, but what is even more important - you won't have any annoyed neighbors on your doorstep!
However, Greenworks has a well-known issue of every reel lawn mower – it doesn't perform well on high grass or weeds. It will demand a few more passes across the lawn than an electric or gas-powered mower would. This isn't so bad in terms of requiring a big effort, but what could be an issue is the fact that this lawn mower struggles with the uneven ground as well.
Cost and Value
One of the things that attract users to purchase a reel lawn mower is definitely the great price! If you have a medium-sized lawn you would probably prefer an environmentally safe lawn mower that has a good performance and user-friendly design. Greenworks is definitely that kind of product, and it's a real steal!
Eco-Friendly
Easy to use
Adjustable cutting options
Lightweight
Inexpensive
Struggles with high grass and weeds
Doesn't perform well on uneven ground
Snapper XD SXD19PWM82K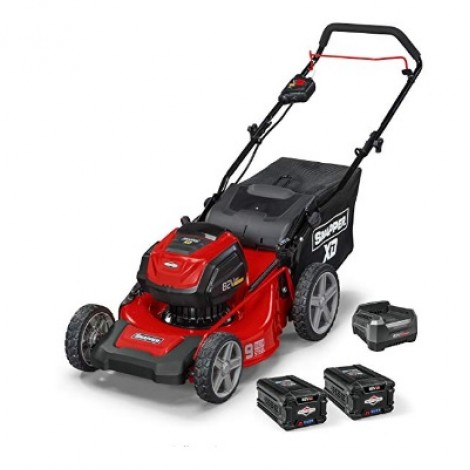 Snapper is a battery-powered lawn mower that features lightweight and user-friendly design. If you have a small or medium-sized lawn and you want to switch from a gas-consuming lawn mower, Snapper is an excellent choice. It lowers the noise and doesn't release any fumes, so you and your whole neighborhood will just love it!
Expand to see more
High Power
Snapper has a 2.0A Briggs and Stratton motor powered with an 82V battery. The lawn mower comes with two batteries that can run up to 45 minutes. You'll also get a rapid charger that can fully recharge the batteries within just 30 minutes. Additionally, it has a 19 inches wide steel deck that cuts almost everything on its way. You can choose one of the 7 cutting height positions as well as decide whether you want to mulch, collect or have a side discharge of grass clippings.
Bumpy Ground
Such a powerful lawn mower just had to end up at 90 pounds. Its weight makes mowing over bumps and ruts possible but it also makes maneuvering a bit harder. Overall you shouldn't have bigger issues with it, because most users can push it easily. Additionally, Snapper has an ergonomic and foldable handle for easier storage.
Cost and Value
We could say that Snapper is a tad overpriced, but the truth is that
it offers way more power
than other battery-powered lawn mowers. In fact, it has the power of a gas mower. It's just hard to take Snapper's price as a flaw when it provides such great value and long lifespan.
Powerful engine
19 inches wide steel deck
7 cutting height positions
3 grass disposal options
Easily goes over bumps and ruts
Criteria Used in Evaluation of the Best Push Mowers
We wanted to provide a list of the best available push lawn mowers as well as evaluate them individually and rate them by an overall performance from 1 to 10. Therefore we made a thorough research and in-depth review for each one of the products on our list. Here is the criteria we used in evaluation:
Power
While we took into account the motor power of some push lawn mowers, others were distinguished by the quality of blades. Electric, cordless and gas-powered mowers mostly have to feature powerful motor to stand out from other mowers with their efficiency. However, traditional reel mowers don't have a motor, but they also cut the grass efficiently. That's why we have evaluated the best push lawn mowers by motor power and other factors, as you will see further on.
Adjustable Options
The second important thing was determining whether every lawn mower on our list has adjustable options, and how many options they offer. Every house owner wants to have a beautifully maintained lawn and that means having perfectly cut grass. However, the aesthetics of the grass often comes to individual preference. Some people like to mow their lawn almost to the ground while some love to see a higher green grass. Whatever their opinion is, it's not set in stone, right? That's why it's important to have a lawn mower that provides many cutting height positions, so you can change them according to your current preference. It's also great when you have an option to decide whether you want to collect grass clippings in a bag, to discharge them on the side or to return them to the soil by mulching.
Easy to Use
It's understandable that one of the most important things is to have a user-friendly lawn mower. Nobody wants to spend hours on mowing and end up with calluses and back pain. Therefore we thought about the ergonomic design of evaluated lawn mowers as well as about their weight. Mowers that are easier to push or overall maneuver are ranked higher on our list. The ones that are simpler to store also got some additional points!
Cost and Value
Last but not least, we have thought about the overall quality and performance of lawn mowers on our list and compared their value with their price. Only you can know your budget possibilities but we wanted to give you a hint about the balance or imbalance regarding performance and prices.
Other Factors to Consider
If you are in urgent need of a push lawn mower and you have already examined all options and features, take one more moment to consider some additional factors that may turn out to be essential.
Lawn Size
People often want to have a very powerful lawn mower regardless of their lawn size. They spend a fortune on it only to use it occasionally and for a few short moments. It's not only the matter of your preference – there isn't a really good reason to pollute the environment if you can easily maintain a small yard with an eco-friendly mower. For these reasons, it's good to take your lawn size into consideration and then decide on what is a proper mower for it.
Type of grass
Don't forget to examine what type of grass you'll be cutting and trimming before you purchase a mower. Not every lawn mower can deal with high and thick grass – you can permanently cause damage to it or shorten its lifespan. Additionally, take into account the type of ground in your yard. Some lawn mowers are specially designed for bumps and ruts, but many of them can't go over uneven ground.
Budget
Lastly, we advise you not to go far beyond your budget. If you're willing to pay some extra cash for a high-end lawn mower that's great because there are some extraordinary ones on the market. However, if you don't want to spend too much you can still find lawn mowers that have excellent performance. You can find what you wish for regardless of the budget, you just need to search for it!
FAQ
Frequently Asked Questions
Q: Why do lawn mowers have large rear wheels?
A: Traditional lawn mowers had all four wheels in the same size, but nowadays the front wheels are smaller than the ones in the back. This kind of design makes mowing much easier. Firstly, when a mower has bigger wheels you can maneuver easier and go over almost any bumpy ground. Secondly, they have more pushing power than smaller wheels and therefore they're easier to use. Along with a simpler maneuver, bigger wheels provide effortless rides over roots, rocks or other bumps that you may have in your yard. Last but not least, larger wheels provide a smoother ride and more control over the mower.
Q: How hard is a push mower?
A: Truth to be told, not so much! There are always heavier push mowers that require more effort but there are also ones that are extremely lightweight. Besides, it doesn't have to mean that every heavy push lawn mower is hard to use. There are some additional features that can ease the mowing e.g. bigger rear wheels or comfortable handles. If you follow our review or carefully examine features of every lawn mower, you should be able to determine which one is easy to use and which one isn't.
Q: How long do push mowers last?
A: They should last around 10 years but that mainly depends on their maintenance. If you don't maintain your lawn mower it could last half the time than it's supposed to. Another thing that influences the lifespan of lawn mowers are hours of use and grass type. The more you use your mower the more power it invests and naturally lasts shorter. The same applies to the type of grass – if a mower has to deal with tall and thick grass it will struggle more with it and work harder, so it will grow weak after some time. Hence, you should take care of these things when you use your push lawn mower and it'll last for a long time!
Q: Are push mowers better for grass?
A: Yes, they are. Push mowers cut the grass like a pair of scissors rather than rip it off. That way your lawn stays fresh and healthy. When the grass is pulled out from the root you don't only face aesthetic problems with your lawn, but it can also become so damaged that sometimes it just can't be revived easily.
Q: Is pushing a lawn mower good exercise?
A: Push lawn mowers can burn a serious number of calories. Yes, it also depends on your lawn size but overall it's a great physical activity. Pushing a mower across your lawn also works as a meditative exercise. That's probably due to repetitive moves. If you want to put more effort into mowing and exercising, purchase a manual reel mower. It's the model that requires more physical activity than other mower types, while also being quiet and environmentally safe. It's good to think when you mow, but it's even better to be able to hear your own thoughts!