10 Best Motorcycle Helmet Speakers Reviewed in 2023
last updated:
Aug 19, 2019
Have you ever taken your bike out for a long ride, just by yourself, and then somewhere along the line, you thought to yourself "This sure is a fine day! I could turn up some really good music right about now", but then you remember you're riding a motorcycle and not in the car, and you don't have a stereo or motorcycle helmet speakers?
Well, you needn't be sad anymore, because there is a way for you to enjoy music while riding out in the country. That's right; we're talking about headphones.
"Ok, yeah, headphones have already been around for a long time. I know that" you may think upon reading this. Sure, we know you know that, but we're not talking about any regular headphones. We're talking about specialized headphones that go inside your helmet, and make you feel like you are listening to a legitimate surround sound system.
Featured Recommendations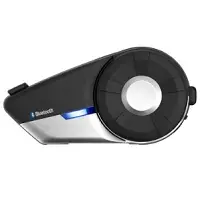 Sena 20S-01

Our rating
Audio Multi-tasking
Universal Intercom and Bluetooth 4.1
Price:

See Here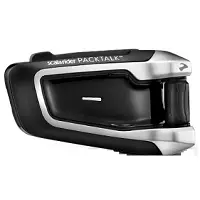 Cardo PackTalk Duo

Our rating
Dynamic Mesh Communication (DMC)
Self-Healing Connectivity
Price:

See Here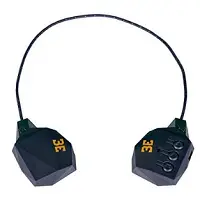 BE Headwear

Our rating
Very Loud Speakers
Bluetooth 4.0
Price:

See Here

Many riders nowadays opt to install a set of these in their helmets. I mean, why not? Why not spice up a glorious afternoon ride with some fine, well-curated tunes? Listening to your favorite jam while the tree lines and cars zip by on the open road might just be the experience equivalent of eating a fat cheeseburger after being on a long, dragged out diet (no offense to fitness freaks).
All in all, having some good music play inside your helmet is a wonderful thing of a bike rider. That is why we made this little guide to help you choose the best possible headset for you. On top of that, we have added five best motorcycle helmet speakers on the market for your convenience.
Before we get the party on the move, we figured to offer you a rundown of things to watch out for when buying a set of helmet speakers. Read on!
10 Best Motorcycle Helmet Speakers
1. Sena 20S-01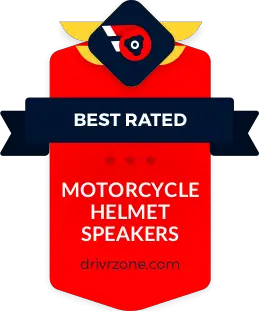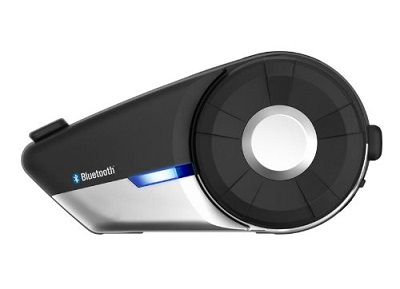 This nifty multi-tasking helmet speakers can hold Bluetooth communication with up to 8 people at a time, at a range of up to 2 km. At the same time it can play music, FM radio, or even the audio instructions from your GPS unit. The system can be paired up to your smartphone for easy configuration, and once you're out on the roads the speaker system can be controlled through voice-commands, or via the patterned clicks of a single button.

Expand to see more
Audio Multi-tasking
Keep in touch with up to eight friends in a group chat, while at the same time listening to music and keeping track of your GPS location. Also comes with FM radio functionality, making this speaker system an exceptional all-rounder.

Universal Intercom and Bluetooth 4.1
The universal intercom system means you can communicate with non-Sena models via bluetooth at ranges of up to 2 km (1.2 miles). The Bluetooth 4.1 technology allows for clear audio transmission, and combines with the high quality speakers for a clear, crisp experience.

Cost and Value
A good set of motorcycle helmet speakers isn't cheap, and Sena wouldn't have made it to the top of this list without offering something in return for its substantial price. However it still offers excellent value compared to pricier items in the review.


Can be paired with up to two mobile phones for hands-free calls
2 km audio range
Hands-free commands
Blocks out ambient noise
9-way intercom
Receiver attaches to exterior of helmet - not suitable for heavy rain
Positioning on helmet may be awkward depending on choice of clothing
2. Cardo PackTalk Duo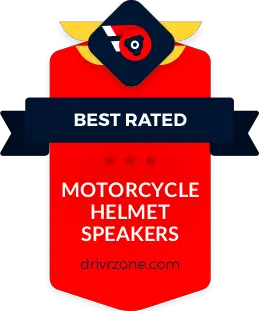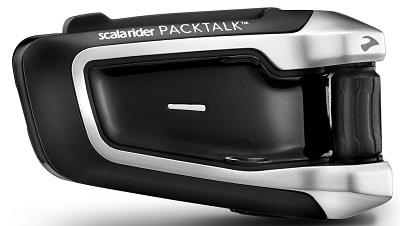 Cardo have been producing audio systems for motorcyclists since 2004, and their latest PackTalk model of helmet speakers improves upon previous designs. Connect with up to 15 people via the unit's Dynamic Mesh Communication, as well as via Bluetooth. With ranges of up to 8 km, and 40mm HD speakers with voice recognition and music charing abilities, this is a handy piece of tech. Is available as 2-pack or single.

Expand to see more
Dynamic Mesh Communication (DMC)
Cardo present their DMC technology as an improvement upon Bluetooth sets, and it does offer good options for large groups of riders at far distances from each other.

Self-Healing Connectivity
If a rider leaves the group or falls out of range, the PackTalk will automatically pick them back up when they fall within range again. Connections are seamless and take only a fraction of a second.

Cost and Value
Any purchase of this model comes with a pack of useful tools like USB cables, adhesive pads, velcro spacers, a universal charger and much more. A premium price is justified on all accounts.


Uses DMC and Bluetooth technology
Self-adjusting radio feature
15-person intercom
Voice commands and recognition
Parallel audio streaming
Requires additional attachment for half-helmets
Lengthy instruction manual
3. UCLEAR Digital HBC200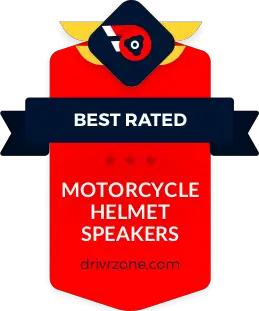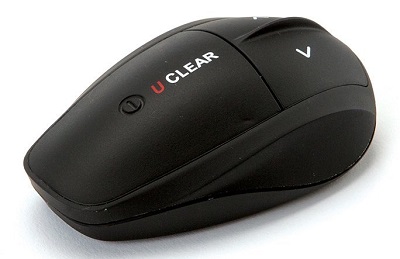 This helmet speakers system is advertised as allowing an unlimited amount of users to communicate bike-to-bike, as long as they are within around 700 metres of each other. The Bluetooth used in the unit can handle non-line of sight communication, and the speakers automatically filter out irrelevant environmental noise. Has a standby time of 400 hours, and a continuous talk time of up to 10 hours.

Expand to see more
Cross-Brand Compatible
It would be irritating if your nice new helmet speakers could only work with other matching models, so the HBC200 model comes with near-universal compatibility, allowing communication with just about any other Bluetooth powered device.

Multi-Hop Technology
The Multi-Hop feature used in this unit allows it to continuously keep in contact with other users, even when outwith line of sight. As long as the units are within range, communication can be conducted among an unlimited number of riders.

Cost and Value
This is one of the pricier models on this list, and it comes with a very positive online reputation. The price may alienate some, but many will find its range of features exactly what they're looking for.


Duplex intercom cancels out ambient noise
Unlimited number of communications
High quality stereo speakers
Easy mount without needs of tools
Private or group-talk compatible
Very pricey compared to others in this review
4. Heneng LF-HY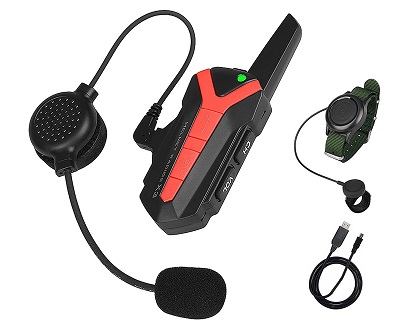 This helmet speakers system comes with a few unique features, like the ability to manually rewrite the frequency code to enable communication on any chosen frequency. Includes multi-audio capabilities and can be paired with your phone to stream music while also keeping up with fellow riders. Has 16 different channels which can house multiple groups on each.

Expand to see more
16-Channels for Groups
Each of the 16 channels in the Heneng model can house an unlimited number of users. This gives the rider the ability to group certain people together, and keep groups separate from each other if needed.

Self-Adjustable Frequency
The device can be self-adjusted via PC to tune into any radio frequency, allowing the unit to connect with walkie-talkies and most other open radio devices. Contact the manufacturer for the dedicated application.

Cost and Value
This model's price is considerably more attainable than most devices mentioned here, but don't let that put you off. This is still a very decent set of speakers with their own uniquely useful functions.


Up to 6 hour continuous talk time
Compatible with most Bluetooth devices
Frequency can be programmed manually
1-year warranty guarantee
Useful wrist-watch and finger remote control
Only compatible with full-face helmets
No choice but to be paired with PTT remote clicker
5. Sena SM5D-02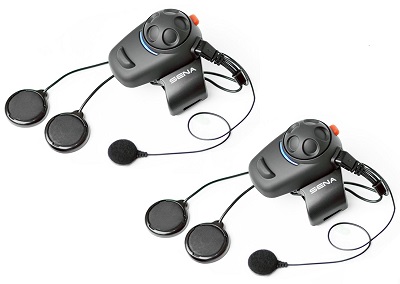 This dual-set from Sena contains two slim, low-profile speaker units which occupy less space on the helmet than other helmet speakers and come with a useful range of on-road features. Contains integrated voice-prompts, multiple volume settings for separate devices, and all the adhesive pads, velcro and mounting plates required for a quick and easy set-up. This two-pack contains everything you need to get out on the road with a partner, or simply with a spare speaker set.

Expand to see more
Separate Volume Profiles
This device will remember individual volume settings from each of your connected devices. Phones, MP3 players, GPS units… whatever you connect to this device will have its own volume settings stored in its memory.

Hands-Free Voice Prompts - Multi-Language
Integrated voice prompts control every aspect of this Sena model, from volume control and hands-free mobile phone calls to GPS management. Voice commands are compatible in Spanish, French, German and Italian, as well as English.

Cost and Value
This two-pack comes in at the same price as other single packs in this review. This may be Sena's slightly older version, however it still serves most of the same functions as the latest model. At its current price, this is too good a deal to pass up.


Two for the price of one
Separate volume settings for multiple devices
Multi-language compatibility
Control everything from voice commands or one-click buttons
Universal intercom protocol
Slightly older version of Sena model
Uses Bluetooth v3.0
6. BE Headwear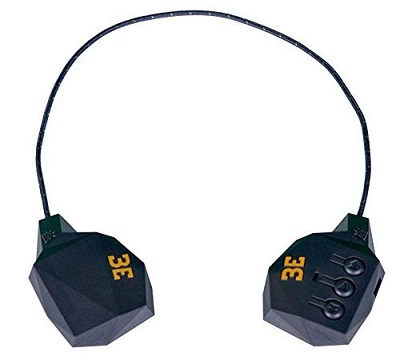 This valuable little helmet speakers product undercuts many competitors by offering essential on-road functions for a fraction of the price of competitors. The speakers are exceptionally loud and can be used reliably by off-roaders, it comes with a simple USB charger, the cords can be tucked up under your helmet, and is also compatible with voice commands via a voice-activated smart phone.

Expand to see more
Very Loud Speakers
These speakers are popular amongst off-roaders and even skiers and snowboarders for the clarity and volume they produce in harsh and hectic environmental conditions. The speaker drivers fit 30 mm dimensions.

Bluetooth 4.0
While many costlier products only use Bluetooth 3.0, these speakers are fitted with Bluetooth 4.0 technology, and provide very reliable and clear communication between devices. A premium feature on a budget product.

Cost and Value
This speaker system doesn't come with all of the fancy bells and whistles of other models, but for its very affordable price it still provides enough functionality to make it a strong contender.



Bluetooth v4.0
9-hour battery life
Voice-prompts when connected to smartphone
Ultra-loud speakers
Lifetime warranty
Lacks integrated group chat function
Must be linked with SIRI for voice commands
7. Sena SMH10-10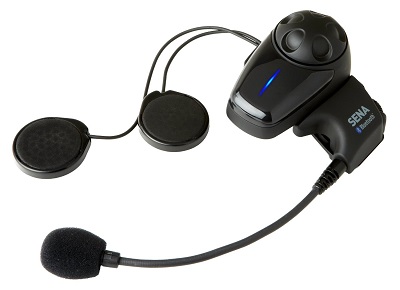 This helmet speakers model from industry giants Sena comes with a 12-hour talk time battery life, with a mind-blowing 10 days of standby time. It uses a universal intercom protocol, and has noise control technology which cuts down on ambient sounds. Compatible with music sharing and intercom chats up to and within 900 meters, or 980 yards. Can be paired with multiple devices.

Expand to see more
12-Hour Talk Time
Every model on this list comes with strengths and weaknesses, and while this item may lack the features of products higher up on this list, the lengthy 12-hour talk time blows many pricier models out of the water.

2-Year Warranty
A warranty helps take the sting out of a potential purchase, and since road-based products are going to experience a bit of stress and strain, a generous 2 year warranty comes in extremely handy.

Cost and Value
This speaker set is comparable with much more expensive models, and yet comes for a fraction of the price. Very good value from a well-known manufacturer.


Twice the talk time of other brands
Huge standby time
Universal intercom compatibility
Multi-language voice prompts
Uses Bluetooth 3.0 as opposed to 4.0
8. FreedConn T-COMVB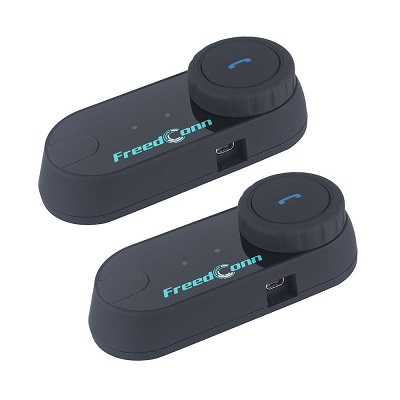 These motorcycle helmet speakers come as a two-pack only, and are Bluetooth v3.0 compatible with a range of up to 800 meters (2625 feet). Two riders can communicate with each other at the same time, while 3 riders can be paired together at any one time. Audio multi-tasking technology allows music to be played at the same time as communicating with fellow drivers.

Expand to see more
Compatible at High Speeds
This device can be used at speeds of up to 75 mph, allowing riders to stay in touch even on a fast and hectic freeway. Many Bluetooth based devices struggle at high speeds, so these speakers score high on that point.

Audio Multi-Tasking
Connect to your phone, GPS unit, or music player, and talk to your fellow drivers at the same, time. One audio channel need not interfere with any other on this device.

Cost and Value
This two-pack comes at a very reasonable price, and while it lacks the multitude of features of more expensive devices, these speaker sets provide excellent value at their price.


High-speed availability
Waterproof/Sunproof
Connects with multiple devices
Audio multi-tasking
Two for price of one
Uses Bluetooth v3.0 instead of 4.0
Charger not included
9. Sena SMH5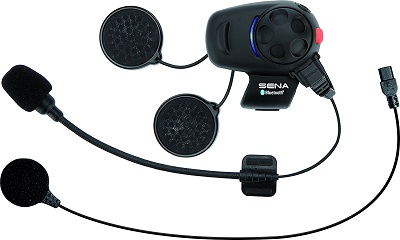 This helmet speakers set can house up to four riders at the same time, and allows users to easily switch between various digital devices which are Bluetooth compatible. The battery life is lengthy enough for most medium-long range drives before requiring recharging. Voice-chats can be conducted without having to break from your music or GPS system, and is voice-activated.

Expand to see more
Large Button Knobs
With a pair of motorcycle gloves on, pressing buttons on a speaker device can normally be quite tricky. However, this speaker set has been built with bulky buttons to avoid this problem, and allow for easier adjustment on the roads.

Attachable Boom-Mic Included
This kit comes with an attachable boom-mic and a wired microphone in the box. This may not register for some users, but will save others a pretty penny on the extra attachments.

Cost and Value
This is one of the more approachable items in this review in terms of price, and will present a very useful alternative to some of the more costly items. If you want a reliable music player and Bluetooth communicator without too many frills, look no further.



Attachable boom-mic included
Wired microphone included
Multi-pair Bluetooth intercom
400 meter range
Battery life lower than other models
Lack of bass in speakers
10. Lexin LX-B4FM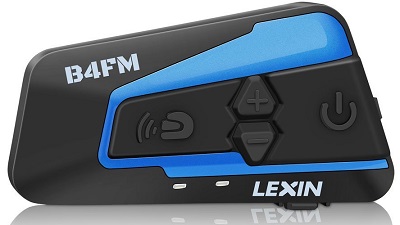 This handy helmet speakers model is voice command compatible with SIRI or S-Voice compatible devices, and is usable for speeds of up to 120km/h. Music can be streamed for up to 15 hours before the battery gives up, while intercom chats can be held for up to 8 hours. Total standby time is 120 hours, and is compatible with all weather conditions and all helmet shapes.

Expand to see more
Functions at 120km/h Speeds
Some drivers need a speaker system that won't start to lag and jitter at high speeds, and with capabilities of up to 120km/h, there should never be a time when your rider-to-rider communication dies out.

Weather Resistant
The device is water-resistant up to certain depths (check manufacturer website) and its secure design means it is protected against dust, wind and heat. A very durable piece of kit for the roads.

Cost and Value
These helmet speakers present exceptional value for their price - which is substantially lower than higher rated products on this list. This device's budget price may mislead many, but it remains a well-functioning piece of technology.


1600 meter communication range
120 hour standby time
Connect to GPS, mobiles, music players
Voice commands
High speed compatible
Uses older version of Bluetooth
Can only pair up to 4 riders
Criteria Used in Evaluation
Of The Best Motorcycle Helmet Speakers in 2018
So, you've decided to get yourself a headset? But which one do you choose? How do you know what to look out for when purchasing them? Well, the best answer is the cliché answer: you need to look at yourself and determine what fits you the best. However, since this is an utmost diplomatic answer (we use "diplomatic" in order not to use a harsher adjective), we'll lay out for you definite and precise things you need to consider when buying a set of motorcycle helmet speakers.
Headset form
One of the first things to look out for is the form of your headset. There are two forms a helmet headset can take – attached and freestanding. These names are indeed self-explanatory – freestanding helmet speakers are not, in any way built into a motorcycle helmet.
This, however, does not mean that any old headset falls under this category – no, there are specialized freestanding speakers, because any other type would cause much discomfort when wearing the inside of the helmet.
On the other hand, attached helmet speakers are built into the helmet. They are, as a result, unusable outside the helmet. Such speakers take the form of on-ear headphones and are embedded at just the right position in the helmet to be over your ears. These helmets are connected then to a media device, either via a+ cable or a Bluetooth connection.
Wired vs. Bluetooth
Like we mentioned in the previous point, headsets can come as wired and wireless. Wired headsets need to have a hard connection with the device, while wireless use Bluetooth connection and need no wires.
However, Bluetooth headset comes with wires in case the Bluetooth fails. Speaking of which, Bluetooth can often time fail to connect, so using a wired headset may be a better option. On the other hand, using a wired headset can lead to the wires tangling and the isolation breaking.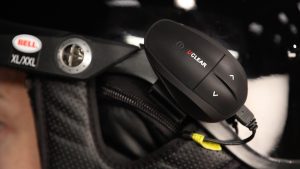 Therefore, it's a matter of personal preference where Bluetooth brings higher practicality that can also increase safety by giving the users a few cables less to worry about, while the cabled approach brings a bit more of a secure connection, which strangely enough can increase safety in its way.
Size
This is a natural thing to consider. However, this is not any of that "you've got to choose the right ones for yourself" stuff. The size of the speakers is more objective than that. What you need to consider is the diameter and the thickness of the speaker play a great role in your choice, and is closely related to the helmet you're using.
If the speakers are too thick, they will not fit inside your helmet properly, which will result in your ears being pressed upon, making them very uncomfortable. Also, having speakers that are too thick and big may compromise the fit of the helmet, and their installation its structural integrity.
Therefore, bigger does NOT mean better while the smallest option is NOT the most practical one. Choose wisely.
Sound Quality
Naturally, there is always the question of sound quality. While all companies will tell you that their speakers are the best, you will do far better if you check the sound quality yourself. When making a purchase, be sure to do a quick test run on the speakers.
If you can't, then ask a friend of yours, or any other biker with a similar set to either tell you about the quality, but even better, to let you try their pair. Testing the sound quality of your future speakers is the only way to not end up with a pair that will make your favorite songs sound like they are being sung by a Zayn-less One Direction.
The quality of the sonic attack is important on all fronts and not just for music listeners. It determines the clarity of your audio signal, whichever way you use it in.
Price
As is tradition, we've saved the best for last (and the most important!). The price is a crucial thing to consider when making a new purchase, and I don't believe we need to discuss why. It goes without saying that spending a fortune on one pair of speakers is beyond reason because if they break, they will cost just as much to repair, or even more.
This gets even more complicated and money-draining if you buy a set of built-in speakers, because, in this case, you're practically buying a new helmet. Therefore, before whipping out your wallet, and slapping the greens on the counter, be sure your wallet doesn't get burned, and the number of Benjamins is within reason.
While we're at it, it's worthy of pointing out that each of the items we have selected for you in this article offers pretty much the best value for money within its respective price range. The key factor is to determine a realistic budget and then investigate what it has to offer. That is exactly the approach we have taken, and our results patiently await below.
Comfort
These things need to be comfortable to wear and NOT obstruct you in any way or form. You are riding a motorcycle after all, and an uncomfortable set bugging you during the ride can put you in danger. Therefore, make sure that this thing is a perfect match, bringing us to the final point of this lovely little rundown.
SAFETY FIRST
We cannot stress this enough; no fancy gimmicks can make up a lack of safety. Therefore, it is crucial for an item to comply with all the safety standards. There are some sets that simply don't do this, and we made sure they are instantly discarded from any sort of consideration.
So, now that you know all the things you need to know about the universe (or, at least, the universe of motorcycle speakers), let's get on with the real reason you came here – the top five best motorcycle helmet speakers. Join us for a ride, let's do this!
Frequently Asked Questions
About Motorcycle Helmet Speakers
Now that the products are out of the way, we figured a Frequently Asked Questions (FAQ) session would be in order. We rounded up a string of questions that we have heard the most over the years, as well as the ones we see popping up the most on the internet. They patiently await below, along with a line of answers for everyone.
Q: I want my headset to last as long as possible, how can I do that?
To prolong your headset's life, you will need to check for damage regularly. However, this is more difficult to perform on an attached pair of headsets. For that, you will have to consult a professional.
Here's where stand-alone headphones are an asset. They can be pulled out and checked for damage. Also, consider using sweat-resistant headphones, as sweat can damage the internal workings of the set. It is also very advisable you use extra sturdy cords for your headphones, as most cords are wrapped in cheap rubber insolation. Avoid bending and wrapping the cords tightly to preserve the integrity of isolation. In case of damage to the isolation, change the cords immediately.
Overloading the headset with the highest volume for extended periods can damage the goods as well, causing unwanted crackle, sonic distortion, and generally poor sound. Therefore, keep it reasonable, and the headset is bound to serve you quite well in many years to come.
Q: Are the Bluetooth waves harmful?
No, they are not. The waves are weaker and less pronounced than the average cellphone. The headset is located outside the helmet, which makes it distanced from your safe more than a regular cellphone. Plus, the waves themselves are not harmful even in a cellphone- that's a longstanding and incorrect myth that you can get cancer, or any other kind of damage, from cellphone radiation.
There is no radiation, no harmful rays – this thing is as safe as radio waves, the internet or TV waves.
Q: What's the typical range I would need?
First, you need to keep in mind where do you ride? If you're riding through an open area, then you won't need as much. Cities and woodlands are a whole another thing. Even areas where it rains often and heavily can influence the range of your communicator. The range can average between 400 meters to up to 2 kilometers. Keep yourself within those boundaries, and you will have no trouble whatsoever.
Q: Can I listen to music?
Though it depends on the headset, you can. However, the communicators have been made specifically for communication and will rarely give you the sound quality for enjoying your music. But as noted in the first question, you should keep the volume within reasonable boundaries as cranking these puppies up to 11 can cause permanent damage to the headset.
Q: Can I connect it to my cellphone?
Yes, you can. It's especially useful when connected to a hands-free program. If you have a good vice command system, you can use it to your heart's content. It is recommended that if you intend to use your phone, you do it this way.
Q: Can I use this on other helmets?
Yes, you can. You can use it for paintball, or when you ride your snowmobile. It's all about connectivity and practicality these days, and this fella has it all.
Now before the conclusion, let's address the key matter here once again. Safety considerations regarding motorcycle helmet speakers, go!
Safety
One of the most important things you need to remember is that the electronics (mostly the Bluetooth) will not function like it should if it comes into contact with water (unless you are opt-out for the waterproof versions). You should also, for safety reasons, remember that the humidity made by your sweat can also interfere with the headset.
It is very unsafe, and illegal, to install a communicator via drilling the helmet. This compromises the integrity of the helmet and nullifies most of the protection given by it in case of a crash. This happens because the helmet is made specifically to absorb the shock and damage caused by a crash.
Keep in mind that a communicator placed on the outside of the helmet may make you less aerodynamic. This may seem, to the motorcycle newcomer, unimportant- "I' not on the racetrack, I don't care about aerodynamics and extra speed". The real reason is that the fatigue caused by the uneven distribution and lack of aerodynamics will make you a driver with poor concentration. Long and regular, even daily, rides may even cause damage to your neck. It can also mess with your perception while riding.
You must be certain that the camera is safely and securely placed on your helmet. If it falls off during a ride, it may act as a projectile and harm another driver or rider.
Also, consider another fact. Headphones are not like your car's stereo, because of a simple fact that they hang over your ears. This, in turn, muffles all external noise. That is extremely unsafe as in traffic, you need to pay absolute attention to your surroundings, and that includes listening for signs of trouble.
In addition to that, blasting the headphones at full volume is damaging to your hearing. Therefore consider reducing the volume on your headphones to avoid permanent hearing damage.
Conclusion
And there you have it, our little guide about motorcycle headphones. The items on the list are the few select that offer great performance at great prices. When choosing your headset, to remember what you've read here – remember that a good pair of headsets don't have to burn through your wallet to perform on a great level.
Remember that a good pair of headsets need to fit your helmet. Drilling or otherwise compromising the structural integrity of your helmet can be very dangerous. Remember that your helmet is a primary piece of equipment you have, and if it fails, it can lead to serious injury.
Always pay attention to the volume coming from your headphones. Blasting the set at full volume can damage your hearing and the 'phones. Even worse, having the volume up can lead you into dangerous situations where you won't hear another vehicle coming, thus ending up in a car crash.
Once you buy the headphones, do take good care of it. This is important for a couple of reasons. First, you need to take care of them because you certainly want to change your headphones after just a few days. Second, broken headphones can be dangerous, as naked wires are never a good idea to have around the neck.
Remember that your safety and the safety of others is primary. Therefore, choosing a set that has remote controls will save you a lot of trouble when riding. Always keep your hands on the handle bars and watch the road closely.
Finally, enjoy your ride, safely and responsibly. A pair of headphones are there to make the ride more enjoyable, and not to give you a headache. We sincerely hope that the next time you take a ride on your pet will be accompanied by sweet sounds coming from one of the sets presented her on our list. Happy shopping and once again – ride safely!
Sources
Subscribe to our Newsletter