Best Motorcycle Chaps Reviewed & Rated for Quality
last updated:
Apr 18, 2019
Leather jackets, gloves, and irreplaceable jeans are essential parts of motorcycle driving gear. These pieces of clothing are something like classic wear, providing excellent protection but also making you look incredibly stylish. However, while our upper bodies are protected with helmets, jackets, and gloves, we tend to forget how often the lower parts of the body get exposed to injuries. While driving a motorcycle our legs (especially knees) get very close to the ground, and they can get seriously injured in case of a crash. Most people don't believe that something could protect their legs when riding a motorcycle, so they go on wearing their favorite jeans during every ride. Don't fall for this common misconception! While it's certainly comfortable to wear your favorite piece of clothing when driving, jeans don't provide enough protection like specially designed accessories. What you really need is a pair of motorcycle chaps that will protect your legs from potentially serious injuries and complement your riding style.
Featured Recommendations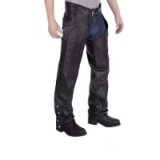 Viking Cycle

Our rating
High-Quality
Price:

See Here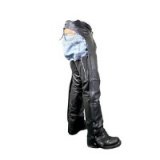 Xelement

Our rating
Soft
Price:

See Here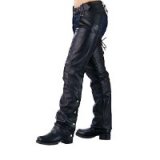 Milwaukee Leather

Our rating
Supple
Price:

See Here

Motorcycle chaps are an excellent option for all those who want to stay in their comfortable everyday jeans and still ride safely. They provide the same thing as riding pants, protecting you from injuries, dirt, dust, and weather, but they are a better solution for higher temperatures (leather pants can get really hot in the summer). All in all, you should seriously consider buying one of these great accessories if you want to complete your motorcycle riding gear. For all those who are here searching for the best pair to suit their needs, we prepared a list of 10 best chaps we could find on the market. There are also detailed reviews and recommendations that will hopefully guide you through the tiresome searching process, and save you a lot of time and effort!
10 Best Motorcycle Chaps
Viking Cycle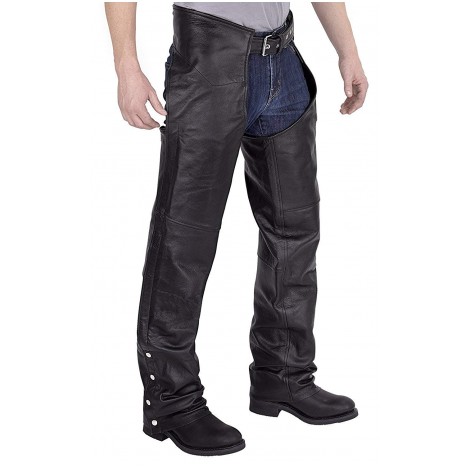 These are one of the most popular motorcycle leather chaps on the market. While a stylish look certainly plays a big role in their popularity, they also have to offer a lot in terms of protection and durability. For more details about the first pick, keep reading our in-depth review!
Expand to see more
High-Quality Leather
Made of high-quality cowhide leather these motorcycle chaps are meant to last and ensure a comfortable ride. With plain sides and outer seam zippers, they allow easy access through both sides. There's also an adjustable belt buckle and lace closure at the back which you can tighten up according to your needs. Using a provided size chart you can take your own measures and chose the perfect size for yourself. Just keep in mind that some people had problems with these chaps being too tight. If you're in between two sizes, you should probably get a bigger one.
Adjustable Features
The used leather is definitely a first-class materia
l that has just enough thickness to protect your legs yet not to be stiff and uncomfortable. The outer zipper is waterproof and made of metal which means that it should hold up for years and withstand harsh weather. The bottom has a snap closure and allows for simple adjustments. That way, those who don't like longer chaps can easily trim them at the bottom for a perfect fit. Additionally, there's a side pocket on the left leg where you can hold your keys or other stuff.
Cost and Value
These motorcycle chaps exceeded all our expectations, which is probably why they're so popular in the first place. We expected a decent piece of clothing, but we got a high-quality product that offers so many features at a reasonable price!
High-quality cowhide leather
Easy to put on
Adjustable features
Comfortable
Durable
Well-priced
They can turn out a little tight
Xelement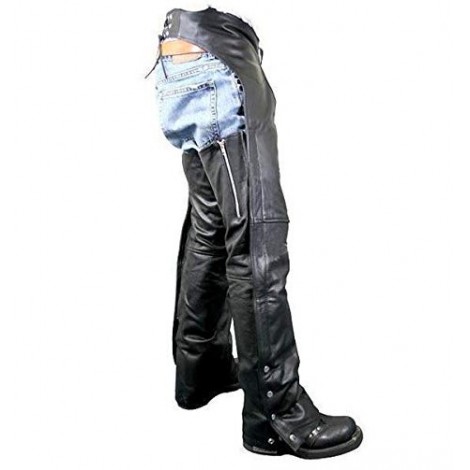 If you are all about having a comfortable piece of clothing to complement your motorcycle gear, we have a perfect pair of chaps for you. Xelement features this high-quality product made of superior soft leather that will provide a most comfortable ride ever! As if that wasn't enough, their modern look complements every riding style.
Expand to see more
Incredibly Soft
As we already mentioned above, these chaps are made of incredibly soft and supple leather. They are one of the most comfortable pairs out there. There is a size chart that you can follow for a custom fit, but they are generally longer and designed for taller people. It's quite easy to trim them though, so you won't have any major issues even if they don't fit you at first try.
Stylish
Xelement features side and back zippers which makes them easy to put on. The zippers on the back are especially useful if you don't want to unzip the side ones. It's more practical and takes less time. Besides, most people find them very stylish with all these zippers on black leather. After all, you'll be spending quite some time in them and you may as well show off your new pair of leather chaps.
Cost and Value
You'll have to some extra cash if you want to make these chaps a part of your motorcycle riding gear, but we definitely support you on this one!
Most users are so satisfied with this riding accessory that they are ordering it over and over again.
They say it's worth every penny!
Incredibly soft and supple leather
Comfortable
Easy to put on
Side and back zippers
Stylish
Worth every penny
The length is more suitable for taller people
Milwaukee Leather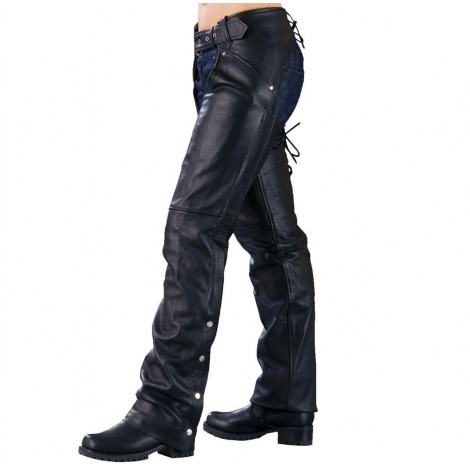 Milwaukee Leather features these incredible motorcycle chaps for ladies. We were stunned by their stylish look, not to mention the quality of materials and many useful features. All in all, It's doubtlessly one of the best pairs we could find on the market!
Expand to see more
Meant to Last
Made of premium naked cowhide these motorcycle chaps are meant to last! They are very comfortable and flexible, but we especially liked
the superior protection they provide against wind and rain.
They are able to keep you warm during winter yet they are not too thick for summer use. We should only warn you about the sizes because this model could come smaller than expected. However, most customers agreed upon purchasing a bigger size than needed. It seems that this resolved the issue quite well.
Perfect Fit
They have several features that allow adjustments for a perfect fit. There are side zippers for easy access and the belt with an adjustable buckle that lets you tighten it according to your needs. That's not all, of course. There are two back laces that you can tighten or loosen up as well as snap buttons at the bottom. All of these practical and useful features weren't designed on the expense of super chic look!
Cost and Value
Although we are very satisfied with the quality of these motorcycle chaps, you'll have to spend some extra cash to get them! We don't deny that this exceptional modern pair is worth every penny, but those who are on a limited budget might have to search for another product.
Premium naked leather
Comfortable and flexible
Suitable for all temperatures
Adjustable features
Chic look
Possible issues with the sizes
A.B Crew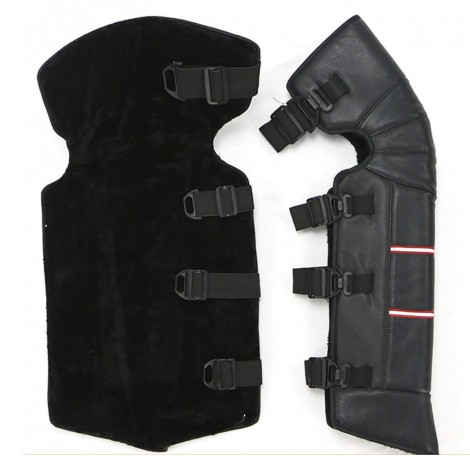 If you are not a fan of regular motorcycle chaps we have the perfect half chaps that will meet your every need. With these on, you can enjoy rides on cold weather like never before! They are warm, comfy, and fully adjustable, so you are definitely going to love them.
Expand to see more
Warm and Safe
A.B Crew chaps are made of high-quality leather, fluff, and sponge. The mix of these materials should provide more than enough warmth for you to deal with low temperatures. You don't have to give up riding your motorcycle because of the cold weather anymore. Instead, you can be comfortably warm during every ride and yet fully protect your knees and legs from injuries.
The only drawback with all half chaps is the fact that they are not as versatile as regular ones. While they offer exceptional value at lower temperatures, you'll find them too warm for hot weather. Also, keep in mind that you can't exactly wear them around like full chaps, they are too bulky and often uncomfortable at extended use.
Comfy
These chaps measure approximately 28 x 14 inches, but they are also very adjustable thanks to the 4 velcro straps on the back. They add to the entire comfort just like other soft materials that should fit snugly around your legs. We especially liked the reflective strips on the front. Yes, they are useful because of the better visibility in the dark, but they are also incredibly cool!
Cost and Value
This is probably the cheapest option on the market when it comes to purchasing
a protective motorcycle accessory
for your legs. You can make these chaps a part of your riding equipment at an attractive price, and make every ride safer and more comfortable!
High-quality materials
Superior warmth
4 adjustable straps
Soft and snug fit
Reflective strips
Inexpensive
Milwaukee Leathter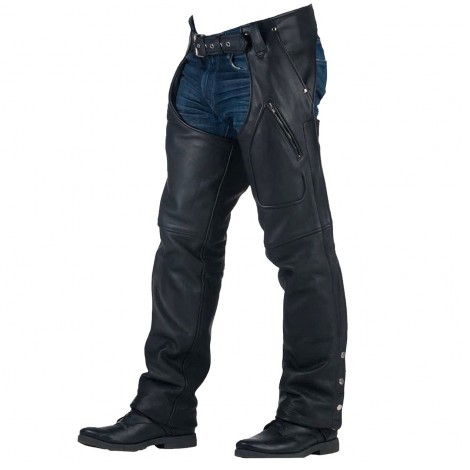 These Milwaukee chaps offer great value and unique style. If you're searching for an accessory that will keep your legs safe from injuries and make you feel cozy during every ride, this is an excellent choice. For more details, we provided an in-depth review that you can read below!
Expand to see more
Durable Materials
Made of high-quality leather, these chaps are a long-lasting motorcycle accessory that provides protection from various conditions and situations. They will effectively protect you from rain, winter, and cold temperatures. All you have to do is to measure your legs accurately and order the size from the provided chart. Keep in mind that this is a baggy model, so if you're searching for a tight one, this is not a great option for you. You could check out some of the previously reviewed models of tight leather chaps, you might find something that you like!
3 Pockets
If you're not sure that a purchased pair will fit you perfectly, fear no more! There are several adjustments that you can make on these chaps for more comfort. For example, you can loosen up the belt on the front or the back lace if they turn out too tight. Also, this model is not tight at all which is a good thing because it leaves some free space for professional changes without ruining the overall design. We also liked that they have 3 pockets for storage.
Cost and Value
All in all, these chaps are super soft and comfortable,
and they'll make a great part of your riding accessories
. However, be prepared to pay some extra cash for them because they're not exactly a budget-friendly product.
High-quality leather
Durable
Allow adjustments
3 pockets for storage
Super soft and comfortable
Some may not light a baggy design
Pricey
JJLHIF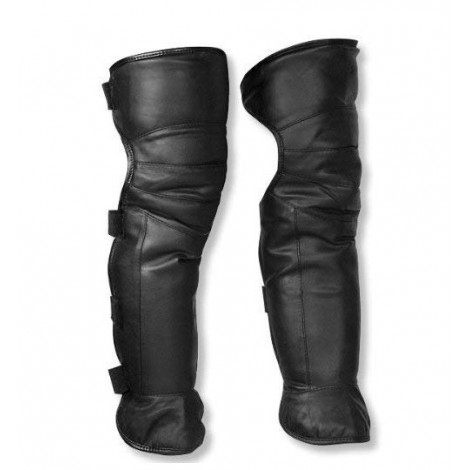 We have another great product to recommend for all the half-chaps fans out there. This unisex pair offers some great features and high quality, so you should definitely check it out. You might get pleasantly surprised!
Expand to see more
Excellent Protection
These are made of high-quality leather
and faux fur to provide a high level of protection and incredible comfort. They will keep your legs warm all the time, and allow you to enjoy the ride even at the lowest temperatures. Your legs (and jeans) will finally stay dry and fully protected from rain, snow, wind, dirt, and dust.
Adjustable Straps
They measure approximately 27 x 14 inches, but they have straps in the back that you can additionally adjust for a snug fit. Another great thing about these half chaps is the fact that you can fold them down and storage without too much effort or lost space. They are also super cool looking and incredibly soft, so you'll feel very comfortable while wearing them.
The only thing that we don't is something like a general issue with all half chaps – they are not flexible like full models. They are sturdier and safer, we give them that, but many people give up on them because they are uncomfortable at an extended period of use.
Cost and Value
If you're searching for a thing that would protect your legs from dangerous injuries these chaps are the perfect option. They don't have all the bells and whistles like regular ones, but they do offer exceptional comfort and protection, which is their main purpose after all. Besides, they are so cheap that everybody should try them out!
High-quality leather and faux fur
Excellent protection at low temperatures
4 adjustable straps
Easy to put on and storage
Nice look and comfortable feeling
Inexpensive
Lack of some additional features
Could restrict movements
Allstate Leather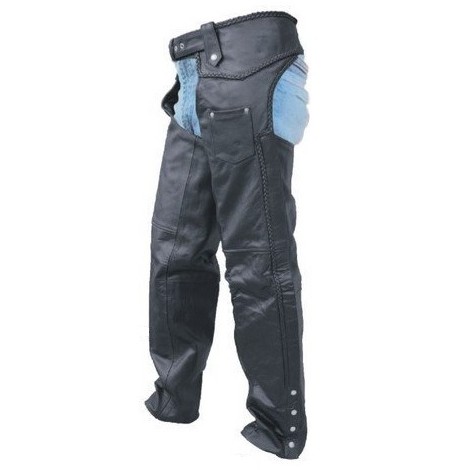 Here we have an Allstate Leather motorcycle accessory that offers great performance and durability. In fact, this pair is similar to our first pick from Viking Cycle, the only difference are braided sides. Some people find them more appealing and super comfortable, so they tend to choose them over the regular ones. If you want to find more about their differences, keep reading our detailed review!
Expand to see more
Supple Leather
These motorcycle chaps are made of high-quality leather that provides a comfortable feeling and enough flexibility to allow free movements all the time. With Allstate Leather,
you'll be riding your motorcycle with great ease and protected from potential harsh situations
. You can choose the perfect size from the provided chart, but we should warn you about the possible issues. Many customers complained about the size chart not being accurate in measures, and that they got a bigger size than expected. Consider going for a smaller size if you want to achieve a perfect fit.
Braided Sides
As we said earlier, the main reason why people go for this pair of motorcycle chaps are braided sides. Don't get this in the wrong way, without quality materials and additional features this product won't be so popular at all. It's just important to have a fashionable and quality piece of clothing, especially the one that you plan to use frequently and for a long time. Other things that supplement the product's performance and durability are sturdy zippers, snap closures and quality stitching.
Cost and Value
Viking Cycle continues to surprise us with the high quality and affordability of its products. If you're a fan of braided sides and supple leather, these are probably the best motorcycle leather chaps that you can find on the market!
High-quality leather
Comfortable and flexible
Braided sides
Fashionable
An attractive price
The chart sizes are not accurate
Billys Biker Gear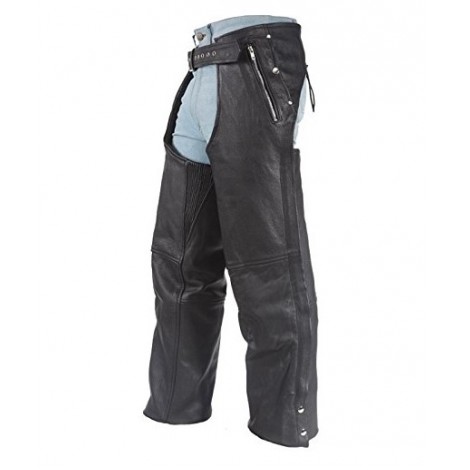 Here we have another great motorcycle accessory that should improve your driving experience and overall safety. These modern leather chaps are made of high-quality materials, and they offer several useful and stylish features. If you want to find out more, look below for a more detailed review!
Expand to see more
Superior Comfort
These motorcycle chaps are made of 100% cowhide leather which means that they are meant to last for a long time and provide superior comfort during every ride. There's a chart you should follow for proper size, and you shouldn't have any major issues. Don't worry too much about the waist size either, because you can adjust the belt and the back waist extender for a proper fit. That should give you some extra space if needed. We shouldn't forget to mention the elastic inner thigh area that adds to the entire snug fit and gives even more comfort.
Useful Features
These chaps have two deep pockets on the front that you can use to store your phone,
keys
, or whatsoever. We also liked the removable insulated part in the inside that other chaps don't have. It makes them warmer during harsh weather, but you can also remove it at high temperatures. Therefore, these chaps prove to be an excellent option for all seasons!
There are two little issues that should be improved in the future. The first is the inadequate length because most users have to trim a bit from the bottom, and that requires a visit to the leather shop and some free time. The second issue is the quality of the buckle – it seems very fragile, and some users had issues with it.
Cost and Value
This high-quality motorcycle accessory comes with excellent value but it requires a few more bucks. We have to admit, it's not the cheapest option out there, but it won't cost you a fortune either. The only thing that we don't like is the fact that customers still have to make some changes to make this piece of clothing perfect for their needs. It's pretty annoying considering the price they paid to get it.
100% cowhide leather
Durable
Comfortable
Allow several adjustments
Deep pockets
Removable liner
The length and quality of the buckle should be improved
Pricey for required changes
Milwaukee Classic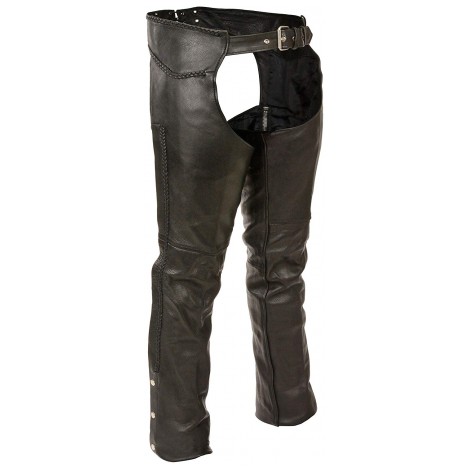 Expand to see more
High Quality
These motorcycle chaps are made of high-quality leather and they offer excellent protection at any weather condition. They also look very nice with several zippers and buttons, not to mention that first-class black leather. However, keep in mind that they are pretty tight, so if you're a fan of baggy pants you should definitely search for a different model. Also, consider buying a bigger size than needed if you want them to fit perfectly.

Softness
Even if they don't fit you perfectly, there are several features that could fix that. For example, there's fully adjustable belt at the waist as well as side zippers and snap buttons at the bottom. All of these features are made from sturdy materials that ensure durability. Last but not least, these chaps are so light and comfortable that you won't even feel them on. They are also very soft and flexible, allowing your legs full movement whether you're on your motorcycle or not.

Cost and Value
This is one of those well-priced and valuable products that are so hard to find these days. People praise it for the incredible value it provides for the money, and you'll probably adore it too!

High-quality leather
Stylish
Adjustable belt
Side zippers and snap buttons at the bottom
Soft
Well-priced
Dream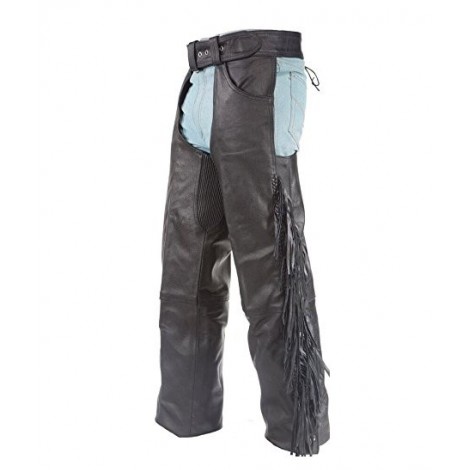 If you're on a limited budget and you wish you could get a nice pair of leather chaps, seek no more! Dream offers an incredibly designed motorcycle accessory, and you're going to love it. Keep reading if you want to find all the details about this high-quality garment.
Expand to see more
Flexible and Comfy
These motorcycle chaps are made of first-class cowhide leather. They have plain sides and outer seam zippers that allow for easy access through both sides. You'll especially like two pockets on the front where you can store your phone, keys, headphones, and more. However, just like most chaps out there, we had some issues with the sizes. The inner elastic part should add some free space if they turn out a little tight, but that isn't our major concern. This pair is rather baggy and that makes them harder to adjust. If you're a fan of tight pants and chaps, you should search for other models. However, if you decide to purchase this product, double check your measures and the size chart and then go for a certain size!
Adjustable
Along with excellent quality comes exceptional design. The belt on these chaps is fully adjustable, allowing you to tighten the buckle according to the width of your waist. The bottom is secured with snap buttons – very fashionable and practical solution. Furthermore, these chaps have an elastic patch in the inside, around thighs, that ensures a comfortable feeling and great mobility, not to mention high-quality stitching that ensures excellent performance for many years.
Cost and Value
Considering the long-lasting quality materials and appealing looks, these motorcycle chaps are a real steal! They are not perfect, but they are definitely
one of the best choices that you can make when it comes to buying a motorcycle riding accessory
.
First-class cowhide leather
Plain sides and outer seam zippers
Two pockets on the front
Adjustable belt and bottom snap buttons
An elastic patch in the inside
Well-priced
Criteria Used in Evaluation of the Best Motorcycle Chaps
When we were ranking our 10 best picks, we had to think about many factors and features that influence their overall quality. When it comes to clothing and accessories, there are always many things that we should consider before we make up our minds, and chose a perfect piece. We tried to think about all of them so that our list could help you find the best product for your needs. Here are some things that were crucial in the evaluation:
Materials
All of our picks are made of high-quality materials that ensure safety and comfort during every ride. However, they do differ in overall performance and durability. We mostly have leather chaps on our list, but there are other models that are made of different types of materials, designed for all those who don't like leather. Either way, we had to rank all motorcycle chaps according to the quality of their materials and consequently their durability and comfort.
Size
When it comes to choosing the perfect size of motorcycle chaps, things could get very complicated. As if it wasn't hard enough to get the right measurements, most models differ one from another. The included size charts often don't provide correct measures, so the customers get to deal with smaller or bigger models than they expect. While trimming the length of every model is the usual thing, having inadequate sizes isn't, and it should be improved in the future. That's why we tried to warn you about possible issues with every product, and rank them according to the hassle you have to go through with them. The ones that offer a proper fit at the first try are on the top of our list.
Adjustable Features
One of the best things about motorcycle chaps is the fact that you get to adjust them for a perfect fit. They all have a belt with a buckle that you can tighten up according to the width of your waist, and some of them have even back laces and straps. Half chaps are also very adjustable thanks to the back straps and buckles. Almost all of them allow for easy trimming, but the ones that provide high-quality features for a flawless fit are placed on the top of our list.
Style
Having a perfect pair of motorcycle chaps is all about protection and comfort, but we shouldn't forget that they are primarily stylish accessories that will make you look really nice! Wearing a leather jacket, driving gloves, and a helmet is not the same when there are no chaps to complement your style. All of our picks are super modern and fashionable, but we assigned some additional points to those we liked the most. Of course, this is a completely subjective thing and you may find you like better some of the other pairs on our list.
Cost and Value
Lastly, these accessories are not cheap at all, so we had to make sure that you're getting what you paid for. We took into consideration all the things listed above and examined the overall value that every product has to offer for its price.
Other Factors to Consider
Before you rush into the purchase, inpatient to try out your new driving accessory, you should take a few moments to examine some additional factors. They can influence your decision and help you determine what is best for you. Here is what we have in mind:
Type
Would you rather have half chaps or the regular ones? They all differ in the features they provide, and it all comes down to your personal preferences. The regular ones are more comfortable at extended use, but they are also thinner than half chaps. The aesthetic is an important part too! If you want to show off your new driving accessory, having a fashionable leather piece of clothing is the best way to go. On the other hand, many people chose warmth at low temperatures over any stylish look. Think about your habits and requirements and then make a decision. It's important that you end up fully satisfied with the purchase.
Size
We never get tired of repeating this: take the measures accurately! When it comes to buying clothes, sizes are everything. The chaps size influences on their overall performance and purpose, and consequently on your satisfaction with them. The ones that are too baggy or too tight just can't do what they are supposed to. Also, it would be good for you to follow our recommendations or at least comments of other uses when deciding for a certain size. Depending on the model, chaps could end up smaller or bigger than expected.
Purpose
Last but not least, the way you intend to use your chaps is crucial. If you want something that enables more mobility so that you can move around freely without having to take them off as soon as the ride is over, you should go for thin leather. On the other hand, if you prefer superior comfort over style and movement, you can purchase stiffer half chaps (but you'll have to take them on and off whenever you get on and off from your bike). It's all about your needs and preferences, after all.
FAQ
Frequently Asked Questions
Q: How do I measure myself for chaps?
A: To order a perfect pair of chaps, you need to take the measures accurately. Make sure that you have a comfortable pair of jeans on when measuring because you don't want to end up with a too tight piece of clothing. The best thing you can do is to ask somebody to help you with this. It will take less time, and the chances for mistakes are minimal. Also, you should use a fabric measuring tape if you want to avoid mistakes. Measure your waist, thighs, and the inseam, and then compare the measures to the size chart of your wanted product. It should be quite easy, but don't forget that it depends on the model too. You could follow some reviews and comments to make sure that you're getting a perfect size.
Q: How long should they be?
A: This is a common question for all first-time buyers. Most bikers like to have chaps tailored just about a few inches off the floor when the riding boots are on. This length will keep the leather off the dirty ground and allow a perfect fit when you're on your motorcycle. Also, we recommend leaving them a few inches longer than planned if you want to save yourself from possible regrets. You can always come back and cut more from the bottom.
Q: Are they really that good?
A: You must have been hearing all those positive things about motorcycle chaps if you're here. There are several reasons for their enormous popularity among bikers. Firstly, they are designed to protect your legs during the ride, and not only from serious injuries but from harsh weather conditions as well. They prove to be very efficient protection against low temperatures, wind, rain, and snow. Also, they will keep your jeans clean from dirt and dust. Secondly, they are very comfortable. The soft leather ensures an enjoyable ride, especially during cold days. Lastly, every biker just loves how nice they look paired with a good leather jacket and pair of driving gloves!
Q: Is there a proper way to clean them?
A: This is a good question because they are going to collect dirt and debris just like any other garment, and if you purchase the leather ones you'll most likely have some problems with cleaning them properly. If your chaps are dusty you can use a clean fabric cloth to wipe the dust off. You can wet it slightly if necessary. In case you can't clean all dirt in this way, you can use a mild soap and lukewarm water to spot clean the leather (just make sure not to soak the material in water). You should also apply some leather conditioner in the end – it will preserve the material and make it look really nice.
Subscribe to our Newsletter