Best Motorcycle Gear Reviewed for Performance & Quality
last updated:
Oct 23, 2019
There are a whole bunch of review articles available online that focus on one specific motorcycle riding gear, giving the consumer a pretty thorough rundown of available options and the best uses for them.  This can be very helpful and is a great resource for those who already know at least a little bit about what they're getting into.  For the complete newbie to a hobby, however, or even someone who has a level of familiarity to it, but for one reason or another has been out of the loop for a while, those buying guides can contain a steep learning curve. Sure, it's important to know about certain pieces of gear, for example, but without knowing why it's important, or what the next step is, the information presented can't be fully absorbed.
We've selected 10 pieces of motorcycle gear that we feel will provide the best starting point for beginners, while still being relevant by themselves to seasoned veterans.  Each piece is critical in its own right, and hopefully, by the end of it all, you will be well on your way to conquering the road with pride and confidence.
Featured Recommendations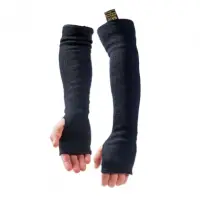 Mechanix Wear Sleeves

Our rating
100% Kevlar
Price:

See Here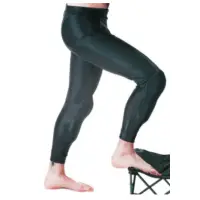 Bohn Armored Pants

Our rating
Stretch Lycra Fabric
Price:

See Here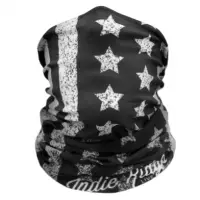 American Flag Mask

Our rating
Microfiber Polyester
Price:

See Here

Before we get right into it, please keep in mind that the featured selections covered up above are by no means better than anything else found here.  Normally, that section would highlight certain aspects of a single type of product.  In this case, it's still going to point out items with those qualities, but since we're focusing on several different types of gear, you may need to do just a bit of your own research in order to delve deeper into an individual product line.
With that out of the way, let's take a look at some of the essentials required to be a motorcycle master.
Best Motorcycle Riding Gear
1. IndieRidge American Flag Face Mask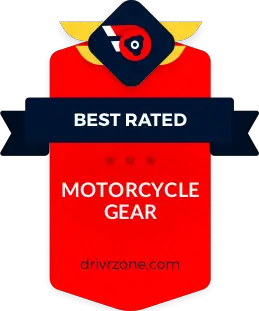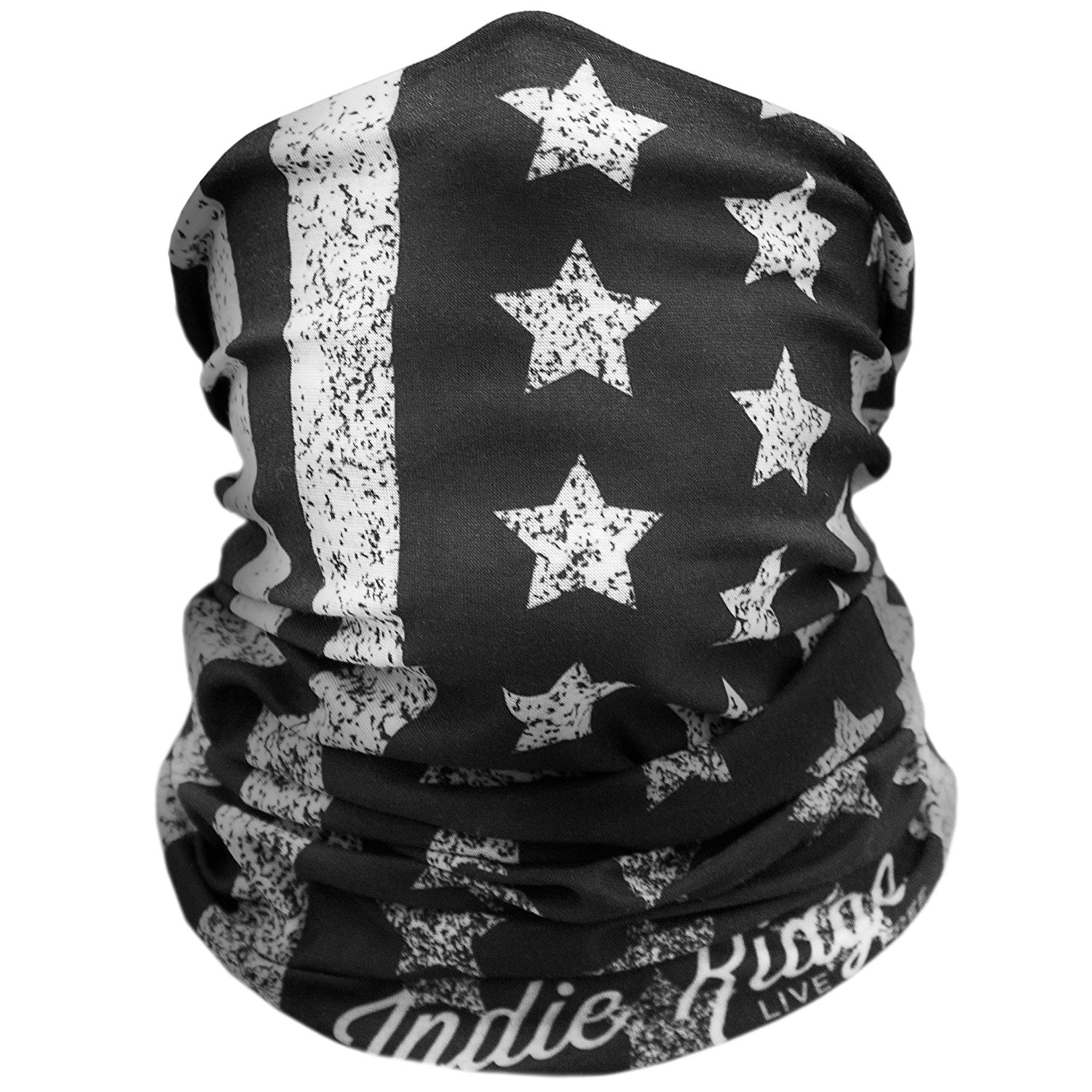 Starting things off a bit slowly, the facemask is an underrated piece of biker gear that is still very important, especially for those riders who choose an open face helmet. This particular facemask by IndieRidge is among the best available. It has no seams, fitting over any size head easily, and is double-sided, letting you either display the brand proudly or keep to yourself. It also has the requisite lightweight breathability that makes it a superior choice to just wrapping a bandana around your face and being done with it.
Expand to see more
Keep your head on a swivel
Unlike a rigid face mask that attaches to your helmet, these ones conform to your face, and won't block your natural range of motion at all. Good peripheral vision is extremely important while operating any motor vehicle, let alone one that leaves you so open.

Makes for a seamless ride
This facemask is of the pullover variety, means that there are going to be no seams getting in the way to irritate your face while out on those long rides. THis also gives it a more professional appearance which is bound to get you noticed more often than not.

Cost and Value
Taken as a piece of motorcycle gear, this is one of the more affordable components, which is good, since biker gear can be steep. Compare it to other similar face masks though, and you'll see that what it offers in contrast to the low price make it a no-brainer when putting together the ideal kit.
One size fits all eliminates fitting issues
Microfiber polyester is lightweight and windproof
Not nearly as constricting as a facemask
Doesn't restrict hea motion at all
Has a multitude of uses
Not as stretchy as one would expect
Colors do tend to fade pretty quickly
2. Mechanix Wear Heat Sleeves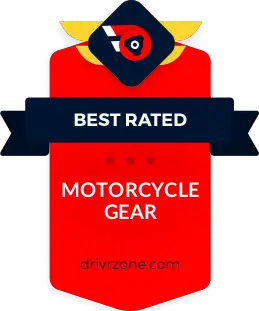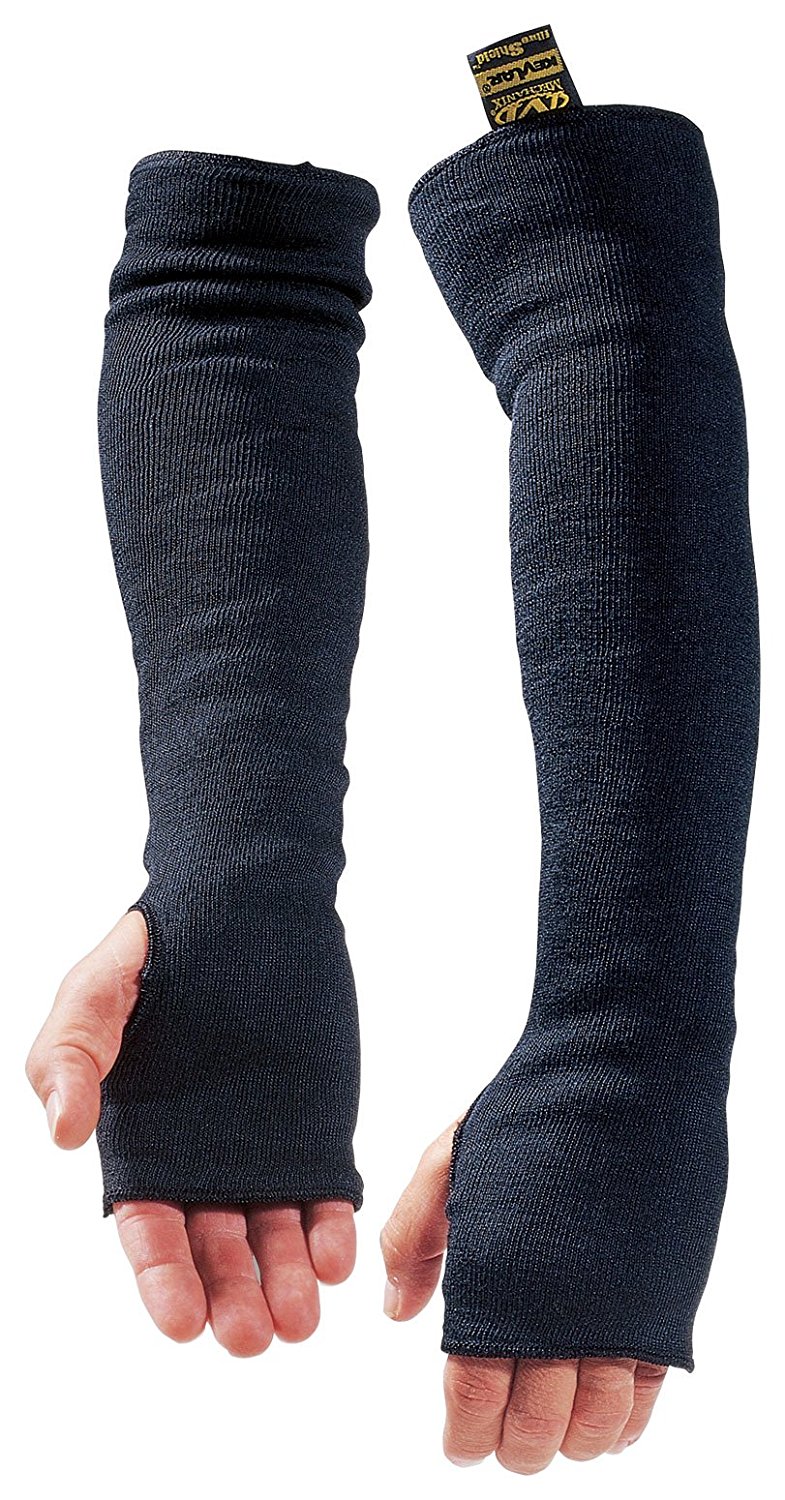 Heat sleeves are a more recent addition to a rider's gear kit, and one that I wouldn't necessarily consider to be a requirement. Make no mistake though, these are very useful, and add a level of versatility that most riders don't get to experience. These heart sleeves by Mechanix Wear can either be the perfect accompaniment to your full body suit on those especially chilly days, or just enough warmth for those casual days when a t-shirt will suffice.
Expand to see more
Stain and soil free
Not only are these sleeves going to keep the heat away, but they are also specially treated to be extra resistant to any oils or other potentially harmful chemicals that you may encounter. On top of that,if they do get anything on them, they are machine washable. Which will take care of that problem quickly.

Kevlar won't let you down
These heat sleeves feature 100 percent kevlar construction, which will do wonders in keeping out the damage caused from burns, lacerations, or impact. This is a very durable product that should be a part of any rider's repertoire.

Cost and Value
This piece of gear comes across as glorified sleeves that have been liberated from a sweater. They're not, but they are priced as such, which is a very good thing. You won't end up paying a lot for this highly functional garment, but you will get a lot out of it.
Kevlar construction give added protection from heat and impact
Treated to be very resistant to oils and other fluids
Eighteen inches provides good coverage for most arm lengths
Great protection when wearing short sleeve shirts
Keeps the right warmth in and the bad heat out
Has a strong chemical smell that can be hard to remove
Have  been known to fray fairly quickly
3. Bohn Bodyguard Adventure Armored Pants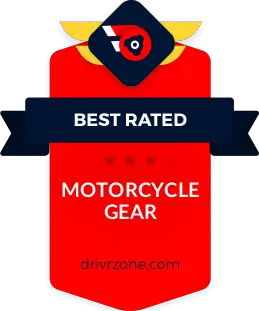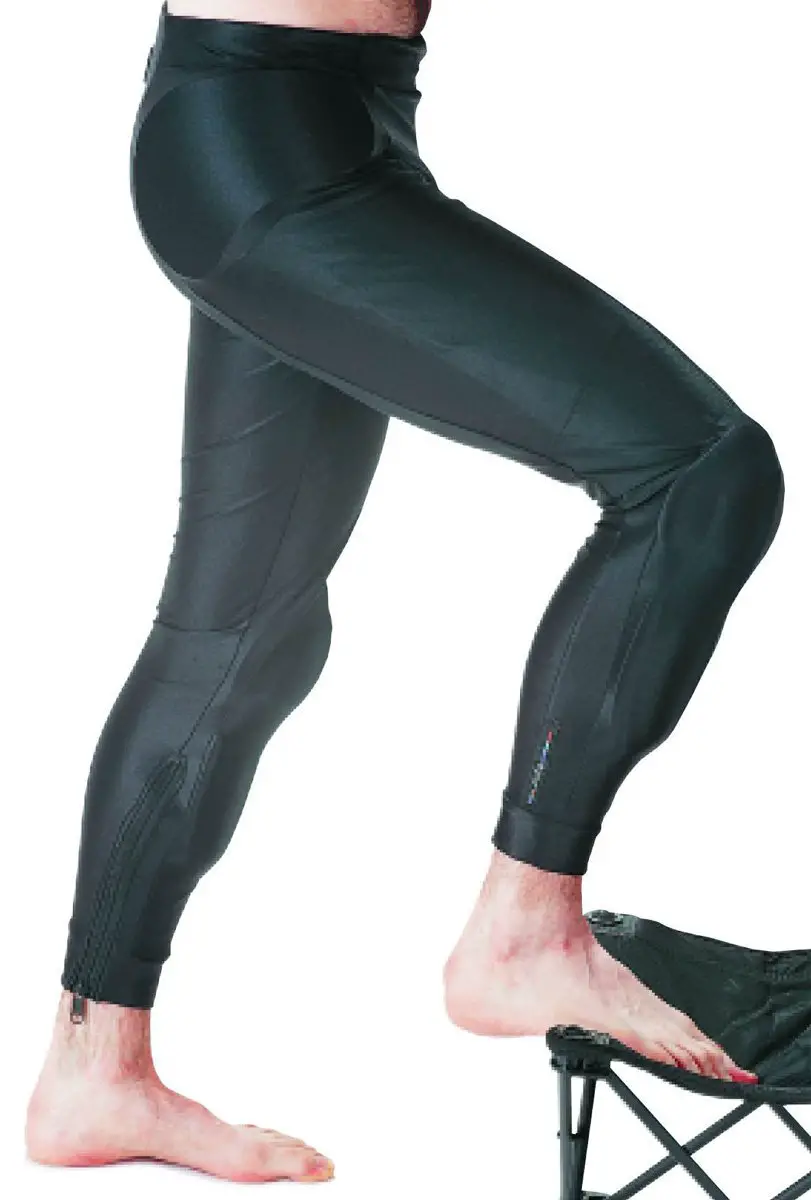 For most people, when they think of armored motorcycle gear, it's usually only the e jacket that is given any real consideration. The belief is that no other area is going to sustain any serious damage. That's just not true, and all riders, of any skill and experience level, need to take measures to protect their entire body. Hence the reason I've included armored pants here. I chose this specific brand because it offers the best overall performance for a very reasonable price.
Expand to see more
Easily taken care of
For all of the benefits the armor plates provide, they can pose a bit of a hassle when it comes time to run the pants through the washing machine. That's why it's so handy to be able to fully remove the armor like these pants allow.

Armor everywhere
The protection that these pants offer won't just end at the knees and hips like most others do. There is armor plating covering virtually all of the sensitive areas below the waist. You don't realize how vulnerable you are until you get into an accident and your body is thrown around out of your control.

Cost and Value
These can be pretty pricey, even as far as motorcycle pants are concerned. One thing the have going for them is the high level of protection they give while still being very breathable and stretchy, ensuring both your safety and your comfort on any ride.
Has plating at the knee, shin, hip, thigh, and tailbone for supreme protection
Armor is easily removed to allow for the garment to be washed
Pants have a very minimal amount of shrinking during initial washes
Thin Lycra construction can fit under your everyday pants
Don't trap too much heat in, allowing the skin to breathe and stay cool
Armor is made from a thin foam that doesn't appear to be too sturdy
Pants ride very high on the waist
4. Stansport Saddle Bag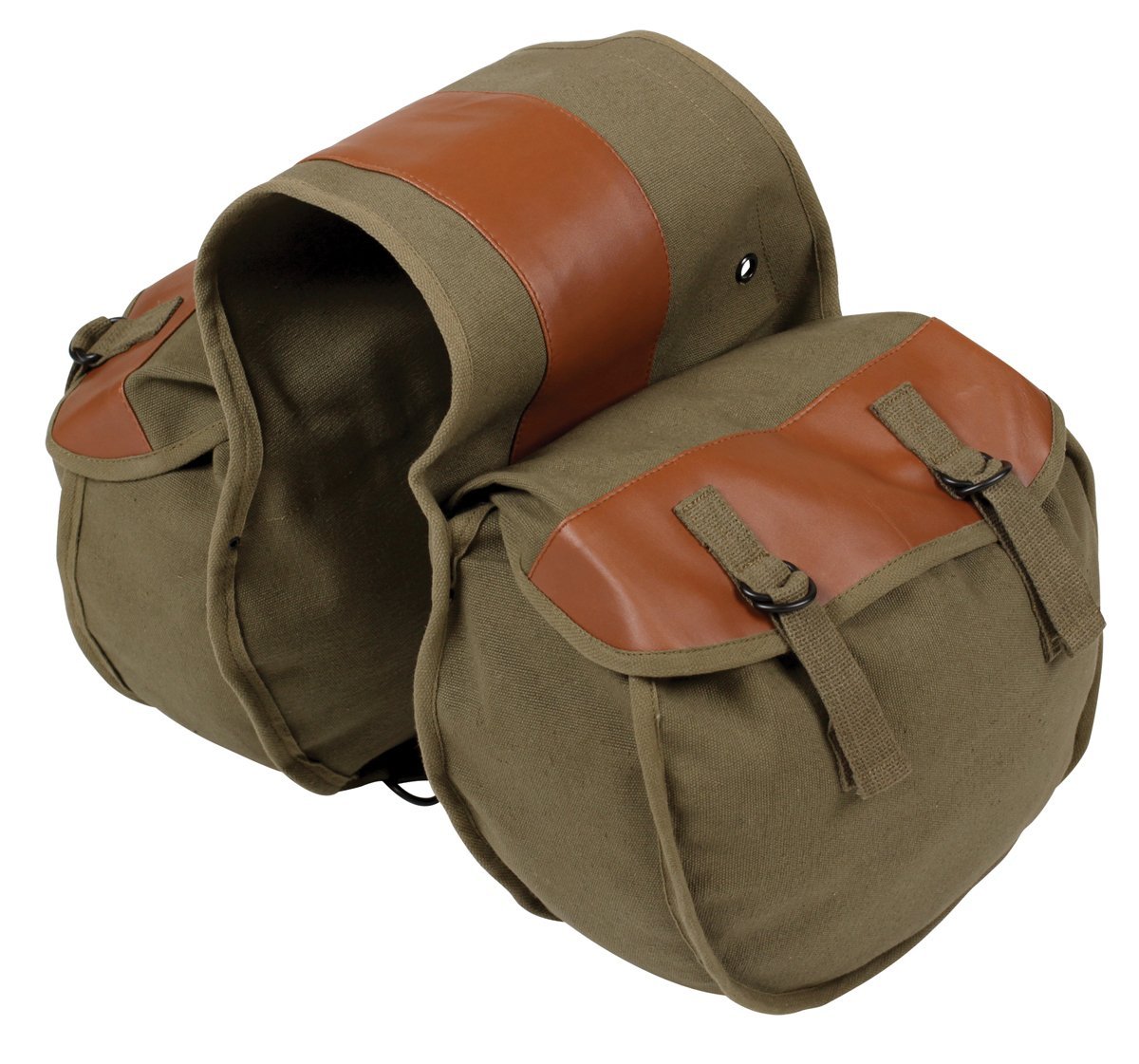 You'd surprised how important it is to a rider to have enough storage space to hold anything they may need. It's a terrible feeling to be well into a long journey only for the weather to take a turn for the worse, since you weren't able to pack any rain gear because there wasn't enough room. Luckily, Stansport has been making top of the line accessories for just this reason. This is a well-made add-on that will pay for itself in spades.
Expand to see more
Carry a lot of stuff
One of the biggest problems with motorcycles is the lack of room to carry much of anything with you while on the road. To solve that, these saddlebags have a surprisingly large capacity that allows you to pack extra warm clothes, snacks, or anything you can think of, really.

Reinforced to take abuse
Everywhere you look on this saddlebag shows signs of extra strength. From the stitching, to the vinyl backing, it's all going to contribute to these bags lasting for many years to come, diligently hanging from your bike ready when you need them.

Cost and Value
Adding saddlebags to your bike would increase convenience and enjoyment almost exponentially. The added storage capacity is one of the most beneficial add-ons that you could possibly get for your motorbike. On top of that, they are exceptionally affordable, and add enormous value.
Heavy duty cotton reinforced at all stress points
Lightweight and durable to hold up to abuse
Very large capacity can hold everything you may need to take with you
Excellent value for a great service provided
Vinyl backing adds an extra level of strength
No proper way to attach them to the bike
Fabrics used are not inherently waterproof
5. ILM Full Face Motorcycle Helmet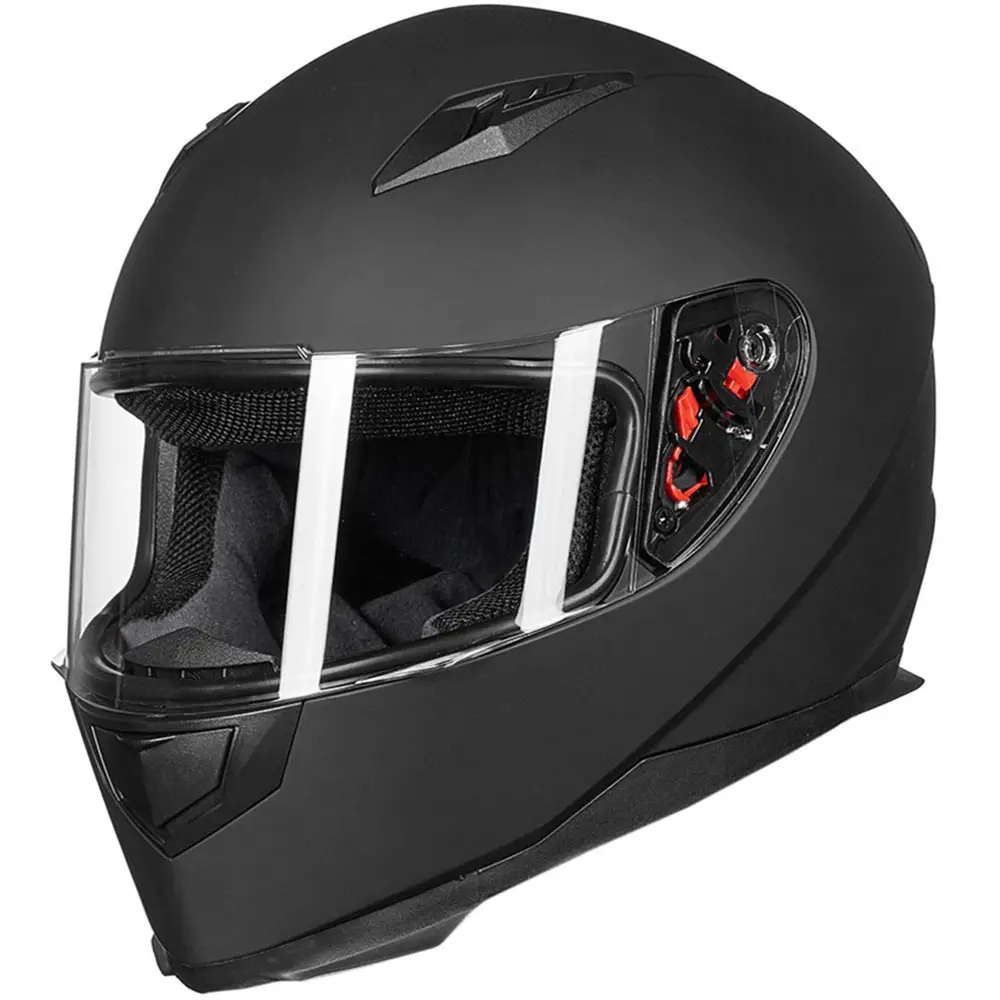 There are many different types of riders out on the road, from casual weekenders to seasoned lifelong enthusiasts. For those more dedicated riders, many like to keep out any distractions so that they can pay attention to the road, and to the ride. That's why they opt for a full face helmet, and ILM happens to make some of the best available. That way, they can take care of their head safety, and keep out all of the debris at the same time in one fell swoop.
Expand to see more
Extra safe
All helmets need to meet or surpass DOT Standards before they can be sold. ILM decided that this wouldn't be enough, so they opted to make their helmets pass multiple standards. THis is completely optional, so for them to take the initiative to be absolutely transparent when it comes to safety is very refreshing.

Very attractive look
At first glance, this helmet makes you look like a Power Ranger. THat's far from being a bad thing, since it stands out from the rest of the helmets and let you be notices. The futuristic design also emphasizes a focus on high quality and visual appeal.

Cost and Value
Helmets can often be the most expensive piece of equipment that you will end up buying for your hobby, but that's usually because of how important they are to your overall experience. As a bonus, this one has all of the safety while managing to cost very little comparatively.
Multiple visors included for a variety of situations
Removable inner liner pads make cleaning a breeze
Meets or exceed multiple safety standards
Quick release buckle makes taking the helmet off easy and simple to do
Removable neck guard adds extra protection
Fits extremely large
Face shields are made from apparently cheap plastics
6. Motorcycle Modular Full Face Helmet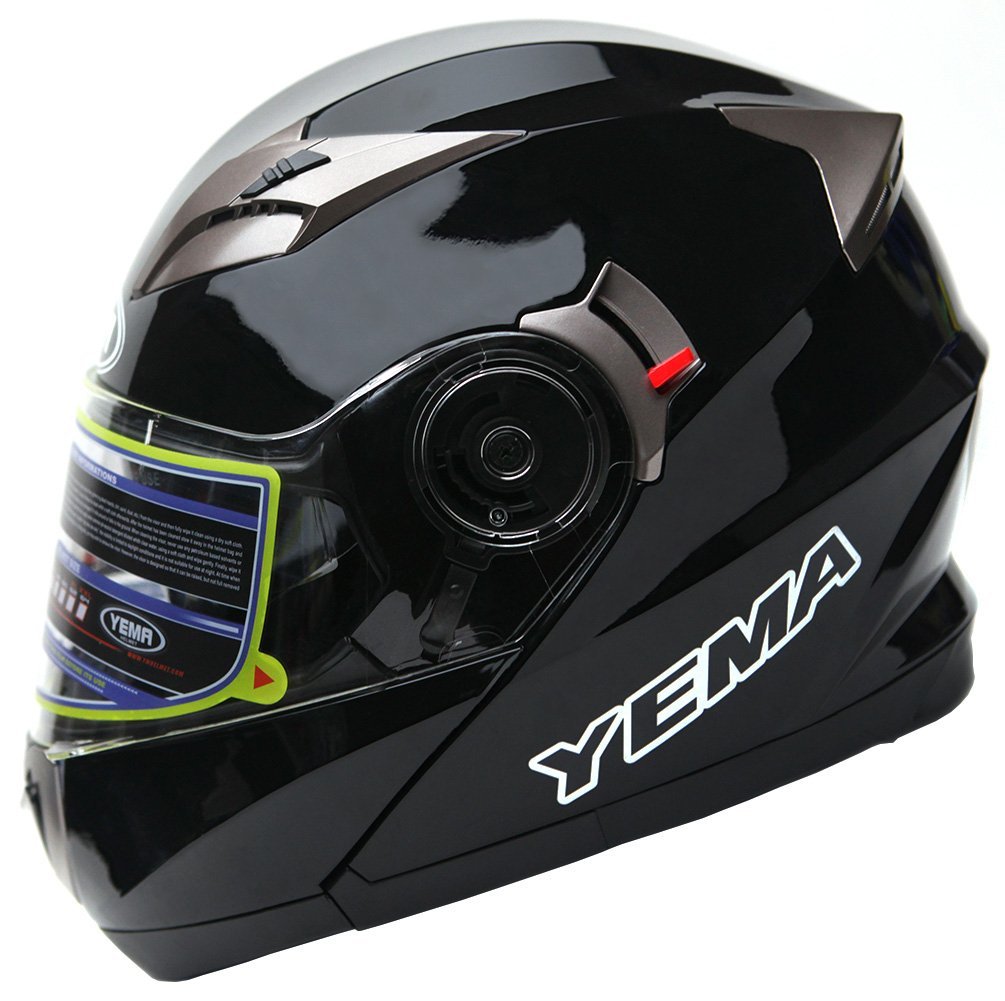 Yet another full face helmet makes the list, though this one doesn't look quite so futuristic. In fact, it has all the makings of a classically styles piece of equipment who's design transcends trends. That is, until you take a closer look at it. What this helmet lacks in sci-fi appeal it more than makes up for in construction. Crafted from a lightweight thermoplastic alloy, your safety is all but assured in even the most extreme situations. Overall, a great addition for any rider.
Expand to see more
Perfect sight anytime
This is the first helmet I`ve seen that gives you multiple visor options attached to the helmet at the same time. This makes switching between no visor to the polarized shades, and everything in between quick and efficient without having to stop what you're doing and mess around switching things out.

Plenty of color options
This helmet gives you a selection of thirteen colors for you to choose from, giving so freedom to customize your look just a little bit. Plus, this helmet is so affordable that you very well could get away with buying more than one, each in a different color to suit your needs.

Cost and Value
Much like the previous full face helmet in this buying guide, this one is extremely affordable. That makes this one's great choice for those who do just entering the hobby for the first time. A standout piece that gives good value is a solid starting point.
Thirteen different colors to choose from add variety
Unique dual lens design gives good versatility without having to switch visors
Interior padding is fully removable
Very sturdy construction is obvious to the eye
Excellent value for the few dollars it will cost you
Visors are not of the greatest quality
The way it sits leaves it being very top heavy
7. The Bikers Zone SOA Leather Vest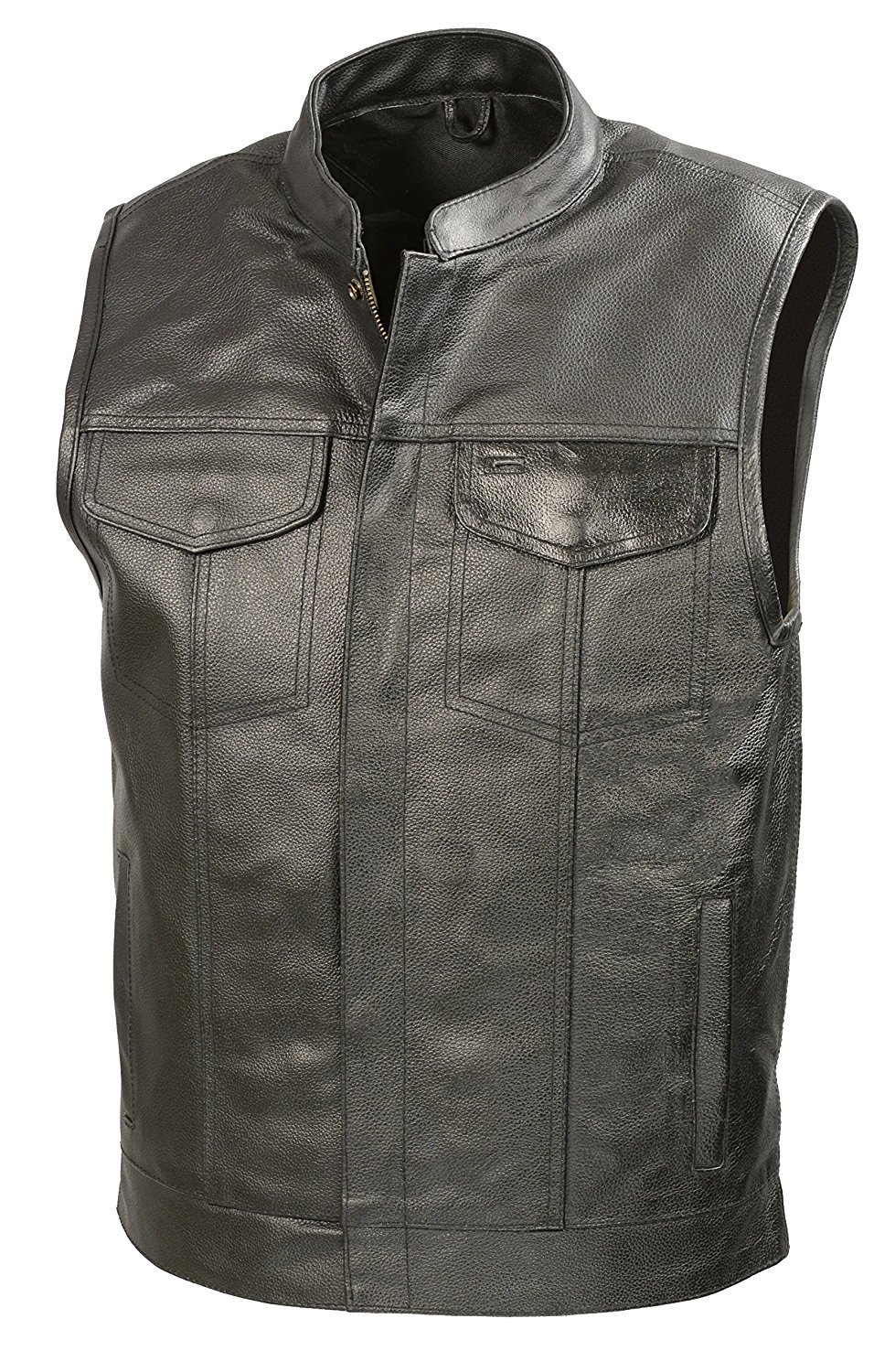 Make no mistake, this is very much a serious, very useful piece of gear that is designed to offer all of the benefits that you would expect from a leather biker vest. THe neat thing about this one, is that it plays off of a recent surge in mainstream popularity. That way, you can ride safely and well taken care of, while looking and feeling pretty cool as you do. If looks matter at all to you, then this is definitely something that you can't just overlook.
Expand to see more
Great fitting garment
Most biker vests and jackets tend to be difficult to find a good fit for, mainly because of the stiff leather they are usually made from. This one not only fits almost exactly as it claims to, but it will conform to your body while never feeling constricting at all.

Wear with pride
The main reason that any rider wears a vest, besides it being lighter than a jacket on warmer days, is the ability to display your club`s colors and patches. Vests have been used for this purpose for decades, and this one ranks among the best to show off with.

Cost and Value
All Of the quality and appeal of genuine leather, along with a price point to reflect that. In terms of a vest, you will end up paying a bit more than some others, but in return, you're getting unparalleled value.
Great display piece for motorcycle clubs to show off their patches
Premium cowhide leather has top notch durability
Concealed zipper maintains the stylish aesthetic
Two concealed carry pockets allow you to transport your firearm
Fits snugly without ever being too tight
Stitching around pockets can fray easily
Very stiff material that doesn't soften easily
8. ILM Alloy Steel Knuckle Motorcycle Gloves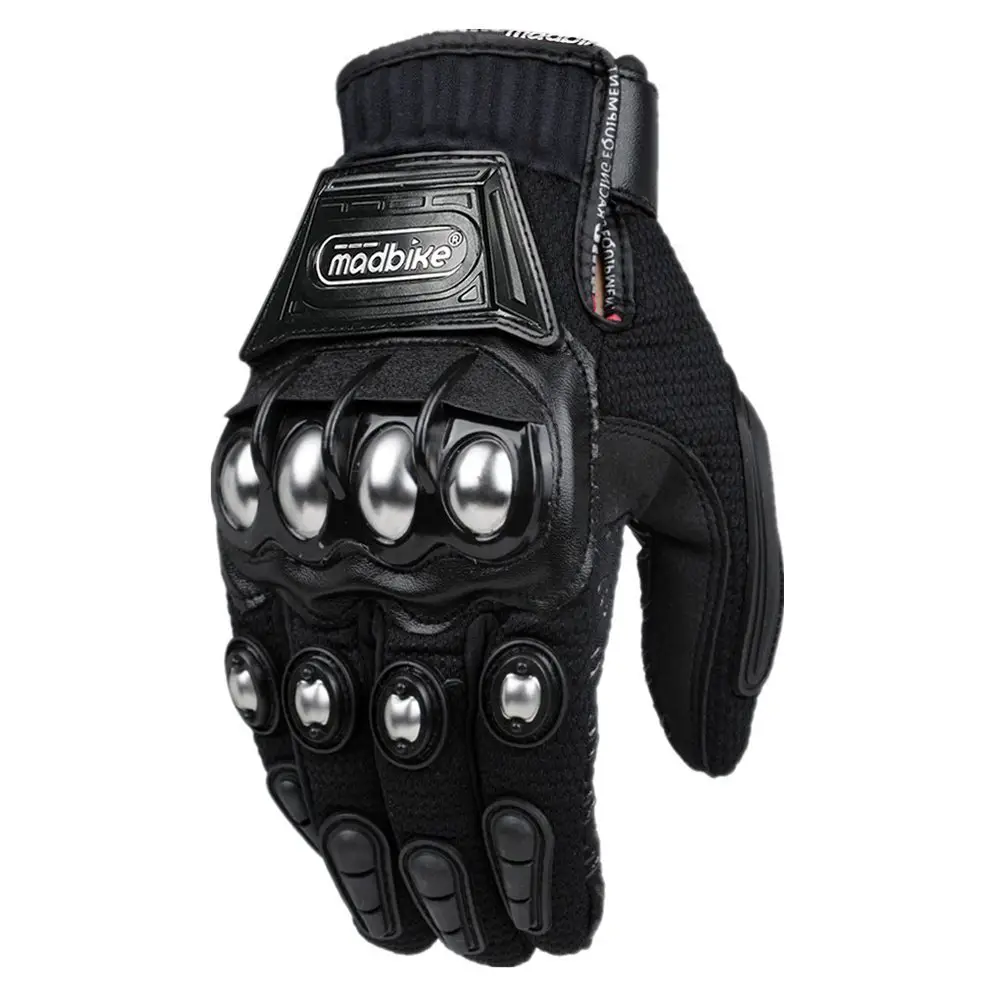 These are some wicked looking gloves, regardless of what their purpose is. This largely due to the reinforced joints and steel knuckles. This is all for a reason outside of looking really mean. These gloves are meant to protect your hands in the event of a wipeout. In the case, each piece of extra padding is a welcome addition. It also helps when that is combined with ILM`s years of knowledge and experience, leaving you with a product that you can count on.
Expand to see more
Full use of your hands
The palms of these gloves are coated with a non-slip plastic that gives you full range of motion and retains all the grip that you could need. Not only can you still function while wearing them, your hands will also be safe and sound.

Strength of many
Have you noticed all of the black plate-like patches on the gloves, covering what would be the more sensitive parts on your hand? Those are durable PVC, and will keep you plenty safe. Now, as for the knuckles, that stainless steel alloy that will keep you knuckles out of harm's way.

Cost and Value
This is a cool, dependable pair of gloves that offer incredible amounts of protection and safety, with a look that that won't be messed with. The best part of all of that? They're cheap. They won't cost you a whole lot, and you'll be glad you picked them up.
Injection molded steel alloy reinforcement keeps your knuckles and joints safe
Non-stick plastic palm allows full movement
Fit snugly and conform to the shape of the hand
Gloves absorb a substantial amount of impact and prevent damage
Keep hands suitably on frigid days
Won't keep hands warm much beyond freezing temperatures
Base material is very thin and looks cheap
9. CRG Sports Vintage Motorcycle Goggles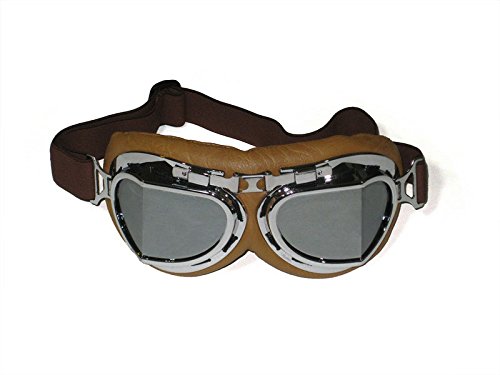 I just had to put up a nice vintage piece of gear on this list. Otherwise, it just wouldn't be complete. As well made and sharp looking as newer equipment is, sometimes you just can't beat the classic lines and appeal of the golden age of motorcycles. The best part is, these may look vintage, but rest assured they are very modern in construction, and in that regard, these babies are as relevant as ever.
Expand to see more
Looks aren't everything, but they help
These goggles have such a great look to them that you'll be looking for an excuse to wear them everywhere you go. That's all well and good,because they look like aviator goggles, and work well in any situation.

Padded for your comfort
People who like to wear goggles while riding tend to prefer the long distance rides that take several hours at minimum. This can lead to irritation and discomfort around the eyes, potentially causing headaches. These ones eliminate this issue by including thick, soft foam padding toe keep you feeling good.

Cost and Value
These goggles are designed to look vintage but also maintain a vintage price tag. You're likely going to get a lot of enjoyment and value out of this very fairly priced product.
Thirty-two different color choices to pick from
Soft sponge padding makes them comfortable for the long-term
One size will fit all head shapes and sizes
Well made strap won't wear down easily
Ideal for multiple applications
Feel kind of flimsy, like they are about to fall apart
Can be prone to fogging very easily
10. Nelson-Rigg Stormrider Rain Suit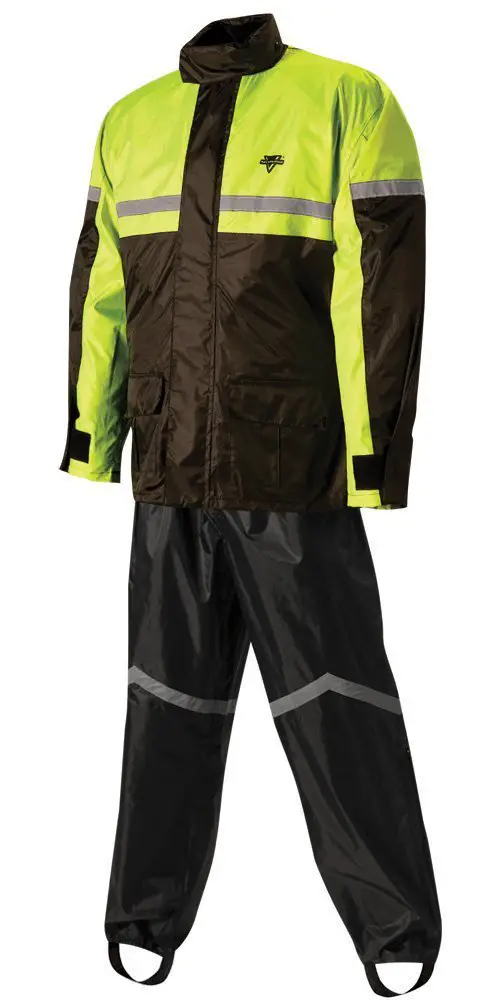 Finally, we come to the end of the list, and if we haven't exactly saved the best for last, we have definitely saved the biggest until the end. This is a full riding suit that will keep you dry and comfortable in some of the worst rains imaginable. On top of its rain protection, this suit keeps you safe with its reflective coloring, keeping you noticed in those reduced visibility moments.
Expand to see more
Elasticized everything
The jacket and pants both have elastic waist bands on them, making sure they're nice and cinched up, keeping ou the wind and cold. This suit isn't going anywhere, and that is exactly what you need in the middle of a rainstorm.

Cover it all up
The best part of this rain suit is the fact that it isn't your be all riding gear. You can wear anything you want, and this suit will slip over it all and keep your prized riding gear dry.

Cost and Value
This suit does not cost much, especially given the fact that it does so much to keep you safe from as many elements as possible. This is completely worth every penny.
Soft polyester outer shell is very breathable
An elasticized waist ensures that the suit will fit as well as it can
Boot stirrups prevent the pants from riding up
Ideal for all types of all-terrain vehicles
Nice and lightweight won't weigh you down
Seams begin to leak pretty quickly after purchase
Material breaks down too easily
If nothing else was accomplished with the range of items presented on this list, at the very least you as the consumer and potential motorcycle enthusiast now have a greater understanding of what exactly you need in order to have the confidence to start conquering the road.  Riding a motorcycle can be a thrilling and exhilarating experience, though, at the end of the day, it's not for everybody, regardless of how cool mainstream media makes it out to be.  If,  however, you have been able to gain a new appreciation for the hobby, and are eager to now run out and start putting together your collection of gear, then good, my job is done.  Whatever happens, just keep in mind that while you may not need absolutely everything that was presented here, each piece does perform a certain function, and if utilized properly, can go toward making your trips that much easier and more enjoyable.
Before you do anything though, do yourself a favor and quickly check out the rules and regulations in your region, since that will give you a better idea of where to get started.
Criteria Used in Evaluation
Of The Best Motorcycle Gear in 2018
Price
This is a tricky point to cover in this buying guide.  That's because the price points for each of the items is going to vary wildly.  Obviously, a face mask is going to cost a whole lot less than a full rain suit or helmet.  There are two major ways to go about looking at cost when deciding which piece of motorcycle gear to buy next.  The first is a necessity, and the next is frugality.
A good way to ensure that you are meeting your most immediate needs is to first determine which gear you need the most, and then figuring out what that is the case.  If you've already got a trustworthy helmet, jacket, and pants, then you may have a good opportunity to pick up something a bit lower on the scale, but still no less critical, such as heat gloves or boots.  If, however, you are just starting out and really have nothing besides the motorcycle, then the decision becomes quite a bit easier, and the question then becomes which helmet would be the best option.
As trivial as it sounds, frugality does play a pretty big role, even when safety is going to play a major role.  That isn't to say that cheaper options are going to be any less safe since it is in the best interest of manufacturers to have the well-being of their customers in mind.  A good way to go about purchasing lower-priced, high-value products is to do plenty of research.  Once you have gained sufficient knowledge of a variety of selections, then it becomes easier to begin looking at lesser-known brands that price their items lower in order to gain a foothold but still maintain high standards and levels of quality.
Function
At first glance, function may seem to be the same thing as convenience, but there are some key differences.  It's one thing for an item to make your life easier by performing multiple functions, but that all becomes moot if it doesn't perform any of them well.  A pocket knife that is also a saw is useless if both pieces break on the first use.
In today's crowded market for motorcycle gear, companies need to do anything it takes to stand apart from the rest of the crowd.  One of the most noticeable and well-remembered ways is to make a product that does whatever it's designed to do in the most efficient and consistent way possible.  As such, today's motorcycle riding gear is going to work a lot better, and for a longer time, than that which was made years ago.
Legality
Having legality as a criterion may seem a bit odd, since if an item wasn't legal, why on earth would it be featured in a buying guide?  In this case, legality covers two main aspects and is a very important consideration depending on the region that you may decide to ride in.  All of the products on this list are perfectly legal.  I'm talking about which pieces of riding gear are legally required by law, if any, to be allowed to ride in certain jurisdictions.  Beyond that, I'm also meaning the certifications that certain types of protective gear need to acquire before being allowed to be sold to consumers.
This may come as a bit of a surprise to some, but mandatory protective gear does not exist in many areas.  In the United States, there are three states that don't require riders to even wear a helmet.  There are only 19 states where a helmet is mandatory without exception, while the remaining 28 have partial requirements.  This is just for helmets.  No state currently requires their riders to wear any other piece of protective gear.  Essentially, as long as your head is covered, nothing else has to be.  This isn't to say that lawmakers all over the world don't strongly recommend the use of full-body suits, or at the very least, increased protection for the more susceptible areas of the body.  Unfortunately, however, regulating what a rider can and can't wear has always been a very controversial topic, with opponents citing that forcing someone to wear specific gear in order to be legally allowed to operate their vehicles infringes on basic human rights.  Regardless of whether or not it's the law, all riders should be outfitted with suitable equipment to protect themselves in the event of an accident.
The next legal aspect that needs to be covered involves those pieces which are designed to directly protect the rider from physical harm during an accident.  Items from the helmet to the armor found on the interior of jackets, vests, and pants, have been put through one rigorous certification process or another, all in an effort to ensure optimal performance, as well as to qualify them for sale to the public.  In the US, the only equipment that must meet set standards before the sale of the helmet. They must meet DOT standards, and clearly state this on the product.  In Europe, Helmets, as well as armor, must be certified before being put up for sale.  The Helmet standard is known as ECE 22.05, while armor must comply with EN/CE rules.  American manufacturers have adopted these standards for armor, though, at this point, there is no regulation that makes them mandatory.
Convenience
Again, since this buying guide covers a wider spectrum of products, most of the criteria are subjective, and in the end, is all up to the needs of the rider.  That's why convenience becomes somewhat more important.  Whether or not a rider carries a particular piece of gear is determined by what that gear can do for the rider to make the journey more enjoyable or easier.
While there are several pieces that would universally be deemed as necessary, there are some, however, that will be more useful to certain riders based on climate, location, distance, etc.
As an example, facemasks, while useful in most situations, will be more coveted in regions that are drier, or on roadways that tend to be busier, and as a result contain more debris.
Another example is the saddlebag.  I've already stated how important they are to all riders, but this becomes even more noticeable on long-distance rides, where they go from being carryalls to acting more like luggage to hold everything needed for extended periods.
Terminology
Armor: In terms of motorcycle gear, armor is added protection to specific areas that are more susceptible to injury and damage.  This usually comes in the form of plates either sewn into the fabric itself or placed into pockets that are included in the garment.  There are many different types of materials used to make armor, from high-density foam, all the way up to high tech compounds such as viscoelastic, which can vary in level of protection provided as well as price.  All types of armor share some very important characteristics, one being made lightweight so as to not restrict the rider at all. Another big characteristic is the ability to absorb and redirect the shock from impact during an accident. For jackets, the armor will be most concentrated in the elbows and shoulders, while motorcycle pants will be reinforced at the knees and hips.
Bandana: A bandana is really just a larger handkerchief that has been re-purposed by bikers to wear around their head, face or neck.  They don't add a lot in terms of safety, acting mainly as a barrier from sweat, bugs, or debris.  For some riders, the colors and patterns found on the bandana are to signify group or club affiliation.
Biker Vest: A vest that is worn by bikers to provide a measure of protection from the hazards of the road.  These are usually made from thicker materials such as leather or denim, as well as a variety of durable synthetic fabrics.  While they do offer some protection, bikers mainly use them as a medium to display their lifestyles and can vary wildly in design as a symbol of their individuality.
As motorcycle clubs came into popularity in the 50's, so too did the idea of rebellion in the form of riders cutting the sleeves off of their jackets, resulting in the increased use of vests.
Face Mask: face masks are designed to protect the rider from all sorts of roadside hazards and come in different forms.  To prevent injury, rigid face masks made from hard plastics or other rigid materials can be used.  These often fit directly to the helmet, though there are some that act independently.  They help reduce impact and usually have some sort of venting to allow for unrestricted breathing.  These can be constricting, so many people just opt out got with a fabric face mask, which can either pull over or wrap-around, the face.  These aren't going to offer much protection in accidents, though the instances of road rash can be reduced.  However, these are very breathable and will help keep the rider dry and comfortable, as well as keep out any debris, dirt, or bugs.
Full face helmet:  A type of helmet that covers the entire head of the rider, keeping out road noises and offering a full range of protection from the elements as well as injury.  They protect all the way around the head, most notably the skull and the chin.  They have a wide cut out in the front, allowing the eye and nose to be exposed.  Often these openings will be shielded by a transparent face shield which is either clear or tinted for extra relief from the sun's UV rays.  This face shield, known as a visor, can generally be flipped up to gain access to the face.  These helmets are often vented since the full coverage they offer also means a greater increase of heat buildup.
Headwrap: A piece of fabric that covers the head, protecting the wearer from debris, sun, and sweat.  These act in a similar way to a bandana, but do not unravel.  Instead, they are shaped to the head of the wearer and don't restrict the helmet at all.  They tend to be breathable and can be made from an almost limitless selection of fabrics.
Heat sleeve: Heat sleeves are used as protection from extreme heat and other conditions that can occur while riding.  These are often used when performing maintenance on your vehicle and are rated to withstand burns and cuts that may occur.  For riding purposes, they can act as additional protection during an accident, and also provide a small amount of warmth over the arms.
Leather: Leather is a natural fabric made from animal hide that is prized by manufacturers of motorcycle gear for its wear resistance and high level of durability.  Leather can also be made synthetically, though this is often referred to as faux leather.  Due to the high cost of producing leather, products made from the material tend to be quite expensive to purchase.
Motorcycle goggles: A specialized pair of goggles that are used in conjunction with an open-face helmet with no face shield.  Goggles are considered to be less constricting than a full shield, and allow the face to be exposed to fresh air.  They can be given a prescription to act as glasses for those that require this.  While they do offer greater mobility, they can be uncomfortable, especially on longer rides, and offer less impact resistance that a full face shield.
Motorcycle leathers: An all-encompassing term for protective motorcycle gear.  Leathers refer to the common material used for the gear and can mean the jackets, vest, pants, gloves, and boots, among other things.
Open face helmet: An open face helmet is one that covers the entire back and top of the skull, extending to just above the eyes.  They cover the ears down to the level of the chin but don't connect across the face.
PVC: Polyvinyl Chloride.  This is a very common plastic that is used in virtually every facet of daily life.  For motorcycle gear, it can be found as armor plating in clothing, or even as the base fabric for jackets.  PVC is less wear-resistant than leather, but it is also quite a bit lighter and cheaper.
Reflective stripe: Reflective stripes are found on protective outerwear to add increased visibility in nighttime driving situations.  Clothing that has these stripes are known as high-viz clothing.  These stripes can be as simple as thing lines following along the seams of the garment or can be big and bright, taking up a large portion of the fabric surface.
Saddlebag: Saddlebags are a pair of bags that are attached to each other and sit behind the seat on a motorcycle.  Since motorcycles by nature don't have a lot of extra space to store necessities, these bags act as storage for things such as extra gear, paperwork, food, etc.
Frequently Asked Questions
About Motorcycle Gear
Q: Why do I need motorcycle gear?
I'm guessing that if you enjoy riding a motorcycle, you would like to be able to do it for many years.  You'd rather be able to get up in the morning, strap on your stuff, get on your bike, and hit the road, instead of not being able to get on anything other than a wheelchair.  This may sound a bit heavy-handed, but that right there is the biggest reason that you need motorcycle gear.
Q: Do I need all of the gear?
Not at all.  Once you've got a helmet you like, a well-fitting jacket, and pants, then the rest is up to you.  If you live in a dry, dusty climate then a face mask and goggles could be a good choice.  If you like driving for hours, or even days, then additional clothing that is extra comfortable packed away into a saddlebag is a likely choice.  For the most part, though, it all becomes a matter of preference.
Q: Is all that gear going to be expensive?
Unfortunately, if you want to have high-quality gear that provides peace of mind without having to worry about every bump on the road, it is unavoidable that you are going to have to shell out a significant amount of money.  Most of the gear you buy is going to be safety rated in much the same way, so you could get away with paying less if you want. In the long run, that cheaper stuff is going to be of lesser quality, meaning you'll just need to buy it all over again sooner than you'd like to.  When it comes to dependable riding gear, you do get what you pay for.  If you want to go all out for the top-of-the-line option, you can expect to pay several thousands of dollars, though it will quickly pay for itself once you walk away from your first big spill.
Q: Is any of the gear required by law?
While the majority of motorcycle gear should be regulated and required by law, it all comes down to where you are located. In Europe, there is a wealth of mandatory gear that you need to have with, even going so far as carrying your own breathalyzer kit, though this has been currently postponed.  At the very least, a high-viz jacket and properly certified helmet are necessary in order to legally be allowed to ride over there.  As for North America, the only requirement is a helmet, though some areas are beginning to loosely apply some of the European standards.
Q: Won't I look silly with all of that gear?
Yes, silly but safe.  In all seriousness, modern motorcycle gear is designed with a fashion sense in mind, and each piece has a unique aesthetic all its own.  If some thought is put into what you decide to wear, then your gear can help set you apart from the crowd.  If however, you just throw stuff together and choose to wear a full riding suit, heat sleeves, and a vest during the peak of summer, then yes, you may very well look silly.
Q: Does any of the motorcycle gear actually work?
Once motorcycles started to take off in terms of mainstream acceptance, protective gear started to make its appearance in the name of safety.  Back then, it was mainly based on individual experience and opinion, and some pieces worked much better than others.  Today, though, the vast majority of gear, especially helmets and padding, are regulated by various certifications and standards.  Not all of these standards are required by law, but it is in the best interest of the designers to make sure their stuff works as it should.
Q: Are the goggles really necessary, or can I just use a face shield?
The answer to that all really depends on preference.  For some, wearing a face shield to block out any outside distractions adds a level of immersion that is the sole reason for owning a bike.  Other riders, however, prefer to feel the air on their face as much as possible and revel in the freedom that an open face helmet and goggles provide.  They both offer the same amount of protection from the elements and are both generally just as good as the other at blocking out UV rays.
Subscribe to our Newsletter