Best Carport Kits Reviewed & Rated for Quality
last updated:
Jul 10, 2019
Do you get annoyed or frustrated by the wet weather when you park your car by your house? There is an easy fix to beat the weather. Carports are a great solution for protecting you and your vehicle from the elements in cases where garage space is not available. They are easy to set up on your own, portable and storable, making them a great ally for any seasonal trip as well as at home.
But these temporary self-assembled structures are so much more than just a temporary garage. They double seamlessly as storage space, on-site workshop, pop-up market stand, social event gazebo, festival tent, and countless others. We hardly come across products that have such a wide range of uses and applications, their versatility has conquered our hearts long ago.
Featured Recommendations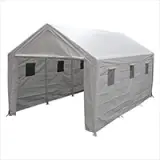 King Canopy

Our rating
Solid protection
Price:

See Here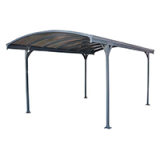 Palram Vitoria

Our rating
Tough Built
Price:

See Here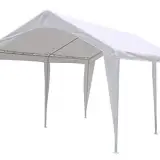 Abba Canopy

Our rating
Double Polyethylene Fabric
Price:

See Here

When it comes to buying a carport, navigating the market can be confusing: hundreds of different designs, the durability of materials, horror stories from customer support, you get the idea. For this reason, we have put together this buying guide, helping you make the best choice for your particular needs.
 10 Best Carport Kits
1. Abba Patio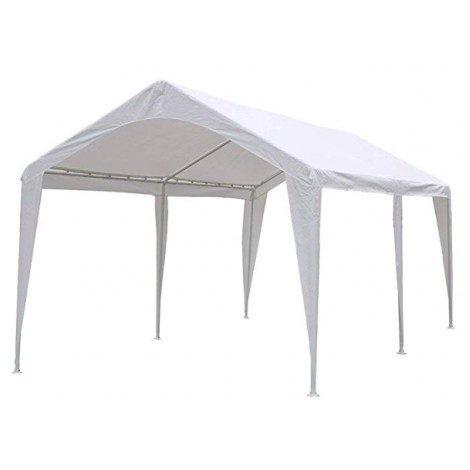 Our top-rated Carport! This durable, long lasting canopy can ensure element protection as well as the ability to transport and assemble anywhere you go. Abba Patio Outdoor Carport Canopy is lightweight and easy to assemble and disassemble, so relocating or putting it away for the season is no problem. Built with a high grade 1 ½ " steel frame and double polyethylene fabric, it can endure strong winds, heavy rain, snow, and hail.
Expand to see more
Easy Assembly
This
carports best features is its easy assembly. Two can set it up just as easily as they can take it down, in a matter of minutes. This product was designed with the buyer in mind. Built with a lightweight frame, and a fabric canopy that covers and holds the structure together without complicated hardware, so there are no tools required!
Quality and Durability
Don't let its simplicity deceive you, the heavy duty 1 ½ inch diameter white powder coated frame resists chipping, peeling and rust, while providing incredible stability. The grade-A two-ply polyethylene canopy is UV- and water-resistant provides excellent protection for your vehicle against any kind of weather. Foot pads allow the structure to sit securely on any leveled terrain, and provide anchoring points for long term setups.
Cost and Value
It is not the cheapest canopy in the market, but the quality of its material and its convenience surely makes it our top pick. Excellent customer satisfaction, endless praises, and positives reviews can back it up. You will not get a better bang for your buck in the carport world.
Easy to assemble
Great dimensions 20L x 10W x 9.5H ft fit most trucks, boats, cars, ATV's
Stitching and fabric quality
Ease of moving fully assembled
2. Palram Vitoria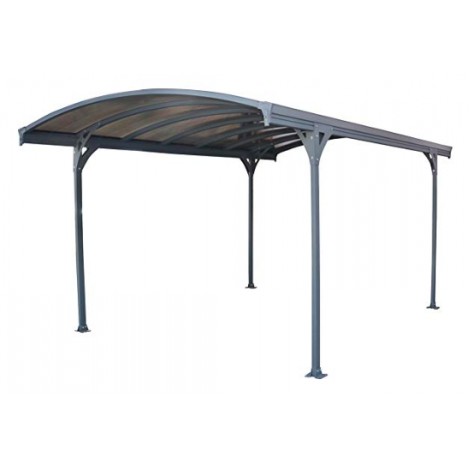 Modern, elegant and virtually indestructible, this carport is top of the line on everything: durability, design, style, and ease of assembly, but be warned, so is the price tag. The frame is made from heavy-duty aluminum, including foot pads for anchoring on any hard surface. Covered by an arched shatter-resistant polycarbonate canopy that filters the sunlight while giving your car or boat all the protection it needs.
Expand to see more
Built to last
This is
not your average
covered carport. Its six-millimeter thick twin-wall polycarbonate panel is almost unbreakable, with 100% UV protection, will keep your vehicle safe from all weather, and even from the occasional tree branch that comes down with heavy winds, without fading or turning yellow over time. The maintenance-free frame, made with rust-proof powder-coated industrial-grade aluminum, is easy to assemble and requires no specialized tools.
Beautiful Design
The most noticeable feature of this product is its slick modern design, breaking the mold from the traditional tarp carport. This stylish canopy would be a great addition to any yard. Quality of construction and an eye for detail, such as the built-in rain gutters, really sets it apart from the rest of the products in this guide.
Cost and Value
As mentioned before, this carport comes at a price, but if you have the money and are looking for a long lasting solution to your parking needs, this is the product for you. It would be a great addition to any house façade, a stylish carport to be proud of, for all your friends and neighbors to see.
Modern and stylish design
10-year warranty
Durable materials
Built-in gutters
Filters sunlight
High price
Heavy and bulky
3. King Canopy Hercules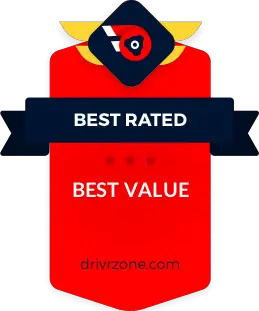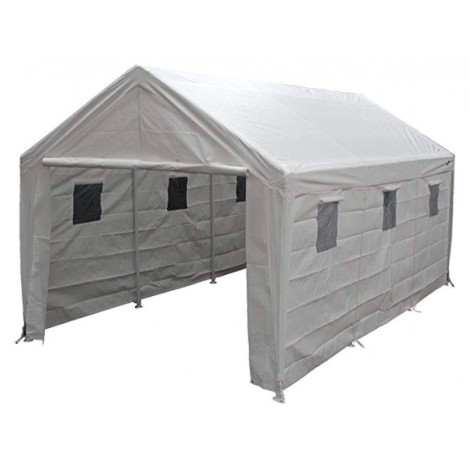 This is our top pick for fully enclosed carport. Built from a steel frame and a 20 by 10 foot Hercules snow-grade canopy, provides all-around protection from the toughest weather conditions. With the detachable sidewall kit, you can turn walled winter storage into an open summer gazebo in a matter of minutes. Great quality of materials and stability are also worth mentioning, with plenty of satisfied customer stories to hear from.
Expand to see more
All-around Protection
This
fully enclosed carport will give you and your vehicle all the protection you need from any weather, including snow and heavy winds. Can be perfectly adapted to be used as a shed, workshop or storage unit, filled with natural light thanks to the windows on the sidewalls. The Hercules canopy is made from a UV- and water-resistant, fire retardant PE fabric, made to the highest standards of the industry.
Quality Construction
The carport is built from a two-inch diameter white powder coated steel frame, that provides excellent stability, enclosed with high-grade canopy fabric. It has endured the test of time, standing firm and strong over years, without showing any tearing, leaking, fading, skewing, or significant damage.
Cost and Value
This product not only has an excellent cost-value score as a carport or boat shed but makes a great alternative for an impromptu workshop, temporary storage or social event tent. The quality, flexibility and easy adaptation of the sidewalls are definitely worth your money.
Fully enclosed walled carport
UV- water- fire- resistant
Detachable sidewall kit
Sidewall windows for lighting
Easy to assemble
Windows don't allow ventilation
Bungee cords not supplied
4. Quictent Heavy Duty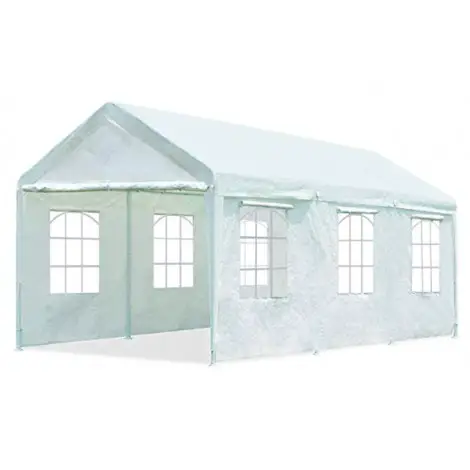 Another great alternative for fully enclosed windowed multipurpose carport. This inch and half diameter heavy-duty powder coated steel structure is covered by a tearproof, waterproof, UV resistant extra-thick polyethylene fabric. Its manufacturer: Quictent, offers great quality carports with a praised customer service and product warranties.
Expand to see more
Multipurpose Canopy
This
product is much more than a carport for your vehicle, it is the perfect space for your social garden event, market stand, festival tent, winter storage, garden shed or gazebo. Big windows make any activity inside the Quictent full of light and comfortable.
Support and Warranty
The company offers excellent customer support via its different channels, from helping you through the assembly, to quality control and complaints. Most of the products have lifetime warranties and free replacement. Quictent makes the perfect ally for a healthy business relationship.
Cost and Value
When thinking of purchasing a product, consider always who stands behind it. This manufacturer knows how to take care of its customers. Excellent price, but even better warranties and support, definitively makes Quictent worth your while.
Fully enclosed walled carport
UV- water- fire- resistant
Detachable sidewall kit
Extra big windows for natural lighting
Great support and product warranties
Windows don't allow ventilation
Not-so-easy to assemble
5. Arrow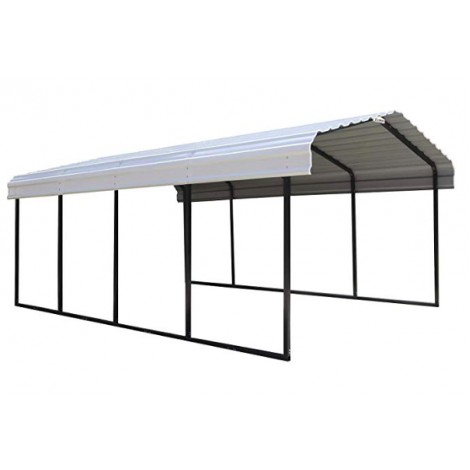 Heavy-duty is an understatement when it comes to this carport. The easy-to-assemble slip-fit frame is made from industrial-grade steel, topped with a 29-gauge galvanized steel roof. This canopy is guaranteed corrosion proof, backed up by a 10-year warranty. Makes the perfect carport for your car, truck, boat or tractor.
Expand to see more
Industrial Grade
This sturdy carport is rated for 100 mph winds, loads up to 35 pounds per square foot, with a total floor area of 234 sq. ft. Making it the
perfect choice
for locations such as farms or remote parks. Rounded eaves at the roof provide extra protection from the elements.
Versatile Use
Arrow has designed a lightweight but sturdy structure, capable not only of protecting your favorite vehicle but also acting as a perfect shed for your farm or garden, with over 1700 cu. ft. of storage space. More than capable of accommodating all your tools or supplies for the season.
Cost and come
Of course, sturdiness and durability come at a price, we cannot compare the traditional fabric canopy with an industrial-grade galvanized steel roof. But if you are looking for long-term solutions and incredible resistance to elements, you need to look no further. This carport is built to last you a lifetime.
Industrial-grade materials
Super high wind and load rate
Fire- corrosion-proof
10-year warranty
Extra space (20L x 12W ft)
Hard to assemble
High price
6. ShelterLogic SuperMax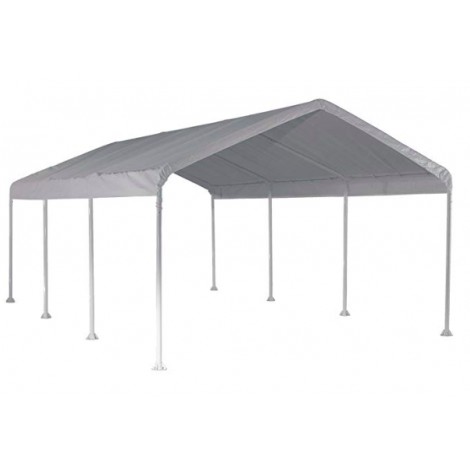 This carport makes the perfect solution for parking your car, boat, or your seasonal social events. Built with a 2-inch diameter steel frame and a triple-layer welded polyethylene fabric. An extra two feet width from the standard carport give that little extra room we are all looking for. It is also possible to buy the enclosure kit separately if additional
protection
is needed.
Expand to see more
Applied Engineering
The patented Twist-Tite system, tenses and squares up the frame for you, making assembly easier and faster. Unlike most other manufacturers, ShelterLogic uses welding technology (not stitches) to patch the fabric that makes the canopy.

Adaptability
Temporary structures like carports tend to be relocated, repurposed and recycled. For this reason, the manufacturer sells its enclosure kits separately, adapting to your needs and giving you the choice. Made with the same quality fabric, this kit allows you to transform your carport into a fully enclosed shelter or storage unit.

Cost and Value
When compared to similar products on the market, ShelterLogic SuperMax Heavy Duty comes out number six in our list, not only due to its quality and technology but also thanks to its adaptability as a simple canopy or a fully enclosed shelter, with the possibility of buying that sidewall kit separately when needed.


Self-tensing frame
Extra floor area (20L x 12L ft)
Triple layer PE welded fabric
Wide foot plates for extra stability
Possible to buy enclosure kit
Minor quality control issues
Price could be lower for non-enclosed canopy
7. Caravan Canopy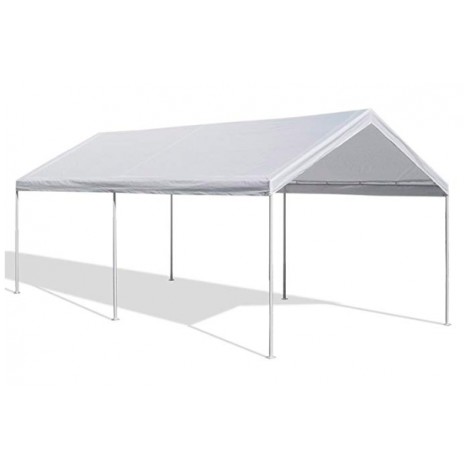 If you are looking for a cheap temporary solution for a canopy/carport, you have found it. Caravan Canopy manufacturers the all-American classic canopy at one of the most affordable prices in the market. A
popular
best-seller, provokes all kind of responses and reviews from its customers, we cannot deny that the amount of sales speaks for itself.
Expand to see more
Multipurpose and Affordable
If you have been to the farmers market, state fair, music festival, beach sporting event, company picnic, or basically, any outdoor activity you can name, it is probable that at one point you stood under one of Caravan's canopies. Their versatility and affordability have turned them into an instant classic.

Quick and Easy Setup
Swedged tubing makes assembly of the frame an easy job, and the welded PE fabric canopy fits in effortlessly. Takes less than an hour for two people to set up this 20L x 10W x 8.75H ft carport. Wide foot pads allow it to sit on any leveled terrain while providing anchoring points to secure it to the ground.

Cost and Value
There is hardly any other product out there that approaches Caravan Canopy super low price, with the quality and durability to be expected for that price range. Without a doubt, if you are looking for a cheap and affordable carport that will cover your needs, this is the right choice for you.


Low price
Good price/quality ratio
Easy and quick to assemble
Welded PE fabric canopy
Low-grade materials do not take high winds or loads
Questionable customer support
8. Ikuby Lockable
Ikuby's approach to the carport solution is both stylish and functional. This edgy-looking space-cocoon will protect your beloved sports car from any weather. Got a bigger car? An SUV-size model is also available from the same manufacturer.
Expand to see more
Style and Protection
Visually striking, this carport is a modern alternative to the traditional tent canopy. But it is not just for "looks", the cocoon shape of the structure provides significant advantages when it comes to wind- and load-rating. It can withstand level 8 winds and all the snowfall you can throw at it.
Engineered Design
Built from a powder-coated galvanized steel frame and super-durable fabric cover. Its foldable-fan configuration allows easy and quick daily operation for those winter days. Takes between an hour or two to set up, including anchoring the frame to the pavement.
Cost and Value
This carport is a
bestseller
amongst sports car owners, a worthy shelter for their favorite toy. With a 15-month warranty by the manufacturer, modern design, quality construction, excellent customer service and decent price, this product scores excellent value.
Modern design and looks
Easy setup
Easy operation
High structural wind and load rate
9. KdGarden Portable Canopy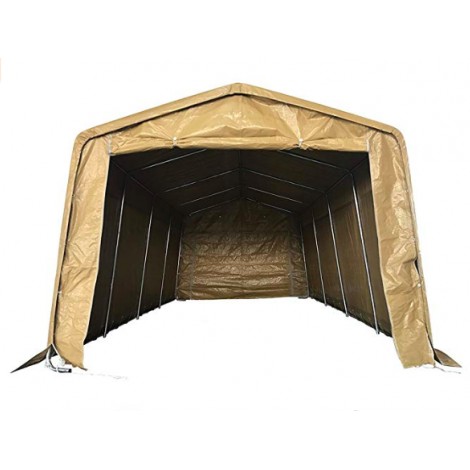 This all-enclosed canopy is your perfect storage or garage alternative. Covered by a triple layer woven PE fabric, treated for anti-aging and UV-resistance, this 20L x 10W tent will
protect
your property from all weather conditions. Its frame is built from heavy-duty steel pipes, powder coated to resist chipping, peeling and rust provides excellent support.
Expand to see more
Fully enclosed
The whole canopy is one big sheet of fabric wrapping the structure from the top and the sides, tied down at the bottom of the frame, giving your car extra protection from the elements. Topped with two double-zipper door panels on the front and the rear for an easy drive-thru.

Extreme protection
Given its design and single-sheet configuration, this type of carport offers excellent protection against the harshest environments. One advantage of keeping the fully enclosed property is that it will remain protected from all angles against sun, rain, snow, wind and even dust, due to the minimum amount of gaps in the canopy.

Cost and Value
When it comes to protecting your property, this carport will do an excellent job. Built with high-grade steel and super durable fabric, this product is definitely worth your attention and money.


High grade materials
Minimum canopy gaps for extra protection
Quick and Easy setup
Double-zipper extra large doors on both ends
Lack of windows
Fixed side walls
10. Delta Canopies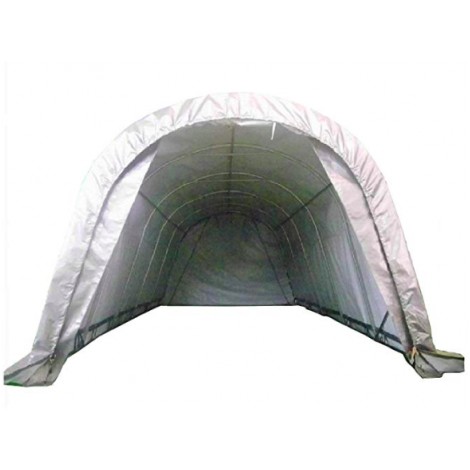 Another good alternative for a all-enclosed carport, this product from Delta Canopies is a great temporariy solution for your parking or storage needs. This vault shape tent is held up by a 12-legged steel frame, including steel foot pads for ground support. A single continuous surface with no gaps makes up the side walls and roof, maximizing its weather protection, complete with two double-zipper doors on both ends for access.
Expand to see more
Quality Materials
The canopy on this carport is a waterproof polyethylene fabric with enhanced weave, which has been submitted to a chemical heat bond, providing a load rate of over 5 pounds per square foot and mild weather protection. Its 20'L x 12.6'W x 8.1'H structure is built from rust-proofed galvanized steel, with a ratchet-down tensioning system for easy installation.
Utility Tent
This product is not only an excellent choice for carport, but also works great as storage unit or
utility
tent, given its single surface canopy, keeps dust and other undesirables out of your way. The quick and easy setup is ideal for transportation and storage of this Delta Canopies tent.
Cost and Value
Due to the load rating of the materials this product ranks last in our list, but nevertheless, it is still a competing choice in the market of carports. Simple yet great design, easy and quick to assembly and transport, it is a convenient tent, as long as you don't expect heavy winds or snow.
Vault shaped, single canopy surface
Extra standar floor area
Easy and quick to assembly, store and transport
Double-zipper doors on both ends
Lack of windows
Low load rating, can't withstand heavy snow or winds
Criteria Used in Evaluation of the Best Carport Kits
This buying guide is the result of extensive market research, which has lead us to the best of the best available out there. In the following section, we would like to share with our readers the features and characteristics of the products that were considered in order to rank our list.
Design
When it comes to the world of temporary structures such as carports, the possibilities are endless. From the classic pole and canopy tent to the modern aluminum frame ports, and everything in between, finding the right choice could be a little tricky if one happens to be uninformed.
There are a few things to consider about the design before we make the big decision, starting with the purpose of the carport: Is it to park our car or boat? Or are we looking for a temporary storage solution? Maybe is for the summer garden wedding we have been planning? Each different scenario renders a different choice: We would surely like to protect our property with a sturdy structure, capable of withstanding hail storms or even a loose tree branch, avoiding paint or even body damage to our vehicle. An enclosed weatherproof tent, where we can store your garden furniture for the winter. What about a pure white canopy with tables and chairs for all your guests, with detachable side wall panels and roll-up windows, in case of light summer rain.
To help you make your best choice, we have selected for you the top products from a variety of designs: the stylish and fixed polycarbonate port, the edgy sports car cocoon, the versatile pole and canopy tent, or the convenient vault-shaped shelter.
Ease of Assembly, Store, and Relocation
Carports are temporary, short- to mid-term solutions for parking, shelter or storage needs. We might put it up for a couple of seasons at the farmhouse until the new barn is built. The year after that, we could take it to the summer lake festival and party with our friends for a week. With this in mind, we would think they are fairly easy to set up, in a short time with minimum efforts, tools, and hardware. We must also expect the same from the tasks of disassembly, storage, relocation and transportation of the canopy.
For this reason, hearing from first-hand experiences was crucial for our ranking. Countless stories of customers, with great and not-so-great reviews alike, gave us an idea of how "easy" is to set up the product at hand: connecting frame pipes, putting up the structure, wrapping the canopy, secure with bungee cords, anchoring foot pads, etc.
These experiences have helped us to screen our list, and select the very best for you to compare and make the right decision for yourself.
Durability and Grade of Materials
We know, at least initially, the purpose of the carport when we are buying it, so we should give some thought to the climate, geographical location, estimated time use, and any other factors or hazards that could jeopardize our goal: protect our valuables. This would greatly influence our selection in terms of material grade the and durability of the structure. For example, snow load rating requirements are completely different in North Dakota and New Mexico. Or, we would choose the same grade material for an occasional garden party tent, used a couple of time per year, that we chose for an intensive-use farmer's market stand since the latter needs to be put up and down on a weekly basis all-year-round.
We have listed above a variety products from a wide range of durability, based on product specifications and manufacturers information, but also, sourcing from the first-hand experience from people across the internet, willing to share their stories: some underestimated the durability of the product they purchased. Others learned the hard way that a poor assembly can lead to structural failure.
In the end, we hope you are able to choose the canopy that is best suited for your needs, hence the materials and their quality is always a big criterion in our selection.
Warranties and Customer Support
As in any other business, when you are looking for a carport, do not forget to look at the people behind the brand, as you are potentially about to start a long term relationship with them. For better or worst, the company we chose as our provider will determine the faith of that relationship.
During the lifetime of most of these products, some minor inconveniences are expected over time: losing a food pad every few years, bending a pole by accident, breaking a bungee cord in a windy storm, tearing a corner of the canopy or velcro ties becoming ineffective. Maybe you are in a streak of bad luck and you got a faulty or defective product that was an oversight in the quality control of the manufacturer. For all this and many other reasons, you want to engage in business with a manufacturer that is known for standing behind their product with warranties, raising up to challenges when called upon for complaints, providing replacement parts for your carport when needed, and ultimately cares for its customers.
All products in our list were carefully scrutinized for their manufacturer's customer support, and we sincerely hope to help you match with a company that is deserving of your business.
Value
This is what it all comes down to: how can I get the best value for my money. Considering all the aforementioned criteria, we managed to select and rank the products in our list according to the best market price in their specific tier or category. There are many options for carports out there, which can be hard to navigate through, with prices ranging from the absurd to the opulent. Our selection features the best prices in the market for comparable type canopies. So no matter what your needs are, you are sure to find in our list a product that fits your needs for the best possible price.
FAQ
Frequently Asked Questions
Q: What are the best materials for carports?
A: Carports are usually made of two main components: the support frame and the canopy. The frame needs to be lightweight and yet durable, so galvanized steel or aluminum are the best choices. Powder coating on the structure prolongs its life and gives extra protection against chipping and rusting. The canopy should also be lightweight and provide weather protection. Polyethylene fabrics are known for their durability, and depending on the quality of manufacture, can provide excellent tear and load resistance, as well as UV- and water-proofing. Polycarbonate or PVC are more expensive and durable solutions for a long-lasting canopy, but fail to be as flexible and lightweight as PE fabric.
Q: Can carports be relocated?
A: Typically, carports are designed to be easy to set up and take down, since they are temporary structures. The best ones are designed to be as convenient as possible, not only while assembly and use, but also during storage and transportation of the structure. Most of the fabric canopies are light enough that can be moved around while assembled, given that you have a couple of friends around to help you out.
Q: What are the dimensions of a carport?
A: The standard carport is ten wide and twenty feet long, for a total floor area of 200 sq. ft. Height clearance is determined by the shape of the structure, typically a tent-shaped canopy has at least 8 ft height clearance in the middle, and 6 ft on the sides. Most manufacturers stay above this minimum, offering a wide range of options for every need. Always consult the technical sheet of your product before buying, so you know exactly what you are getting before you decide to pay.
Q: Should I anchor my carport to the ground?
A:  Yes! Every time: Yes! Since they are built with lightness in mind and topped with a flexible surface, is not hard to imagine they can be pretty good kites. If they are not tied down, they are prone to fly off with the lightest breeze, and potentially damaging itself and the property that was meant to be protected. Securing both the frame and the canopy to the ground is paramount to guarantee the proper use of these products. Most of the manufacturers provide foot pads for the structure, bungee cords for the top, and any other special hardware needed in order to anchor your carport securely.
Q: How much wind and snow can my carport take?
A: Always bear in mind that carports are designed to be temporary lightweight-structures and they will never provide the grade of protection and durability that a permanent-built structure, such as a garage, does. This said, the ability to bear loads comes from the quality and grade of materials used, and the shape of the carport itself, which allows the structure to endure the forces it is submitted to. There are canopies tough enough to take gale-force winds and even the occasional loose tree branch that came down with it. Others, will not take more than a couple of inches of snow before they collapse. Always consult your manufacturer for detail information about your carports capabilities, and stay aware of developments in the weather conditions.
Q: Are side walls necessary?
A: Weather can change in a matter of hours, without warning, and some rain with light winds can completely ruin your garden party if unprotected from the sides. Fortunately, most of the fabric carports can be fitted with detachable wall kits, transforming your simple shade canopy into a fully-enclosed shelter. There is a wide range of choices, from simple PE curtain walls to beautiful windowed enclosures that dress up your event, turning the inside of the tent into a cozy naturally-lit space.
Q: What are other names for carports?
A: The industry of carport manufacturers have diversified and evolved them in the modern-day USA in order to keep up with the increasing demand and variety of uses of these products. It is no longer just for covering your car or boat, but it has become a staple of the outdoor and leisure lifestyle with many other names or similar applications including Shadeports, Portable Garages, Patio Covers, Garden Awnings, Designer Shade, Shade Sails, Under Decks, Festival Tent, among others.
Subscribe to our Newsletter